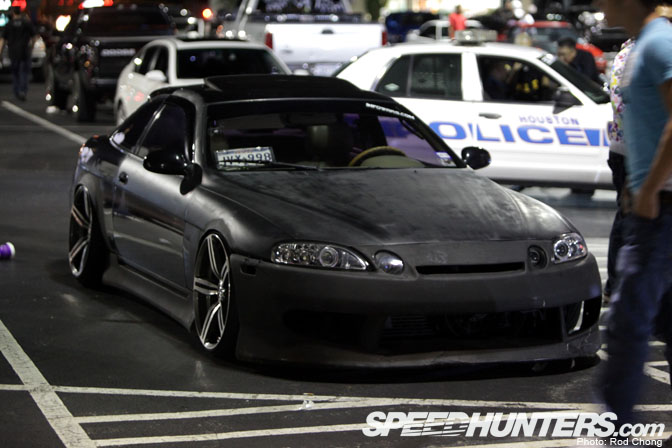 We're in a bit of a video post production crunch right now as we have two videos to get completed in the next couple of days. They are going to be debuting next week at SEMA so we're putting a bit of pressure on ourselves to make these new films the hottest things ever. I'm having a bit of difficulty concentrating on writing right now to give you a review of the adventure that Linhbergh and I had in Houston this past weekend, but the site has been a bit empty this morning so let's try and get something written up here!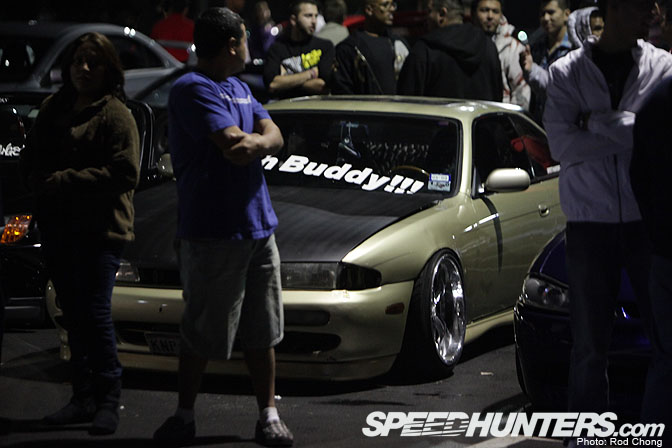 We came to Houston with something in mind for November's Slammed Month theme: tight fitment, low slung street drift and luxury VIP style cars. Scraping up a storm on coilovers or gliding on luxury air ride setups was always going to attract our cameras. This isn't to say that Linhbergh and I are particularly narrow in our automotive tastes, but we seem to have a taste for these two styles of cars right now. So you might see a slant towards these types of machines in this review of the Access Zero 42 car meet.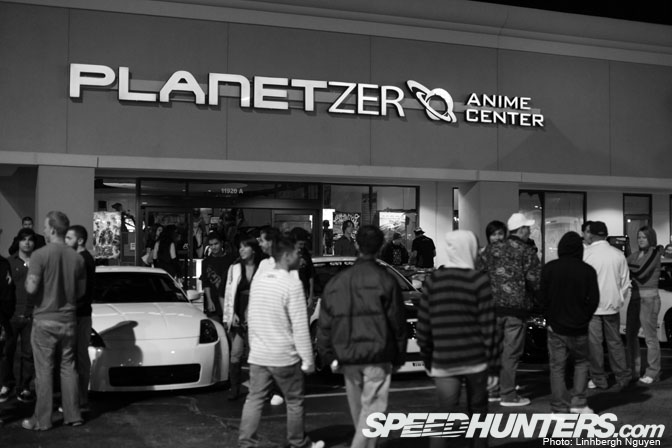 The Access Zero car meets are organized by the people behind Houston's Planet Zero Anime Center and as the number suggests this is the 42nd show of it's type. They've done a great job working with the local authorities and property owners to provide a place where car enthusiasts can gather without any fear of stings and impounds.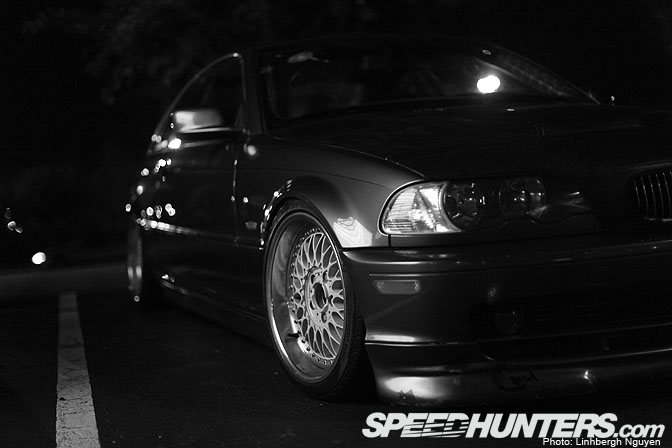 The event itself still has an underground edgy feeling about it as it's conducted late into the night, but it's all perfectly organized and arranged.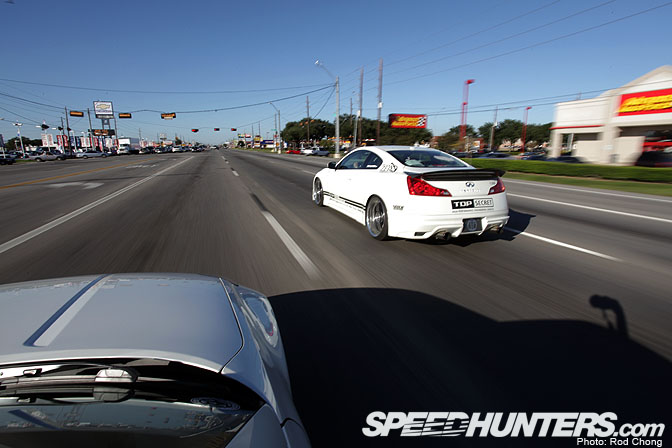 But before we go into too much detail about Access Zero 42, let's recount what us Speedhunters were up to earlier in the day. Linhbergh and I were up bright and early to drive in a caravan of cars out from Houston to the small town of Rosenberg, Texas. We wanted a town which had archtypical decayed "Americana" imagery for our photography backdrops, and this location didn't disappoint.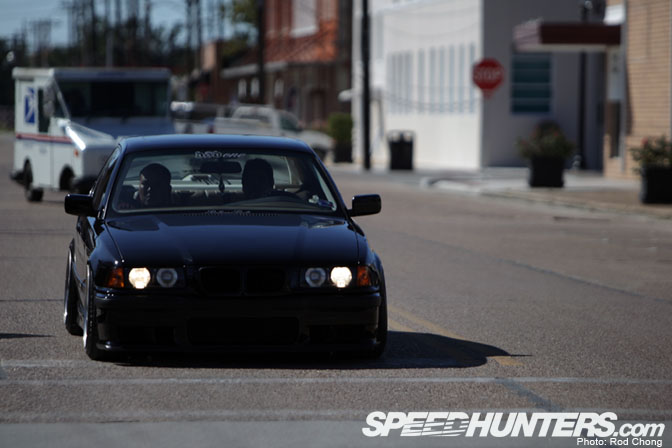 Apon arrival in Rosenberg, Linhbergh and I then split the cars up to each shoot our own set of features, which we'll slowly reveal to you over the course of November.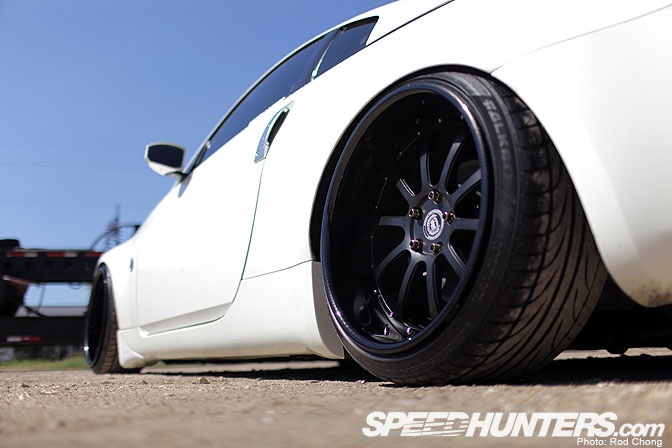 I'm particularly excited to present this white 350Z which is definitely NOT running on air bags. This clean machine has been built as a street style drift car and won't look this pristine for very long I'm afraid!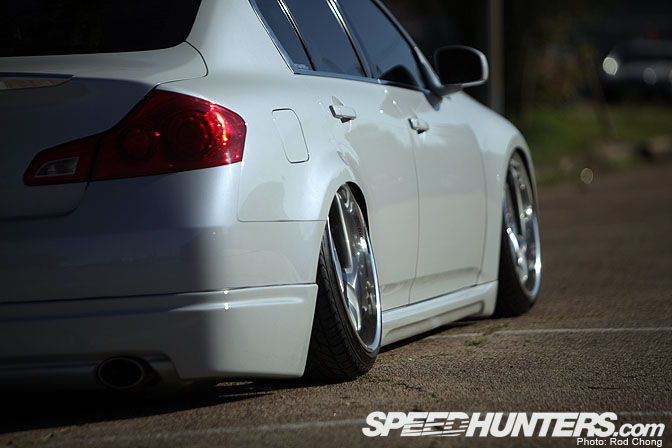 Linhbergh also did a second day of shooting with Zeem Choudhury's 2007 Infiniti G35. I have yet to see the fruits of Linhberg's labour, but am sure the results going to be stunning as usual.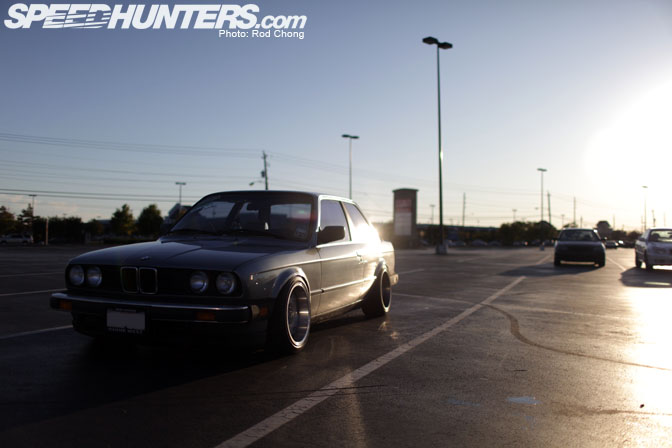 Heading back to Houston a few cars were already starting to show up to the show, but the lot still looked rather empty. We elected to duck out, grab some dinner and come back when things had started to amp up further.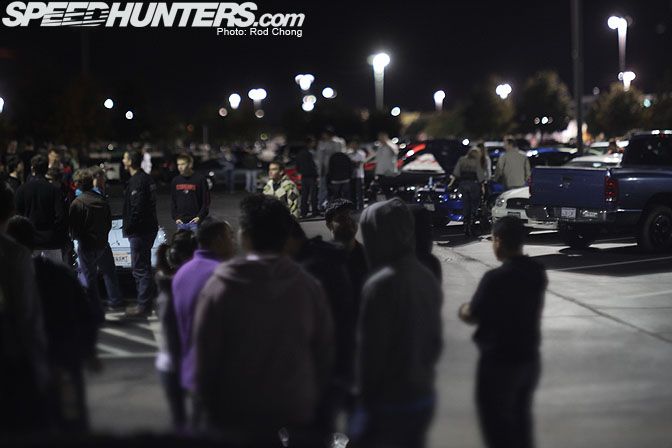 We arrived back at the Access Zero show to a parking lot full of cars and a gathering crowd of young auto enthusiasts.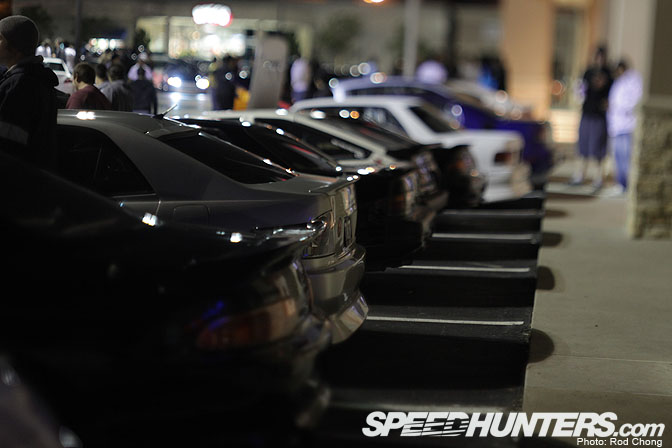 In anticipation of our Speedhunters slant on modified cars, the show organizers had parked up a whole lot of street style drift cars at the front of the show.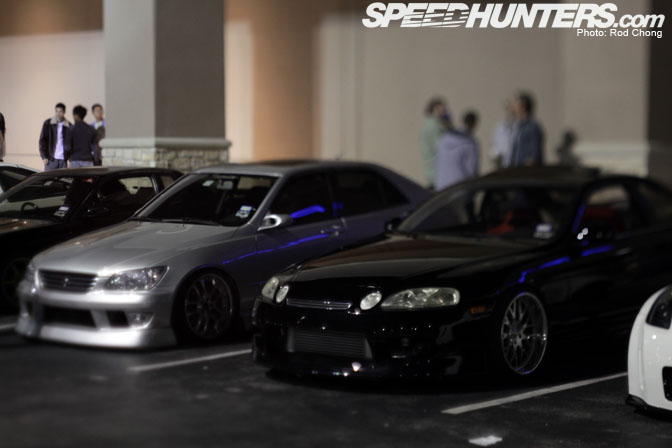 They read us well, as these were the types of cars that we gravitated towards.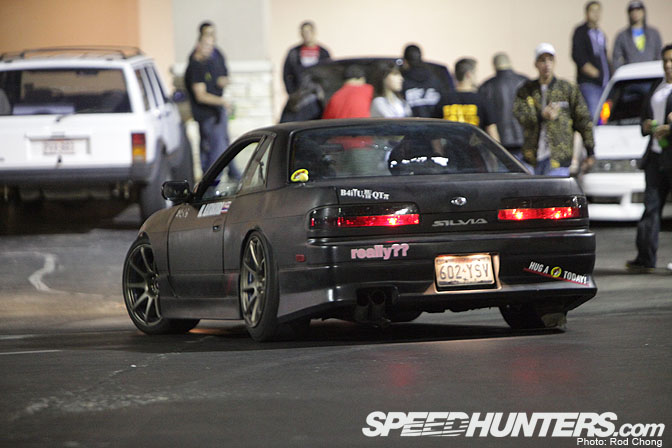 Cars continued to roll in for the next few hours. This rat style S13 caught my eye as it searched for a parking spot. Notice the doll hanging under the rear bumper.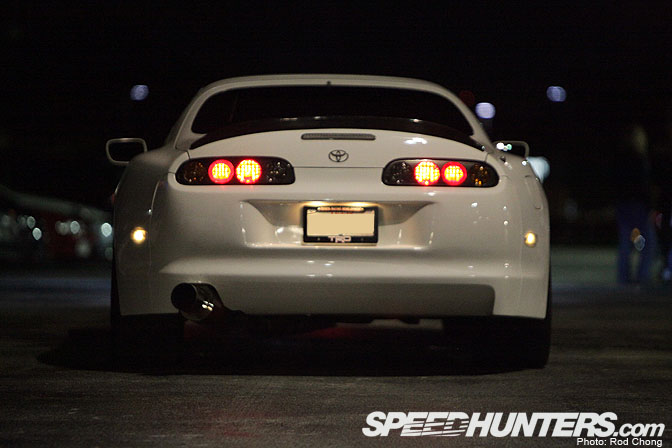 There were several examples of everyone's favourite Japanese super car rolling in too. I do wish the spirit of this car was more present in the LF-A. It's no wonder there are so many hardcore Supra enthusiasts in the scene. It's a car that has never really been eclipsed or reworked.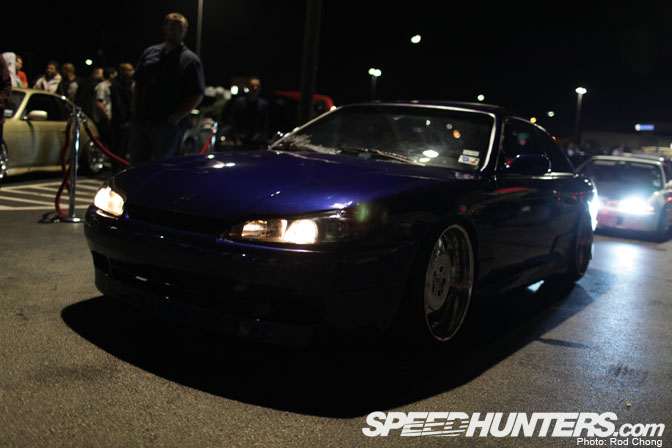 And the cars kept rolling in. Here's a VIP or "Lux" style S14.5. It's a style that's rarely applied to S Chassis… but I like it!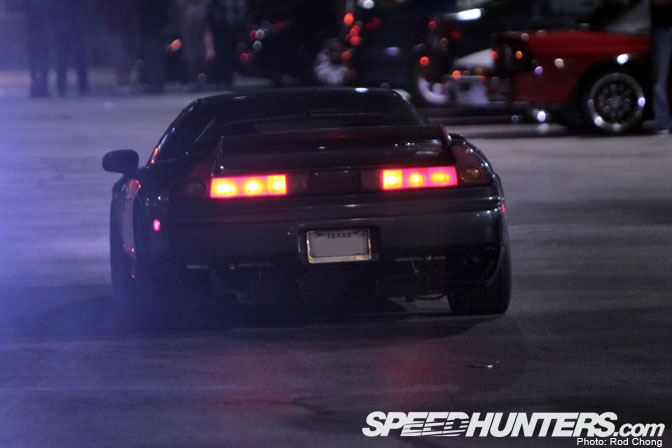 And another Japanese Super Car makes its presence known.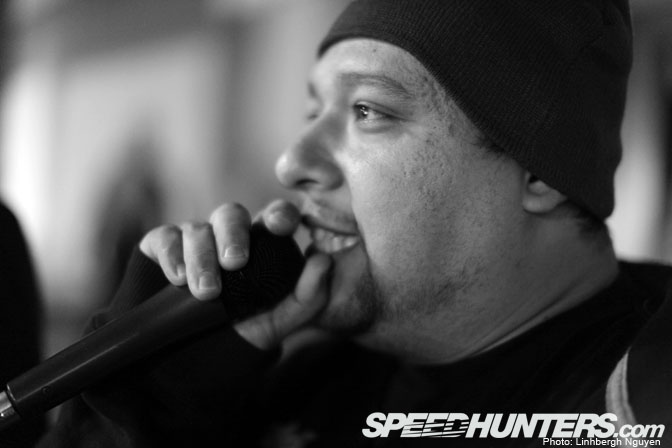 Meanwhile DJ Tito kept the growing assembly entertained.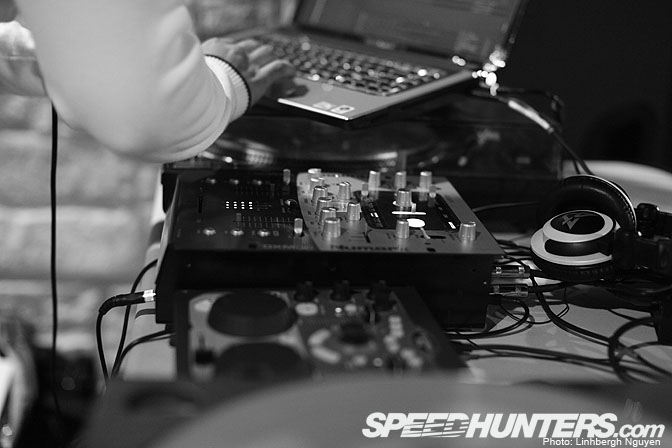 There was a complete sound system setup plus an all female video game tournament too! Access Zero really knows how to put on a great street meet up.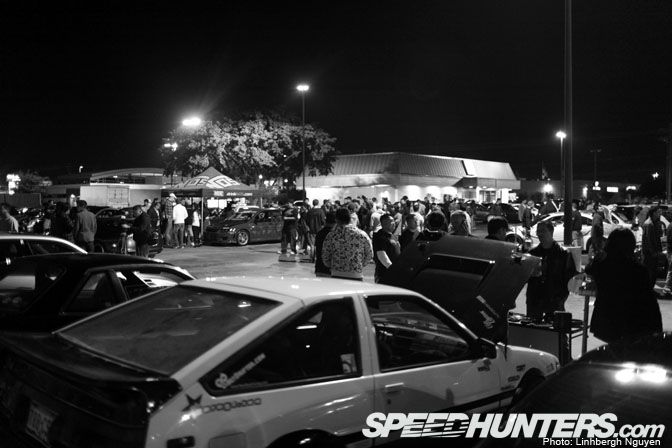 The event organizers were wanting to introduce Linhbergh and I to the crowd. But I suggested we wait to do this and promptly disappeared to the back end of the lot.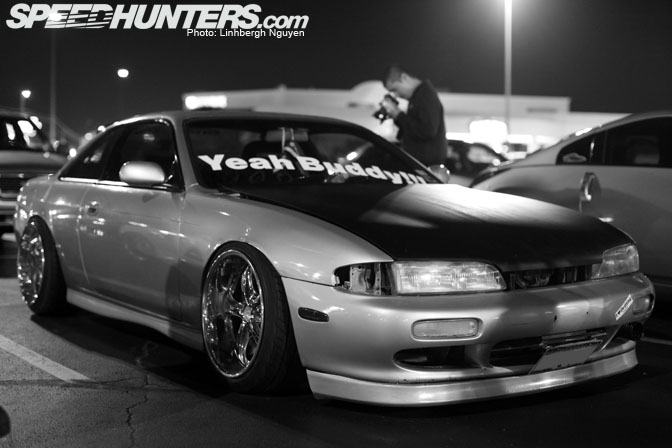 There were some gems parked up in the darkness on the other end of the lot. Both Linhbergh and I don't really like to use flashes, as it changes the mood and visual tone of night time photography too much for our taste. But our 5D MkII cameras have a remarkable ability to shoot in low light conditions. So we did just fine shooting in the blackness.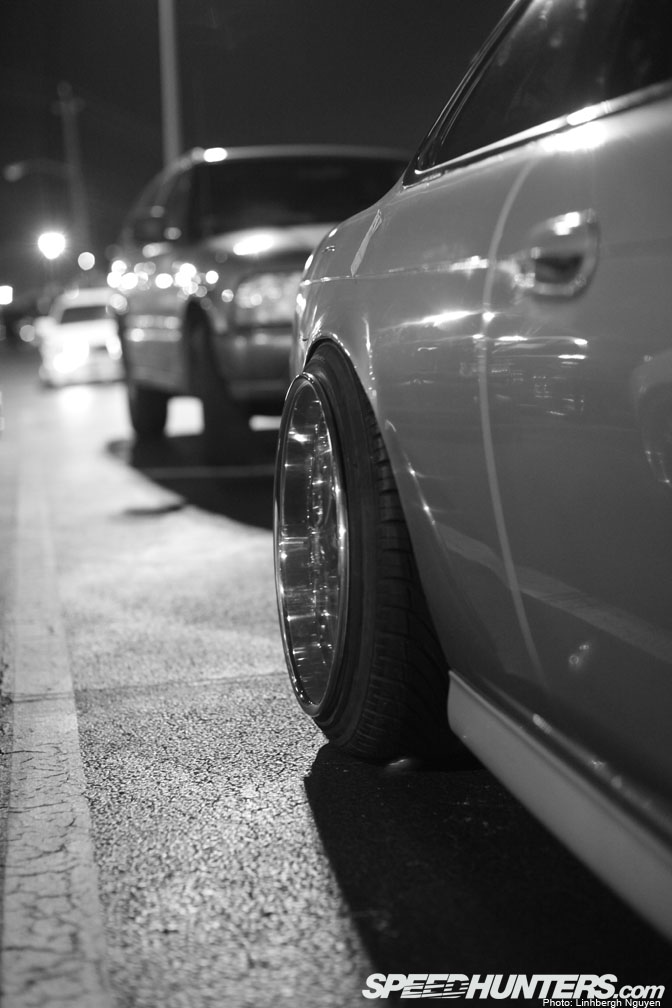 Check out the extreme wheel poke and tire stretch on this 1995 S14. While the car isn't a particularly crazy build, it's had attention put in all the right places IMO.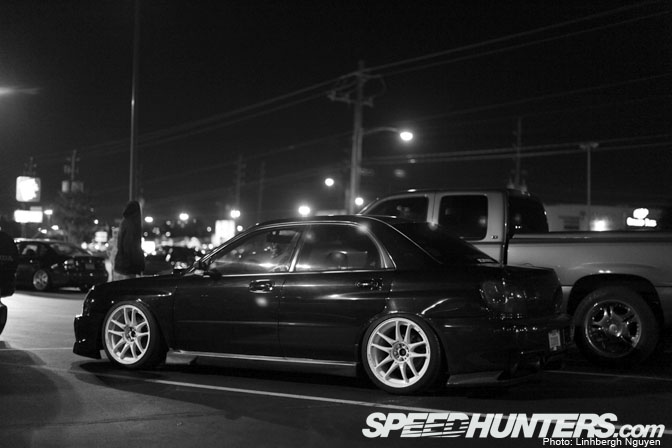 The S14 rolled in with this low and hard Impreza, but they were unable to park together to rep their crew.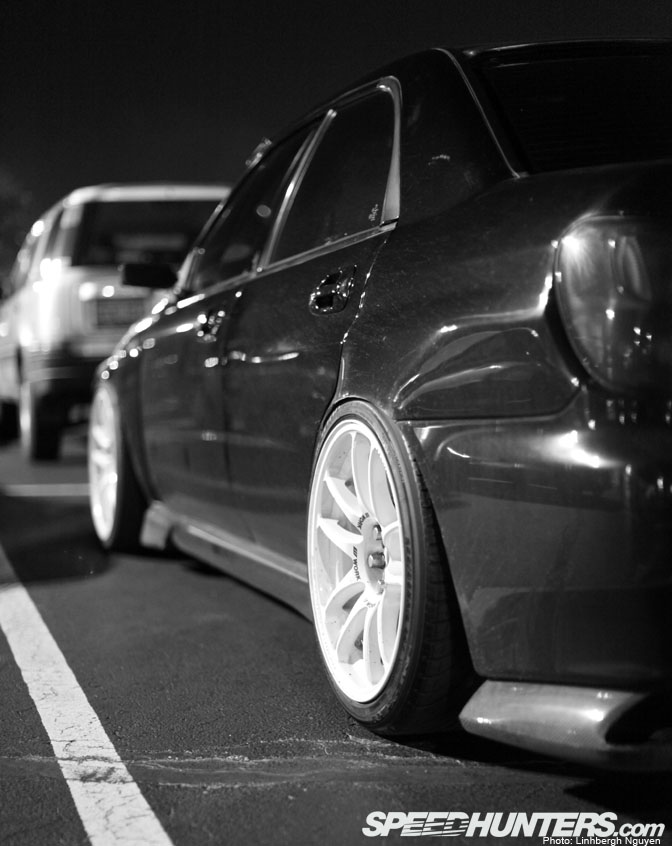 As they say in Nor-Cal: Hella Flush!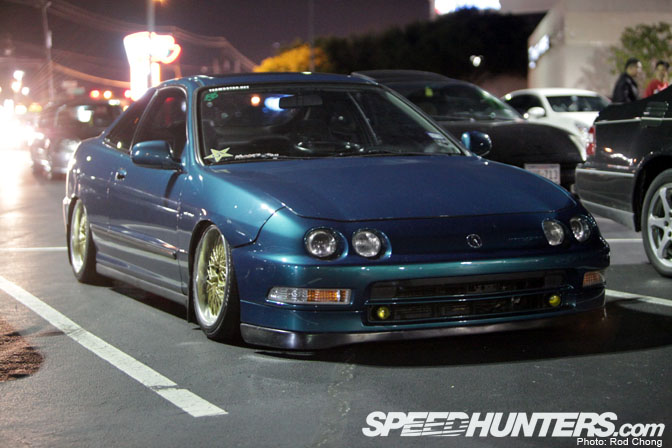 Going the equally respectable "tuck" route was this Integra.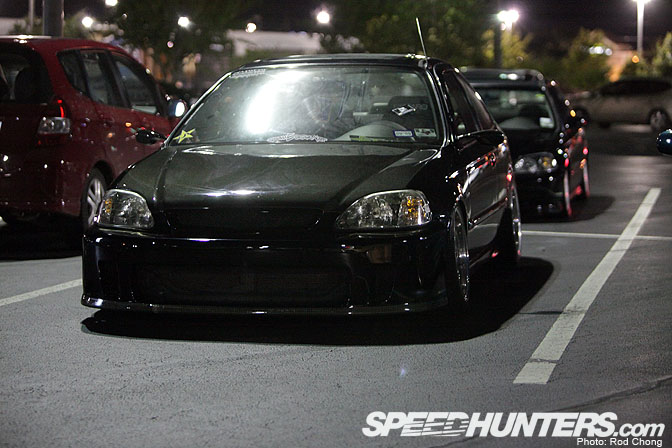 It was rolling with these two Civics. These simple but slammed style of Hondas seem to be the next wave of style for these types of cars.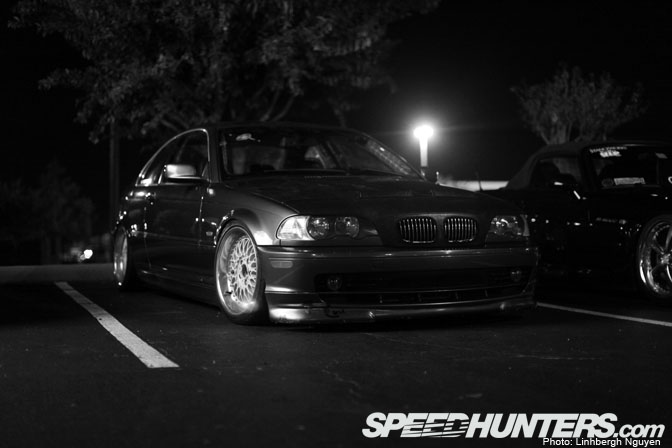 I suppose some of you who are focusing on track day or maxed out performance cars might find these more straight forward "stance" cars to be too basic perhaps?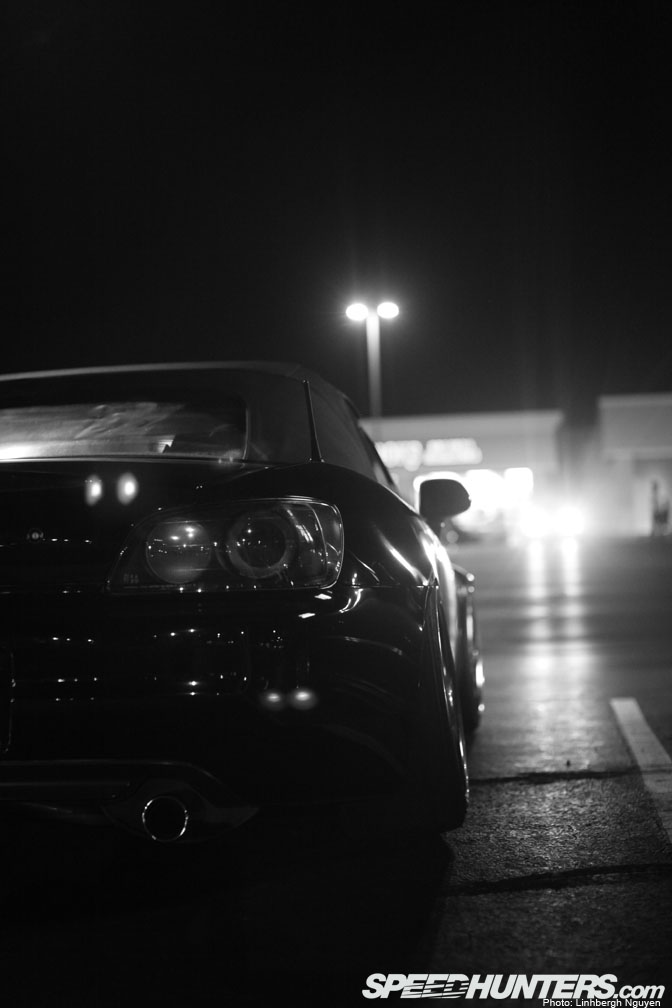 There certainly is an edginess to them though, especially when you see them dragging their underbodies down the street.
BTW I'm amazed that we were able to shoot this super-slammed S2000 at all given how dark it was on the far side of the Access Zero car meet.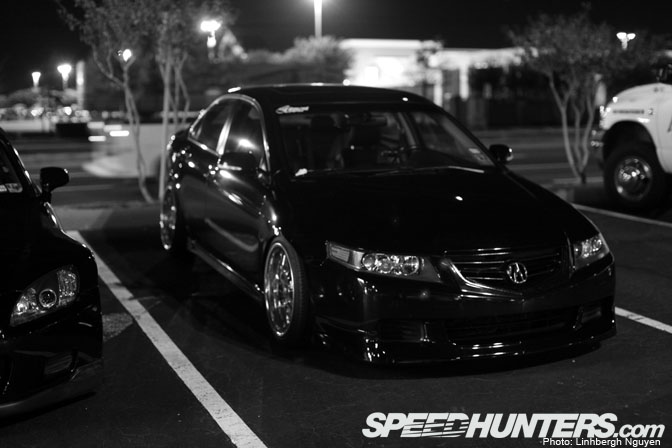 It was parked next to the offset-stretch-slammed Acura.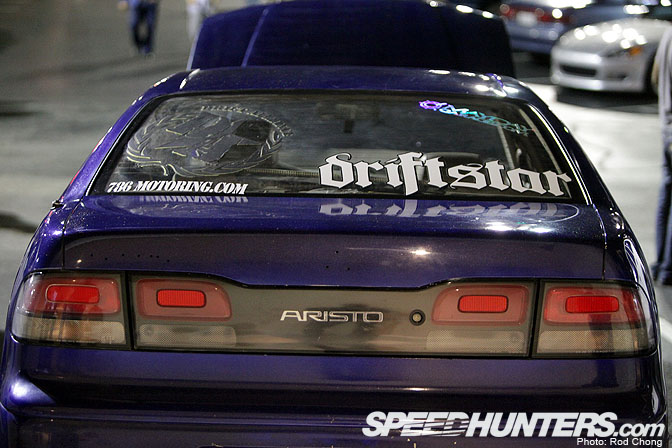 Heading back to the central area of the show I stopped to admire this drift-spec GS300.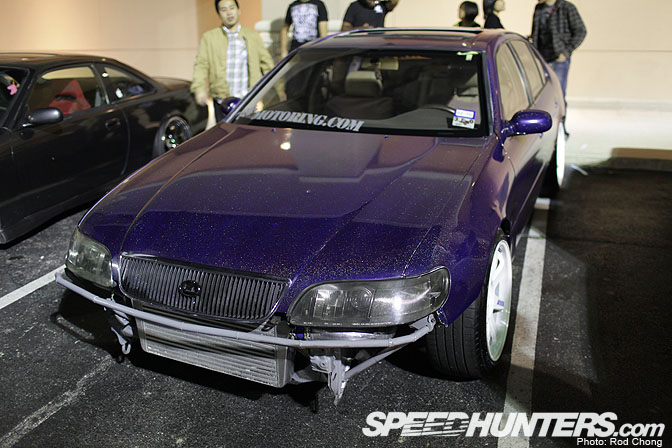 The 2JZ powered car is owned by Amir Rizvi from the 786Motoring crew.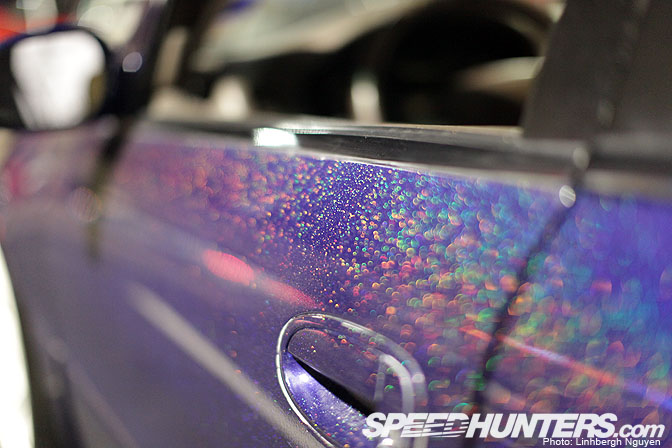 Like the sparkle paint?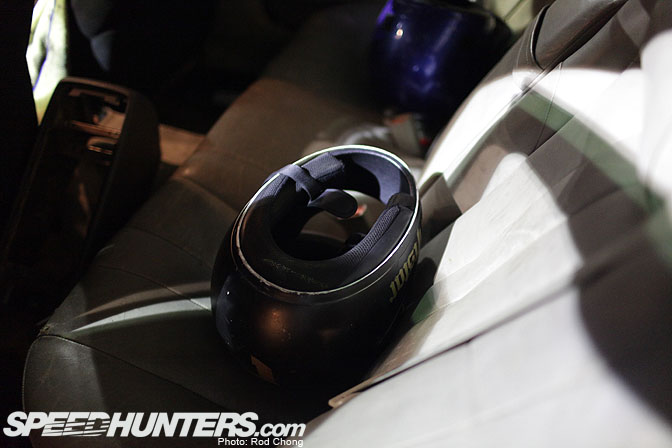 I thought it was pretty cool that this huge four door drift-barge had a discarded helmet sitting in the back seat. It shows what this car is built and used for: Drifting!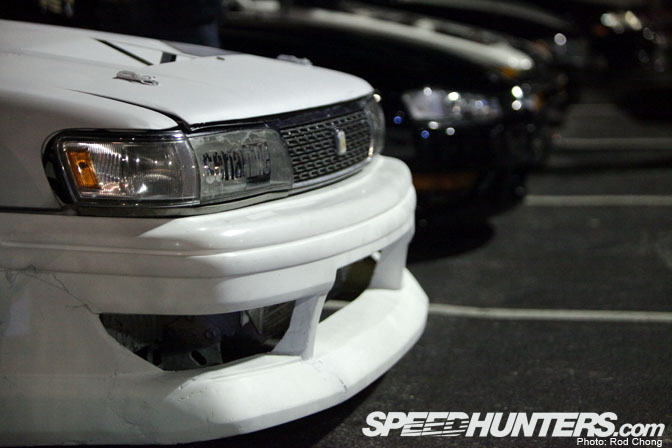 This Cressida is also part of the 786 Motoring Crew.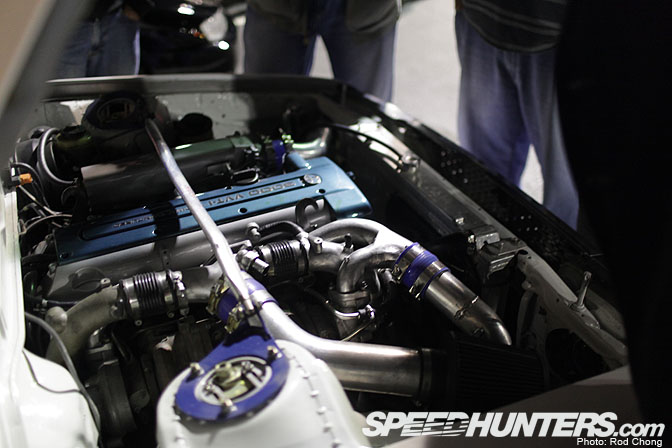 Those of your who attended the Red Bull Drifting World Championships last year in Long Beach may remember this car. We'll look at it in more detail in a bit.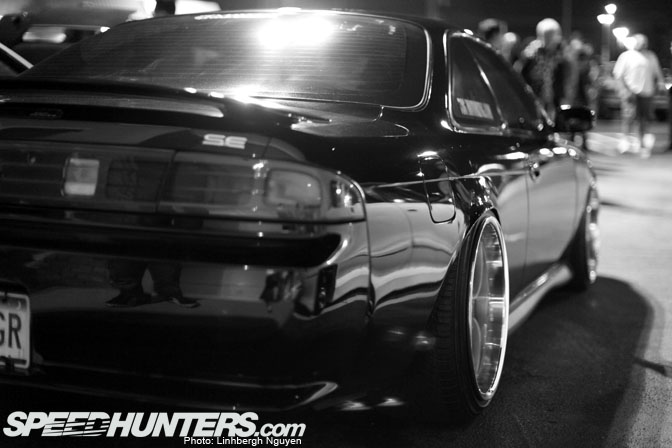 And another 786 car: this very clean S14.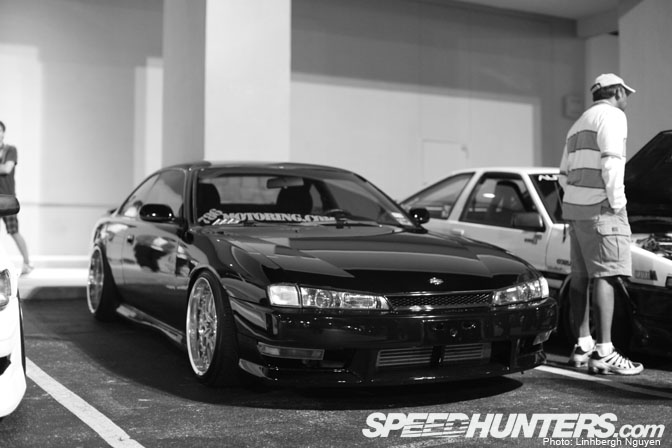 Now that's perfect stance! You can see the infuence of the Matt Powers look in some of these cars. Some of them even quoted his car as an influence.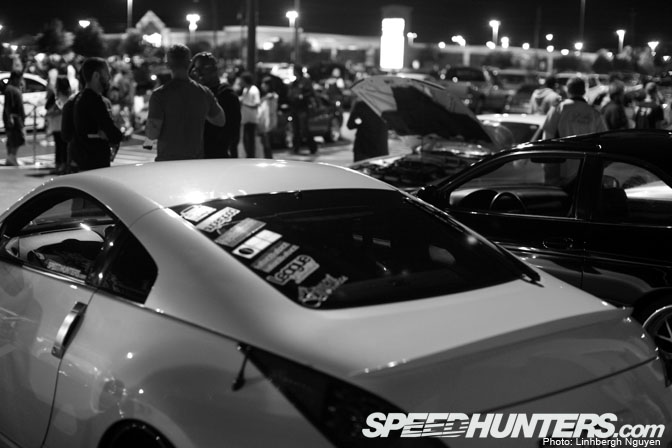 As the darkness of the night set in, the assembly of cars and crowd continued to grow.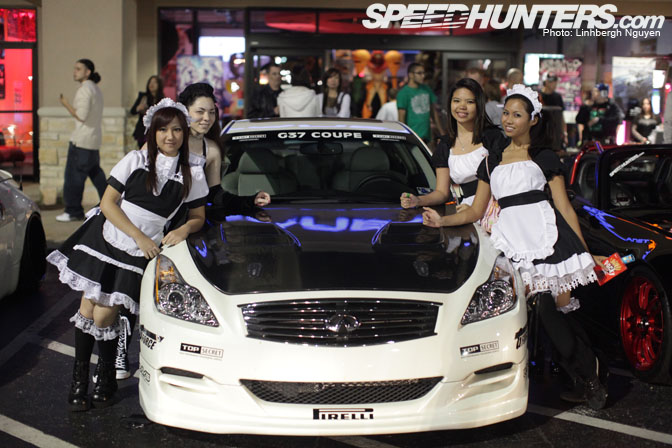 The maids seems to take a shine to Linhbergh… perhaps they wanted to play video games with him?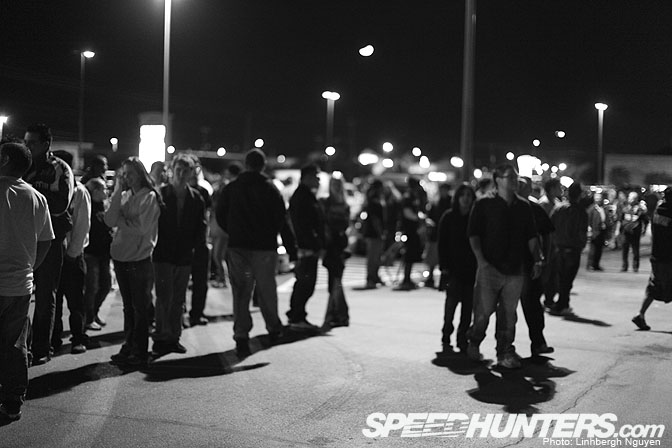 Myself, I was pretty amazed by the ambience of the event. The Access Zero 42 organizers bring together some pretty cool elements. video games, car enthusiasts and music are all gathered in one place and people were free to loiter and hang out to their hearts content. I have to commend them for their efforts and give props to eveyone in the Houston Car scene who came out on Saturday!
To be continued…
-Rod