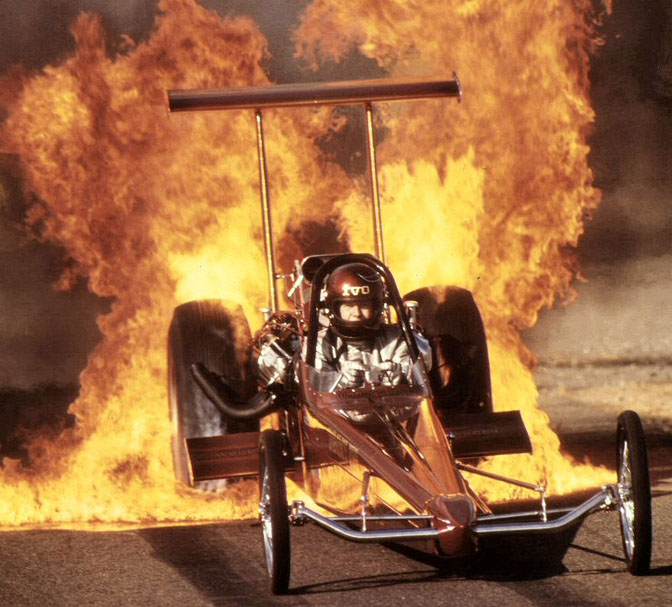 It was the Winter Nationals at Pomona California in 1974.  We were down to the last round of qualifying, with no success of making the field yet because I'd had ignition problems all weekend.  But when I warming up the car in the pits, it sounded so sharp.  I knew I'd found the problem.  But little did I know I was about to take the "E ticket" ride of my life on the next run.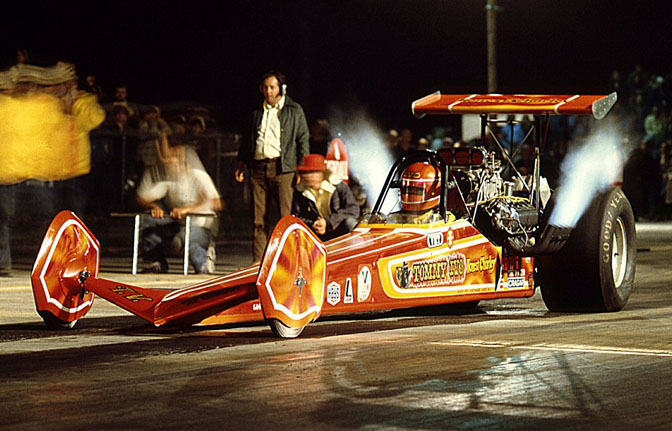 Not only was it my last chance to qualify for the race, but I was also racing against a guy that I considered to be all but my real bother, John "Tarzan" Austin". He had toured the country together with me for seven years as my crew guy.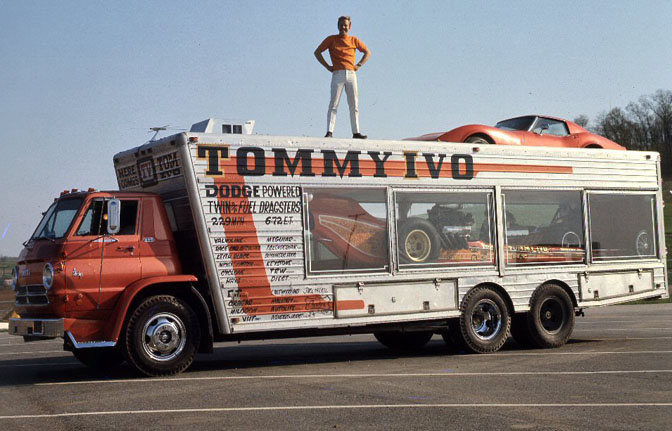 You could actually tour a dragster in those days with only two guys,
but we were two very busy little puppies with all the work it took to
accomplish that feat.  Like the time I had a truck with two dragsters
and a Corvette parked on top of the works.  Just keeping it polished
was a monumental task.
But lets get back to my E ticket ride.  I wasn't about to let the student teach the teacher a lesson buy getting beat by him.  I wanted to crush him under any circumstances.  Little did I know that I was the one that was slated to have a crushing experience.  Since this was the first time I had a chance to race him after he found his way to the drivers seat with another team, I hopped up so much.  I was burning pistons when I went past the Christmas tree just after leaving the starting line, but it was running like a striped assed ape.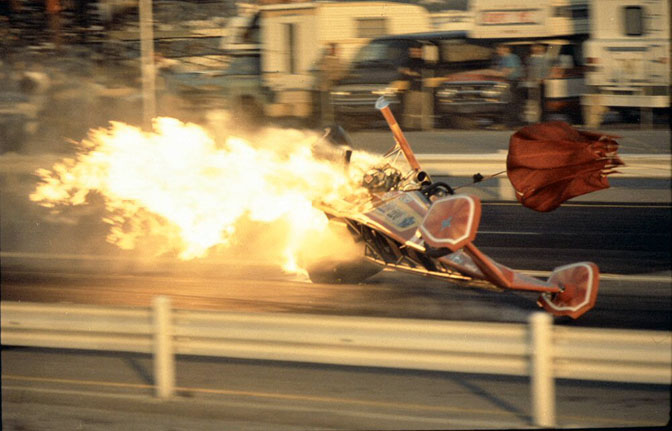 It only made it "almost" all the way to the finish line before it expired.  The fire was so ferocious when it kicked the rods out of the side of the block that it engulfed the rear wing completely with fire and zeroed out the down force of it.  When I felt the rear tires start to slide on my oil, I lifted off the throttle and as I back peddled it, I could feel the car start to roll over from the torque of the motor changing direction of rotation.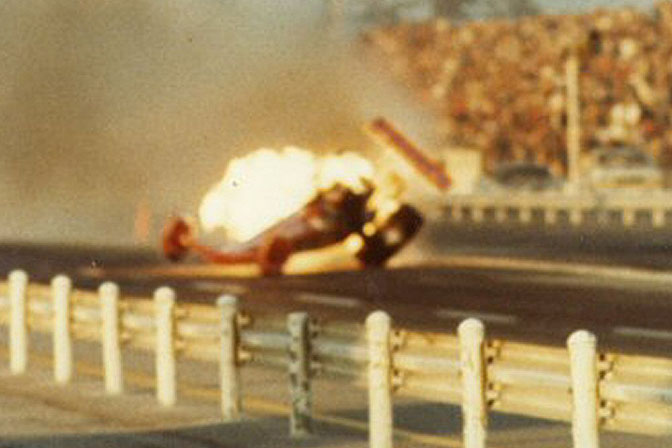 At first it was shear terror.  Then I decided in my own mind that I was going way too fast for this to happen and walk away from it.  I was sure this was it — it was curtains for TV Tom!!!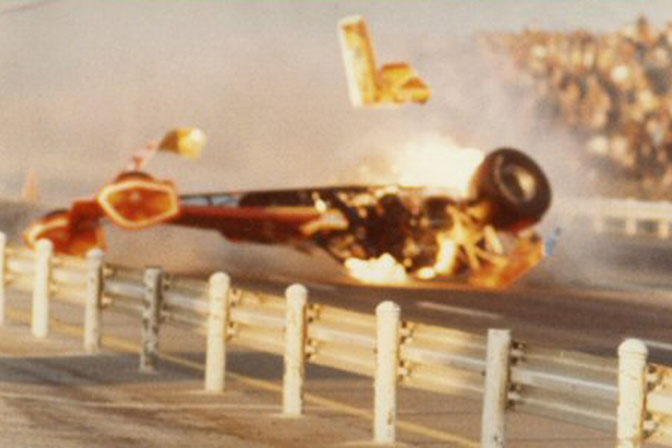 Oddly enough, at that point it became euphoric and became almost enjoyable.    The only thing that made me mad though was when it turned around backwards and the flames started coming past my ears.  I didn't want to see was about to happen, happen.   So I closed my eyes — and missed the whole show!!!  Damn!!!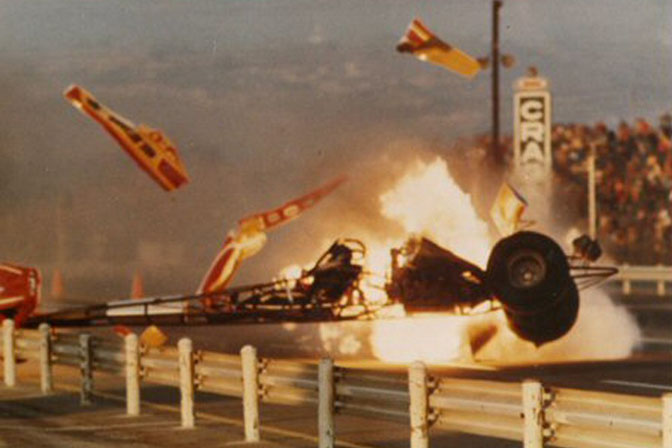 I opened them once and the ground was over the car, instead of under the car. and I promptly closed them again!!!  Those Ostriches aren't stupid — it's very pacifying.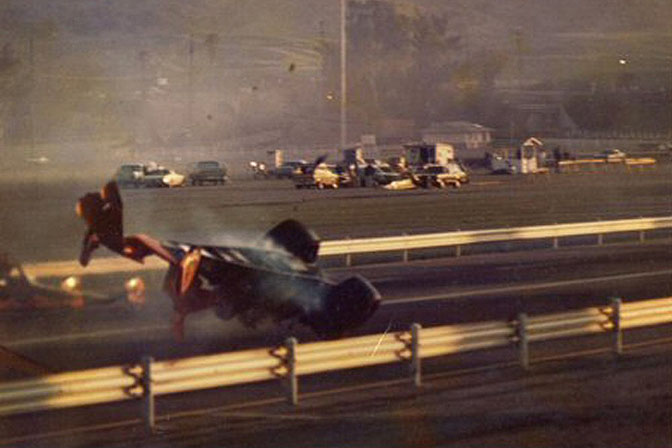 But all's well that end's well.  I didn't get a scratch out of it.  Except messing up my armor!!!  Just kidding!!!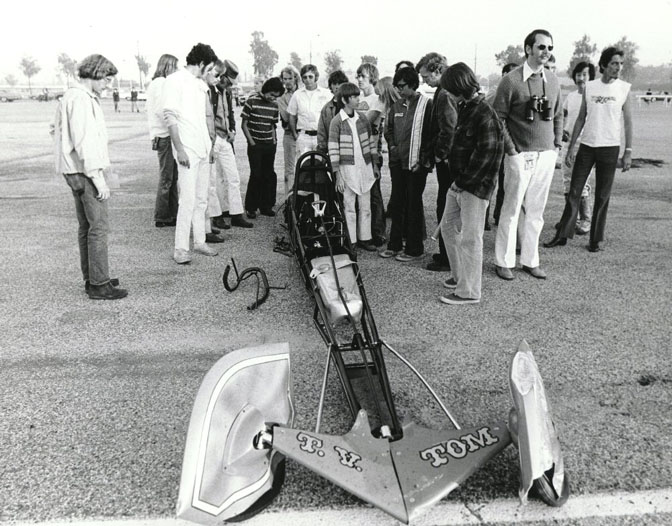 It was a brand new car at it's first race, with this being it's fourth run.  I killed everything inside the motor with the explosion.  Plus, I killed everything on the outside, by rolling it over and over.  BUT, and here comes that "but" again.  If I could only make one run in a drag race car, this is the one I would choose.  But you have to not get hurt.  Otherwise it would spoil all the fun.  It was totally worth the price of admission.  Who's an adrenaline junkie???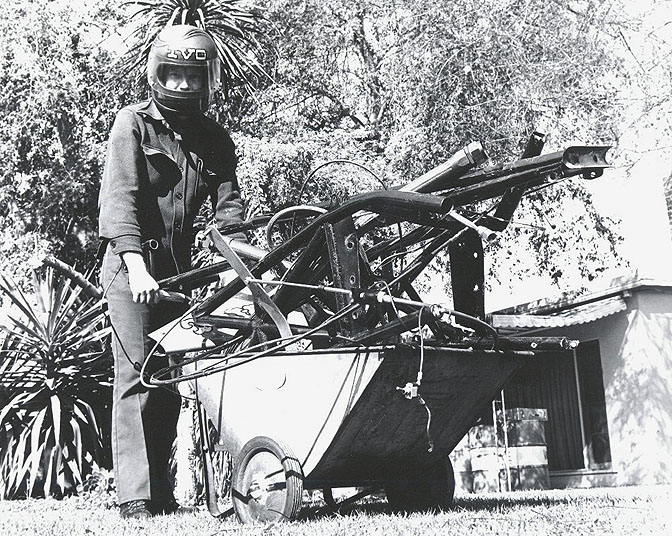 I was born in Denver, Colorado in 1936 and after moving to Hollywood at age seven – I found my way to a movie carrier that lasted nineteen years and spanned the making of about 100 movies and 200 television shows.  I did everything from small parts, like the Western Union telegraph delivery boy to a staring role in my last TV series called Margie 1961/1962.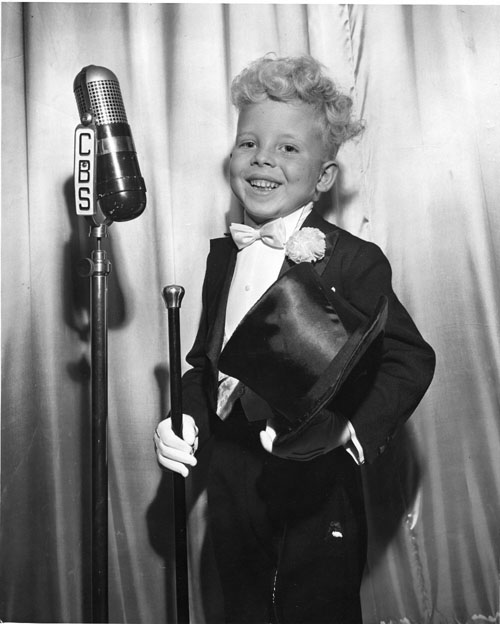 I was in the movies before they even had television.  I guess that's why my buddies tell me that my last name  I V O  is perfect.  It stands for "I'm–Very—Old".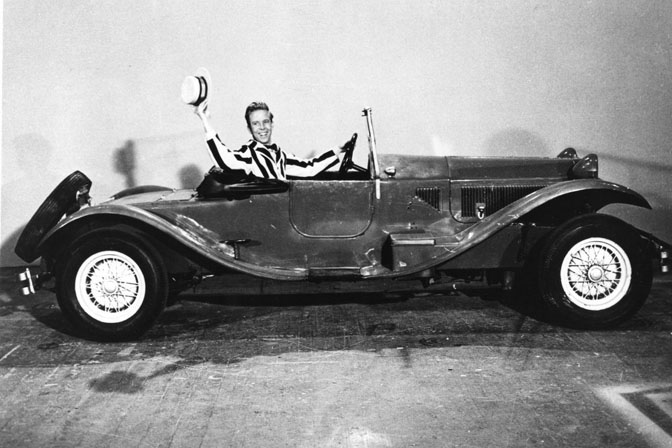 With friends like that, you don't need any enemies,  but that's where the "TV" in my nickname TV Tom came from.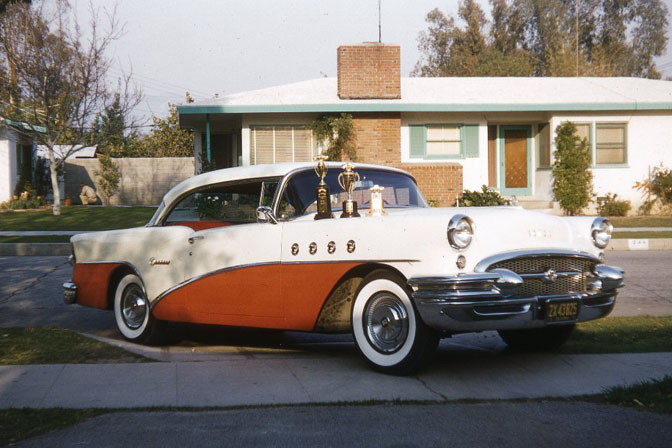 It all started when a friend asked me to take my '55 Buick Century to the drags and I won both classes and set a track record to get two trophies in one day.  That was two Oscars in one day to an actor, and the hook was set.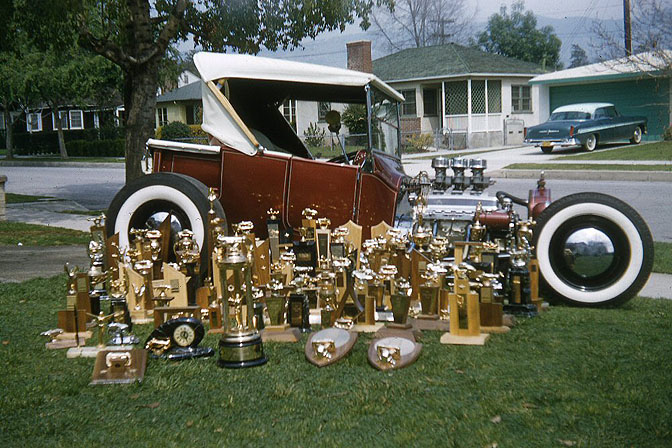 After losing the Dynaflow transmission 3 times at the races, I decided to build a "T" roadster. Since the Buick engine ran so good in my Century, I thought, why look a gift horse in the mouth and started running Buick's in all my race cars from that point on.  The "T" was never beat in class and it held the record everywhere I ran it.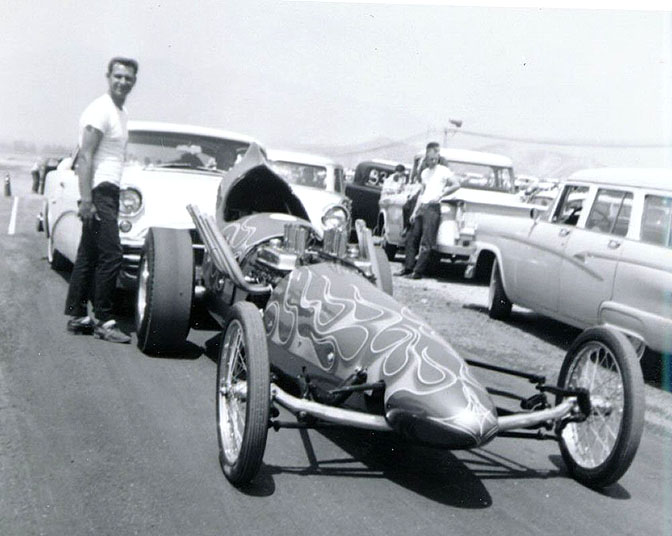 But running in the lower classes only lasted so long.  A friend on mine Don Johnson, had a dragster he had bought from Kent Fuller the chassis builder.  One night when he was sitting next to me at the Bob's Drive-In while I was have a burger and a coke in my "T", he asked if I'd like to put that engine in his dragster. After the racing it next Sunday and winning Top Eliminator, I was sitting on Fullers front porch Monday morning when he came out of his house begging him to build one of those for me – and my dragster days were on.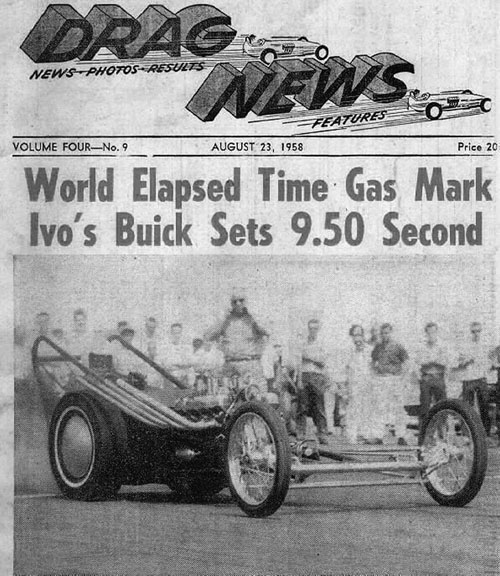 NHRA had limited their tracks to running gas or fuel only at that
time.  Gas powered dragsters were the top of line and we set the
world record for that one of the first times out.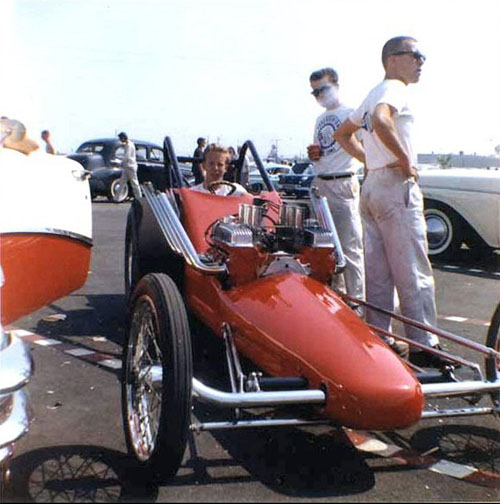 Note the door of my red and white Buick Century can be seen in this picture.  My poor, poor first race car, was demoted to being a tow truck for my new toy, my single engine gas dragster.  Life's not fair!!!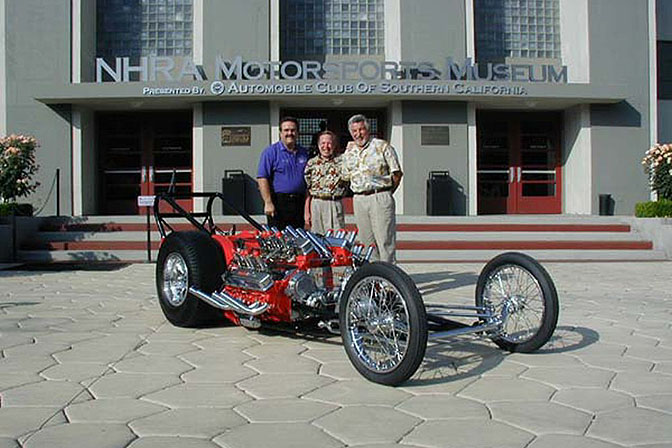 When we ran out of horsepower with the single engine dragster, the next logical step was two motors.  Seen here in front of the NHRA Wally Parks Motorsports Museum with my pals Greg Sharp, the curator of the museum and Steve Gibbs, the then director.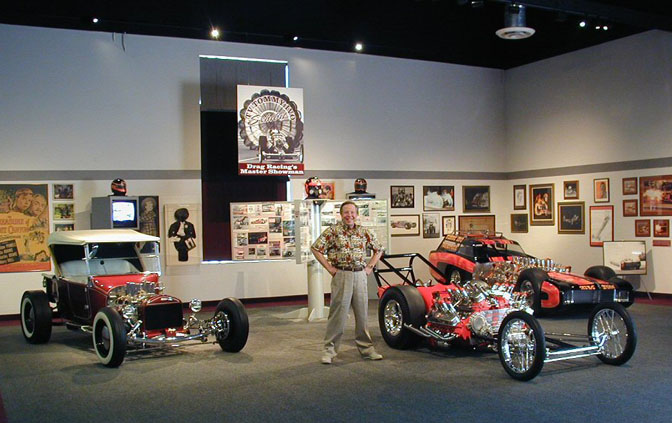 They had the Tommy Ivo Exhibit set up on the inside, taking up half the Hall of Champions at that time.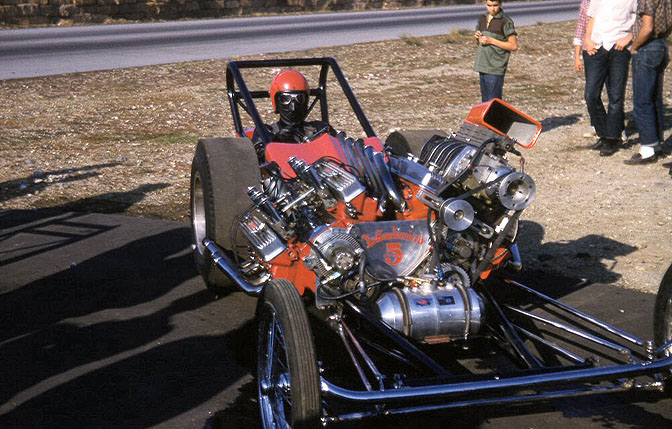 The next step to more house power, was to add a supercharger to one of the motors.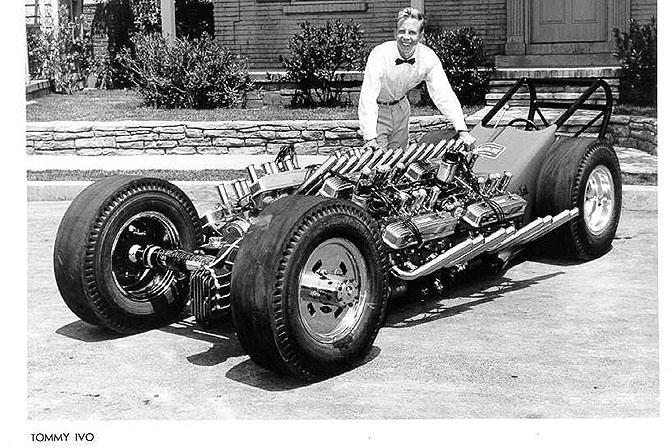 Then as logic would have it, if two were good.  Four would be better.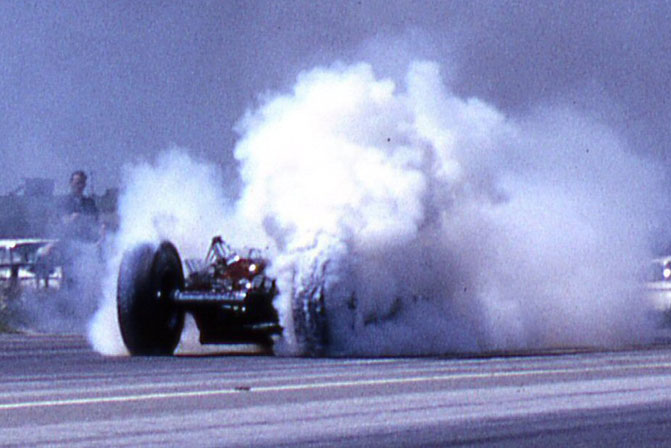 What a sight it was to see run, with four wheel drive powering all the tires.  It was dubbed "the rolling fog bank".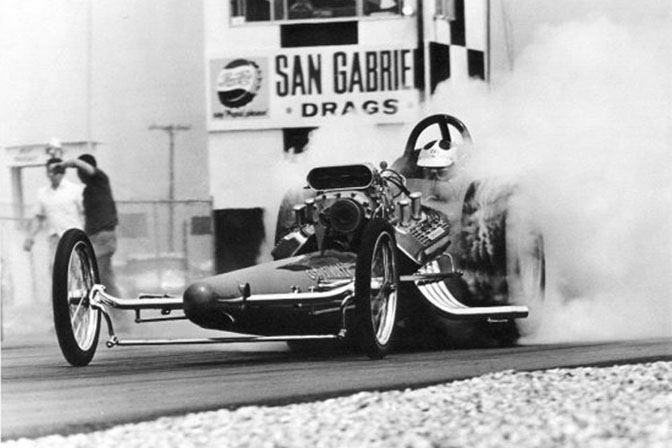 But NHRA lifted the Nitro Methane ban and I capitulated to the fact that the Hemi Chrysler was the only engine to run on nitro, so I made the change over to them from that point on.  Otherwise a six pack of Buicks was next — well maybe not!!!  This is one of my favorite pictures of my favorite car by the way.  It was my first fuel car that we broke the seven second barrier with.
I had one of the best experiences of my life on our 1964 trip to England with the United States Drag Racing Team.  Plus I guess winning the series didn't hurt matters, for me being so enamored with the trip.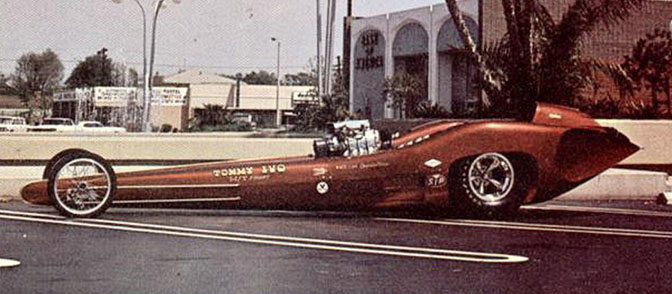 My carrier in drag racing then lead me to a series of front motor fuel dragsters.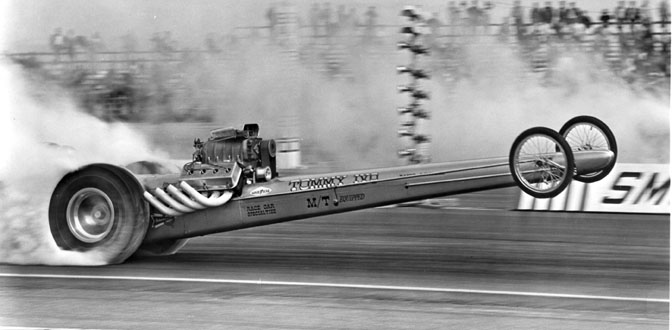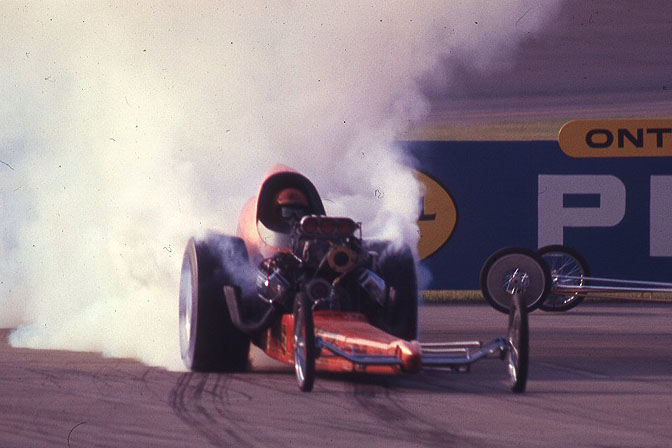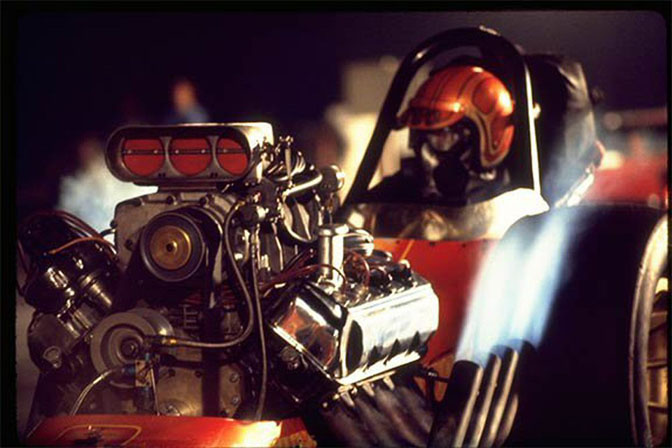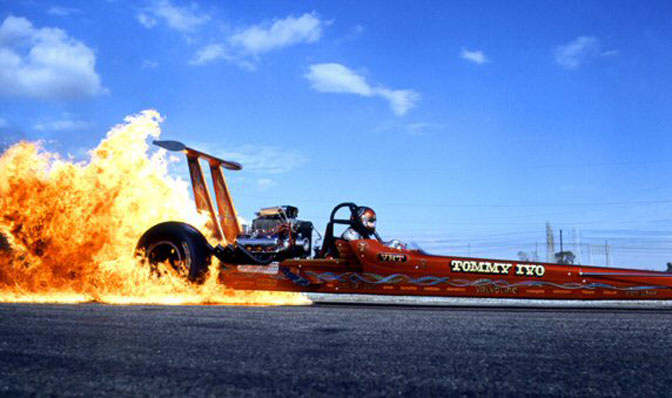 Then came a series of rear engine fuel dragsters…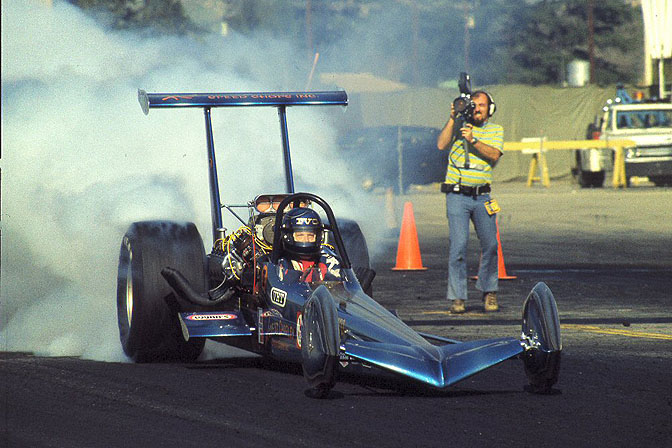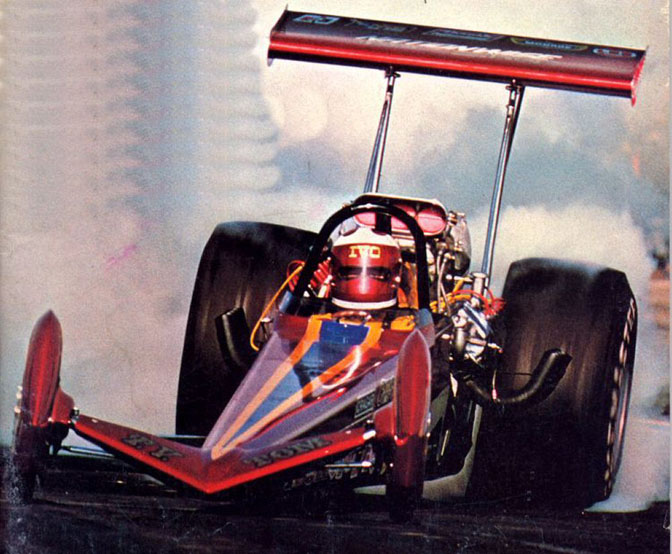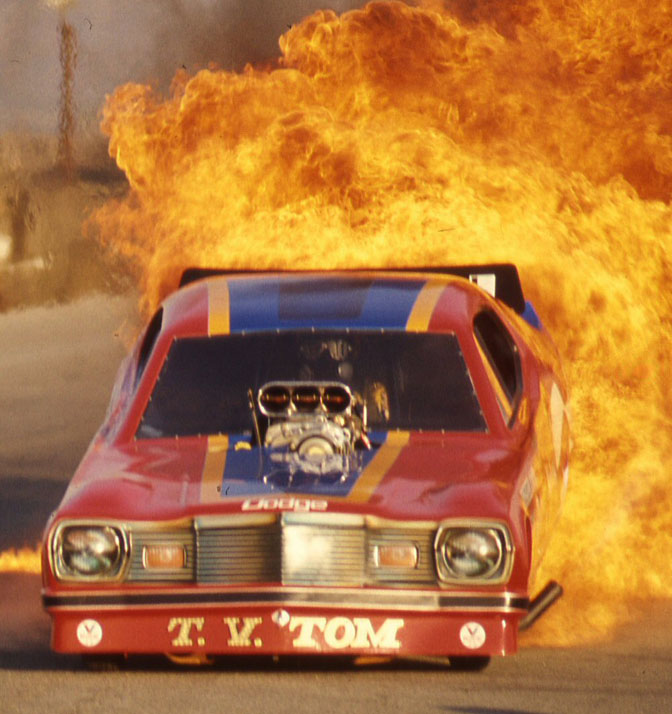 I also had a number of fuel funny cars…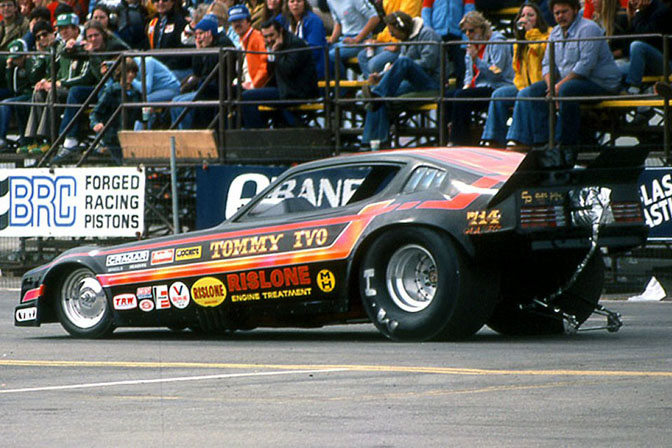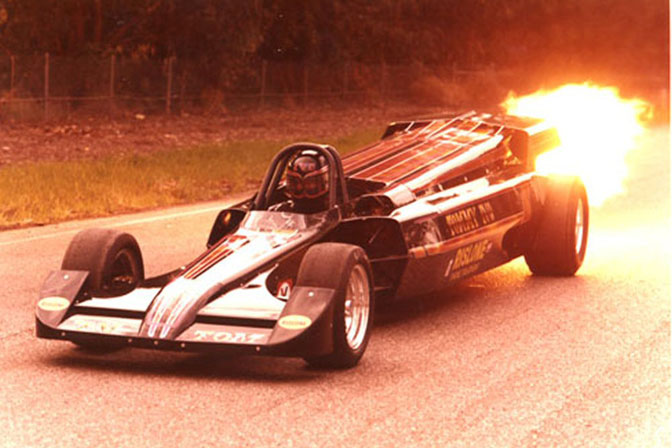 Then finally came my jet car. I had 36 different cars in all, that ran in 12 different classes.  My career spanned from 1952 to 1982, when I broke my back in an accident and my racing years came to an abrupt halt.  But "Oh how bright the candle burned", while it was all going on.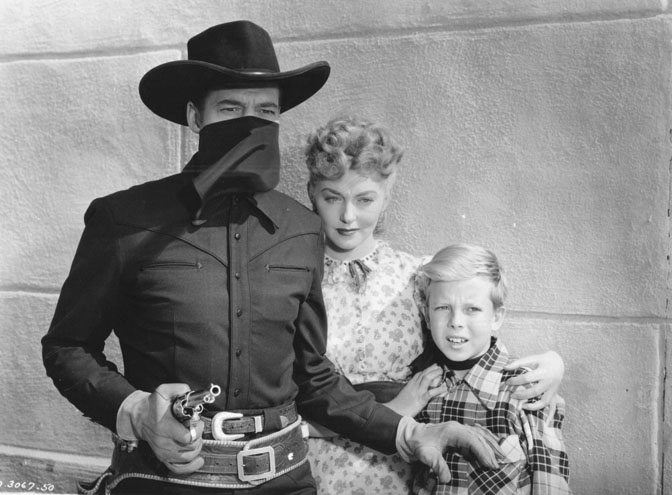 I found Aladdin when I was young and wisely used my three wishes.  The first of which, was being in the movie business.  It wasn't too shabby  "riding" with Roy Rogers, Gene Autry and The Durango Kid when you're just a young kid and them dummy's were paying me to do it.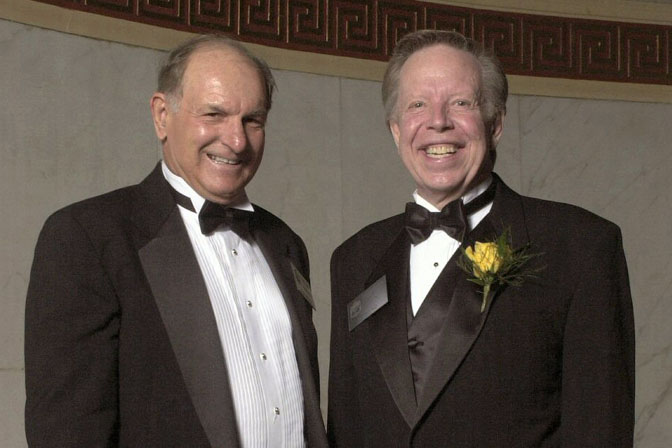 The second wish was for drag racing, where I got to do my hobby as a living.  Then finally, I lived long enough to know I'd stood the test of time and got my third wish without even asking for it. Don Garlits inducted me into "The Motorsports Hall of Fame Of America" in 2005, with the likes of Mario Andretti, Dale Earnhardt and Richard Petty.
I was inducted into the first inaugural, "International Drag Racing Hall of Fame" in 1991 and was also the first to get a "NHRA Lifetime Achievement Award". 
We set world records by being the first to run in the 8 second bracket, as well as the first to run 170 and 180 mph on gas.  Plus we were the first to run in the 7's and 5's on fuel, as well as 190 mph on fuel.
We have just scratched the tip of the iceberg with all this,  but Tom Cotter is writing a book now, that will have all my 36 cars in it.  There will be numerous pictures never before seen and of course, enough space to get into detail on everything.  We expect it to be released in early 2011.
In retrospect, I'm a truly contented person and how many people do you know that can sincerely say that?  
-Tommy Ivo