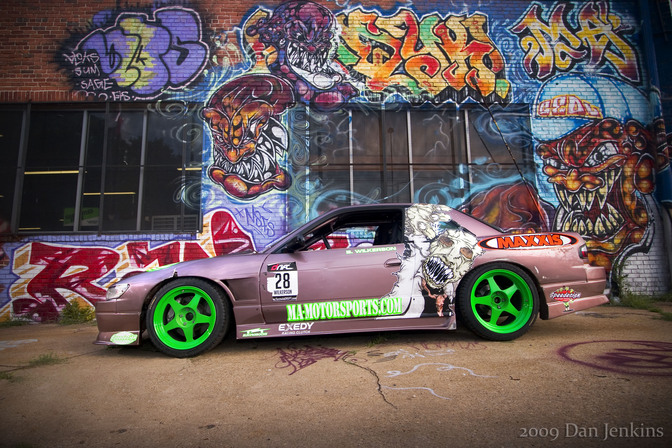 If you are halfway into drifting, then you have heard of Drift Alliance Ace Brian Wilkerson and his infamous Zombie car.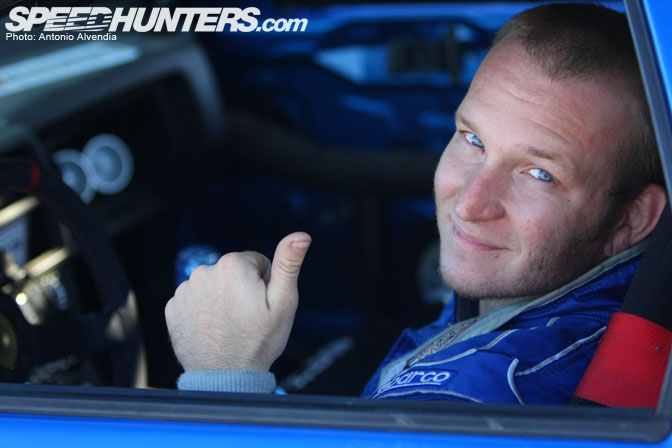 The car was given the name after a serious smash into a wall at the 2007 D1GP in Englishtown when Brian let it all hang out in a battle against Imamura. He let it hang a bit too much and got bit by the wall – a wall that showed no mercy and immediately transformed the beautiful Cassius Red S13 into none other then a Zombie.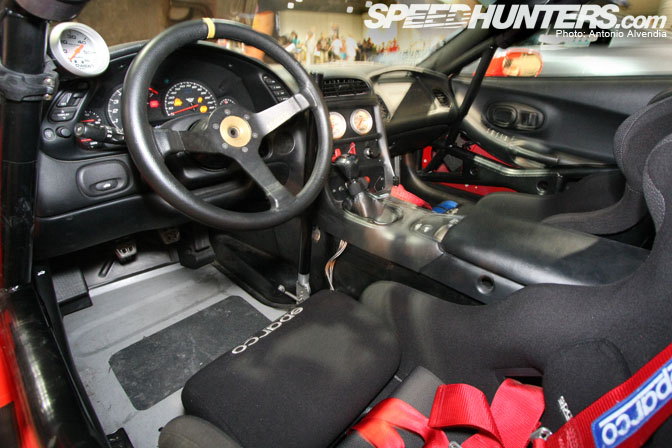 Like most of us drifters, he didn't care that the car was falling apart and that it looked like it had been chewed up and spit out. All he cared about was the fact that when he pressed on the right pedal the car screamed and tires burned.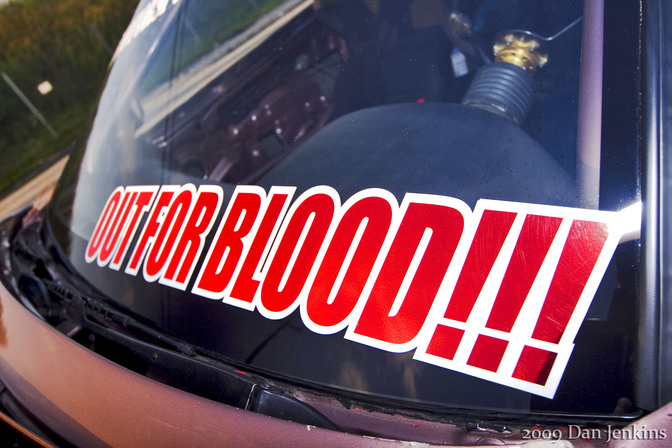 He embraced his Zombie car and continued to compete and kick ass in it for the entire 2007 year – the Zombie refused to die. With goals of competing in Formula Drift Brian decided that it was time to build a new car, however he had to kill the Zombie first and make sure it never came back to life.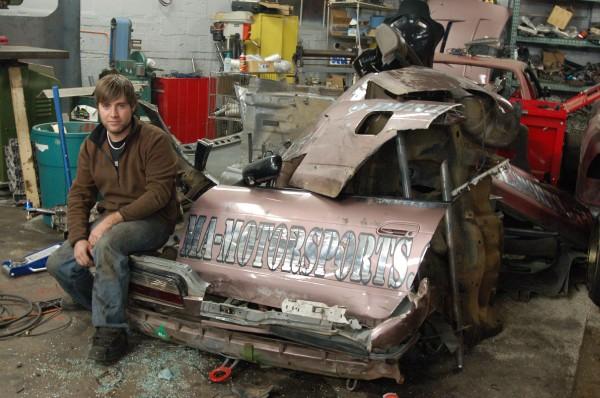 Brian took the car to his shop – MA Motorsports in Baltimore, Maryland (www.ma-motorsports.com) – where he and his partner in crime, Ray Shake, cut the zombie in pieces. They cut up everything but the suspension, the drive train and of course, the Regamasters. How else can you kill a Zombie other then cut it in into pieces? It was a sad and unsettling time around MA Motorsports after the death of the Zombie car.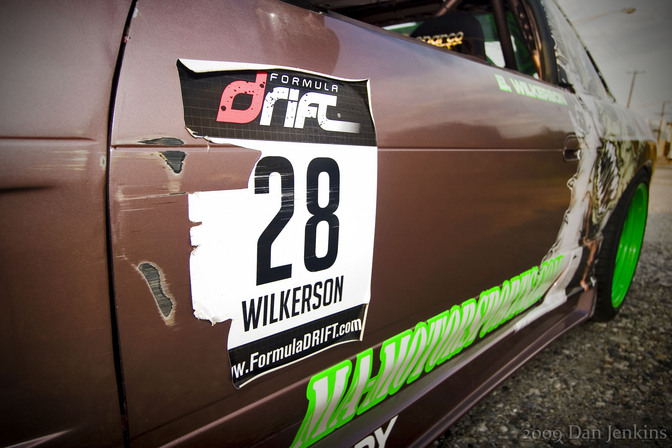 While Brian was preparing his new chassis, he started hearing weird noises and strange things began to happen to him. Parts that were slated for the new car were being moved around in the shop and old Zombie parts ended up in the most random places including his bed and toilet. Even weirder, everything that mysteriously moved had a weird green slime on it.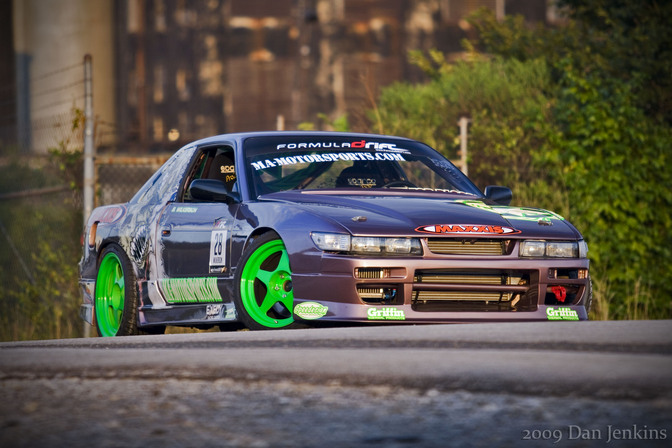 Brian thought it was Ray playing a joke on him and just dismissed it, until one day he came into the shop and there was deep claw marks on his new chassis. It was this very moment that he knew he hadn't killed the Zombie and realized that it's soul was ultimately going to follow him wherever he went.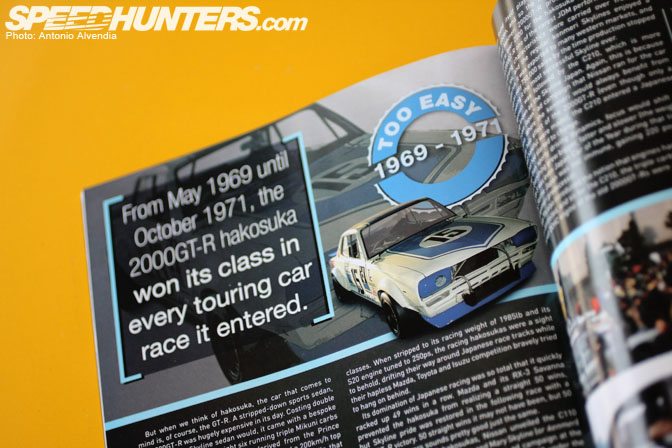 He realized he needed to give the Zombie's soul a home where it would be happy. He decided to resurrect the Zombie car; not only resurrect it, but build it faster, lighter and stronger to aid in its evil nature to annihilate anything in its path.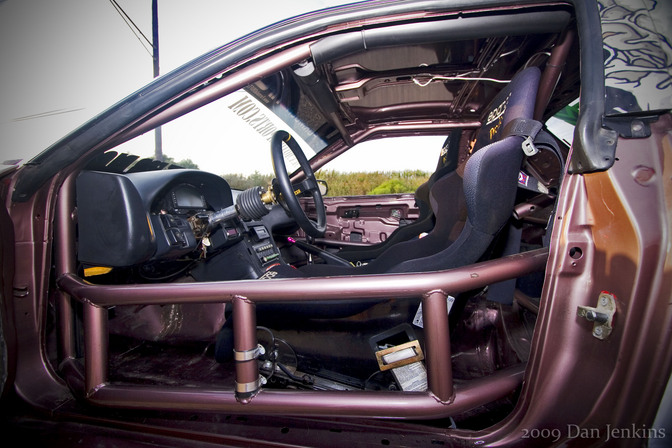 The chassis was fully spot-welded, sub frames were reinforced, and the cage was built to bounce off opponents as well as walls.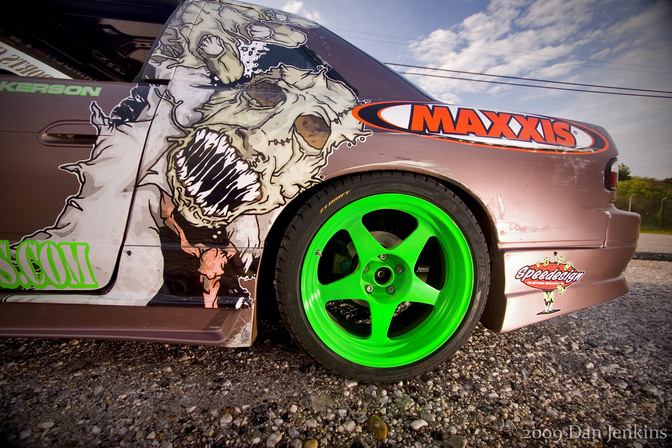 The suspension consists of MA-Motorsports Awesometron 5000 spindles, KW coilovers, and Battle Version suspension arms.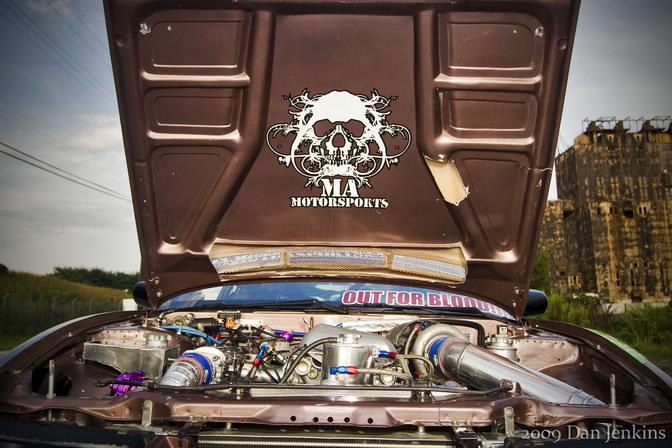 While the chassis and suspension were pretty basic by design, the insanity was focused on the heart of the soon-to-be resurrected Zombie. He built a bullet-proof Brian Crower stroked 2.2 SR20DET bottom end.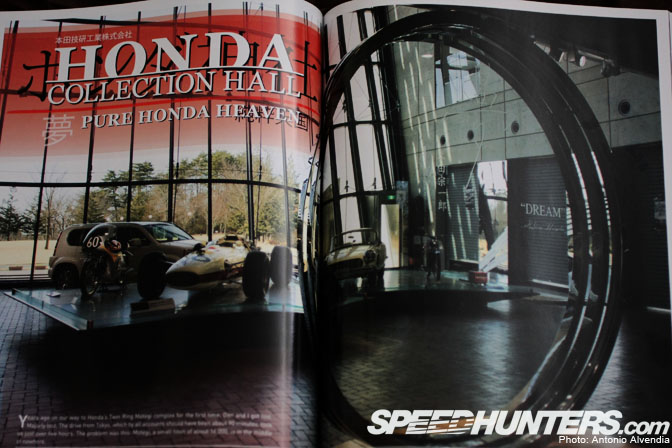 Due to some of the issues that the original Zombie car had when revving to 9500RPM, Brian and Ray decided to adapt a VVL head to the engine to allow the engine to rev to the moon without any worries of breaking rockers.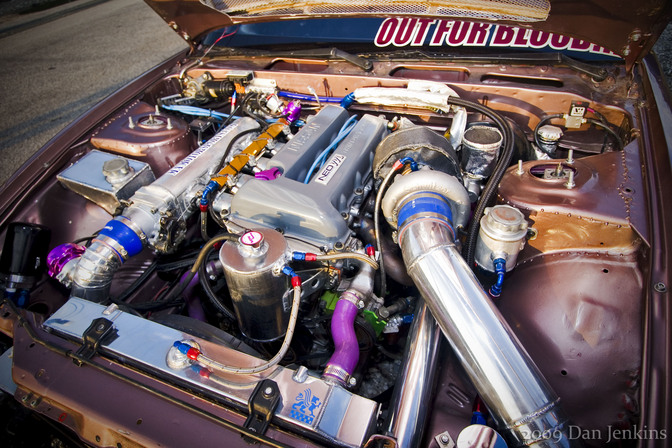 Brian decided to force-feed the hungry Zombie by way of a Bullseye Power S256 turbo controlled by a World Electronics PBC-1 to control the air being shoved in the handmade intake manifold. Keeping the Zombie cool was a Griffin Radiator and a Griffin Intercooler, and the blood was kept chilly with a custom Griffin oil cooler.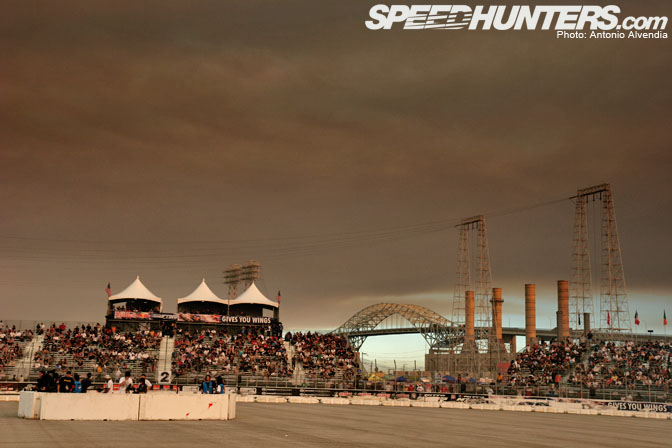 The Zombie was to be able to put all of its power to the ground under the load of Brian's heavy right foot without exploding thanks to an Exedy Hyper Carbon Twin disk clutch, Z32 transmission, and a 1.5 way Kaaz differential.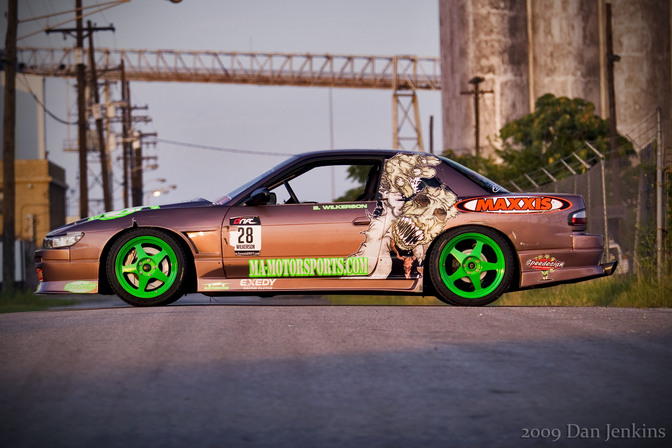 Brian used the mysterious green slime as inspiration to paint his Regamasters, which he wrapped with his choice of Maxxis rubber.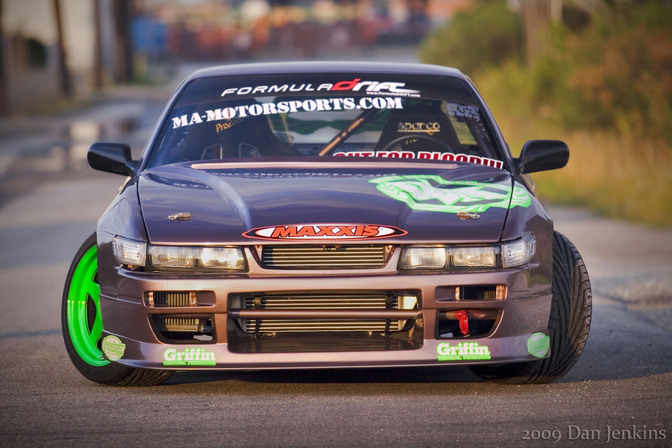 The Zombie made no hesitation when jumping onto the dyno putting out 443 RWHP and 380ft lbs torque…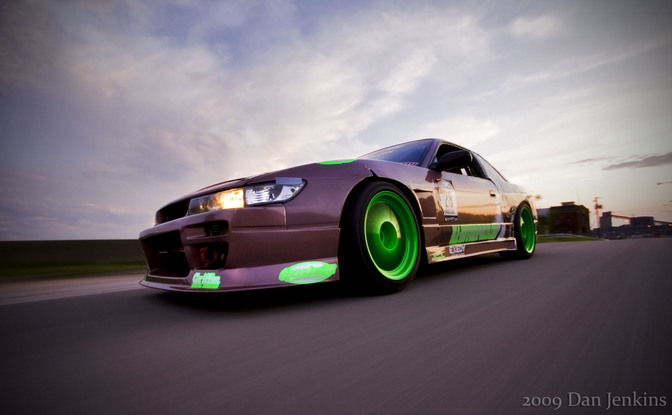 … thanks to Ray's feeding of the proper amounts of nutrients for a Zombie to perform at its peak via an Electromotive Tec GT.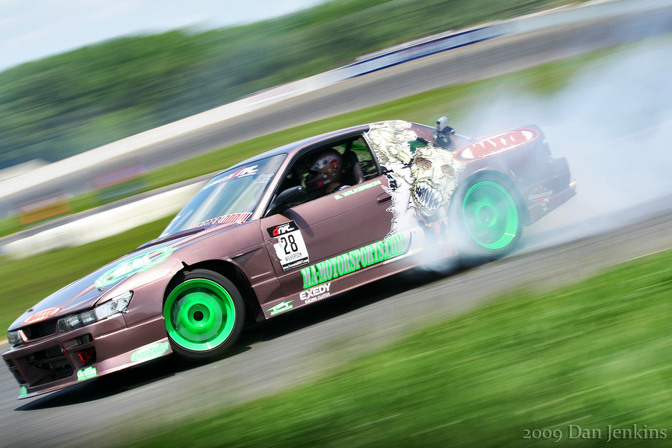 It was obvious Brian made the right decision to resurrect the Zombie
the first time he put it on the track, as they started off right where
they left off…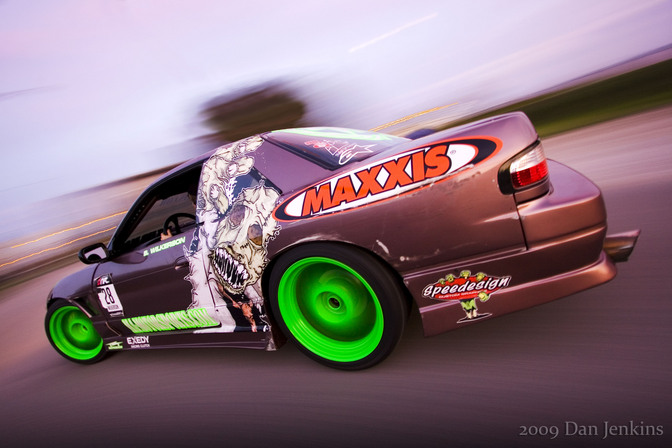 … Melting tires and making babies cry with the engine\exhaust note at 9500RPM.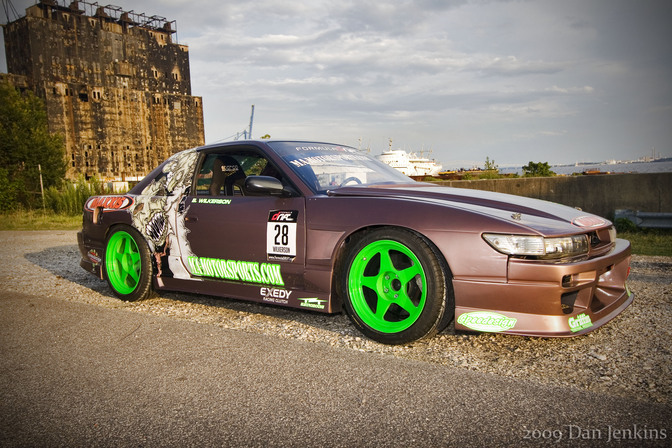 Brian's Formula D debut was in Atlanta this year where he made the top 32 and had an unbelievable running with Robbie Nishida in his first-ever professional tandem battle. Brian's pure skill, passion and dedication is sure to make him one to keep an eye out for in the near future.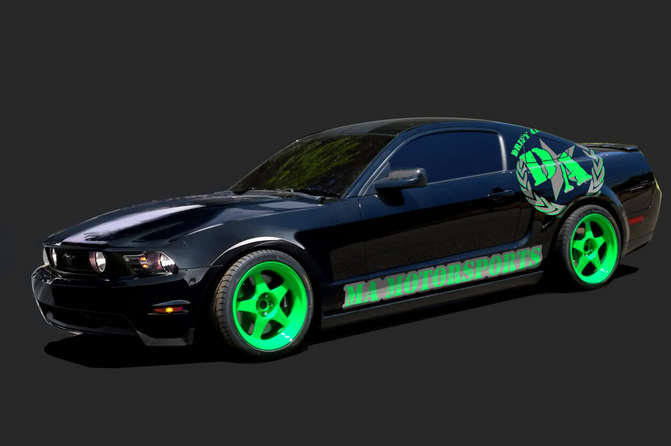 BTW Brian recently got bit by the Mustang bug. Zombie Horse… coming in 2010. Stay tuned!
-Vaughn Gittin Jr.
PS. Thanks to Dan Jenkins for the pictures.!