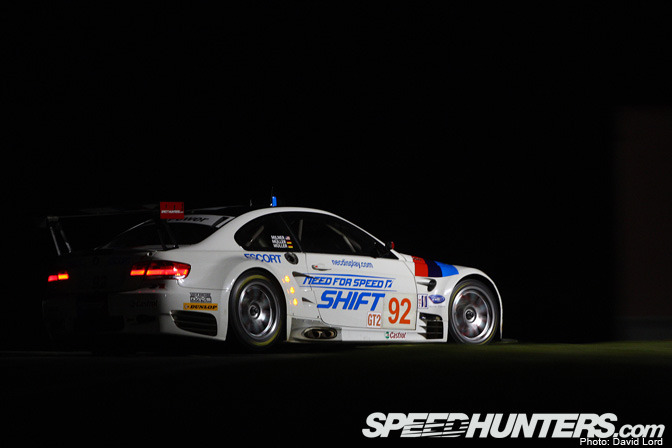 What's up SpeedHunters – I'm Tommy Milner and I'm a 23 year old 'kid', lucky enough to have to have one of the most exciting jobs in the world. I grew up in a racing family, my dad having been in racing since the late 60's, and grew up a big car guy/race fan. Nothing has changed since I was young, as I still watch anything and everything to do with cars or racing, now I'm just fortunate to make a living at it.
I started off racing 125cc shifter karts when I was 15, late by today's standard, after my dad took me to a karting school at Willow Springs. I went to Valencia, Spain in January of '04 for a Formula BMW USA scholarship shootout for 25 North American kids and came home with one of six. That's how I started. My first professional race came at the end of '04 for my father's race team where I qualified on pole and in my third race, the season finale, I qualified on pole again and won the race. Fast forward to 2009 and I now drive for BMW of North America and with the BMW Rahal/Letterman Racing Team in the American Le Mans Series. This last weekend I was racing at Road Atlanta for the Petit Le Mans where I finished, with teammates Dirk Muller and Jorg Muller, 2nd in class. Here's a little look into my weekend.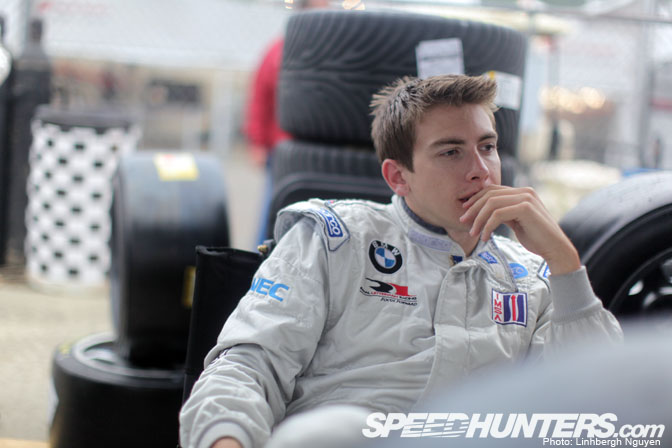 This picture is a little after my first stint in the car and me replaying in my head pretty much every lap. I criticize myself quite a lot, thinking about where I made mistakes, what I could have done to avoid those mistakes, and what I can do to fix them later.
I grew up as a big sports guy and played multiple sports through high school. I'm pretty competitive and racing has been one of the toughest competitive environments experienced. The focus required is unmatched. The heat, the g-loads on your body, the changing conditions, faster cars, slower cars, pit stops, the teamwork. It's like playing chess at 140mph. One mental mistake and you're done. Make one big enough and you won't have any opportunity to make up for it.
With all that said, I have fun pretty much every day I go to work. There is a lot associated that isn't always fun but I only need to think of the Corkscrew at Laguna, or the Esses at Road Atlanta, or Turn 2 at Mosport and I'm reminded it's definitely worth it. And then you get opportunities like working with EA to promote their new Need For Speed Shift game by hooking myself up to a bunch of cameras and showing people what I see; or seeing your race car on the cover of the game; and then signing copies for fans and friends. I can't see how that could ever get old. That's just something I never imagined I'd say I was doing, two years ago.
So, about the race: Petit Le Mans at Road Atlanta. Probably my favorite track in the US. Petit Le Mans was the first race for what would be the American Le Mans Series. It is as big of an event as the Sebring 12 Hour is in my eyes, which is our season opener, and it brings some of the best teams from around the world to compete for an entry to the Le Mans 24 Hour.
Basically every turn at Petit is special which must be why I like it so much. I could talk about every corner but from turn 1 down to the esses have to be one of the best string of corners in all of racing. Approaching turn 1 at about 145 to 150mph, brake at 50m mark, down two gears, and then just let the car float down to the apex, where it grips up huge and at that point are already back on throttle in 4th gear to climb the hill to T3. The approach to T3 is a light brake over the crest of a hill while turning left only to launch the car off the curb on the inside. Depending on how you hit the curb, you either slam the car on the ground at the exit or comfortably land at the exit. It seems almost random sometimes. No time to think about why, you run T4 flat out, a long left hander, up to 4th, and then if your crazy you can take the esses flat, in a 2700lb GT car. Just an awesome sequence to go through but only when the car is good. We definitely had a good car through there last weekend.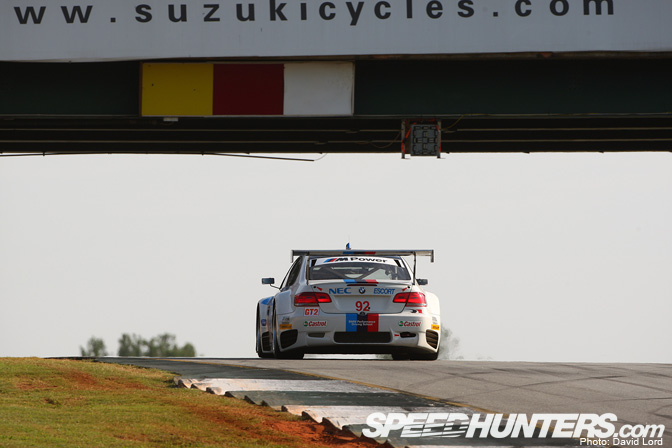 The BMW M3 GT2 we race this year, as has been covered already here at SpeedHunters, is an ALMS GT2 car. Like every car in the class, there is lots of work done to every area of the car to make it as competitive as possible. These GT cars are based on their street counterparts, and often have some of the same characteristics as the street car, but on steroids. The biggest difference from the street car to the race is the grip. You can brake so much later and corner a lot faster than any street car. Most of that is the tires but also the downforce these cars are producing now.
Two really cool features with this BMW M3 GT2 car are the sequential gearbox and air conditioning system. Yes, air conditioning. The AC is in response to rules which require the cockpit to be a certain temperature. It works incredibly well and I've yet to take a sip of water during a stint. That's never happened before.
The gearbox is a specially designed transaxle unit which allows you to upshift without ever lifting off the throttle, which isn't anything new, but what is new, is the downshifts. I've left foot braked since 2004 in every car that has a sequential gearbox but have always had to do my own blips with the throttle as I downshifted. Now, the BMW Electronics have an auto-blip on downshifts as well so I don't have to do anything but brake and push on the stick to downshift. Really cool.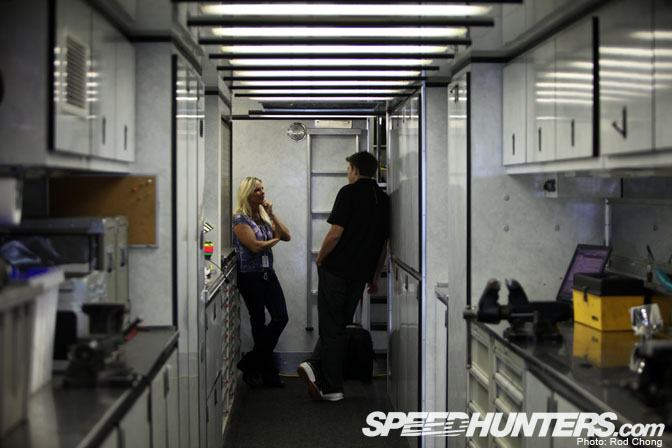 The home away from home. One of two transporters that come to every race where I'm catching up with Yvette Auberlen. There are lots of great people and friends I've met through racing and it's always fun to see what everyone has been up to. Lots of good stories to tell usually.
Thursday was the first day of official practice but I'd been at the track since the previous Friday. We tested that Saturday and Sunday along with a number of other ALMS teams in preparation for the race weekend. It was however one of the first days of dry weather so there was something to look forward to.
The day starts much earlier though as we have meetings with our engineers to discuss the plan for the whole day and then smaller meetings to discuss each session. We have meetings after each session to discuss with the whole engineering team what the car is doing, what changes we made in the session, what the tires were doing, and on and on. Our days for as relaxed as they appear on the outside, are often structured so that we don't actually have much time to do nothing.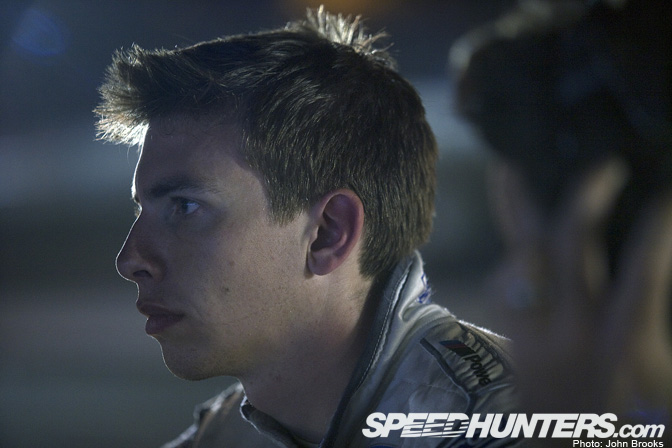 One of the coolest parts about Petit is the fact the race goes into the pitch black. For drivers new to Road Atlanta, this session either puts you at ease about racing in the dark if it goes well or scares the s*** out of you if it doesn't go well. Fortunately, I've been racing here since 2006 at this event so I know the track really well and this is just a quick reminder session of what it's like in the dark again.
Both of my teammates this event have also been here before and are total pros so we were all up to speed right away. We spent the session checking headlights to make sure they were aligned where we wanted them and to test some tires to see how they do in the night conditions. All to prepare ourselves for the race so the team and Dunlop have as much knowledge about the situation as they can so that we can make the right calls in the race.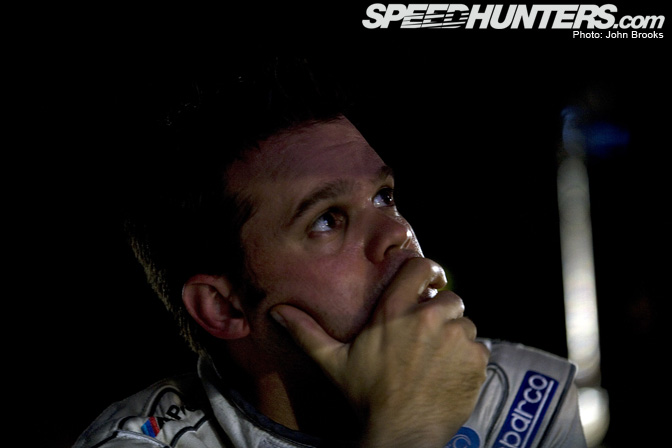 Here's Dirk Muller, my full time teammate in 2009, watching Jorg most likely during the night session.
Unlike a lot of other forms of motorsport, sports car racing usually features two, three, four, and sometimes as many as five different drivers all sharing one car. For every race but this one, it will just be Dirk and myself sharing the car.
If you compared the two of us, you'd think we'd never be able to share the same car. I'm 6'2" and he's 5'9"ish. We fit in the same seat with the belts exactly the same length. This is a small but important detail that's nice to just not have to worry about. That way, during driver changes, there is less to do, less to go wrong, and because of that, faster driver changes.
We also have to share the car obviously. So if I want to make a change to the car and Dirk doesn't like it, we have to end up with some sort of a compromise on the setup. Again, fortunately we both talk about what the car does in the same way and like similar setups and therefore we can both work toward making the car better during the weekend. Another detail that is small but important.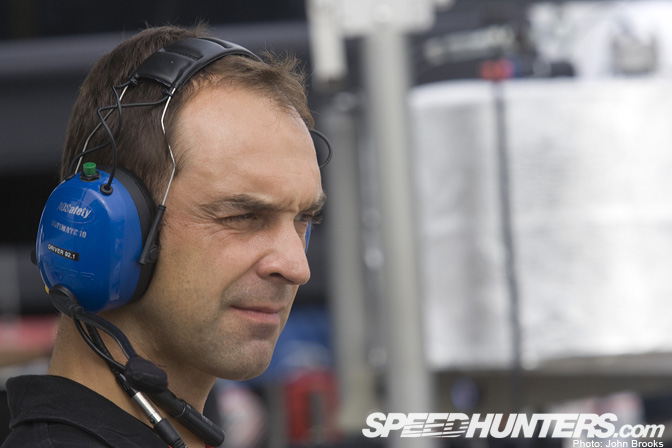 We had a guest driver this weekend in the form of another Muller, Jorg. No relation to Dirk. Jorg is no stranger though to BMW, Road Atlanta, or the ALMS. Jorg has driven for BMW for 11 years, the longest of any driver I think, and was GT champion in 2001 in the M3 GTR and won Sebring in 1999 in a BMW V12 LMR. He has tested the car in Europe a lot for BMW Motorsport and was fast right away. Plus he fit in the car perfectly and is easy to get along with. Perfect fit.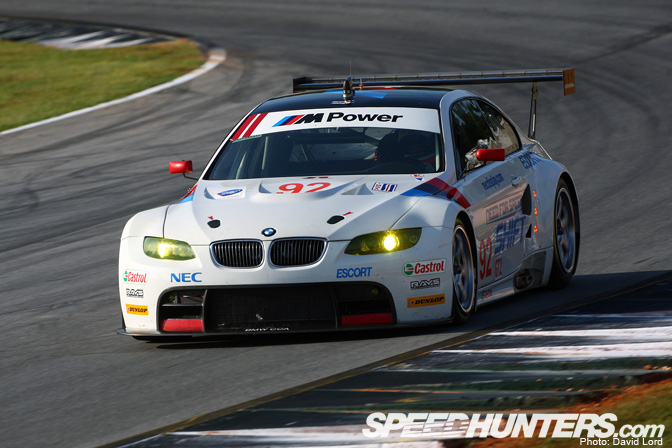 It's Friday and it's qualifying. The morning session was spent giving Dirk some time with two sets of tires to do a qual sim to prepare him for qualifying later in the day. I hopped in at the end for 5 or 6 laps to get a feel for the car. So a quick day for me.
We were 1st and 2nd quickest in the practice session before qualifying so we were feeling pretty confident we would show well. The track conditions were at their hottest, 44 degrees Celsius, and the car just didn't have the grip it did in the morning. We ended up 4th in class, with two cars ahead of us we didn't expect. On pole was the Ford GT of Robertson Racing and 2nd in class was my teammate from last year, Tom Sutherland in a privateer Corvette for LG Motorsports. We weren't far off of their times, only a tenth and a half off, but we were quite a bit quicker than them in practice. A little disappointing but it's a long race so starting position doesn't matter that much.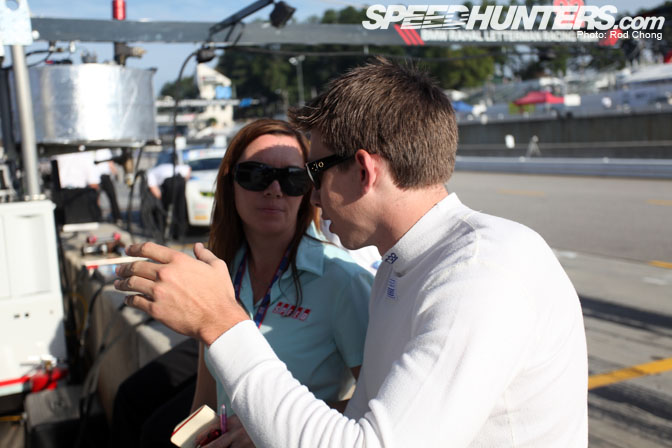 Catching up some more with friends on the pitwall, here with Jamie Howe, pit reporter for SPEED Channel and wife of a good friend Bryan Sellers. She's checking in, trying to get updated on how we're doing so she knows what's going on for the race.
A lot of time is spent right here, on the pitwall, during the sessions. From here I can plug in a headset to the team intercom system where everyone on the pitstand can just freely talk into the mic and talk amongst everyone on the stand and with our car chief, Greg Cates. If it's a practice session I'll plug in and talk to the team about how the car is handling and what changes worked or what I think will work. During the race, it's to let them know how the car is handling and what strategy calls the team are discussing,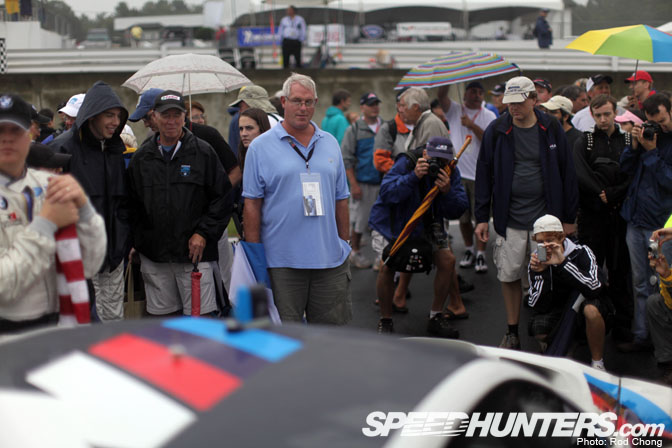 Here I am before the race, trying to stay as dry as possible, and chatting with a really good family friend and one of my first 'fans' I would say, Woody Hair. He's from the Northern Virginia area where I live and knows my mom and dad quite well. He's a big BMW guy and it's great to see friends from home at the track.
One of the coolest things the ALMS does is allow the fans onto the grid before the race starts. Fans can get up close with all of the cars, the drivers, and the crew members before the race and take pictures. It's usually a pretty relaxed atmosphere for me, despite the fact I'm about to hop into the car in less than 15 minutes and start racing.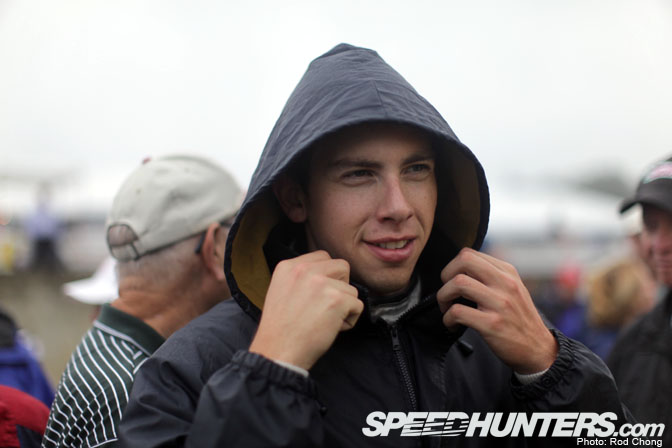 The weather deserves it's own discussion. Georgia got hit hard with lots of rain and despite the fact it was dry for Wednesday, Thursday, and Friday; the forecast was a 90% chance for rain on race day. I knew from testing the weekend before that if this rain that was supposed to come made it here, it would be a huge system. It was. The rain in the morning of race day set the stage for what was to come later.
The start would be soaking wet but it quickly dried up…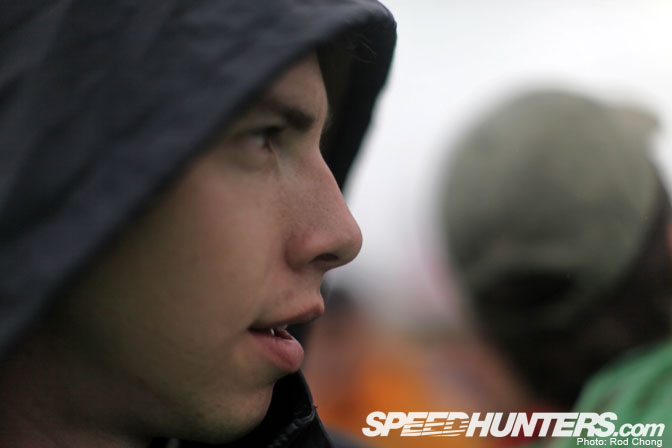 I'm a little nervous at this point, which isn't typical for me. Usually by this point, I'm very comfortable with the car and the track conditions and I know where we stand. In the rain though, all of that changes. Many teams are making last minute changes to the car to get them as close to perfect as they can for the race. Our teammates in the 90 BMW having made three changes last minute on the grid based on how the car handled in the warm up session which was just before the race started.
Regardless, once I climb into the car and roll off the grid, my thoughts and fears disappear and I'm thinking about one thing, and that's racing.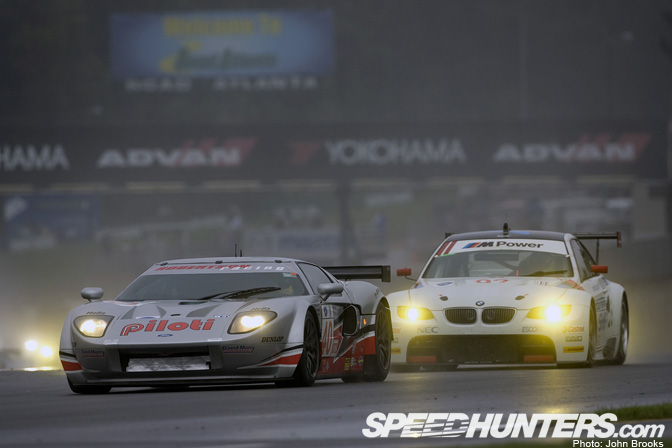 The conditions to start were soaking wet. I could hardly see where I was going at the start braking into T1. I could see the 45 Porsche in my mirror taking a look down the inside, so I moved right to make it obvious that wasn't going to go any further. I focused back in front of me to the Ford GT. The Corvette having started from the back of the grid. I settled in at the start, with what was a pretty good car, in 3rd. After about 3 laps though, the track began to dry quickly and started to drop back.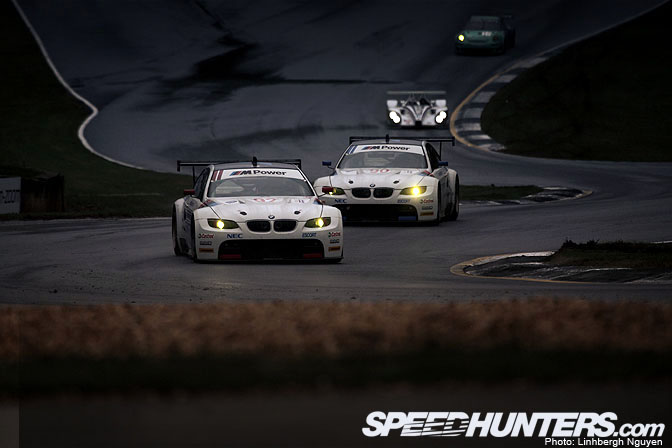 After the hectic start, everyone settled down and I set out to find as much grip as I could on the track. The braking for T10 was especially tricky. I found most grip off line to the inside. When I came up on the Ford GT, who at this point had been passed by the cars that had gotten by me, I was quite a bit quicker and wanted to get by.
Getting a run on him down the back straightaway was going to be tough since that car is very quick in a straight line. He was braking early for T10 though so I thought if I was close enough I could get inside and make the pass. I moved out of his draft round T9 and braked a bit later than usual to get inside him. I'm bleeding off speed faster than he is as we approach turn in for 10 and I'm just at his door. If he turns in now we're going to make contact. I let off the brakes just a bit to get further along side him. I turn in, at this point even with the Ford GT, and as I expected, I got a flat slide understeer. Just no grip. I'm looking for my escape through the grass at this point.
Luckily, after I moved off of the part of the track that gets the most use in the dry, the front tires hook up before I reach the grass and I continue on. Good timing though too because my teammate, Bill Auberlen, who was on my tail at that point, ended up getting stuck behind the Ford GT for a few laps and gave me some more breathing room.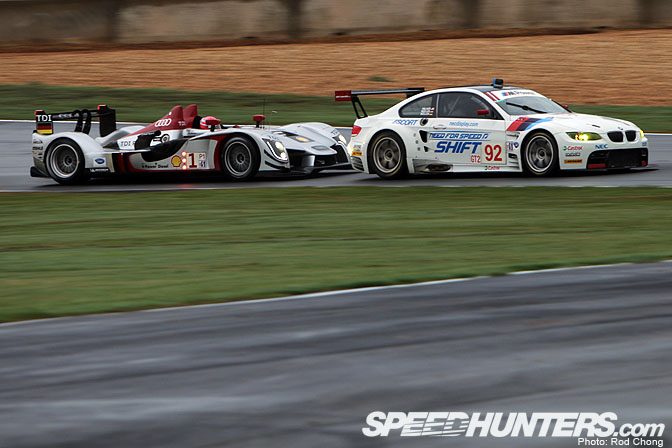 The toughest part of the race has to be when the leaders first lap you. At this point, they are all together in a bunch and it makes life letting them by that much harder, especially when it's wet. Fortunately the guys in the quickest of the LMP cars are professionals and predictable so there were no problems.
Some of the slower LMP cars however can be difficult. In these conditions, they are being very careful and can often slow you down for a few corners while they figure out the car and the track conditions.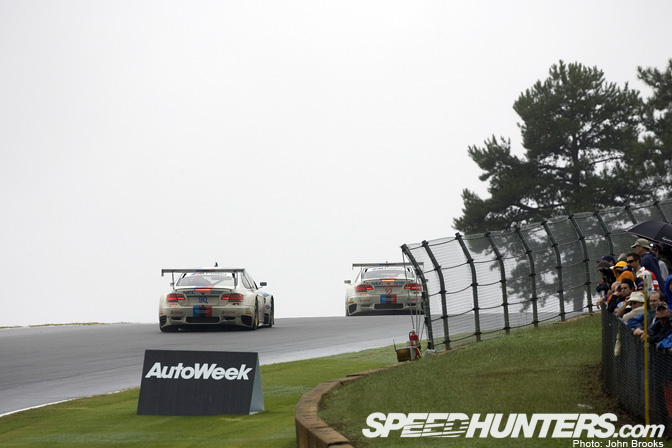 As the track dried, the top GT cars got away from Bill and I a bit, and we ran in our own little pack for a number of laps. Bill and I ran very different lines. I was very much running a traditional rain line, trying to find whatever grip there might be off line. This is where the most grip was at the start but as the track started to dry, the drying line started to be quicker than the rain line.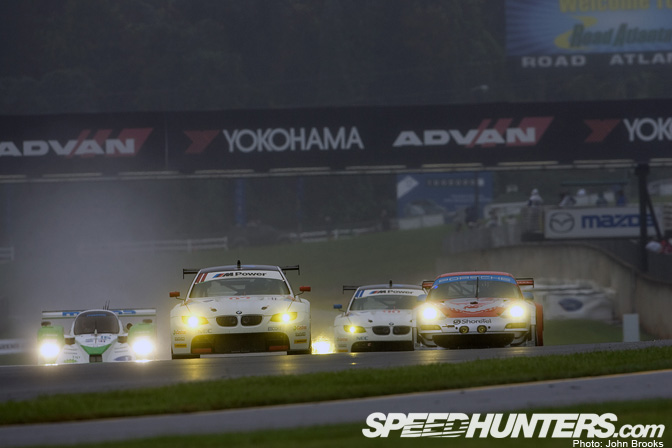 Here I'm passing one GT car, while having to check my mirrors to see if the LMP car chasing is thinking about passing me. When people ask what it's like to drive with mixed classes I say, I'm  looking in my mirrors as much as I am looking out the windshield. You have to drive with your eyes on your mirrors at every opportunity because, especially with the diesel LMP's, they come up on you incredibly quick that if you assume there isn't one there, there's a good chance there will be one.
For this race we actually had a spotter in T3 who was helping to warn us which LMP cars and how many were behind us. It's often the LMP cars that are 2nd or 3rd in line that get missed and where the problems come. I know it saved me from a hairy moment at least once during the race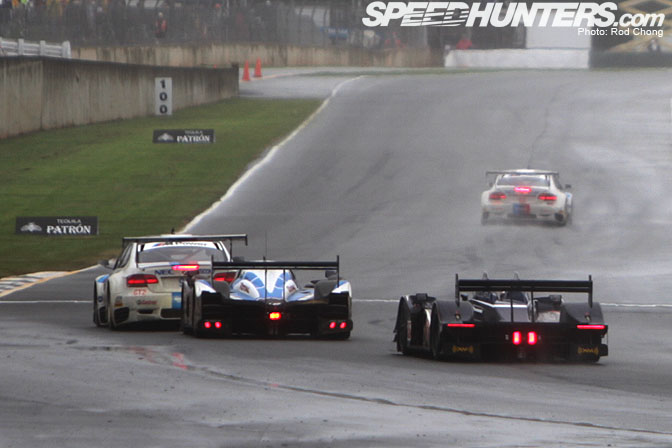 A great shot of how much I was trying to keep the tires cool. I was doing everything I could to keep the tires cool. Rain tires don't last long at all in the dry and at this point I probably had another 20 laps to go in my fuel stint and it was already dry in many places. You end up running a very weird line all around the race track as you have to drive where people aren't driving at all.Keeping the tires cool is crucial to keeping the rain tires last as long as possible.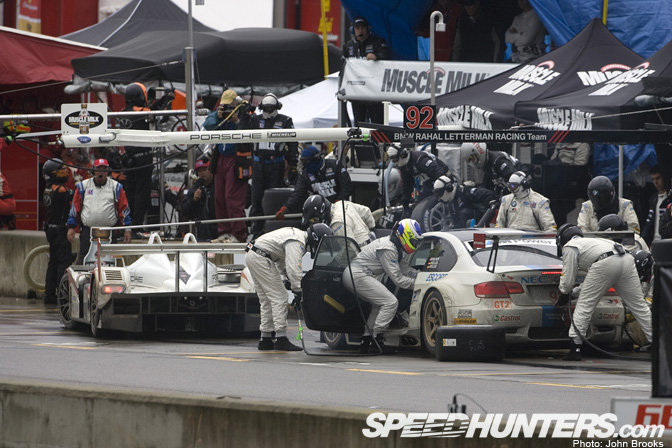 In the end, we pitted early to get me off of the rain tires and onto the dry weather tires. This is one case where the driver pretty much has to make the call to switch to slicks. The track was dry in almost every brake zone and every corner, on the racing line, so it was time to pit and get off the wets. The slicks would be the faster tire for these conditions especially if no more rain was forecasted in the near future.
Somewhat disappointingly the decision was made to switch drivers at this point. 52 minutes in and I felt like I had just gotten started. I asked to stay in but was told a driver change was happening. They're the boss and I just drive. It's their job to make the calls and they've been right pretty much every time this year so I went with it. I wanted to drive though and that is one of the most enjoyable times I think in a race, when you switch from one condition to another and have to switch the tires accordingly.
I thought I'd get back in anyways so I was happy to get out, get some food in me, and rest for a bit before I would get back in. I was pretty happy with my performance. I made no real mistakes but the car was a little bit off the pace in those conditions so I was a little concerned for the rest of the race if it was wet on and off.
Out of the car, and up to the radio booth to join John Hindaugh to talk a bit about NFS Shift on Radio Le Mans. John is one of the best radio personalities. He could make you excited to listen about him watching grass grow I think. John is a big sim racing guy and a little friendly competition earlier in the week got us talking quite a bit about setups and laptimes.
This was my first trip up to the booth with John and I was quite surprised at how much he has to do with the sound board while keeping an eye on the TV feed as well as the lap times. He was joined for a lot of the race by Jeremy Shaw so the two of them together can keep pretty good tabs on the race from here.
We chatted a little about the game right around the time the 90 car came into the pits smoking with what turned out to be a leak from one of the oil coolers. Not the best start for them.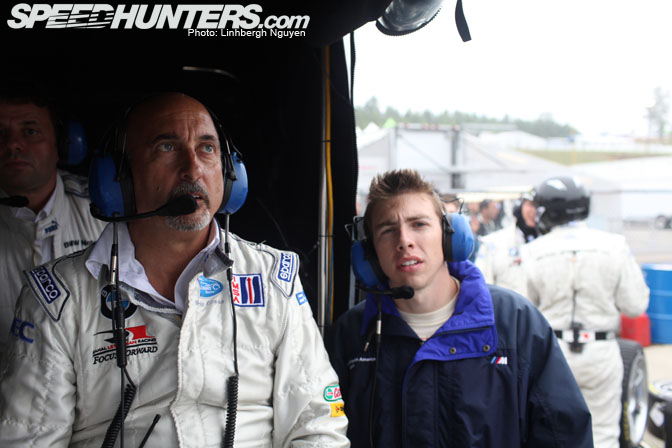 With Jorg in the car now, I'm on deck to get in the car next so I need to be aware of what is going on with the race. Any full course caution could mean I need to get rid of the headset and the jacket and be ready with my entire kit on in just a few minutes. If I see a big accident on one of the many TV screens we stare at for hours on end, I can hopefully get a head start.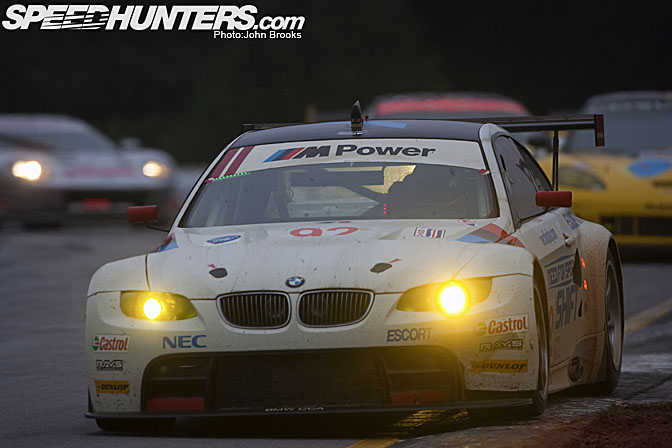 Jorg did a great job to work his way up to 1st before the heavy rains would come. Minus a little off road excursion, which you can see the result on the left front corner there, he stormed his way back to the front. Luckily the work the team did throughout the season to strengthen the splitter and front of the car paid off there and no work was needed to fix any damage.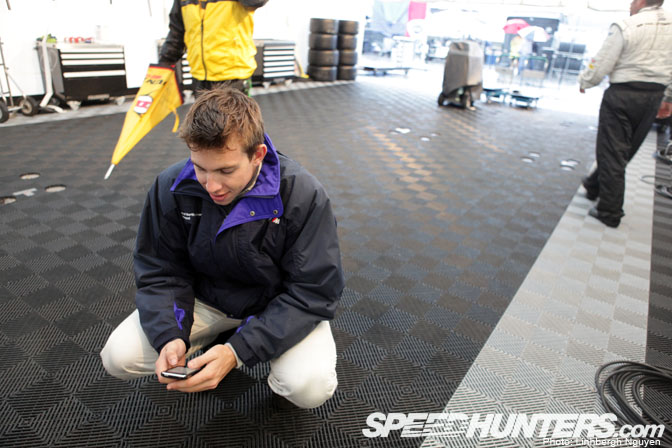 Well, the rains came, heavily, for hours. The race was red flagged for the first time in ALMS history and we all had to wait. Just before the rain came, the winning Risi Ferrari pitted a lap earlier than us for rain tires and right at the right time. They jumped ahead of us as we pitted for rain tires. During the red, the team had made the right call at the right time but Risi called it a lap earlier. At the point they came into the pits, the rain wasn't falling at all. So it could have gone either way.
They kept us waiting about whether they would restart the race until about 8pm so there was lots of time spent just killing time. Lots of attempts to find service on the cell phone to check the weather radar. We spent about an hour with the crew at the end in the transporters just telling stories ranging from everything from football, to fishing, to things unspeakable in public. It was actually a pretty fun time for us. The crew slowly started to start packing up the non-essentials in the tent so that they had less work at the end of the day.
I also went up and down the paddock a couple times chatting with some buddies racing in other cars about the race so far and getting some of their stories. I gave my teammate from last year some *** for throwing the car off the road on the 2nd lap. All in good fun though, it was his first time on the track in the wet so you can't expect perfection.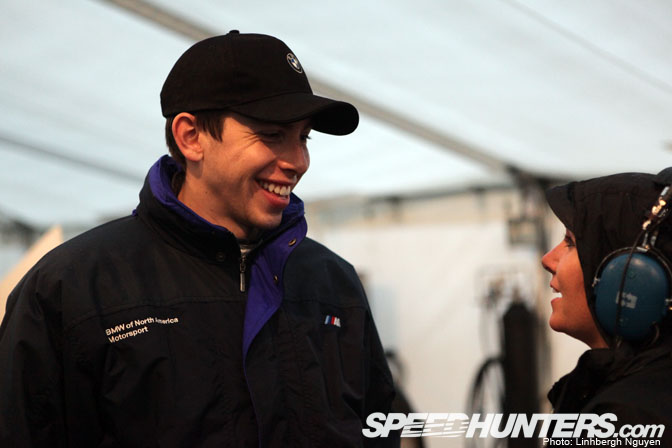 SPEED was trying to kill time with interviews with drivers so here I am talking with Jamie Howe again about what she wants to talk about. Or probably nothing like that at all since whatever was said was pretty funny.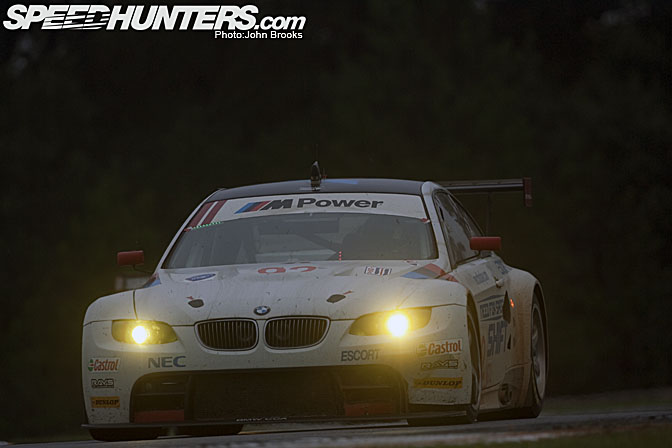 It was looking more and more likely that the race wasn't going to be restarted. This was going to be the weirdest Petit Le Mans I've ever seen and probably will be a part of. I was pretty happy to just have the race finish where it was, since we were in 2nd place at that point, which would give us good points for the championship. We were 4th going into the race and only 4 points back of 3rd place which happened to be the two drivers which drive for my dad's team. They were well down the order after problems early for them.
In the end, they called the race around 8:15pm, almost 4 hours after the red flag was waived. They tried to wait for the weather to clear and clean the track up but it wasn't going to happen.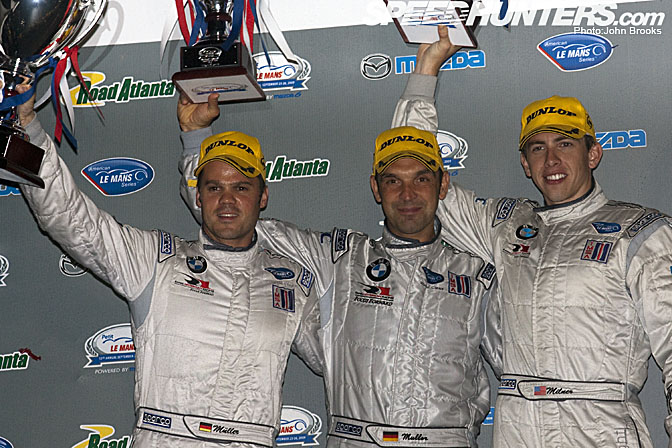 Usually, finishing on the podium for such a huge event like Petit is really rewarding. This time it didn't quite have the same magic it usually does. Regardless, I was stoked to finish 2nd and head to Laguna Seca, the season finale, in 3rd place in points.
-Tommy Milner