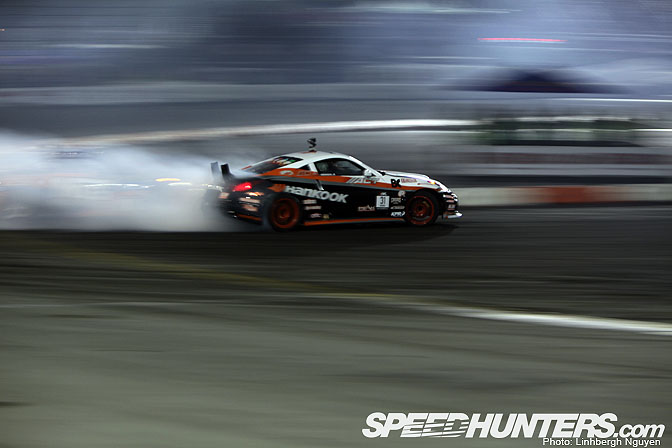 What`s up everyone, my name is Robbie Nishida. I drive the Hankook Tire/Gruppe S 350Z in the Formula Drift series. Normally I am the manager of a garage on a military base called Yokota located in Tokyo, Japan. My father is half american and japanese, which makes me a quarter. I have been drifting for over 10 years. I never ever thought back then that I would be traveling every month to the states to drive professionally. It all first started by accidently going to a touge nearby where there were guys drifting. I'd seen drifting before on videos, but not in real life. It`s just like going to a concert or even a ball game. Seeing it live was really exciting. I knew right away that this was what I wanted to do.
Soon after that I started to e-brake my car around everywhere. It didn`t matter where or when. As soon as I had a chance, I would. I didn`t even know I needed an LSD. I met more people and learned a lot more about cars and driving techniques. It was so much fun, the only thing I could think of was driving. I think I spent almost every penny that I had and every minute that I had drifting. As time went by, I started to compete more at contests. I won a few, but not many. I was even able to be on videos, magazines, and even TV because of drifting. One day at Tokyo Auto Salon, I was visiting friends and hanging out, and Kumakubo from Team Orange asked if I wanted to use his orange Silvia-truck in the states to compete. This was the beginning of my drifting career in the states. I came in 4th place at my first Formula D event after over taking 2 time champion Samuel Hubinette. This was the beginning where people started to notice me. I was almost like a privateer at first. I had to bring  my tool box, jack and all kinds of junk on the plane for the first event.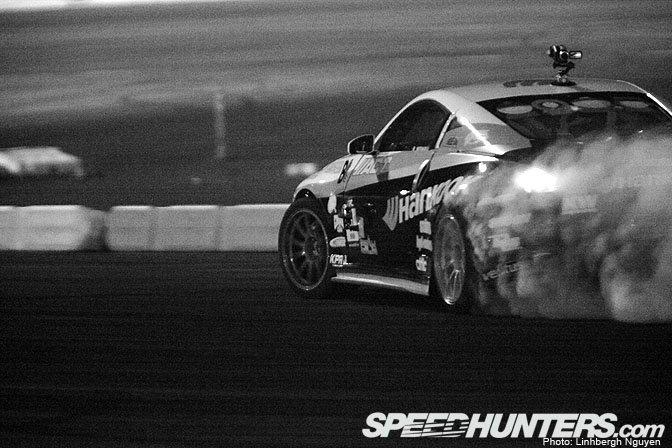 The 350Z that I drive in the Formula Drift Series is dope! It`s probably one of the fastest cars in the series. It is built by Dynamic Autosports, they really like to build power. It has a BC stroker kit with a G-force dog box. The car went on a diet, now weighing in at about 2700lbs, which is pretty light for a 350Z. We have wide tires all the way around and a fairly soft suspension set up. The movement of the car is pretty mild, everything is really easy to predict. We finally were able to get more steering angle recently, which makes it easier for me to follow anyone during a tandem run and get good angle.
Personally I think this car is one of the best drift performing 350Z`s in the world. I wish I could just bring this car back to Japan and take it to all of the tracks that I go to around here. This is the 2nd year I drove this car. To be honest we didn`t do much suspension setting until recently either.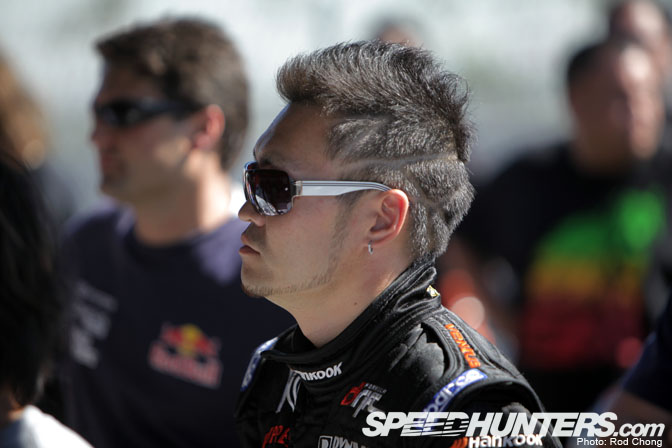 Yeah my hair is kinda crazy. I told the guy who cuts my hair that I wanted it to look flashy since it was the last event of the year, and this is what I got. Here I am sitting and acting like I am listening to the judges at a drivers meeting. A lot of the times I would try to translate what the judges are saying to the other J-drivers. I usually stay quiet, already imaging myself driving through the clipping points or zones, taking the needed lines, trying to go as fast as I can. I have driven on most of the tracks for Formula D before so the judging is usually similar, but I do pay close attention for the minor changes they do sometimes about judging. I`m just glad that I was wearing shades this time, I think I might have been sleeping?!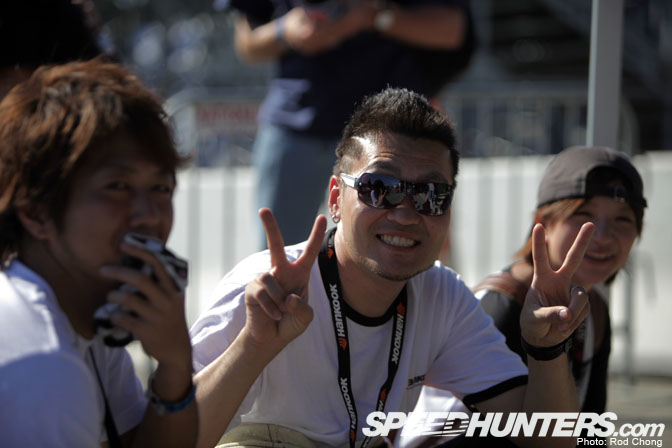 I stuck around for the media meeting too because my friend does some filming and photo stuff. Of course mainly I had to translate what they were saying. I really think that the media guys have it the worst. They have to sit under the hot sun, watching us having a good time, breathing in all of our tire dust. It was pretty interesting seeing what was going on behind the scenes. It reminded me that everybody had to do there own part in order for this event to even happen.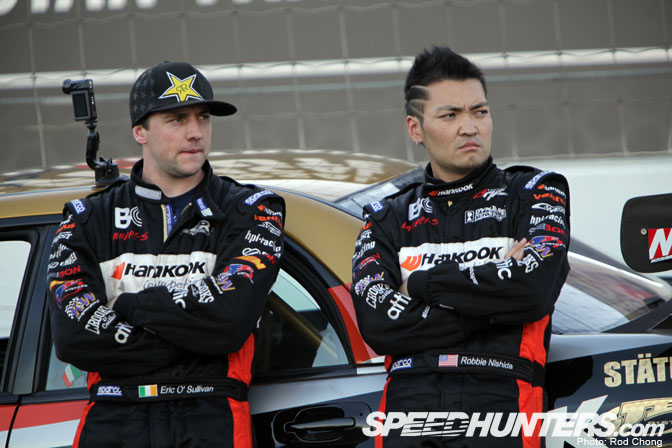 This guy next to me is some dude who decided to wear the same suit and take the same pose as me. Even copied my look. Nawww! Its Eric O`Sullivan from Ireland. He is my teammate who drives the Hankook Tire/Rockstar Energy Drink Subaru WRX. Its weird because looking at this picture makes me think about all of the drivers doing what we're doing and thinking what we're thinking as the other drivers drive. Eric and I are from 2 different worlds. He`s from Ireland and I`m from Japan. We both originally drove Corollas and have a lot in common. Since we both travel from our home country to the U.S every month, we hardly have any time to hang out. I know one thing though, Eric is a real nice guy. I think we get along pretty good because we both are really serious about our driving and know when to mess around and have a good time. I personally would like to think of him as a close rival since we are in the same team. You know this just proves that drifting has gotten me this far and gave me the opportunity to make friends all over the world.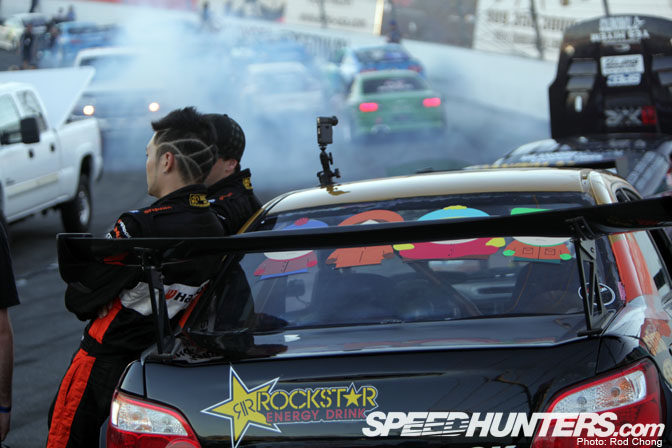 I like to watch and imagine that I am out there making my runs. Also watching everyone practice gives me an idea when I have to go up against them for tandem. Getting as much information as possible is the key to success, I think. We also like to discus each run with one another. We try to talk about how and what kind of style each driver has. This is when each of us discusses what we are having trouble with and what we think of each other`s runs.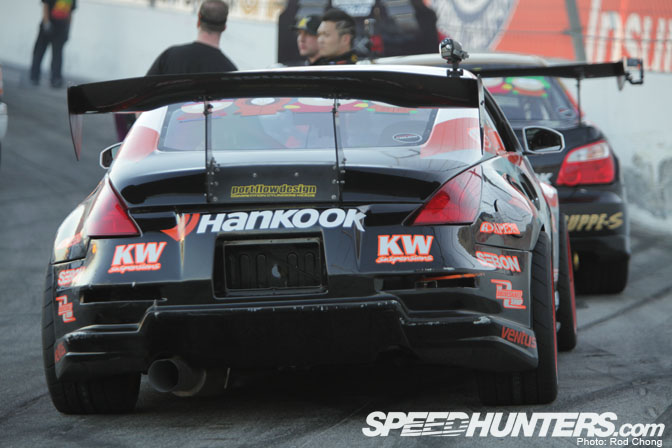 We had a practice session on Thursday. The car was having minor issues. We thought we had it all cleared out but it still sputtered on Friday. The clutch was also slipping at times where it was kind of scary to kick the clutch going into the bank. The scary part is at this point we didn`t have a clue what was wrong with the car. We were just hoping it wouldn`t happen again after each run. The car even felt like it was losing power compared to the beginning of the year. We had the South Park characters on our cars because the creator of South Park was supposed to be at the track that day to support the team. That would be cool if they would include drifting in South Park, and possibly make us characters. A lot of the fans liked it!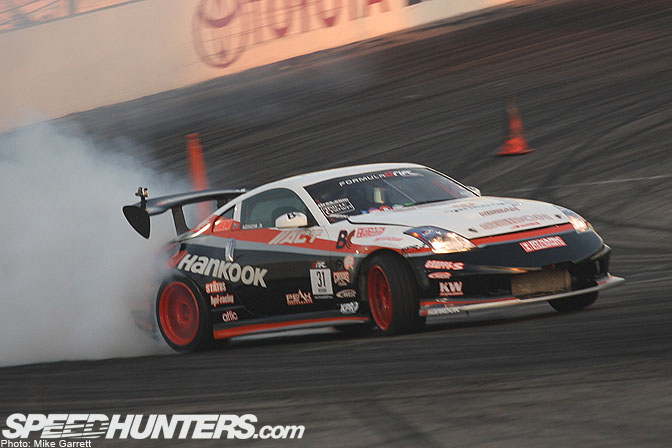 Man this was weird. I was lined up after Justin Pawlak and in front of Stephan Verdier for Top 32 qualifying. I know Justin`s runs were hot, so qualifying after him was pretty tough for me. Also as I was lined up my car felt funny. It felt weird idling. But I thought it was from the cars around me, rotary in front and WRX behind. Just as I was thinking of that, it was my turn. I`ve driven the Irwindale track many times so I was pretty confident. As I was leaving the starting line, the car didn`t feel right. It wasn`t running good the whole lap. I was able to play it off and made a decent score which put me in the middle of the Top 32.
I was already satisfied that I qualified, but wanted to qualify higher. So we looked over the car before the second qualifying run. We found out that our cam angle sensor was bad, so we were able to borrow one from Takatori`s car which blew their motor earlier that day (Thank you Bridges Racing!). This seemed to be the problem, so I took off for my second run. This time the car ran the way it should run. I personally thought that I had a better second run but the score wasn`t much higher than the first run. I ended up qualifying at 10th. This was good enough for me this day, actually it was good enough for the car too. I guess I should be grateful that the car at least ran and made it through qualifying. Thank you 350Z and thanks Adam for always taking care of the car!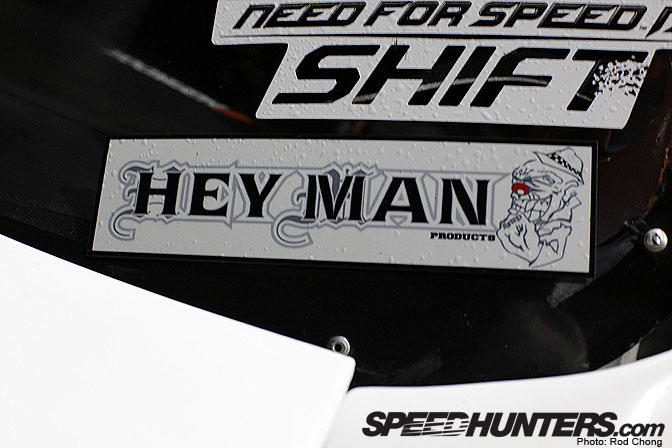 You know I`m a sticker guy right? Yeah right. By looking at this sticker, it shows how sorry I am at putting stickers on the car. I really suck cause I have no patience. You like all of the air bubbles? This sticker is from a shop in Japan called Hey Man Products. Its run by a good friend of mine, Shinji Minowa. He currently competes in the D1 Grand Prix series in Japan. The name HEYMAN!! came from a few of us guys who lived around the same area, who all liked to drift. It was kind of like a team but at the same time like a family. We all still keep in touch after all these years. We all still drift. You know I still do, my friend Shinji does, Ben Alden who lives in New York still does, Maurice Benas does who now lives in Okinawa, Japan, and Charles Tyson who lives in DC. We all had beat up corollas and went drifting whenever we could. For me, drifting is a lifestyle. It always has been and always will be.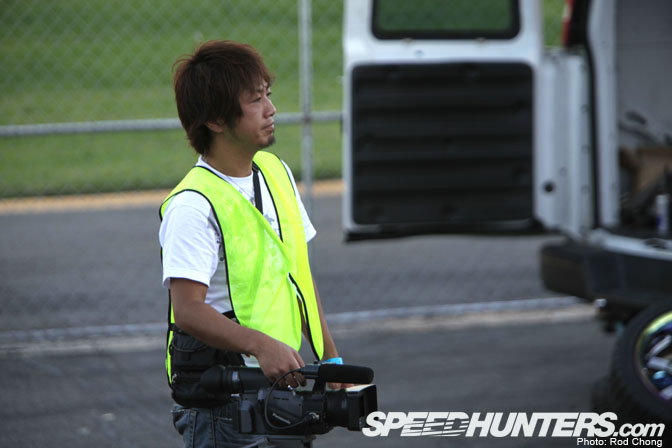 This guy is Madoka Kikuchi, also known as Maru. He has been coming to most of the Formula D events starting at the beginning of this year. He is an ex-drift expert and entered the very first D1 Grand Prix. He is an old friend of mine and now is doing production stuff. He too wants drifting to get more popular since he is a big fan of it as well. I help him out by doing interviews and stuff. We make a few short clips too. He wants to let the Japanese crowd be alert and know what is going on in the states. It is really hard for the Japanese fans to get any kind of information from the states, usually because of the language barrier. Maru will continue to bring back a lot of interesting information from the states to the Japanese fans. He does all of this out of his own pocket, its like an extreme hobby that drains his wallet!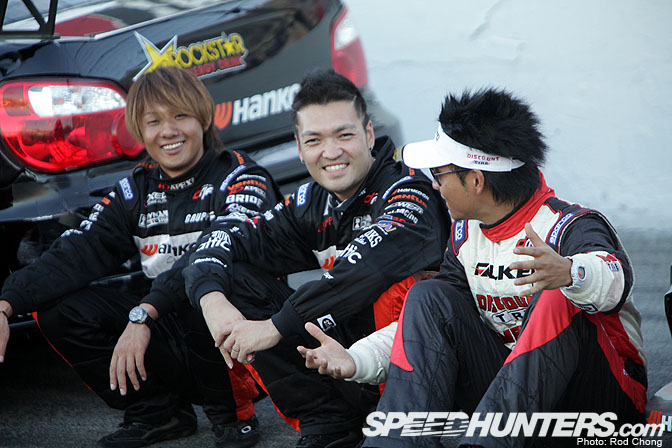 Friends, this is one of the major things I have earned traveling to the states. Usually you see me hanging out with the J-drivers. I actually don`t even see them when I am back home. Like Dai and Miki. Miki lives about an hour away from my place, but the only place I see him is at the airport and in the states. Event times are the only time I see any of them. We usually just kick it and try to exchange information. Honestly most of the time we are just joking around and trying to have a good time. I think we all want each other to do well, at the same time want to beat each other. We are all smiling because each of us are thinking about beating each other deep down inside, I think?
Even back home, I am really comfortable to be with people who understand English and Japanese. I have a bad habit of speaking and mixing both languages, people who know more than one language should know what I`m talking about, right?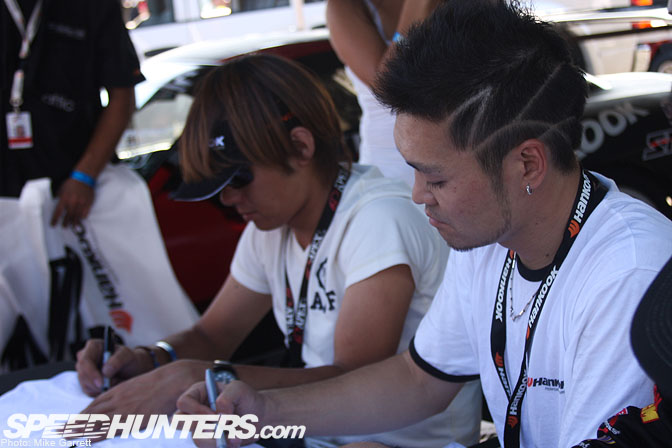 I can`t believe I am doing this. I need to remind myself that I am a professional driver. I just want all of the fans to know that we are all human, and we are normal guys. So feel free to drop a few words. My last name is Nishida but I do speak english. Autograph sessions are one of my favorites, as long as its not hot and I`m not in my racing suit. This is really the only time I can communicate with the fans. Believe it or not I even have fans that come to visit me. Thank you so much! I know that we are able to do what we do because of the fans. Thank you for all of your support!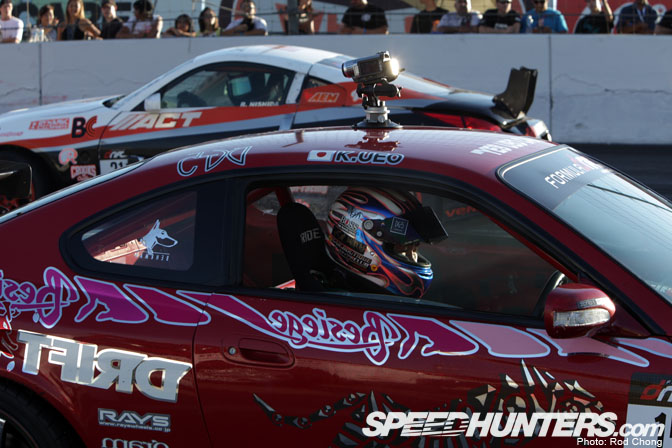 At this point my spotter radioed me in and told me that Ueo didn`t have a good run behind me, and also tapped the wall. This made me feel really relaxed and I was able to concentrate on just making a clean run behind him. I just wanted his car to get fixed as soon as possible so we can get on with the second run before I lose any of my concentration. I never underestimate an opponent. Whether they are famous or not, high in ranking or not. I know that anybody who even has a chance to line up at a huge event like this is good enough to beat anybody. At this point I just knew that I couldn`t screw up my chase. It was a great feeling to beat Ueo, not just because he is a former D1 champion, but because he is a great driver.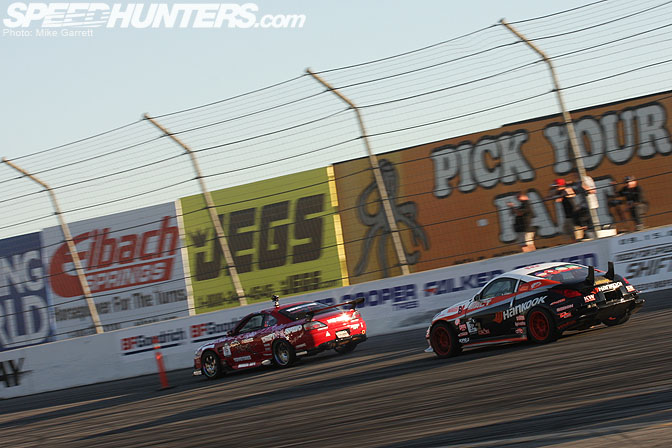 I guess my plan was to make a clean run in front of him. Ueo throws a lot of angle and is fairly slower than I am, so we decided to take the wing off and air up the rear tires. I can`t really do anything in front but to run my qualify line, but when I was behind I knew I was able to give him a little space because he did hit the wall when I was in front. I have seen him before brake checking people, so I was alert and made sure that I could keep my drift when I was running behind. My advantage when I made my leading run was really big though.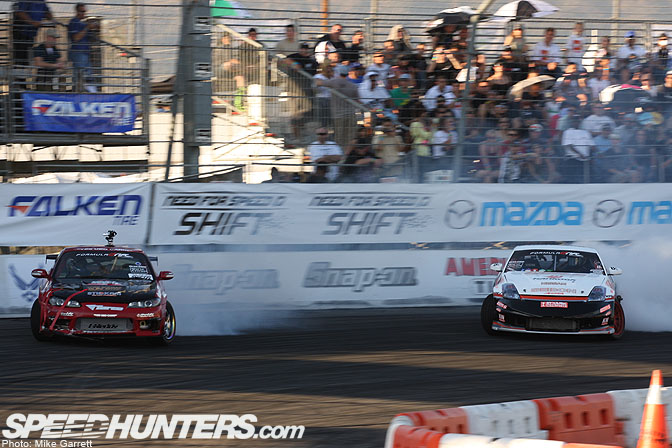 I didn`t want to suck up on Ueo too close from the beginning of the battle. My plan was to creep up on him right after leaving the inner bank clipping zone. He did slow down a lot by the time we reached the inner clipping point. My right hand was constantly grabbing the e-brake being ready for any kind of move Ueo was about to make. I think he did about 5 or 6 hard braking including the big bank. As you can see in the picture he is looking to see where I was, he was probably planning to make a move, possibly a brake check or something.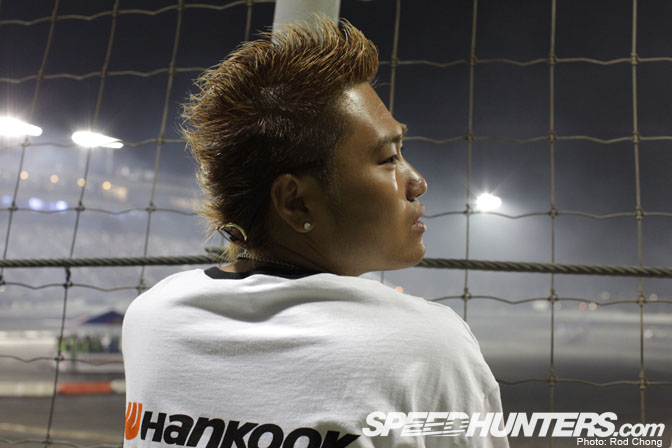 Daigo is a real good friend of mine, he flew in just to check out Formula D and to hang out. He was my spy watching all of the other drivers during practice. Daigo is really interested in competing in the U.S. I`m pretty sure he would do it as long as he has a ride. This is pretty cool to see the top D1 drivers know that the level of drifting in Formula D is awesome. I think the only reason why a lot of the Japanese drivers want to compete in the U.S is because the level of the race cars and competitors are as good as and possibly better than what is in Japan.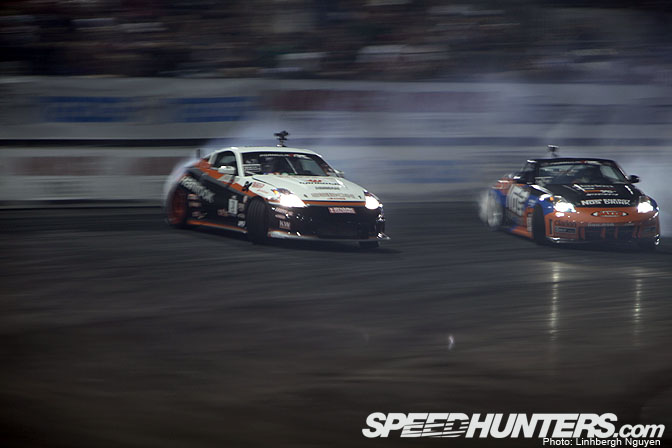 You know, the way everything was going this year, from about mid-season I had a strong feeling that Chris was going to take the championship. Believe it or not, I never had to battle against Chris in Formula D. I went up against him last year for the Red Bull World Drifting Championship. That time I took myself out after a good advantage. At this point Chris was already crowned for the Championship of 2009. Before I went up against him I jokingly spoke with his mechanic Kevin to take it easy on me since they already gotten the championship. Since we drive similar cars, I knew at first it was going to be a real close battle. I think car-wise I have an advantage because our car probably spits out more power. I just knew from the beginning I had to give it my all. I guess I do drive the hardest I can for any tandem run.
It was perfect to try out our new steering system installed for this round. I already knew that Chris`s car throws more angle than our car. But with our new steering system, I think it`s about the same now huh? We kept the wing off and messed with the air pressure. Believe it or not the rear wing makes a huge difference especially in the outer bank. I was already comfortable after I ran against Ueo without the rear wing. So we decided to keep it off.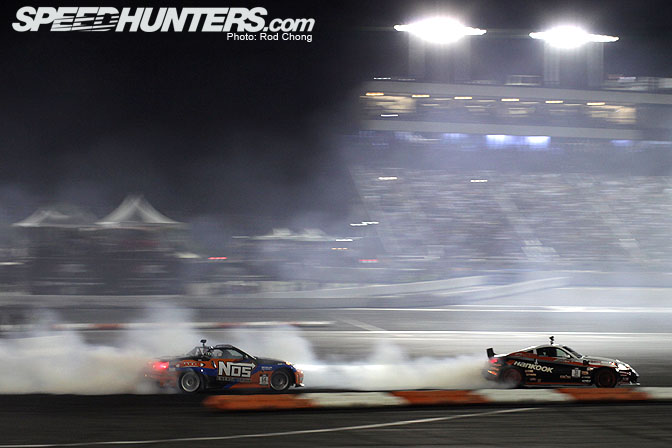 Since Chris is a mistake free driver, the only thing that was going through my mind was not to make any mistakes. Even though he is a highly skilled driver, I felt pretty comfortable driving against him. My car did what I wanted it to do, especially the way it was set. It was easier to control even though it was scrubbing some speed. I guess when I was leading, I was able to keep a good distance even though I was running a good qualifying line. It`s really hard to run a qualifying line when you have this year's champion coming right behind you. At every clipping point I glanced to make sure Chris wasn`t too close to my door.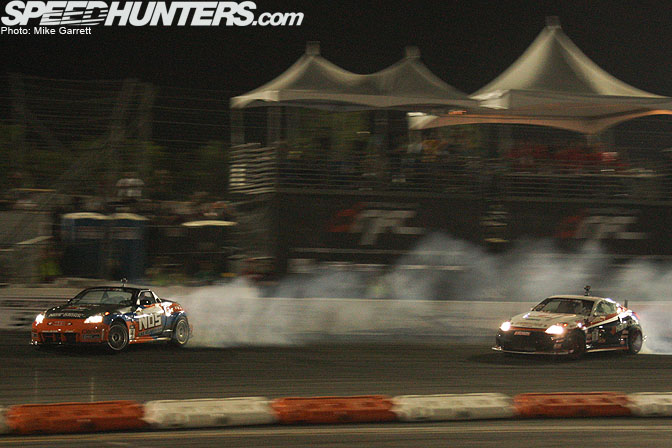 Talk about hard to beat. Honestly I don`t really know how I beat him. I just know one thing that I didn`t make any mistakes and I was going nuts when they announced me as the winner. The only thing I was gunning for was to catch up and to stick right on him. I have been watching him for the past few years but I don`t think I have seen as many drivers that are as mistake-free as Chris.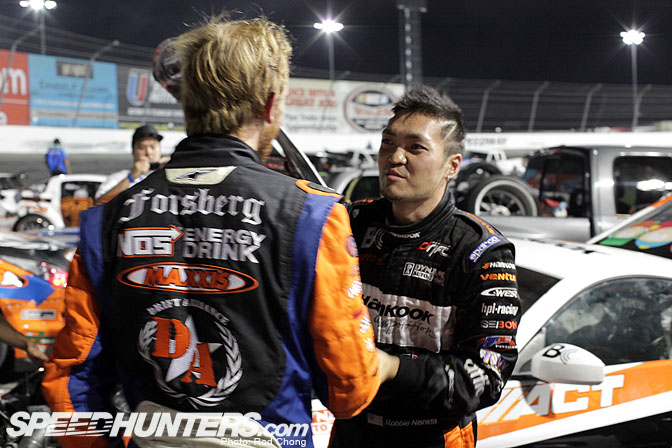 I know I congratulated Chris for his championship and thanked him for a great tandem battle. The greater the run is, the better you feel after the run. Win or Lose. There is nothing better than a great run or a battle, especially against one of the top dawgs of the competition. Now that I look back at this moment I don`t even know how I beat him, but the only thing I knew was that I moved on.
I usually thank my competitor after a tandem battle. I thank them if I had a good run and I usually apologize when I feel I didn`t do so good. If my opponent beats me, I congratulate them and usually cheer for them so they can keep going. When I win, I usually tell them that I will keep going. I think every tandem battle I win, the more I feel like I am going to make it to the top spot. I think my confidence level grows as I win each battle.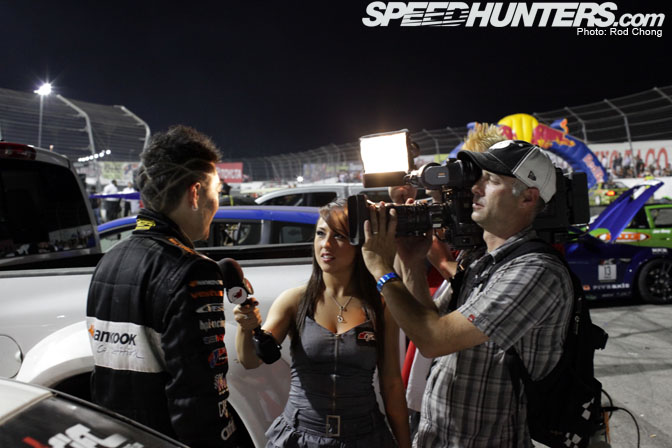 This is Miki Taka and the TV crew.  When I get out the car and see the TV crew, that means I am still in the game, so that`s a good thing. I always tell the TV crew that I am so glad to see them. Interviews are so hard because you just finished a close tandem battle, then they throw random questions at you. I think its harder for me to speak just because I am usually excited after each run. Also I never had to do any interviews until I started to drive in Formula D. I don`t know if I show it or not but I think I am more nervous in front of the camera than being behind the wheel of the 350Z. It`s really been a long time since I was on an interview because I haven`t gone past top 16 for the past three events. One thing I am really worried about is that I don`t want to look or sound like a dork on camera! Too bad my looks aren`t as good on camera as my driving!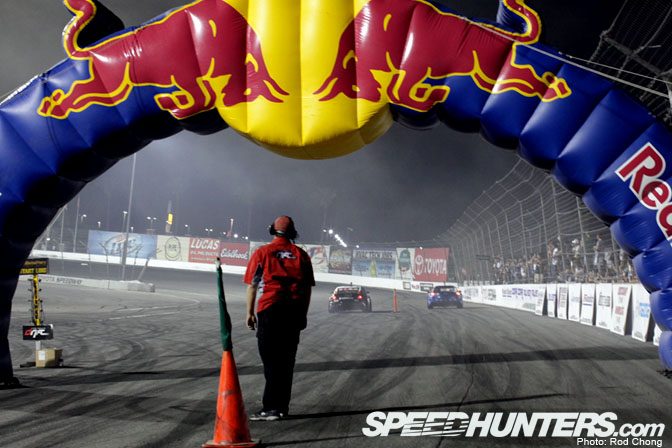 This is right when we were taking off. I think this is the 2nd time I had to go up against Ryan this year. The last time was at Seattle, he beat me in the Top 16. At this point I had already beaten Ueo and Chris so I felt really confident. Once again I knew that this was going to be another close battle. The last time I had lost to Ryan cause I think I gave him too much space and I was playing too safe. This time I wanted to get closer. He is pretty similar to Chris but seems a little quicker. Now that I look back, I wish we would have took the risk instead of being comfortable and put the wing back on to gain more traction for speed.
This is way off the subject but I first met Ryan a few years back at Chicago. I was watching the Formula D tryouts they used to have. I saw this butt stock looking 240sx, but he was tearing it up. It happened to be Ryan. My friend who was a spectator somehow knew Ryan and I remember speaking to him telling him that he was gonna be something in the near future. I didn`t know that I was talking to a guy who was gonna beat me 2 times this year either. Pretty crazy. Just wanted to say that Ryan already had the skills from back then.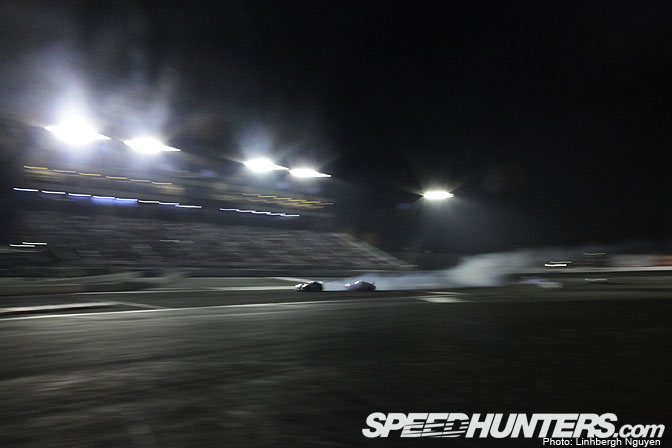 I gave chase first. I was able to keep a good distance throughout the first run. When I lead, I was just concentrating on running a clean mistake free run. The two runs were pretty simple. It felt like everything ended in a heartbeat. I just knew somehow that it was close enough for a one more time. At this point the only thing that went through my mind was that I was going to have to drive like this until Ryan makes a mistake. I was ready to do several one more times.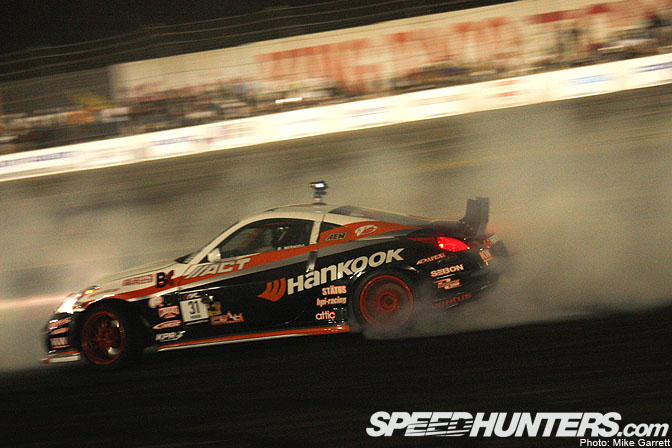 As soon as they announced a one more time, we changed tires and went right back at it. Same as the first battle, Ryan lead and I gave chase. I felt that I chased him better than the first battle. We lined back up at the starting line. I was ready to give it my everything so I could move on. But this is when my worst nightmare of the year happens.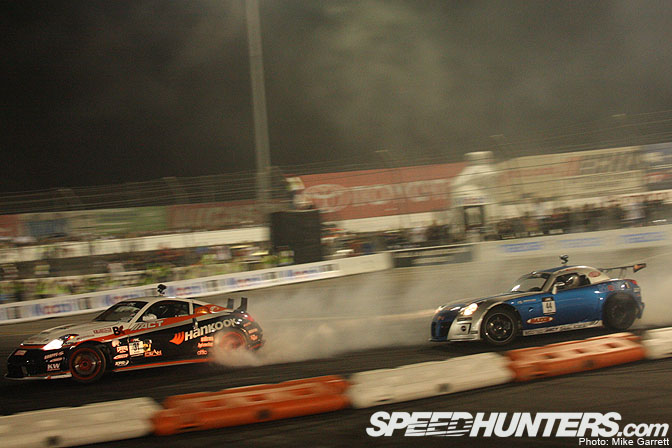 We both took off entering the bank, everything went well until about the middle of the big bank. Then, my car starts to sputter just like in practice and qualifying. After that the car lost a lot of its power and I barely made it around the last standing cones coming off the bank. I managed to finish the run. I didn`t want to come to a complete stop in the middle of the run, especially when you have someone chasing you like there is no tomorrow. I was so pissed that this had to happen right now. I knew that I was going to lose even before I finished the run. Right when we were lined up when they were waiting for the judges, I was really upset and I remember banging on the steering wheel.
What a way to end the season.  Even now I wonder what would have happened if the car ran fine for that run. But I have to give it up for Ryan, he`s good.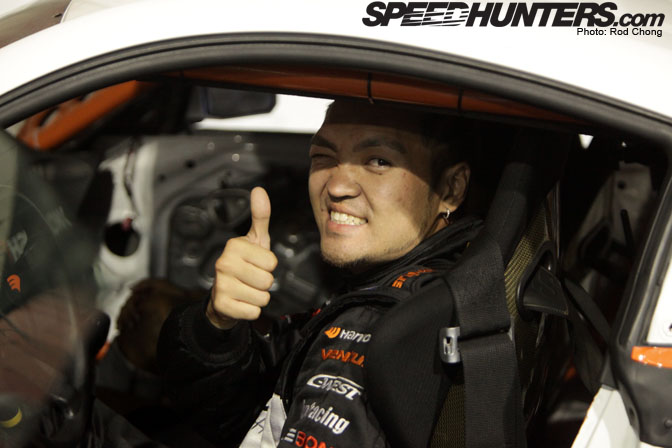 I think I had a great season. I ended up being 8th place in the points standings. I think I am the highest ranking driver who didn`t get any podiums this year. Man! It`s cool though. I really enjoy the competition in the states, the fans, my sponsors and everyone who is at the track. Now we will be going into the off-season of drifting. I hope we will do better next year. I will be practicing in Japan whenever I have the time to. I will take this time to recharge myself so I can come back for the 2010 season strong.
I might have already said this but this is a great experience for me. I`m just like anybody else. Some dude who had a 9-5 job and just loved driving. Dedication and always trying hard could take you pretty far in life. I think I proved it right? I will keep moving forward until the day I am told that I can`t drive anymore. I think I will be drifting until I die maybe? Man I can`t wait for the 2010 series to start.
I need to thank each and every one of you out there, for even taking the time to read through this. Thank you! I also need to thank Hankook Tires for giving our team a chance to compete in one of the worlds best drifting events. I also need to thank Dynamic Autosports and  Gruppe S, BC, ACT, APEX, all of the competitors, teams and many more for all of your support. Oh yeah, last but not least my family and friends. THANK YOU!
Thank you Speedhunters! See you back at the track
-Robbie Nishida