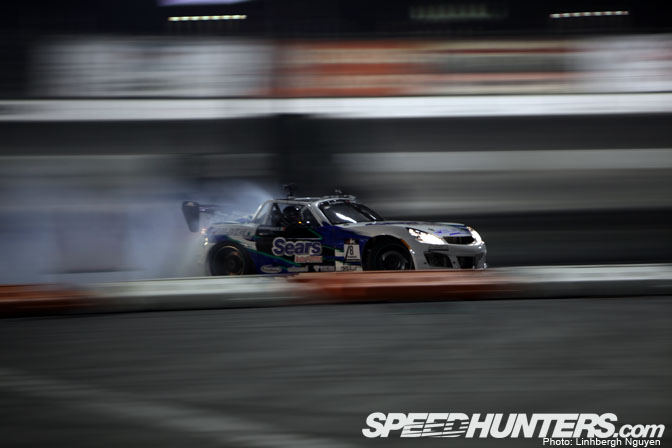 Hello Everyone – my name is Darren McNamara and I drive the Falken Tire/Sears Auto Centre Saturn Sky in Formula Drift. I am one of those lucky people who gets to live out their dream job every month. I first raced a car when I was 11 years old, it was an 850cc Mini. It was actually a 12-16 year one make old oval racing class, but my dad got me in because of his previous racing reputation. I finished second on my first day out but it did take me a while to become successful. Once I won the appropriately named "Ministox" championship in 1999. I quickly moved up to the "Production saloons" a class for 1000cc Euro size hatchbacks.
At 15 years old I was the youngest competitor by far but that didn't stop me from taking the championship first year of asking in 2000. My weapon of choice was at first a Fiat 127 and then a Fiat Uno (some of you may have to Google these). I also competed in Off Road Grasstrack events during this time and took home 2 championships in a row becoming the 1999 and 2000 All-Ireland Champion. My final Oval Racing adventure was in the much more serious 1300cc  "Stock Rod" class. This lasted until 2003 with good success both in Ireland and the UK which included a driver of the year championship.
At the end of '03 a bug called Drifting had bitten pretty hard and took all my attention. In 2006 I took the Prodrift Irish Championship and signed with Falken Tire in 2007. So that's 6 Championships in 9 years. We are going to be doing all we can to add the Formula Drift championship to that list in 2010.
2009 has been a year of highs and lows, here's a look into my final event at awesome Irwindale…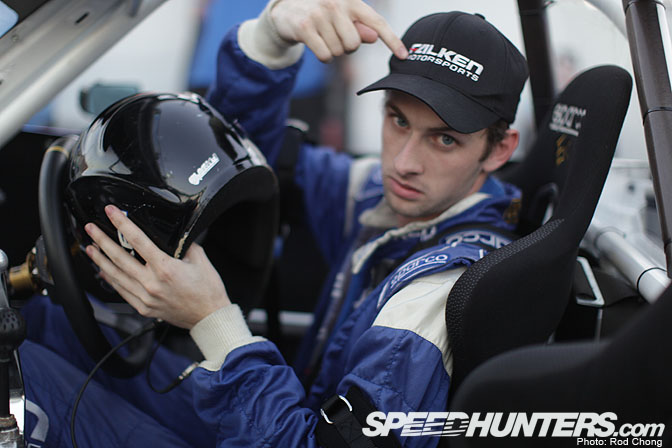 Here is my current office in the custom right hand drive Saturn Sky. Faith is a word I would almost never use, but it does feel like faith that I am driving for Falken Tire. I arrived at the D1GP  event in Irwindale '06 sponsored by another tire company, we had been in negotiations with this company to supply us with tires for the event but when we got there they said they were supporting drivers already and couldn't help us.
We approached Falken Tire on the Wednesday before the event and asked them could we purchase tires from them. Me and my family put all our money together and purchased the tires at a discounted rate on the condition that we run Falken vinyl on our car. Fast forward a couple of days and we find ourselves the highest finishing Falken driver in the competition, a feat that we repeated the following day. That's when negotiations began for 2007.
Looking at this picture reminds me I must get that helmet painted for 2010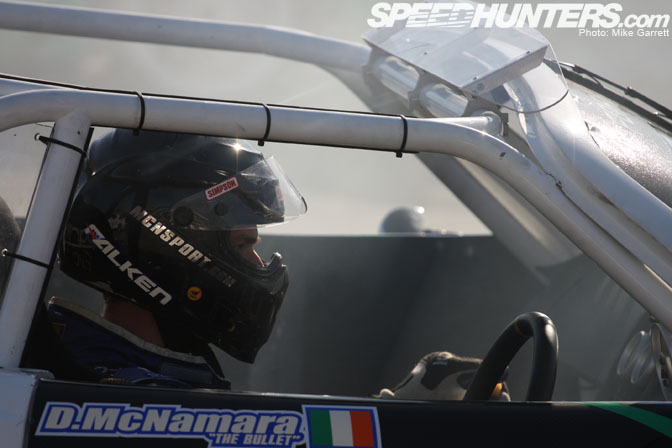 Here I am in the zone during practice. I'm very much a hands on kind of guy, I love working with race cars and setting them up to perform better. It's a machine that you can manipulate into doing things that people find hard to believe. Once my helmet goes on for the first time during a race weekend, I start to focus and begin to notice things I would have overlooked previously. How competitors cars are sitting on the race track gives me an insight into how they're cars are set up. Also how much they speak to their crew after a run and their hand gestures give me an idea of how their run went and the activity of their mechanics will let me know what they are changing to make their car better. I literally become a machine myself.
You may notice MCNSPORT.com on my helmet. This is my own company back in Ireland started to provide our years of experience and success to our customers across the globe. People come to us mainly for everything AE86 but we do cater for everything else JDM as well. You'll also catch my own Blog on there.
D. McNamara "The Bullet" was a nickname that started to come about as we developed the Saturn Sky and it became faster and faster. Finally we took our first win in New Jersey this year and as no one could catch us, the guys from ASD made the nickname stick.
Here is our weapon of choice, the Falken Tire/Sears Auto Center Saturn Sky built by ASD out of Charlotte NC. ASD builds he best drift cars on the planet and it is a privilege to be the pilot of choice for this awesome machine. With over 700hp and 680ft.lbs of torque this really is one of , if not the fastest drift car in the world.
This picture really sets a good scene. There is something about Irwindale that's special, maybe it's just because it's where I got my big break, but I love this place. Disappointingly I have yet to repeat my success of 2006. I felt good going into this event, for me Forsberg had already clinched the championship and there was very little pressure. The most important thing on my mind was to gather data for 2010 and hopefully with a bit of luck come out with a result.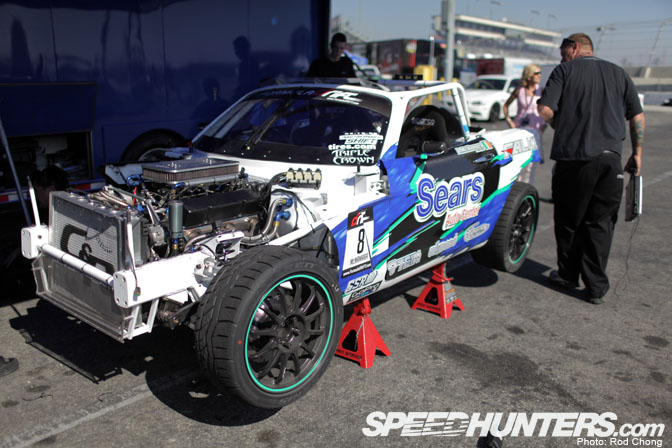 Here we are with one disassembled Saturn Sky after Thursday practice. I'd like to thank everyone for pointing out that I have crashed at Irwindale for the past 3 years, very observant haha. This was completely my fault, on the run before I had grazed the wall but wasn't 100percent happy with my clipping point on the transition. So, on the following run I improved my proximity to the transition clipping point but ended up a foot further up the track at the same speed as the run before. This meant I was getting into the wall, the rear end hit first and straightened the car proceeding to launch the front of the car up the wall and throw me around like a rag doll.
As I lay in the wreckage, my crew chief Ian Stewart from ASD came on the radio and said "Alright guys back to the pits we've got some work to do" At that point I felt like such an idiot, if anyone knows the guys from ASD then they'll know that I was in for quiet a hard time when I got back to the pits.  When I inspected the car on the track after the wreck, the damage didn't seem that bad considering how hard the impact felt. I even drove it back to the pits, but when the guys measured the frame the extent of the damage became apparent and there was quite a lot of work to do.
But if there was anyone who could get it done it was the guys from ASD. And sure enough when Friday came you wouldn't even know the car was crashed the day before.
So this means I can keep crashing and not be worried about it………….:-)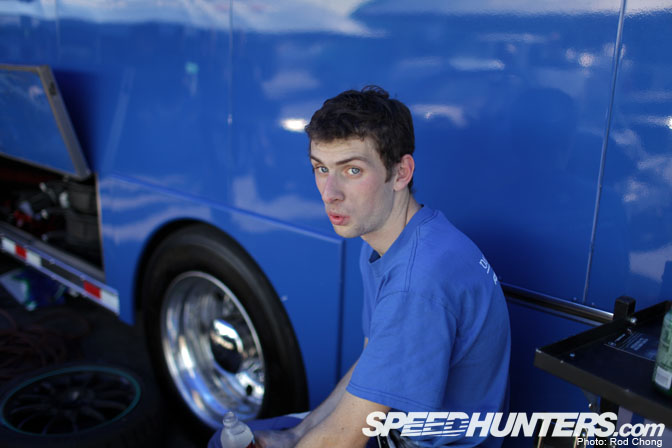 Here I am as the guys are working on the car looking quite pale and washy looking and trying to take in some fluids. I know I'm Irish and pale anyway, but the crash really did shake me up and I didn't feel right for a couple of hours after.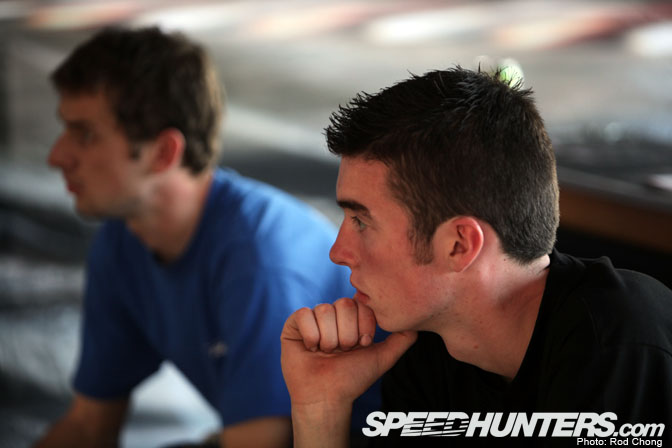 This is me and my buddy James Deane doing a bit of practice for the Royal Purple – Need For Speed competition that was being held on race weekend. Basically the competition was open to Formula Drift competitors with a qualification round and then the best three times would proceed to a final where they would do one lap of the easy peasy  Nordschleife. I'm an OK gamer so I was looking forward to this a lot and I think the guys from EA expected a lot from me.
My buddy James Deane had never been to Irwindale before so he decided to come over to support me and take in the whole scene which is far different to what he is used to back home. In my opinion James is the best young drifter in the world and maybe someday we'll see him in Formula Drift who knows…………..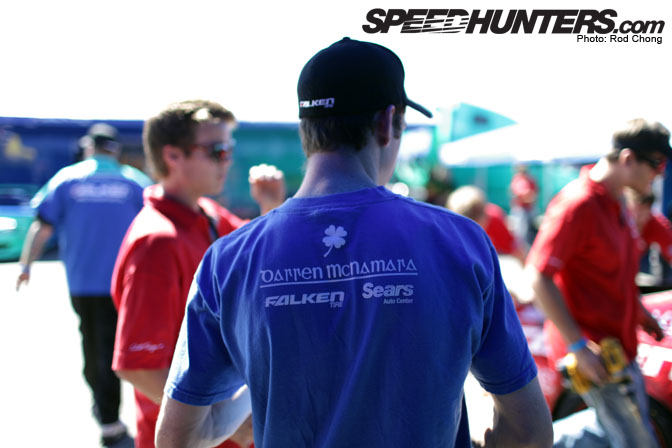 Here we are before Friday Practice as the sun beats down and tries to melt us Irish men, and the Norwegian guys from Freddy Aasbo's crew were feeling it too. I know these guys quite well, we have competed against each other in the Prodrift European Series before. They are a great bunch of guys and I was delighted to see them doing so well this weekend.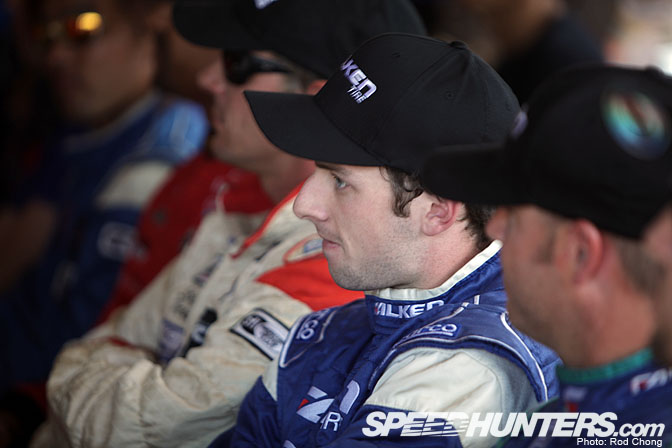 Friday Drivers Meeting: You really must listen to the drivers meeting in Formula D. Because it's a judged sport you must please the 3 guys in the tower even if you happen to disagree with some areas you must adjust to what the judges want. I see this happen all the time where people from other series compete in a series they are not used to and end up disappointing. It happened me in Long beach in 2007 and I made sure it would never happen again. Line and angle seems to be becoming more important in Formula D these days but outright speed is still the biggest advantage as it becomes more apparent in tandem.
We also received the results from the qualifying round of the Royal Purple – Need For Speed competition and I was relieved to make the final three coming in third place overall. My previous confidence in the competition was shaken as 4th place was only a tenth of a second behind me and first was a half a second faster. Time to get some practice for sure.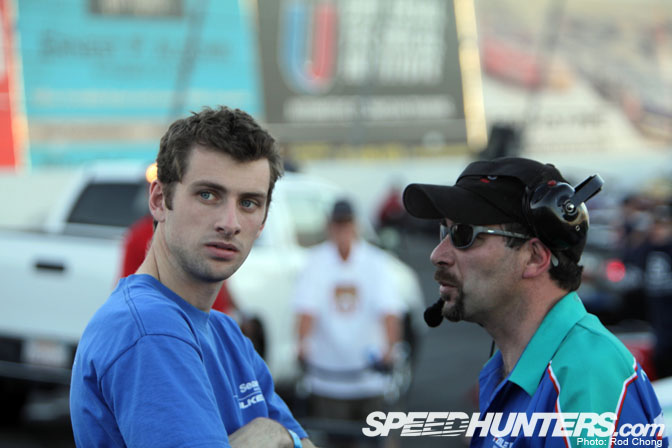 This is me and my buddy Flash who is the mechanic on the Saturn Sky on race weekends. As I touched on previously I go into a zone so to speak and will watch other competitors for insights into car setups and track conditions. I know that face from flash, he is waiting on a decision from me on what to change or not to change on the car. Sometimes things come to me at the last moment.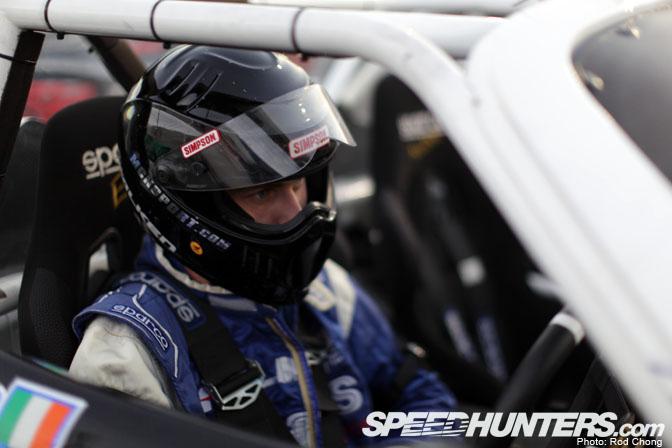 Here I am lined up for Qualifying. I continue to use a tactic that has served me well down through the years of putting in a solid 60-70percent run for the first run and then going all out on the second to try and pull off something special.
Time and time again I've seen people put themselves under serious pressure by spinning or making a major error on their first run which means their whole weekend comes down to one run. This was a much bigger problem when Formula D employed the Top 16 tandem system but with the Top 32 tandem system qualifying has become a given and takes all of the tension out of it, which is a pity in my opinion.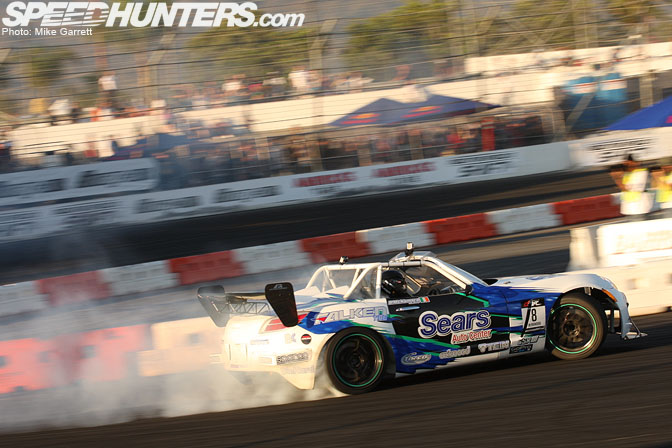 Qualifying went ok, my first conservative run went well putting me in 10th or 11th overall. But on my second run I spun on turn 3 and recorded a zero. No big deal though, we were in the competition and sometimes qualifying lower is not a bad thing as you end up competing against someone of similar speed and don't have to contend with the massive range in mph between the top guys and the lower competitors which can catch out even the best drivers.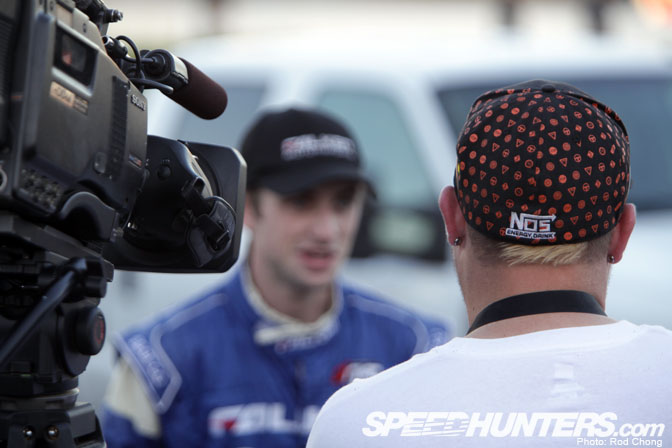 Here I am being interviewed by Shabin who does all the footage for Formula D and does a great job. Since joining Falken Tire my media skills have improved tenfold. I've learned to speak American English and speak it with a shocking American accent sometimes, Don't ask me why. People back home are quick to point it out to me.
Media skills are something that you can never be too good at ,and Formula Drift demands it so much more than anything I have done previously. There seems to be more interviews every year. I'm pretty sure I did 10 or more interviews at Irwindale, and considering you do one interview per tandem and I only got to the Top 16 it could have been 15+ interviews which is a lot!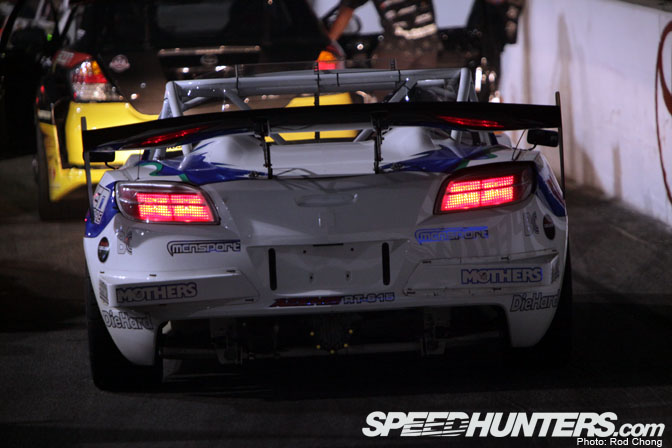 Night practice at Irwindale. It doesn't get much better than this. Night time increases the sensation of speed and you can't beat clouds of tire smoke under flood lights. Night time throws some variables into the mix. Visibility is decreased so driver concentration needs to be high and also lower track temps change the vehicle set-up which on a set-up sensitive race car like the Saturn Sky means you have no time to relax.
This is one of the most important times to run Tandem with a different range of drivers and cars. The main competition would take place the day after under these very conditions. It's nice to get used to the actual race conditions so that you feel comfortable when the time comes.
I have to say the new APR GT Wing looks amazing on the Sky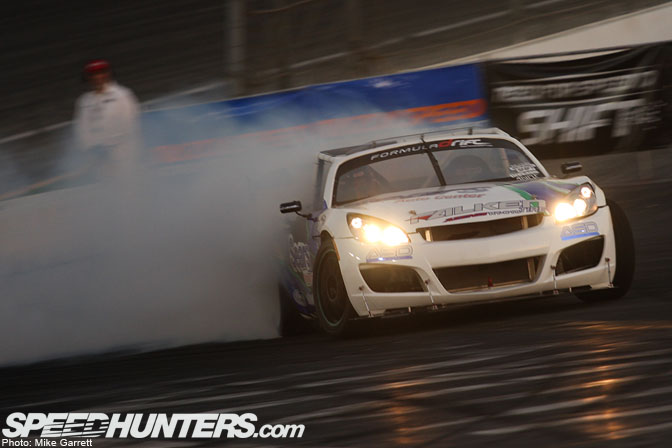 My final run on Friday and the past two days had given me a lot of information to process. Between the crash in Thursday practice from pushing too hard and the low track temps of Friday night practice, we had turned up some interesting set-up changes. I had a lot to think about for the night and Saturday was not going to be easy.
Fast forward to Saturday morning and open practice. At this stage I had seen what everyone had to offer from the previous 2 days and it was the usual suspects in Saturday practice. Beside me is Tyler McQuarrie who is new to Falken Tire this year, but needs no introduction. Me and Tyler get on great and he is a great addition to the team. We are constantly taking the piss out of each other and believe me if youre dealing with the guys from ASD every month you gotta know how to take it and give it in equal measure.
Basically leave you feelings at home when you get on the flight.
Me and Tyler will compare notes on track conditions and competitors, but even though our cars share the same drive train they are completely different beasts and require different set-ups on race weekend.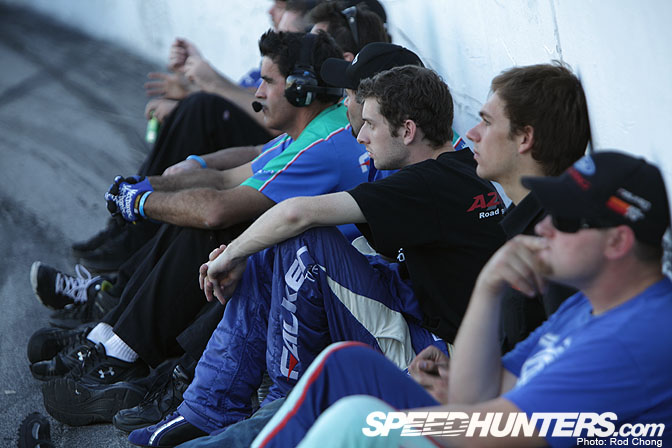 One of the phrases we use quite a lot is "hurry up and wait". We seem to spend an awful lot of time watching other people run. At this stage you just want to get into your car pull up to the line and get it over with. I was the very last battle of the Top 32 bracket which means I had to watch everybody run which is the worst thing possible as it puts more pressure on you depending on who goes through or gets knocked out.
Only thing to do is find a comfy spot against the wall and watch for any upsets and let Skippy and Dean from ASD entertain you.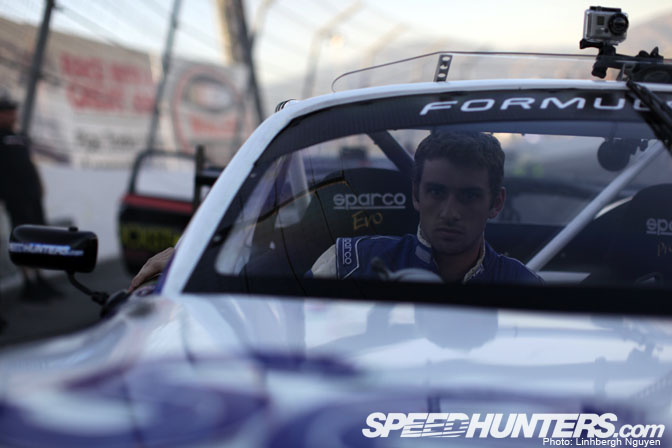 I'm normally pretty good with pressure. I never let it get to me but getting ready for my first battle a couple of things were in my head. Tyler had already gone through, but JR was knocked out, who would I be joining? And because the top 32 happens before the opening ceremony and there is a good hour or more wait between them getting knocked out feels like you didn't make the competition at all. If I could get through then it would relax me and my team and it would be all smiles during the break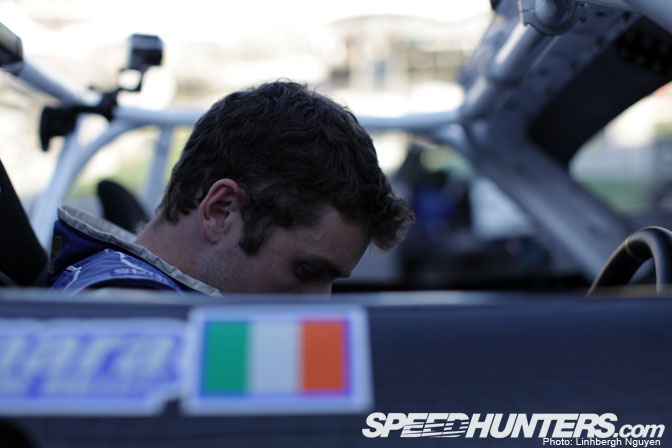 My Top 32 battle was against Kenji Yamanaka which was a good thing and a bad thing. The good thing was Kenji was not slow so I didn't have to adjust the Saturn Sky massively between runs. The bad thing was Kenji was going well this weekend and I knew he would put up a fight. Not the easiest Top 32 battle by a long way. I had meant to watch Kenji in practice but for one reason or another I missed all his runs so I had to go on the data collected from my team.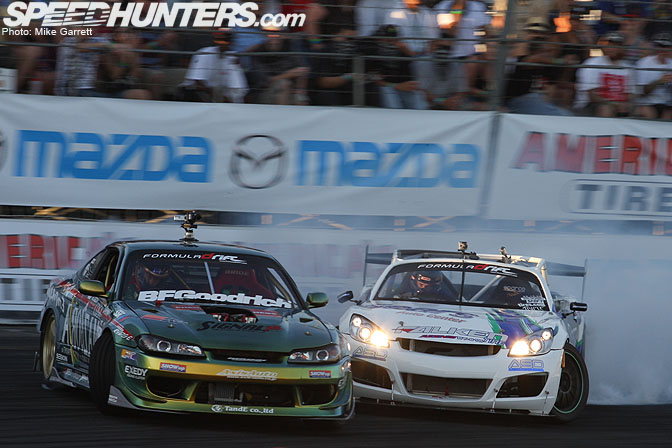 Wow…………it didn't feel this close inside the car.
On the first run I pulled away a bit while in front and it was up to me to put it beyond doubt in the chase run. I love chasing the other car, it's the whole point of drifting for me. The speed of the Saturn Sky means very few if any cars pull away, this gives me my opportunity to shine and even if my lead run didn't give me the advantage, I'll make sure my chase run does. I remember focusing on Kenji's door handle in turn 3 and using it to gauge my distance from his car. It was just a case of balancing throttle, brake and e-brake to keep the distance constant.
The judges seem to like what I was doing and we progressed to the Top 16.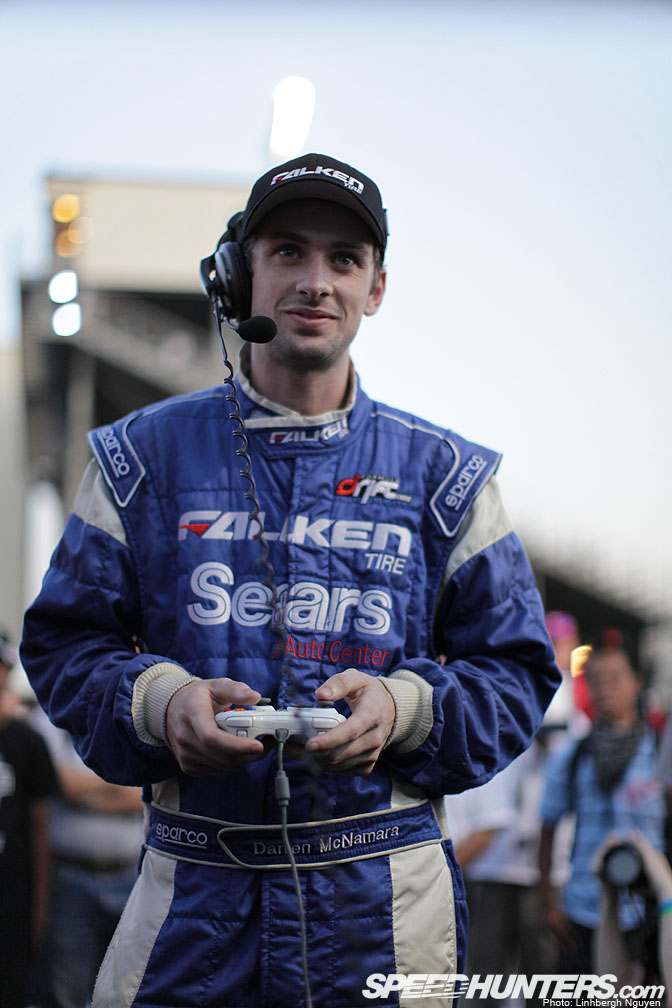 Straight away after the Top32 competition I had to report to the EA booth for the Need For Speed competition. I got caught to do an interview while at the Falken Tire Rig so I sprinted down to the EA booth and no sooner had I arrived it was my turn to play.
Standing up to play the game was very weird and took about thirty seconds to get used to and also Jarod talking crap in my ear ended up costing me a couple of seconds definitely.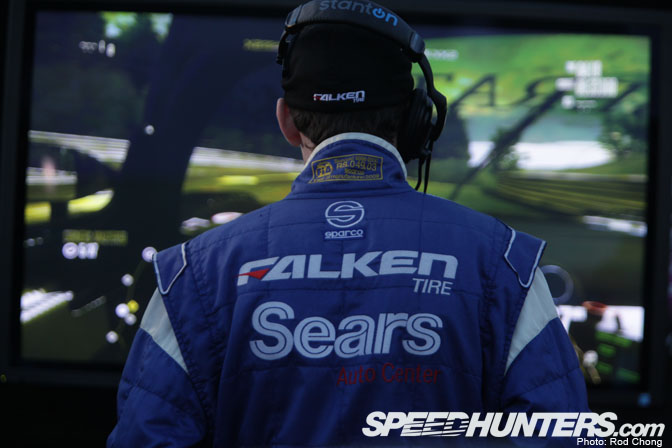 I was so serious about this. JR had given me a loan of his X-Box the night before and I had got about 6 laps in Saturday morning and was feeling pretty confident, but it's a different story when you have so many people watching  and the pressure is on.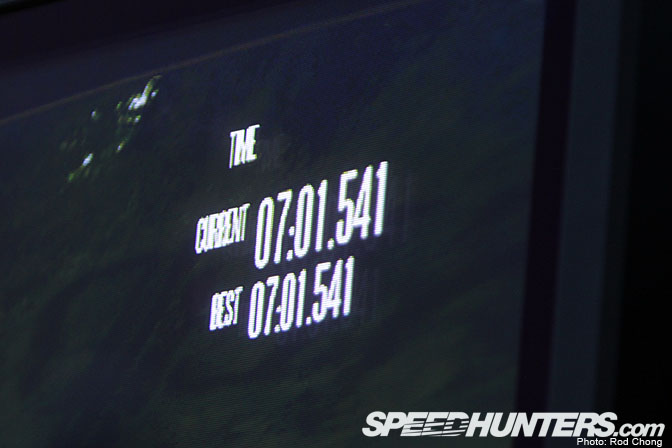 Here is my time around the Nordscheilfe. Pretty disappointing, I had been 6 seconds faster while playing in my hotel room. Would it be good enough to win the 5 thousand dollar prize money……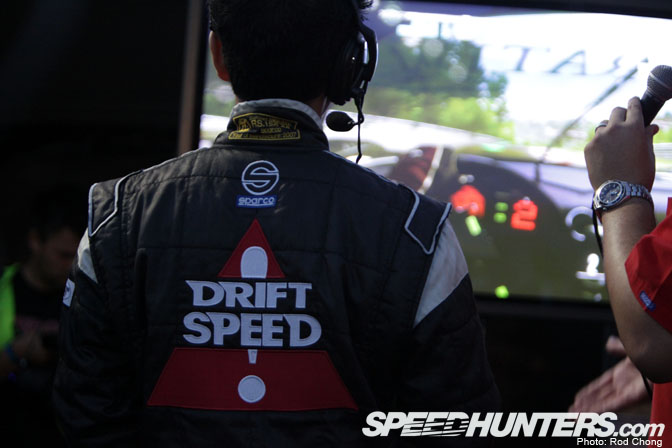 Judging from Quoc Ly's time from the qualifying round the day before I knew he was going to be fast. His style surprised me, I went all out trying to be as fast as I could but Quok accelerated hard on the straights and braked in my opinion too hard for the corners but he was staying on the black stuff better so it was anyone's money still………….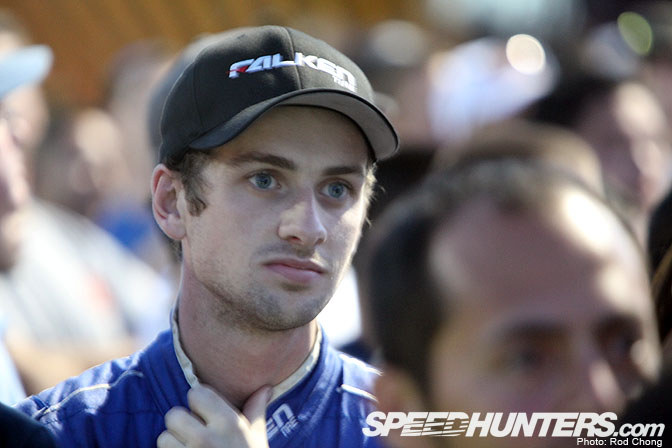 As I watch I had references points in my head where I would compare times. He was quick for sure. It was pretty nerve racking I have to say. Normally I battle my opponents at the same time but here I got to watch him for seven minutes solid.
It wasn't until the very end that it was decided……….i had lost by one second!!
I'm a pretty bad loser I think that's what drives me to be successful, but to lose by one second on a seven minute lap of the Nordschleife for 5 thousand dollars was a bit much. I needed to go back to the rig this was upsetting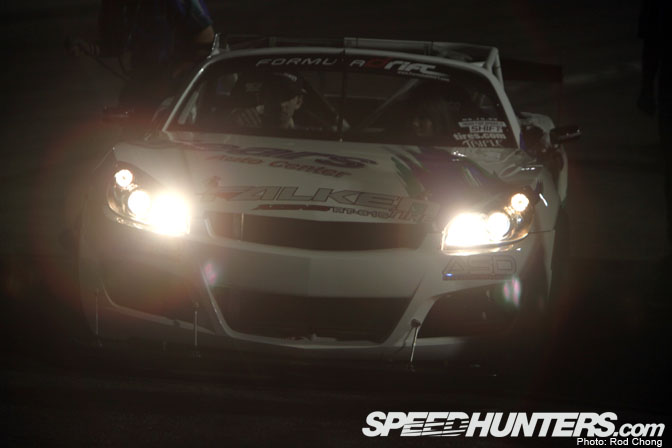 Here we are getting ready for the opening ceremony. This is the moment for me where the competition really begins, it's the build up to the awesome drifting that's to follow. The opening ceremony is a parade of Sponsors and expensive drift cars so cue the promo girls. We're lucky we have the best in the business. I actually don't know how talkative I am at this time my mind is elsewhere focused on what's to come……….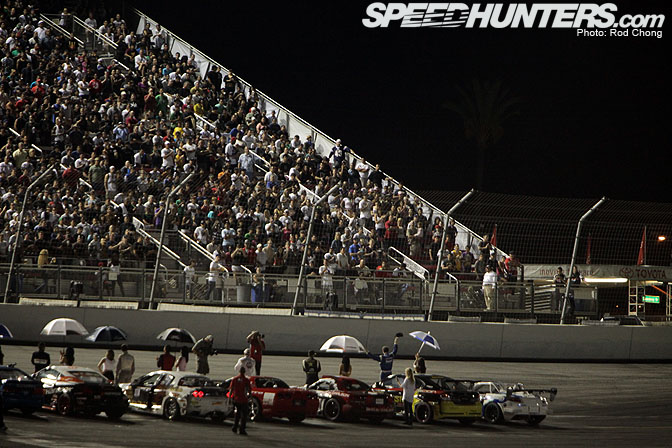 I'm definitely not the biggest showman, I like to let my driving do the talking. I remember when I came to Irwindale first and had to stand on the same spot as in the picture above with all my hero's next to me in the most amazing drift track in the world, I had to pinch myself to believe it, it was quite nerve-racking and intimidating. I guess I'm much more used to it now, but I still wonder how big my cheer will be once they announce my name, I guess everyone likes to be popular. Luckily I have a good following at Irwindale since '06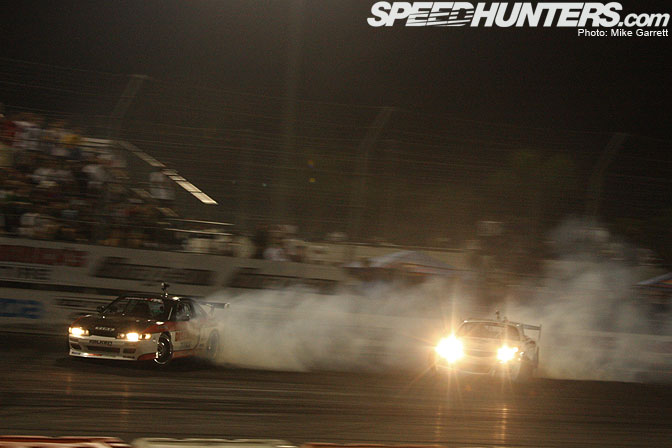 It's always disappointing when you come up against a team mate so early on in the competition.  Why can't they all be like Wall New Jersey where we swept the podium, maybe next year.
I was pretty confident going into this battle, it always makes me smile when my opponent come up to me and asks me to pace them in a straight line, it's a testament to the brainchild of ASD on what is the ultimate drift car. It makes me smile not because I think I'm great with my 700hp matchbox but because my car is faster while drifting it's definitely not the fastest in a straight line and anyway we're drifting not drag racing.
I know how great a driver Dai is and he would be competitive in an s13 but I was surprised that he wasn't faster, I seemed to drag the e-brake behind him for what felt like a hundred feet and by the time I went back for the gas my car was practically stopped which caused me to straighten and give a big advantage to Dai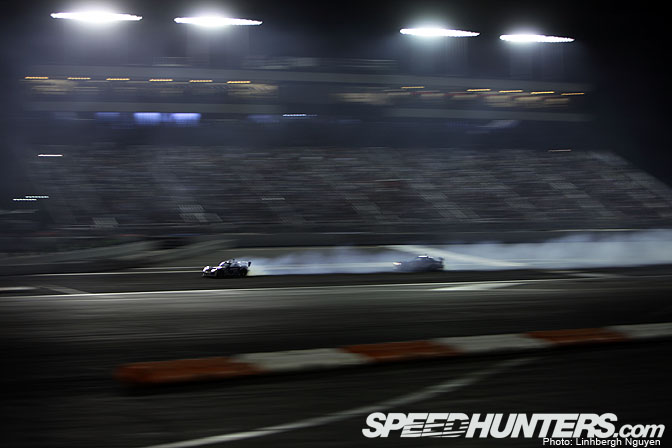 I knew I had to lay it down if I was to proceed or get an OMT against Dai so I pushed real hard using everyone of my 700 horses and pulled out a nice gap. It's interesting in drifting that sometimes you have no idea where your opponent is, your mirrors point in all kinds of directions except behind you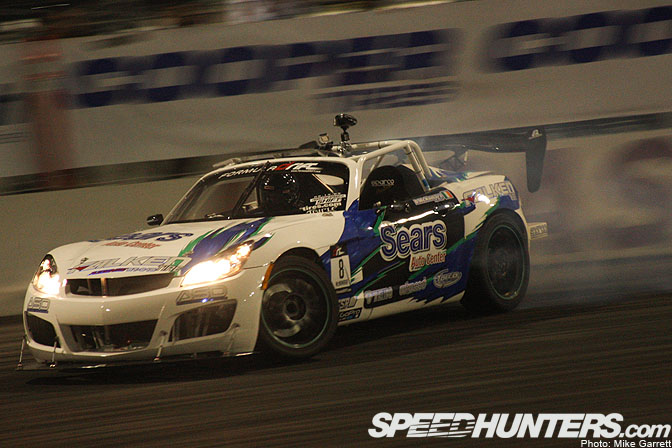 Here I am about to tap the outside wall on turn 3 yet again, the result of coming in a couple of mph too hot trying to put your opponent away. Drifting can be a cruel sport. One mistake can cost you dear and you don't have 499 more laps to make up for it. It's all or nothing for one minute. The tap on the wall altered my line a little bit and my run wasn't good enough to beat Dai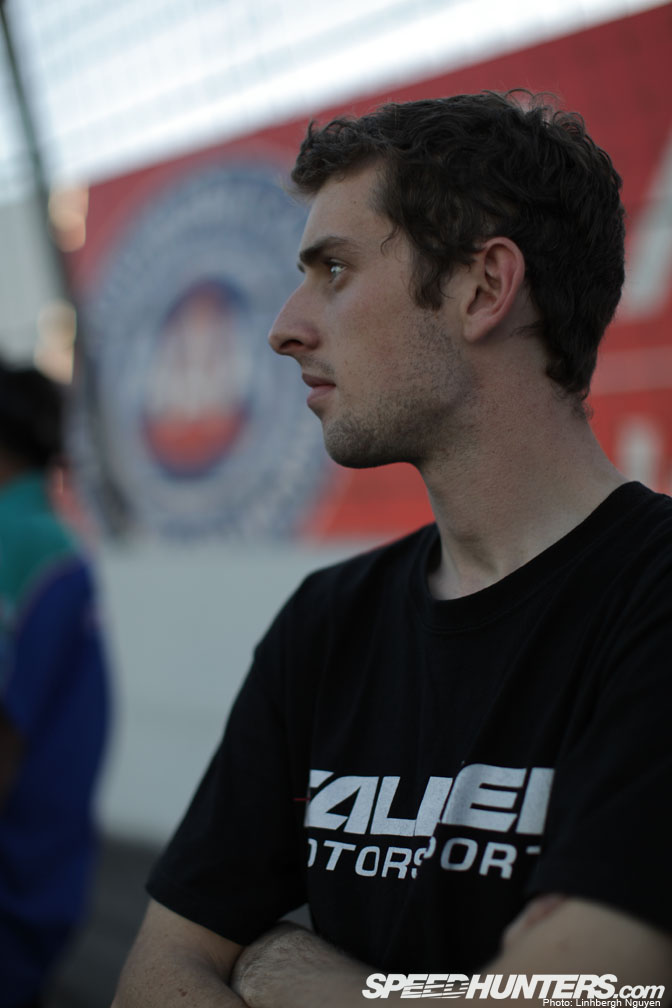 So the nearly man went to sit by the wall again and watch someone take the win.
I was so close to winning the Royal Purple – Need For Speed competition and to lose to Dai causes of a stupid mistake. It was a head wrecking weekend. In many ways I'm glad 2009 is over. The DNF is Vegas hurt my championship chase and we went from a 30 point lead in the championship to 6th overall, it was a bitter pill to swallow. 2010 cant come fast enough and I can't wait to get behind the wheel of the Saturn Sky again in Long Beach and put all of our 2009 data to good use.
I'd like to thank Falken Tire, Sears Auto Centre, ASD and my family and fans for their continued support
Watch this space in 2010!!
-D-Mac