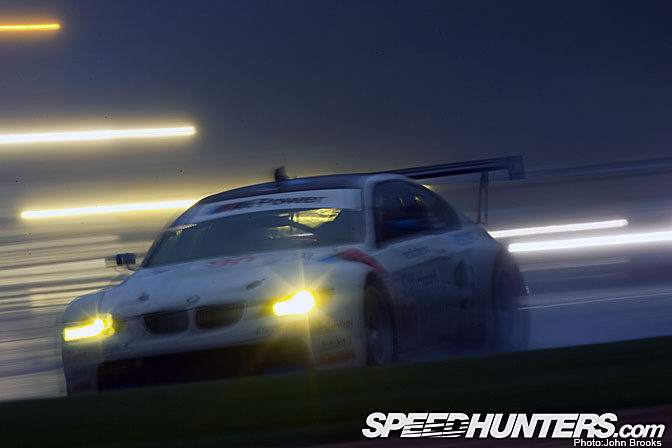 This is Andy Priaulx MBE, Husband to a fantastic wife, father to two gorgeous kids but then I would say that; racing driver from an early age racing almost everything from Motorbikes and power boats to formula one cars, currently racing in the World Touring Car Championship (WTCC) having won the title three times in a row now trying to win it back.
My experience of GT racing is also varied but my greatest success was to win the Nurburgring race in 2005 with Said, Lamy and Husiman, to master the "green hell" is one of my favorite racing moments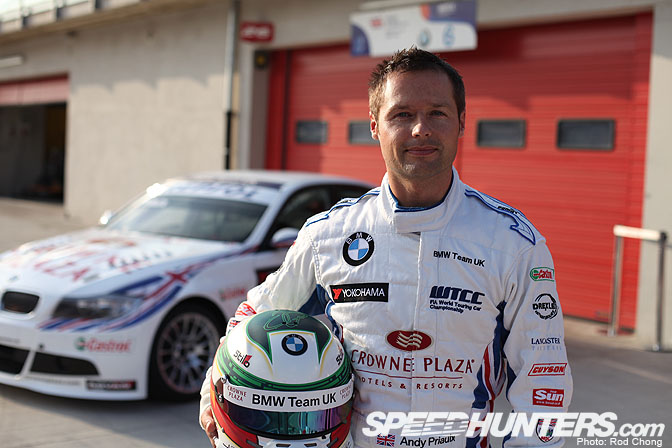 My normal race car is a BMW 320si World Touring Car, which has taken me to two world titles (2006 and 2007) the first world title was won in the previous 320i model with which I also won the European Touring Car Championship (ETCC) in 2004, so that's four FIA titles back to back.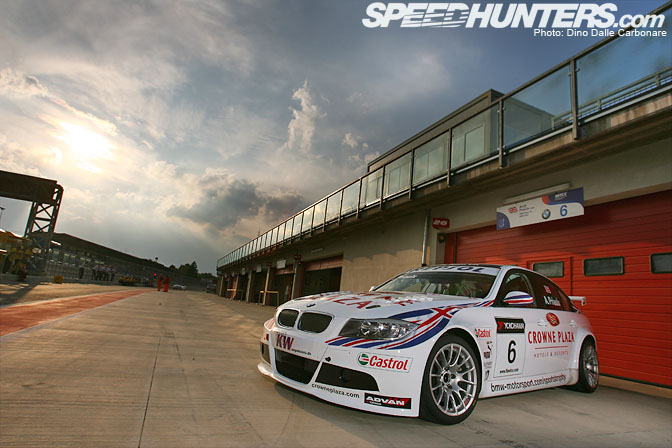 This is my office… the BMW 320si is prepared by my race team RBM (Racing Bart Mampaey) in Belgium. It's loosely based on the same 320si road car but weighs only 1150kg and the engine produces nearly 300hp. The 320si is the most successful touring car, having won two world titles for me and BMW in the manufacturers championship, you may think "wasn't it three world titles" but the first world title was in the 320i a mere technicality but one someone will pick up on…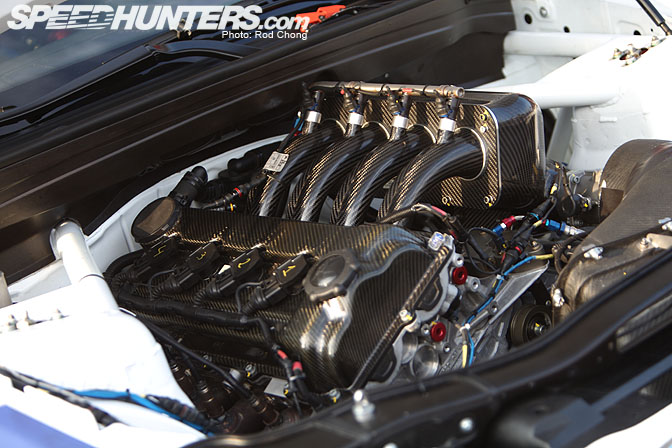 The power is about 40% more than the standard road car in a chassis that weighs 40% less, therefore the performance is exhilarating and the makes the car fantastically agile to race. Being rear wheel drive, it also delivers the right amount of excitement with perfect balance.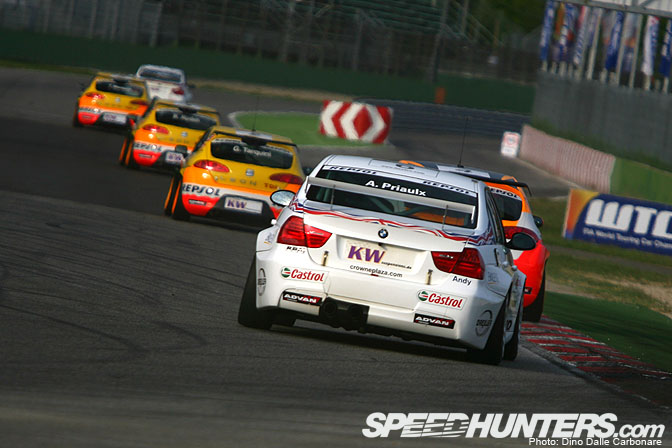 In the WTCC, the cars start off the season evenly matched, but the rules allow a certain amount of tweaking should one marque start getting the edge over the others… weight is the usual leveler although the turbo diesels have had boost restrictions increased and decreased as success comes and goes.
The governing body (FIA) deems it necessary to do this to ensure no one make runs away with the championship and potentially makes more of a spectacle but it is very confusing for the viewers and makes the drivers sometimes look inept as the differences are not spelt out.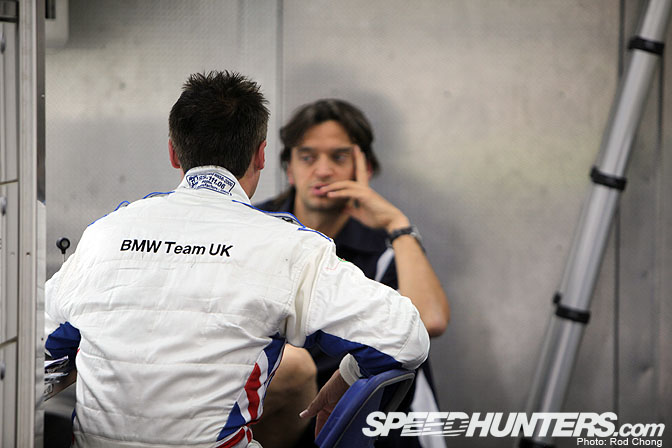 My race engineer gets more attention than my wife over a race weekend I'm afraid, this time together sets the scene for instant decisions when it matters the most, knowing what options are available and what strategy to adopt is key to a successful race.
We tend to brief and debrief then go away and think about it and come back to see if we both have the same answers, I have worked with Sam for many years and won all my touring car titles with him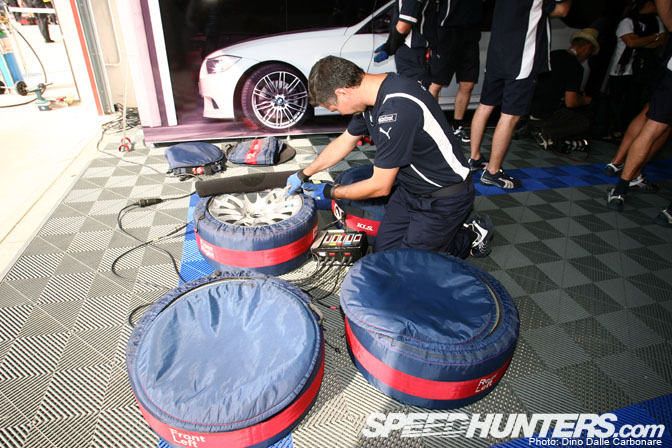 The tyre warmers keep the tyres at a given temperature before going on the track, sometimes to match the track other times to increase/decrease the grip available depending on the type of handling I want from the car, temperatures and pressures are absolutely vital.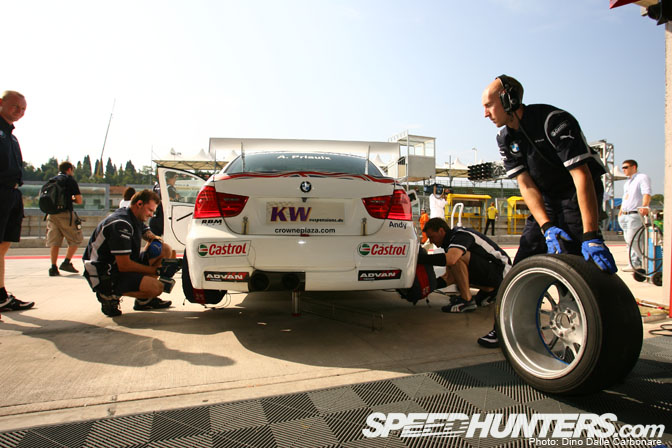 We are allowed 12 new tyres (three full sets) plus 8 that have been previously marked from another race, it sounds a lot but when you consider the front wheel drive cars don't really harm their rears as steering and drive is all at one end; they have many more to play with than us.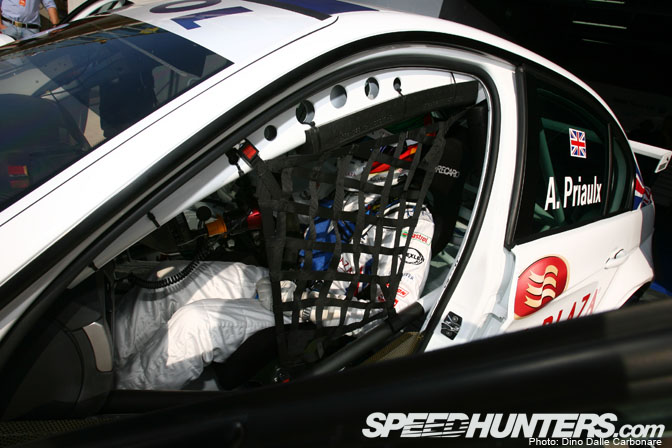 Here I just relax as the changes we have agreed take place around me. Sometimes I will chat with Sam, other times I concentrate on doing a lap in my head to see where I can squeeze extra time from.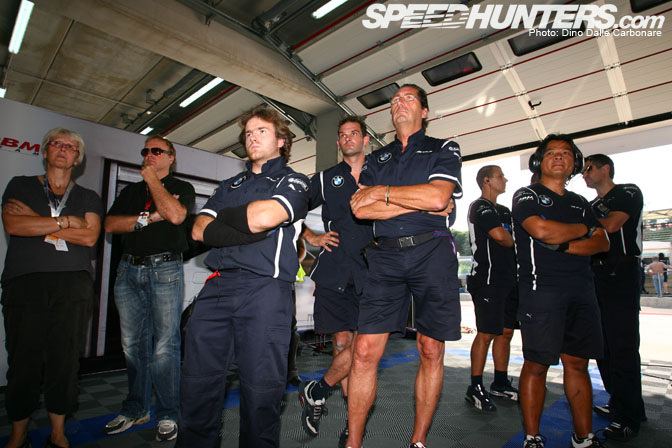 My team are the best, not just me saying that but they too won the ETCC and three back to back WTCC titles with me, the people here in the garage are just some of them. The lady on the left is my PR guru Ann Bradshaw, what she doesn't know about motorsport PR just about isn't worth knowing, she is a legend having worked with some of the greats including Ayrton Senna up until his tragic accident.
The rest of the guys here have been through everything with me highs and lows, from left to right, Tim my manager, Steven (Kleine), Roel, Ken (the truckie), Thomas number one on the car, Phuc logostics and Juan (Paco) the tyre genius.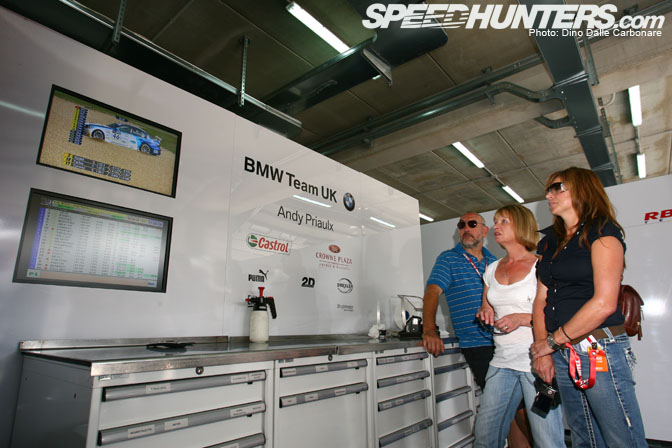 Without Jo I would be nothing, she is my rock, my inspiration and unfaltering supports everything I do, my family are so important to me and I bring them to races as much as school allows, Jo will do all the European rounds and Macau for other flyaways Tim is my wing man.
I love having my family with me and I know it puts them through real stress when I race but the results together have been fantastic and it's all down to them being behind me with the odd word of encouragement or the wake up call I needed.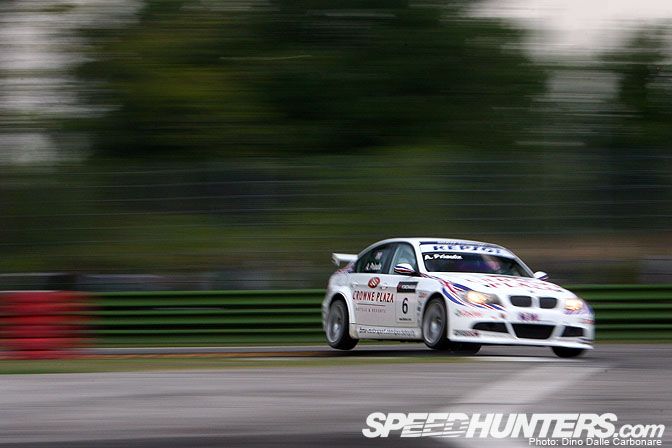 For qualifying you have to have plan but be ready for that to change at
any time, depending on traffic, car control, flags, you name it, one 15
minute session can have thousands of permutations… you have to be
mentally agile
My driving style is not aggressive, although sometimes you have to attack the curbs and the corners… the balance of the car is so important you have to be in tune with it, making it happen again and again lap after lap is what counts, when the pressure is on you just have never to crack.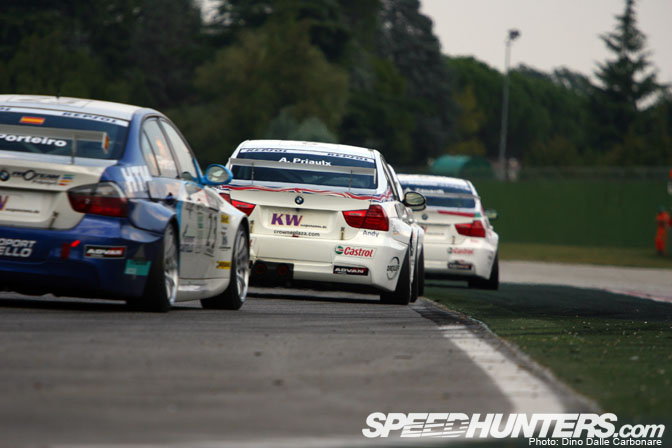 Slipstreaming at some tracks is more important than others, it plays into the hands of the car behind who is making the most of the hole in the air being punched by the car or cars in front, get it right and it's like being attracted by a magnet, get it wrong and you mess up for all of you.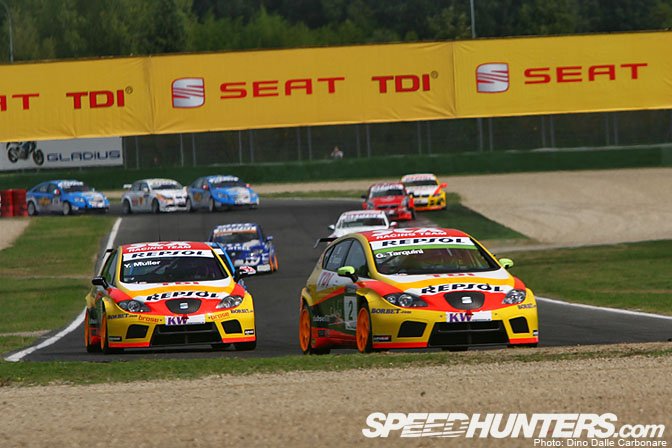 The diesels have such a torque advantage that they can even mess up in part of a corner and still come out ahead; we went to rolling starts to favour them as rear wheel drive was seen to have the advantage on standing starts but the technology and development hours put in by Seat has meant that this no longer exists.
I take my hat off to them for seeing a part of the rule to exploit but it's not a level playing field.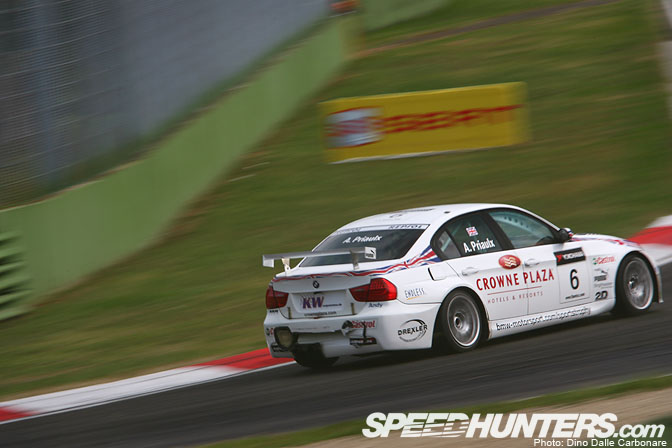 A "tap" from Alain Menu on the restart due to Gabrielle's (Tarquini) holding up the pack meant a damaged exhaust causing loss of power and the bumper rubbing on the tyre seeing the temperature of the tyre go to 160 degrees and instant loss or grip to the rear left.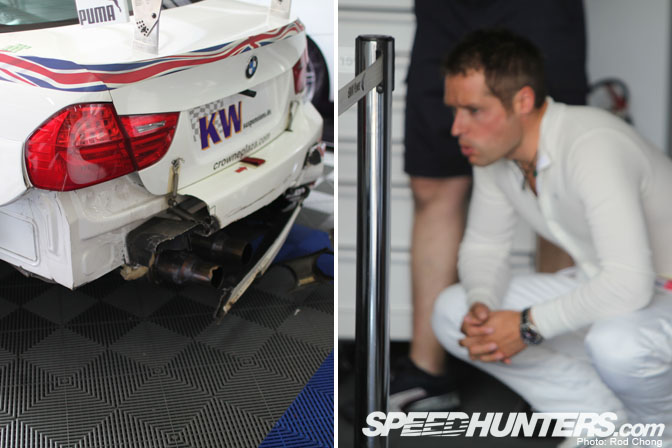 Parc Ferme between the races means look but don't touch. I know the RBM boys will fix it, but you need to know just how unlucky I was… without this I could have had a point and pole for race two.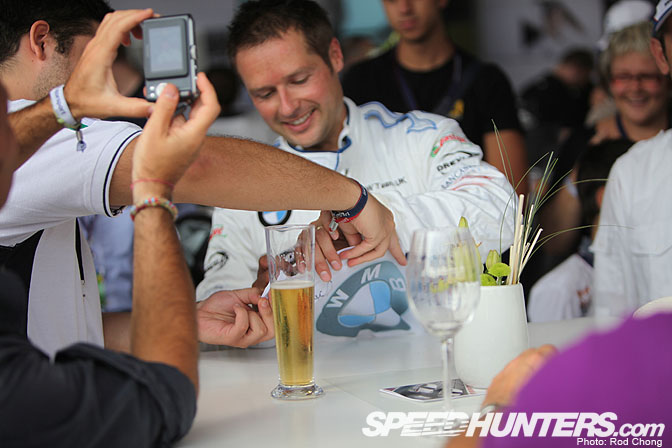 Without the fans motorsport would be a dull place, lots of them have stories to tell some of them follow you to every race, signing peoples memorabilia is part of the fun it's amazing what they bring along for you to autograph.
We have a great hospitality area and it's always a good atmosphere, not very conducive to relaxing or concentrating on race strategy but seeing the fans and sponsors happy always lifts my spirits.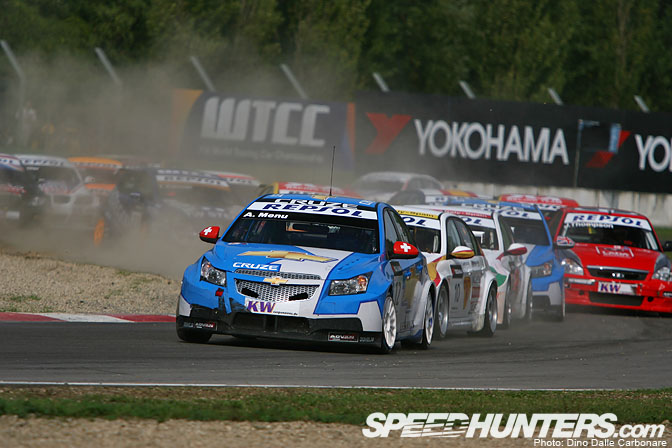 Having to play catch up from the middle of the pack wasn't easy but I managed to get a good start and pick a few off down to the first corner, the car was good despite the knock and the race was very competitive, I had the pace to gain points but ran out of laps.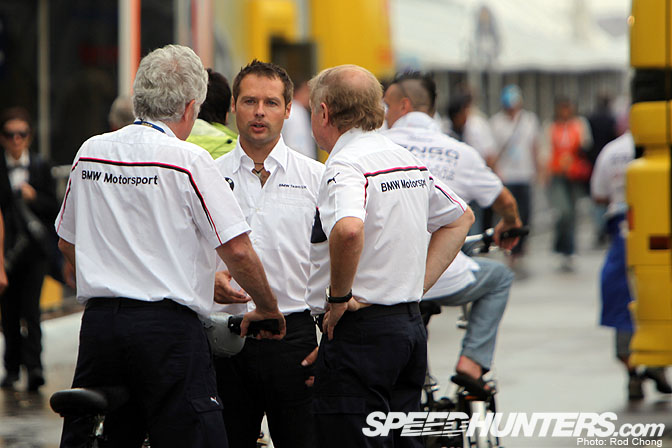 BMW Motorsport oversee the whole program and often have to some tough calls to make, I am always asked my opinion following races and the information is thrown into the pot to see what improvements we can make for next time.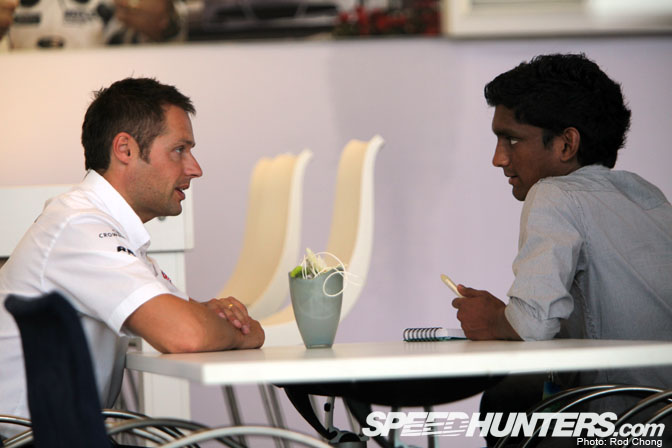 This poor guy Lawrence had been waiting patiently all day for this interview, due to the many constraints on time during race day, long after the cars were in parc ferme did we get to sit down and go through his questions.
Sometimes press interviews are all the same questions but this was more lifestyle and I was still up for more questions when he was finished.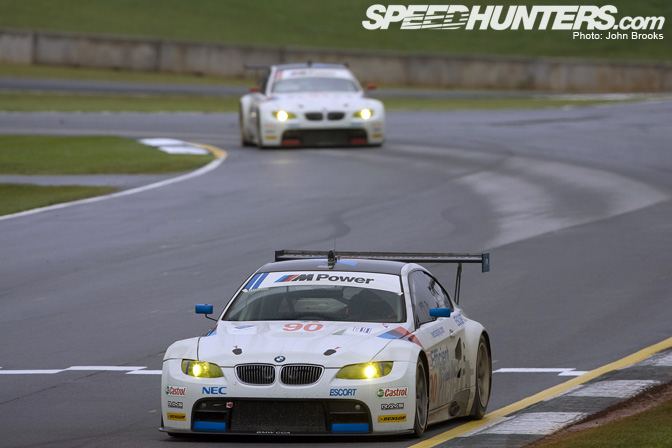 My first time racing in the USA, my first time in this car since November last year, there were certain apprehensions but having just finished a WTCC weekend and jumped on a plane for Atlanta I had no time to have any concerns.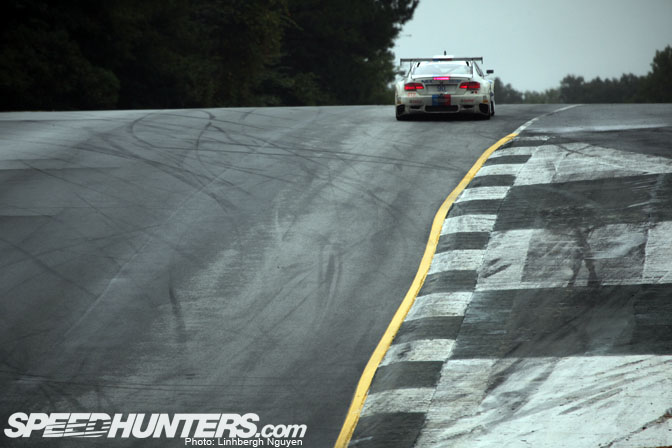 This picture says it all… what's that coming over the hill, the whole track is wonderful!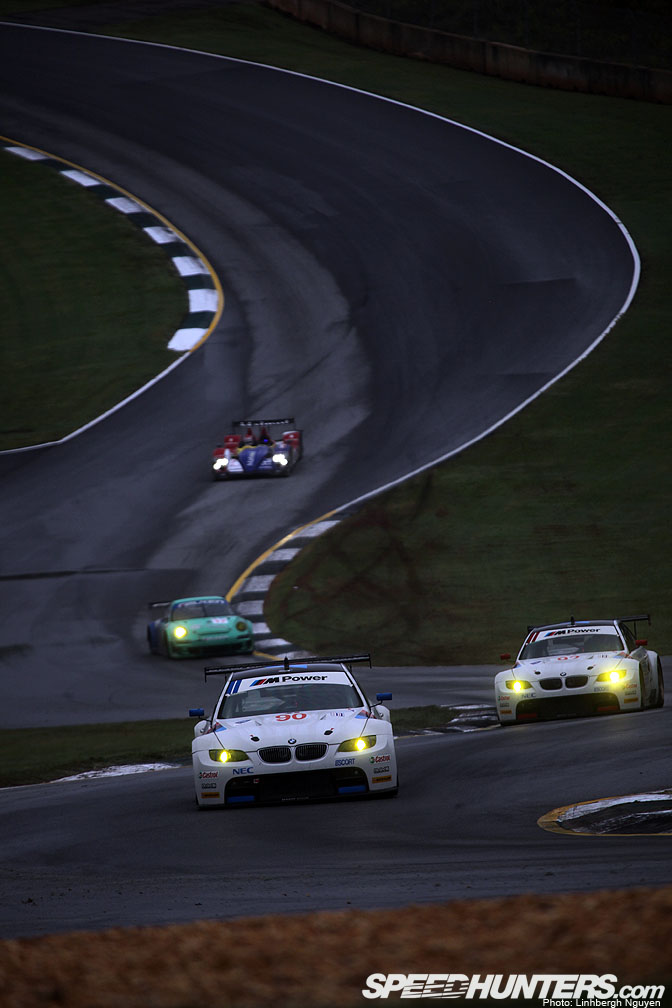 You think you do this section (above) flat -everyone says they do, but
when you look at the data you see that tell tale dip in the graph where
you lifted oh so little…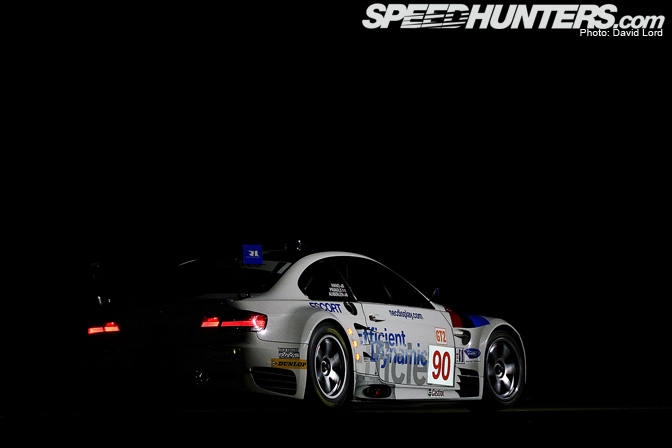 Raw power, more downforce, unenviable handling, I sound like a car salesman, but then I was once, this is to quote BMW: the ultimate driving machine for me.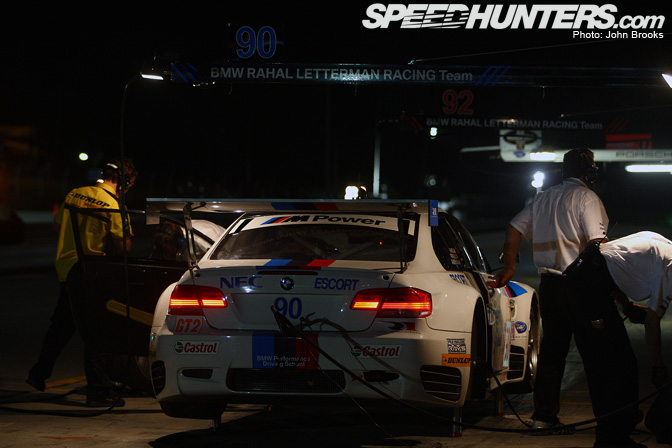 Night racing throws up all sorts of challenges including the wish to sleep instead of thundering round a race track at 200mph, you alter your style a little to take into account. There are other cars that are much faster than you on track as well, so it's not quite like a track day at your local circuit but you have to be aware of the different capabilities of man and machine.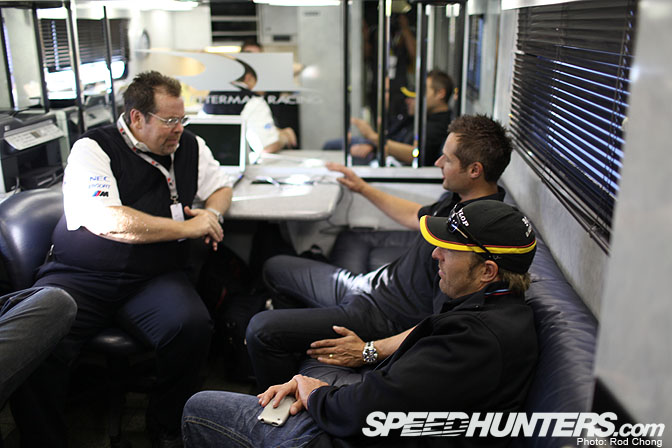 Here I am in the Rahal Letterman Racing team truck talking things through with the boss.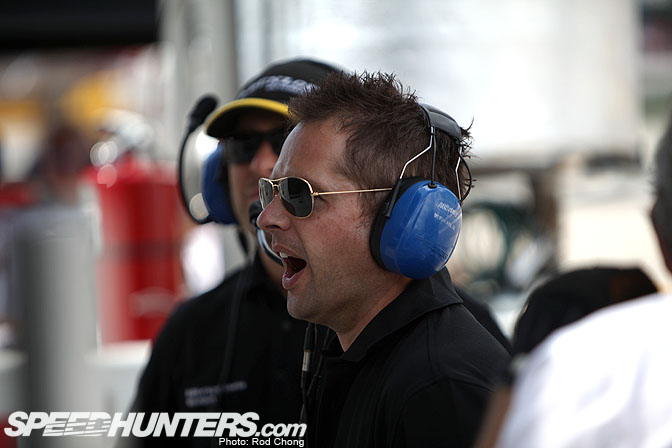 No Quali wasn't boring… I was wondering what time of day it was having raced on three continents in as many weeks, Australia, Europe and USA all catching up with me, either that or someone has photoshopped my burger out of the picture!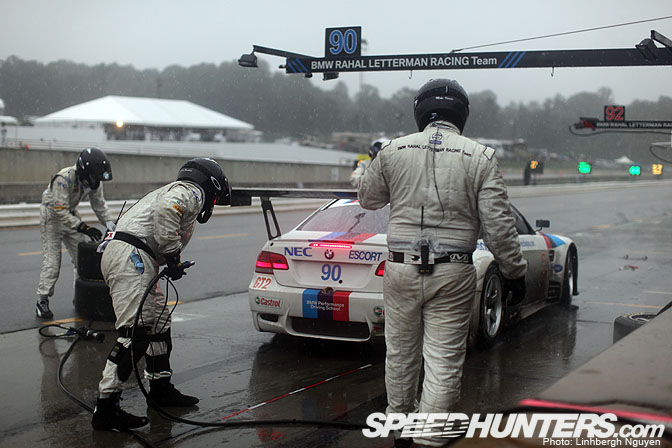 I had to be free for my stint in the car, with conditions changing I had to be ready to change with them and knowing when to make the call is so important, I made sure my head was clear and went out to my office and did my job.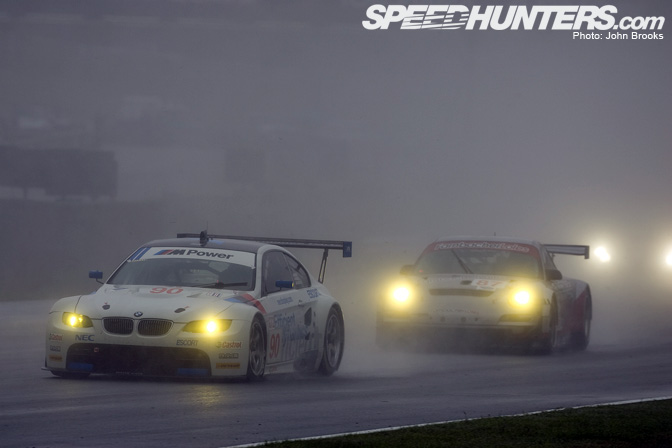 It was WET!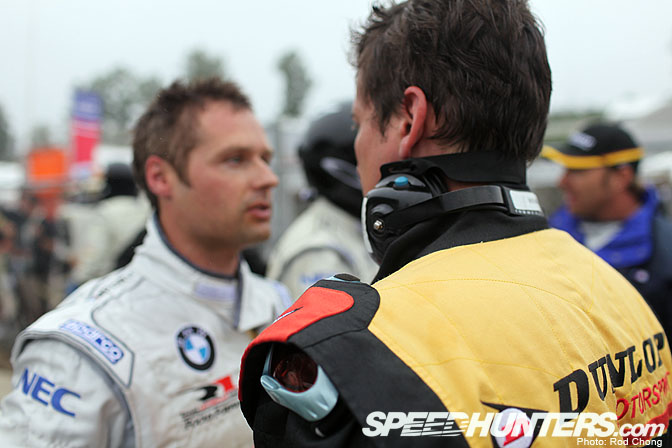 This guy is taking orders for donuts…seriously; feedback as soon as you get out of the car is essential to everyone involved, here the tyre guy wants to know what the options are that we tested whilst lapping way down the order following our leak repair.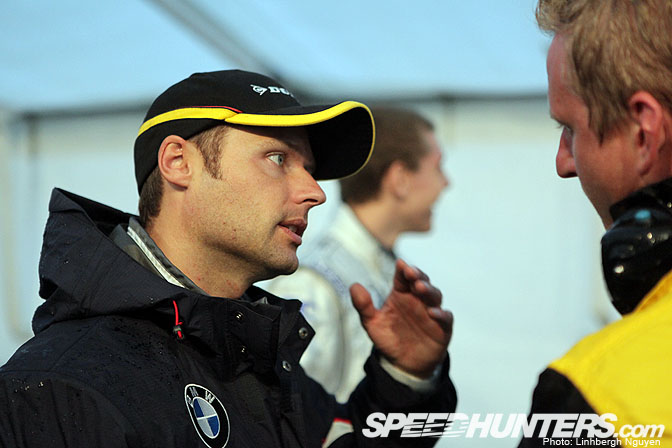 Someone definitely has photshopped my burger out of this shot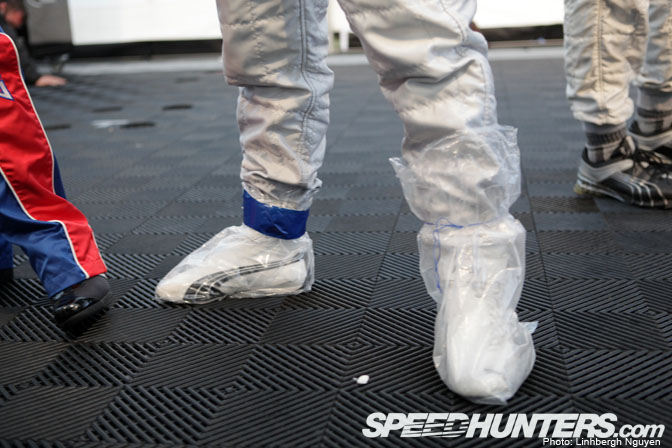 It rained like nothing on earth and I forgot to pack my overshoes, plastic bags and gaffer tape is what we used to use back in the day before I was sponsored by puma….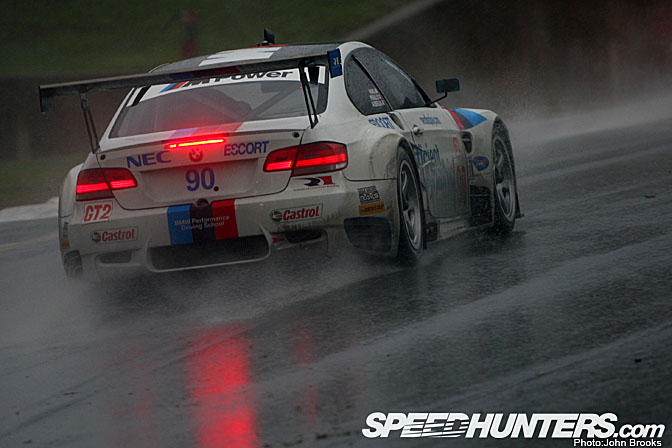 We showed that we had the pace, with the other (BMW) car making the podium I am sure we could have done the same had it not been for the leak repair taking so long, a dispointing way to end the race (red flag) but running in the dark in the rain would have certainly been an eye opener.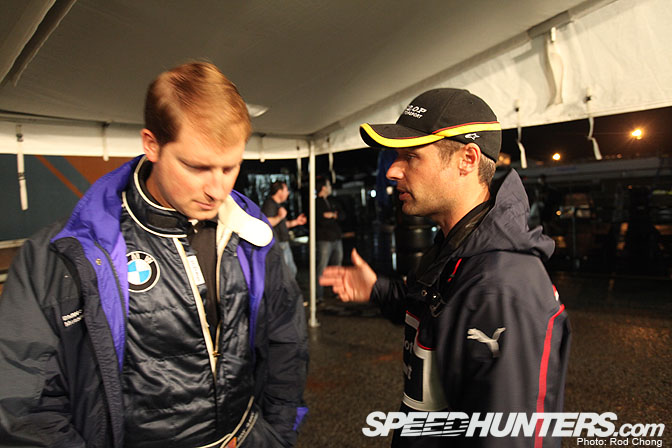 By this time I was convinced about the photoshopping and thought Matt from BMW should know about it… there are so many conversations after a race but most along the same lines of what could we improve what went right and wrong, it is essential this information gets "downloaded" as soon as possible to ensure the most can be made from it.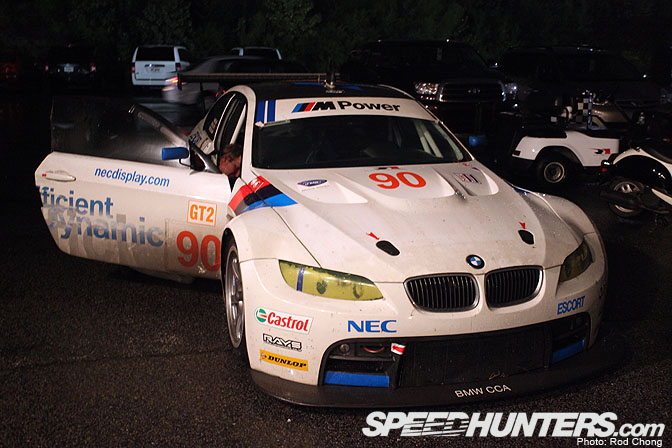 With the race red flagged and my family 4000 miles away my thoughts are with thanks to the team and a decent nights sleep, I am glad we were able to get one of the cars on the podium I am sure we had the pace to win, road Atlanta is fantastic and I look forward to coming back again.
-Andy Priaulx