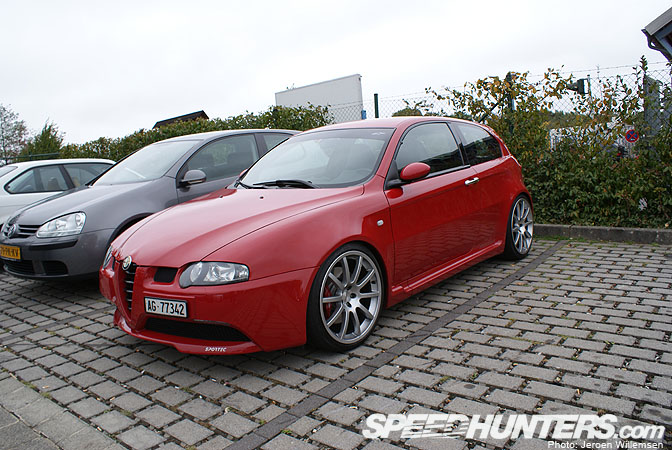 Just because you guys asked for it, I've collected some more shots of the cars at the Nurburgring Nordeschleife parking lot. This is the area where people wait, before entering the track for public hotlapping.
The first car is this Alfa Romeo 147 with Sportec wheels that looks spot on. I noticed that there were several Alfa's but they were older types like the Alfa 75 and 33.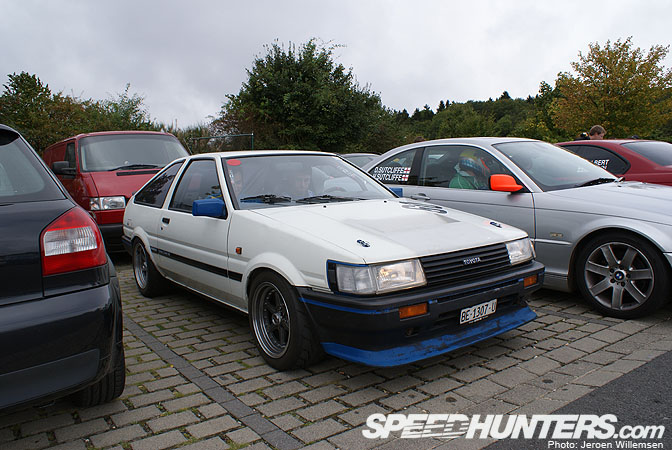 On the way to the track, I spotted this AE86 in Adenau, we didn't had time to stop and photograph it but luckily I saw it again at the parking lot. Looks like a fairly standard job with some nice semi slicks. My French is a bit rusty (read as don't speak it at all) so I didn't have a chance to ask the fellas any details about the car.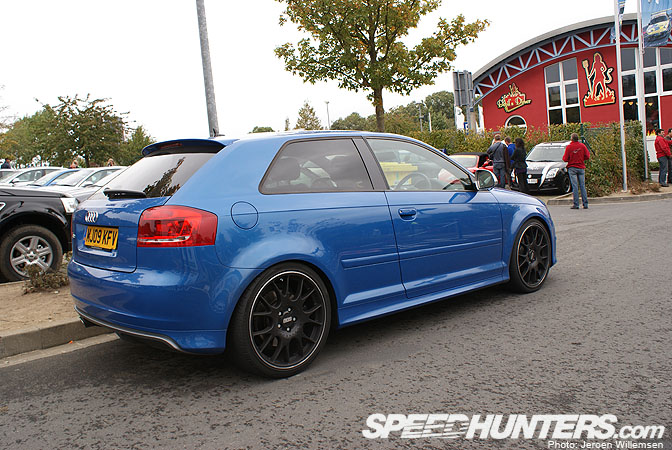 This super clean S3 had a nice set of BBS CH Black Edition wheels. The Devil Diner you see in the background, serve some very delicious hamburgers… just so you know.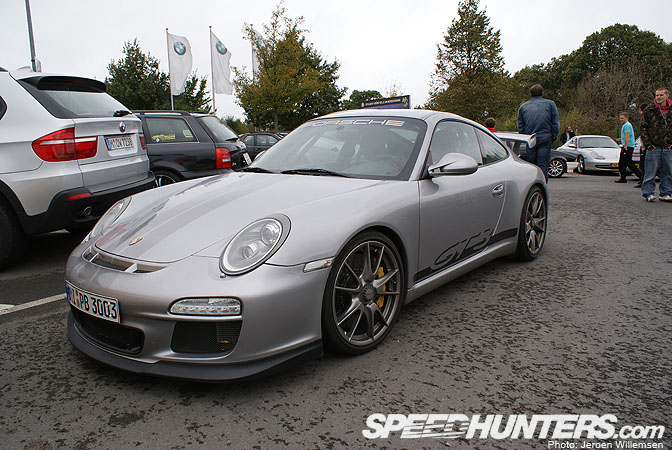 As some of the commenter's mentioned in my previous post, yes this is the brand new GT3. There were several in attendance, so the owners are really using the car for what is was built for.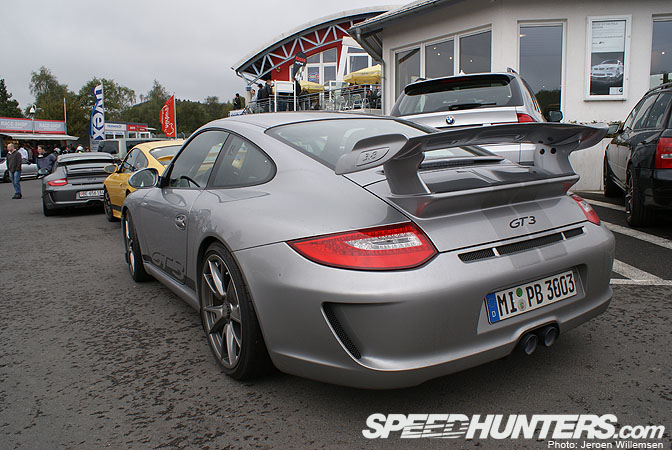 The car looks really impressive with it's one lug wheels and improved spoiler. If you want to read some firsthand driving experiences about this car I suggest you take a look at this blog, it belongs to Cem the owner of the GTR.co.uk forums. He just bought one in shiny red.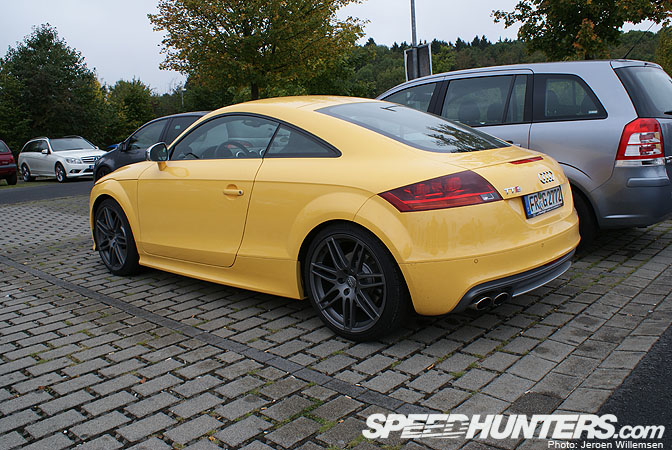 Another cool Audi, this time a TT-S. The car uses the same 2.0 TFSI engine that can be found in the afore mentioned S3 and the Seat Leon Cupra except it has a bigger turbo and intercooler. This gives the car 272bhp, which combined with weight of 1400kg makes it a formidable weapon.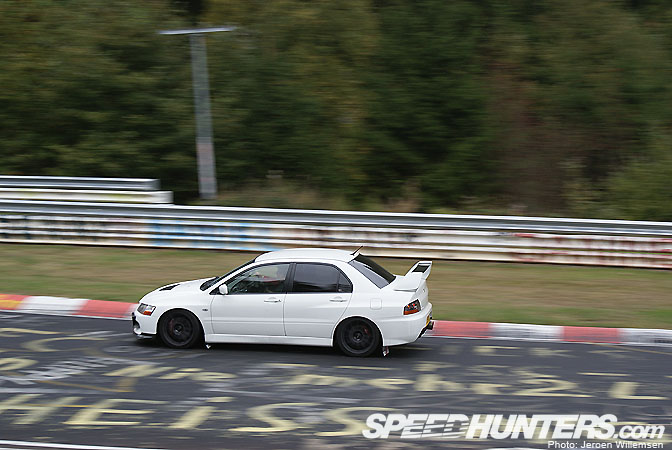 Back to the circuit where I saw this white EVO followed by this…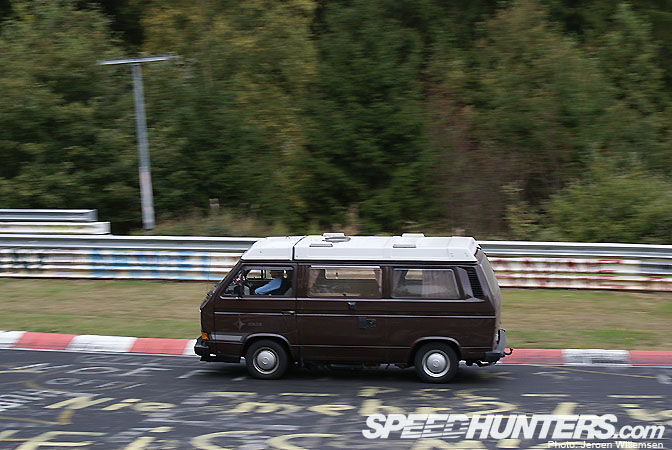 …Volkswagen T3 Bus. Sometimes you see the weirdest cars. I'm guessing that the owner just dropped off his wife and kids at a shopping mall and told them he needed to find a parking space. A half hour later he returned saying he couldn't find one.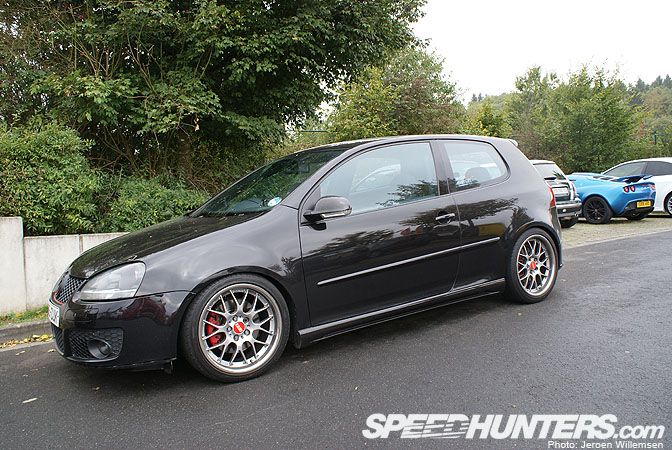 These BBS RS-GT wheels look good on almost every car including this Golf GTI.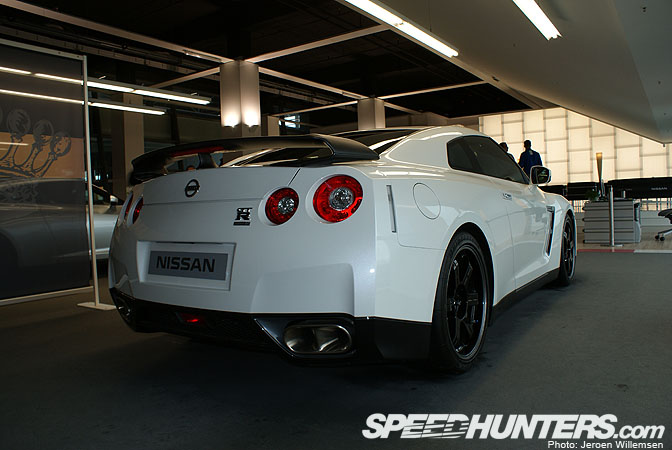 Back inside for another look at the Nissan R35 GT-R V Spec. Such an amazing machine.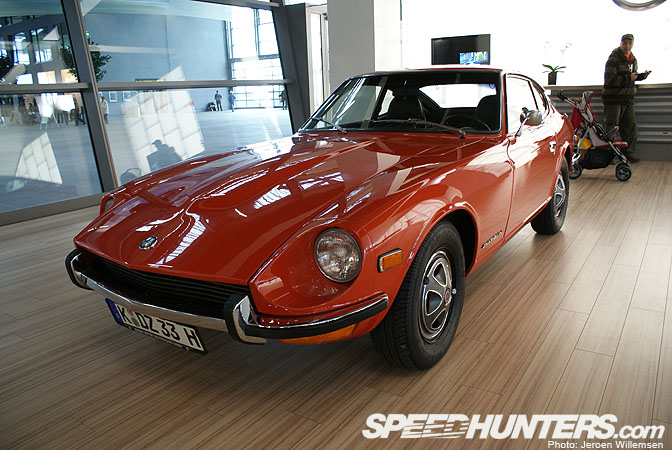 Nissan also didn't forget about its heritage -this Datsun 240Z was on the other side of the showroom. It was in pristine condition even down to its tires.
That was it for my Nürburgring trip, I hope you enjoyed the stories as much as I did shooting them!.
-Jeroen Willemsen