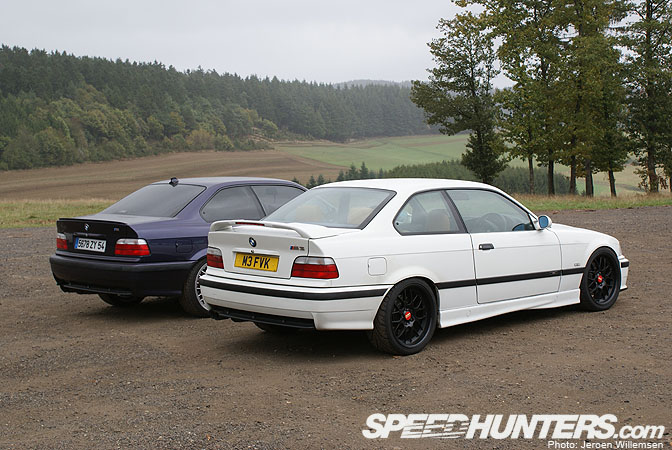 Now for my second installment I wanted to take a closer look at the track itself and tell you my experience driving shotgun with Stephane. The car we drove in was this immaculate late '97 E36 M3. It is a 3.2 evolution model in a rare alpine white color. I have noticed that this car is a lot of fun on the track especially with a few selected upgrades. The engine itself is pretty much standard except for a cold air intake system, the emphasis on this car has been the handling characteristics.
It all starts with the Bilstein PSS9 coilovers. New front top mounts have been placed reverse for a better turn in more positive steering. Everybody who has driven on a circuit knows that the brakes are one of the most important things, the previous owner opted for brand new OEM brakes with EBC yellow stuff pads. In the future Stephane plans to upgrade to AP Racing big brakes. The brake lines have already been upgraded to stainless steel ones for a stiffer feel.
The black BBS RC wheels really stand out, they come in size 18×8 with 225/40/r18 federal 595RSR tires in the front and 18×9 245/35/r18.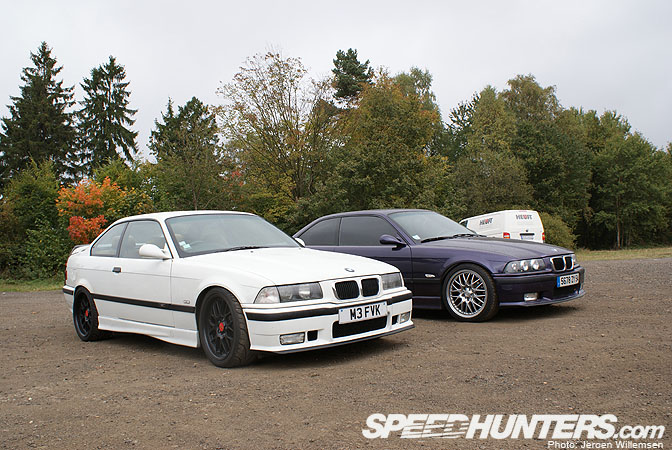 The moment I strapped myself down Stephane welcomed me "into the real world", I just laughed because I had no idea what to expect. Well I can tell you that nothing prepares you for a lap around 'The Ring'. Yes I have driven the Nürburgring several times in videogames but it is so different when you are doing it for real. The way a car bumps, grinds and goes into corners can't be replicated into a game. Especially the carrousel is something you have to witness at least one time in your life, I was even joking with a good friend who accompanied me to the circuit saying "that's one more thing I can take of my try before you die" list.
After my first lap we headed out to see some more of the circuit. Stephane suggested we should go the bend at Brünnchen. In the distance you can see all the cars that are parked there. During the 24hrs race it is the spot where the put the ferris wheel.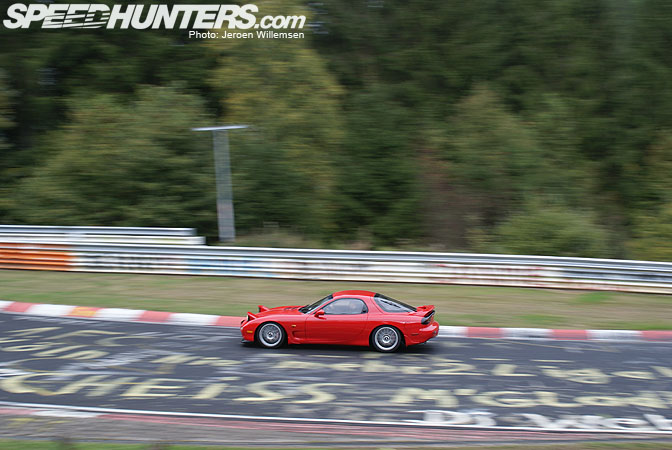 I'm very proud of these next two pictures. In this first one you see a FD RX7 going full speed through one of the many bends. In the second one you…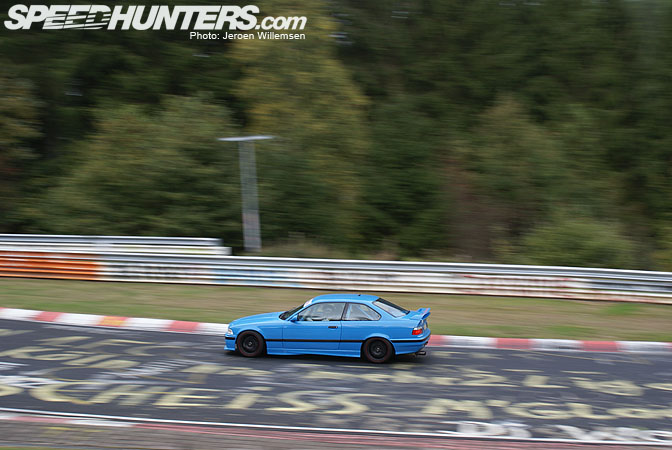 …can see this amazing looking BMW E36, not sure if this a M3 but I do know that it sounded great.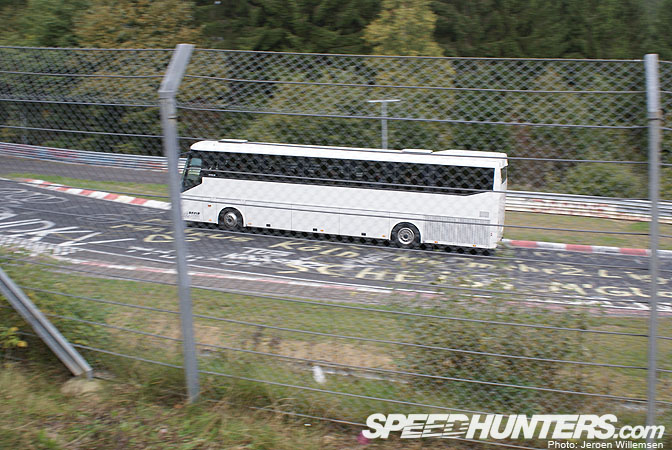 Paying 22 euro's and being held up by a bus is not funny, but it is something that can happen to you if you are doing a lap. You really need your eyes everywhere, there a fast cars that will pass you at any occasion and there are slow drivers with even slower cars that are just around the next corner.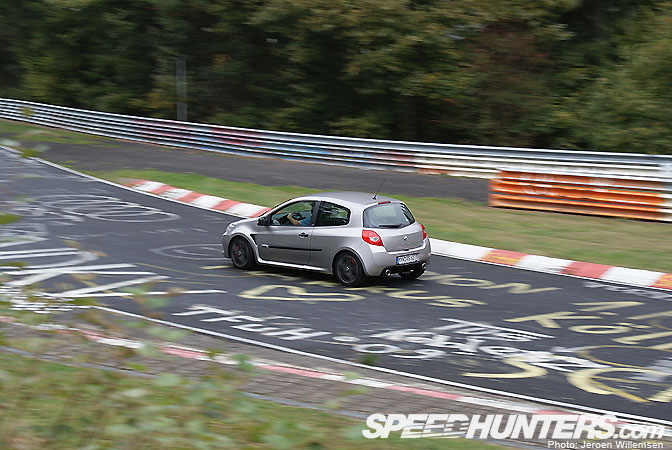 These small hot hatches seemed very popular, I saw dozens of them on the track and on the several parking spaces surrounding 'The Ring'.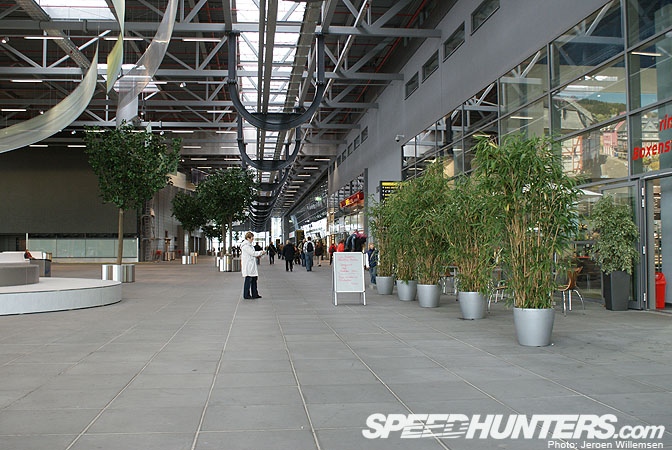 When I visited the Nordschleife together with Rod and Antonio for the Recaro Days there were busy with building these structures. Now that they are ready you can find a casino, museum, shops and several car manufacturers that display some of their finest cars inside these buildings.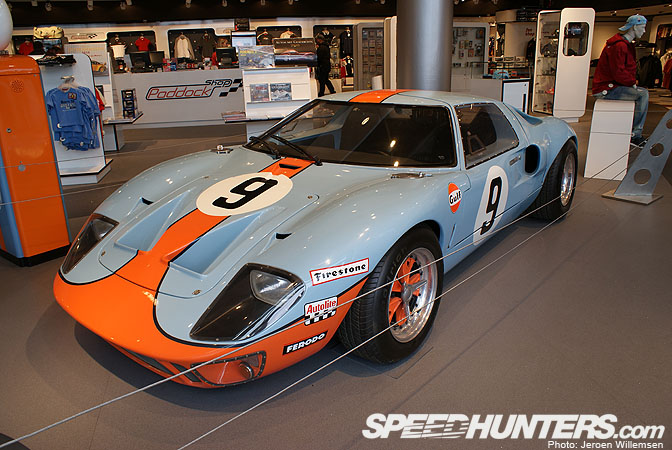 Inside the Paddock Shop you are greeted by this Ford GT40. The shop sells everything with the name 'Nürburgring' on it, they also sell the famous stickers with the track layout in all kind of variations.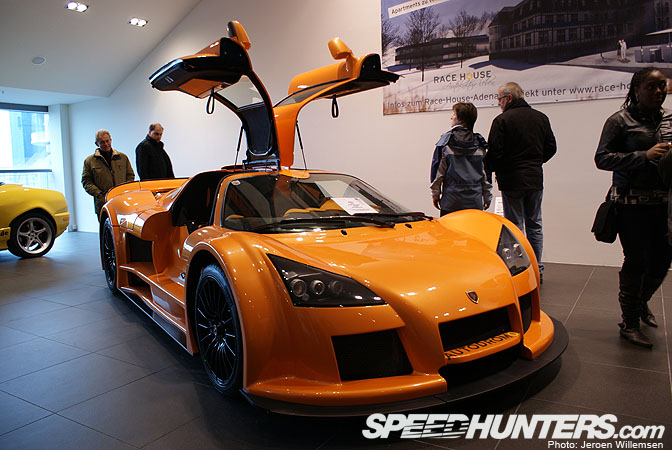 Another shop down the boulevard had this Gumpert Apollo. This car can do the Nürburgring in 7:11.57 minutes. It is one of the fastest if not the fastest car on 'The Ring'.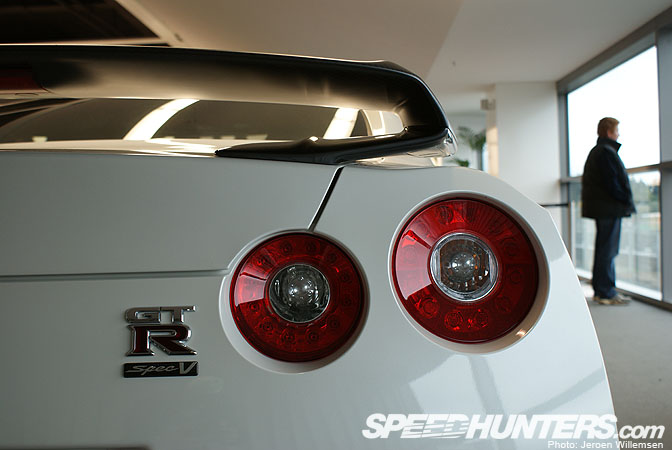 Then we entered my favorite shop, the Nissan Sportscar center. It was the first time I saw a GT-R Spec V, it looked so good in real life especially with it's white exterior and black wheels.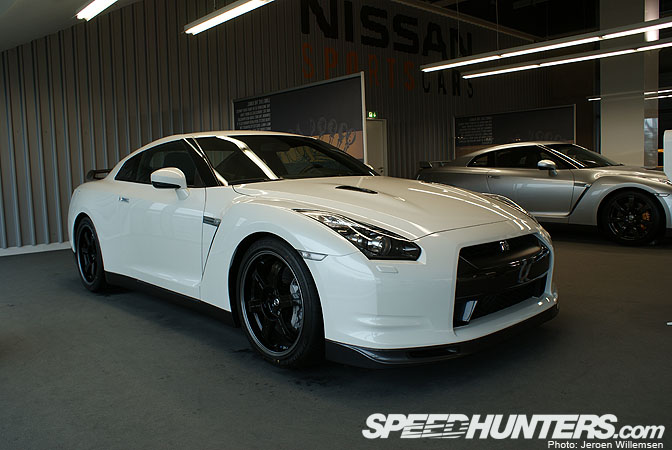 Yep, this is one of my favorite cars that roam the globe.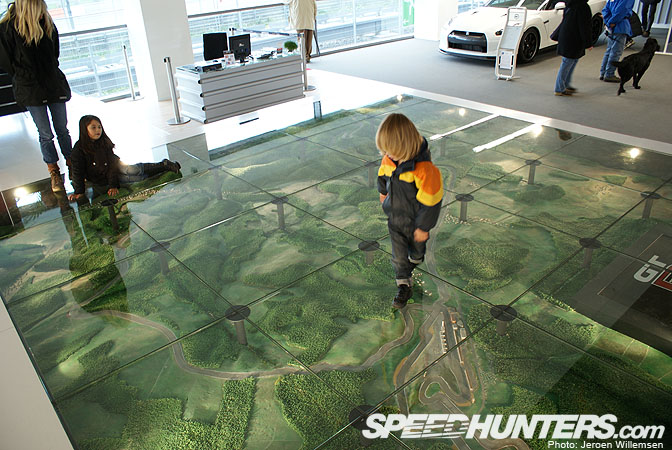 There was also a cool miniature Nürburgring that was created in the floor. You can tell these small children already have a fascination for the circuit.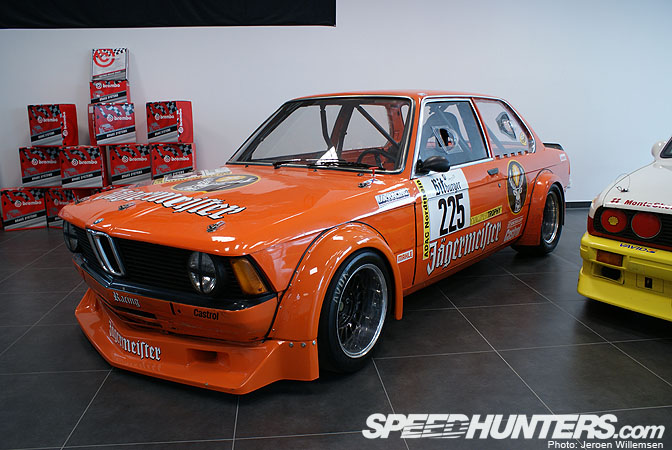 To conclude my experience of the Nürburgring I have this Jägermeister E21.
I really want to thank Stephane Benini from Clash Productions and his friends for a great time and the opportunity to go for a ride in his BMW.
-Jeroen Willemsen