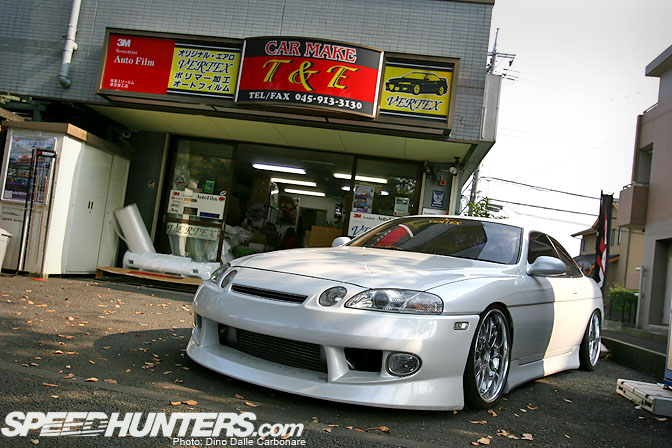 These are the posts I love the most, allowing readers to get a more down-to-earth look into companies and personalities. Away from the limelight it is always so refreshing to see just how normal people are and the guys at T&E were a great bunch to spend the best part of a day with.  I dropped by their main shop in Yokohama to try to get a behind the scenes look at what is one of the most respected aero parts makers in Japan.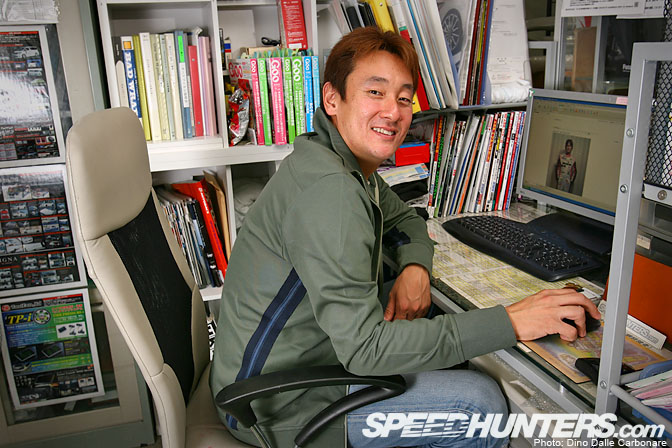 The man behind it all is Takahiro Ueno, who currently drivers the 2JZ powered BMW 3-series in the D1 Grand Prix. Ueno got started in this business out of pure passion, interested in drifting since his late teens. He began by driving a 2-door R32 Skyline, learning the basics of the sport and then moving on to an AE86, then an FC3S RX-7 and finally to a JZZ30 Soarer, the car he and T&E are most associated with. When he started driving the Soarer he was surprised at the lack of aftermarket parts for it and decided to create a rear bumper that would work well with the unique lines of the big Toyota coupe. His friend and fellow JZZ30 driver liked it so much that he had Ueno build one for him too. His car ended up in the pages of Drift Tengoku magazine, and as they say, the rest is history. T&E was set up in 1996 and Ueno began creating full kits for pretty much every Japanese car out there. In recent years he has expended to include import cars with the Vertice line of body parts.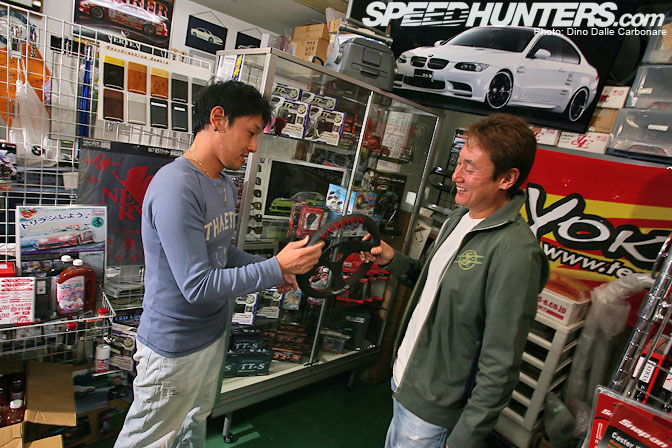 Ueno's younger brother Hiromasa-san is the other half of the family-run business. Here they are showing me some of their best selling products.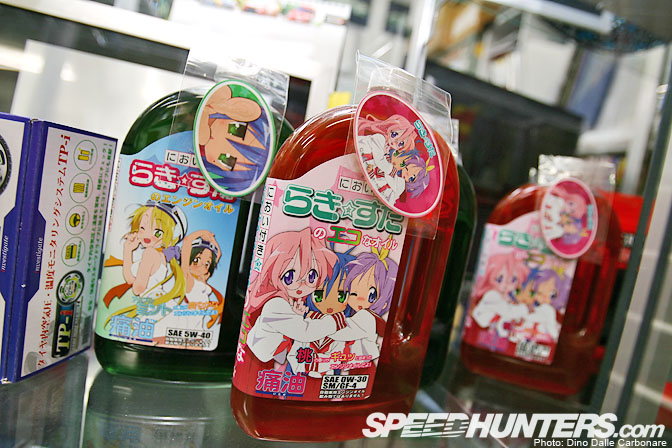 Following the current trend of the itasha, T&E has started to sell this very curious looking oil comically called itayu, (ita=pain, yu=oil) which surprisingly enough is actually offered in a variety of scents like peach and apple-mint! I'm guessing it makes it easier to know if you have an oil leak, just have a sniff under your car once in a while!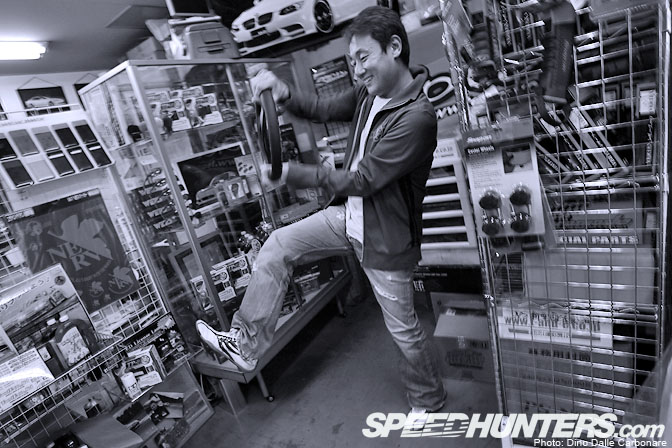 Here is Ueno showing off his air-drifting skills!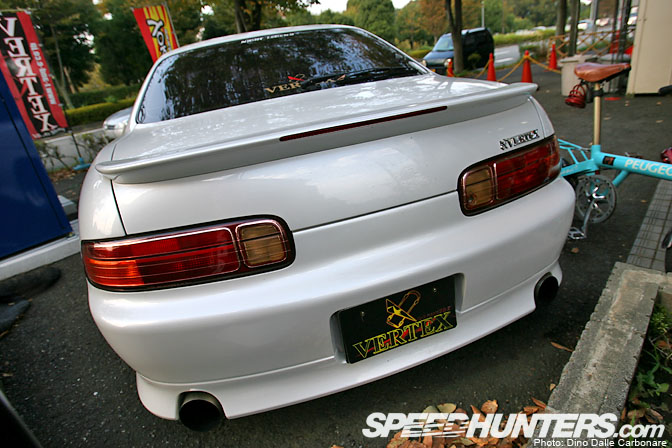 The Vertex kitted Soarer outside the shop was looking so good I just had to snap a few more shots.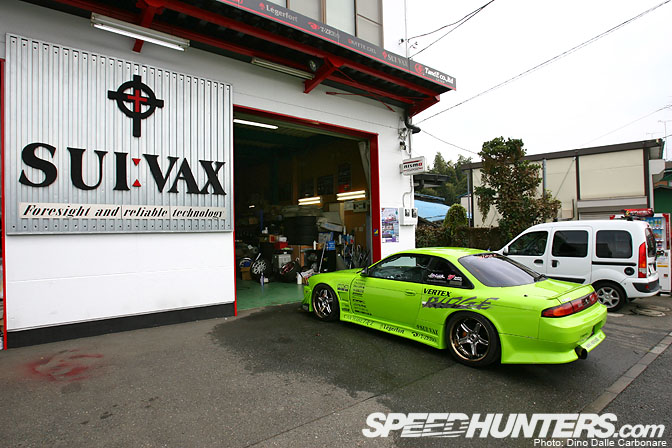 Ten minutes from the T&E shop is Suivax, the workshop Ueno set-up to take care of special projects, mainly looking after demo cars and his D1 cars.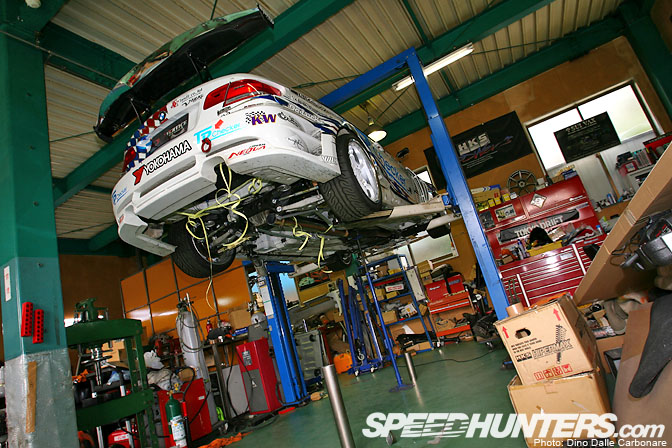 The D1 BMW was high up on the lift getting a new titanium exhaust made up after the current set up got mangled up at Fuji.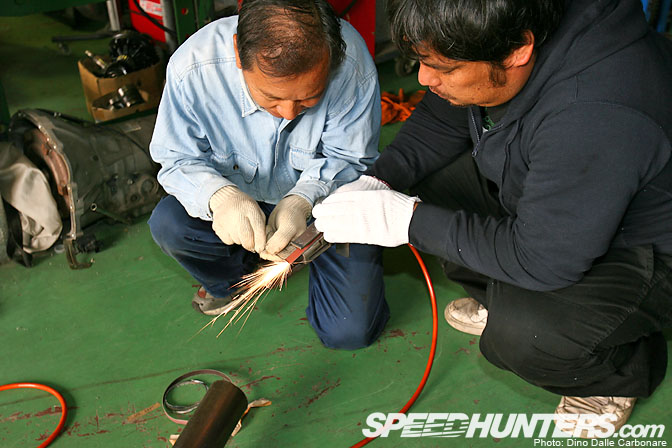 Here is Suivax chief mechanic Hayashi-san hard at work….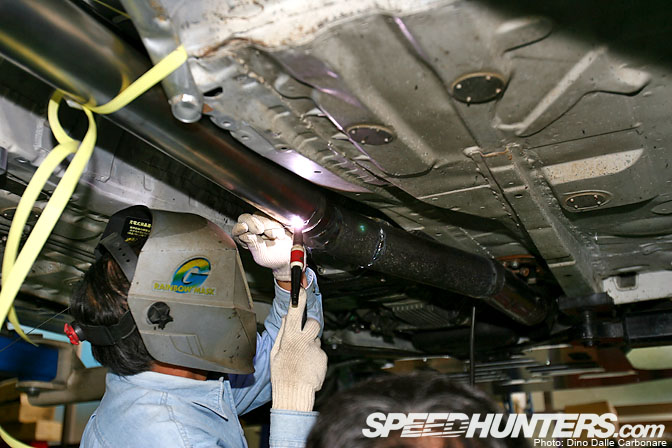 …while the veteran titanium welder was busy tacking the various pieces of the exhaust into position.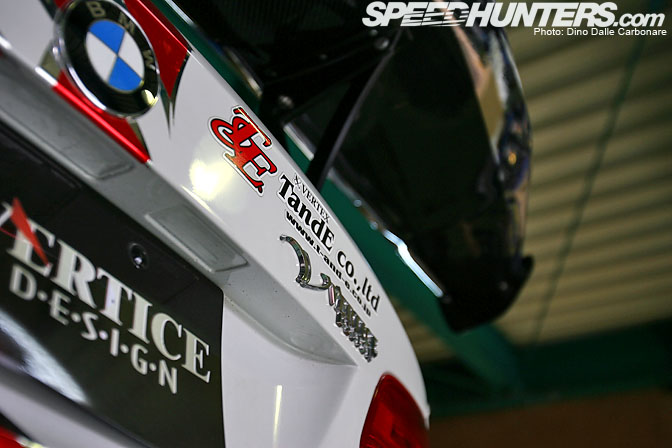 Ueno-san isn't particularly happy with how the new car has performed. Apparently the 3-series chassis is flexing quite a bit in competition which has caused countless propeller shaft failures over the last year. They are trying to figure a way around this problem hoping 2010 will be a more successful year.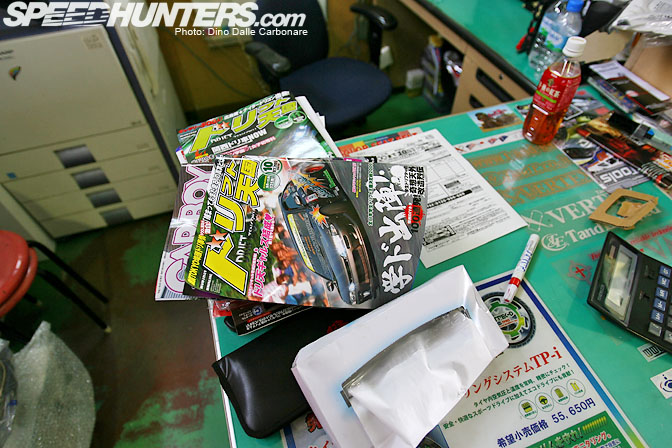 What better way than to relax after some work than flicking through a pile of Doriten and Carboy magazines. Actually Ueno used to compete in the Carboy organized Dori-Con GP, coming second at Tsukuba in the early nineties behind the wheel of his FC3S.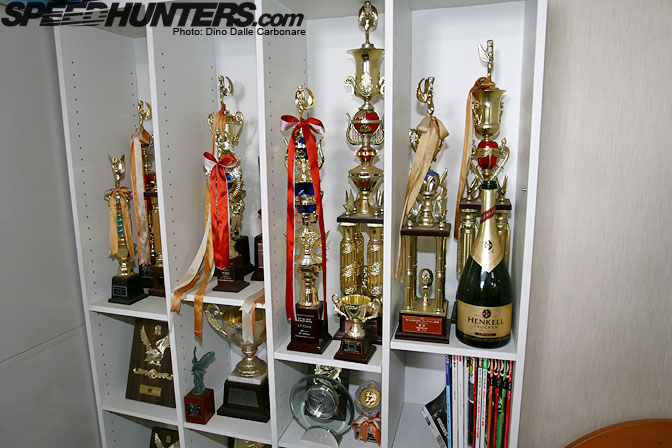 Spotted this trophy cabinet upstairs, achievements dating back to Ueno's early years.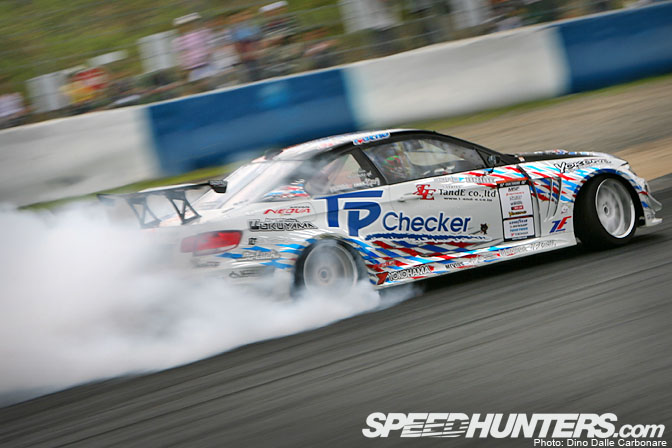 The only time I managed to see the BMW in action this year was at Okayama, here he is lighting up the tires on the exit of the first corner.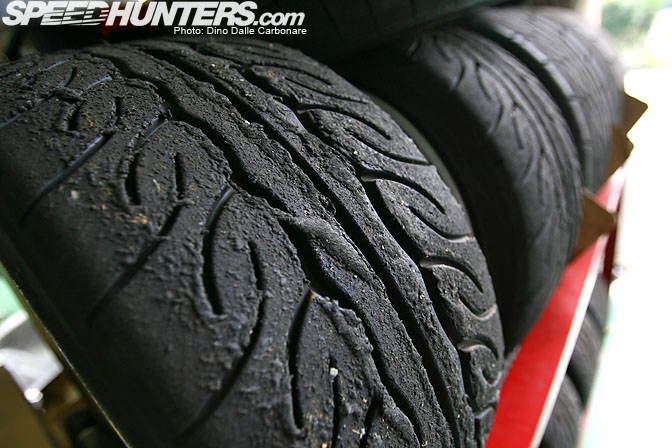 Ueno's rubber of choice is the Yokohama Neova AD08…this particular one looking a little used.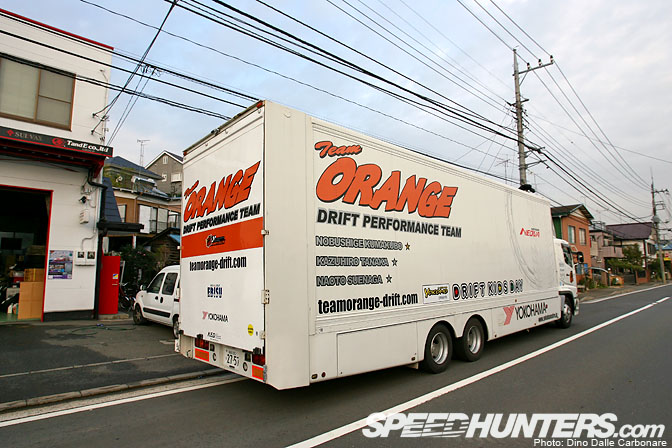 Soon after we arrived at Suivax some of the guys from Team Orange stopped by to pick up the BMW, ready to take it along with Kumakubo's Evo X down to Okayama circuit. The cars are due to be on the Yokohama display in the paddock of this weekend's WTCC race.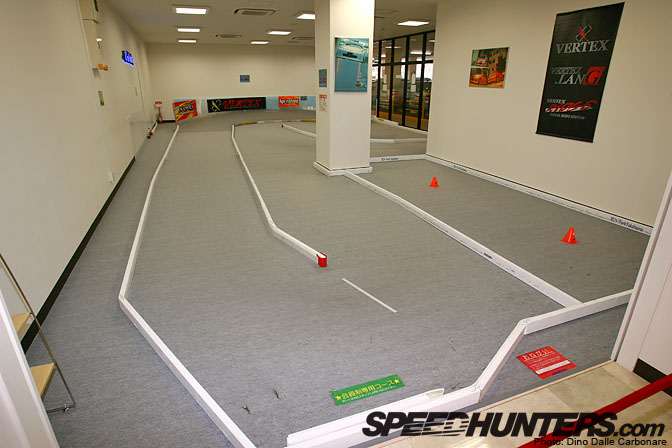 When Ueno mentioned he had just opened his newest business venture, an indoor RC-Drift track, I immediately asked him if we could check it out, seeing I too enjoy sliding little toy cars around!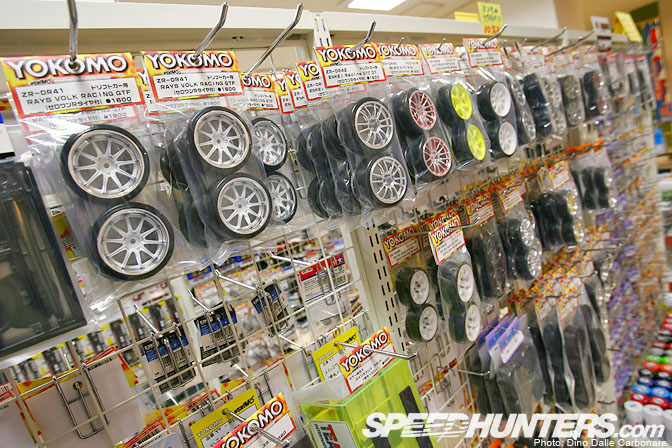 The RC Park Yokohama is very well set-up with a small shop offering customers tons of spare parts from Yokomo as well as lots of space on which to work on ones RC car and of course charge up the batteries.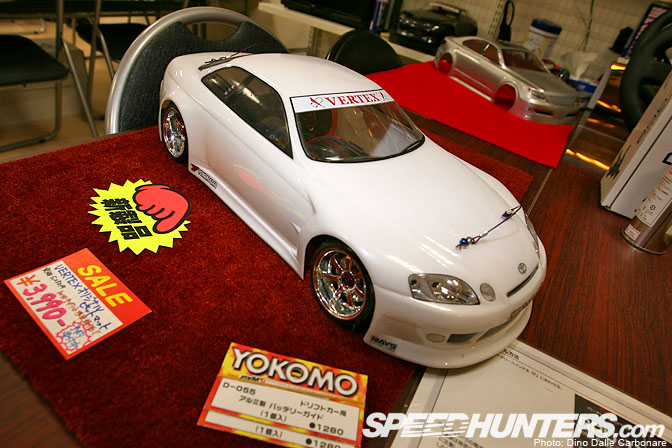 This is one of Ueno's many RC cars sporting a Vertex JZZ30 body…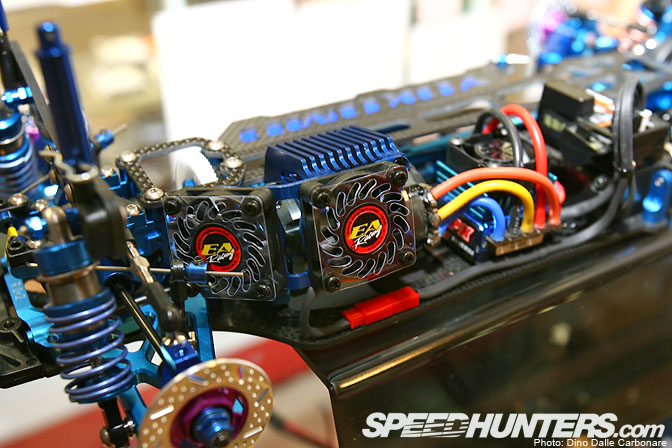 …and a pretty serious chassis powered by a brushless motor and li-po batteries. Notice the two cooling fans around the motor!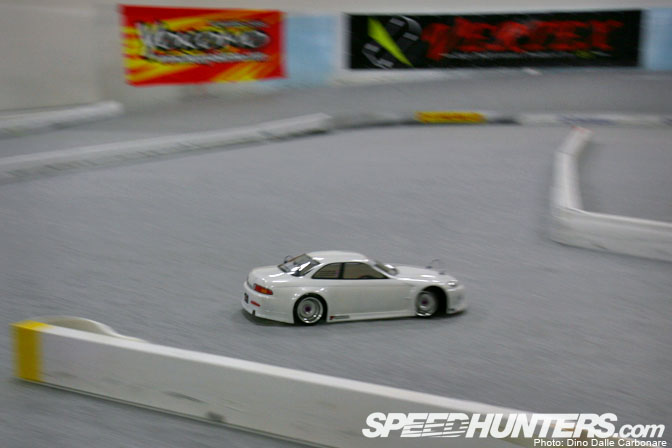 The little overpowered Yokomo looked great sliding around the carpeted track, I even had a go but found it hard to keep off the barriers. I'm in dire need of more practice!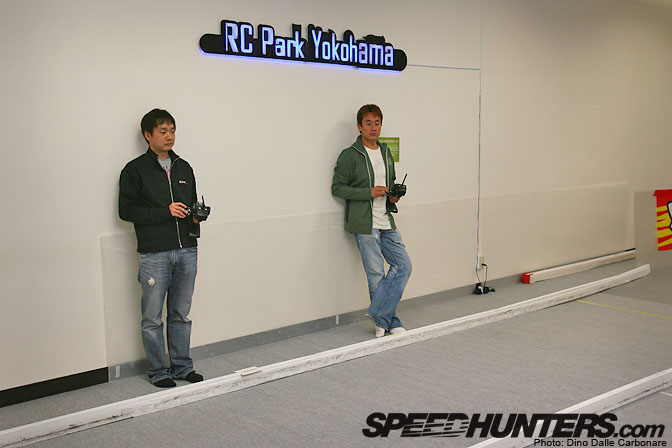 I was great to hang out with Ueno for a day, getting a feel for what T&E is all about and seeing how the company is evolving. I wish him the best of luck for next year's D1 season!
Dino Dalle Carbonare