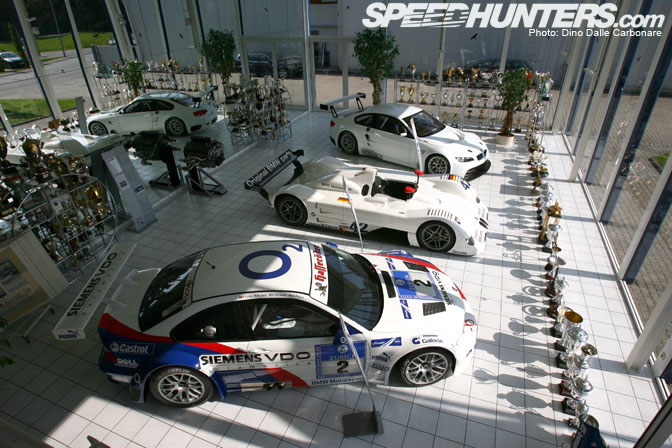 It's going to be several hours before the sun rises in Vancouver, Canada but I'm already up and am working away on my last few BMW feature stories. The first subject to check out is another bit of Munich based Speedhunting that Dino and I did in Germany last Wednesday.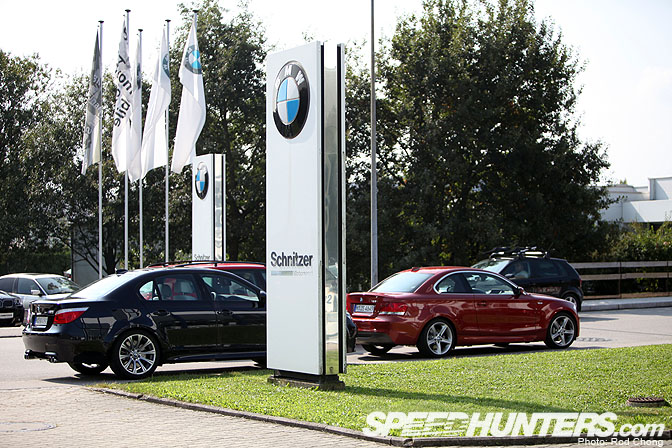 We took our two BMW press cars and drove south from Munich for around 100 kms on the world famous Autobahn freeways. This journey is a story unto itself, but I'll let Dino talk about that in a separate post. I'll just say that I beat him there by 30 minutes! Hahaha….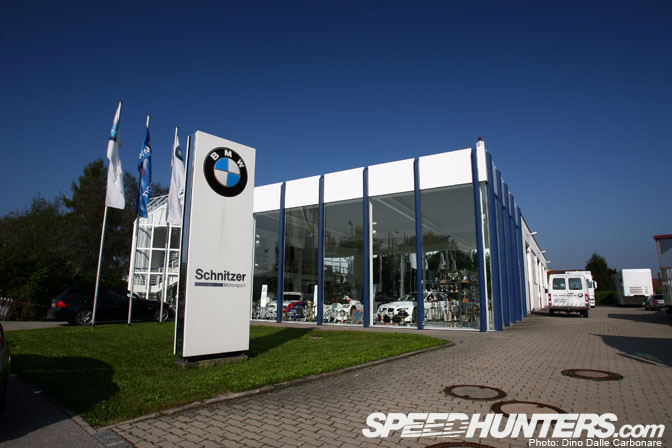 And this was our destination: the Schnitzer Motorsport race team headquarters in the town of Freilassing.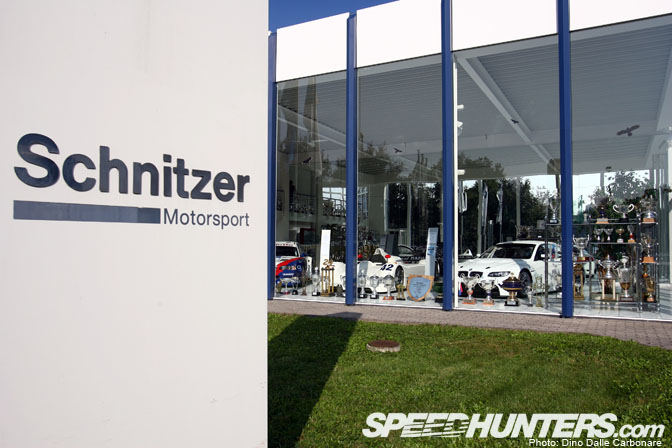 Now anyone who understands anything about BMW racing history will know about this team. They've been running BMW based touring, GT and Sports Car programs since the late 1960s and have won pretty well everything thing there is to win and them some.
If you don't mind me making a grandiose statement, I'm sure I'm right in stating that this is one of the most successful racing teams in the world.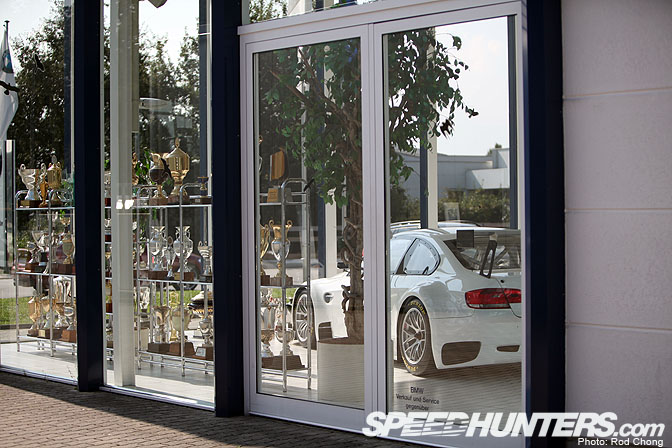 The front of the building is dominated by this large glass showroom which houses four race cars and a massive collection of trophies and racing memorabilia.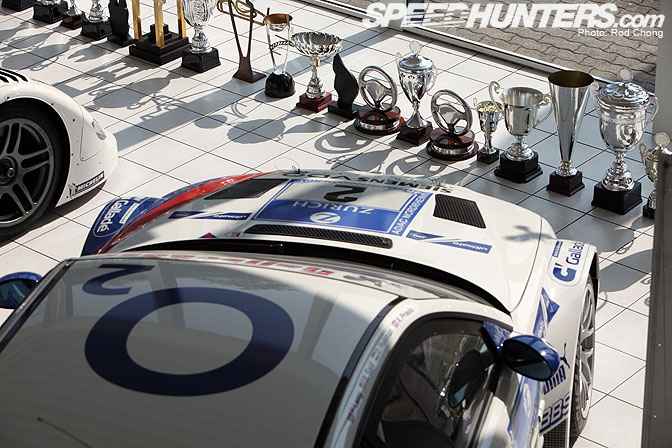 Perhaps this showcase of trophies is a reminder to the team members that winning is always possible and ultimately, expected.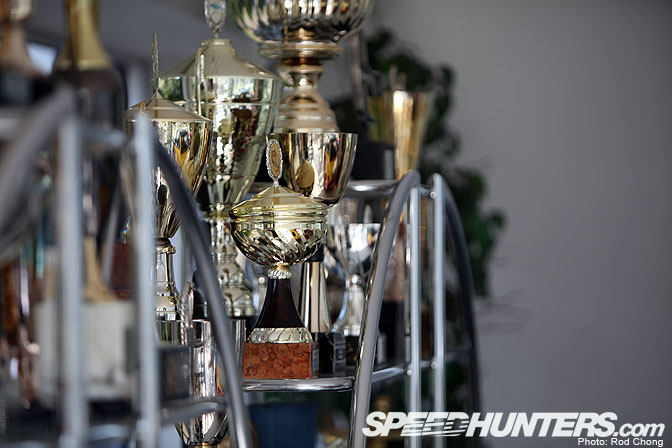 You get the impression Schnitzer Motorsport doesn't exist to make up racing field numbers. Winning is part of the core DNA of the team.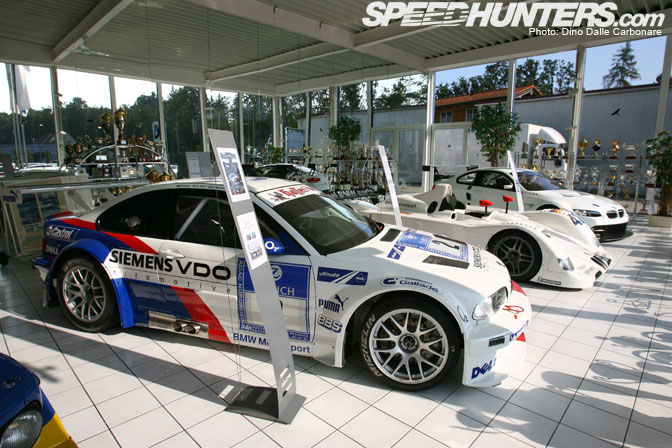 The first thing we did was spend a bit of time shooting the Schnitzer Motorsport showroom.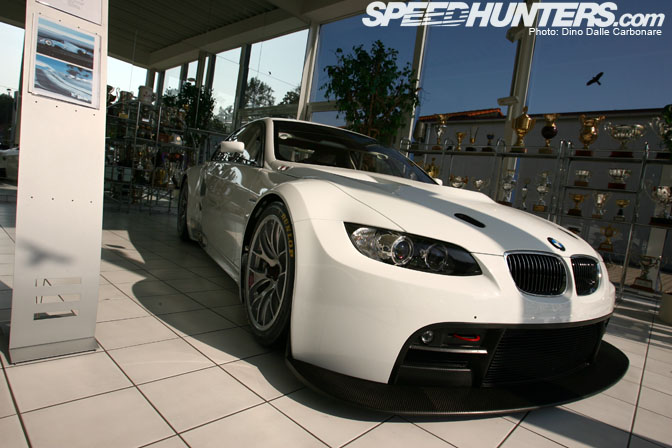 The slot on the right of the showroom is normally taken up by a DTM E30 M3 but in its place was this E92 M3 GT2 racer.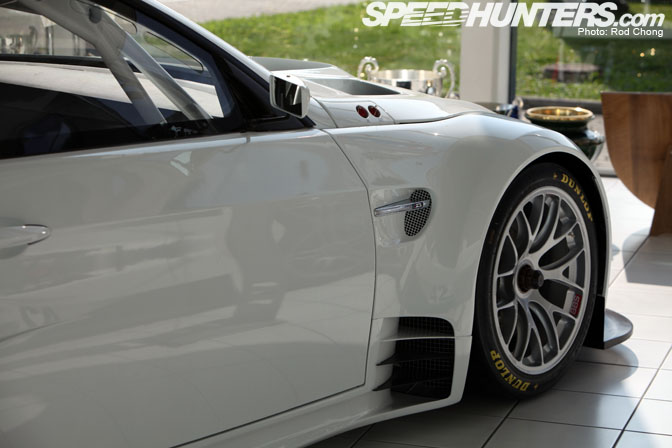 Dino and I were taken aback by just how cool the car looks without a race livery.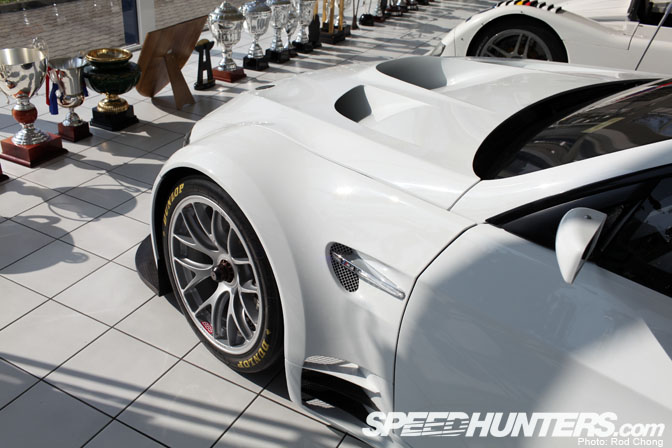 Can you imagine how amazing a street replica would look?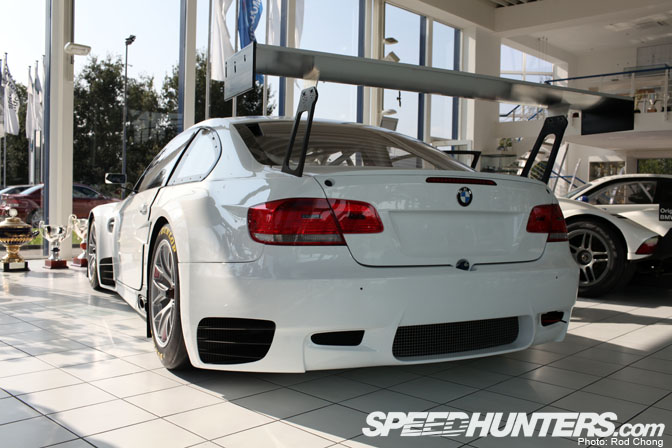 BMW announced this past Friday they are going to be racing the M3 GT2 on the Nordeschleife two times in October at VLN races: on the 3rd and then again on the 17th. Is any one going to go and see this amazing machine run?
This particular car is a back up chassis.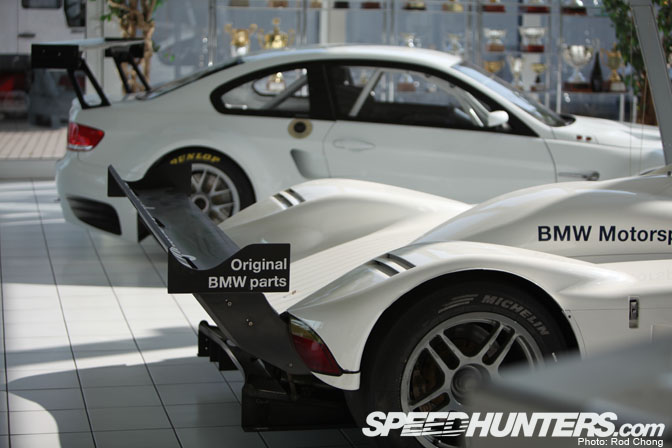 Beside the M3 is a machine which speaks volumes about Schnitzer's racing success. It's the BMW V12 LMR, a machine which won Sebring and Le Mans at its first try in 1999…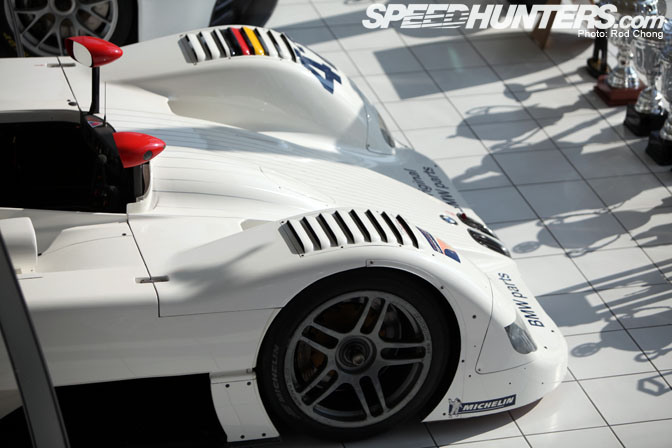 I don't know if you guys know this or not, but it was Schnitzer which ran the program for BMW back then, both in Europe and in the ALMS.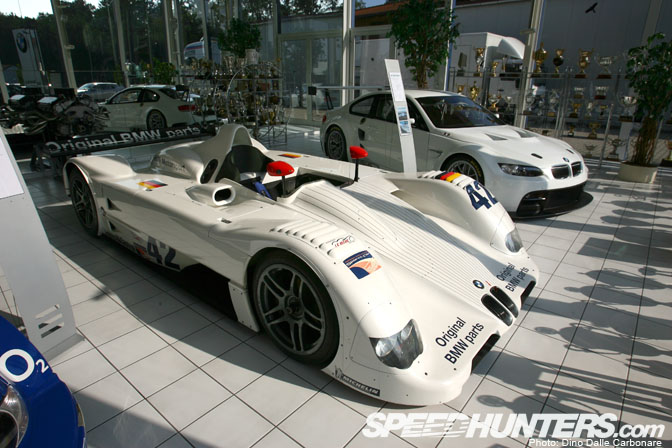 From what I can tell this is chassis 02 which won Sebring in 1999 and was used throughout the 2000 ALMS season.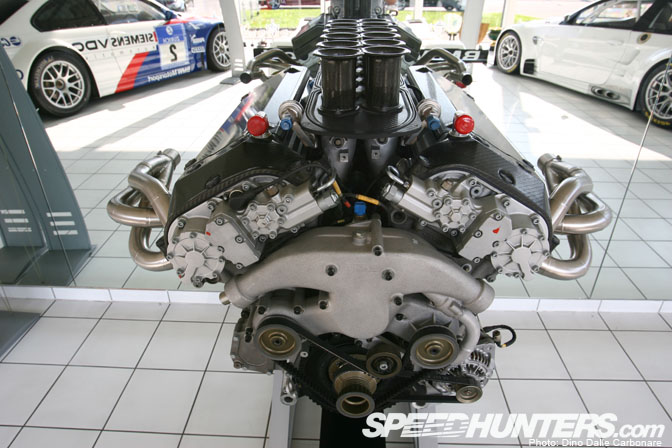 Behind the LMR sits one of the V12 engines which powered the cars to its many victories.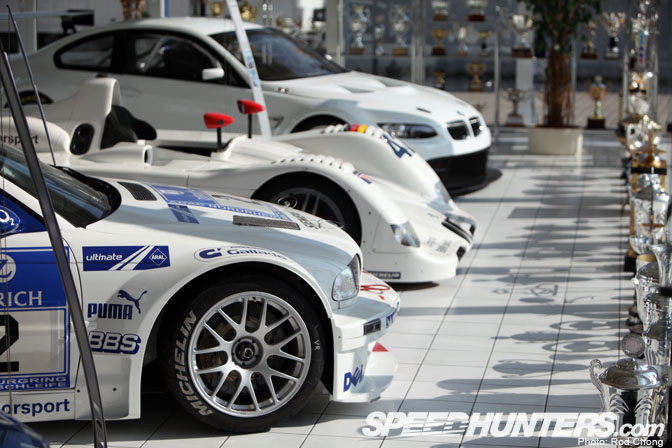 And next up we have the controversial BMW M3 GTR.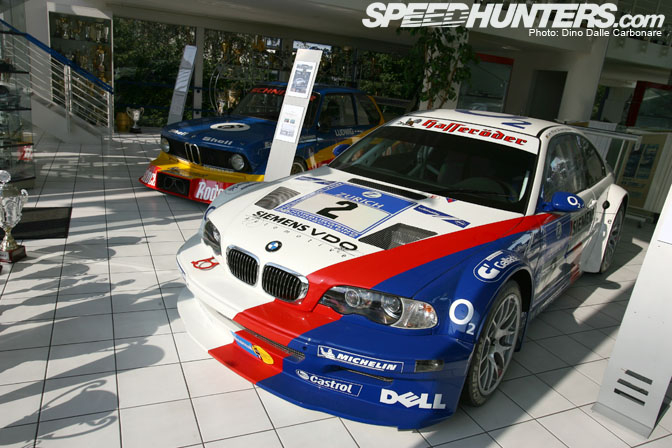 This is one of the Nurburgring 24 hour cars. A race which Schnitzer won of course!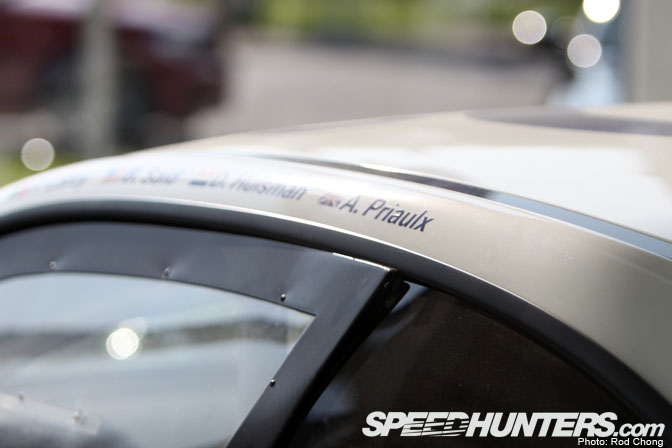 Our friend Andy Priaulx shows up here too.  He won the event in 2005 with Schnitzer.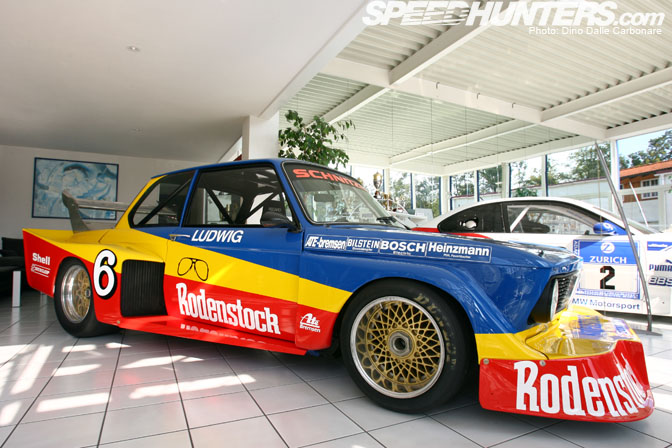 More Group 5 wildness, yes!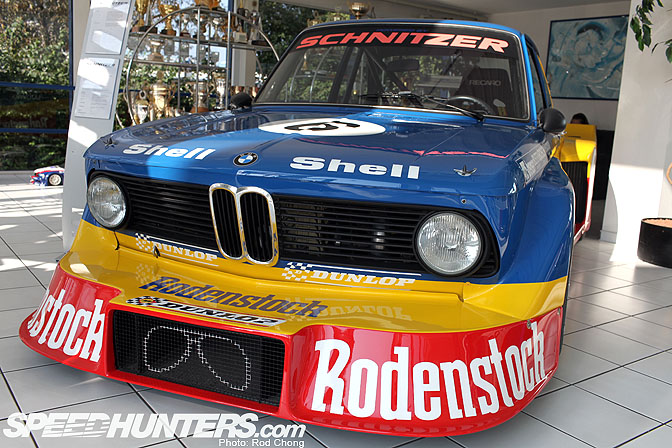 This is considered to be the last racing 2002, but it was fast enough to give the factory BMW Junior team some headaches the 1977 DRM championship.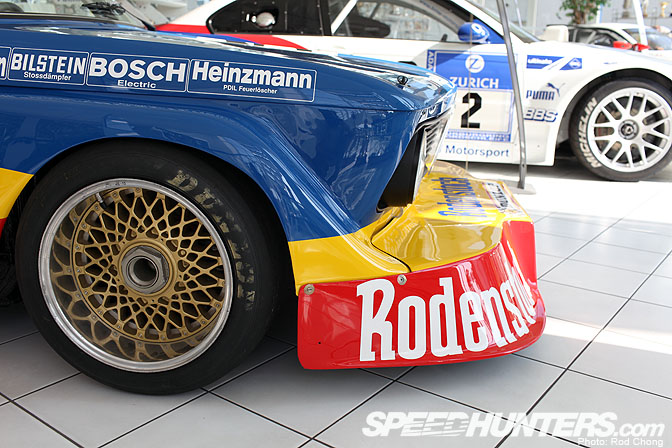 Although it more often retired from races than not, the Schnitzer Group 5 2002 turbo won 2 DRM events in 1977.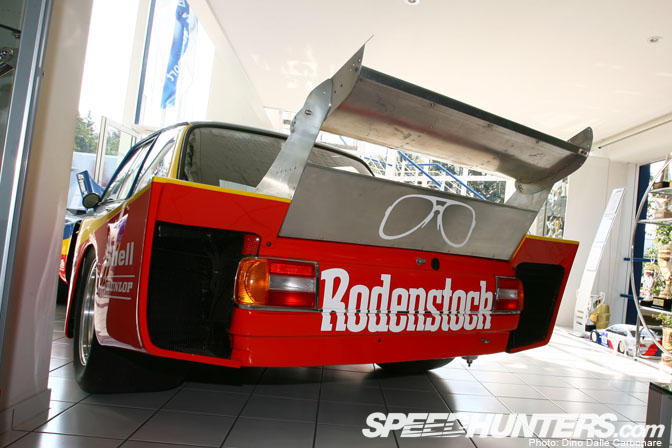 The 2002 is a narrow car,  so the Group 5 conversion is a bit extreme to behold. If you look closely the rear wheels are almost completely outside of the original body work.
It's a bit like a German Bosozuku machine!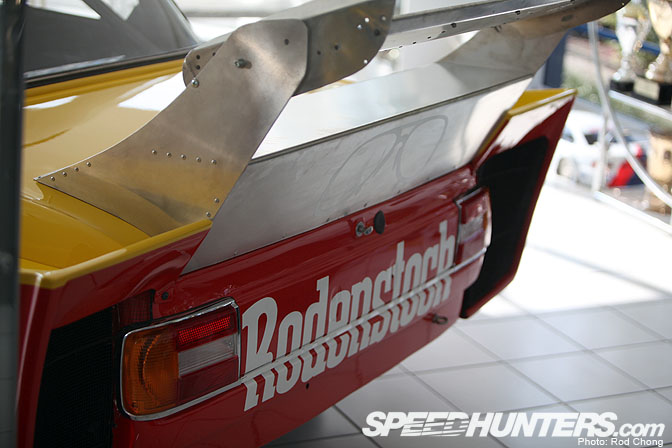 The giant rear fenders also house the engine's oil and water coolers.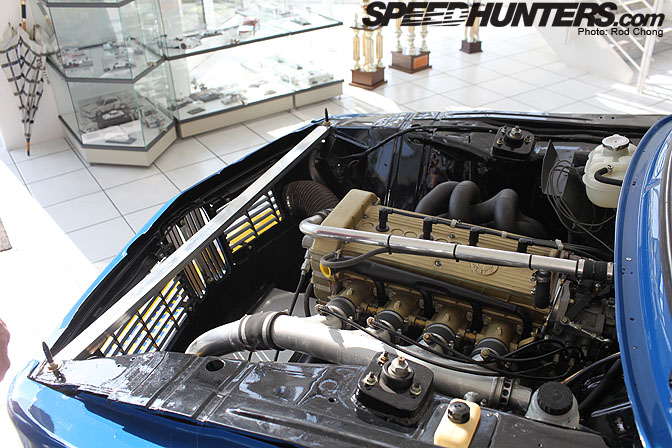 This leaves the front of the car looking a bit empty as only the turbo intercooler is present in the engine bay. I suppose it helps to move some of the weight to the rear of the car.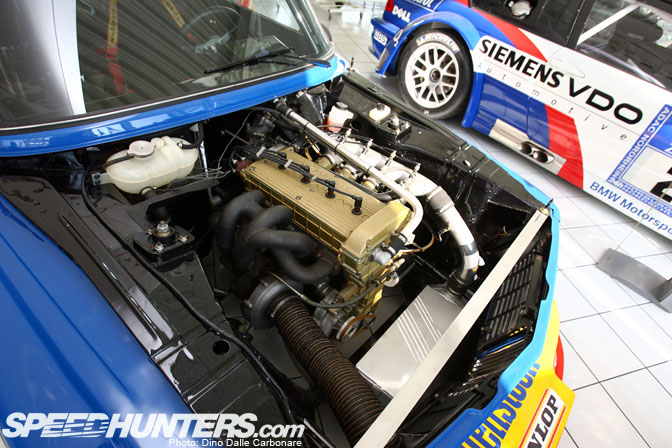 This 1.4 liter engine was based on a stock 2002 block and was an early turbo application for a BMW race car. The BMW Junior Team 320i machines it raced against were N/A by comparison.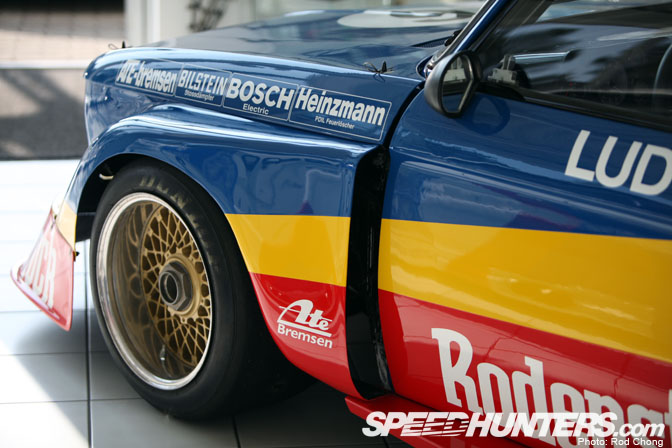 Schnizer's turbo innovations proved to be quite influential as by the 1978 DRM season most of the front running BMWs had switched over to a turbo application.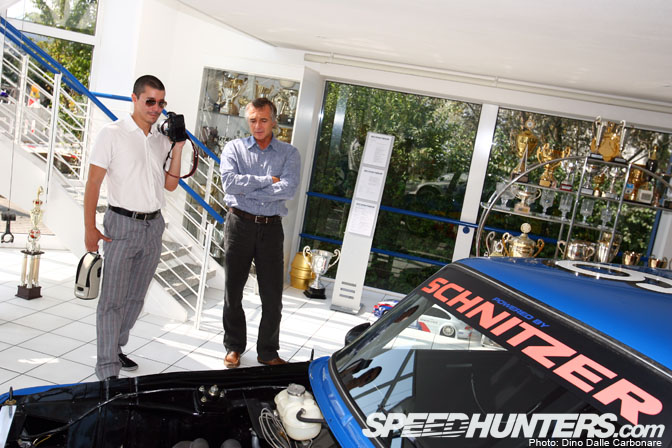 That's the legendary Schnitzer team manager Charly Lamm, explaining to me a little bit about the DRM championships of yesteryear. It was a real pleasure to talk to him about this era of racing, as there is very little English information about these glory years.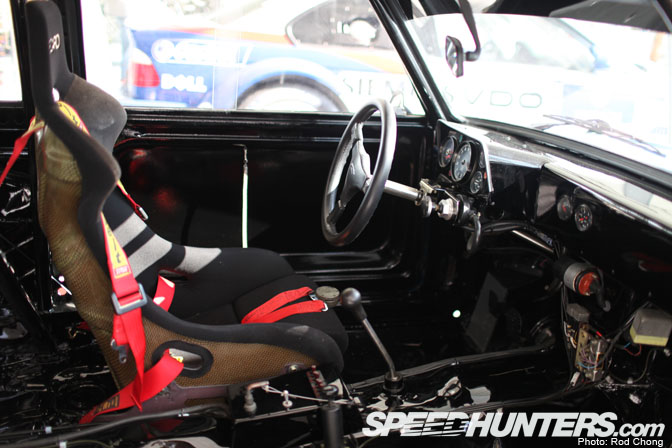 The Schnitzer team has been restoring this car for around 15 year now and it shows.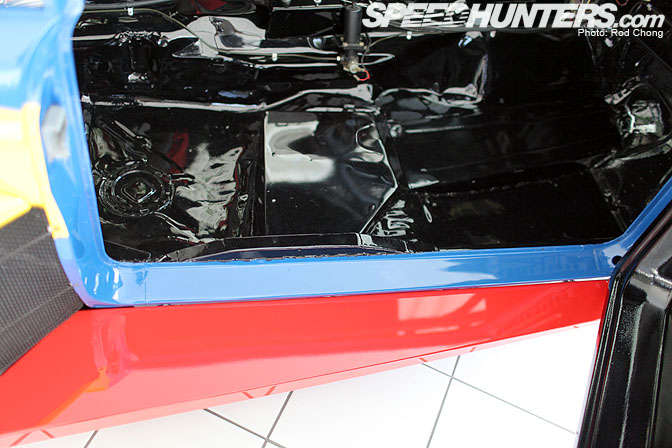 Everything is in pristine condition, as if the car was built yesterday… BTW I was a bit taken aback by the lack of side bars in the roll cage!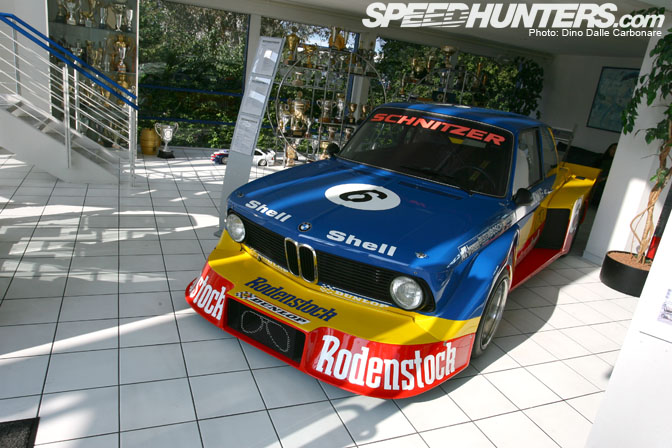 The 2002 wasn't yet in running order, but it was a great chance to see another Group 5 car in the flesh!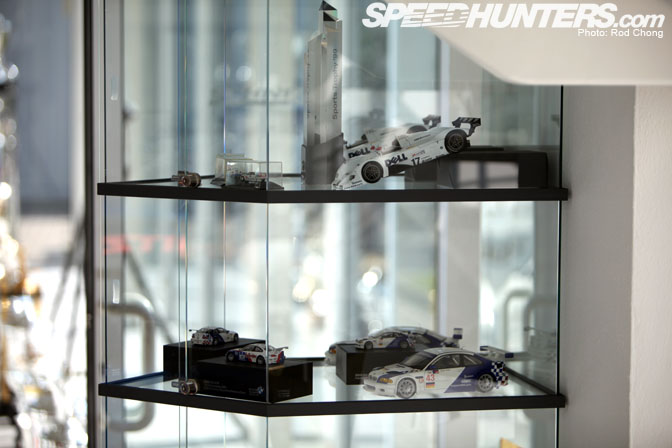 The showroom is filled with all manner of display cases showing all the various die cast models of Schnitzer run race cars.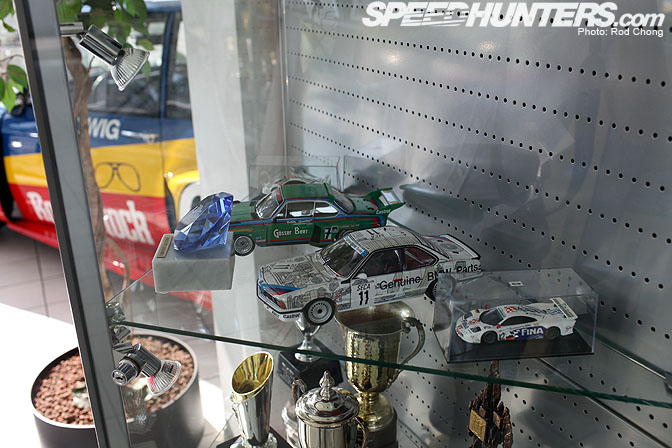 They seem to take a great deal of pride in their history…. and rightly so!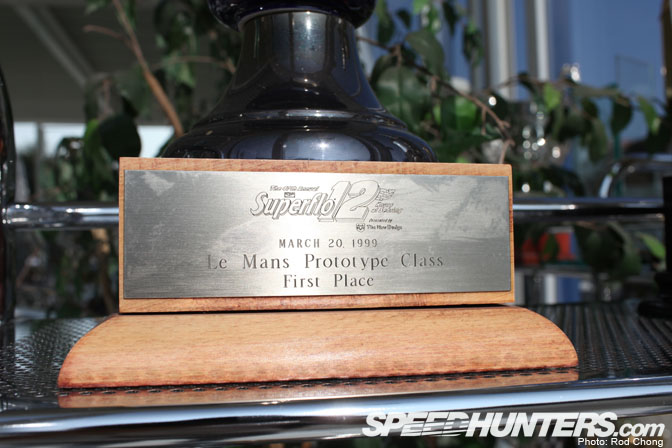 I also had a quick look at some of the trophies on display. This one is from their 1999 Sebring victory.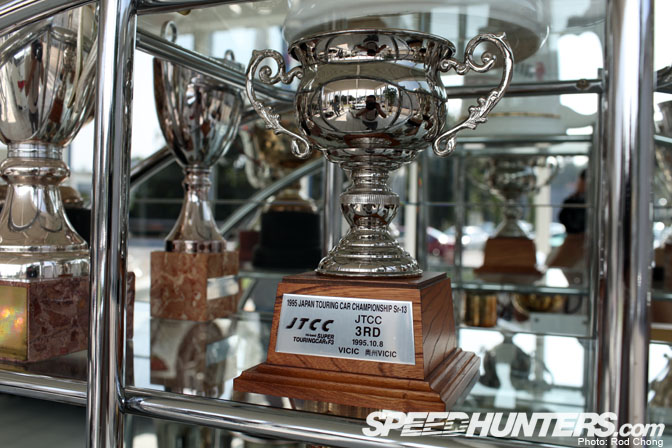 We can also see they raced in the Japanese Touring Car Championship back in the 1990s.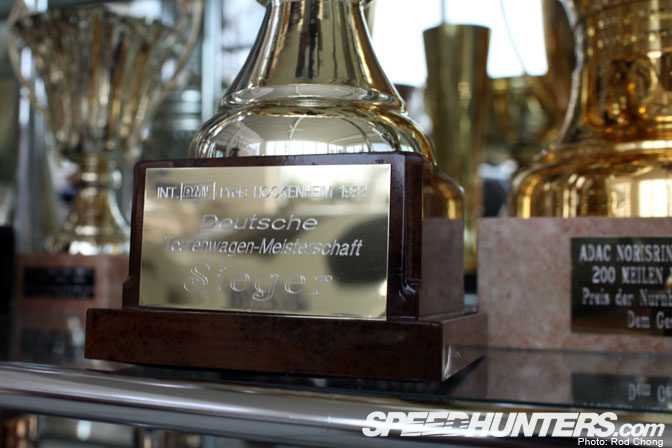 DTM? Check.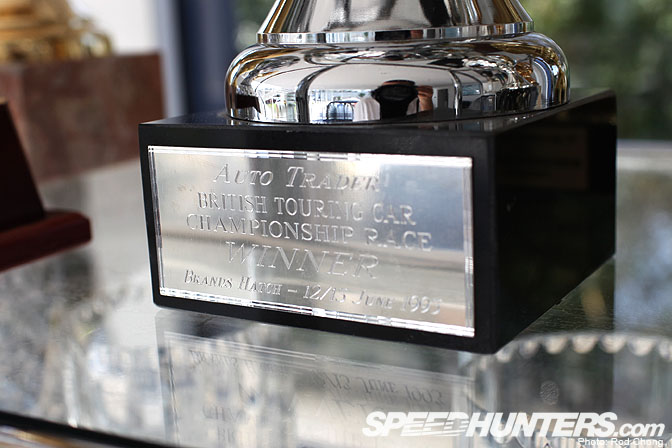 BTTC? Check.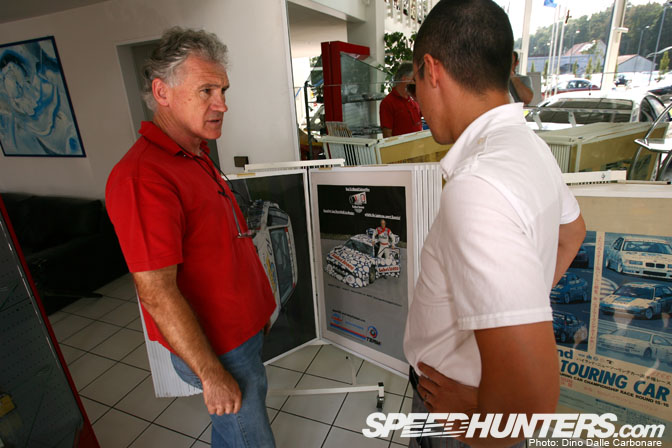 This is Dieter Lamm, Charly's brother… He also took some time to tell me about the Group 5 DRM days of the team.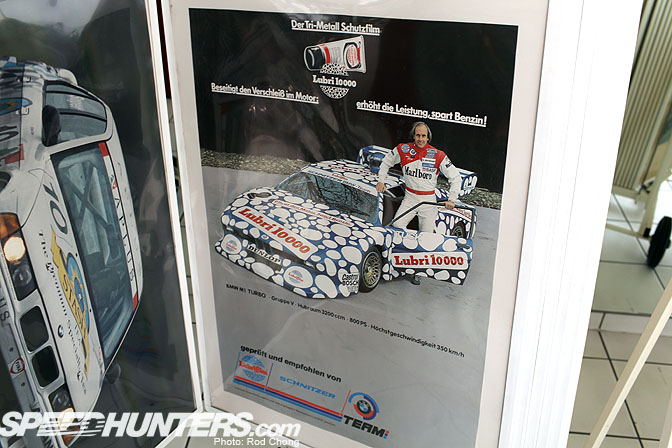 He showed me this collection of racing posters, and gave me some details about the BMW Group 5 spec M1 Turbo they raced in 1981/82. Here's an interesting fact: it used a CSL engine block, not a M1 engine... I'm sure at least one of you will find this interesting!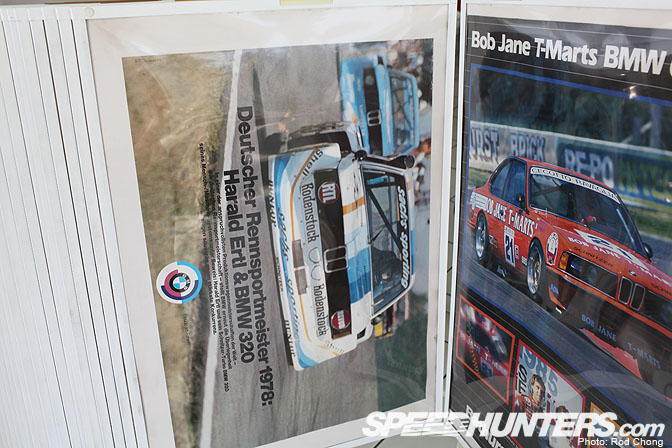 This poster celebrates Schnitzer's 1978 DRM championship with Harald Ertl.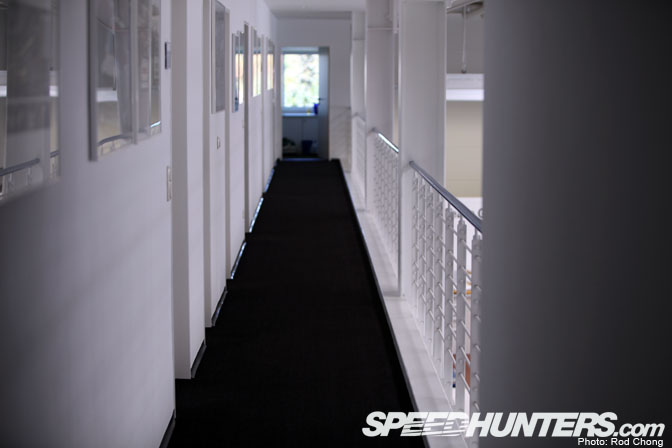 Let's move to the actual race shop now. This is the upper level of the building. On the left you have offices and conference rooms.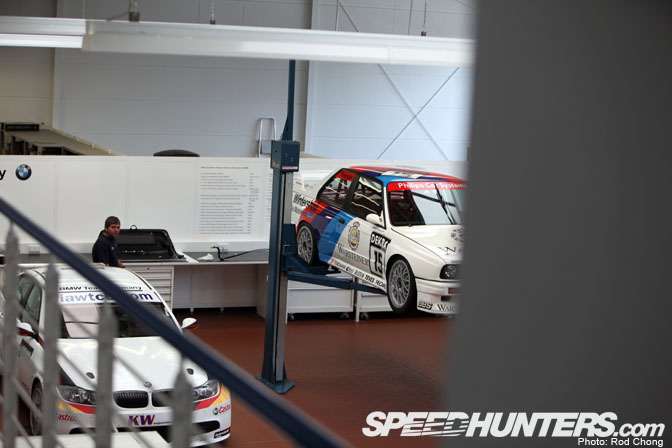 While on the right we have a nice vantage over the race shop.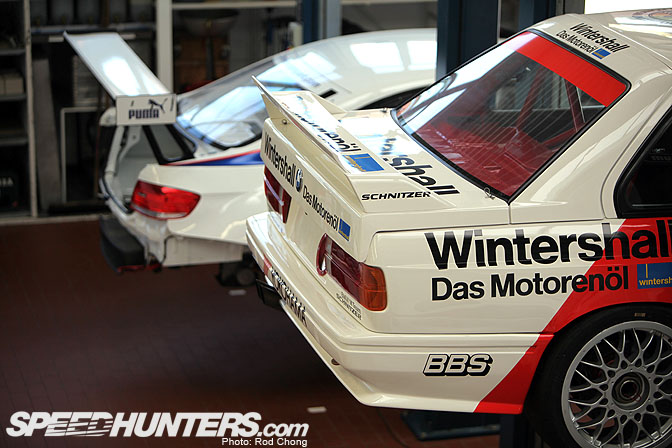 On the right is one of the Schnitzer E30 DTM M3s whereas on the left is the GT2 chassis getting prepped up for its VLN race on the Nordeschleife this weekend.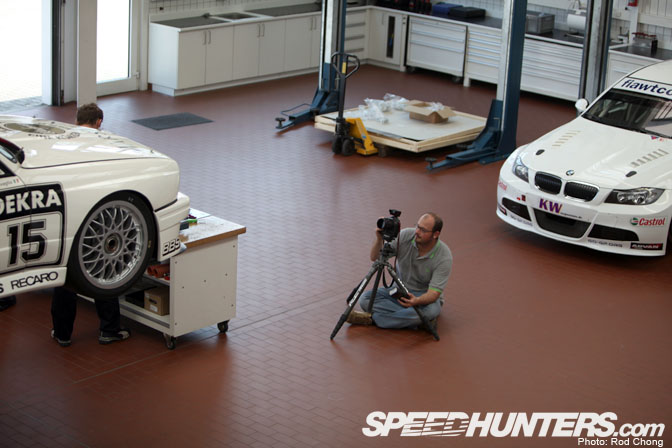 Down below Dino was already shooting the race shop. The actual WTTC race cars were already being shipped off to Japan, so were unfortunately absent. The touring car behind him is a test and development chassis.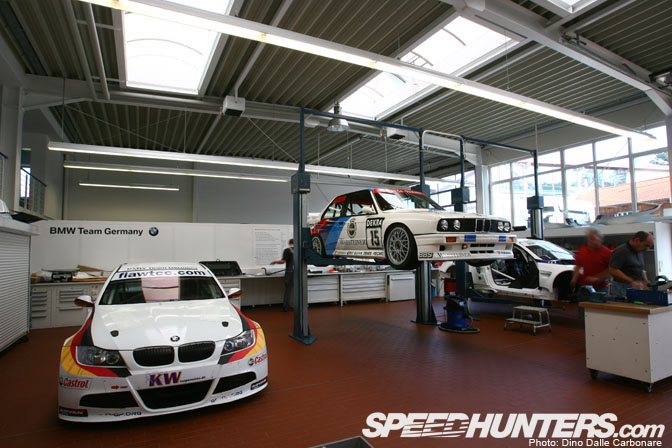 BMW racers old and new.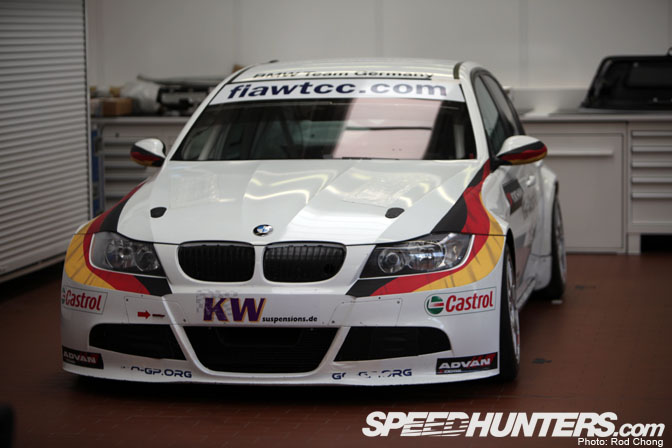 This is another test chassis. Check out the extreme wheel geometry. It's going into demon camber territory! You'll also notice the kidney grills have been completely blocked off in order to control the movement of air inside the front of the car and over the hood/bonnet.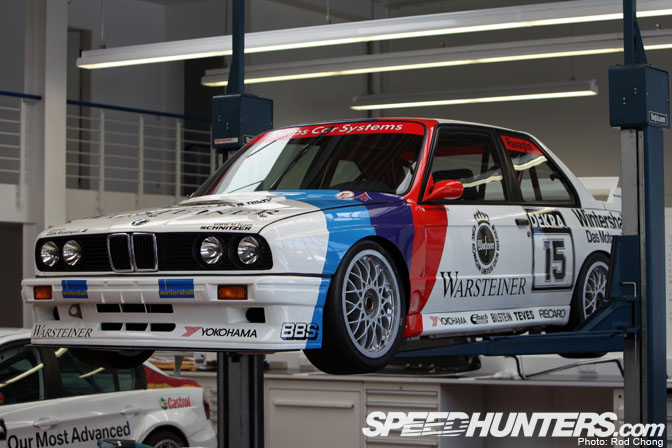 I've heard there is a shop in Vancouver, Canada that builds street replicas of these old DTM cars. Unfortunately they already committed them to a magazine shoot so we were unable to feature them for you. But the real deal will do just fine.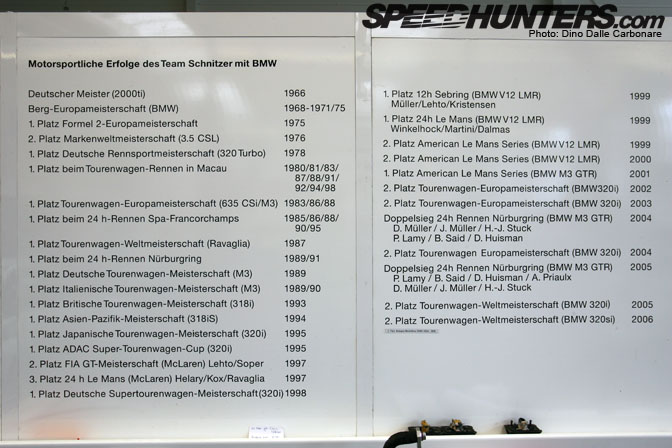 This list of the team's race successes is a reminder of the commitment to excellence and winning. It's a good technique to keep the personal focused IMO!
BTW I like how the BTTC is referred to as the Britische Tourenwagen-Meisterschaft!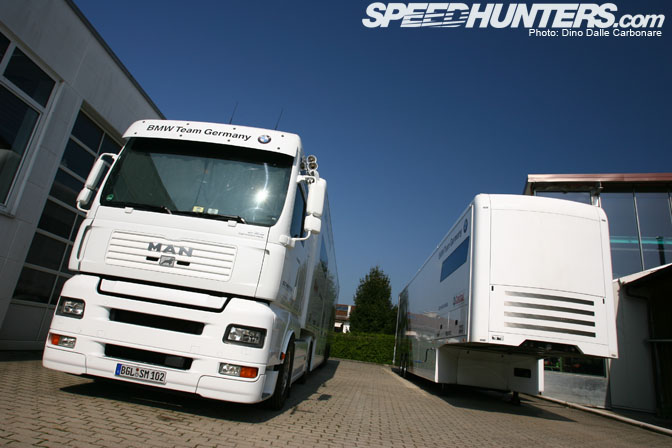 Outside we can see the two WTTC rigs. I wonder if they will be rebadged for the VLN races in Oct.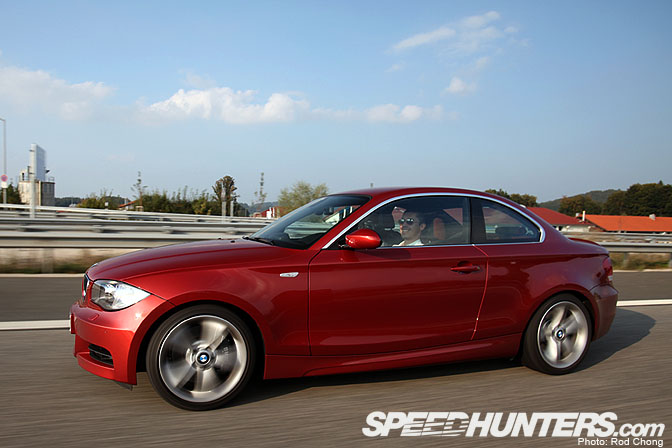 So that was it for our Schnitzer Motorsport visit. I'd like to thank Ingo Lehbrink from BMW Motorsport for his help in setting this up.
BTW We still had some test driving to do with our two press cars before the day was up and ended up in Austria of all places! But I'll let Dino tell you that story.
:Rod