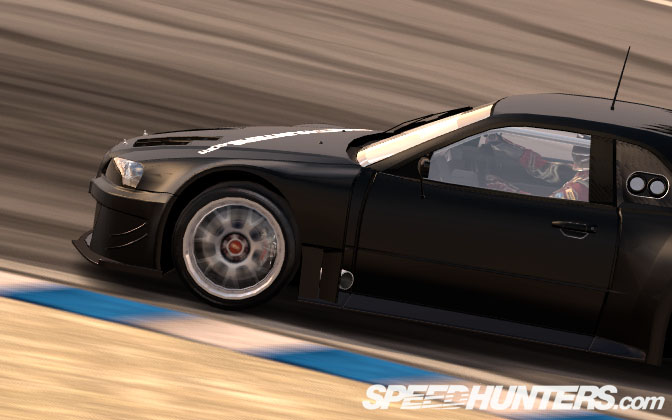 For my next post I'm going to show you a selection of AWD cars from Need for Speed SHIFT. As I know you guys get annoyed and hot-under-the-collar whenever any subject matter gets overplayed on Speedhunters, so I'll start to wrap things up with a wider selection of cars from the game.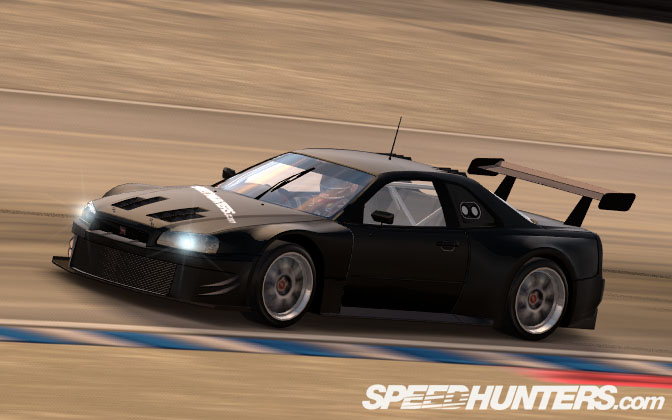 So let's look first at the R34. As you upgrade the Skyline, it first changes into a bit of a Time Attack style monster before becoming a low line JGTC style racer.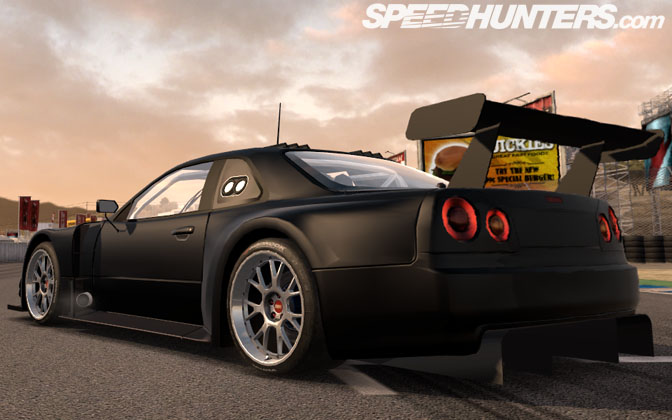 Running around 500 hp, it differs from a JGTC car in one major area: it's AWD (the JGTC R34s were FR yes?)… So the racing experience of driving this machine is all the more crazy.
I seem to like painting these Works cars in flat black so they look like test cars…. I also chose some BBS rims for an accurate motorsports look.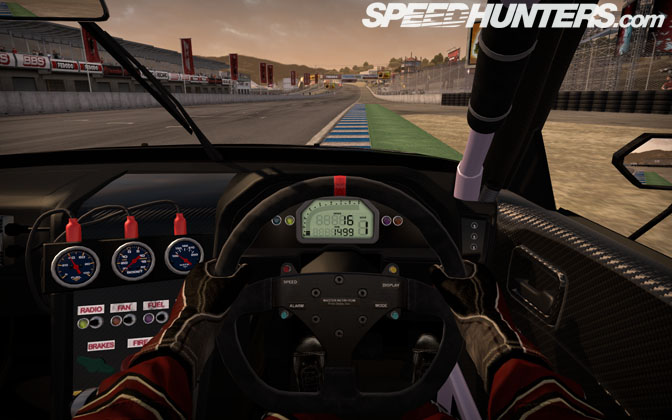 As I live in Canada, hopping into the RHD car for a blast around Laguna Seca is a little bit disorienting at first… I also feel a little sorry for the 3D driver… this car accelerates so quickly his left hand is very busy shifting gears!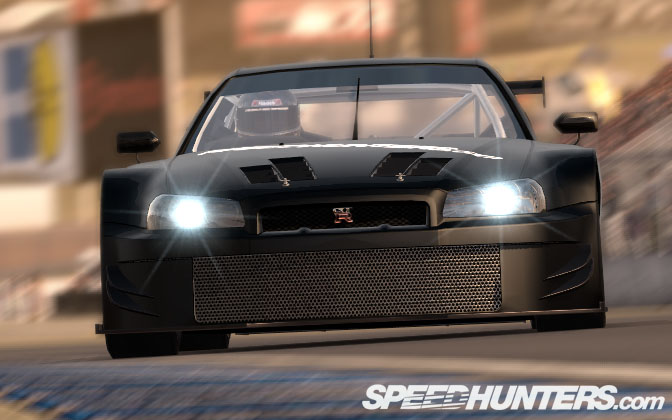 The Speedhunters R34 is coming 'atcha!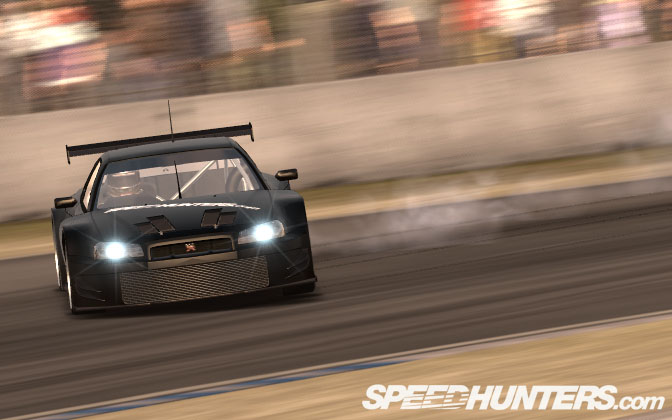 Without any setup work the car was a little unstable under braking and I got caught out with this slide. I was able to somehow catch it without spinning, though, and carried on around Laguna Seca.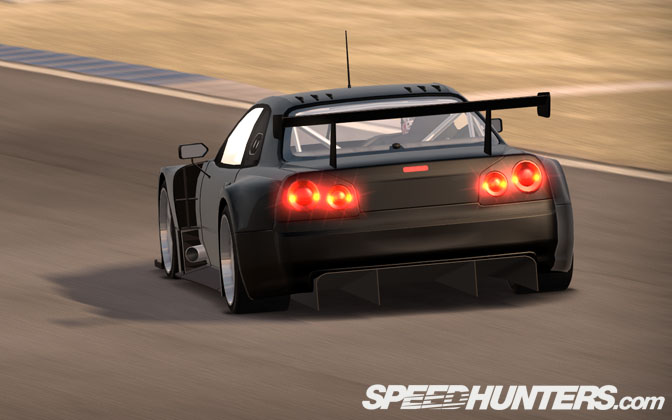 Long live the R34!… I'll do my best to try and ensure this machine stays on the Need for Speed car lists for years to come.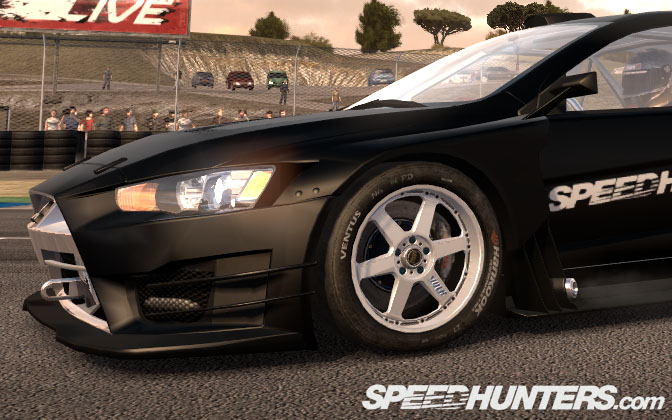 Like my Volks?… I thought i should zoom the camera in a bit further so you can see just how detailed these models are.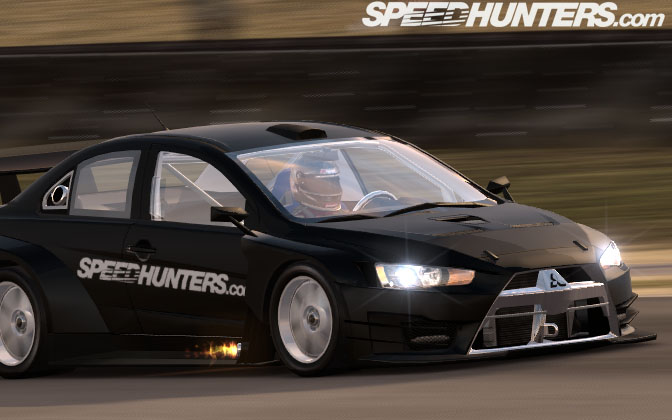 Here's the Work's version of the EvoX… it's a cool fantasy rendition of what a Super GT EvoX would look like… with AWD that is…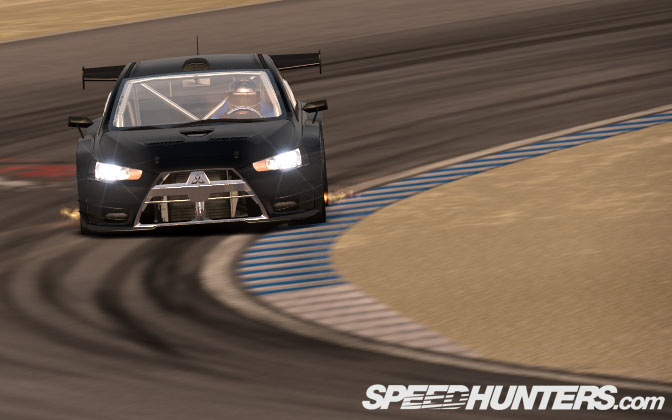 The Power of the Dark Side is strong in this One.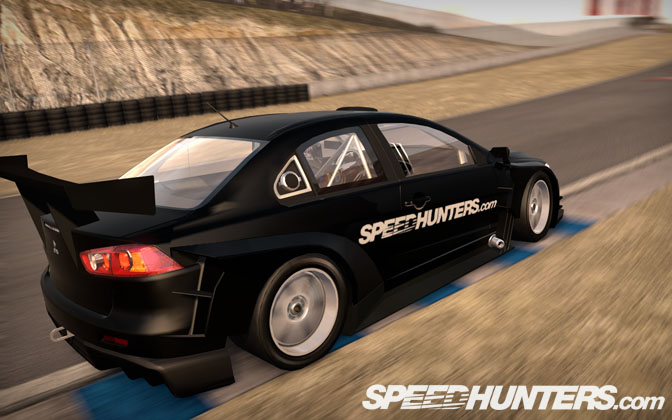 I also resized the Speedhunters logo on the side of the car… They don't always need to be small you know…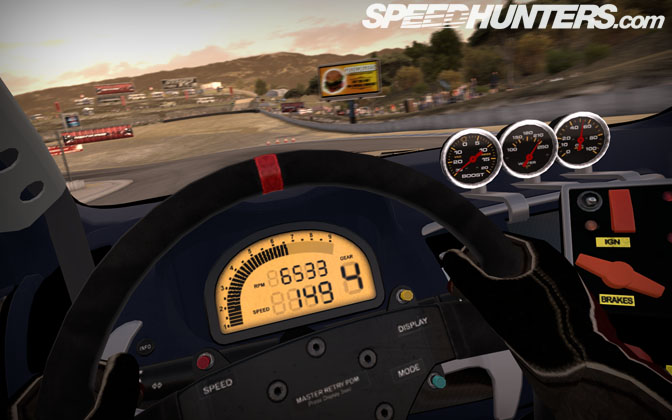 SMS seem to have outfitted the car with a semi-automatic gearbox and this is no more apparent than with the driver's hand animations. As the car blows through the gears you see him flicking the paddles with his fingers.. the paddles are animated too.
It makes you wonder what racing games will look like 10 years from now!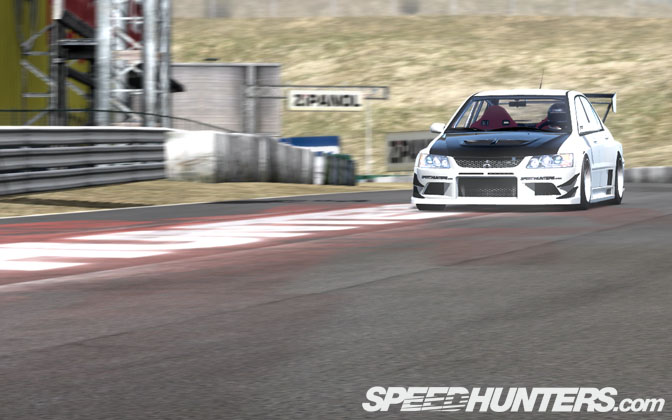 For my next set of screenshots I took three AWD legends and brought them out to the small Autopolis Lakeside circuit.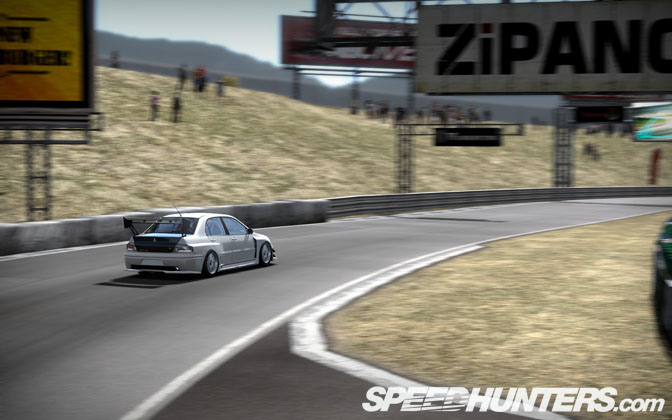 This is a small club circuit which sits inside the main Autopolis circuit in Japan. I thought it was a good place to have a fun little time attack competition between AWD three cars.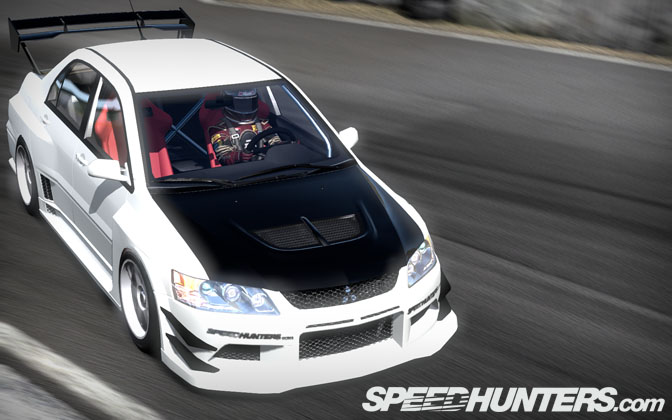 First up, I built this wide body Evo 9 that's running just shy of 500 hp.,,, I again opted for the flat white/gloss black look…
Notice that I've selected noon lighting for this session which gives a very different and bright visual look… also the headlights on the cars are off at this time of day.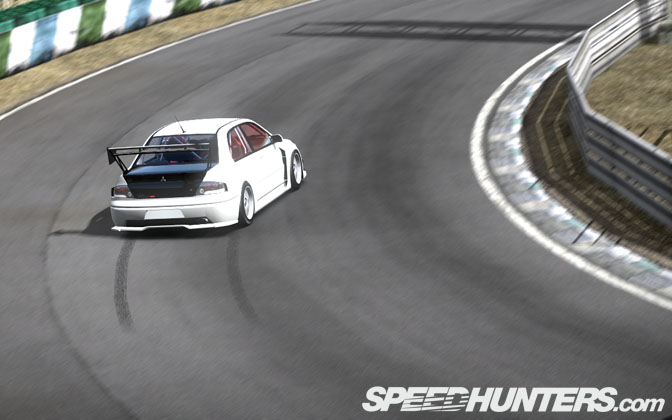 You can also put Nitrous into some of the cars in SHIFT but I elected not to install these options. I preferred to focus on chassis lightening as well as full suspension, engine and drive train updates.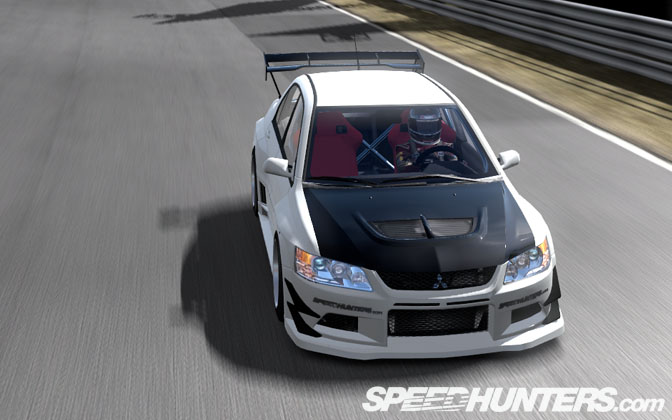 With this setup I managed a time of 1:01.610 at Autopolis Lakeside.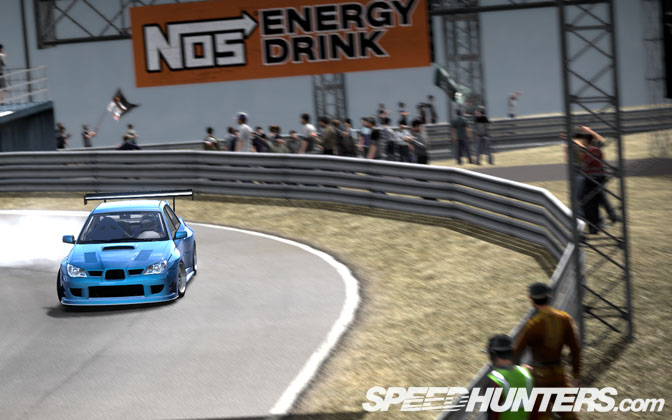 Next up is a GDB Subaru Impreza STi.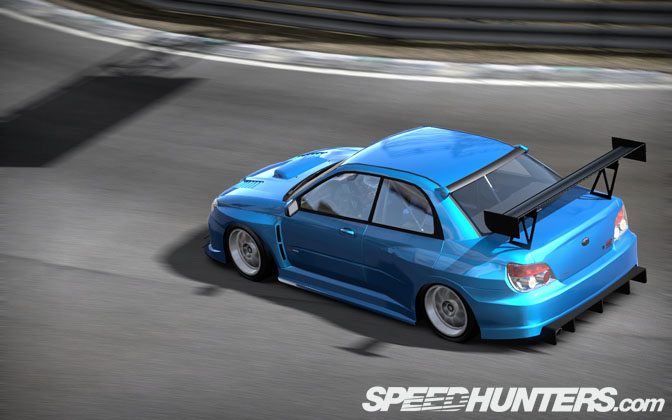 Looks good!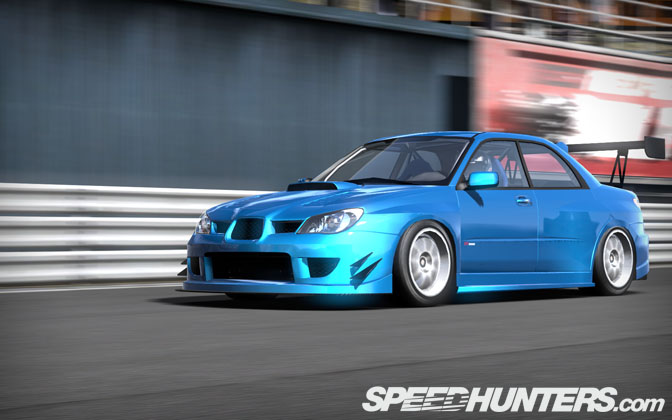 This one is running metallic blue paint which puts a nice deep, glossy look onto its skin.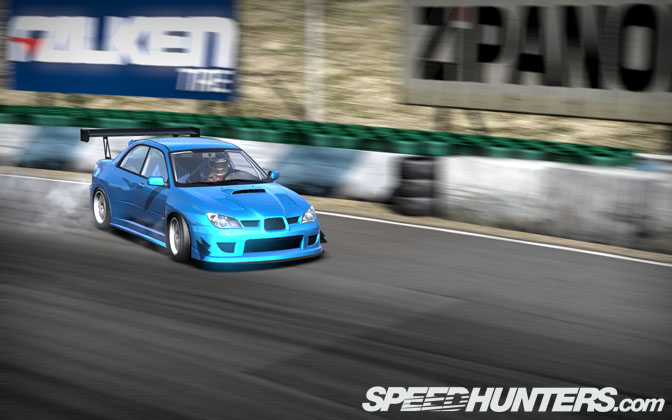 I am Ken Block!… This car is a lot of fun to put into sensational 4 wheel drifts.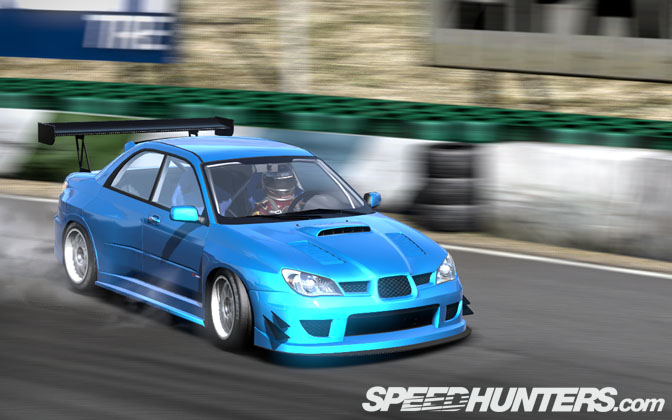 I think I'm going to get rid of the racing slicks and put the street tires back onto it, just to see if I can't do some gymkhana stunts with this fun little chassis. I ended up pulling a 1:02.070 time… and that was with some very messy overdriving.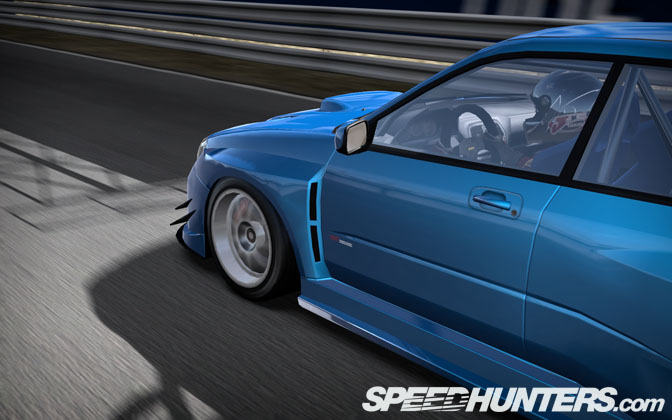 Once some of you are outfitted with SHIFT I'd love to see some screen shots of what kind of creations you end up making. There are many options for creative race liveries so i'm curious what kind of Speedhunters cars you can come up with. Send me your screens to rchong (at) ea.com.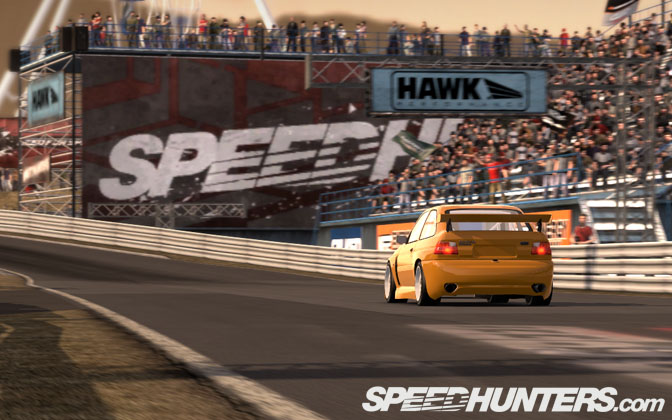 Before I sign off I thought I'd show you one more AWD legend… this Ford Escort.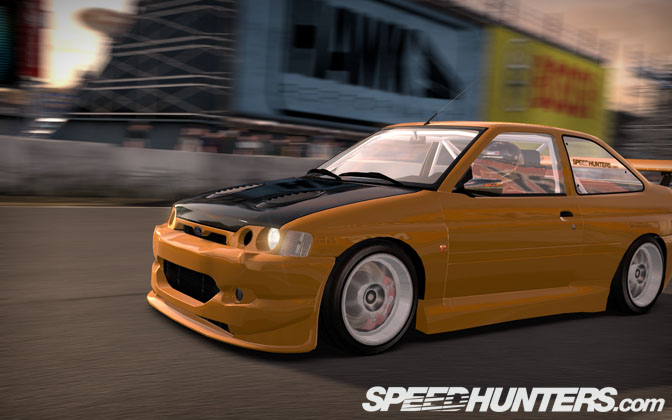 Now this screenshot only shows stage 2 of 4 stages of body upgrades. You eventually end up with a crazy wide-body rallycross looking demon but I thought this kit to be the most tasteful.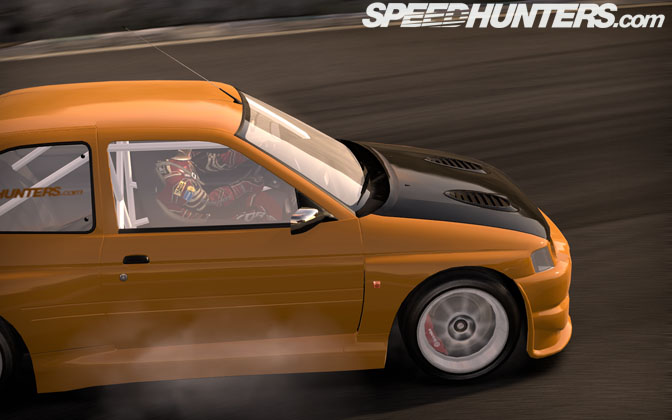 It makes the car look like a tarmac spec WRC machine of yesteryear.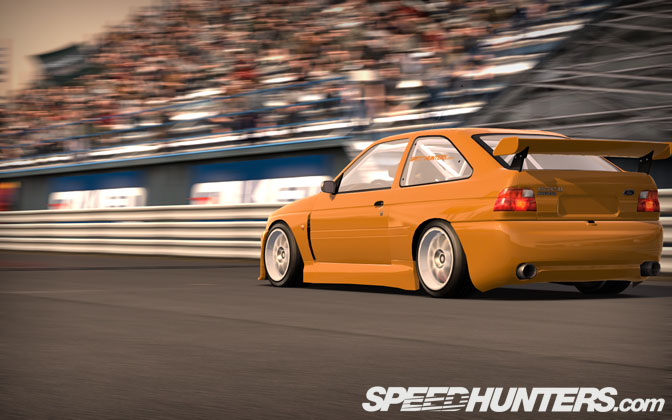 I decided on light coloured window tinting to more mimic the chrome looks that many rally cars run these days. Notice how I am also able to put stickers onto the windows.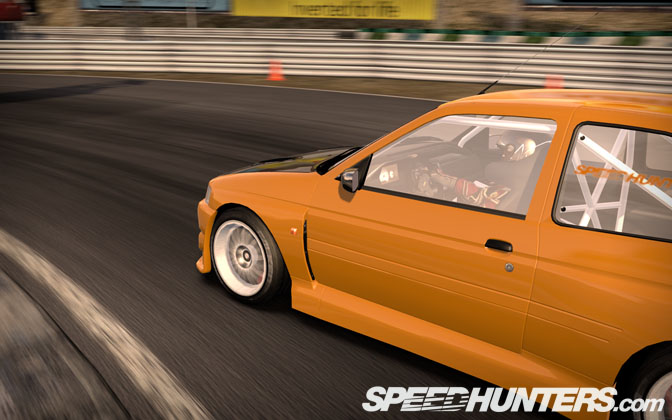 The chassis really allowed for controlled, precise driving. It felt very light and responsive compared to the Subaru which seemed to prefer more extreme manhandling.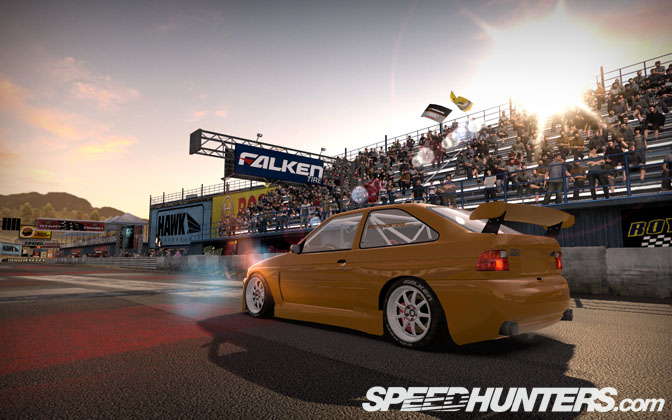 But the best lap time I could manage was a 01:04.900. I'm sure with more upgrades and practice I could have shaved more time through.
Oh well… let's see what you guys can manage with these same cars….  i'm sure you'll be able to be a lot faster than me fairly easily. I'm an ok gaming racer, but I know a lot of people who are MUCH quicker than me.
Had enough now or shall I continue?
:R