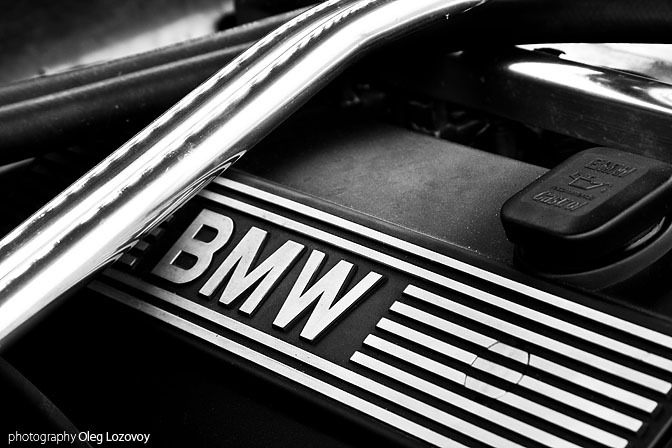 Hi Speedhunters! My name is Oleg Lozovoy, I'm 22 years old and I live in Moscow, Russia. I've been working in Russian Tuning Auto magazine for almost three years. I'm also a great fan of JDM style, drifting and practically everything that reminds me of Japan. But in this month I made an exception to my rules, and here are some interesting BMWs from Russia. Check it out!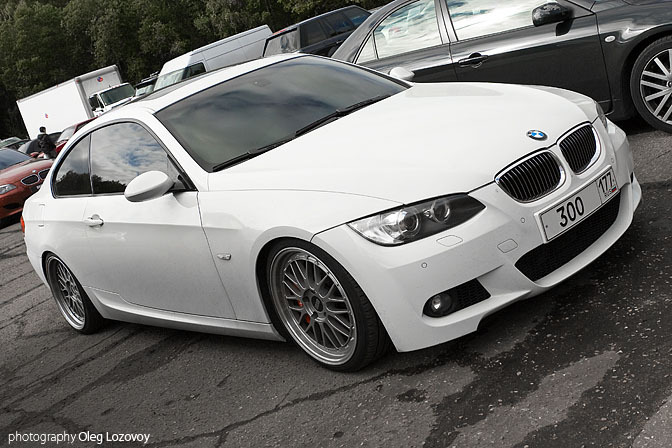 I think you'll agree with me, that this white E92 330i is very stylish and nice. It looks simple and at the same time not very boring. A 3.0 liter engine makes the driver feel good, while the 18 inch BBS LM rims with stretched tires and H&R springs make the perfect stance of the car.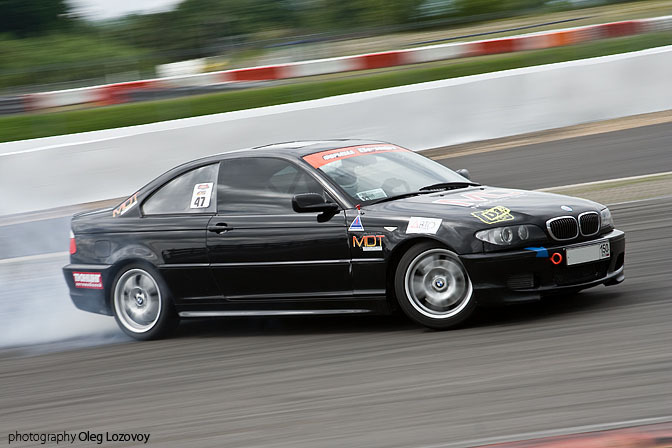 I spotted this E46 at Nurburgring, during my trip to Germany with Moscow Drift Team. The guys took part in International Drift Series and of course they all were very excited to participate in such a serious drift battle. But the main thing was the experience, which they acquired at this event. Andrew Zhdanov, who drove this BMW, is a permanent member of Russian Formula Drift championship. An inline 6-cylinder 3.0 liter engine is supplemented with a compressor, and that's why he shows very good results.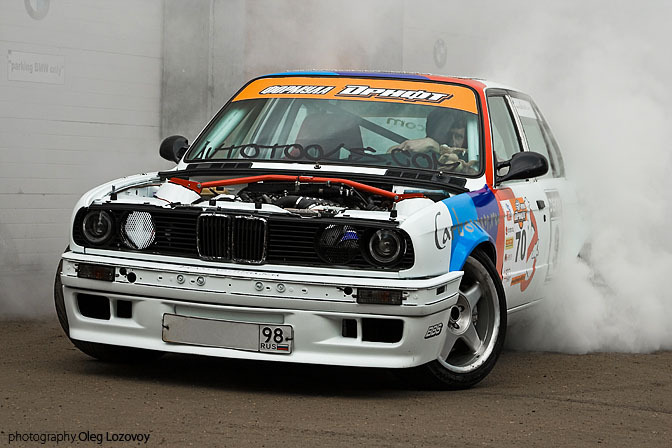 Continuing with the Russian drift scene according to the BMW Month on Speedhunters, I can't miss this E30 sedan from Saint-Petersburg, which belongs to Dmitry Bogdanov. He also participates in a Russian Formula Drift series. The car looks so strange because of its specific purposes: it is first of all a competition machine and its owner didn't spend much time to make a glamorous exterior. But he worked hard with his team to give it a new life, especially for this old chassis.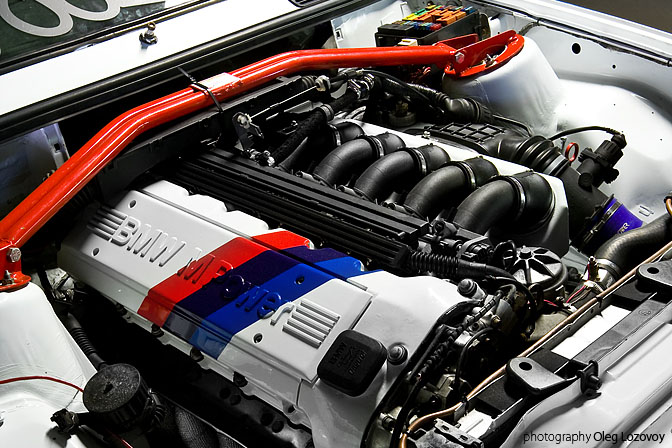 The stock 1.8 liter engine felt down and the tuners swapped here an S50B30 engine from an E46 M3, well fitted with intake system, custom exhaust and racing camshafts. This is a minimal list of engine upgrades required for drifting. In the next season Dmitry wants to raise the power up to 500 PS with the help of turbo kit.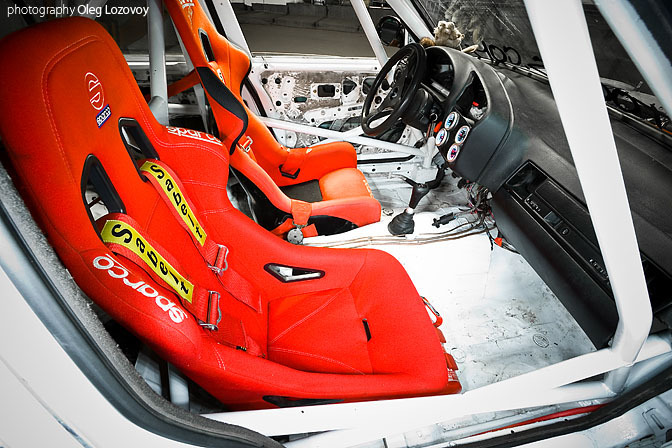 Inside the car you can see two Sparco seats with Sabelt harnesses, MOMO steering wheel and FiA J application roll cage.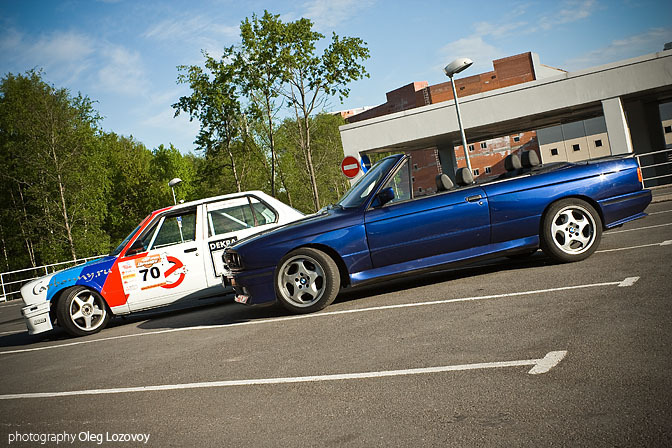 I found this rare BMW in Saint-Petersburg also…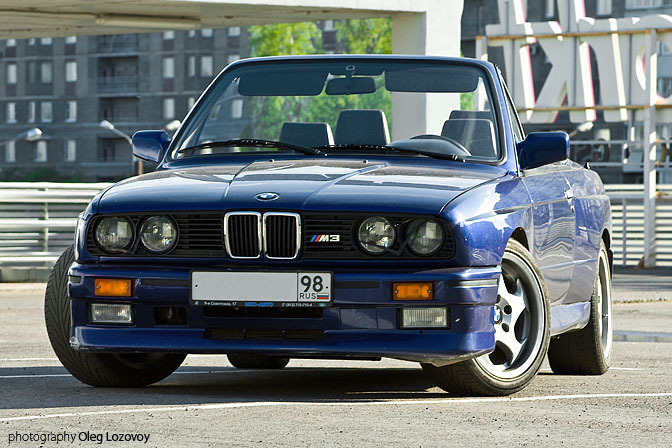 Full stock E30 M3 Cabrio takes you back in time. Nowadays it's really difficult to find this car in good condition. In the eighties BMW made only 786 copies of it.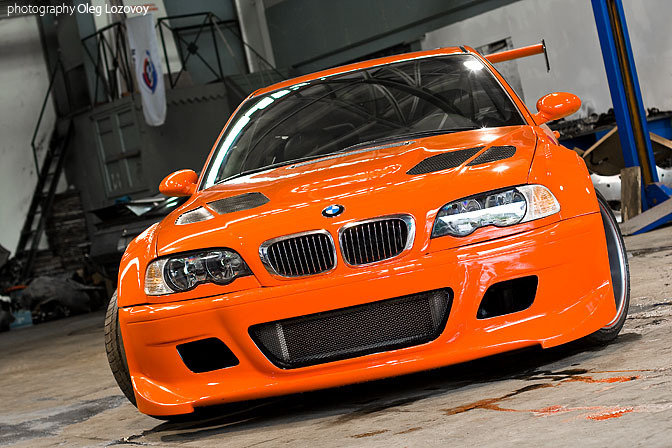 There is no denying that the things which come from auto sport look really serious. Anyway this rule works for this monster.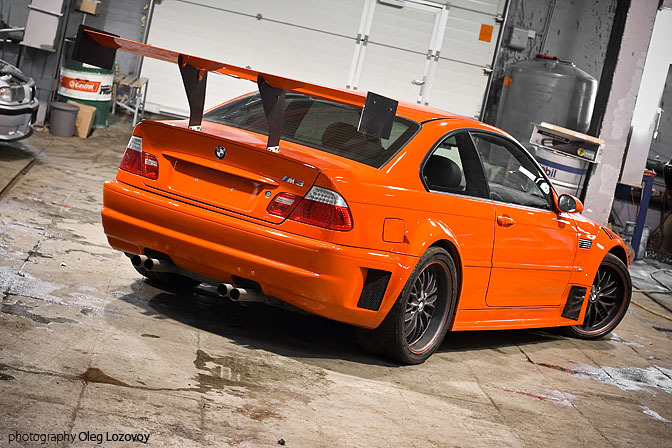 This E46 M3 in full wide body GTR kit looks awesome.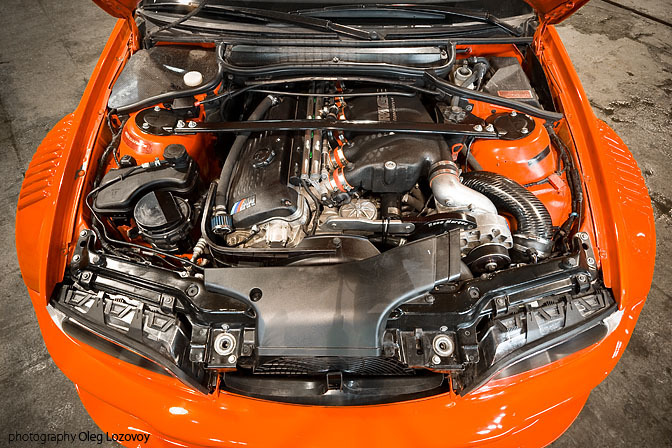 But the happiness won't be complete without this 3.0 liter supercharged engine. The compressor kit helps the engine to rev up in the twinkling of an eye.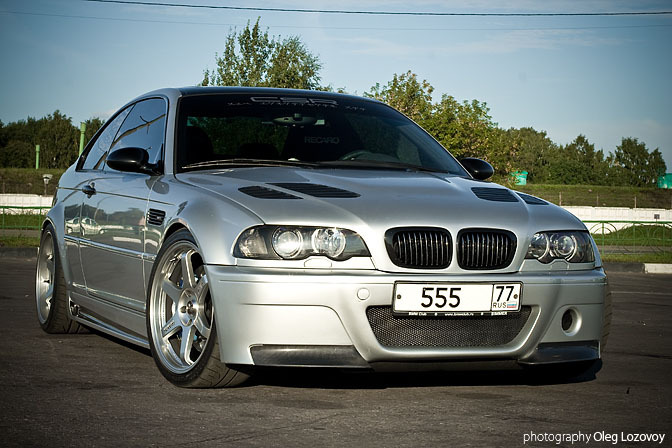 Another E46 M3 CSL with a healthy dose of tuning upgrades.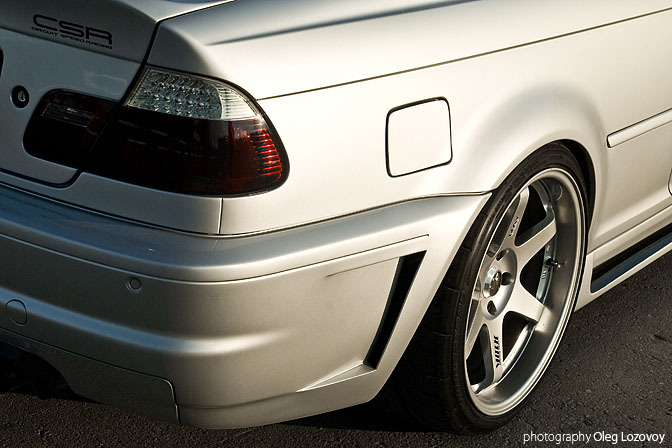 In addition to 19 inch Volk Racing TE37s, the suspension and brake system were also improved with TEIN coilovers and Rotora brake kit respectively.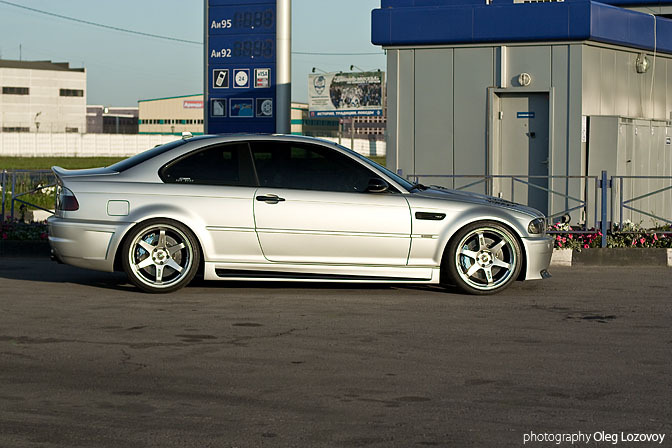 In opinion of the owner, the most suitable body kit for this E46 was a Vorsteiner.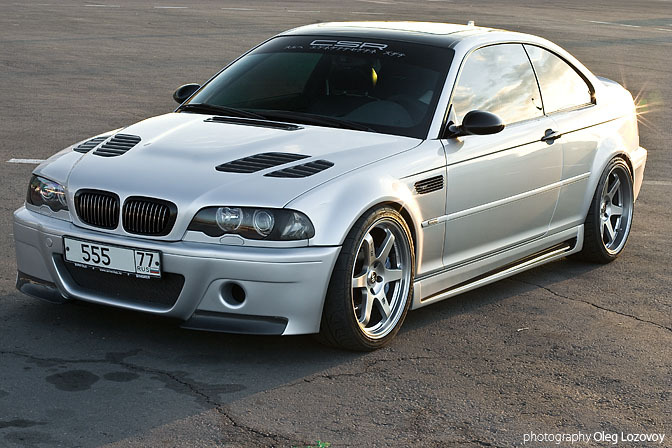 The car has an incredible style.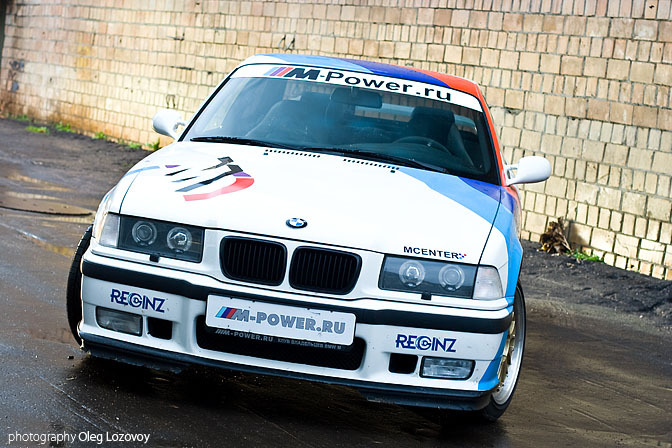 BMW M3's of all generations are very popular cars for Time Attack and Track Day weekends.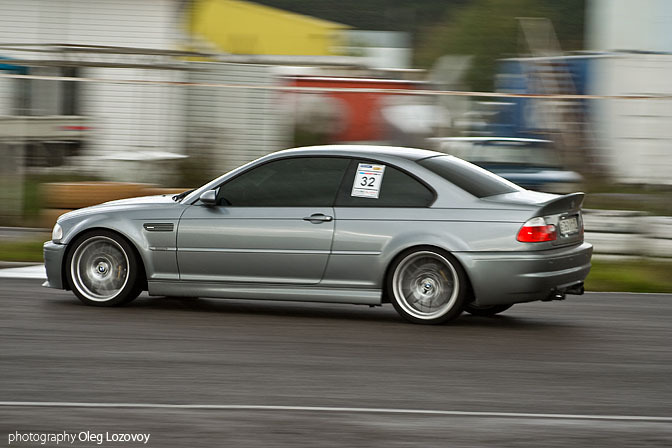 Perfect steering and a nicely balanced engine makes them deal.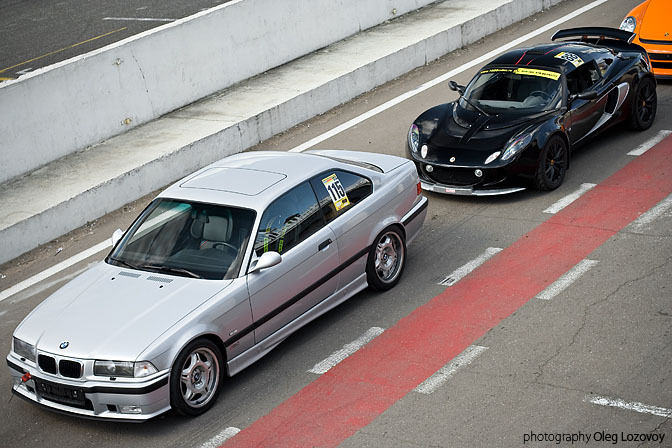 Porsche GT3 Cup, Lotus Exige and a stylish BMW M3 are waiting for the racing session start at Myachkovo race track.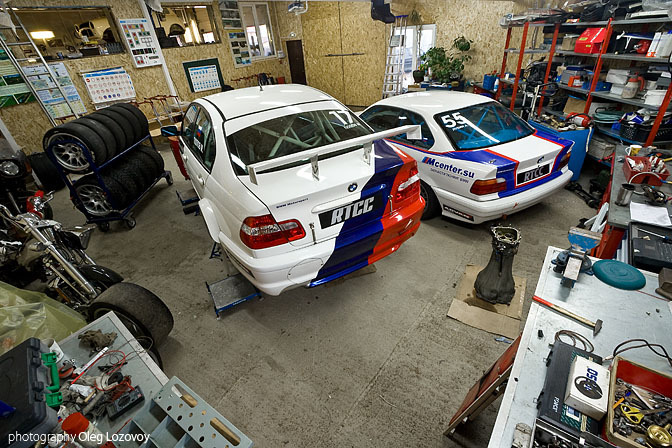 A few days ago I was invited to the DTL Motorsport Team office. Maxim Popov and Alexander Lukin participate with their two BMWs in Russian Touring Car Championship in two classes: Touring and Superproduction.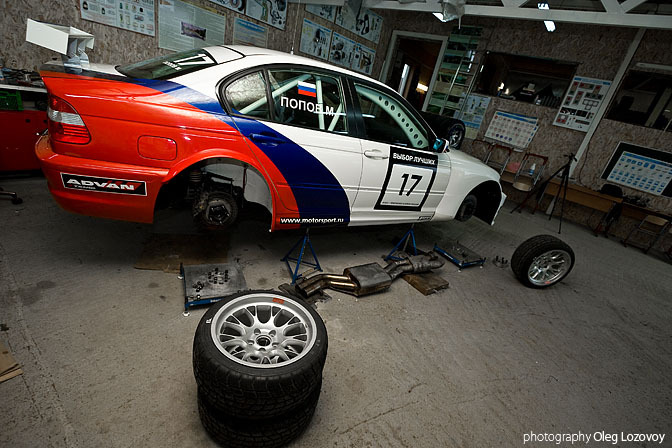 The E46 sedan in previous times was a racing car which ran in WTCC driven by Dirk Muller, and now it's one of the most potent cars in the Russian Championship.
Maybe the success is because of what we can see under the hood. A 2.0 liter naturally aspirated engine that puts out over 280 PS. It was built by the guru of BMW tuning – Kreutz Muller.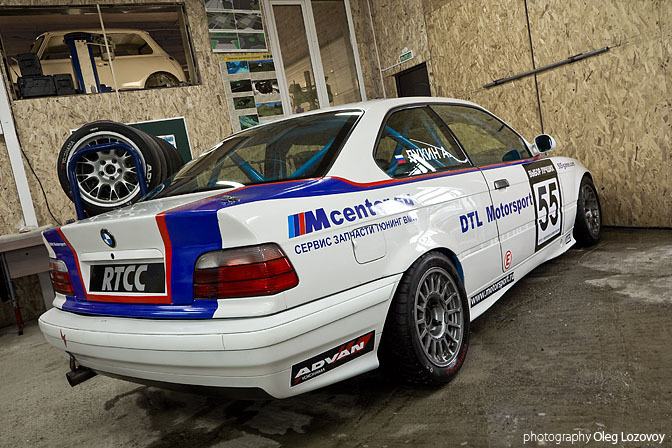 The E36 coupe is used in junior class – Superproduction.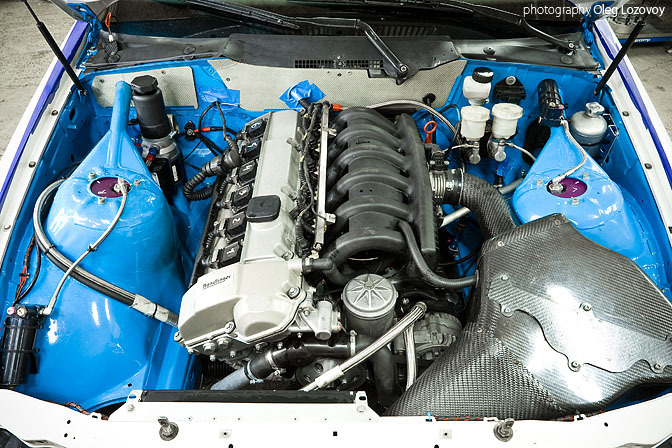 Straight six 2.0 liter engine revs up to 8500 rpm and produces over 215 PS.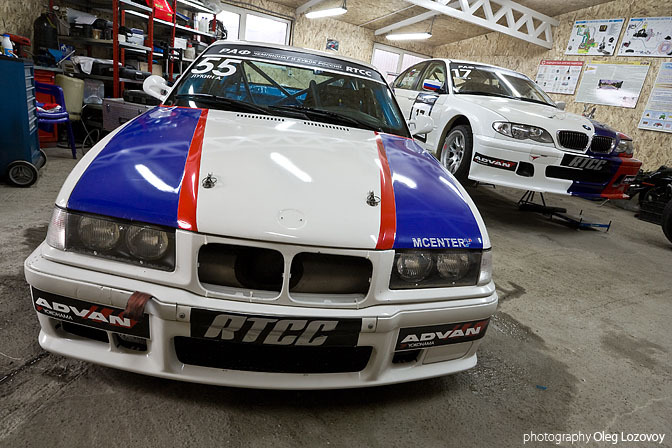 The guys will participate in the next round of RTCC on October 2-4. Let us wish them good luck.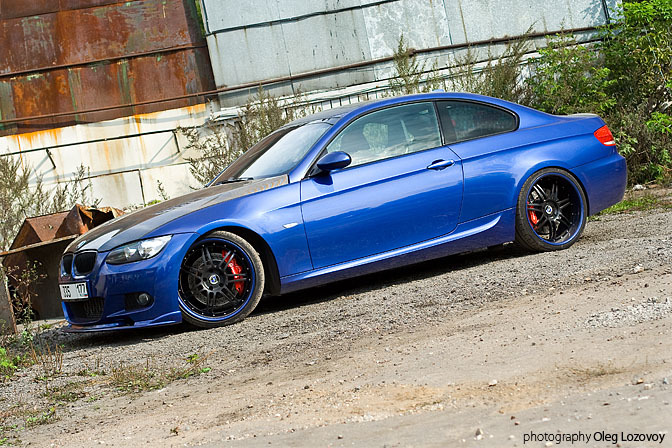 Trying to find out really sexy BMWs, I couldn't pass up this car.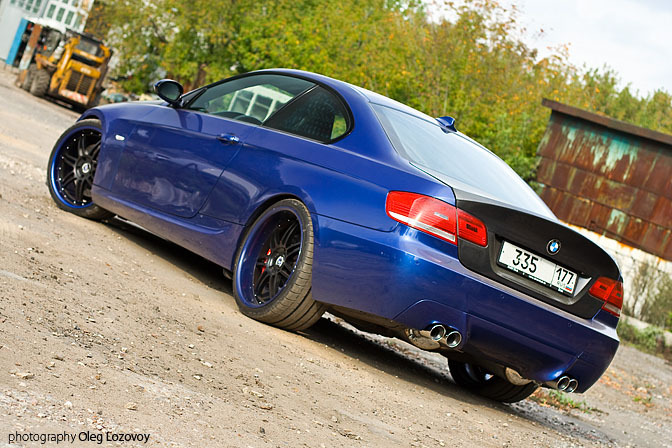 It is one of the tastiest E92 335i's I've ever seen. If you'll see it alive, I suggest you can spend an hour or so just looking at it.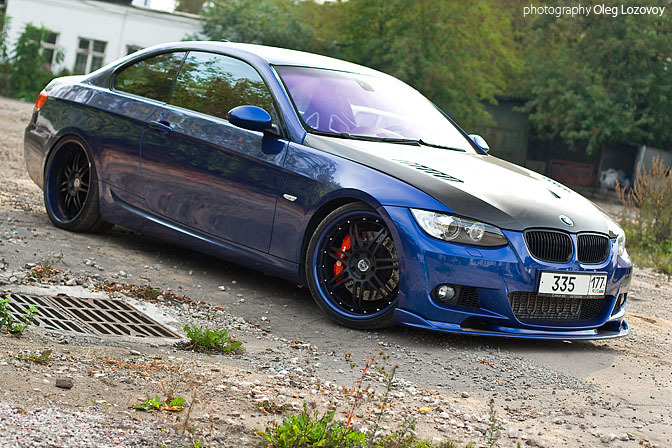 The car was fitted with two piece matching colored HRE wheels, dry carbon hood and trunk, and a big brake Brembo kit. You probably think I have nothing to show you but these 3-series BMWs…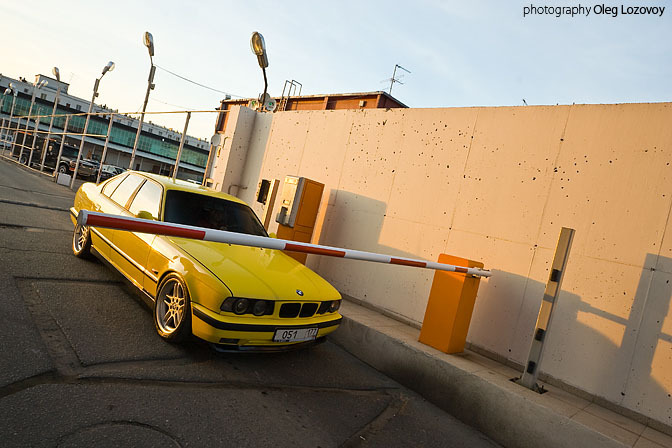 …but don't jump to conclusions. This is one of three E34 M5's in the world painted in yellow on the BMW conveyer line.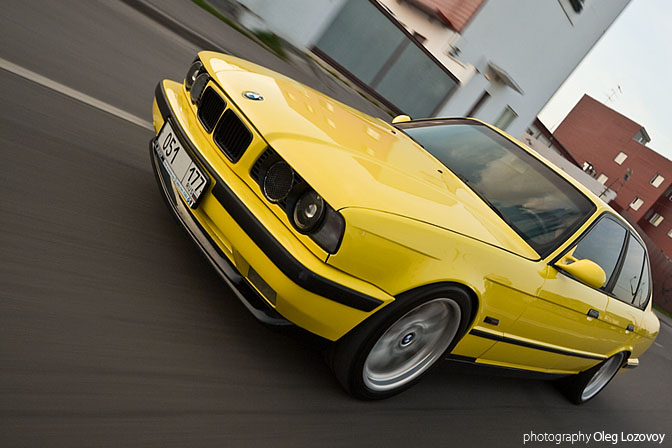 Now the car feels much better because of the new engine and full body restore. Great job!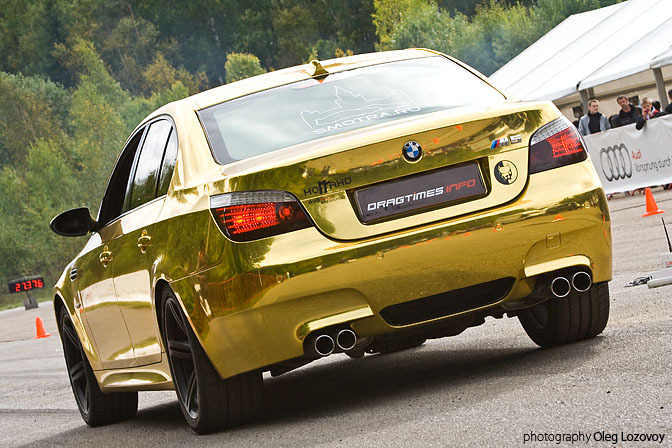 In the end of my story I must certainly show you this extraordinary gold E60 M5. Many people turn their head to this project. May be it is so, because it looks like a jewel. In fact practically all BMW models of different generations are popular in Russia. In my mind the first thing which attracts you is their amazing design. I hope my story will help you to make an approximate sense of what is BMW in Russia.
-Oleg Lozovoy