My name is Mary J. Castillo, Spokesmodel for Falken Tire. When Speedhunters.com first approached me to do this documentary about a day in the life of a model, I was taken back a bit because I felt like I had to keep a certain image about myself as a model. But then I thought, why not let the Speedhunters audience have an inside look about what really goes on in my day!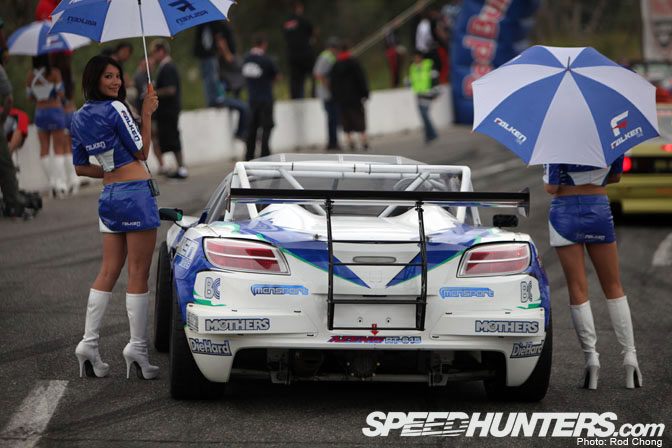 Being in the limelight is always fun creating an image for yourself through a company that is well known for their high performance tires. To be completely honest with you, behind all of Falken's blue and teal is a normal girl.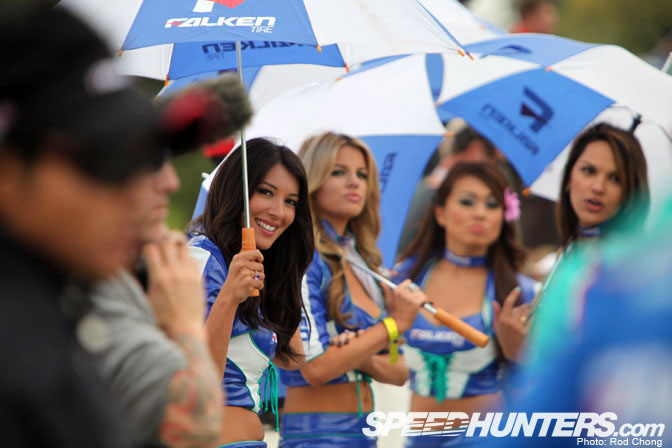 So here it is, this is Me, and I welcome you to follow me in a day in the life of THIS model.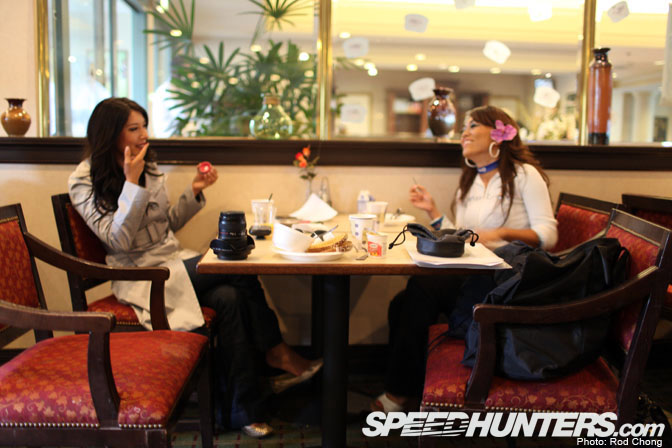 At 8:00 AM my teammate Eri Moriyama and I went to breakfast before leaving for Evergreen Speedway.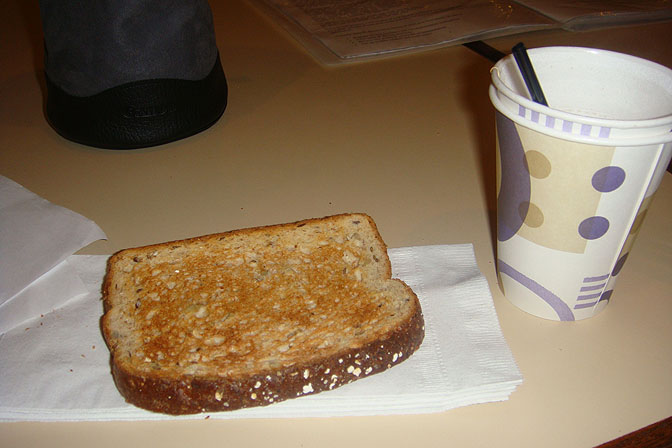 This was supposed to be the first day on a health diet that involved just toast, black coffee no sugar or cream, hard-boiled eggs and tomatoes. Yea right! This diet lasted oh… approximately four hours before I gave in. It wasn't even 9 a.m before I started thinking about trail mix bars with chocolate!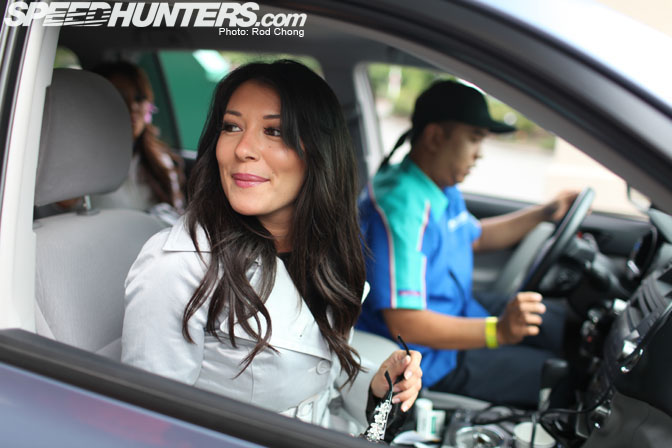 By 8:30 we were ready to head to the track! We'll see what the day brings!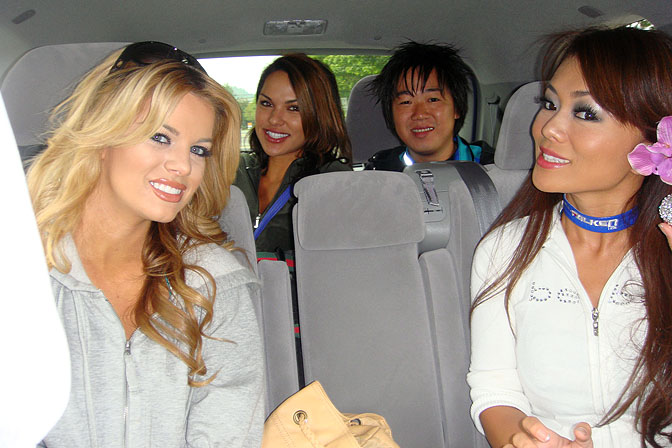 This was us in the car on our way to the track. For some reason we were all giddy and happy and singing on the way over there. Perhaps we were all in a good mood since we had had a full breakfast. Not fun going to work on an empty stomach!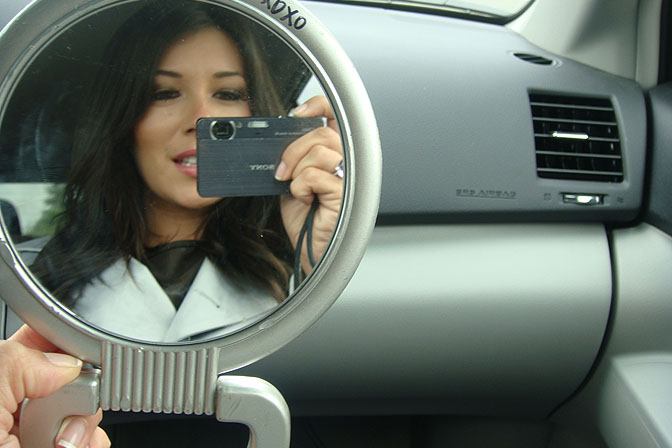 This mirror is a must have item in every model's bag. Who would have thought that such a small thing can make such a difference in the life of a model! LOL I have traveled many miles with this apparatus and it has yet to let me down
We often utilize our car rental in order to ensure efficient time management from the pit to the track. Upon arrival the first thing we do is change into our Falken uniforms.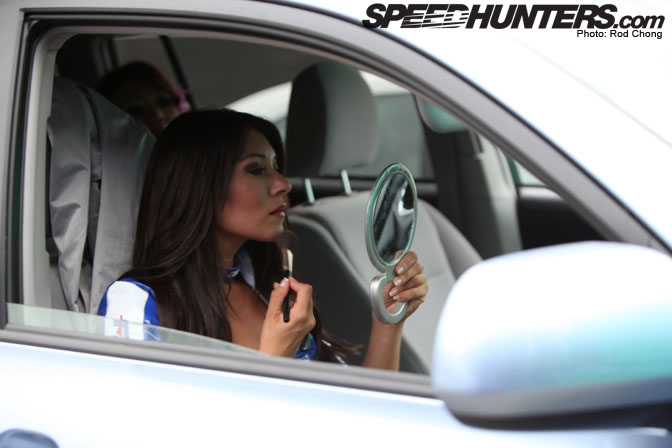 Makeup is one of the most important things we need to have as a Falken model, second to our custom made uniforms of course! Putting on makeup before an event is a task all of its own. Gotta be perfect before we step out of the car!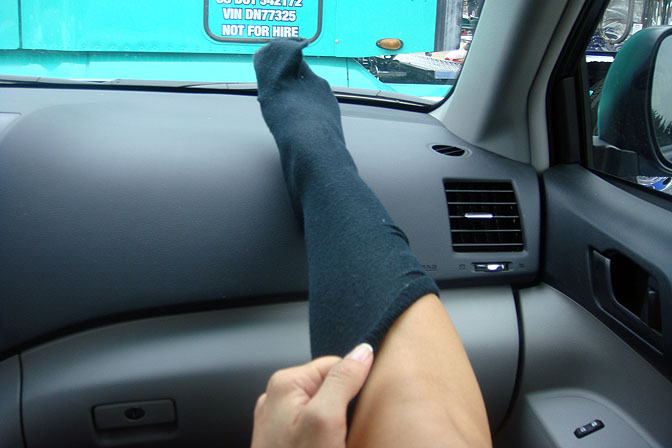 These socks, aren't just any socks. They are the Falken model famous white boot socks!!! As a model you have to be able to adapt to any situation you are put in. Even if it means changing in the car before your big début!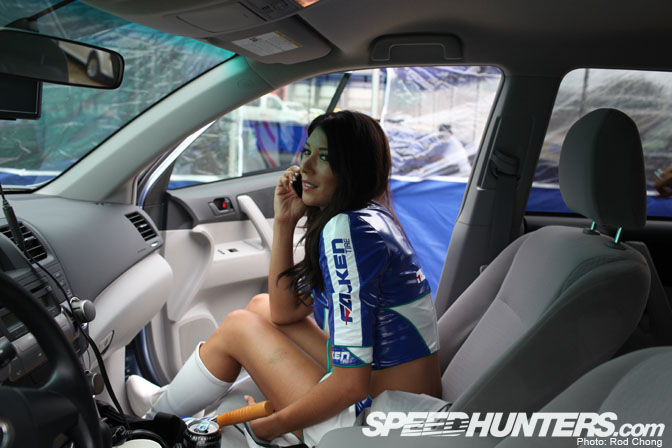 Each piece of the uniform was custom created and tailored to fit our bodies down to the last inch. The boots are the last piece of the uniform I put on before I step out into the crowd and the photographers bombard us!
This is the last moment of quiet for me for the rest of the day.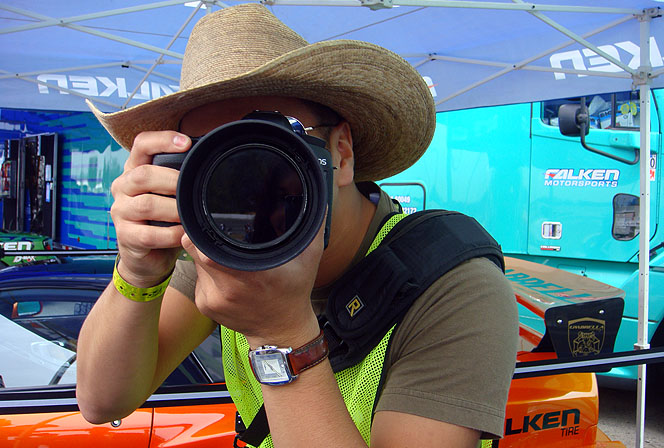 This is what we get all day, at first you feel weird that everyone wants to take pictures of you. When I first started modeling it took me a while to get used to it. It feels like every snapshot that's taken of you is a piece of your life that is documented for eternity. You never know where this photo will end up, or who's eyes will see it, or if any eyes will see it at all.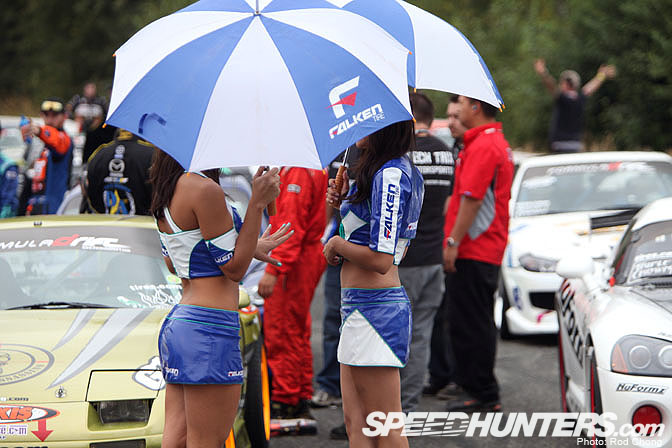 The first practice session started at noon and we reported for duty in the pre-grid area.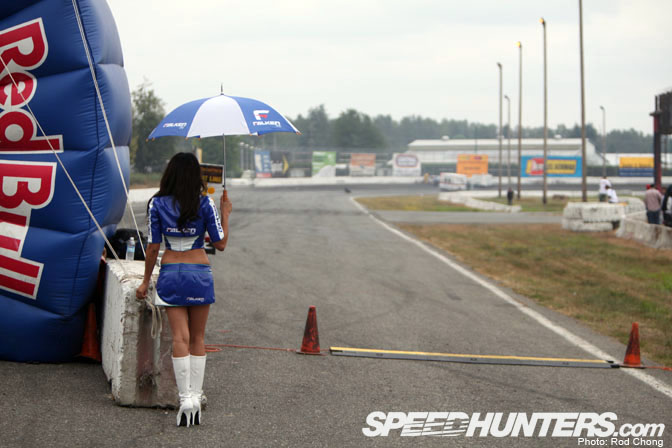 Practice was cut short by Dai's big accident. You can see the emergency
vehicles attending to the Lexus wreck in the distance.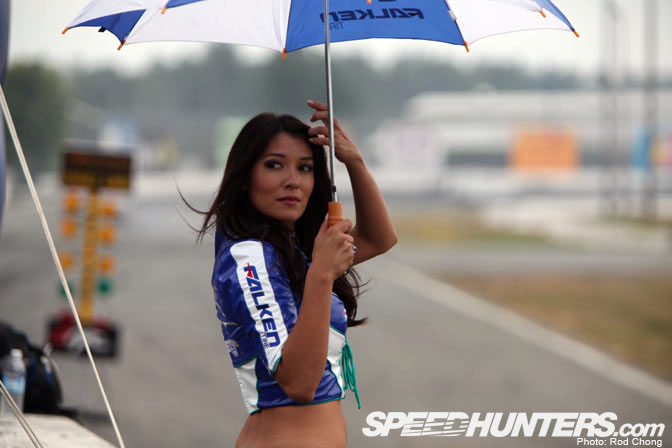 Thankfully Dai was ok but you can see I'm pretty worried for him in this shot.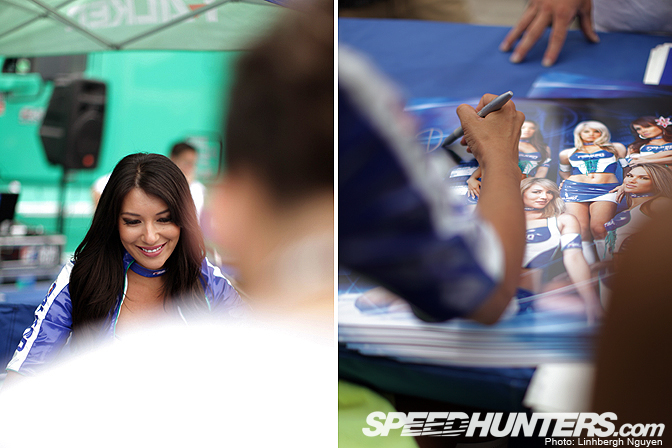 By 1 in the afternoon, it was time for me to do an autograph session at the Falken booth.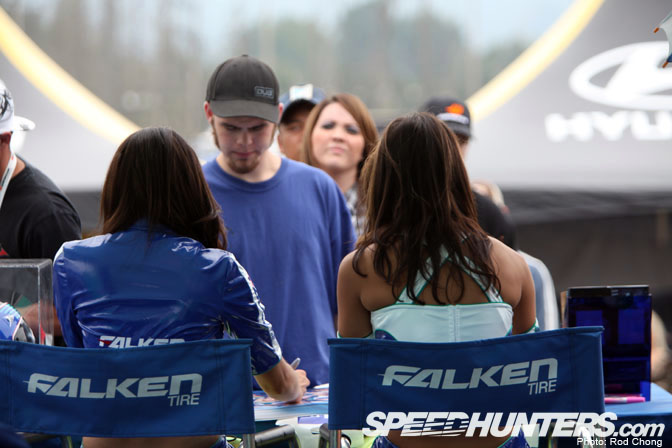 Time to start signing posters for the fans!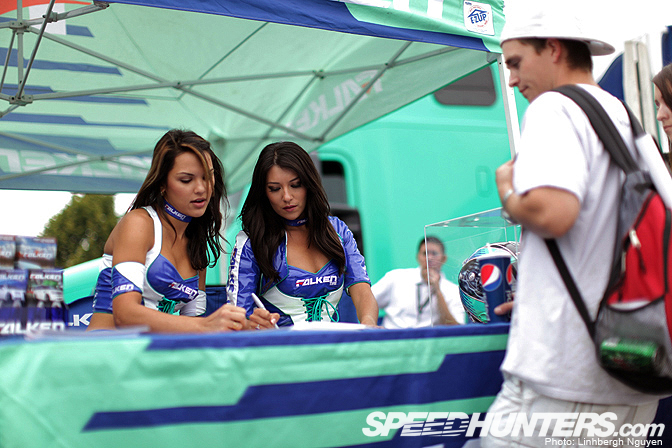 Most people want us to be more personalized when signing, so it is crucial that we write legibly and clearly.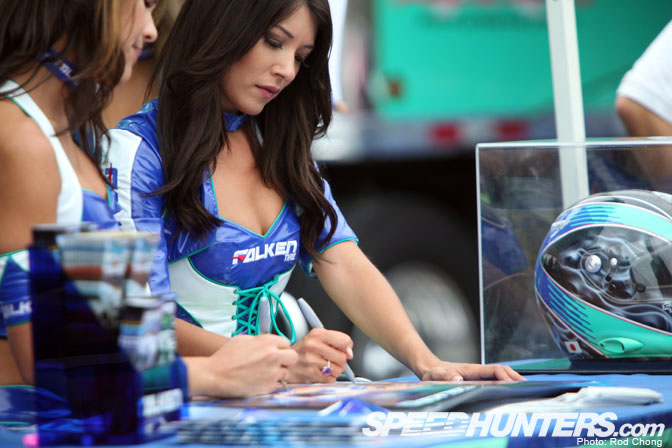 That's me in deep concentration making sure my penmanship is up to par. Next on the agenda is giving away merchandise! Love this part!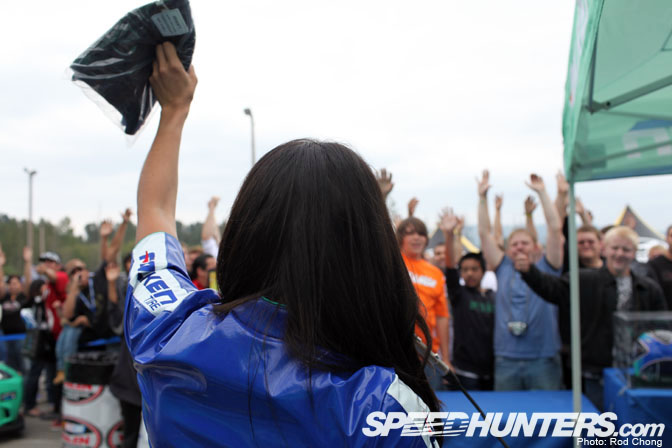 Of all the things we get to do as Falken models, I think this activity is my favorite. We do lots of giveaways, and the most amazing part about this is getting the fans all excited about the cool stuff we give out at these events.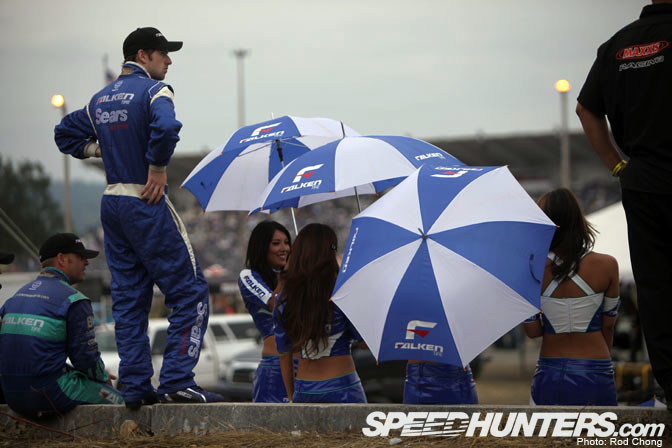 Ok 2:00 PM and the first round of Top 32 battles get underway. Unfortunately the layout of Evergreen Speedway is such that you can't really see the drift battles very well from the Grid area.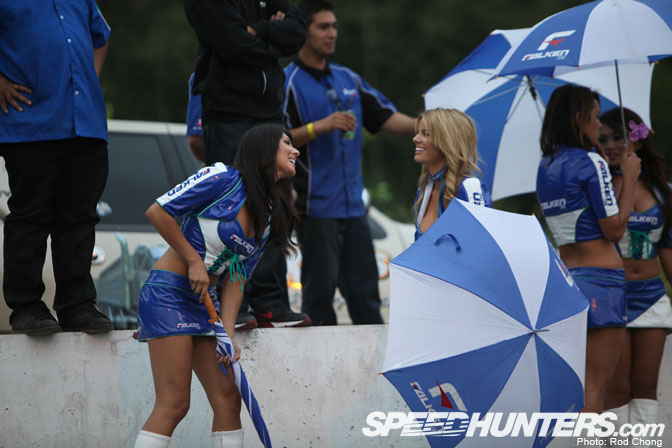 It's always nice to have three or four other models to work with because we joke with each other as well as our team to make light out of an otherwise stressful situation as we move through the Top 32 competition. And that's when the media gets really good photos of us!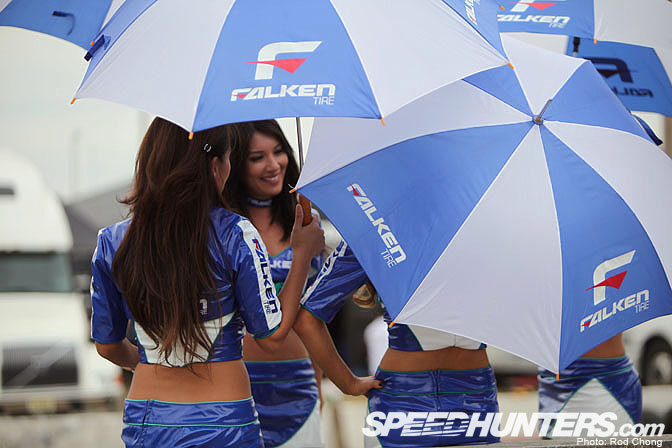 Here we were trying to figure out who did the best booty shake of the four of us! CJ takes the cake!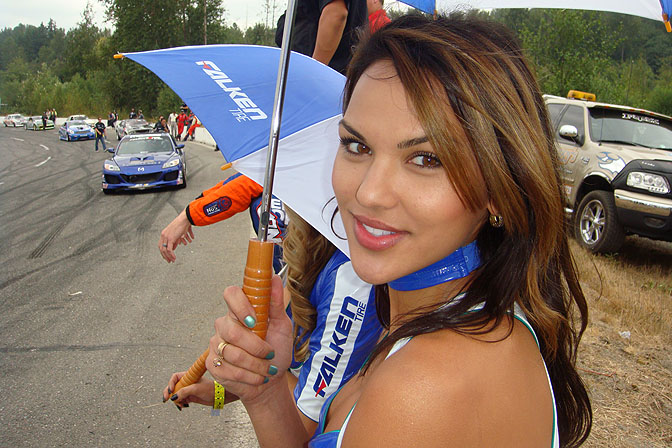 That's CJ, she said she was feeling crumby and ugly this day……. Ha! Yea right! Every photo she takes is like a Picasso. She's gorgeous! This girl walks into a room and everyone loves her! She's so entertaining, and if I'm having a bad day, she always makes me smile.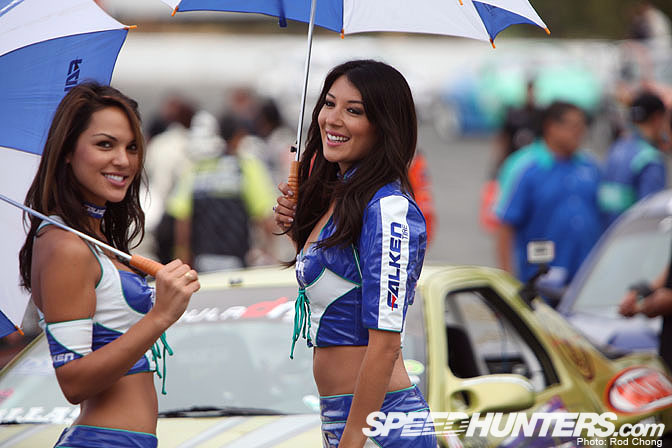 I love working with her because she really brings out the girl in me. It's always nice to work with someone that makes your day go by so much smoother. She's always happier than a bird with a French fry!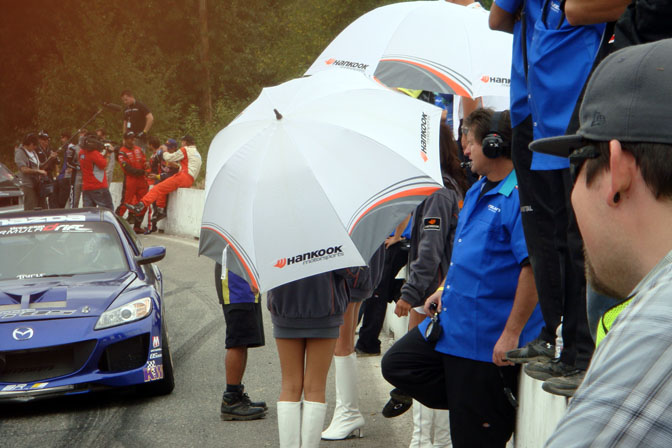 Often we get questions from people asking us about rivalry between teams, especially when it comes to the other models. However, as a Falken model we are religiously trained to be poised, hard working and respectful young ladies. We are always friendly with other models and we love checking out their uniforms!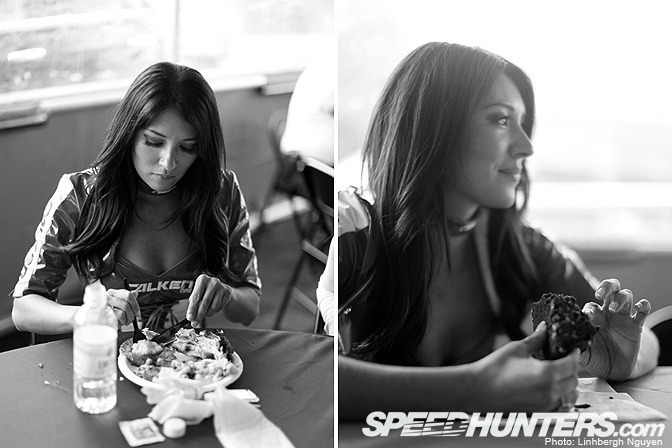 By this time it was around four or so in the afternoon and time for
me to catch a quick bite of lunch in the Falken hospitality area.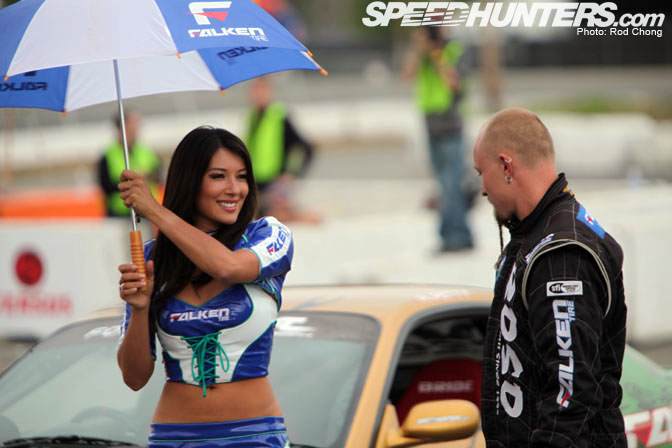 Okay time to get serious now and get back to work. Opening ceremony with Ross! It's about 5:30 p.m and this is where things get really interesting in my day….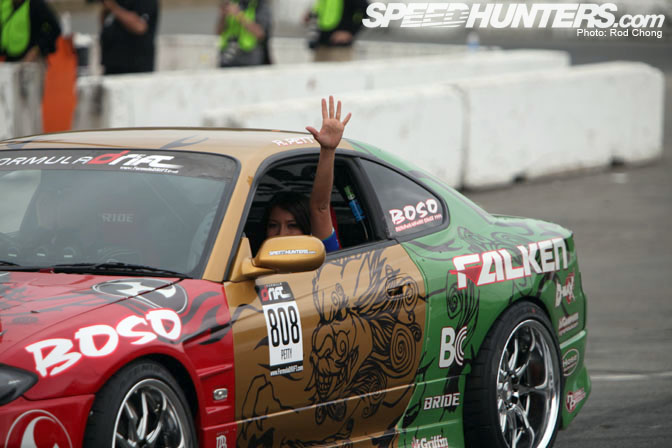 Working with Ross this year for the first time has really been amazing for me. He brings so much excitement and laughter into our team. There's never a dull moment with him. We've decided that for the next Formula Drift opening ceremony we do together we will have a nice little surprise for the fans! So stay tuned! You won't want to miss it!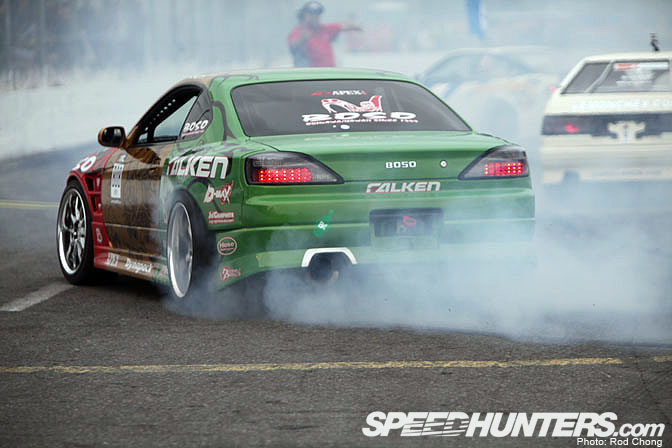 Here we had already been introduced to the crowd and we were heading off of the grid when Ross decides he wants to do donuts. At first I hated it, but then I loved it! And now, ladies and gentlemen…. The startup line! Rev it up!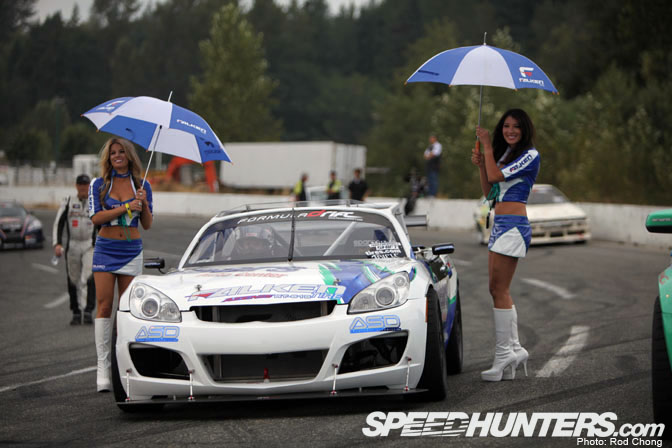 Typically we are expected on the grid before our drivers go out. We are there to motivate our drivers and to promote Falken Tire to the media as well. But mainly to show team spirit and make sure that our drivers are shaded at all times. Like I always say "It's not easy being cheesy!" It's crunch time as 6pm rolled around which means the start of the Top 16.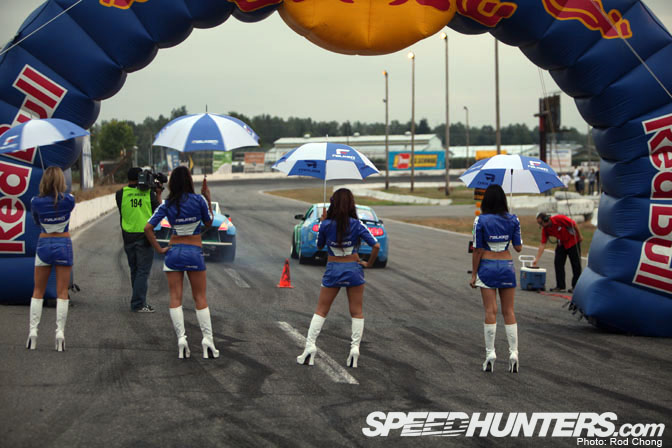 We always try to come up with new innovative ways to get the media's
attention. Well- we succeeded in this line up! It was a last minute
idea, but we decided to do this line up right before both of our
drivers Tyler McQuairre and Vaughn Gittin, Jr. were about to take off
from the starting line competing for 3rd place! I think we got more
press then they did! Mission accomplished ladies!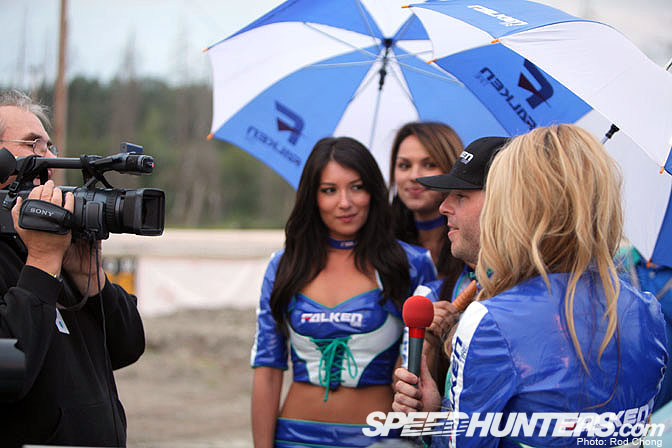 And of course our team makes podium! It's so much fun being part of the interview process with our drivers because they're so giddy and happy after they've placed in the top three. We are always present for every interview done by the media to show support to our team drivers.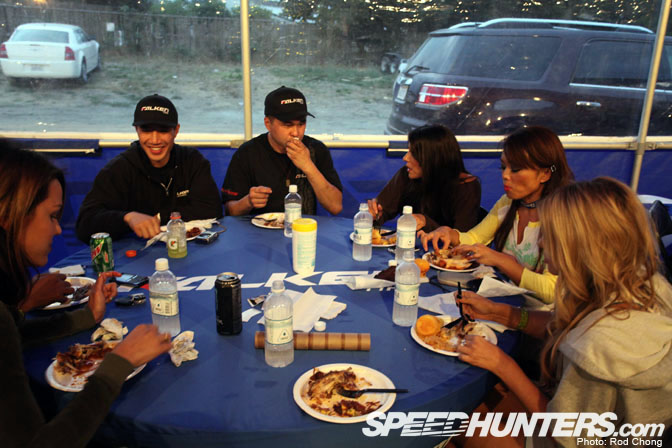 After this interview we're heading back to the rig for some good dinner!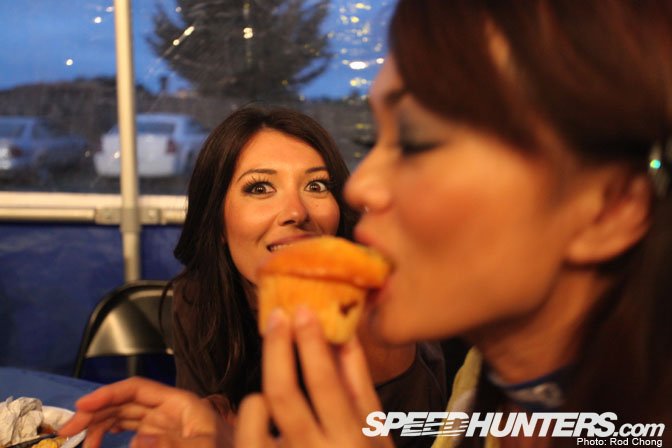 Every event that we do, Falken goes above and beyond to provide the team with excellent catered food for the events. That's Eri taking a bite of the amazing corn bread they had that day. Actually this photo wasn't meant to look like I was taking a bite of the muffin myself but it turned out looking funny! It's about 9:00 pm and we are just about pooped out for the day and ready to head back to our hotel room for some zzzz's. Full day and a full tummy……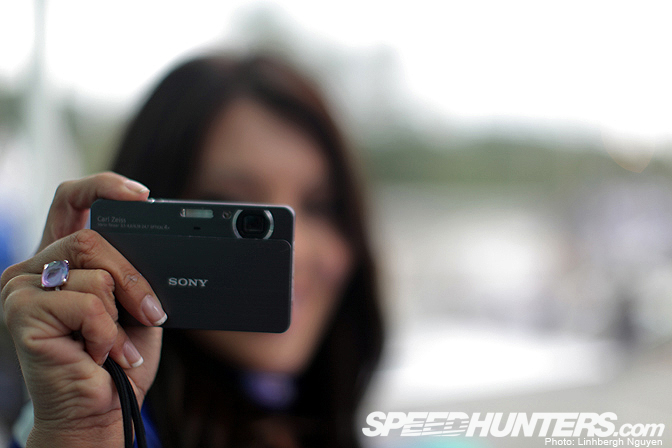 Thank you for joining me in this journey of a day in the life of a model. I am truly honored to have had this opportunity to share these experiences with you! Thank you to Speedhunters, Rod Chong, Linhberg Nguyen and all of the Falken family!
Mary J. Castillo
Falken Tire Spokesmodel 2009