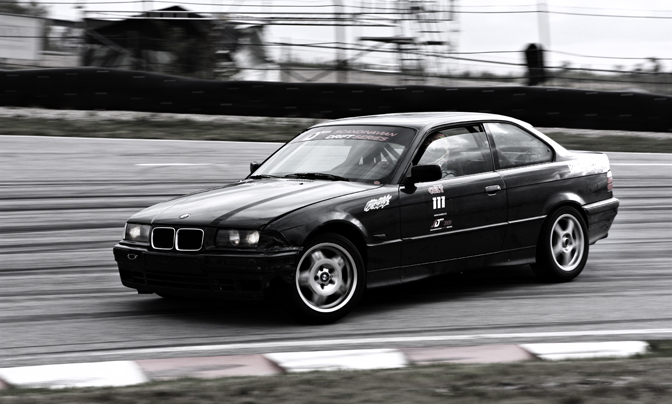 Hi guys, I'm Marc Pedersen and I'm a judge in the Scandinavian Drift
Series as well as having been a guest judge in several other European
drift series. Lately we held the finals of the Danish Championship and
the Nordic Championship at Sturup Raceway in Sweden. I believe that
Micke already covered this with a few pictures of the Nordic Series in an
earlier Speedhunters blog, so I'm going to try and show a few of the
Danish BMW's running in the series, as it's BMW month. All of the shots
seen here have been taken by our resident photographer Dyja, whom I
think does a really good job of pulling out and enhancing the artistic
elements of racing.
And just to clear things for the guys stateside. No, Denmark is not the capital of Sweden……
All pictures are taken by Dyja, who is
our official photographer.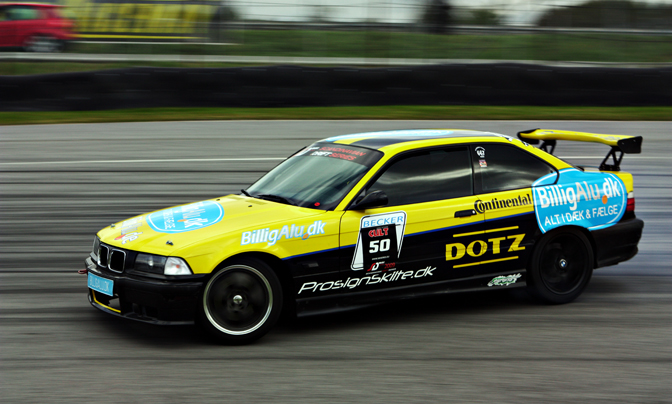 First off in the picture series is Niels Becker in his BMW E36 M3. His car is running N/A which gives him a very linear power delivery, but cuts him short on power when running on the faster tracks like Sweden's Sturup Raceway where we held the finals.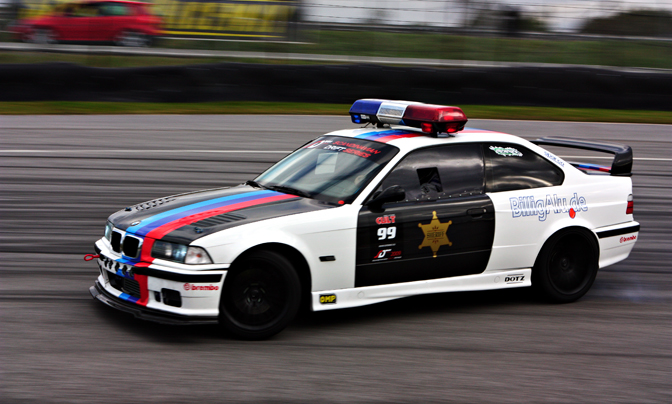 Aranga spent about a gazillion building up his M3, which I think is absolutely beautiful. I love the combination of traditional M3 Motortechnics colors, white E30 style paint, carbon doors, valance, hood and rear lid. His M3 runs a turbo the size of my head, giving power in excess of 500hp and a wonderful crackle on the overrun.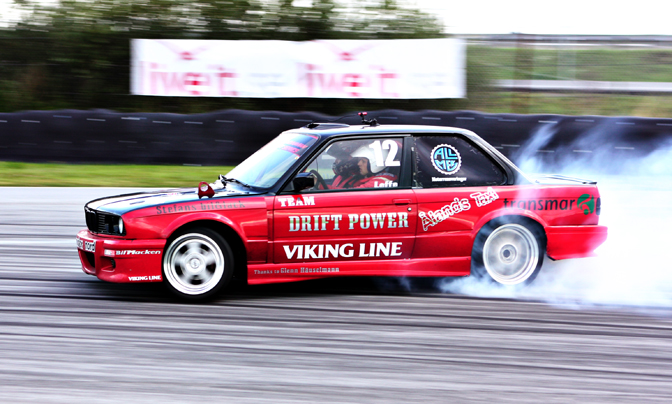 This young Fin was one of our guest drivers. Having over 700nm and a very, very well sorted suspension it could produce unbelievable Fredric Asbo levels of smoke. I think the only thing he really has against him is his age at 19. He gets so eager going into twins that he sometimes overcooks it and locks himself into a place where he can't get out. Experience will cure that.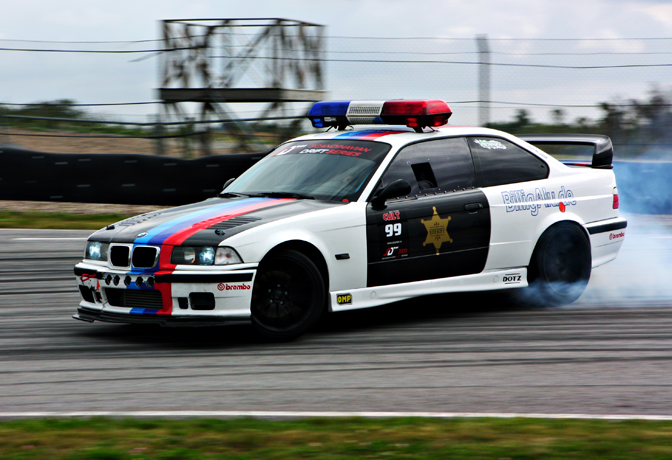 I just had to show Aranga's car again, this time just coming on the power as he is passing the apex. As a judge I like the show factor of the car and his willingness to take big risks for his driving level. Basically he just guns it, and then sees where he ends up. Either way it's spectacular.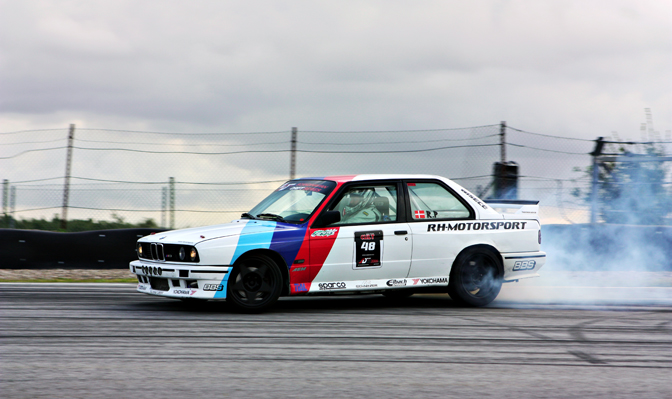 Champion of 2009. Rasmus Pedersen. Paddy McGrath put a picture up earlier of his car when it was running a V8 smallblock, but he swapped that for a straight six turbo configuration. With greatly improved weight distribution, Rasmsus constantly put in some of the fastest drifts of the season. The crowds just loved the sound of his engine and the mechanical symphony emanating from the exhaust while coming past under full power.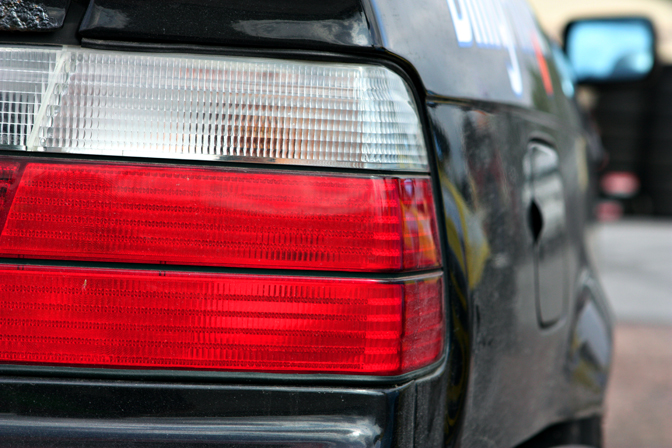 Functionality before show. These cars are just made to work. No fancy bling or DUB style here.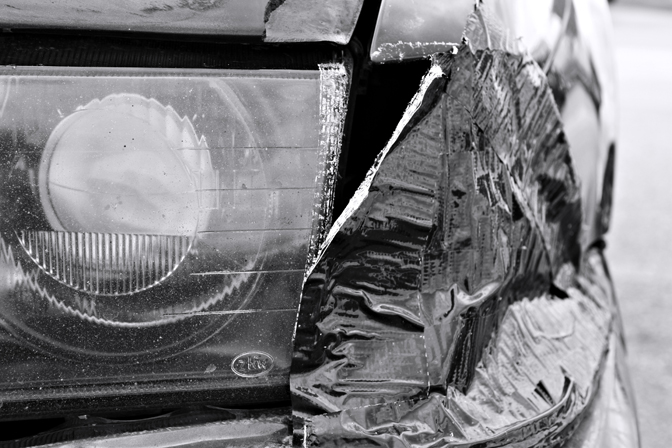 You just know that twin drifts are getting close when you start having to swap OEM side blinkers for tried and proven gaffer tape, due to a little rubbing.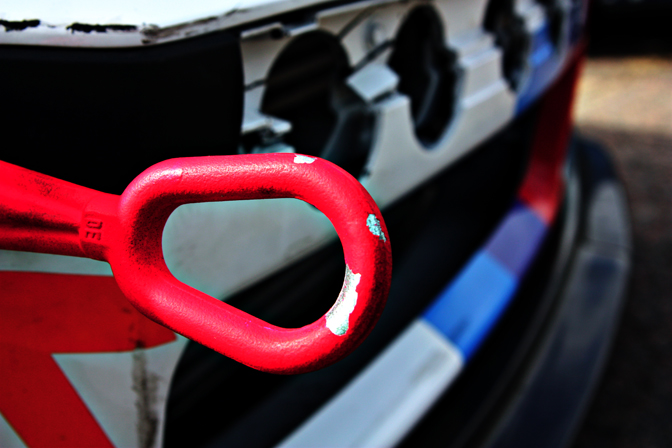 Signs of wear. Drag hooks get used. A lot. Where else are normal joes allowed to absolutely thrash their rides without being read the fifth amendment? Pictures like these just make me want to go driving.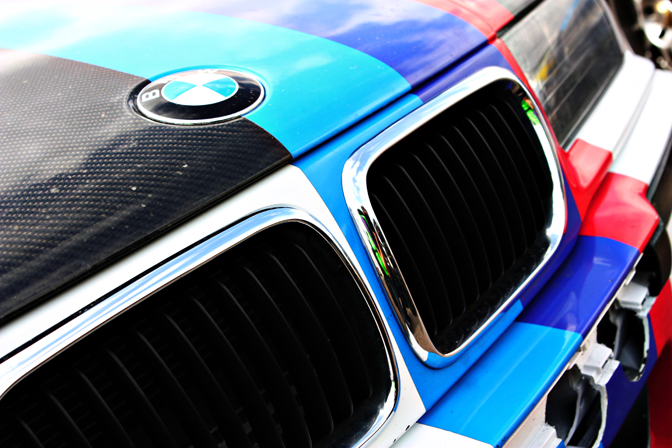 The E36 is hugely popular in Danish circles as they can be found dirt cheap on places like mobile.de and are pretty powerful from the get-go. It's just very important to make certain changes on the M50 and M52 engines to ensure that they have proper cooling as they are otherwise prone to become very unhappy during drifts with the engines bouncing off the limiter…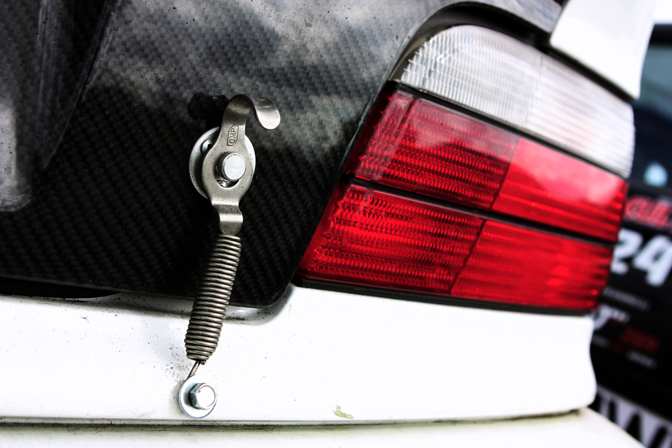 Quick releases are not obligatory for the rear, but hugely helpful in case of fires.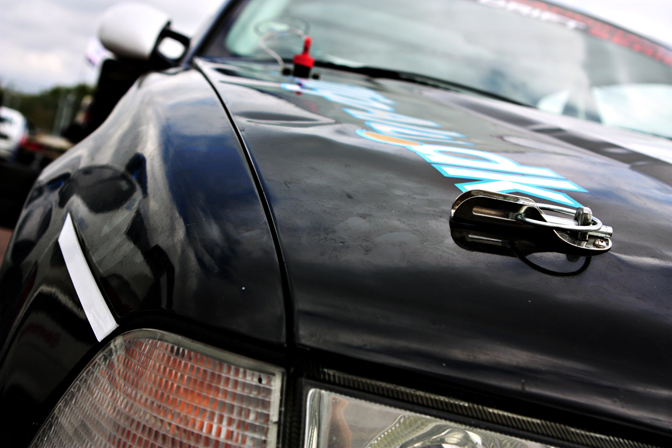 For the PRO class, the standard lock has to be disabled and an external cut-off is absolutely necessary in case of engine fires.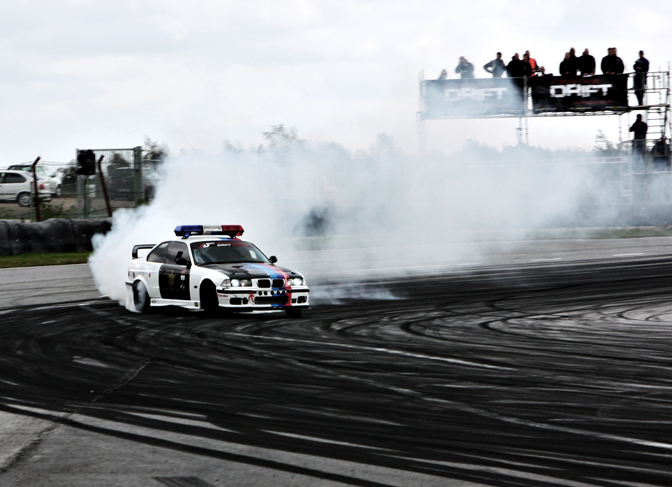 Still piling on the power, it's easy to see from the smoke where Aranga started pushing out of the corner. This car is really loud, making your ears go pop if standing to close when unburnt fuel explodes as a result of the rev limiter.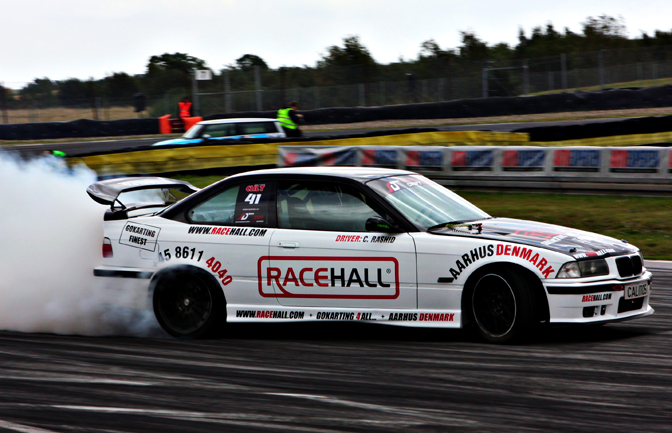 Carlos Rashid is one of those amiable guys that everybody likes. Always carrying a smile I don't think anybody can put a finger on anything he says or does. He also rebuilt his E36 with over 500hp in turbo spec and doesn't as much feed the car into the corner. He flings it and at the first chance, he absolutely nails it.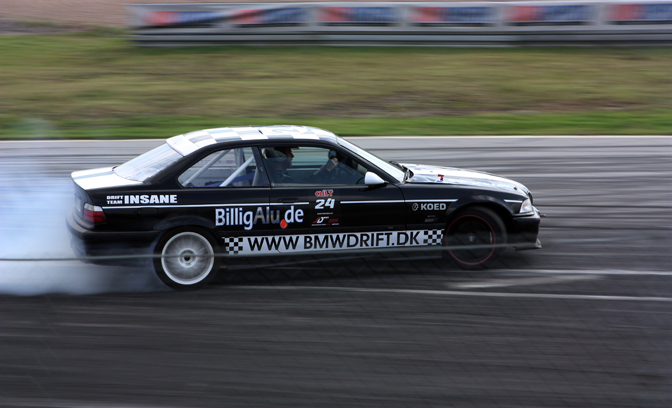 David is also a very talented driver in his N/A spec M3. For a real race track like Sturup, speeds were just getting so high that he was running full throttle on the limiter to try and keep up with the turbo guys. He did very well considering his 200hp + deficit.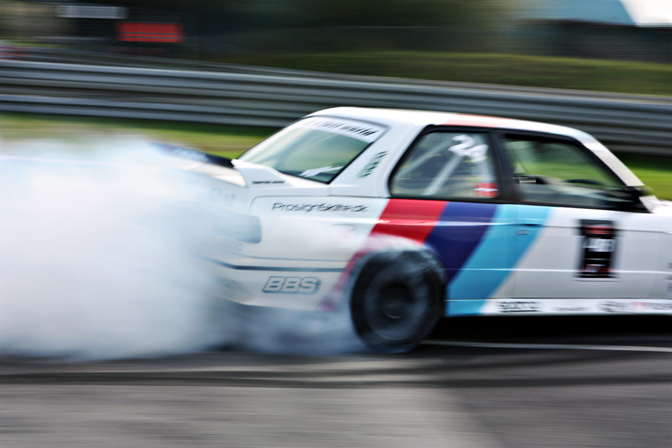 Rasmus tires never seemed to last very long….Once he shifted into third or fourth, the tires would spin up so fast that he would lay out a thick smoke screen just several feet from initiation. Having grown up with E30's and 2.7 liter ETA blocks, it's an absolute pleasure to see just how fast these BMW's can be made to run.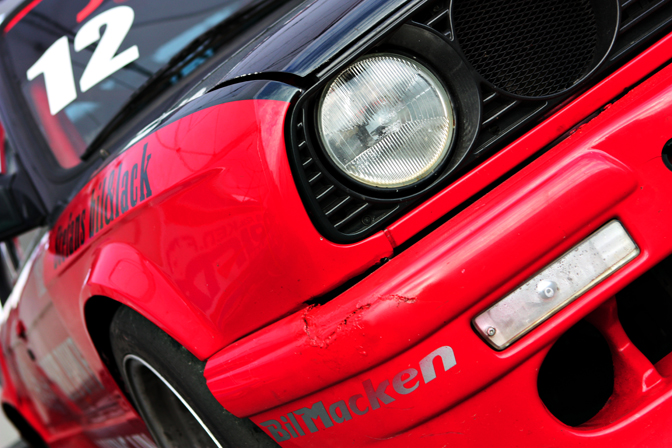 Long lights are removed to force as much cool air in as possible. Having loads of torque the straight six engines from Munich weren't really built to be running above 5700rpm all the time. Despite very serious modifications, it's still very important to have them working below redline engine temperatures.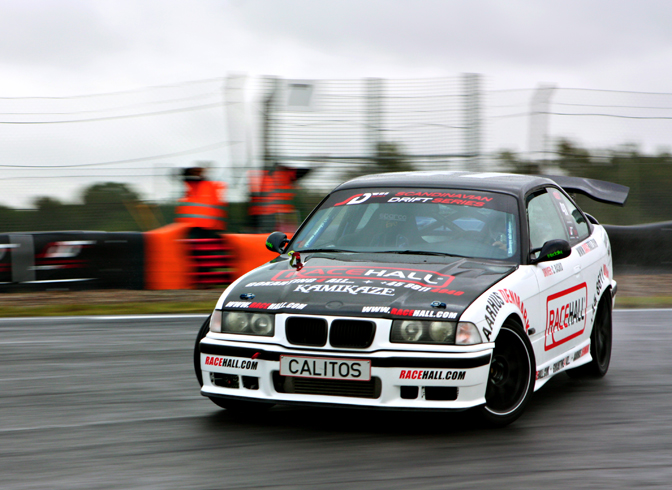 On the second day running it started raining. A lot. Funny thing, some of the PRO drivers ignored this fact and came in with entry speeds just 10-15km/hours below dry run speeds, causing some spectacular, buttock clenching moments for spectators. Already focusing on the exit, Carlos shows some of the qualities of a PRO driver, having planned his drift far ahead.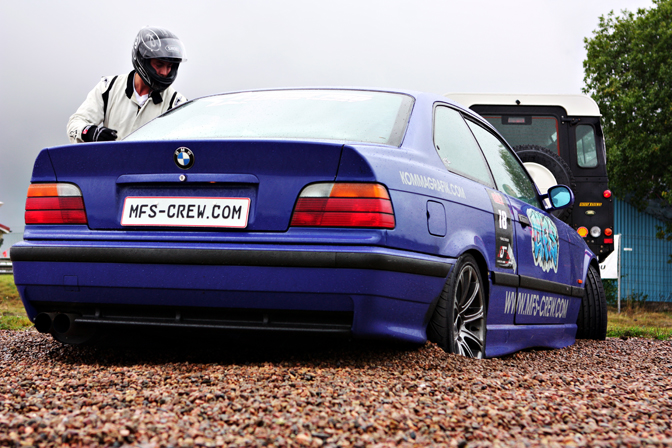 Robert Jensen is probably best compared to the late Colin McRae. Aware that he was slightly screwed on power with his N/A M3, he continued the entire weekend with his absolutely do-or-die entries. His drifts were highly dependant on the cars own inertia as he didn't have the power to drag it around fast enough. Get the speed just right, and you would think he was running a boosted car. Get it wrong and he would have no place to go…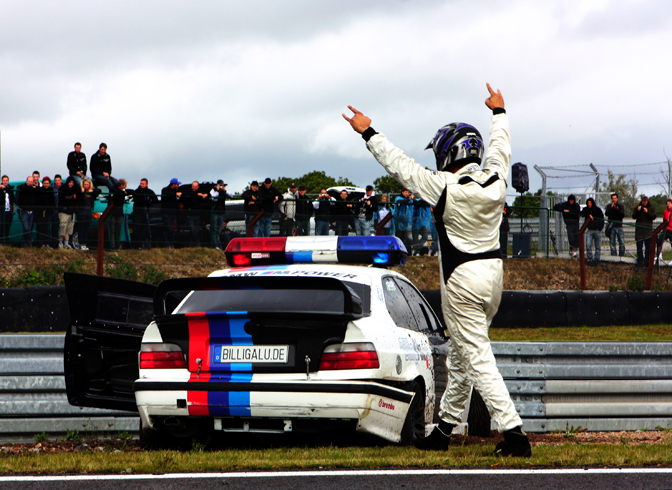 This picture shows a muddied car and Aranga showing real spirit. The guys were to line up the cars before twin battle commenced and he overcooked it trying to put on a good show for the crowd. Absolutely unfazed, he just got out and did his version of a southern states yeehah before getting ready for the twin runs.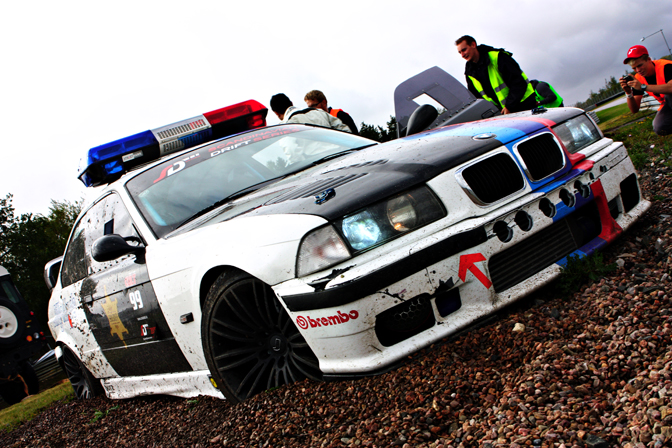 Just before getting towed out. The gravel pits were able to stop the cars real fast as they dug in with the wheels.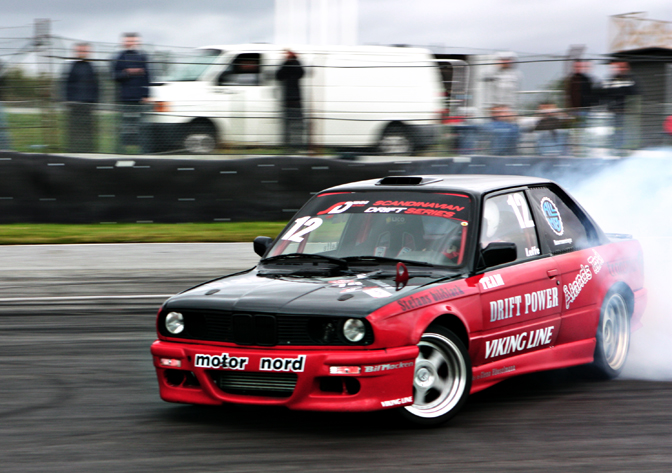 Not even on full lock yet, the E30 is starting to put out big amounts of smoke. On a damp track. Impressive.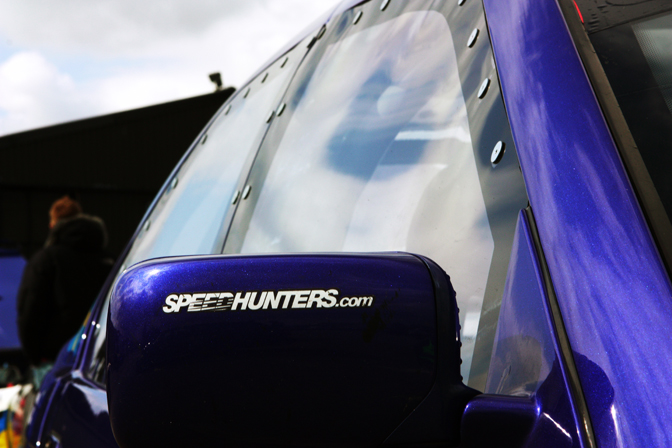 Know this site?
Thanks for reading!
-Marc Pederson