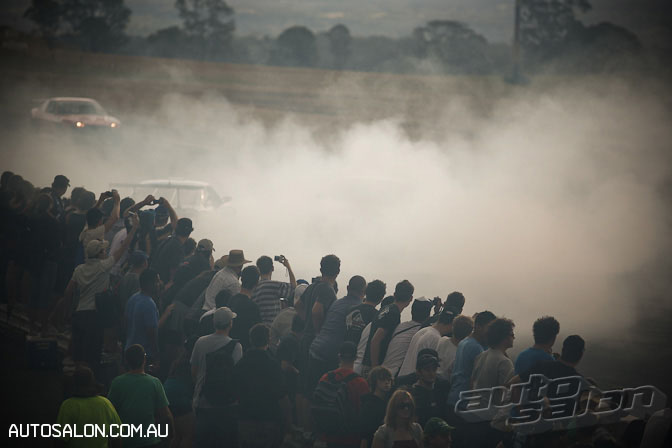 In many ways 2009 has been an interim season for the Australian car scene due to management changes within some of the key event companies. Drift Australia – our national drift series – was one such company, with Ninety Degree Entertainment acquiring it towards the end of last year. Although the full national series will return in 2010, it was announced early on that there would only be the one Drift Australia event (entitled Drift Nationals) for this year. 
The 2009 Drift Nationals would also be the last DA event to be held at Sydney's Oran Park circuit, which will be making way for housing developments. It's definitely a sad moment, as Oran Park has long been one of Australia's most popular tracks due to its challenging layout.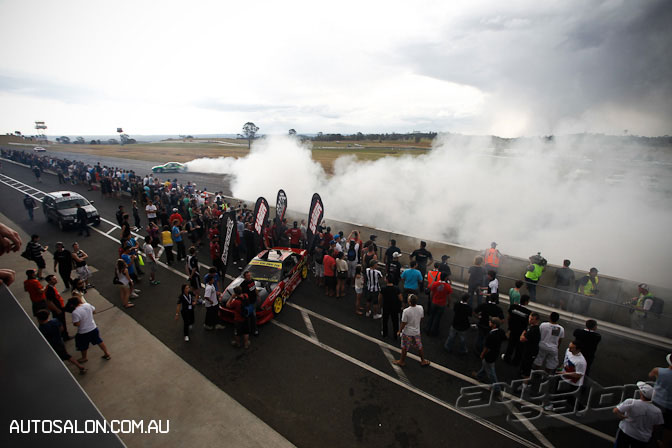 By all accounts the event was an absolute success, with some mouth-watering grudge matches and plenty of on-track drama. But that said; this year's race probably isn't an accurate reflection of the caliber of drifting in Australia, as more than a dozen of the country's best drifters weren't competing. The absences were primarily due to sponsorship difficulties (a combination of 2009 not being a national series as well as the global financial crisis), but most of the teams we spoke to confirmed they would be back bigger and better in 2010.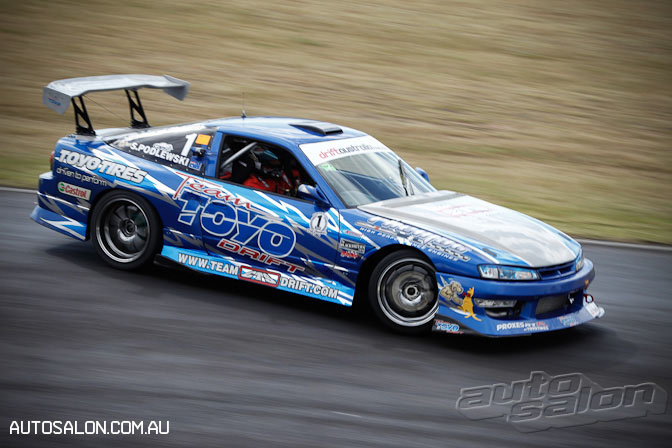 One of Australia's highest profile drift cars is the Toyo-backed Nissan 180SX of Team CTS. Having been campaigned for several seasons, Team CTS have developed into a formidable opponent and were also selected as one of the three teams to represent Australia at the 2007 D1GP All-Star World Championship. This year the 180SX has been rebuilt and fitted with a Hollinger sequential transmission.
Last year, with Leighton Fine behind the wheel, they were crowned the 2008 Drift Australia champions after a nail-biting finale. Fine and CTS went their separate ways at the conclusion of the season and drift newcomer Simon Podlewski was awarded the drive for 2009. Although some questioned the driver choice – Podlewski had only competed at state level prior to this race – they've been proven wrong by a very impressive performance.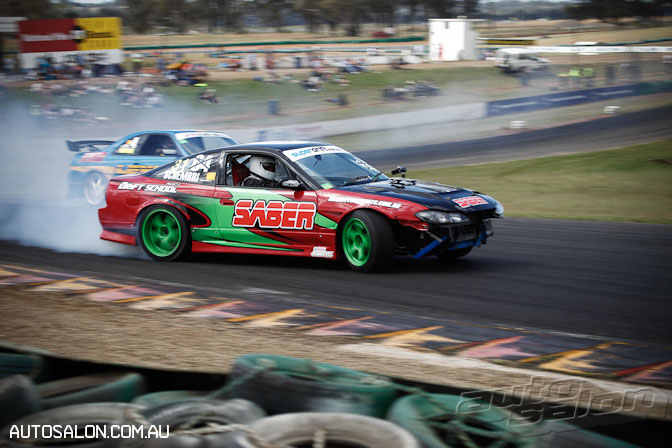 For the past two seasons our magazine, in conjunction with Industrie clothing, campaigned a drift car driven by Fernando Wiehrl (those those who attended the 07 D1GP All-Stars will remember it as the chrome-bodied S15 that beat Imamura). Since we didn't take part in this year's event, Fernando had converted an R32 GT-R circuit car into a drifter specifically for this race. Unfortunately issues with its turbo setup meant Ferds instead had to compete in a borrowed 180SX. Despite the last minute swap, he was immediately on the pace primarily because he used to own this particular car (and finished 8th in the 2006 championship with it). This year Fernando was knocked out by Adam May's R33 Skyline.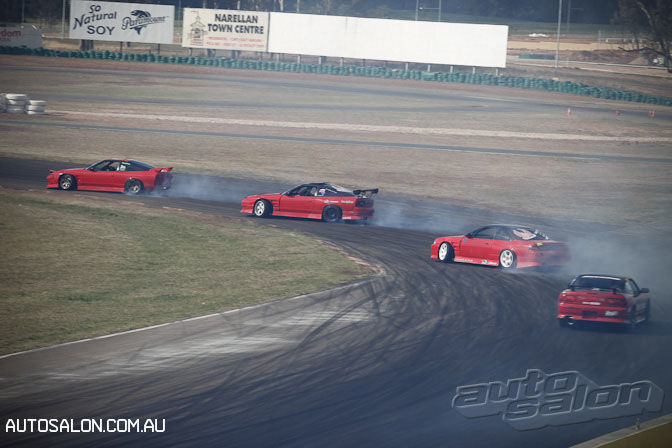 One of customary sideshows during a Drift Australia event is the team drift competition. Here's the 'Insane Drifters' team in action. They certainly lived up to their name!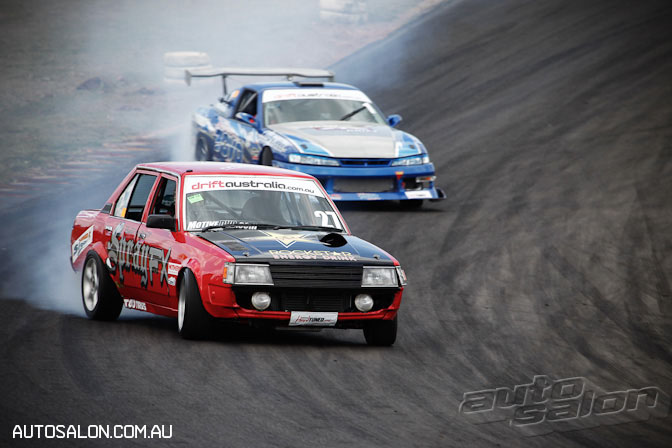 During one of the practice sessions there was a major accident involving Jake Jones, Simon Podlewski, Fernando Wiehrl and Jason Greenwood (amateur video of the crash can be found here. Sadly the damage to Greenwood's old school Corolla was quite extensive. It's a shame as the crowd loved seeing the KE70 in action.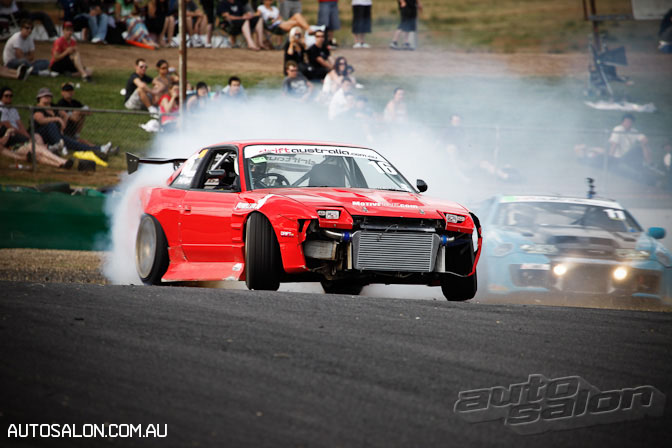 After repairing his Onevia overnight, Jones returned on race day and put in a fantastic performance, eventually finishing on the podium in third place. Having made the jump from Australia's Super Drift 'feeder' category, it's fantastic that he's had success in his first race at the national level.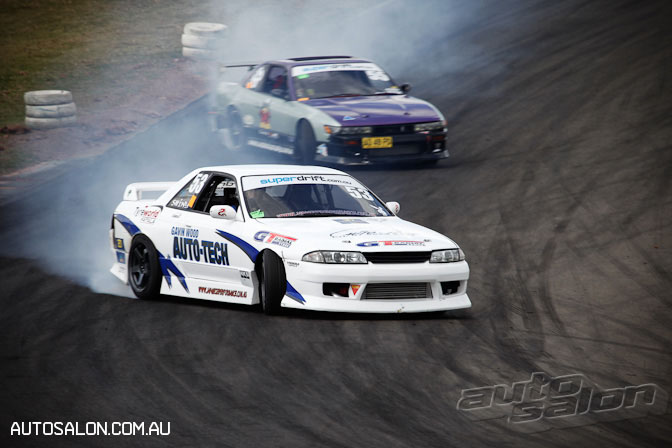 The cars competing in Super Drift tend to be a lot tamer than some of the weapons you see in Drift Australia, but the feeder class has proven to be a worthwhile stepping stone for drifters hoping to break into the top category.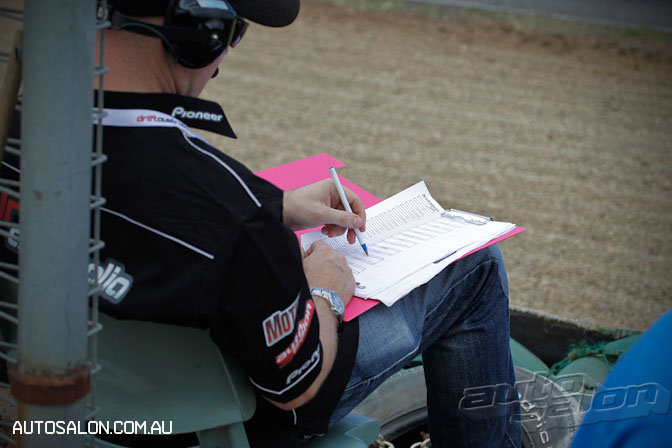 Drift Australia judge Kristrian Appelt found himself a unique vantage point on top of a tire wall.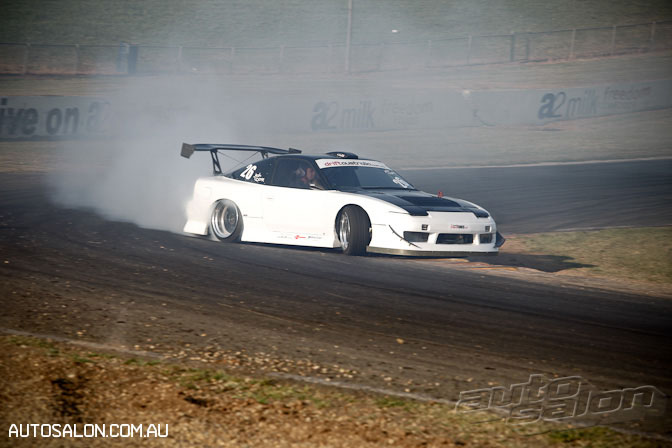 One of my personal favorites was this wide-body 180SX owned by Josh Coote. Interestingly Josh's father, Murray Coote, is the suspension guru who setup the Hi-Octane Racing R34 GT-R we showed on Speedhunters a couple of months ago.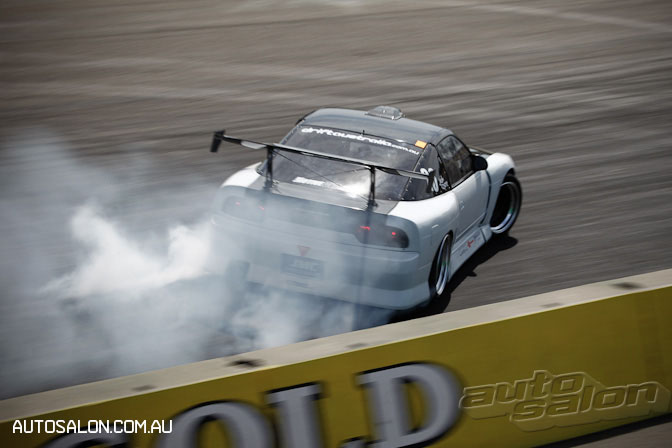 And here is Josh Coote hanging the 180SX out on the main straight.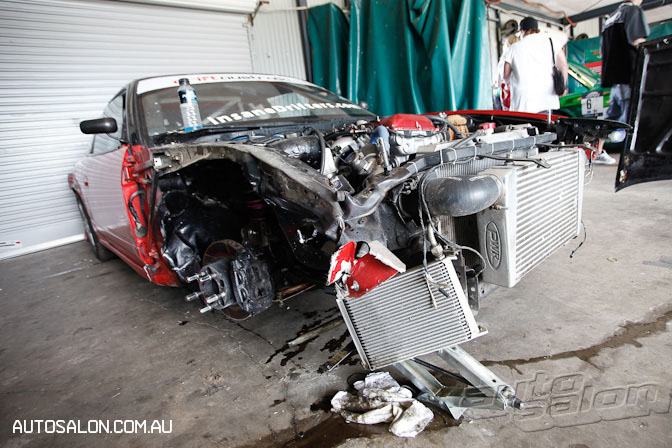 Oran Park is definitely a daunting track. Thanks to a combination of high-speed corners, undulations and small run-off space, there have been some mighty crashes at previous drift races. This year's event was no different.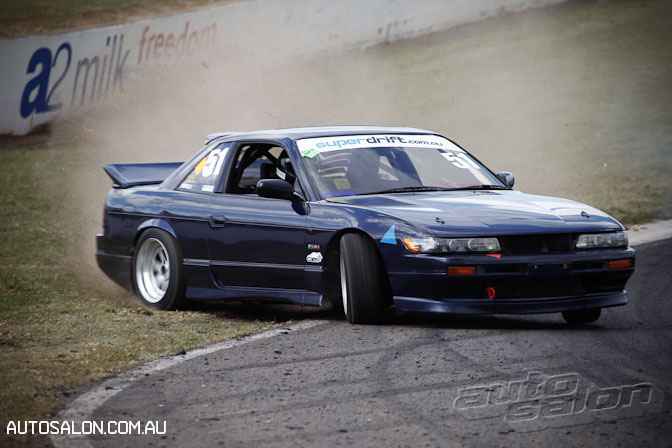 S13 Silvias are certainly abundant in Australia thanks to affordability and vast aftermarket support. They still look great when modifications are in keeping with the classic, '90s period style!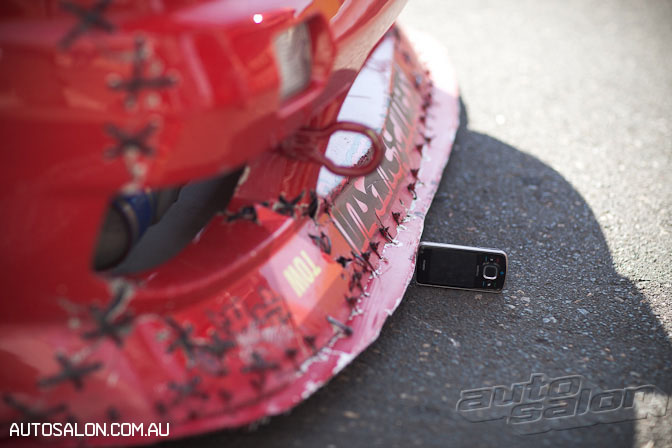 There's always going to be some battle scars when you mix ground scraping body-kits with drifting. Whoever stitched this bar back together must have a lot of patience.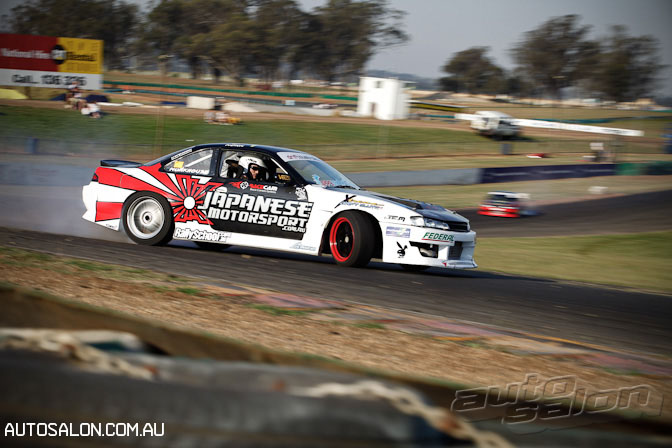 Driving the Japanese Motorsport S14 is Jack Monkhouse. When he isn't drifting, Jack can either be found doing stunt driving for Toyota or competing in rallying.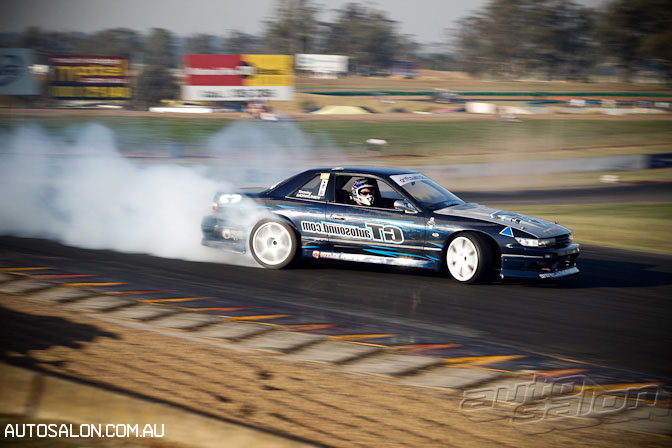 Jack Monkhouse's brother, Tom, also drifts at the national level. For this event he piloted GT Autosound's S13, which made the 1000 mile trip from Adelaide to Sydney.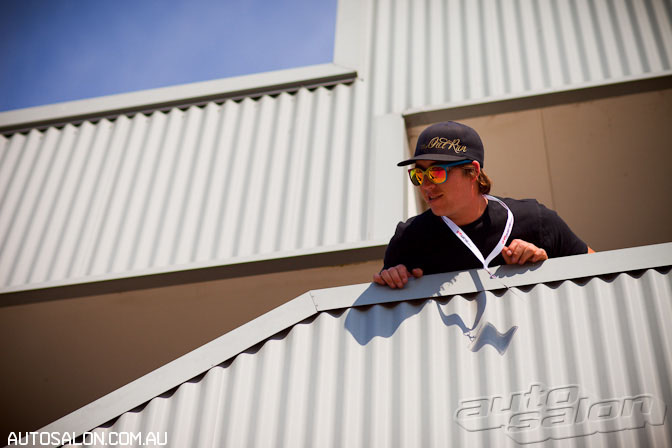 Luke Fink, a former BMX world champion, is one of the Drift Australia's most popular drivers. If you've ever seen his balls-to-the-wall driving style, you'll understand why he has such a massive fan base. Here he is surveying the action from above the pit-lane.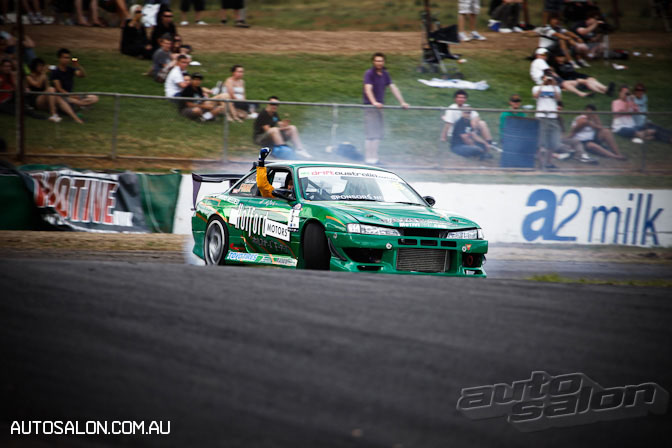 Fink currently drives the Holford Motors S14, an ex-drift car from Japan that has been further modified. Last year they came tantalizingly close to claiming the championship, eventually losing out to the Team CTS 180SX (then driven by Leighton Fine).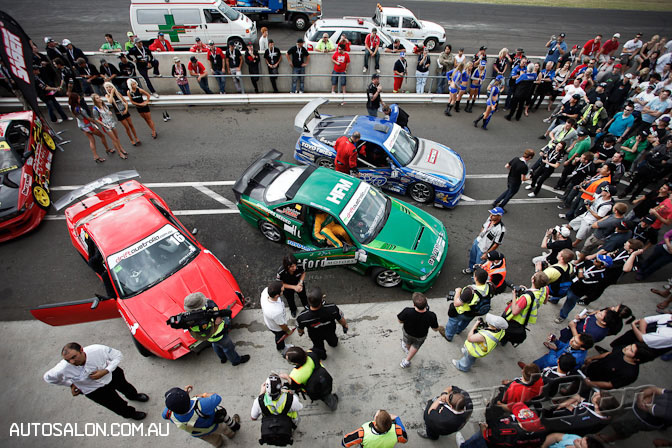 This year's Drift Nationals race reignited last season's David Vs Goliath battle, with a mouth-watering final battle between Fink and CTS' new driver Podlewski.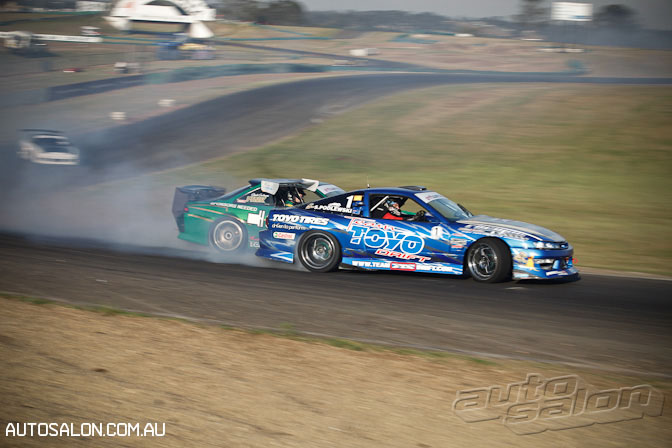 The tandem battles were closely fought affairs. The pressure from Fink caused Podlewski to spin on the last run, robbing him of the chance to make a fairytale debut.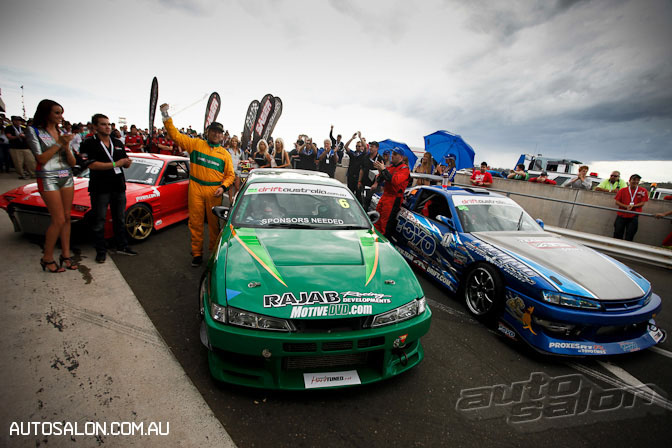 The victor was Luke Fink! As you can see by the windscreen decal, Fink's Holford Motors team are a small operation. However they certainly aren't underdogs out on the track!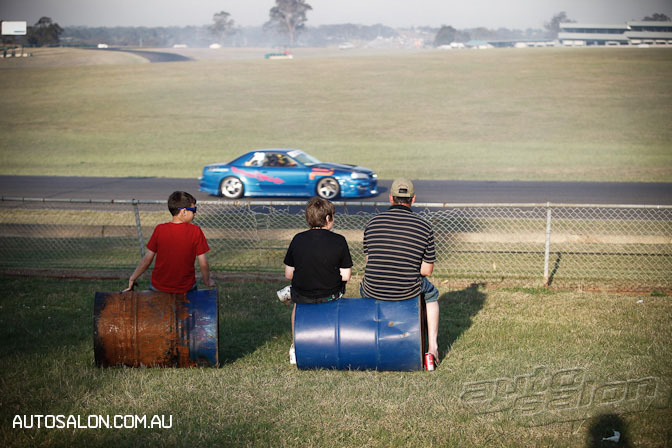 The majority of spectators tend congregate at the course's final turn, which is at the opposite end to the pit-lane. This is the ideal vantage point at Oran Park as you're close to the action. However it's not uncommon to receive a shower of gravel whenever drivers drop a wheel into the last corner's kitty litter!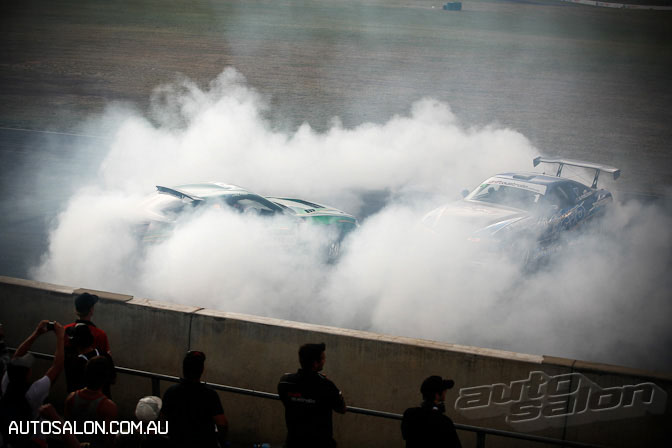 Tandem burnouts were in order after the victory celebration! Next year's shaping up to be a massive year for Drift Australia and there are already plenty of rumors circulating regarding some serious car builds. We can't wait!
Words by Charles Kha, Auto Salon Magazine
Photos by Mark Pakula, Auto Salon Magazine