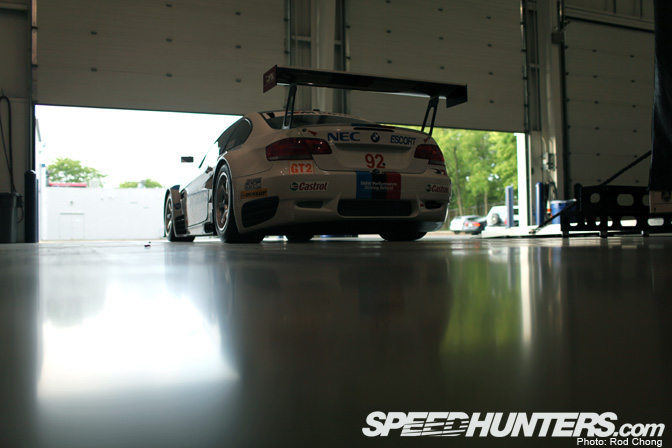 Well BMW Month seems to be off to a good start huh? I'm pretty excited about what's in store for the site for September but am also a bit stressed out by how much work there is to do!… Oh well… All part of the game I suppose.
For my first proper BMW feature I thought I'd take you on a quick tour of Rahal Letterman Racing, the team that runs the two M3 GT2s in the American Le Mans series.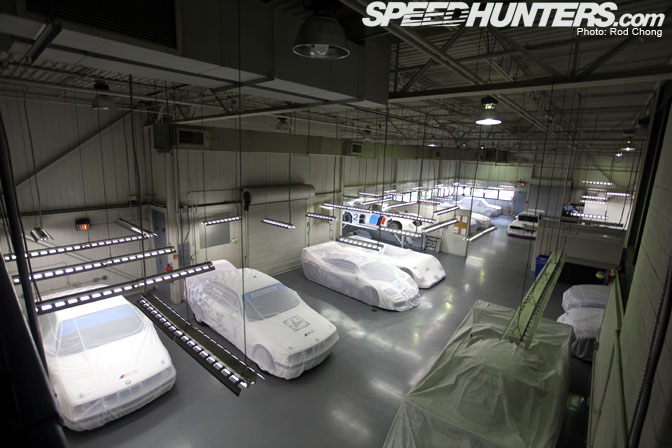 Based in Hilliard, Ohio, RLR is based out of a whopping 60,000 square foot facility split between two buildings; one built in 1984 and the other in 2001. In this picture, you can see the main garage area of the original building, which previously housed the Truesports Indy Racing team. It now acts as a storage, maintainance and restoration area for the BMW North America Mobile Tradition race car collection.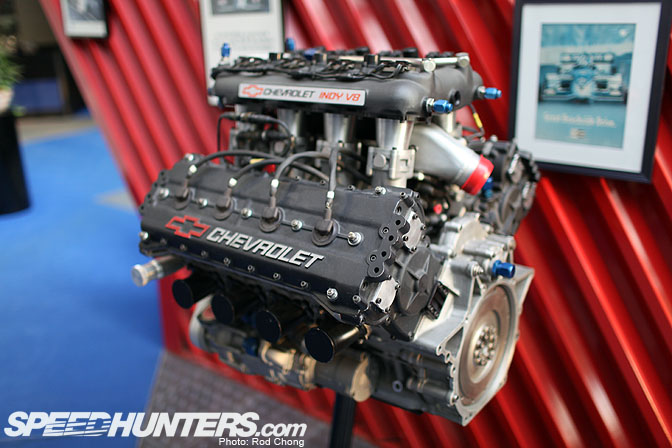 Although my interest in RLR was sparked when they started racing the ALMS BMW M3 GT2s, the various iterations of the Rahal racing teams have a long history in CART and Indy cars. Everywhere you look in the facility, you see evidence of this, from the memorabilia hanging on the walls, to the race engines on display in the reception area. This is an Ilmor/Chevorlet Indy engine… a very famous powerplant in the history of Indianapolis.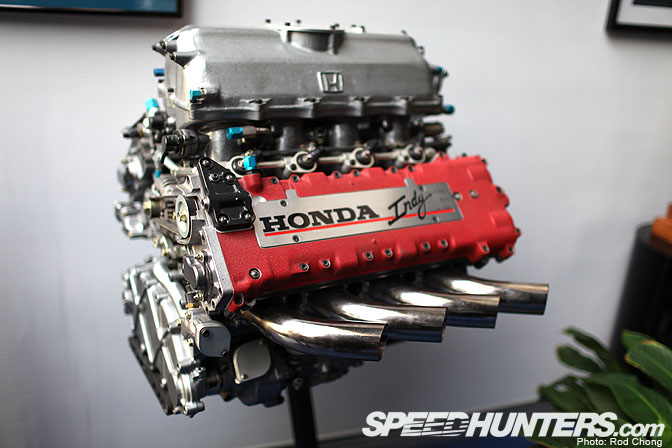 Interestingly, it was Rahal who debuted Honda to the Indy car series back in 1994…. these turbo engines powered some of the fastest racing laps in the history of motorsports.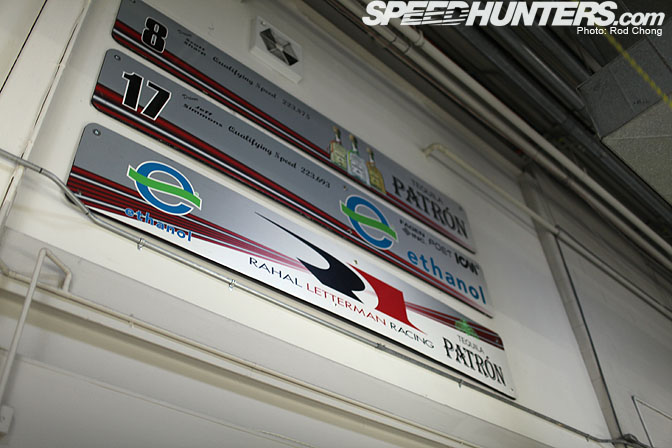 Hanging on one of the garage walls are some particularly cool bits of automobilia: they're the signs which were once used to label the Rahal Letterman Racing pit boxes at Indianapolis.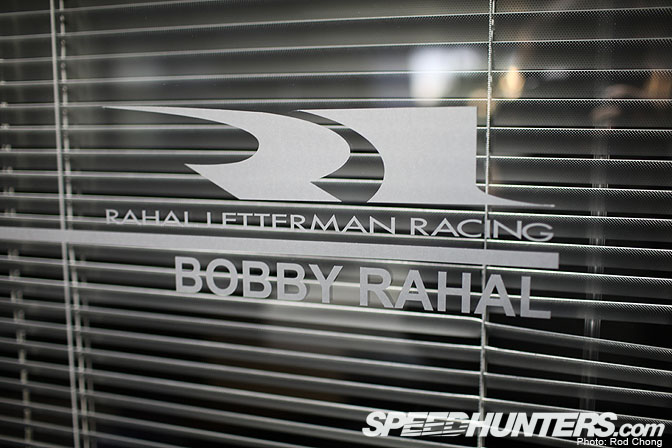 The office of the man himself…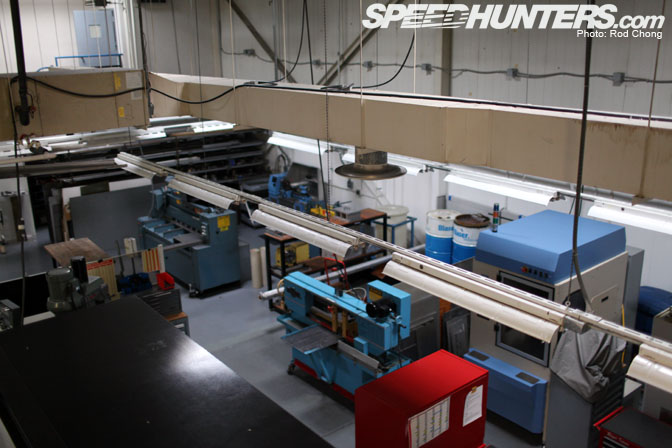 This is an overhead shot of the machine shop…. One of many different rooms at RLR.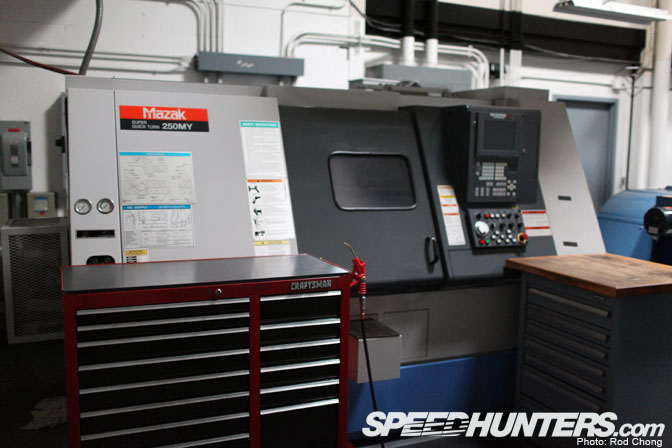 It's possible for the RLR team to machine practically any automotive or tool component in this shop… Indeed they once designed and built their own Indy car chassis in house.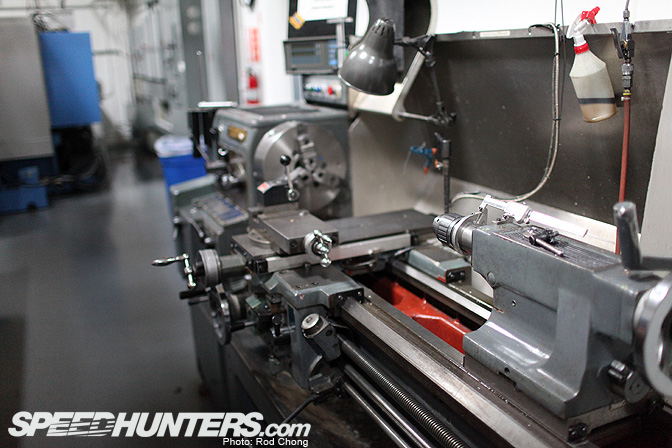 … But as RLR isn't running a full Indy car program in 2009, the facility is a little quiet compared to yesteryear.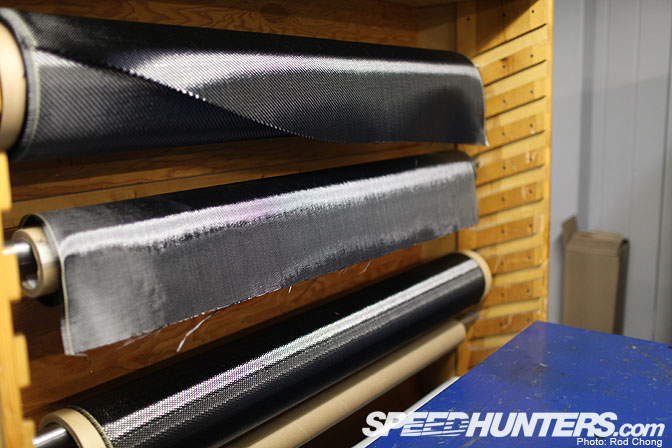 RLR also has its own carbon shop as evidenced by these three different types of carbon weave… Anyone care to take a guess at the differerences?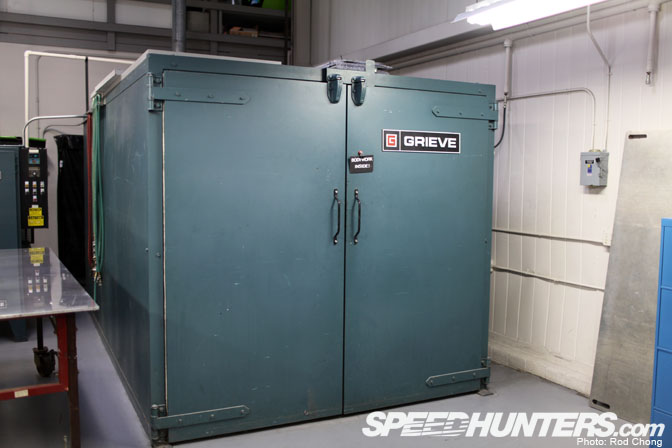 On the other end of the carbon shop is this oven which is used to bake carbon fiber components…. this is different from the autoclave system we saw as Pagani in May as it doesn't create pressure, only heat.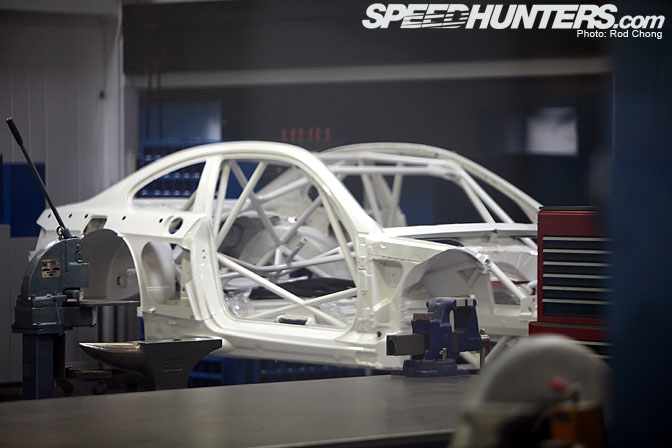 Through a window to another workshop we see this special chassis.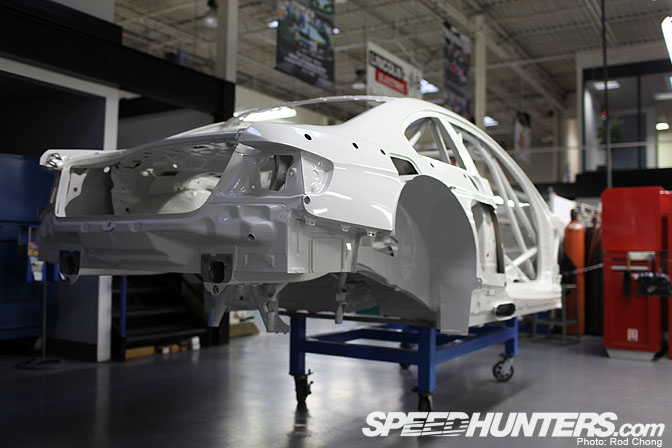 It's a third GT2 spec E92 shell, recently delivered to RLR by BMW Motorsport in Germany, for build up into a complete race car. Note the mini tubs and how the original rear quarter panels still exist under the carbon fiber wide body panels.
You can also see the mounting points for the rear transaxle setup… I bet this shell is worth a pretty penny or two!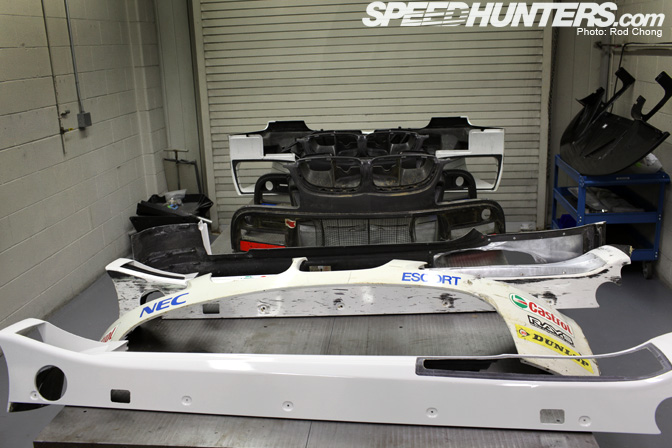 In yet another room, we see a stash of damaged M3 GT2 body parts from a previous ALMS race. It seems like the drivers think they're racing touring cars rather than sports cars!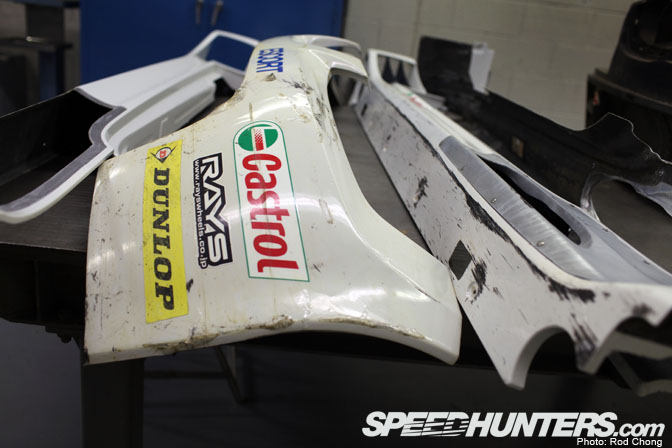 Some of the parts will be repaired and repainted while others will be disposed of.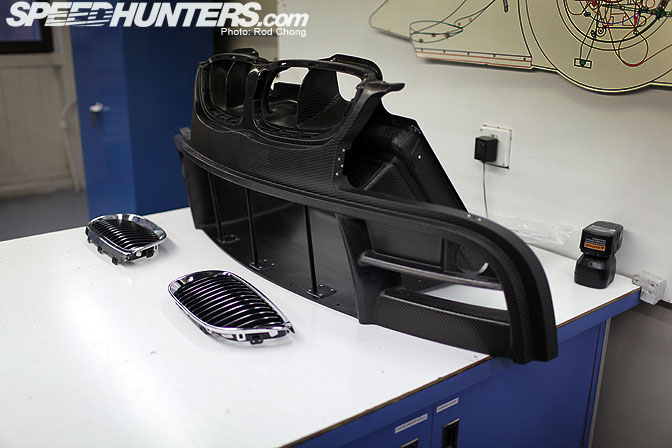 Given the amount of pushing and shoving in the hotly contested ALMS GT2 class, RLR have had to strengthen the front airbox area with these three vertical beams. This at least allows a little bit of bumping to occur without the need to pit for repairs.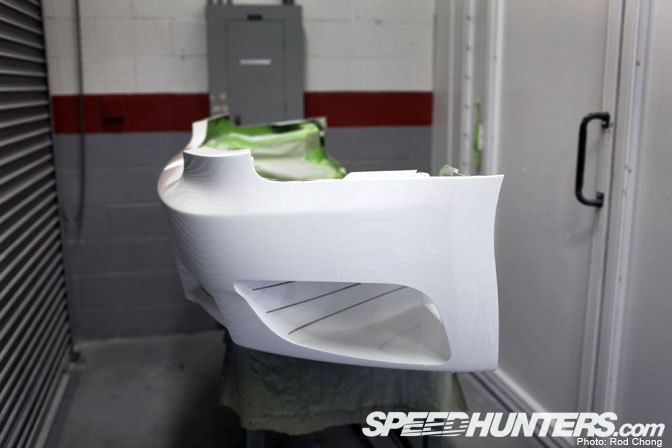 This rear bumper section had just been repaired and repainted and was ready for stickers. It's actually a full time job for someone to keep all the body panels on the car repaired and painted between ALMS rounds!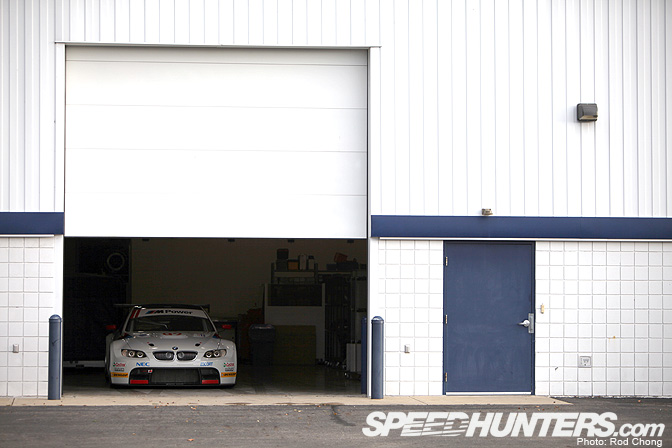 One of the ALMS cars was waiting to greet me as I walked over to check out the second, newer building at Rahal Letterman.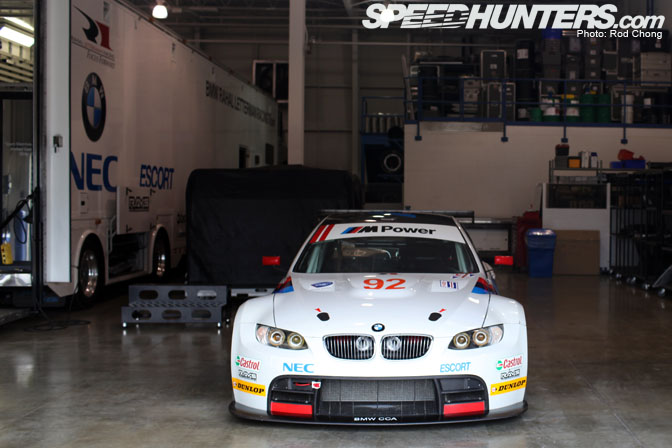 Check out just how large this space is… I'd even call it a hangar as it easily fits two race-equiped semi-trailers/lorries.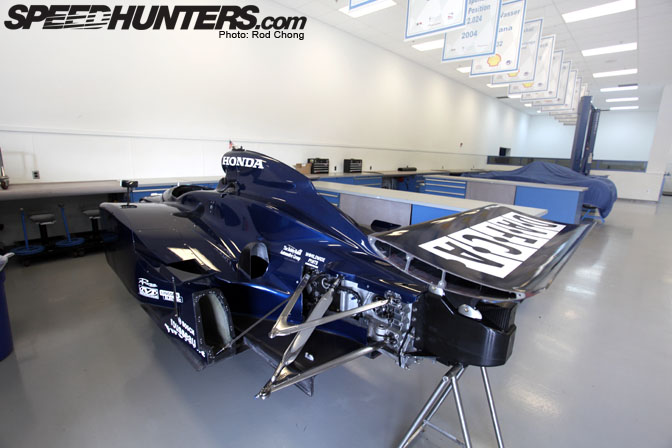 Next door is the race shop which has room to house up to eight chassis. Note how clean and tidy the work areas are. There's not a spot of grease or even a stray tool to be seen! I don't normally associate such clean, sterilized environments with racing shops!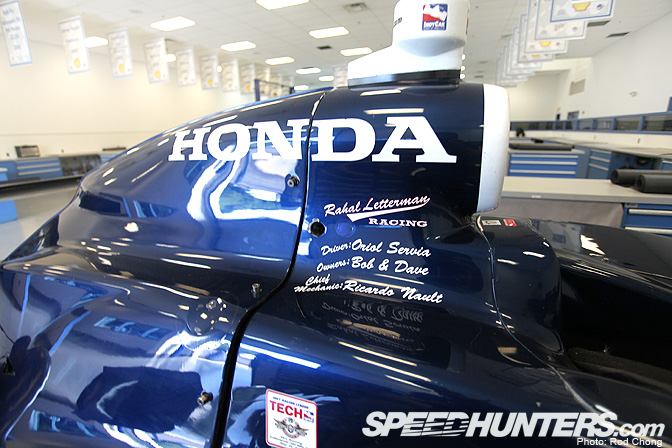 BTW, this is one of the IRL chassis RLR campaigned at Indianapolis earlier this year. Indy racing is part of the core DNA of this operation and they are eagerly looking for a way to get back to full-time participation in the IRL.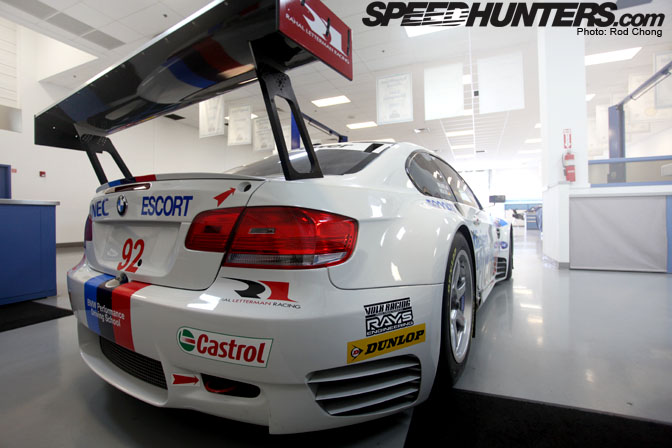 In the meantime, though, the BMW ALMS campaign is a pretty choice gig.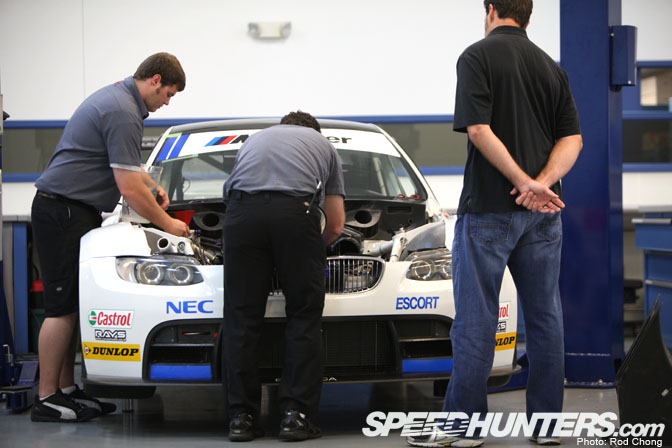 The second BMW chassis was undergoing a last minute radiator change before being loaded onto the truck for the Mosport ALMS race.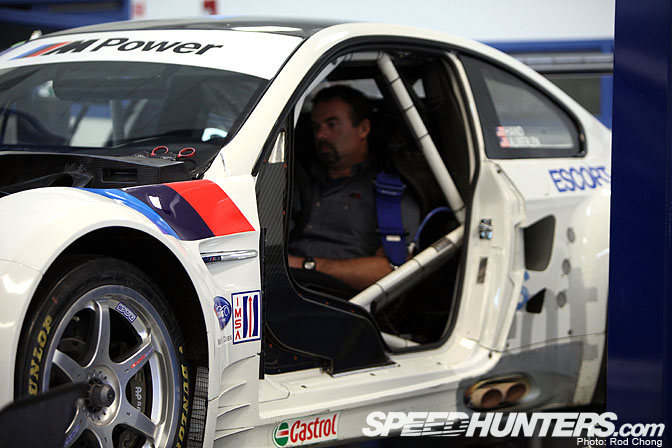 This involved starting the car up too… it's business as usual for the mechanic, but I'm sure I was grinning from ear to ear to hear the raspy exhaust note indoors!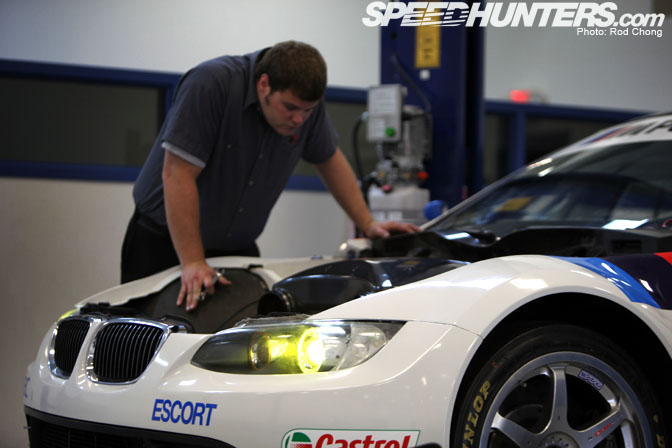 The fix seemed to work with no problems so it was time to pack up the cars.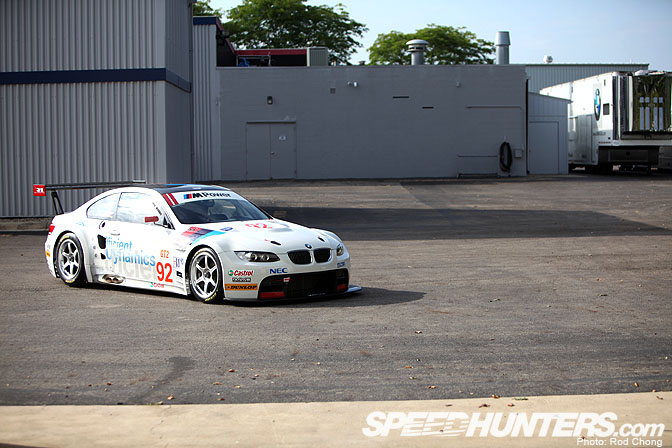 Just as the mechanics were pushing the M3 GT2 over to the race trailers I had the idea to quickly shoot it together with the old IMSA 320i Turbo racer…. So I asked the guys to hold off loading the M3 into the trailer and to pull out the vintage E21 machine for a quick two shot.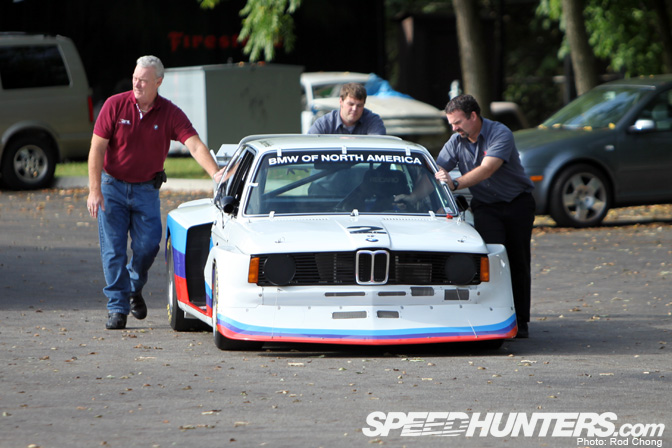 I'm a pushy ***, I know… anyway they didn't seem to mind and came back a few minutes later pushing this piece of racing history…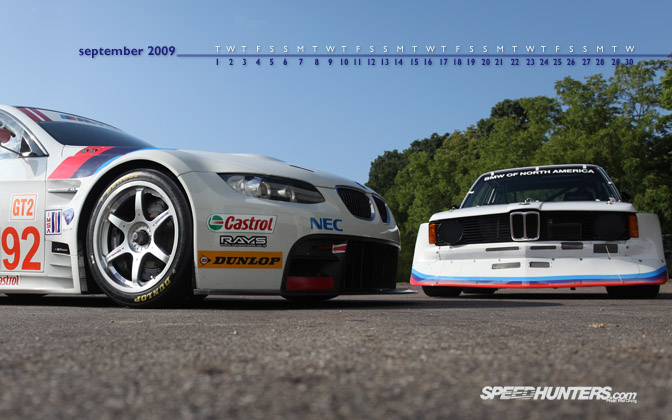 … which lead to this month's calendar image!… The pool of my drool is just out of frame…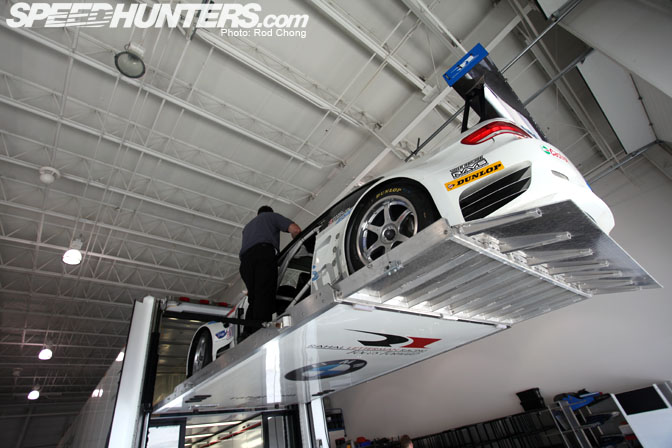 Then it was time to load the M3s up in readiness for the trip to Canada the next day.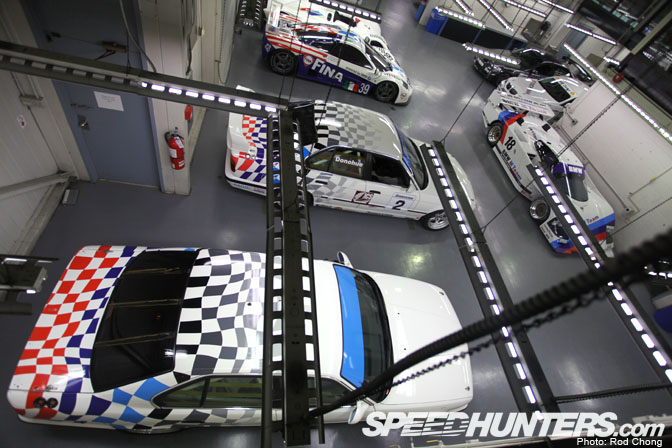 Next, we had look at the BMW North America Mobile Tradition collection…. be still my fluttering heart!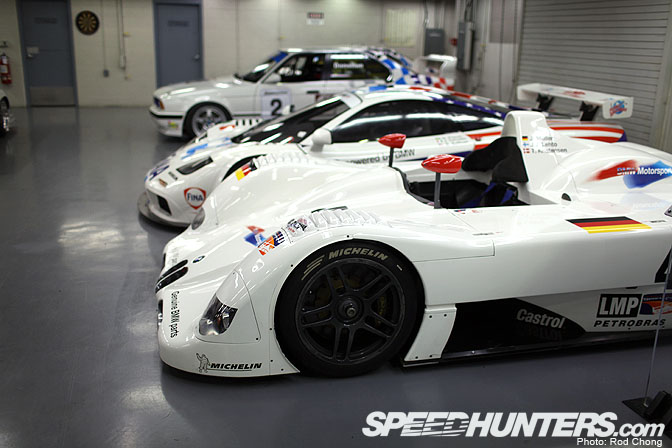 I'm sure everyone has a favourite but my eyes were absolutely glued to the LMR.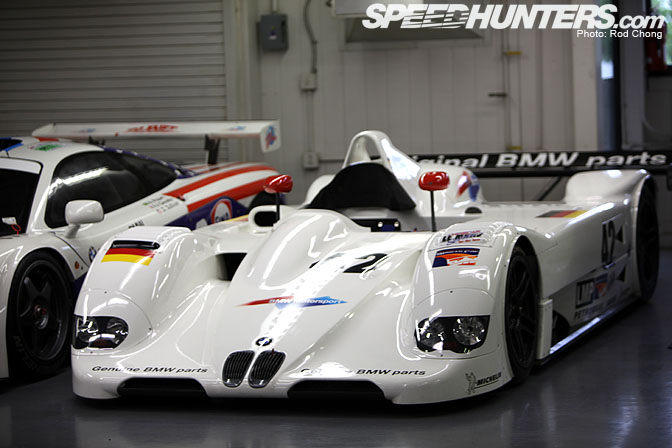 I last saw the LMR race at Silverstone in 2000 and was rather overjoyed to be in its presence yet again…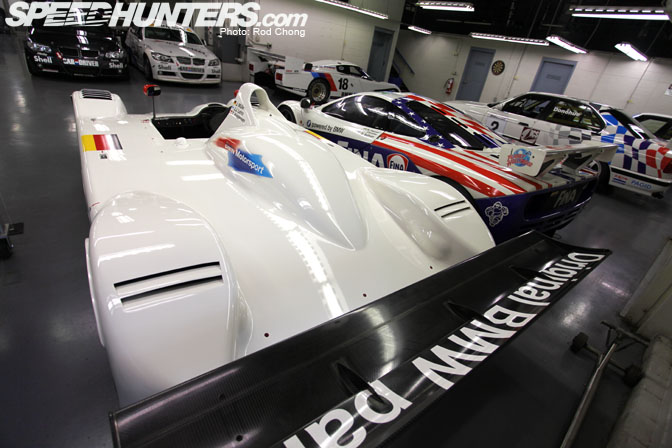 I'm sure you guys are reading John Brooks' epic recounting of the LMR's historic 1999 Le Mans victory. Love it!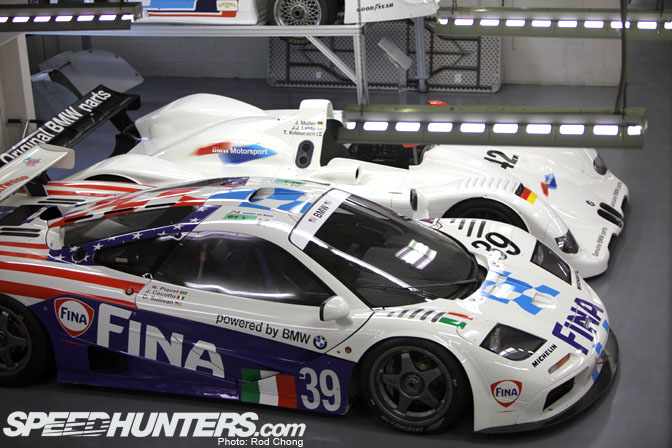 It's parked next to one of the factory BMW entries from Le Mans 1996 — this FINA sponsored McLaren F1 GTR. Ever wondered what a million dollars looks like?… well now you know!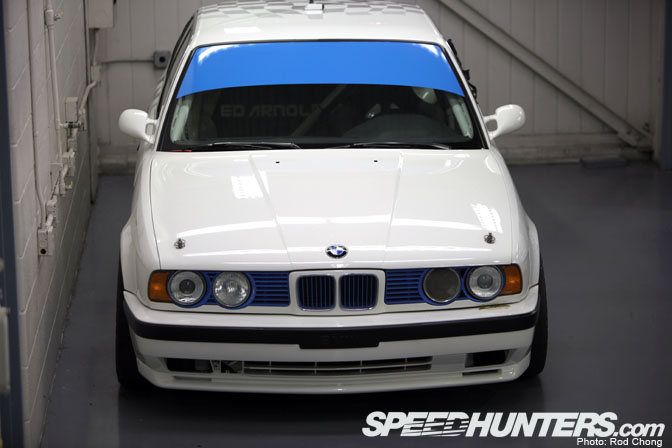 These old M5s caught my eye too although it was more for aesthetic reasons more than anything else. I liked the look of the cyclops headlights…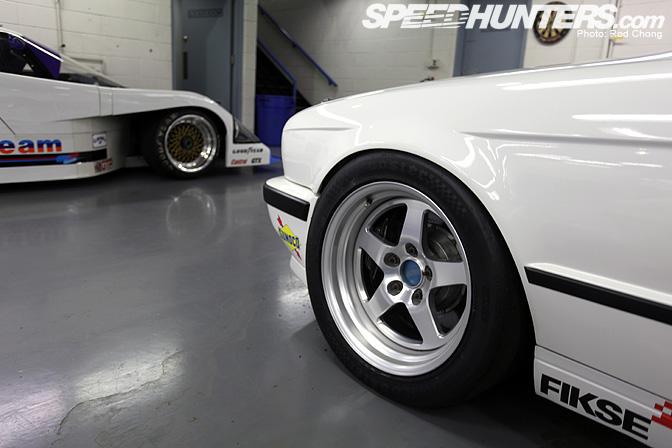 … as well as the stance and the wheel fitment. The M5 is one of three chassis constructed for the 1994/95 IMSA Bridgestone Supercar Championship and won the series in both years.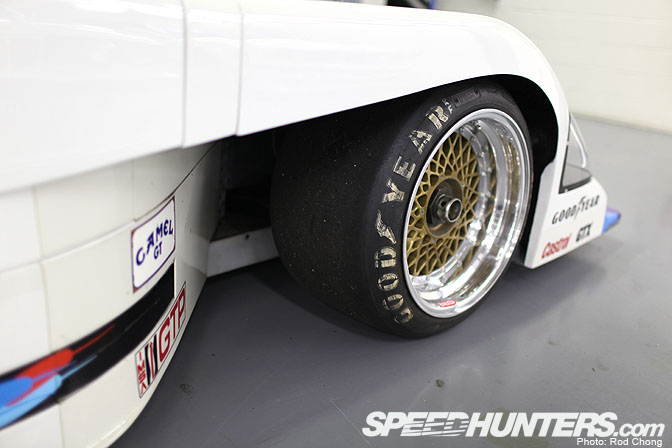 I kept staring at the front wheel on this old BMW March IMSA GTP racer from the mid 80s. It features a "stretch looking" angled sidewall that fans of the Hella Flush style love so much… Although unlike many stretch tire/wheel setups, it also features a rather wide rubber footprint.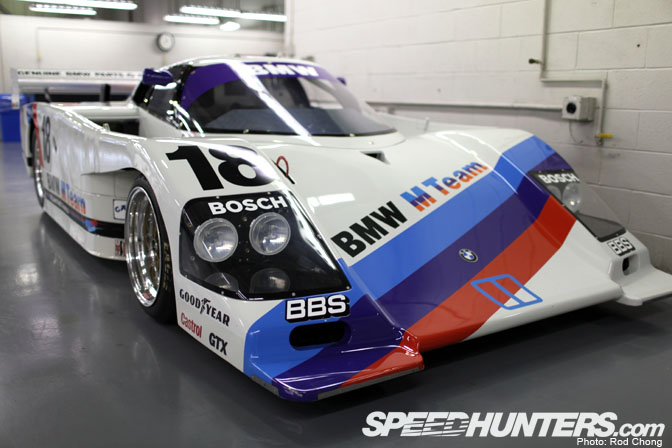 This particular chassis was campaigned by BMW in the '86 IMSA GTP series and features a 2.0 liter version of the 1983 World Championship-winning BMW Formula 1 turbo engine. The program only lasted 2 years, unfortunately, and ended with only 1 victory to its name.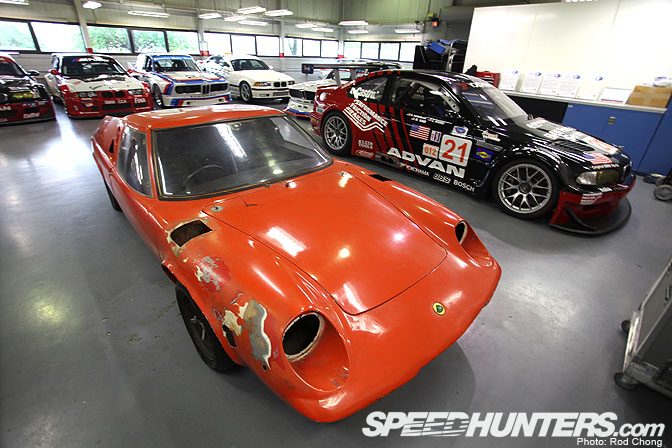 Down the other end of the warehouse, we find a wonderful selection of GT racers… The Lotus in the foreground was Bobby Rahal's first ever race car and is about to undergo a full restoration.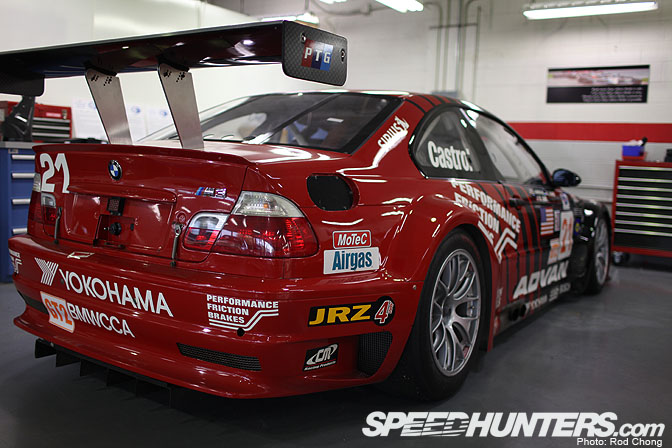 Beside it sits one of the previous gen M3 GTRs. This car was converted to 6-cylinder power after the factory program ended, but RLR have all the parts to convert it back to full V8 spec. A full restoration is in order in the coming years.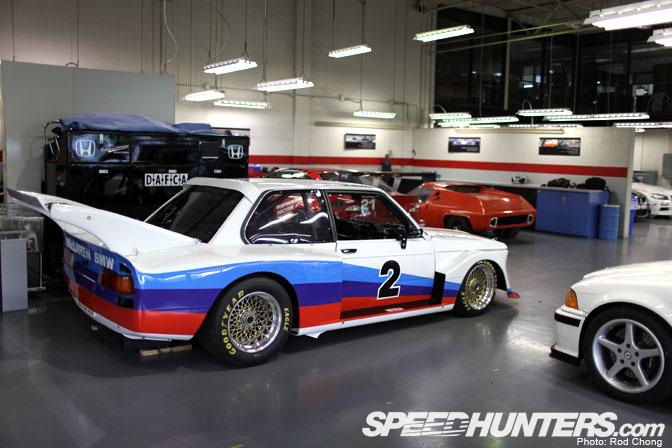 Let's just look at the IMSA McLaren 320i Turbo a bit more shall we?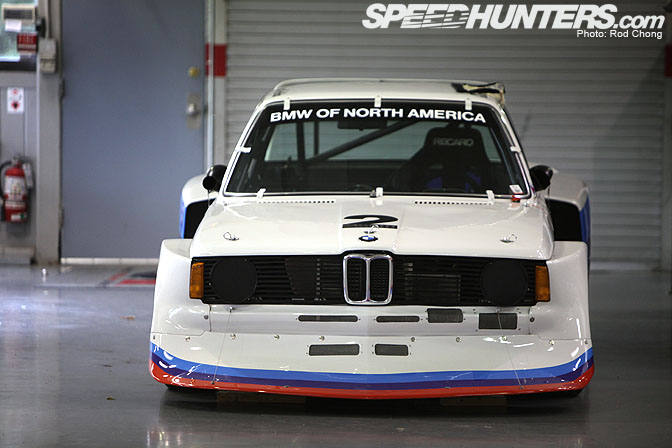 I just can't get enough of this car and am looking forward to writing up a full car feature on this crazy machine…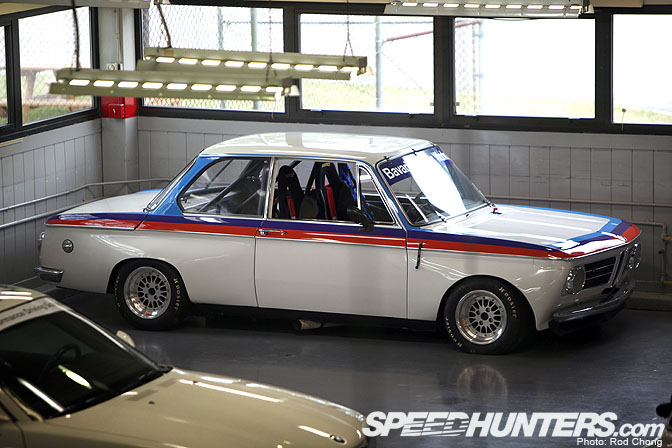 You know I've seen many 2002 circuit racers running at vintage races in Europe and North America but few have stopped me in my tracks as much as this wide body 2002ti. This particular example was built by German BMW tuner Alpina in 1970 and campaigned in SCCA events across the states by Vasek Polak Competition in 71-72, after which it was stored for 24 years. No wonder it looks so perfect…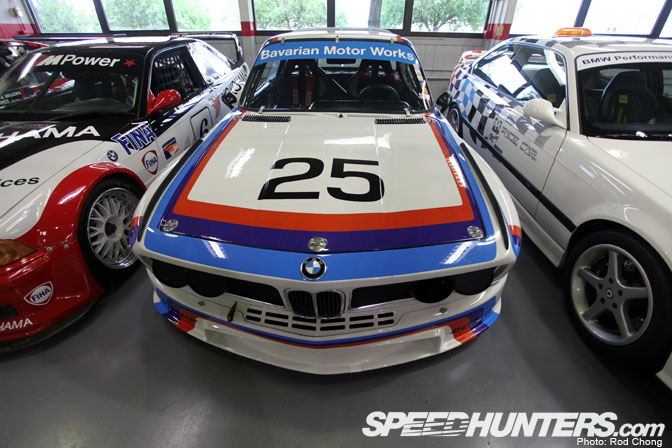 Here's another shot of the IMSA GTO CSL…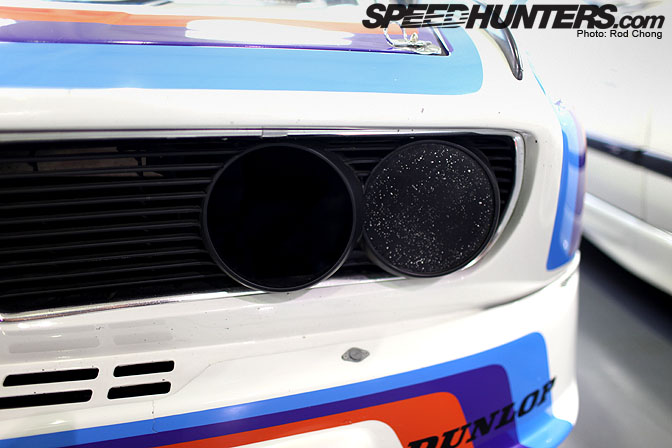 I'm sure you'd love to get a more detailed look at all of these car so let's stop here and look at the collection some more in a separate post… It turns out that BMW racer Tommy Milner has driven most of these cars, so he is going to present these BMWs, from a driver's perspective, in a guest blog in the coming weeks. This way you can learn more about these machines as real race cars rather than just hearing me gush about how cool they are!
More soon….
:Rod