Now that I'm getting settled at my new place in Torrance, I'm finally in position to take in everything that SoCal's car culture has to offer. What used to require a full day's road trip is now just a short freeway hop away – unless there happens to be a traffic jam. Luckily traffic was light on Saturday when I headed down the 405 freeway to the Mazda USA headquarters in Irvine for Sevenstock 12 – one of the biggest rotary gatherings in the world. It may be BMW month on Speedhunters, but there's never a bad time to enjoy rotaries of both the vintage and modern variety.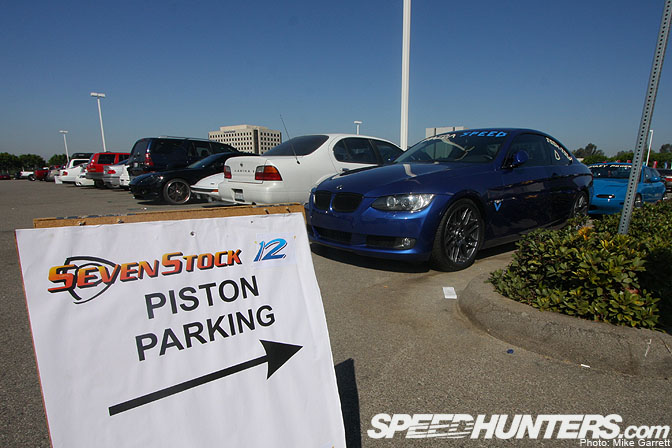 Upon arriving at the event, I found a spot in the "piston parking" area and grabbed the camera gear and some suncreen. One of the reasons people like living in SoCal is the pleasant weather, but on this late September day temps were hovering around the 90 degree mark! Oh well, nothing that a cold drink can't take care of.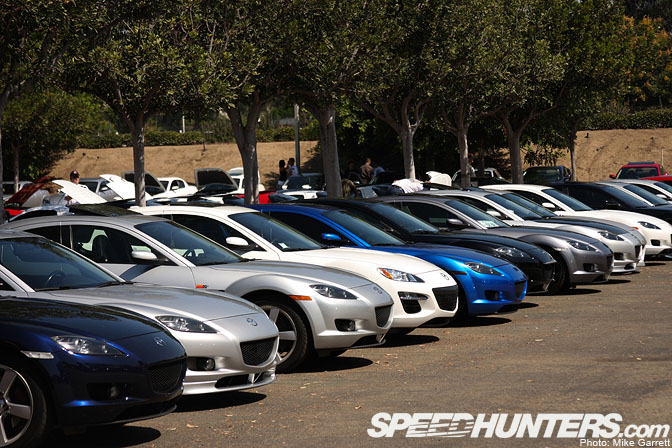 Every spot in the Mazda USA complex was full of rotary-powered vehicles from the newest RX8's…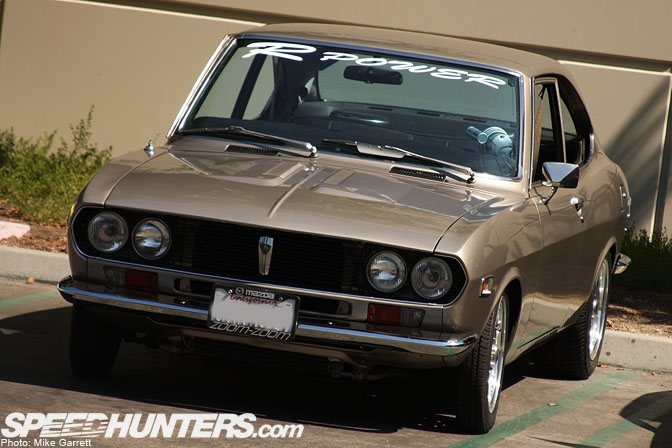 …to classics like this drag-tuned RX2. It didn't take long to see just how big Sevenstock is to the rotary community. Rotor-heads travel from all over the country and the world to come here.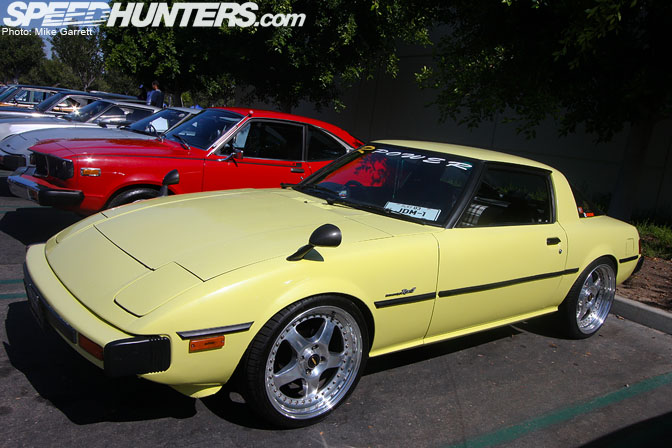 One of the first cars that struck my eye was this RHD SA22C complete with OEM fender mirrors and Simmons wheels.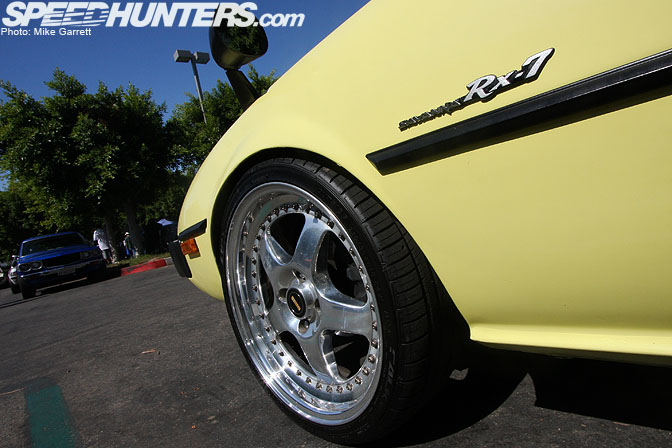 This type of wheel is pretty popular in Australia and New Zealand, but you don't see them too often here in the USA.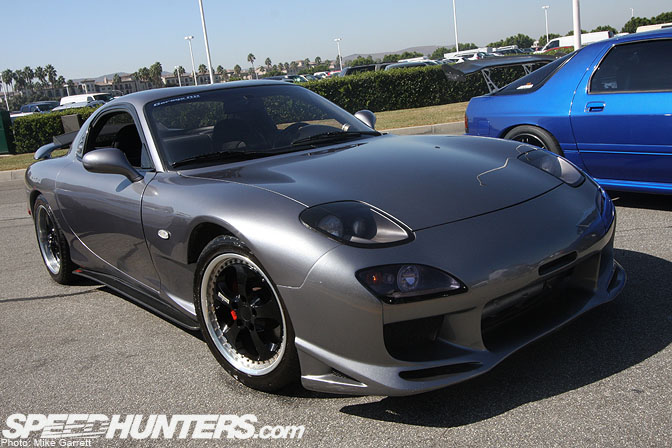 The Mazda owners really come out of the woodwork for Sevenstock. I saw a number of RX7's that I've never seen before, including this FD3S on RE Amemiya wheels.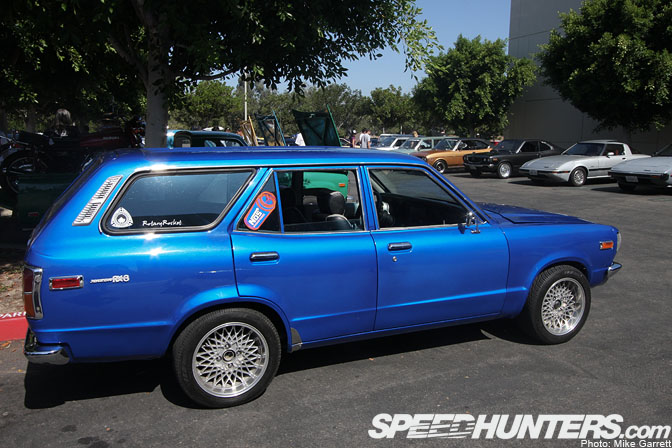 How often do you see an RX3 wagon driving on the street? I counted several of them at Sevenstock.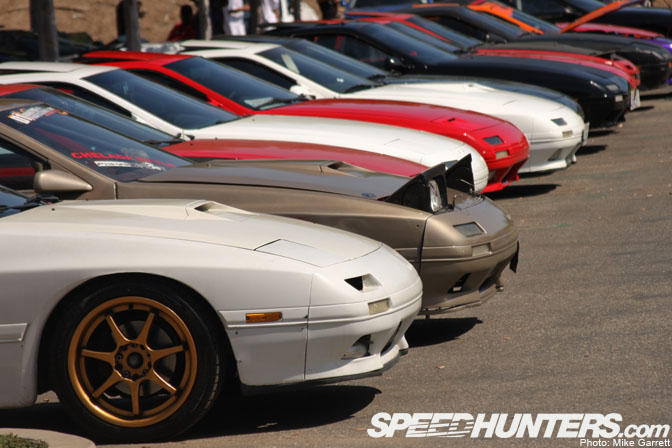 FC's anyone? The selection of second gens including everything from bone stock daily drivers to full race cars.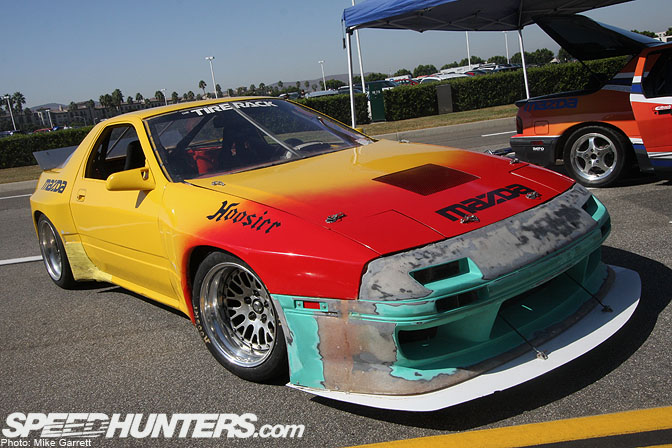 This multicolored wide-body FC was looking all business on Hoosier slicks and wide mesh wheels (CCW?).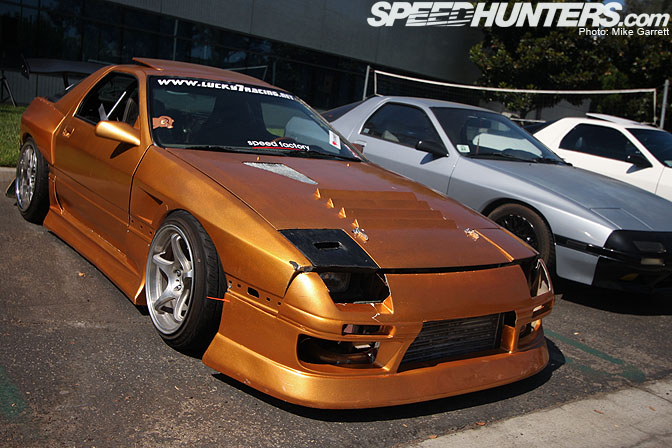 You might remember this gold FC3S drift car from our All Star Bash coverage. It was the one spitting flames all over the Streets of Willow.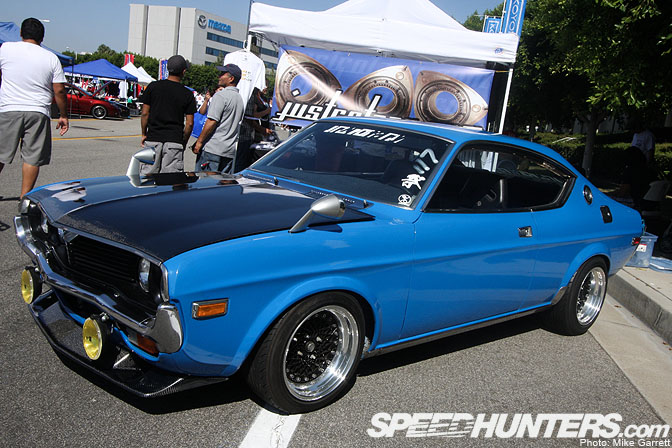 This gorgeous RX4 fastback is a regular at SoCal area gatherings. Love the big fog lights and chin spoiler.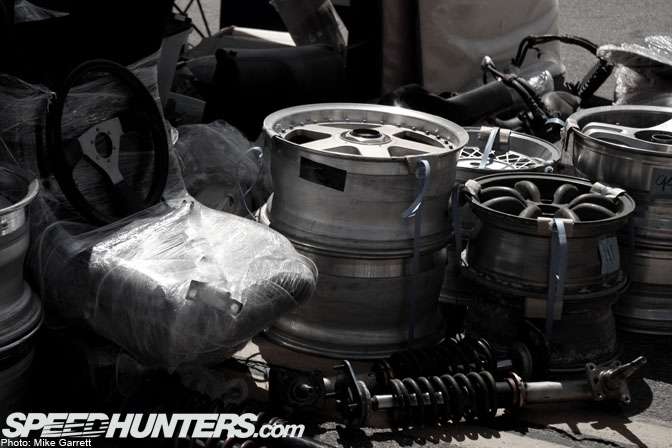 There were even a few vendors selling used JDM parts at Sevenstock. I spotted a few guys walking around carrying fenders and bumpers…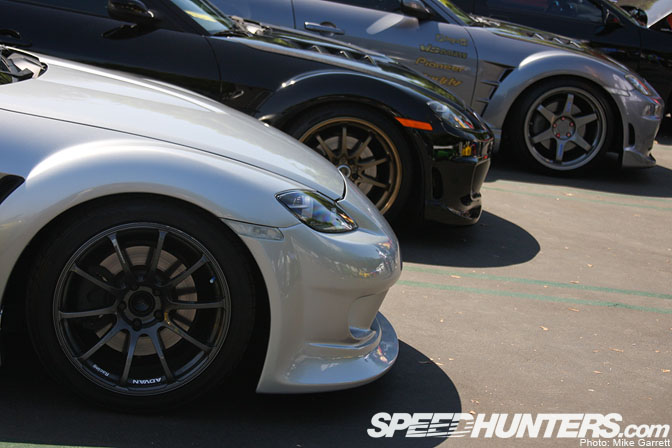 Speaking of JDM parts, here's a few RX8's loaded up with them.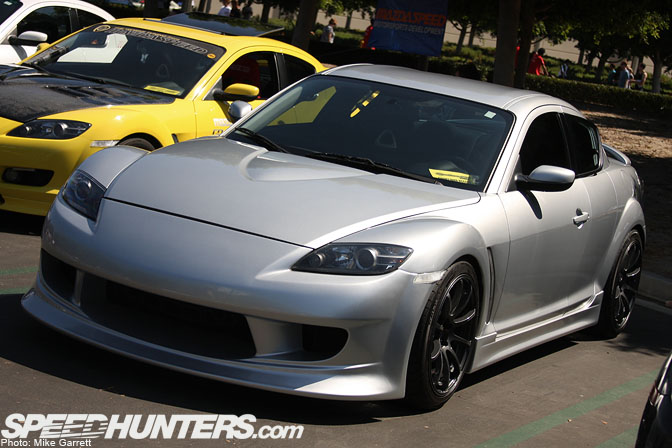 Of all the RX8's at Sevenstock (there must have been 100 of them), this was one of the best looking. The Vertex aero and Advan RS wheels are such a perfect match for this car.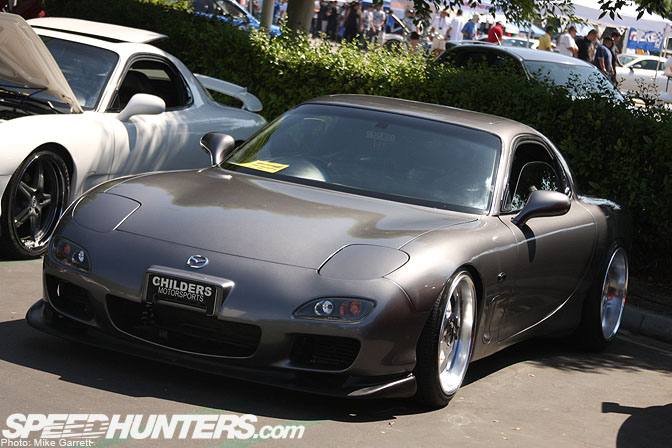 This FD3S dropped low on SSR Viennas was also very nice. Like a lot of USDM RX7's. this one's been converted to the late model Japan-spec front bumper.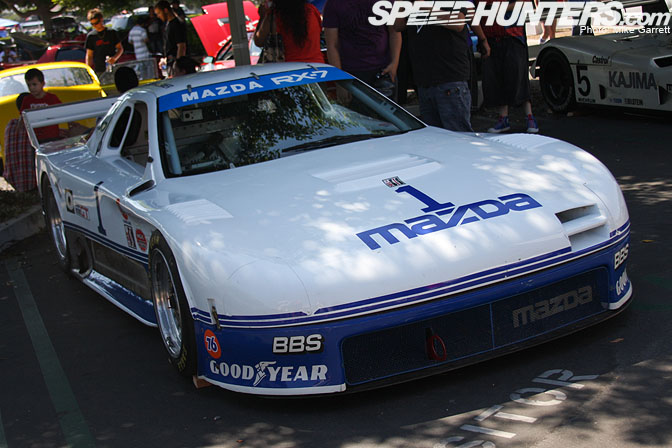 Mazda USA is very involved with Sevenstock. Besides supplying the venue, they also bring out their historic race cars – including the four-rotor IMSA RX7.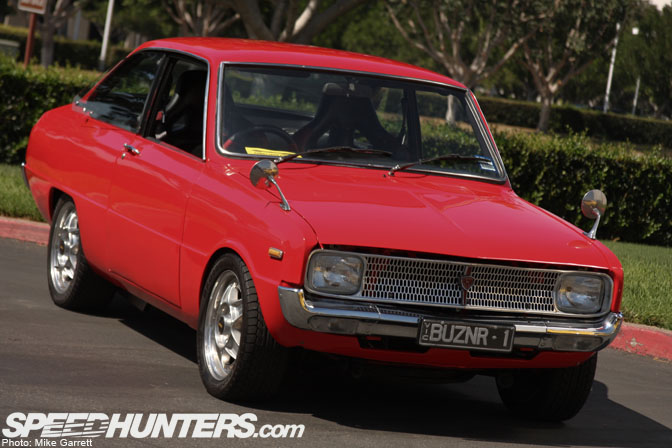 This cherry R100 was built in Australia before being shipped to a new owner in the USA. Note the Aussie plate.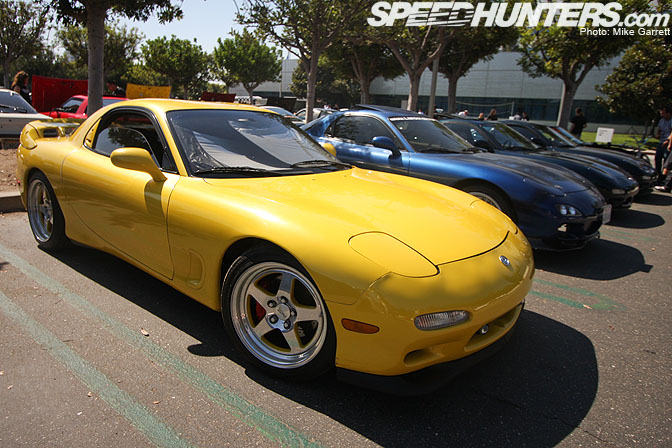 Who says FD's need JDM parts to look cool? This car looks great with early style bumpers and Fikse wheels.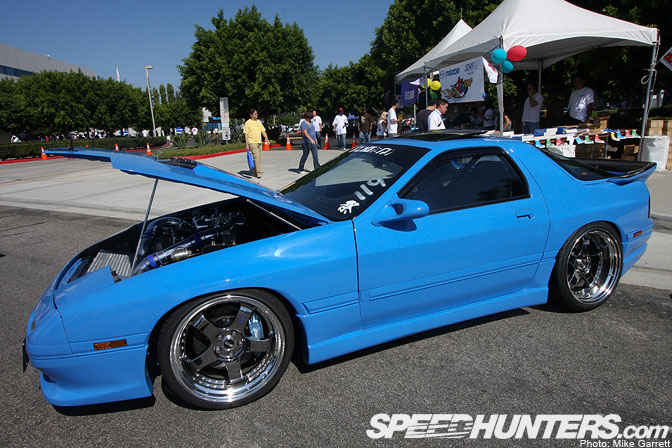 Another super clean FC3S found in the vendor area. The color reminds me of Ford's famous "Grabber Blue", which has been reintroduced for the '10 Mustang.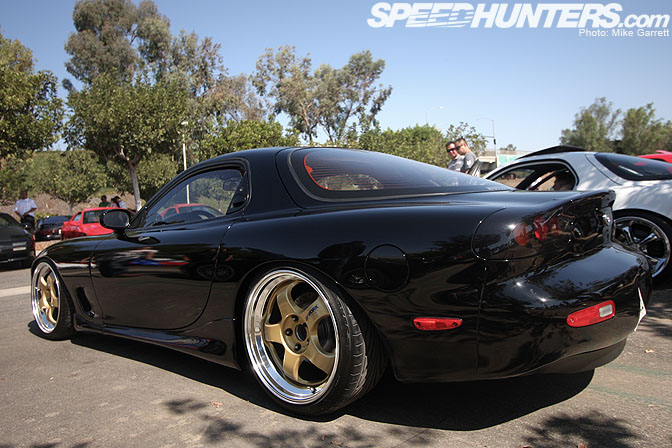 I'll finish up with another super sexy FD3S. Without a doubt one of the most beautiful Japanese cars of all time.
More from Sevenstock 12 on the way!
-Mike Garrett