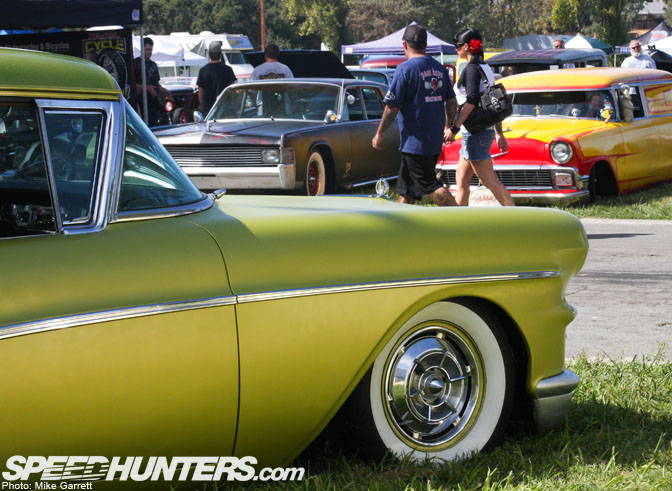 The first time I heard about Billetproof was in a Hot Rod Magazine article about eight years ago. At that time the traditional rod and custom movement was just starting to gain momentum, and shows like Billetproof were at the forefront of the revolution. There are now Billetproof events held across the United States, but the first was the California edition – held annually in the SF Bay Area . Even though I didn't live terribly far from Antioch (the current site of the show), it wasn't until this year that I was finally able to head up there and take in Billetproof in person. Without a doubt, it's one of the biggest gatherings of traditional rods and customs on the West Coast, and possibly the planet.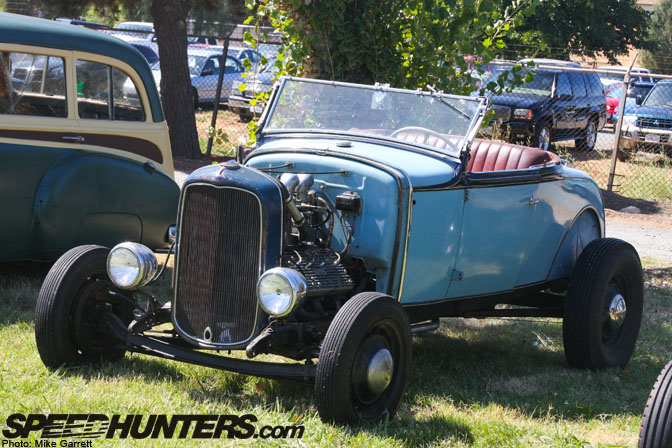 Before I unload this barrage of photos on you, here's a quick background on Billetproof and what it's all about. The show is open to all 1964 and prior "traditional" rods and customs. What this means is basically: no high tech street rods and customs, no modern wheels or polished billet accessories, and no rods with exposed independent front suspension. If you've ever been to a car show than you know just the type of the car they are referring to. Most of all, Billetproof goes against the ideal of high dollar, shop-built showpieces. As one of the most popular Billetproof t-shirts reads, F*** Trailer Queens!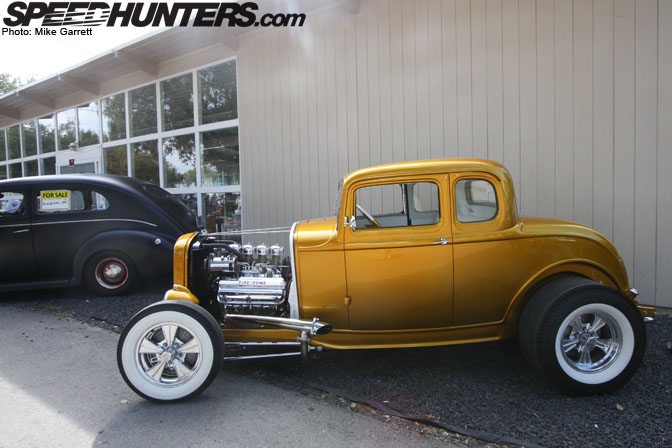 This doesn't mean the show is only to open to rusted and primered low budget rods. There were also some immaculate, but traditionally done hot rods like this MoPar-powered five-window coupe.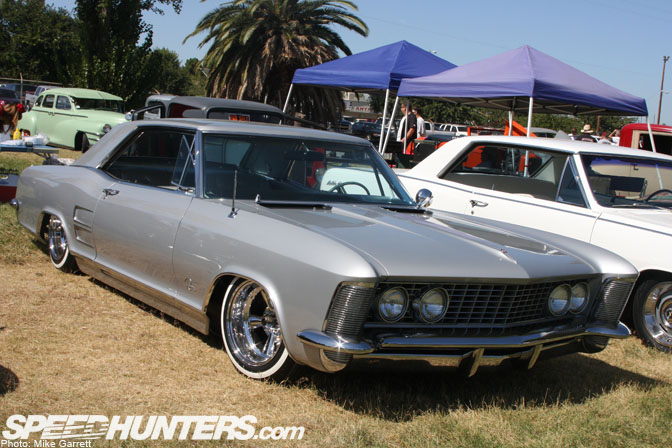 There was also plenty of stylish early '60s iron out there, including cars like this Buick Riviera dropped in the weeds. Just as I saw at Santa Maria earlier this year, Rivieras are one of the most popular platforms among this crowd.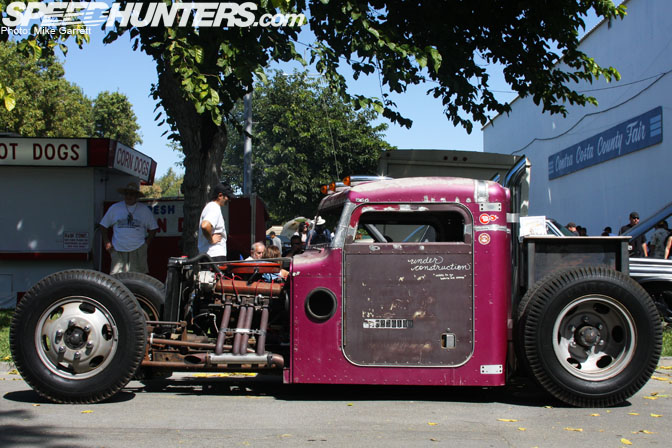 For those more into the home-built side of things, how about this Oldsmobile-powered "big rig rod"? I'm not even sure what the correct name for this style is, but I saw several of these monsters at the show.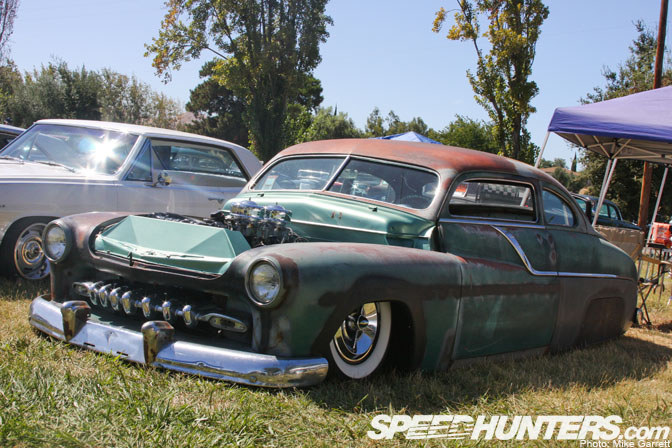 It wouldn't be a traditional show without led sleads, but there actually wasn't as many as I expected. Maybe these cars are getting to pricey or rare to serve as fresh projects?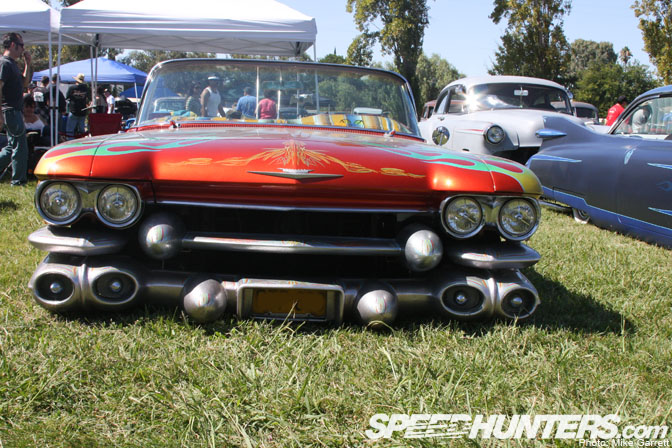 Cadillac anyone? Fewer cars look better dropped to the ground than a giant finned Caddy from the late '50s or early '60s.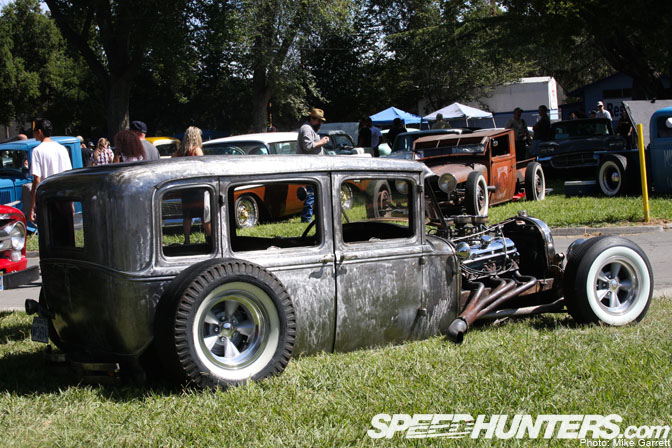 Paint is most certainly overrated here. Check the old school Pontiac Tri-Power engine.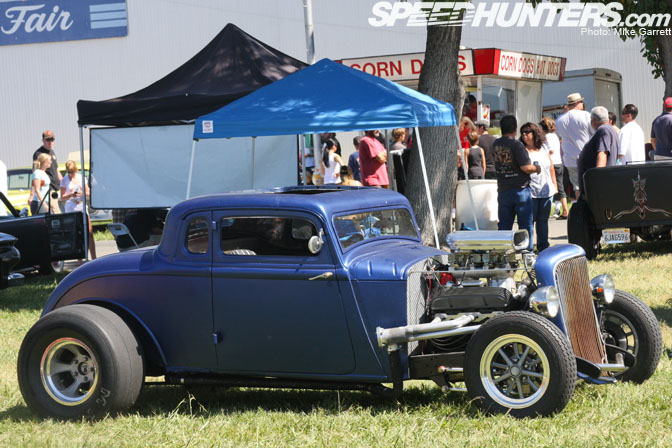 A lot of the cars at Billetproof can also back up their nostalgic looks with some serious performance – like this tunnel-rammed coupe. Note the disc brakes hiding under the retro mag wheels up front.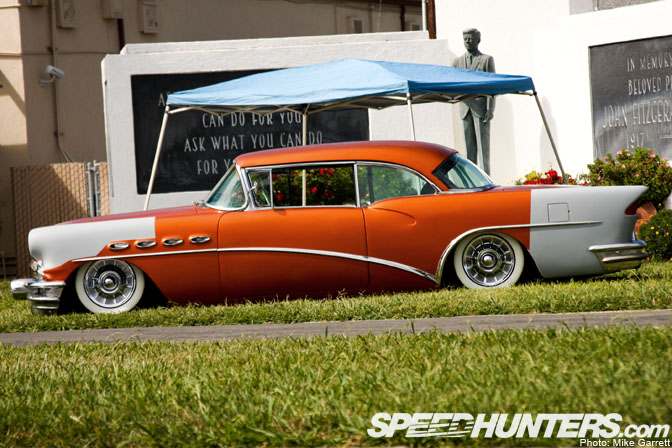 When it comes to mid-late '50s models, it's again Buicks that have one of the biggest followings. With sexy lines like this, it's not hard to see why.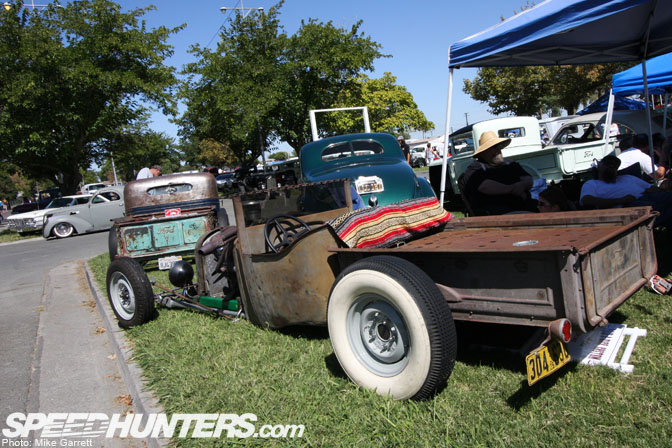 Owners of slammed VIP cars or drift cars often get questioned about how they can drive around on potholed streets, but imagine what it's like to n a slammed rod where all your brake lines and everything else is out in the open…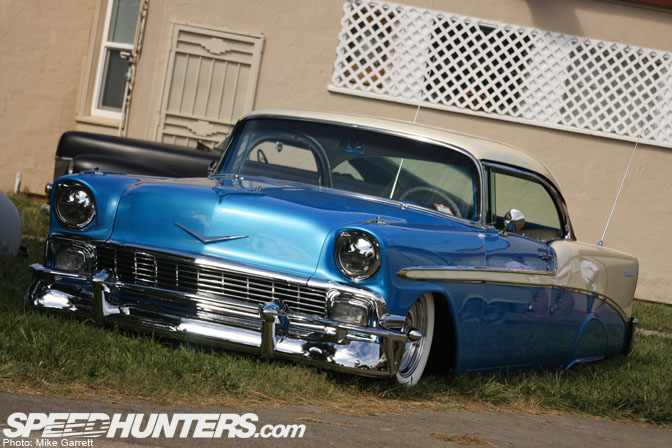 Upon walking in the gate, my eye was caught by this gleaming '56 Chevy two-door hardtop. Normally I'm not a huge fan of fender skirts on this type of car, but the look is pulled off well here.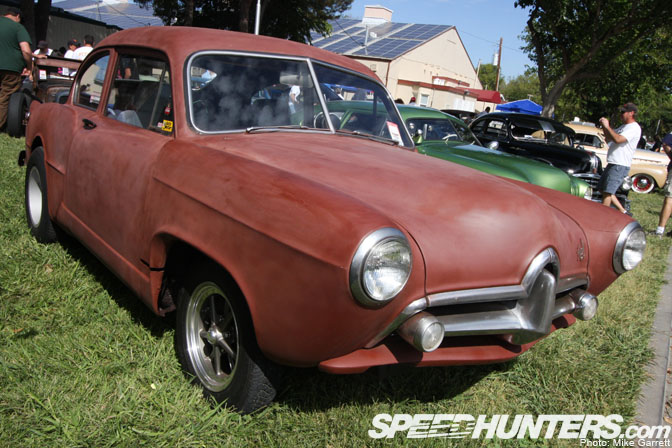 A Henry J gasser is so right, red primer and all.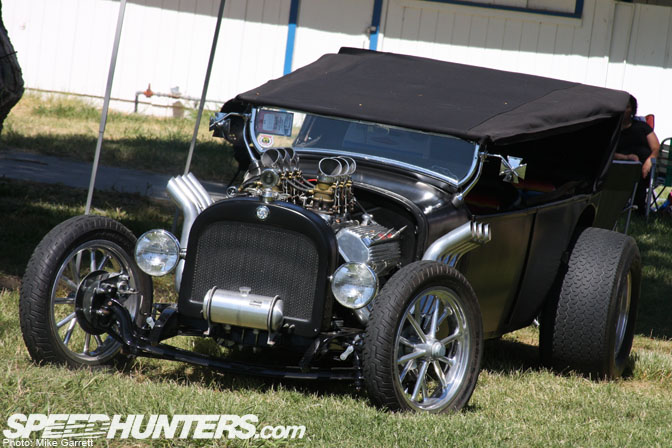 If the cars from Ed "Big Daddy" Roth's art work came to life, they would probably look something like this.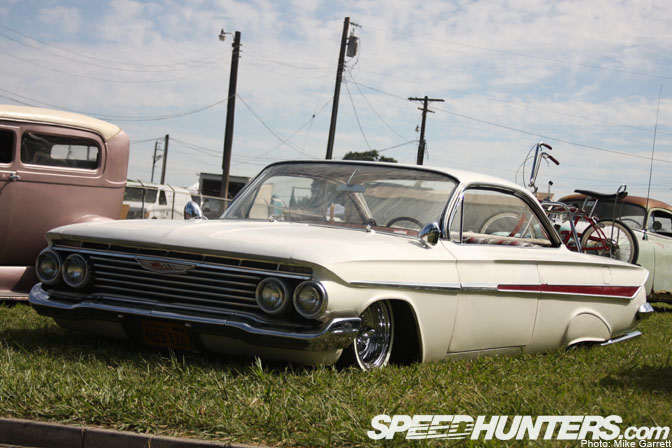 This '61 Chevy is skirting the border between custom and lowrider style. Check the old school bike rack mounted on the trunk.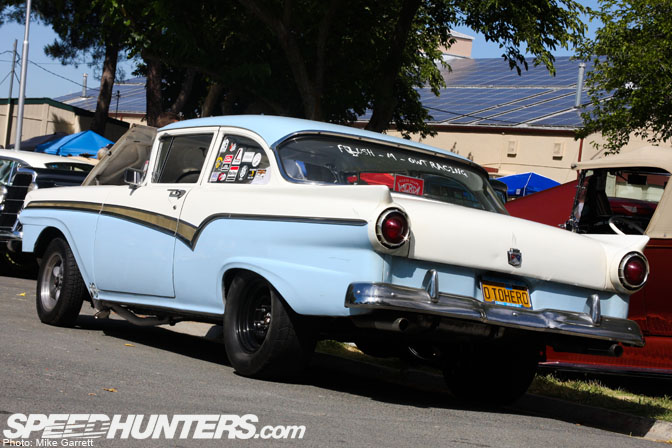 One of my favorite cars of the event was this '57 Ford, looking as it just rolled out of the staging lanes at an early '60s drag strip.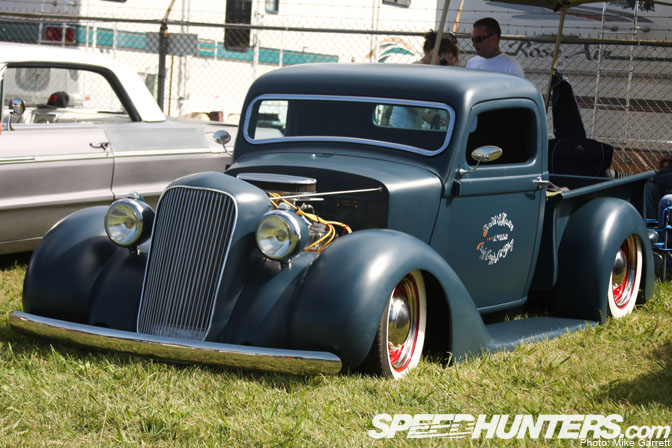 Keep on truckin'. I love how blades of grass are actually growing above the side-steps on this pickup. For those that follow the church of slammed, Billetproof is the place to worship.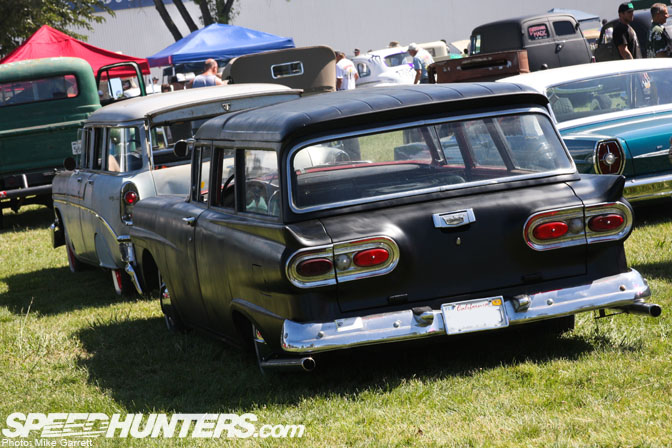 Ford or Chevy, it doesn't matter as long as its loud, low, and awesome.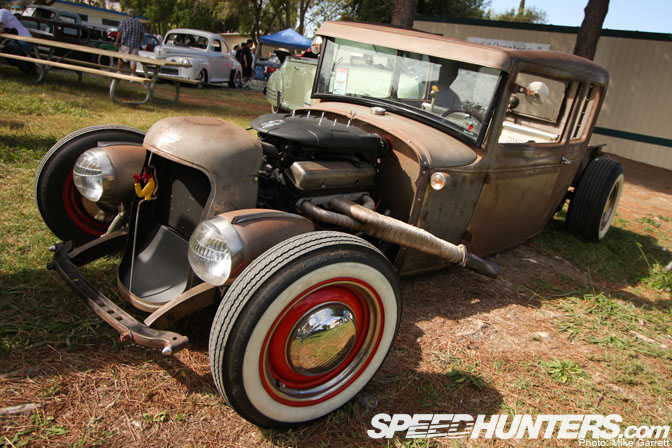 I remember speaking to the owner of this rat pickup at the Santa Maria show. He drives this work of art from his home in the SF bay area to events all over the state…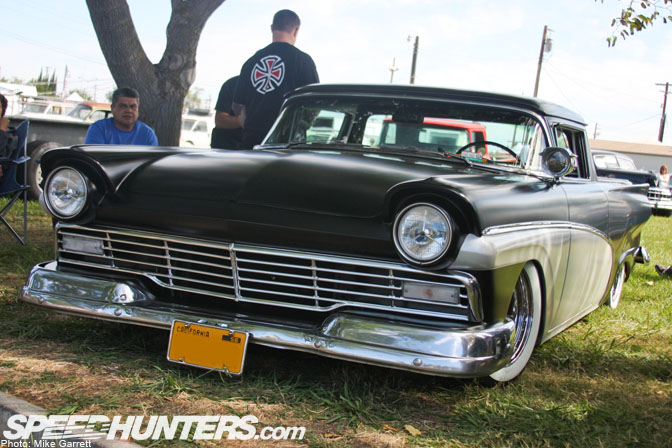 I'll finish up with this chopped 'n slammed '57 Ford Ranchero.
More on the way from Billetproof NorCal 2009.
-Mike Garrett