Only
two weeks out from the D1NZ finals, we were scheduled to be at Taupo
Motorsport Park for round 3 of the NZDRIFT series. After a 2nd and a
3rd placing at the opening rounds I was ready and confident to stand
tall at this round after the changes we had made to the RX8. The car
has improved so much in only 4 competitions.
On Saturday
afternoon we kicked the rig into gear and headed south with clear skies
however the forecast was to turn bad for tomorrows race day. Sunday
morning Taupo was fogged over but no rain and the track was in dry
condition for our testing sessions first thing. At the drivers briefing
I was glad to see the judges again had set up the final corner as an
outside clipping zone where we would have to get the rear wheels as
close to the dirt as possible, meaning we would be full throttle over
the rumble strips. 'Awesome' as you all know how much I like outside
clipping zones. After briefing the fog had cleared and Taupo was
awakened by the sound of NZ's finest tuned drift cars warming up ready
for testing.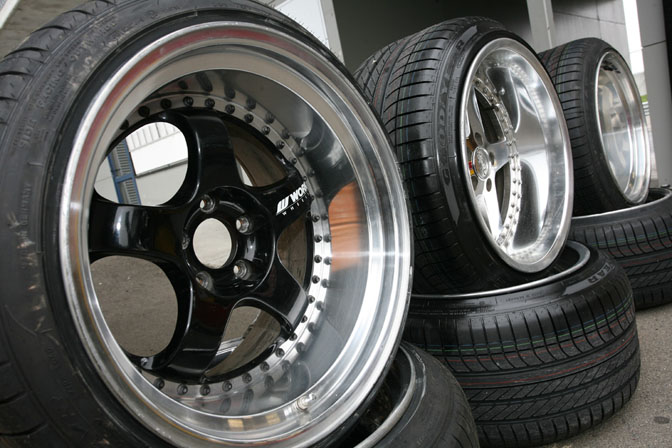 Testing
Last time we came to Taupo it was the 1st competition I had competed in
with the newly set-up RX8. If you remember we blew our gearbox and was
left with only 4th gear, and we still managed to battle to the podium.
Now with the HKS sequential box installed I was really amped to get out
there as our reliability level now is 110%.
Wasting no time I
found we had so much grip and the judged line was really comfortable.
With the HKS box I was actually able to enter the last corner in 3rd
throw the car to my outside line and power full throttle through 4th
and then quick change to 5th before the end of the judged section. I
could see the judges in the bus all give me the thumbs up as we drove
into pit lane after the first session. A quick stop into our pit bay
for some more Goodyear Asymmetrics and a top up of race gas mixed with
our Castrol TTS 2stroke and I was back out on the grid.
This
time it was now pissing down! I changed the settings on the TEIN EDFC
to full soft in the rear and Chromey dropped the tyre pressures down.
After a few laps I could see a lot of people were struggling in the
slippery conditions however the RX8 still felt like it had a lot of
grip. The way the new F1 Asymmetric tyres are designed they disperse
the water to the outside rather than each side evenly and seems to help
a lot in the traction department. After that session a lot of comments
were made about how fast we still looked in the wet. I was now set for
qualifying.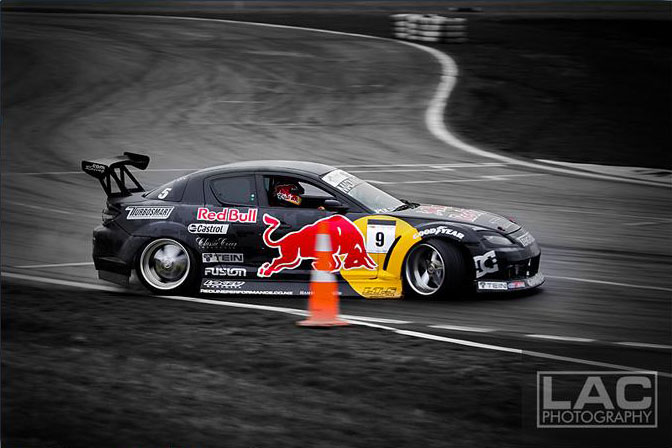 Qualifying

For qualifying we would line up in reverse points order and were sent
out in groups of 3-  meaning Gaz Whiter, myself and Andrew Redwood
would be the last to impress. The track by this stage had dried up so
we changed back to our dry setup. We are given 3laps and the best run
of 3 counts meaning you could spin twice and still have a chance to
qualify.
After my 1st clean pass I wanted to attack the next 2
really pushing the limit to grab number 1. As I flew into the 1st
corner I switched too hard resulting me to spin so I cruised back
around for my final run. I could see Gaz was having clean runs. This
time again full pace as I snaked down the 1st section hitting the lock
stops on each switch and dirt dropped the left hand outside clipping
point coming off the straight. ( We are aloud to drop one wheel off
with no deductions ) Then clipping the inside tyres marked as the
inside clipping point before switching right down the hill setting it
up for the final corner where I nailed my line and railed around the
outside clipping zone to the finish. This was enough to secure me the
number 1 qualifying spot with a 99.67 in front of Carl Ruiterman with a
94.66.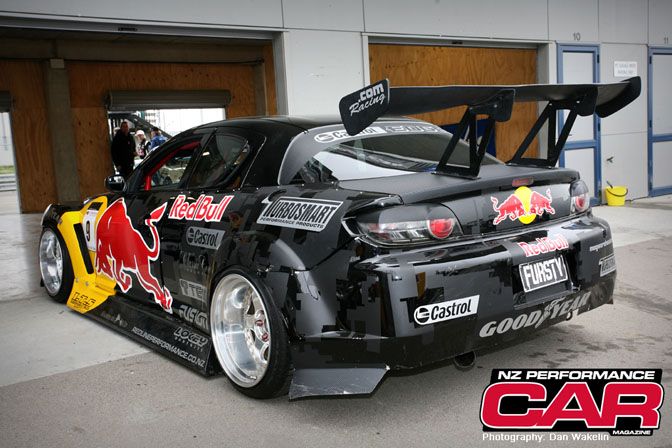 Lunchbreak and Pitwalk
The team pushed the RX8 out of our bay so the public could get a close
look as not everyone comes to watch the drifting, there are always a
few that just like to admire the workmanship in some of the cars and
get ideas for their personal projects. We had fresh off the print my
new Red Bull MADMIKE merchandise which seemed to sell like hot cakes.
We sold over $1300.00 worth of shirts and at this time it was raining
again! There are some die hard supporters out there. I mingled with the
public and signed posters for the fans until it was time to line up on
the dumby grid for top16.
Top16
Unfortunately my top16 battle was not going to be an easy one. Here I
would meet Fanga Dan in the Dunlop Direzza RB powered Commodore. Fanga
had problems during the morning and broke some parts. Kindly, our team
welded up some new ones in our pit bay to get him back on the track so
he could make qualifying. One of the great things about drifting is all
(well most) of the teams are like family and just want to have fun and
will all help each other the best they can. Anyway track conditions are
now drenched with a heavy down fall of rain and after a top16 parade
lap near every car came into the pits to apply anti fog as we all
couldn't see a thing. I would lead 1st we took off and I made a small
mistake as my wet foot slipped off the clutch on the last switch
resulting a straight line however Fanga also had a minor mistake it
would now come down to my chase. I managed to mirror his movements then
Fanga slipped wide on the same corner I straight lined earlier this
aloud me to power right up tight on his door and then switch back early
to power around the last corner hard on his passenger door. I advance
with the win.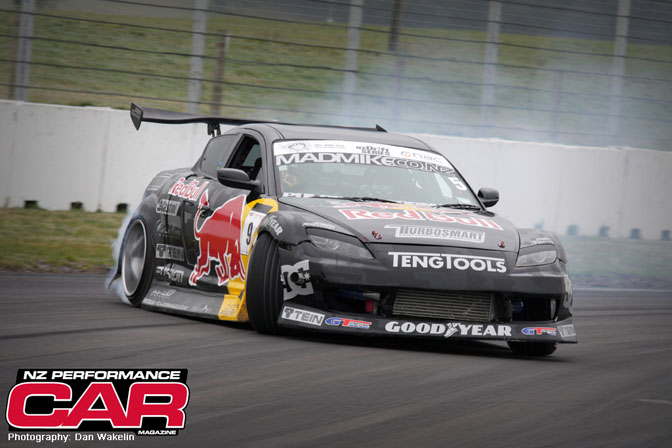 Top8
I would meet Adam Richards in his day-glo Nissan Cefiro. I would lead
and although Adam showed good angle and line he was out matched by our
traction where I could pull away. This would make it harder for myself
to chase as I would need to use the left foot braking method and hand
brake a lot more behind him – this meaning though that I could stick
with him throughout the entire section. He was off line on the last
corner. I advance with the win.
Top4

Now I was glad to meet Championship points leader Gaz Whiter here for
my top 4 battle. I knew my car was a lot stronger than the rest on this
circuit and If I could knock Gaz out here it would make us near even on
points in the championship. Gaz qualified 4th on this day and I know he
is consistent. I would lead first and knew that he would be close on my
tail. I could just hear his SR20 bouncing off the limiter over the
scream of my 20b as we snaked down the 1st section then as we flew into
the down hill switch the noise of Gaz's S14 dissapeared, I glimpsed
back and seen he had spun so I had the advantage 10-0.
Everyone
now thought I would just take it easy and give Gaz some room as all I
had to do was link the section without spinning. However the crowd come
for a show and not always to see a winner so I chased Gaz as hard as I
could mirroring his movements taking the risk that if I made a mistake
it would be a re-run, it was such a close chase and so much fun. On the
last corner I could reach out and touch his bootlid as we powered
around the clipping zone. I advance with the win.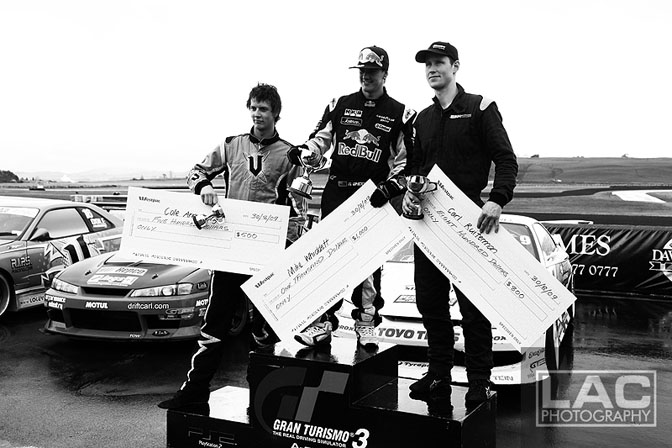 Finals
With
Carl Ruiterman knocking out Cole Armstrong for the spot in the finals
then Cole going on to knock Gaz out for the podium spot it was my
chance to shine and grab those points. I knew Carl was driving well
since testing in the morning and he also qualified 2nd behind me. I
would just take it as no pressure and focus on what I had been doing
all day (having fun).
I would lead first. I could see Carl hard
on my tail as we initiated our drift into the section. I had a clean
run and looked behind as I flew over the finish and seen I had pulled a
few car lengths on him. I would now chase not giving him an inch even
though I knew I could give him a gap and close it by the end of the
section I choose to take the crowd pleaser option and battle hard with
him right from the start. I had an awesome chase grabing a handful of
hand brake on each switch to miss the rear end of his car swinging
inches away then powering in up to his door. Judges would call it at
prize giving.
After the victory burnouts we stood waiting for the results. I was truly elated when I was announced the winner of round3.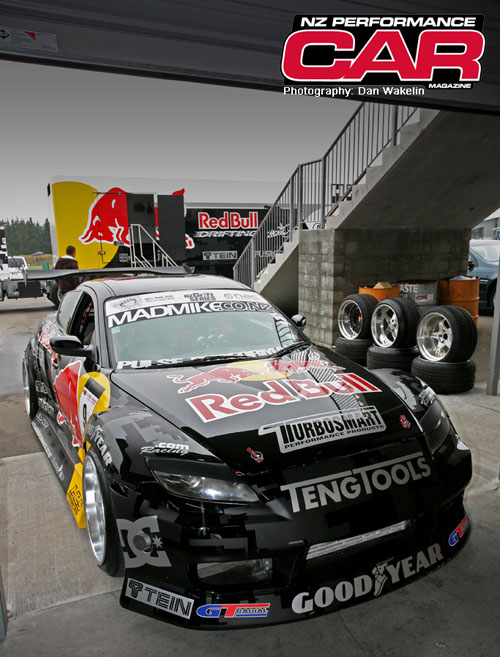 Next
stop is back to Pukekohe Raceway where we will tackle the infamous
200+kmh 'widowmaker' sweeper. With full confidence now sitting behind
the wheel in the RX8, I can't wait for round 4.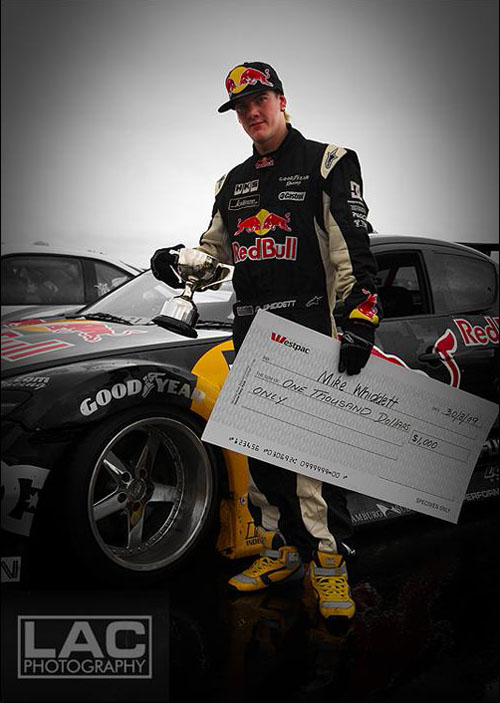 HUGE thanks to all my fans and supporters, NZDRIFT for running a great
championship, Taupo Motorsport Park, my Sponsors Red Bull, Goodyear,
Castrol, Redline Performance, HKS, DC, Weds, TengTools, Tein, Lokey,
Fusion, PPRE, magwarehouse, Turbosmart, Classic Cover Insurance, Any
Maz Spares, BOP polishers, Chromey, Damion, BIGTED and Cookie for your
time, knowledge and support, Toni for all the behind the scene
preparation and family. Without you all it would not be possible
– MADMIKE