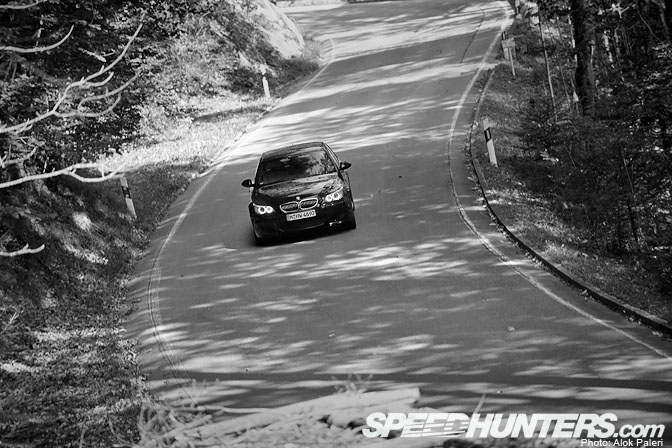 Our Speedhunting trip to Munich couldn't have been any better. Sure we had a tight schedule during our time there, visiting places like BMW's Welt and Museum not to mention the BMW Group Classic collection. But what made it extra special for me was driving the two cars BMW had lent us, kind of like a pair of cherries on top of a nice creamy cake.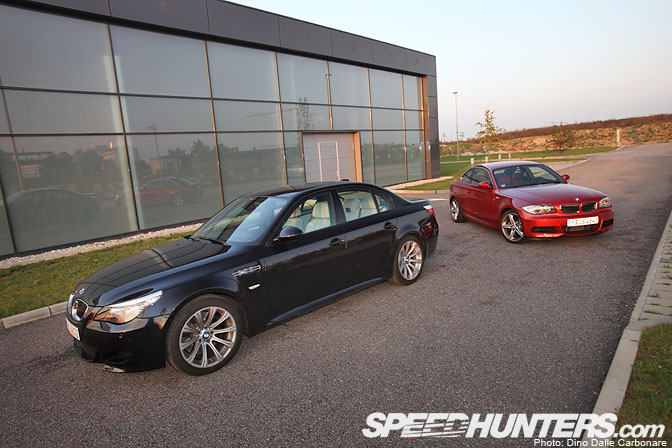 On this post I will look at the dark blue M5 that accompanied me during this memorable trip, a car that I had chosen over the smaller and equally impressive 135i Rod went for, simply because I have a thing for horsepower. I like lots of it you see!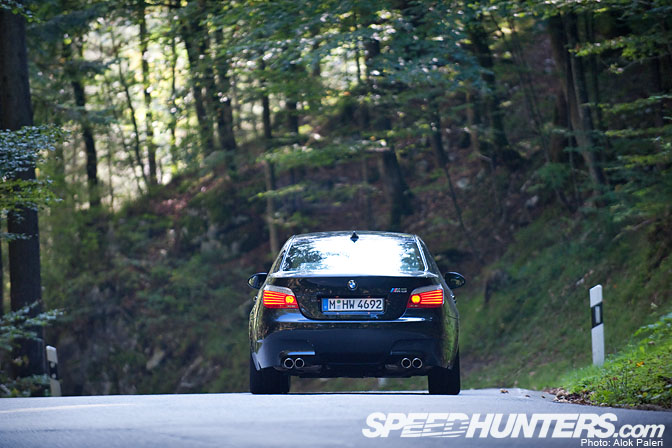 It wasn't until early Wednesday morning that I could really get to use the M5, during our 200 or so km trip to Schnitzer Motorsport in the small town of Freilassing, right on the border with Austria outside the city of Salzburg. After shooting the selection of mouthwatering race cars there, we took care of some driving shots…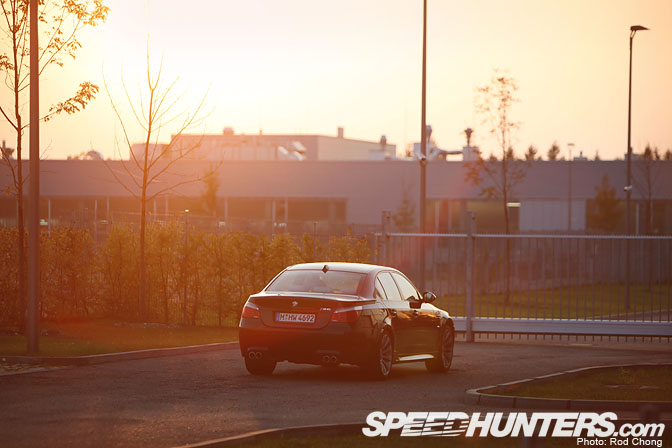 …putting both cars to the test before returning them back to BMW later that evening.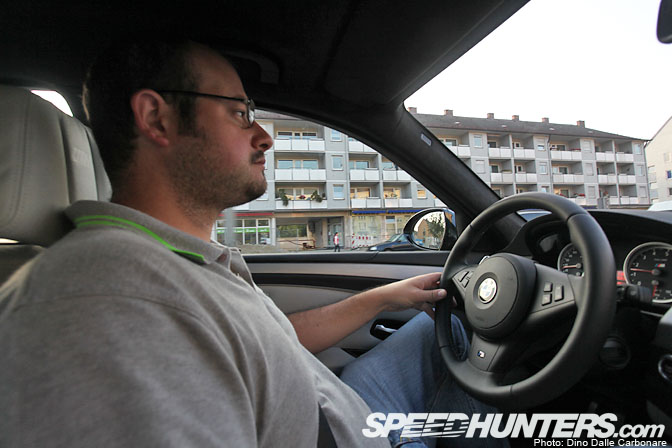 Munich in the morning is much like any other busy city, traffic renders progress slow, but it was just what I needed to familiarize myself with all the controls and gadgets of the M5. Believe me there are many of them!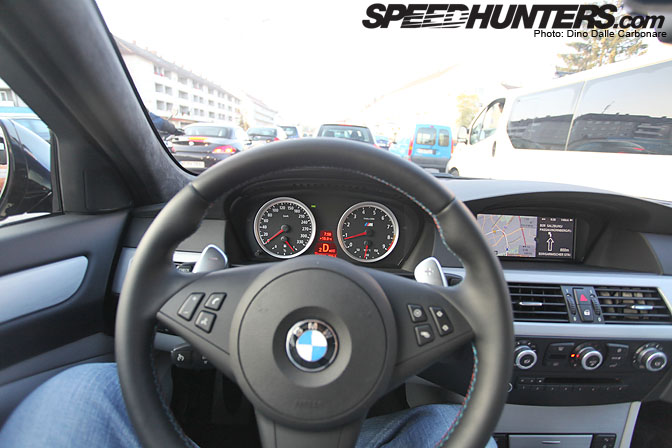 This is what the view looks like from the driver's seat, that chunky red and blue stitched leather steering wheel taking center stage in what is a very simple and uncluttered cabin. Setting the gearbox in "D" with a medium-to-high shift-speed made for the most comfortable progress, but being used to far quicker-reacting and smoother-shifting double-clutch systems, it ultimately left me unsatisfied. I soon resorted to changing the gears myself, learning to back off the accelerator to smooth out the upshift, which made the whole driving experience more satisfying. So from then on it was just a matter of following the directions of the highly advanced satellite navigation, which curiously enough sent me a different way compared to Rod in his 135i.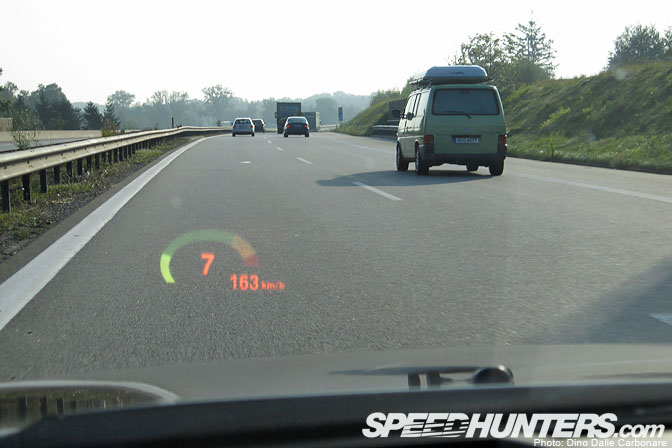 It wasn't long before I hit the Autobahn, and really dialed up the pace. Speed limits on German highways are variable, efficiently enforced by easy to read digital signs which slow traffic down according to congestion, road works or dangerous sections with tight corners. When none of these are present the magic "no-limit" sign is shown, which in the M5 meant a quadruple gear downshift to third and a healthy squeeze of the gas pedal. Maintaining a 200 + km/h cruise is effortless thanks to the relentless acceleration the V10 provides. Hitting the "M" button on the steering wheel automatically selects the 500 HP power map, stiffens the Electronic Damper Control and gives you this rather cool screen on the HUD.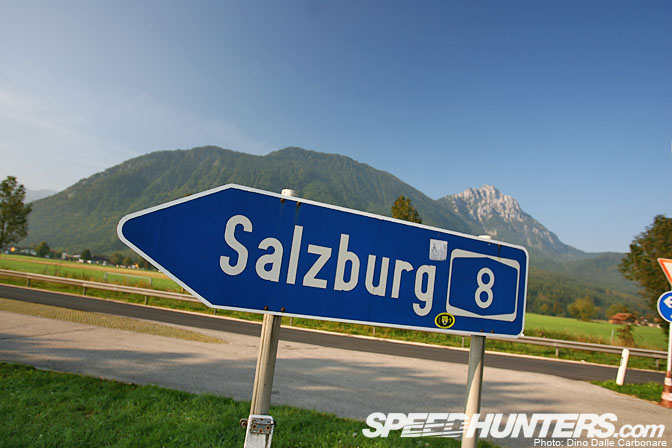 After enjoying the efficiency of the Autobahn and its respectful users, I pulled into a rest area to get a few shots of the scenery which began to get very picturesque the closer we got to Salzburg.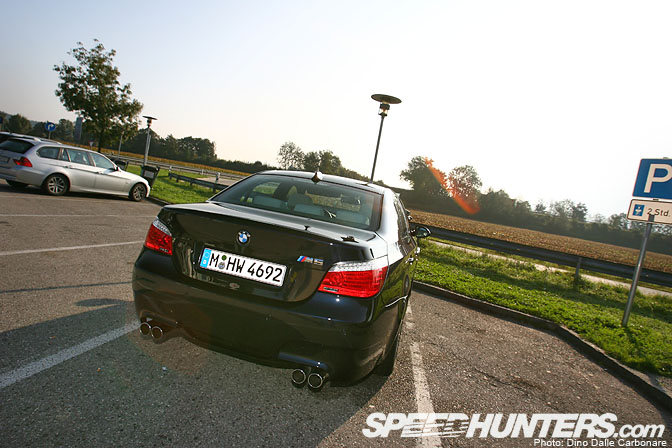 I love the M5's sedate looks, hinting only to those in the know, that this is no regular 5-series.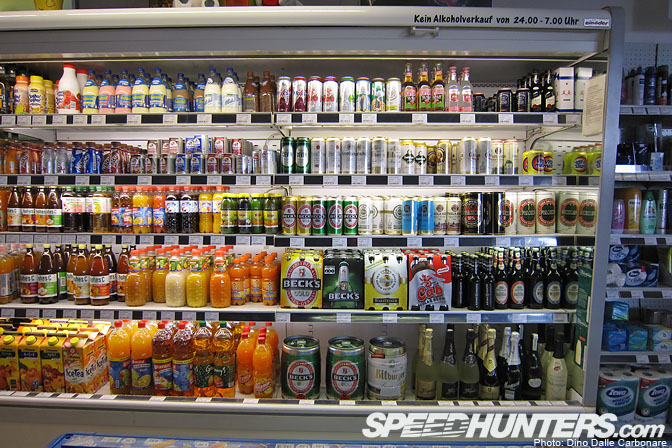 I found it rather comical that beer makes up a good 50% of the drinks on offer at the gas station shop!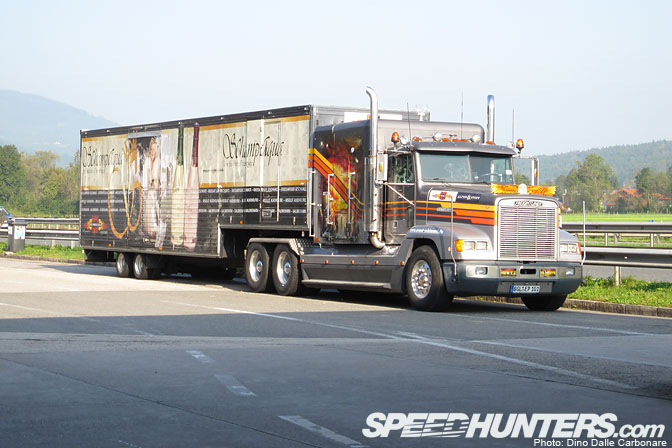 I even spotted an American big rig, something we don't see too often in Europe.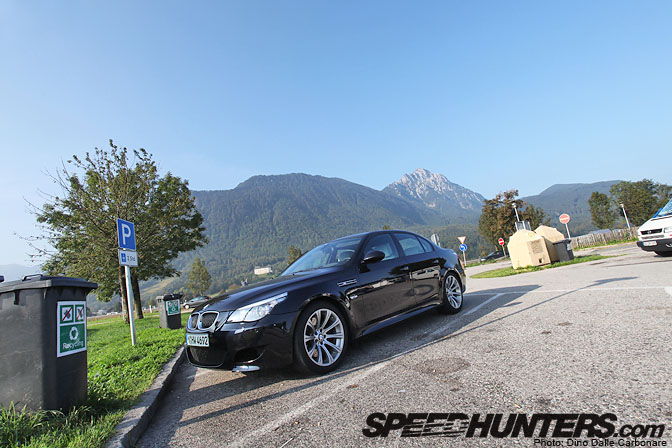 After grabbing some more shots…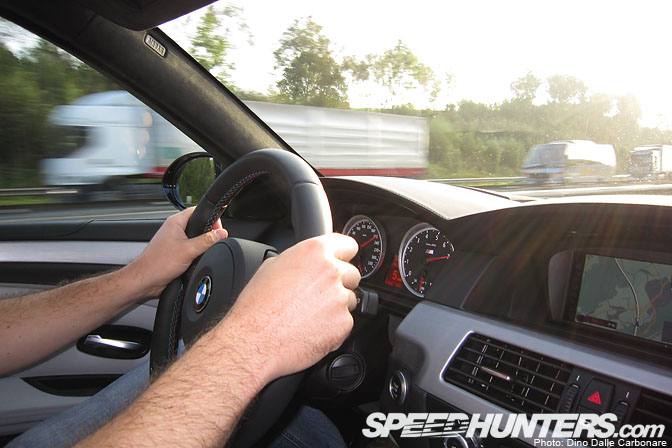 …it was back on the Autobahn again for some more high paced driving, as Rod had already arrived at Schnitzer.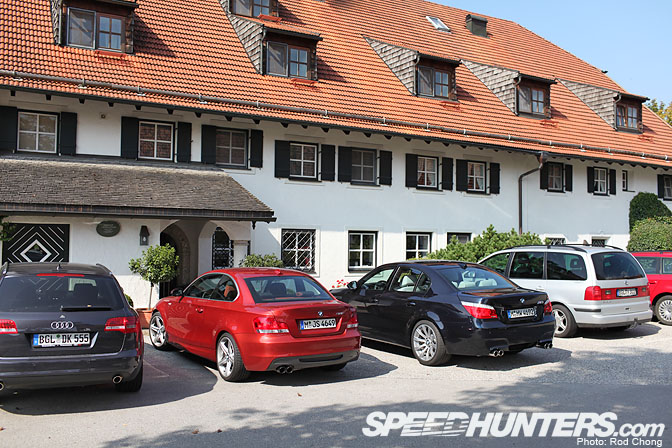 Nothing like a nice spot of lunch after a busy morning of driving and shooting rare race cars! You can see how small Rod's 135i looks next to the imposing M5.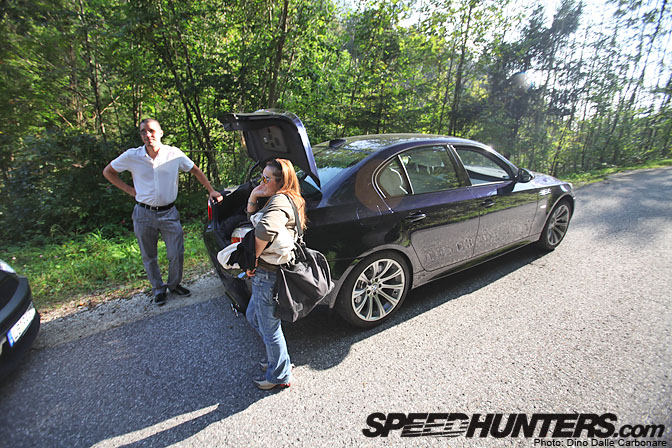 We met up with Alok Paleri who came to give us a hand with the driving shots. I had to take care of the driving while Alok was snapping away, leaving my wife and Rod to enjoy the clean mountain air and natural surroundings.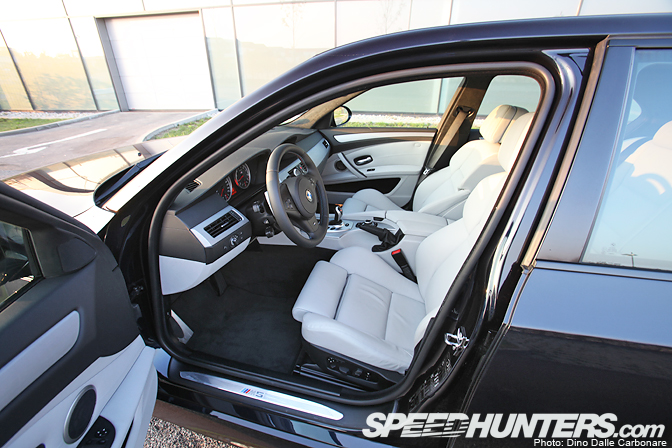 My wife, a BMW driver herself, was particularly impressed with the interior of the M5, which had been decked out with pretty much every option available! The white leather is definitely something I wouldn't have chosen myself but it actually gave a nice and refined ambience. The seats were extremely comfortable and even offered active side bolsters which, depending on lateral G, automatically squeeze you into the seat.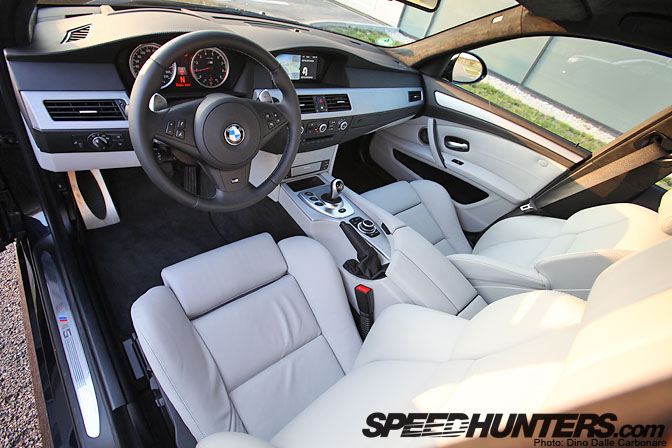 The suede upholstered roof liner and pillars were a tactile experience, as was the tight leather clad dashboard. Switchgear is intuitively placed and I even got my head around that i-Drive jog-dial, although I still think adding in the address letter by letter with a joystick is a waste of time compared to the touch-panel navis offered on Japanese cars. The 5-Series's LCD screen is however too far away from the driver to be easily reached by hand, so I guess this is the next best thing after voice recognition.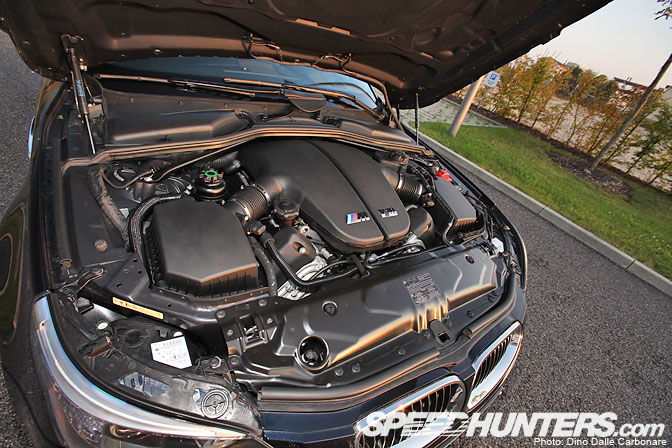 The mighty 5 L V10, a 500 HP work of art.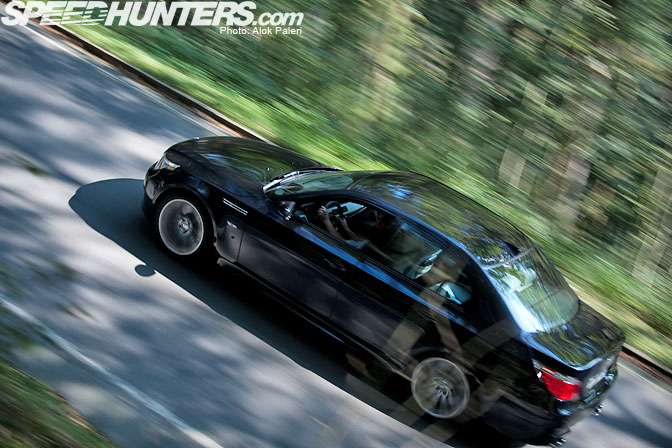 With traction and stability control switched off the M5 came alive on the tight and steep mountain roads we chose for the pictures. Steering and throttle is all you need to manhandle 2 tons of BMW around, it all feels so responsive and so direct reminding me what a proper driver's car should feel like. The gearbox is so savage on full rpm up-changes, especially during launch control assisted sprints.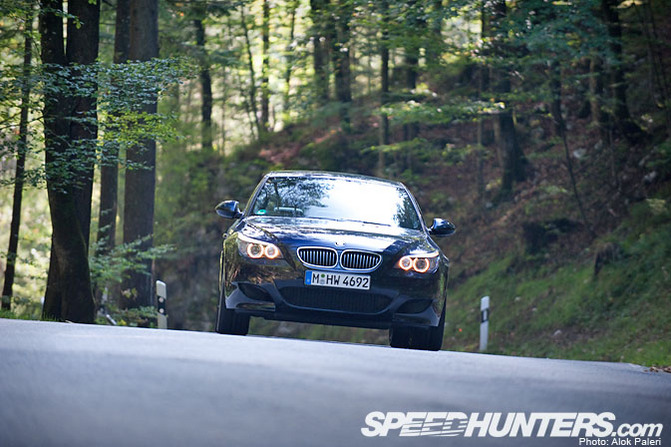 The brakes are the only area that I thought could be improved upon, showing signs of fade during the constant high-paced driving for the action shots.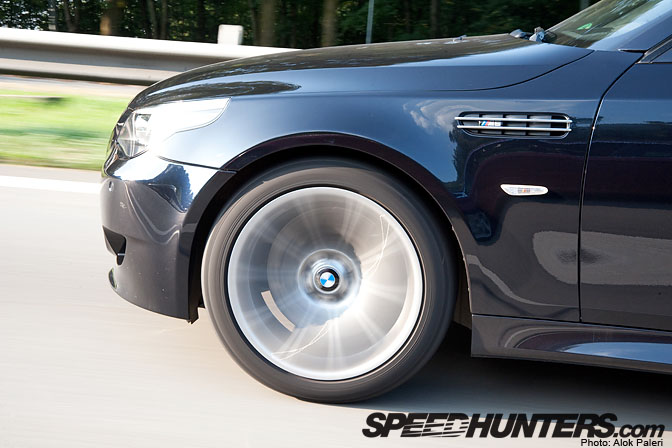 With the pictures taken care of it was back on the Autobahn, not before we had accidentally strayed into Austria! To avoid potential fines for not having a Austrian-highway permit Alock's friends that had come along with their tuned BMW Mini's helped us get back to Germany through some backstreets.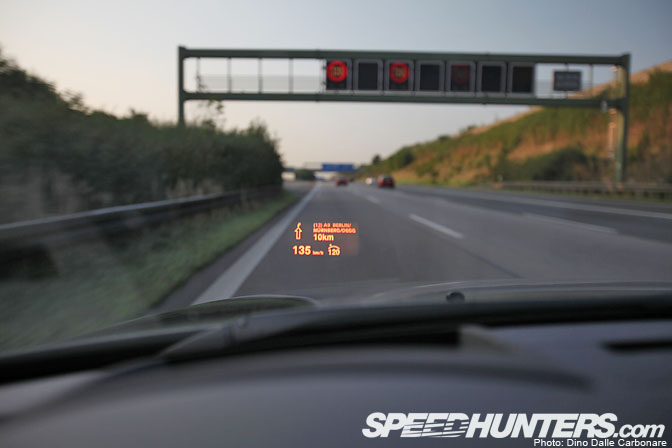 130 km/h limits popped up here and there, something that somewhat slowed our pace.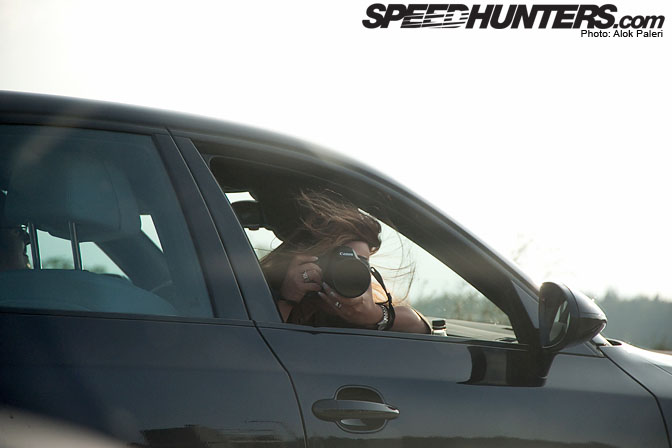 Here is my wife grabbing some snaps of Rod's 135i from the passenger seat of the M5. A Speedhunter through and through! LOL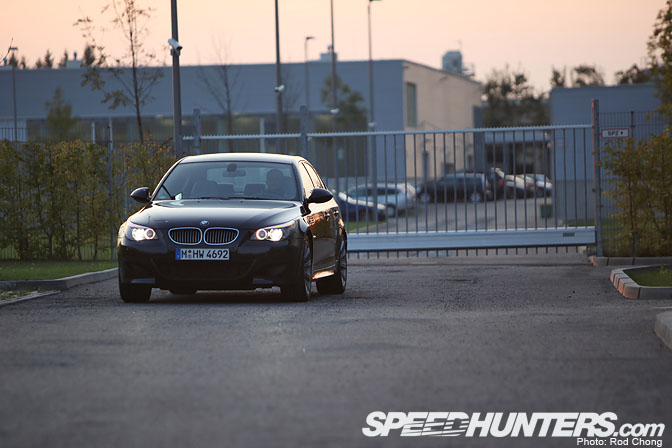 We arrived back at BMW's press car center outside Munich and got ready to hand the cars back…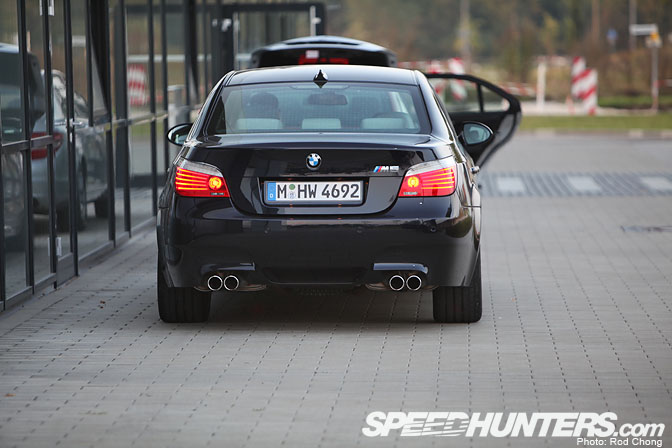 …not before snapping a few final shots…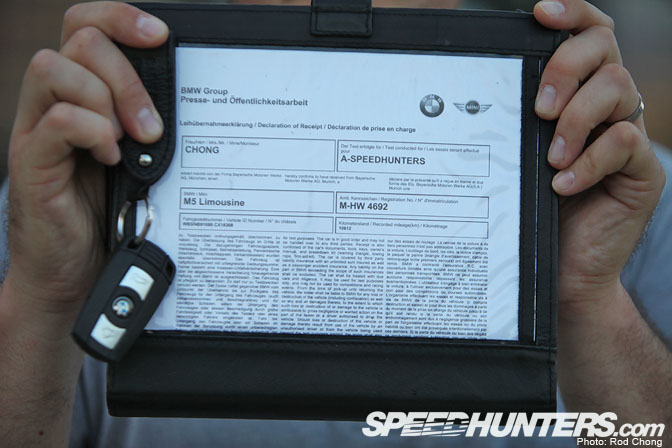 …and preparing the registration book and keys!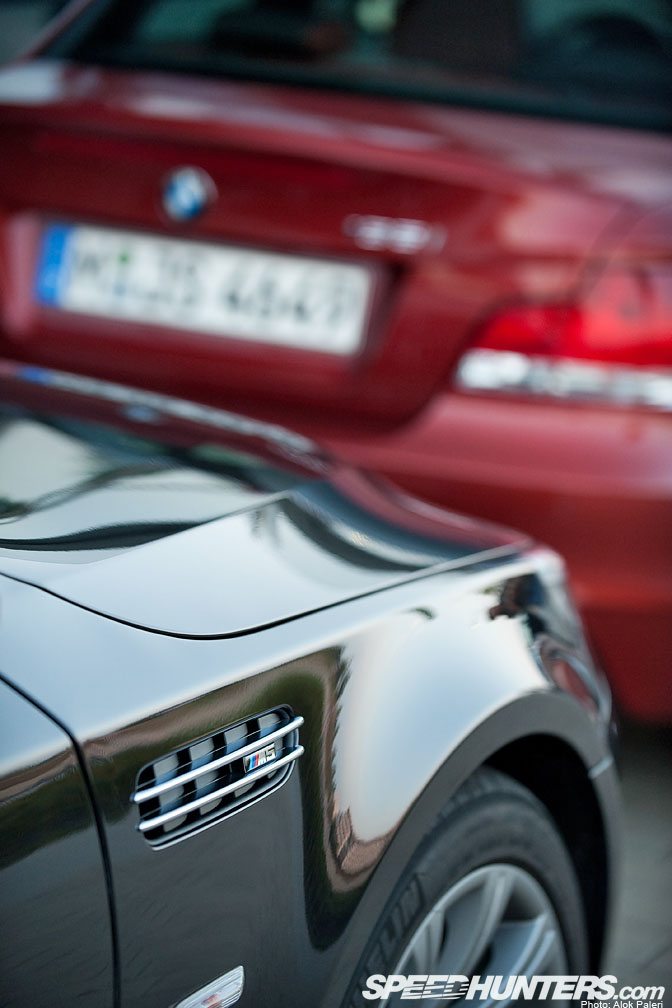 The V10 M5 is without a doubt an exceptional car, combining the qualities of a luxurious sedan with a sports car, all of which is only a few button presses away. It is however close to the end of its production life. The all-new M5 due for early 2011 is rumored to be powered by a twin turbocharged V8 following in an effort to downsize bigger engines for reduced fuel consumption and emissions. With around 580 HP and a dual-clutch transmission it should be quite the monster, one we look forward to sampling! Stay tuned for a look at the little 135i, a ride that couldn't have been more different from the M5.
-Dino Dalle Carbonare