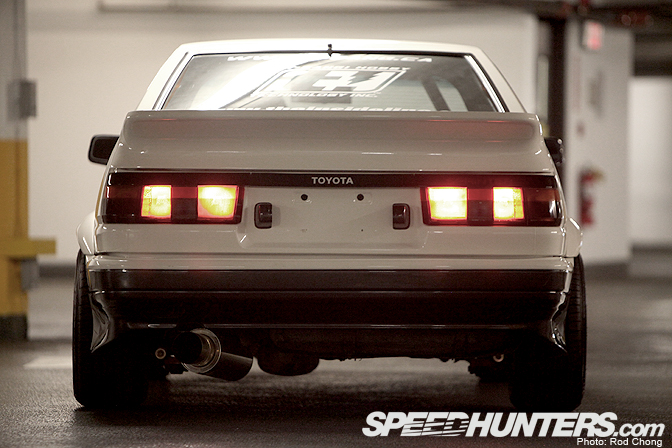 A lot of people have asked me about the history and story about this car.  To some, it's just an old Corolla that's not worth more than a few hundred dollars.  To those that know and are fans of the Hachi Roku, they understand and appreciate the efforts that go into resurrecting them, building them and most importantly – driving them. 
Some have speculated that this car was "too showy", but it was truly designed and meant to be driven.  It has seen it's fair share of track days and autocrosses.  Hopefully this story will show people that a car that was built for the track, can look clean and be unique as well.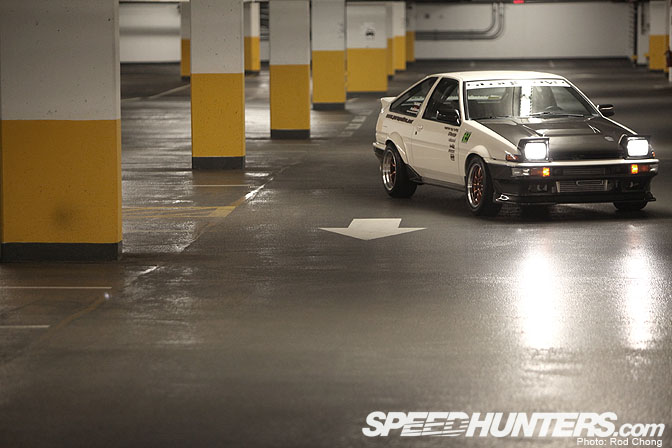 This car build began over five years ago.  Having already worked on a couple FWD cars, I wanted to get an FR (front engine, rear wheel drive) car as my next project. 
I was participating in more autocross events and track days, and I vividly remember my older brother's cars (he'd went through many classics in his time, including American muscle, Datsun 280Z, FD RX-7's, etc..) and what it felt like as a kid riding in them.
I had entertained going the 240SX route, but I wanted something smaller, lighter and most importantly, unique.  I was already interested in AE86's in the late 90's.  I was going to Japanese book stores and buying Option magazines and VHS videos, and I was fascinated by these "little cars that could".  This was (at least in my neck of the woods) way before drifting gained popularity, and I didn't even know about Initial D and it's popularity until much later.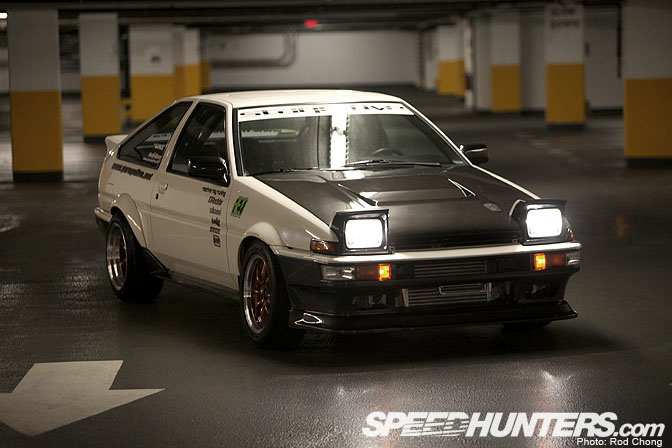 The original plan was to build a lightweight track car, with suspension mods, some 15" rims, rebuild the motor, add an intake header and exahust, add a seat and steering wheel, do no body work and that would be it.  That plan didn't last long. 
I had a blast driving the car in a few events with the aforementioned build up, it felt light and really responsive.  The sensation was completely different from any of my previous cars and I was bit by the AE86 bug. 
I knew I had to do more, but to do it right would take a lot of time and parts.  I poured over Hyper Rev books and Levin Trueno Magazines and dreamed about getting all these crazy Japanese parts. Those that have worked on AE86's back in the day know how hard it was to source parts. Luckily, my friends at Garage Five Performance were able to source what I needed and helped me take on the project.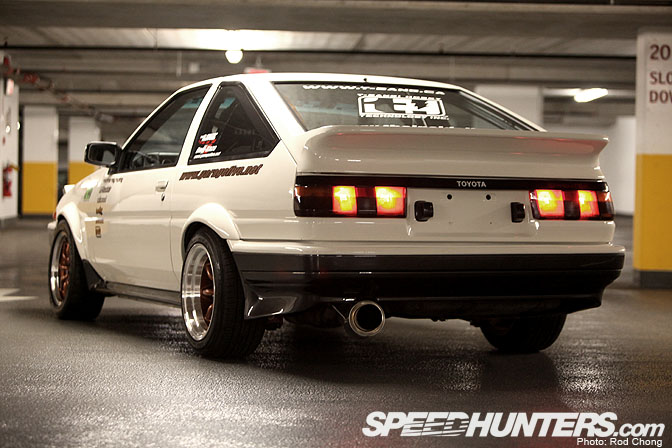 The car was stripped down and the engine removed.  While the engine was being rebuilt by Garage Five, the shell was stitch welded in key areas, and the entire car was painted including the engine bay, door jams, etc..  The body shop fitted the body-kit parts and rear wing, while fixing the odd spot of rust.  They also shaved the rear side lights.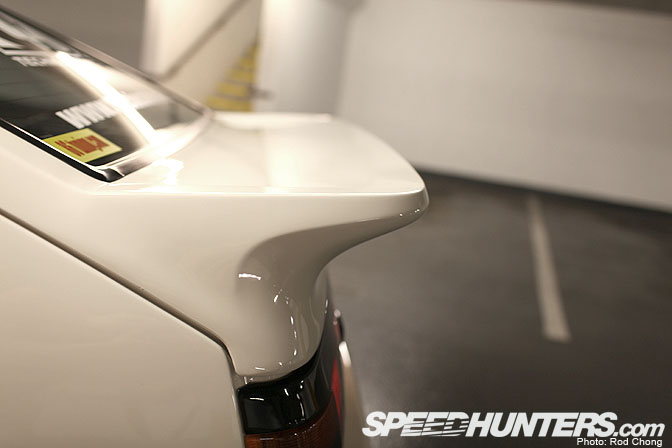 I had a hard time tracking down a genuine TRD wing.  I had ordered a replica at one point but upon test fitting it, the fit was horrible.  I knew I wanted a genuine one.  I was able to track this one down through Takumi Project in California.  It still has the TRD Technocraft label inside.
The body shop blended it into the rear hatch perfectly.  They also shaved the hatch key lock and wiper holes.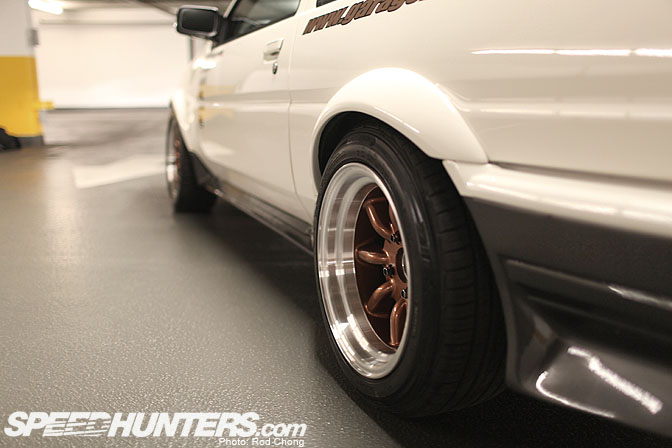 The rear fender flares are Origin Labs.  The door locks have been swapped out for Solex locks (these use a special key, like a bicycle lock for extra security and a more flush look).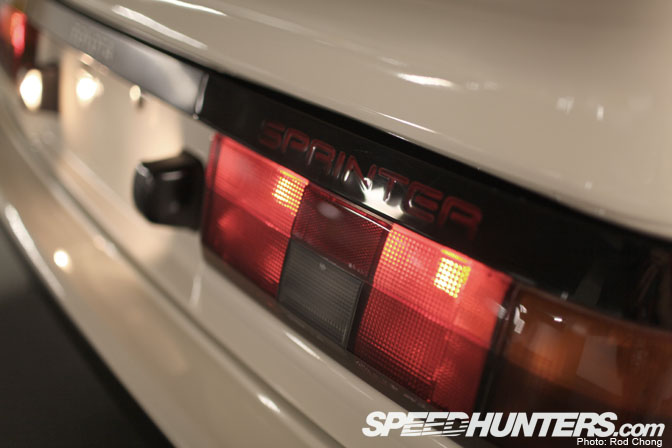 I think the rear Sprinter tail lights were won through an auction in Japan. I've had a few sets of them and they all seem to have this green scum growing on the inside.  It took a few days to clean refinish them and polish them up, but it was worth it.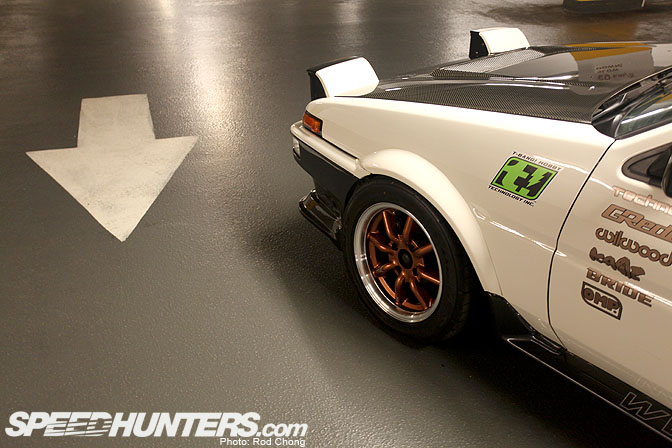 Let's move around to the front of the car.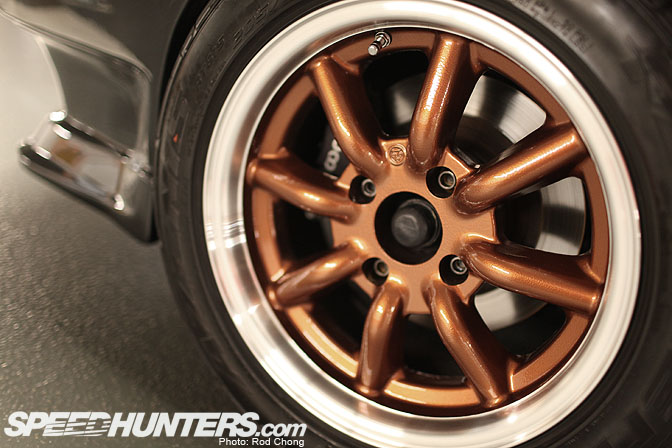 Technotoy Tuning 14" brake kit with Wilwood calipers, J compound brake pads.  Lug nuts are Kics Project.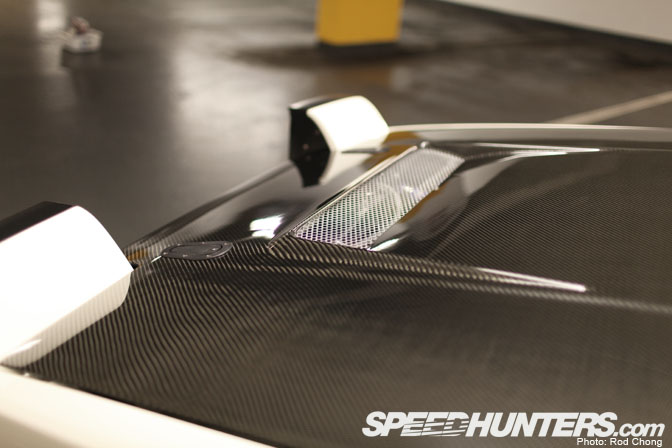 Seibon drop vent carbon fiber hood, with Aero Catch hood pins. 
People have asked why the headlights are always up.  In true AE86 fashion, there's always something slightly off or in need of repair with our cars.  I think the motor assembly for the lights took a hit from a pylon at a drift event a year or so ago, and I've never gotten around to fixing it.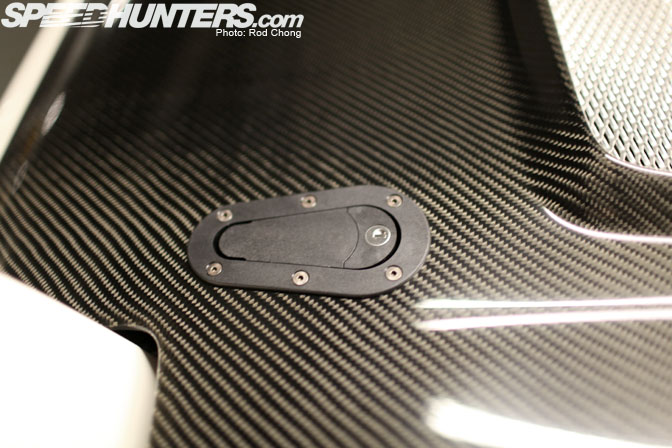 When I initially painted the car I had a carbon fiber hood made as part of a group buy for our car club (Dori Kaze – Old School Toyota Enthusiasts).  The carbon hood was actually molded from my original hood and it fit perfectly. 
Unfortunately, a couple years ago the carbon hood flipped open while driving and was damaged at the rear corners.  I gave the hood to a buddy of mine, who painted it white (he now has the coolest hood in town because the underside is still carbon!).  The Seibon drop vent hood was my replacement.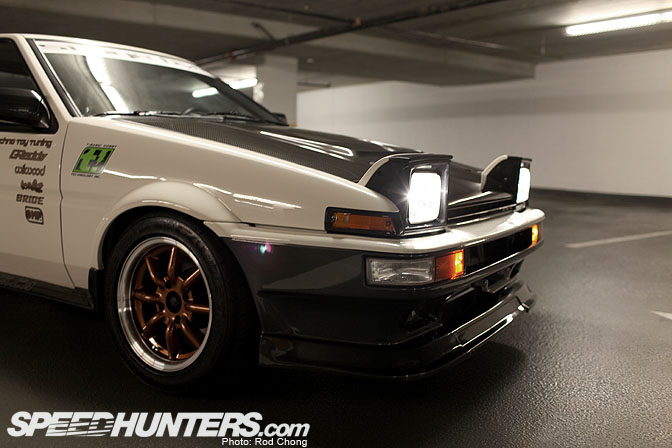 The front bumper and rear bumper are J-blood.  The JDM corner lights were purchased new.  Suprisingly, a local dealer had JDM corner lights in stock.  The headlights have undergone an H4 conversion, to allow for more bulb choices.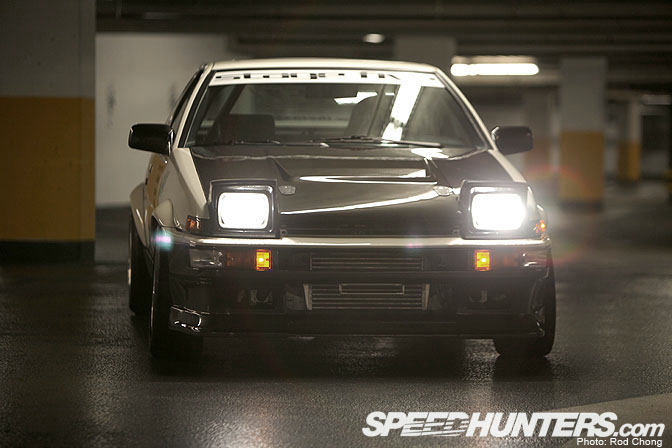 The suspension was recently swapped from Technotoy Tuning coilover fronts and TRD spring / shock combo rears, to new Greddy Type S coilovers.  This allows full adjustability on all 4 corners. A Greddy strut tower bar and TechnotoyTuning triangle brace keeps things stiff in the engine bay, with Technotoy Tuning panhard and traction brackets take care of the rear end.  The rear diff is fitted with a Kaaz LSD.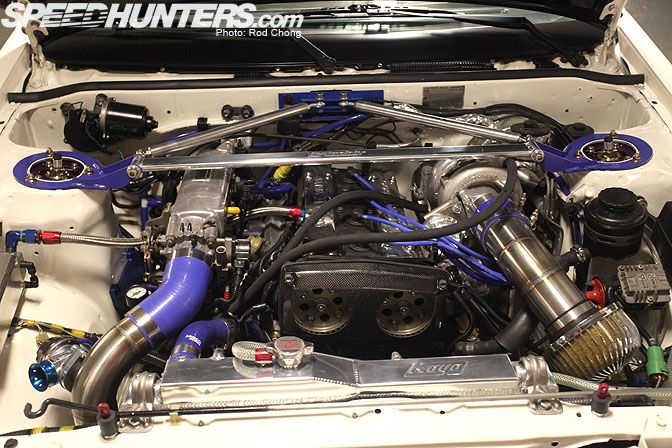 The engine was rebuilt by Wayne at Garage Five.  The build up has gone through several incarnations over the last few years.  The initial work involved rebuilding the head and bottom end, and adding an intake, TPS header and a JDM Trust exhaust (the engine was dynoed at 118HP to the wheels which wasn't bad at all).  After that came cams, valve springs, cam gears, and some other head mods.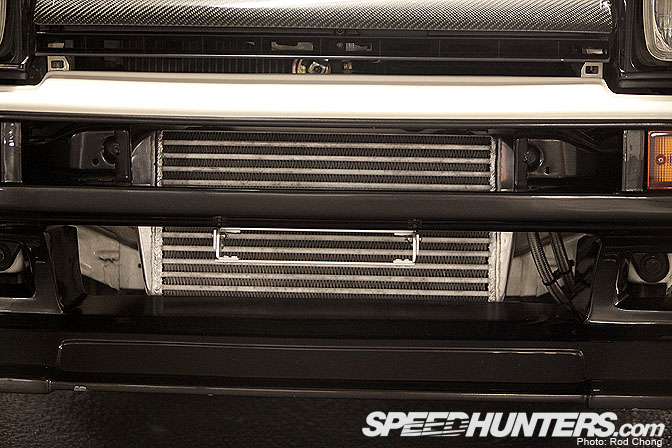 A couple years ago, I added 20V silvertop ITB's.  While this sounded extra cool, it didn't do much for power and did not work well for local autocross courses where hard braking was followed by quick acceleration.   I had to keep the pedal down to keep the car in the right powerband range but it wasn't responsive enough.
As you can see by the giant intercooler, things changed…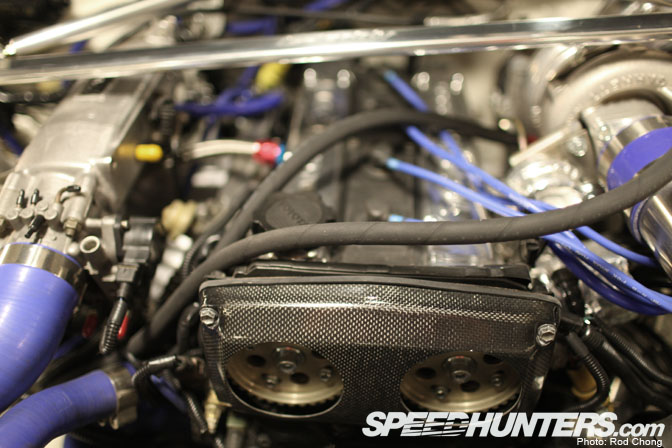 The final engine work took place last year when the motor underwent turbocharging.  This included a Garrett GT25 turbo, custom intercooler piping, modified manifold, custom down pipe, Greddy BOV and a JDM MAP conversion and Greddy E-manage for tuning.  The car hasn't seen the dyno yet, but it drives great and is very smooth.  It will see some additional tuning in the coming months.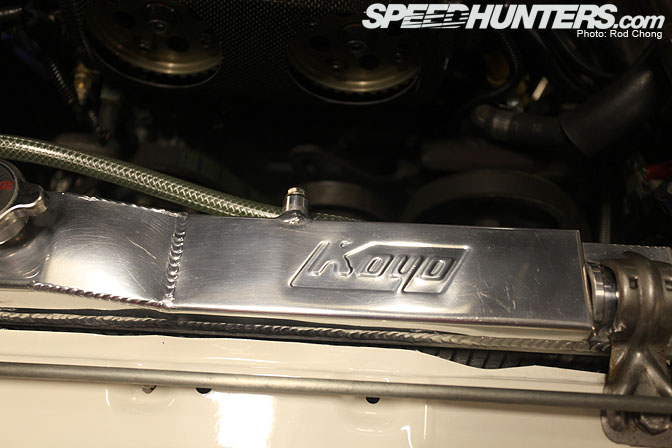 A Koyo radiator and electric fan conversion keeps things cool.  The power steering is still intact.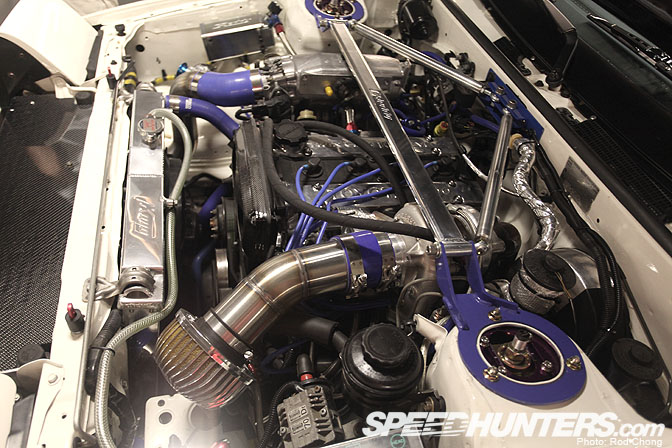 Note the custom welded stainless intake piping, custom down pipe and ceramic coated turbo.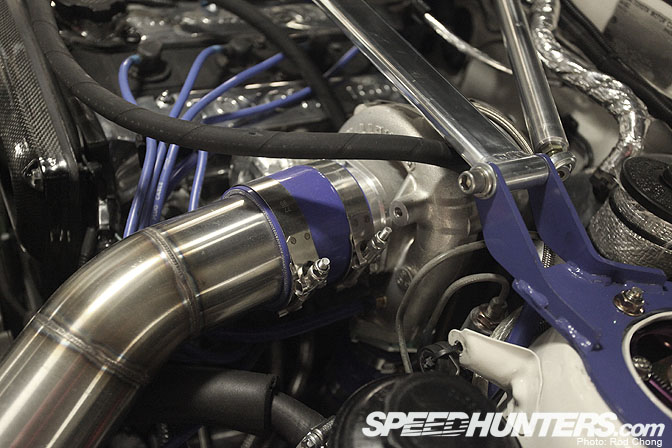 The turbo manifold is a modified HKS manifold.  Wayne from Garage Five had the flange machined, in order to fit the turbo into the tight space between the engine, steering and braking components.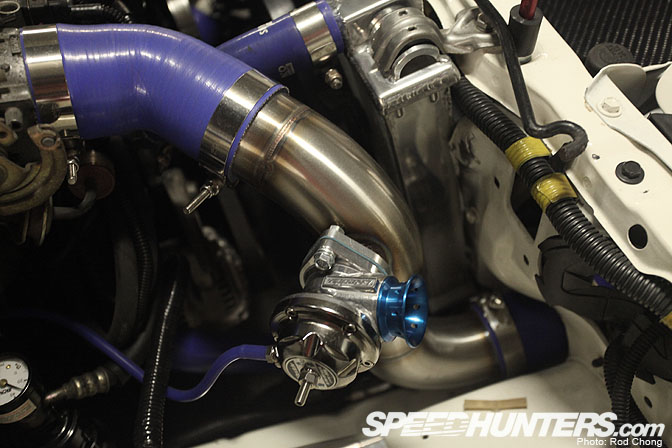 Greddy Type RS blow off valve.  This surprises the hell out of people when they see an "old Corolla" drive by and hear it purr… or growl. J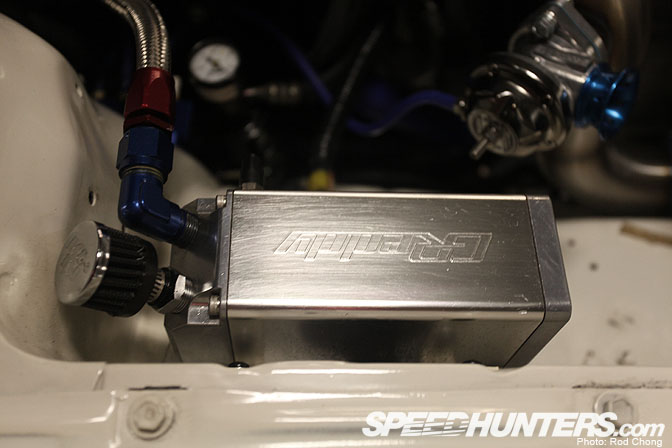 Old model Greddy oil catch can (this brick weighs twice as much as the new ones!).  But it was a carry over part from my previous car, so it had to go in.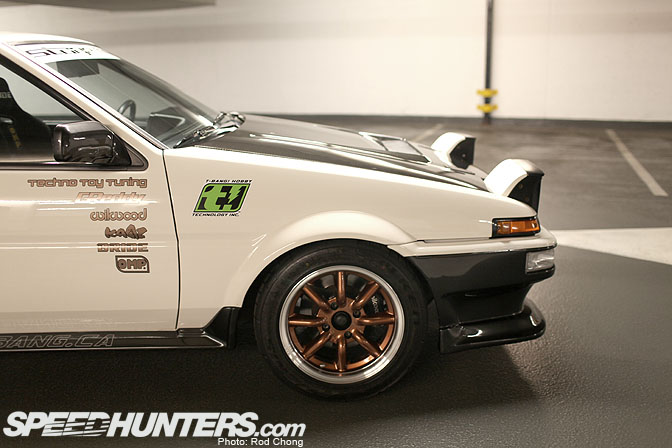 The street wheels on the car are genuine RS Watanabes.  The fronts were sourced locally used. I sent them out to be refinished (repaired lip, straightened, etc..) before they were finished custom bronze with a polished lip.
The front tires are Falken Azenis RT-615 205 / 50 / 15   I have a second set of track wheels and tires not shown for autocross / track days.  They are Volk Rays TE37 15 x 7 + 0 with Kumho Ecsta V700 tires.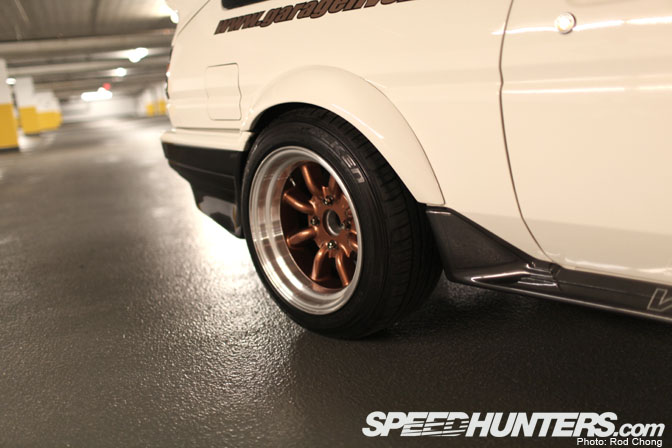 The rear wheels are Custom finished JDM RS Watanabe R Type 15 x 8.5 -6 with Falken Ziex 912 205 / 50 / 15.  There's an additional 20mm custom hub centric spacer to kick the wheels out even further.
The rear bumper was customized by reducing the height of the rear under spoilers, and then blending them in.  Because of the AE86 sideskirts being thinner in height than J-blood ones, I had the  rear under spoilers modified to match.  I wanted the lines to match up.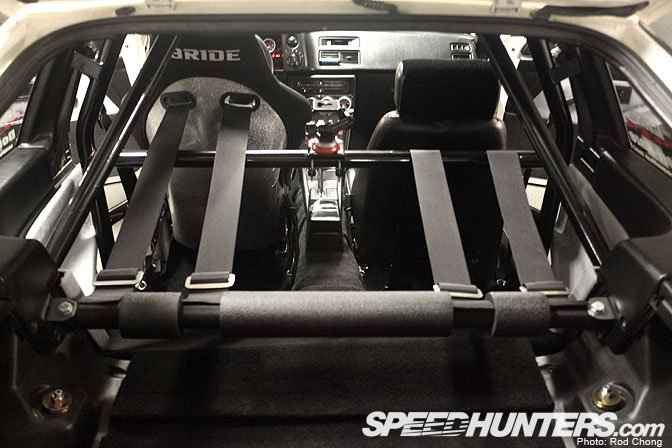 I helped design the cage with Wayne, it was fabricated at Garage Five Performance.  Many people have commented on the unique rear interior.  I wanted to remove the rear seats, but I wanted to keep some parts of the interior to make it look factory.  The idea was "What if Toyota offered a sport version of the AE86, and removed the seats.  What would they do?"
I created a custom trunk panel and carpeted it and made a matching angled panel to cover where the seats were.  The head liner was reupholstered, along with the door panels.  I just think it looks a lot cleaner than painted steel and wires all over the place, and it keeps things a little quieter.  I like to keep things neat and tidy (my wife would disagree on account of our crowded and messy garage).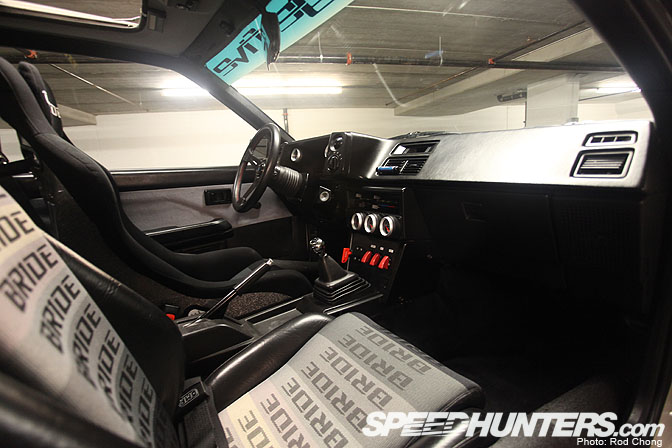 I was able to track down some used but clean black interior plastic panels.  The carpet is in surprisingly good shape.  The drivers seat is a Bride Vios III Low Max, with East bear sliders to keep it as low as possible (due to the sunroof, the clearnace for my helmet is rather tight). 
The passenger seat has a legacy to it – it's an early 80's aftermarket seat that came from my brothers Datsun 280Z that he handed down to me.  I cleaned it up, inserted some new foam and reupholstered it with matching Bride gradient fabric.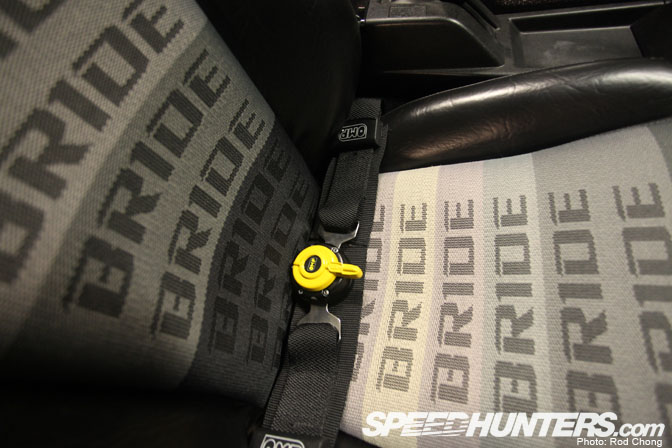 Harnesses are 4 point OMP.  The center console still has the original cup holder that flips up to hold drinks.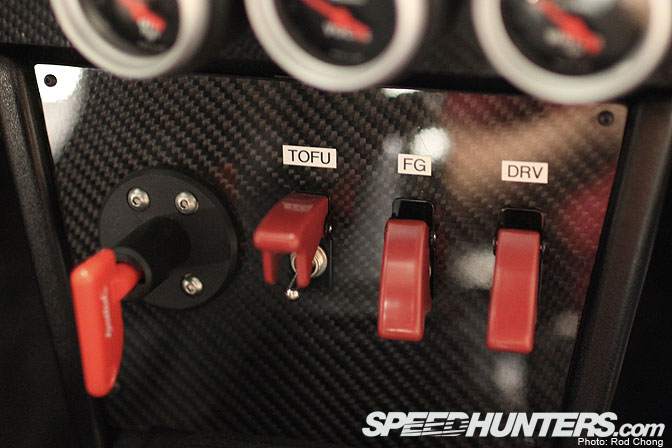 I added this carbon panel to capture the race car feel, like something from the JGTC or AE86 cup cars.  There's an Ignited battery kill switch and a few toggles.
People always ask what the "Tofu switch" is for.  I usually tell them it adds about 30WHP.  They almost always say "Really?! How much does it cost and where can I get one?"  I wish I carried around a box of these to sell everytime I'm asked!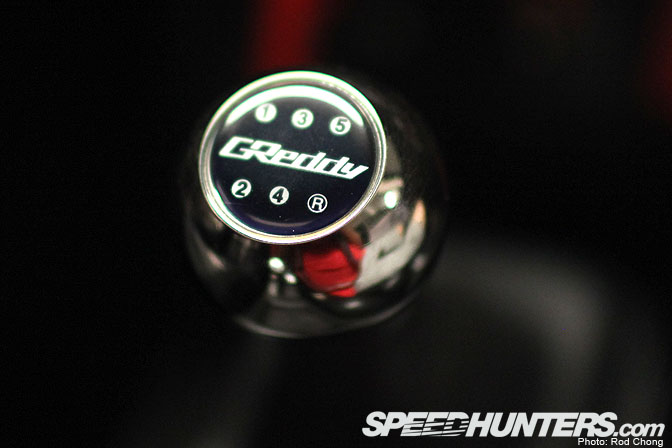 Greddy Counter Weight shift knob, on a Technotoy Tuning short shifter.  The throws are much shorter and very precise.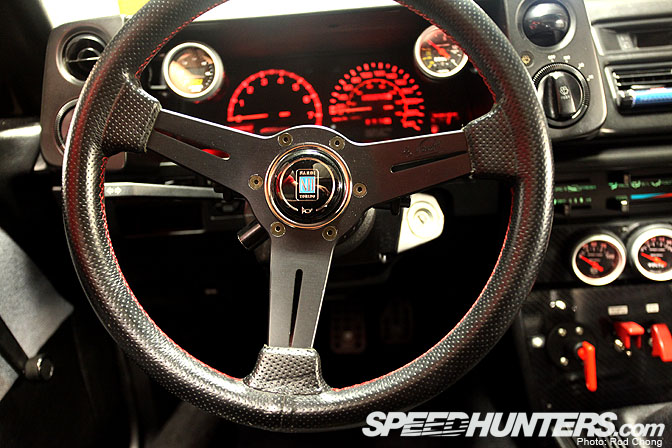 Nardi 330mm steering wheel, Momo hub, FET spacer, AEM wideband guage, Autometer gauges for boost, oil, volt and water temps.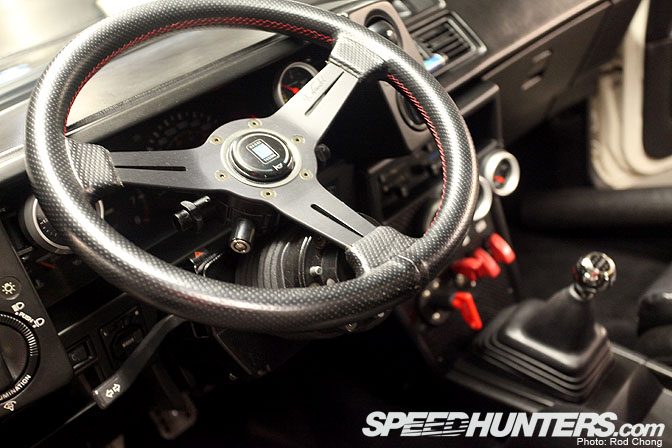 The steering hub is equipped with a Tekniq Auto Snap Off hub system.  It's very secure, no play or wiggle, you can remove your steering wheel for security or lock it in place with a key.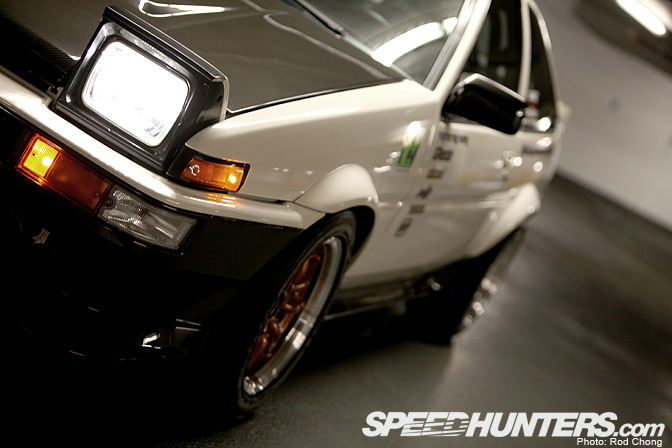 The front fender flares resulted from a strange incident.  I had purchased some Origin Labs fenders, but when I tried to install them they didn't fit as I had hoped.  I ended up actually cutting the flares off the Origin fenders, cutting off the OEM steel fender flares, and mounted the "new" flares on top and painted them.  It was an expensive way to get the flares I wanted, I wouldn't recommend this method of flaring fenders!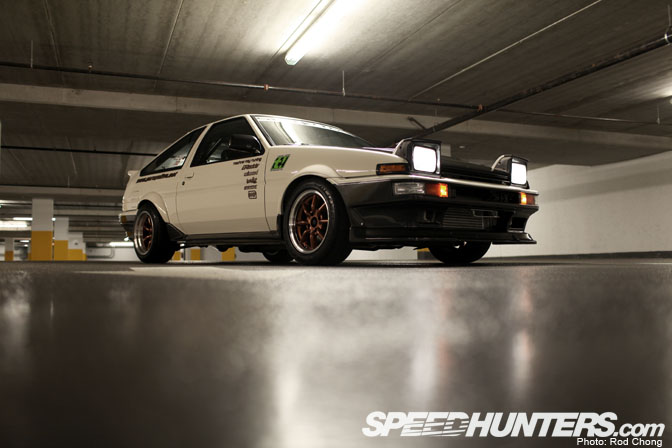 When I first starting gathering a parts list for the car, I vividly recall using Photoshop and digital photos to compose an image of the car with all the exterior parts I wanted.  Right from the start, I knew I wanted to paint the car Championship white (yes, I know it's a Honda color), and certain parts IS300 gunmetal.  It would have a kit, TRD wing and carbon hood.  I gave these Photoshop print outs to the body shop and they matched the paint scheme perfectly.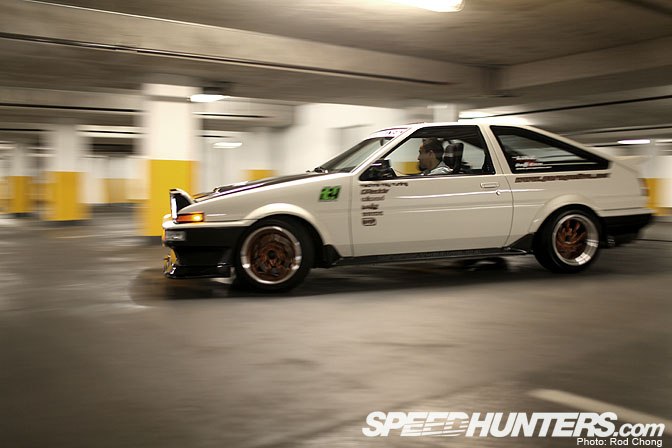 Driving this car at track events is a joy.  It handles very well and is way more responsive than any other car I have driven.  Building this car has been a crazy journey with lots of hard work, but driving it makes the journey worthwhile!
I'd like to thank everyone that's helped with the build for their hard work, patience and guidance.  Wayne, Dave, Rob, Rich, Kuen and Adrian at Garage Five Performance, Dori-Kaze, 86Tuning.com, Crzy Joe, T-Bang Hobby Technology, The Inside Line, Morrisport Advanced Driving, Drivers Edge Autosport and my friends and family for their support.  Special thanks go to my wife who's been very patient and supportive of my little hobby, and our messy garage.
-Terry Chui
PS: Terry's AE86 will be on display at the Need for Speed SHIFT booth @ Formula D Seattle this Saturday August 8th.