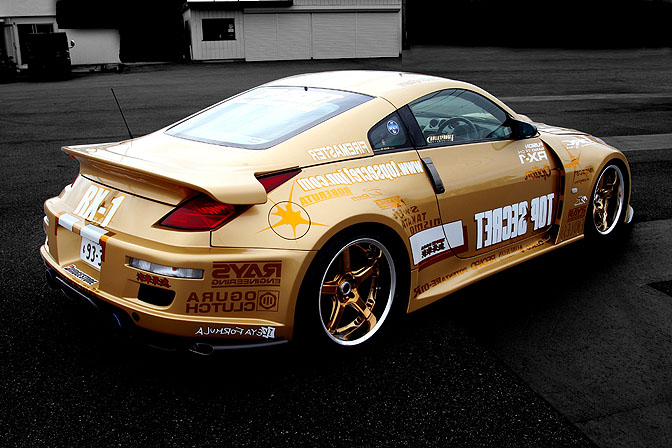 I've had the pleasure of knowing Kazuhiko "Smoky" Nagata for many years now. Nagata-san is of course the founder of the legendary tuning shop, Top Secret. Going beyond that, he is also a bit of a worldwide motorsports celebrity, in fact he is a rather unique example of a motorsports star. Not many people can claim celebrity driver status while having no professional motorsports affiliation as a driver. To understand the mysterious Nagata-san it may be a bit easier after some background.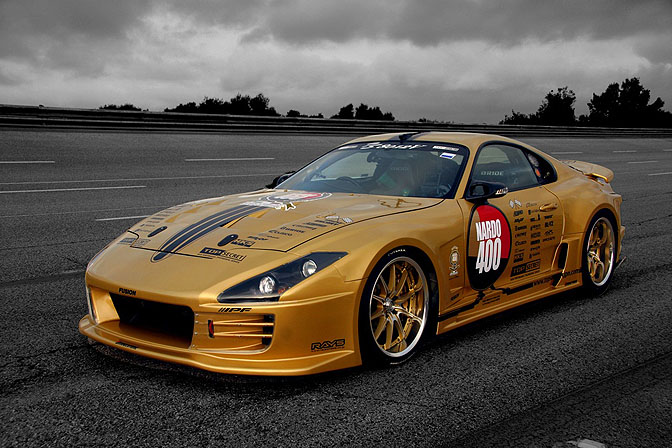 (The pinnacle of Smoky's tuning, the V12 Twin Turbo Nardo 400 Supra, pictured at Nardo, Italy)
I've known Nagata-san professionally for quite some time now. My company, Bulletproof Automotive became his appointed worldwide exclusive distributor for the Top Secret brand in 2002 and since then we have operated "Top Secret III" and "Top Secret USA" to support Smoky and his tuning parts endeavors. Prior to Smoky and I launching Top Secret III together, I of course asked him some burning questions which might yield some insight into the mind of a maniac driver and tuning fiend. One question in particular yielded an answer which years later still serves to sum up the man quite nicely. The question was a simple one: "What is the significance of the gold color you use on your demo cars?"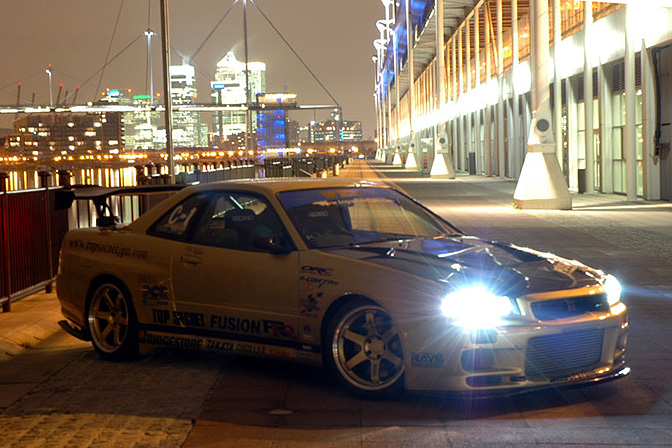 (The Fusion RR Time Attack BNR34 Nissan GT-R served at Top Secret's pinnacle circuit machine and was Smoky's favorite car for many years. It was not only a favorite of Smoky's but of mine as well. The car now proudly owned by yours truly.)

Smoky thought about it for a minute and then told me that he chose the gold color because as a kid he always enjoyed watching the Olympics and the gold represents first place, being the best in the world. That answer, later on I realized was really all I needed to know about Smoky to understand his motivations and his uniqueness.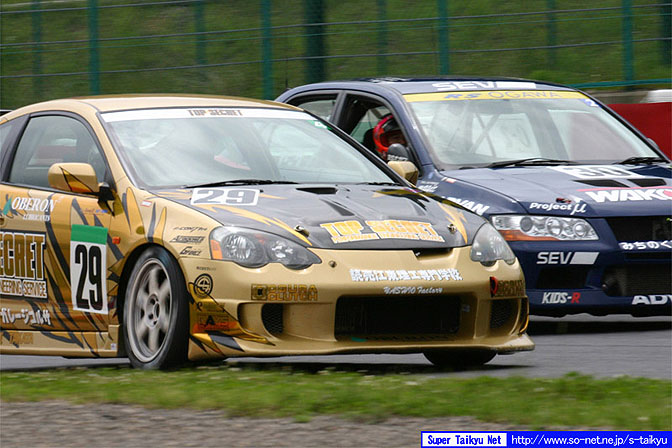 (Rare shot of Top Secret's Super Taikyu Competition DC5 Honda Integra pulling ahead of an Evo in a S-Tai event.)
Since that explanation which was in essence his soft and humble proclamation that he demands to become #1 in the world, everything else seemed to fill into place over the years. I was there with Smoky throughout the season when his S15 Silvia won the D1 GP World Championship. I was there watching him win first place awards at Tokyo Auto Salon multiple times with unbelievable cars like the G35 V8 Twin Turbo and the Nardo Supra. And then there was the countless times I wasn't there and was damn jealous because I wanted to be!  Since his humble beginnings in the industry as a specialist tuner at Trust Japan, Nagata-san has won the gold at least once, if not more, across nearly every category possible within the world of sports car tuning and motorsports.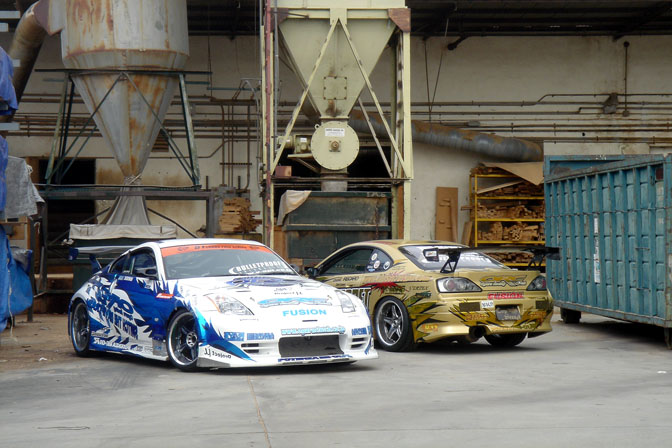 (A rare and legendary pairing. At the time I shot these pictures, the S15 D1GP car had just become the D1GP season world champion and was retired with the title in place.)
(Top Secret had then promptly been commissioned by ORC to campaign a D1GP car for them, a RB26DETT powered widebody Z33 350Z shown alongside the S15.)
His "golds" include: First place titles in drifting (D1GP World Champion), drag racing (RH9 Club), time attack (GT-Rs), car shows (Tokyo Auto Salon), one make races like March Cup, top speed runs (Supra, GT-R, G35), even Pikes Peak Hillclimb! Come to think of it, I can't think of anything that he has not done… Keep in mind, Top Secret also had a team running in Super Taikyu with a DC5 Integra and a S2000 campaigned in Gymkhana. At the moment Smoky is still at it, oddly enough trying to conquer the world of hybrid eco cars, building both a new Prius and Insight concurrently.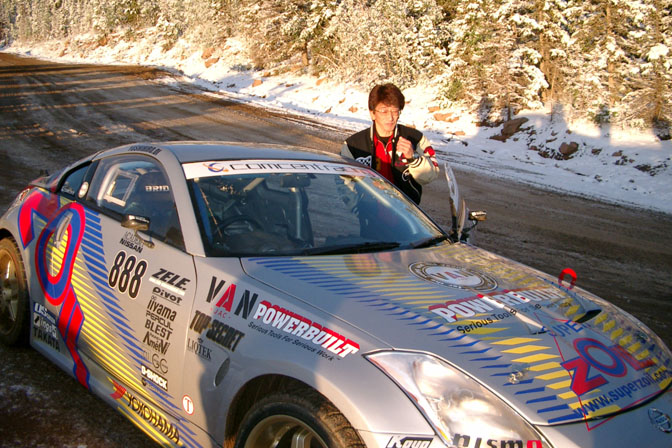 (A little discussed bit of history, Top Secret prepared two AWD Z33 350Zs with RB26DETT swaps for Pikes Peak. These beasts finished top of their class, as Smoky expected)
Many people wonder how Smoky can have balls of steel when they watch the notorious street racing videos of him in various countries doing unthinkable speeds on public roads. Whether it's with our friend Fly, on the wangan in a GT-R with Fly nervously screaming out the speeds or its Smoky getting locked up in the UK after blasting his Supra down the road, Smoky has always been an insanely intense driver. His intensity again points back to that gold color. Smoky wants to be the fastest and the best everywhere in the world, it is quite simply his life's goal. He builds the craziest and fastest cars he can produce and ships them all over the world to record himself driving the fastest anyone has driven in those countries. New Zealand, UK, Germany and Italy have all been witness to Smoky's intensity. Whether it is raining or clear, sunny or dark, Smoky does not let off throttle until he is satisfied that he has earned the gold that he proudly adorns his cars with.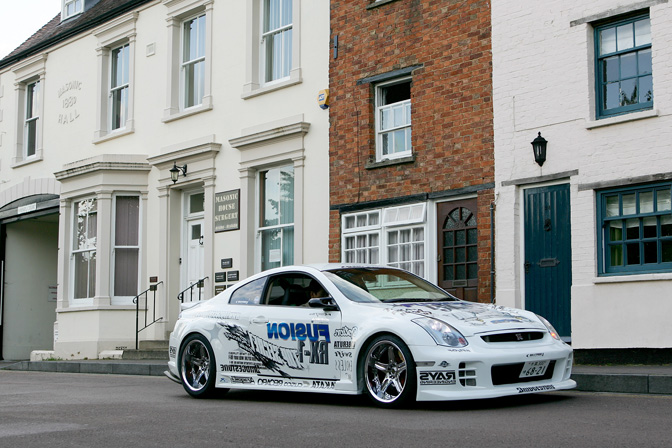 (The legendary CPV35 Skyline Coupe V8 Twin Turbo, a car that won best of show at Tokyo Auto Salon and absolutely slaughtered the Autobahn with Smoky behind the wheel. 341 km/h to be exact. That's 211 MPH for us Americans.)
Nagata-san is a quiet and intense man to those who have met him. I hope this contribution to Speedhunters sheds some light on the real man behind the crazy videos and rumors. Passion is a wonderful and potent thing. Nagata-san has passion and ambition that pushes him sometimes dangerously close to the edge. The scary thing to those close to him is that he is so committed and strong willed that he will not back down even if staring death in the face. I cannot say that about many people. Perhaps that is what makes Nagata-san so famous and admired, deep down everyone admires unyielding courage and dedication. Smoky just takes it to another level.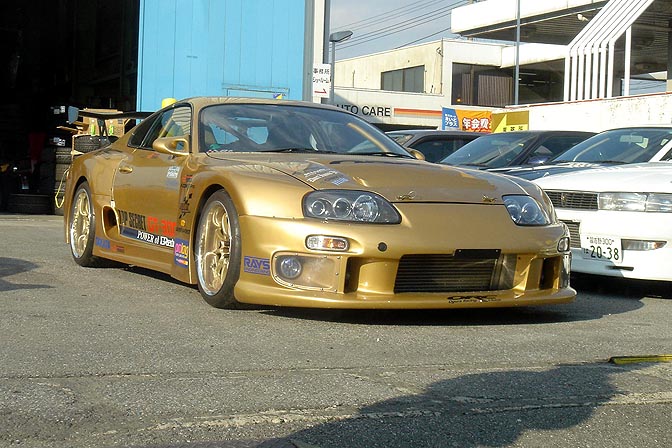 (No Top Secret story would be complete without mentioning the JGTC inspired 3SGTE powered JZA80 Toyota Supra)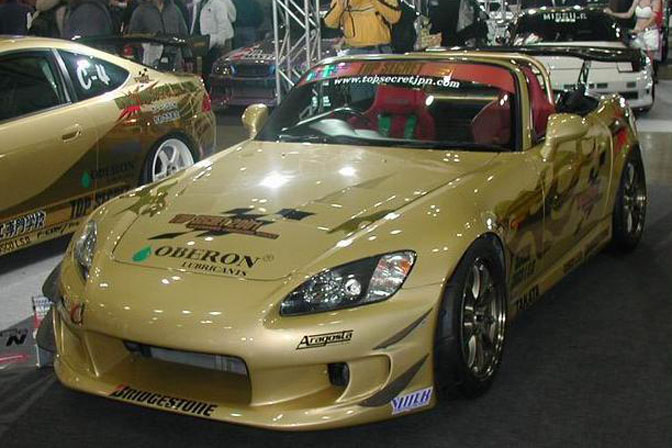 (The rarely seen gymkhana AP1 S2000 rounds off this historical overview of Top Secret.)
For additional information, check out the Top Secret Section of my blog here:
-Ben Schaffer