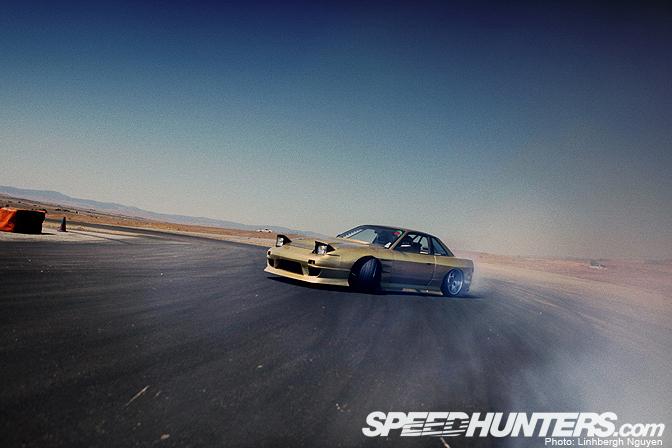 As we start to wind-down the summer of 2009, and gear ourselves up for the autumn and holiday season to come, let's take a look back at one of the greatest ricer events this year: the Just Drift/Ziptied All Star Bash '09! This event is more than just a mere drift event. All Star Bash is a weekend long party celebrating tire smoke, horse power, grassroots drifting style and flare, and a just enjoying sport for what it is –pure fun. It is also a weekend of celebration to the grassroots US drift scene. Everyone out at the event is not out to competite with each other, but to just let everything hang loose and kick that clutch! And each driver just isn't a driver to each other, but more of a brother-in-arms when another driver is in need of any assistance.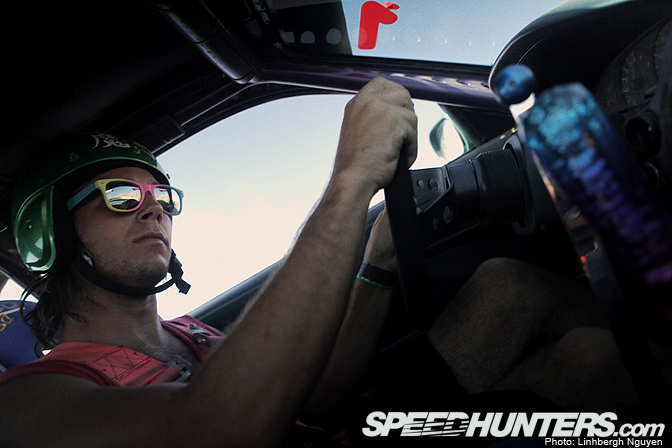 I had the opportunity to ride along with, the now infamous, Matt Powers on the Streets of Willow course. I've, personally, never been in a drift car so set up and a driver with such big cajones! The next series of photos is of this particular ride along. My apologies to the Just Drift guys for smuggling along my camera, but this was something that just had to be documented!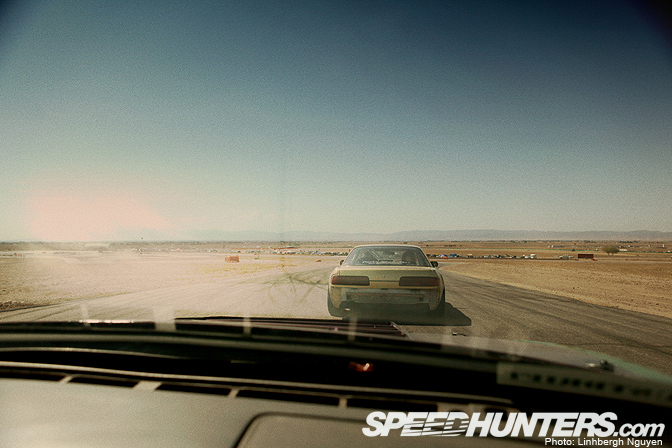 After a few laps with Matt drifting by himself (with me flailing around in the passenger seat, camera in hand), one of Matt's best friends, Tommy Roberts, rolled onto the track. As Matt let Tommy pass him, they both turned to each other and nodded…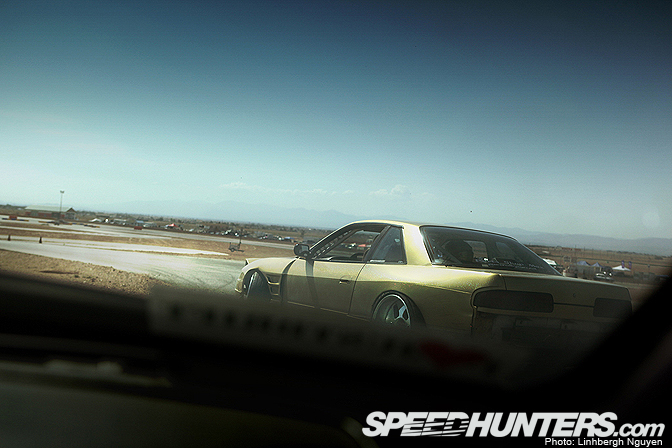 …and that nod can only mean one thing: "Tommy, take the lead, and I'll follow you." These guys started some insane tandeming for a few laps.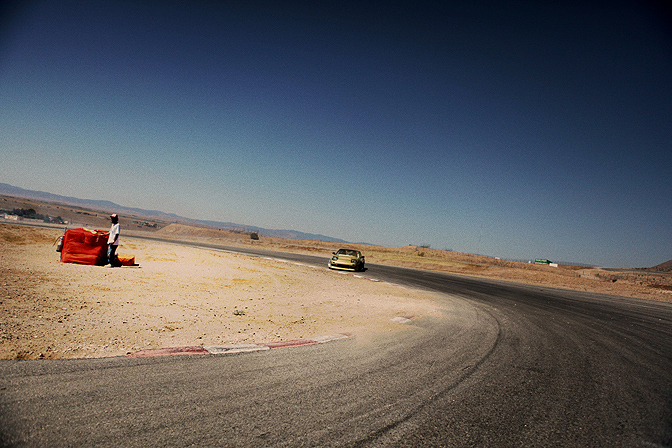 After a while, the two switched. Tommy now followed behind Matt. I turn around, mid-drift, to witness this, and taking the moment to snap the photo. This is what All Star Bash is all about: a bunch of friends just hanging out and doing what they love doing best. And in this case, it was tademing door to door with your best buddy!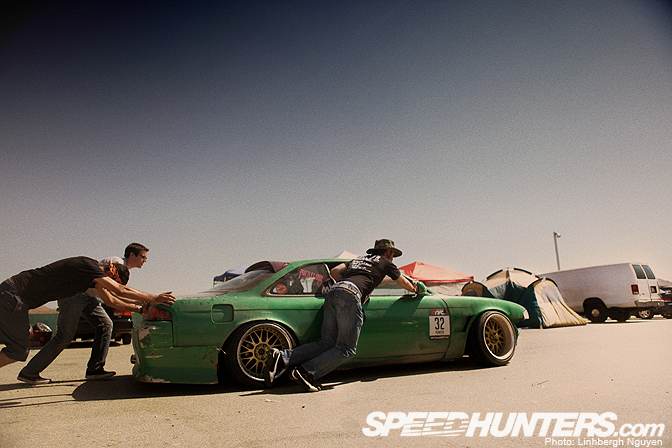 Being badass and tademing with your best bud is epic… until your drive shaft gives out on you. And like I mentioned about the whole brothers-in-arms thing before, everyone was there to help Matt push his car back to the pits, including Tommy (the one with the headband putting all his weight into pushing the car). Matt was able to secure a spare drift shaft and was back out on track in no time flat.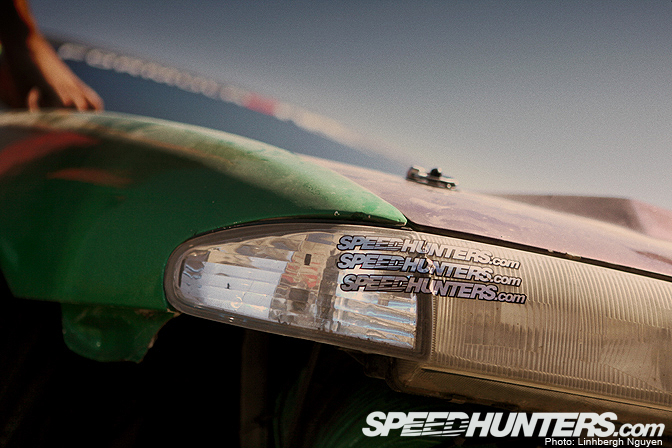 There's no better way to keep your turn signal laps mounted than with a bunch of Speedhunters stickers!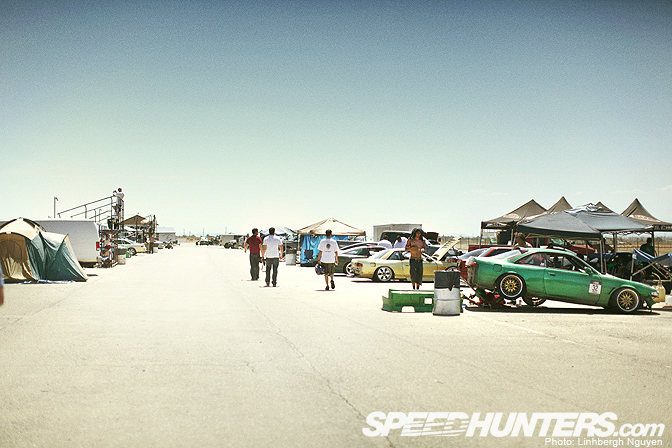 One memory that everyone walks away with from this year's even is the relentless heat. It was so hot that for a few hours during the event, no one dared to step out from the relative coolness of their easy-ups. Even the media guys had a hard time covering the event in the heat, including me.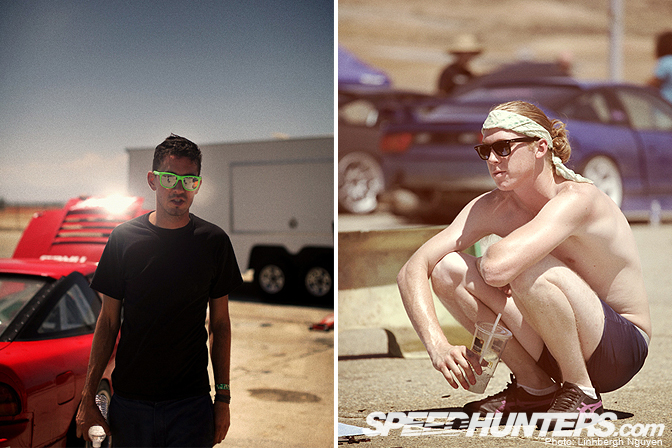 Tommy Roberts had some problems with his car which resulted in his engine catching on fire and ending his Sunday drifting early. The photo on the right reflects how far people will go to stay cool throughout the weekend!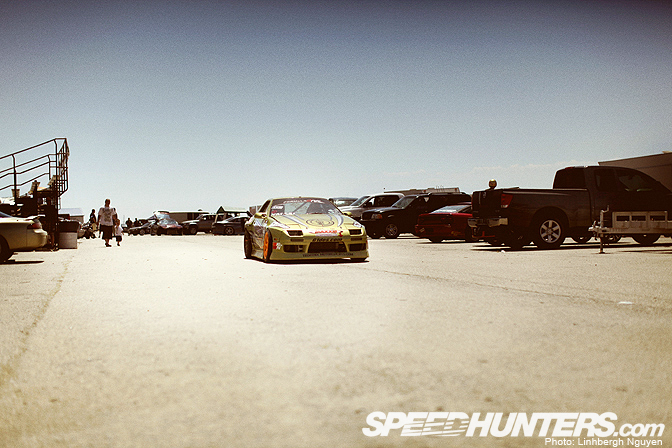 As the temperature hit the stratosphere, the both Streets of Willow and, the infamous, Horse Thief Mile became a desolate place. But, Formula D driver, Mike Essa, with his V8 RX-7, took the opportunity, of an almost empty track, to get some great practice sessions in.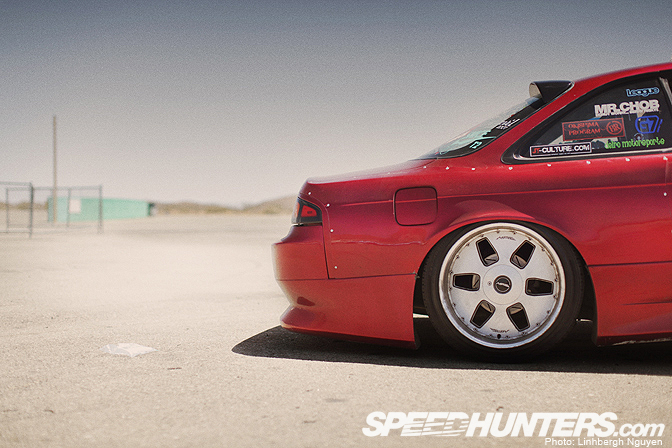 Mr. Chob from Risky Devil.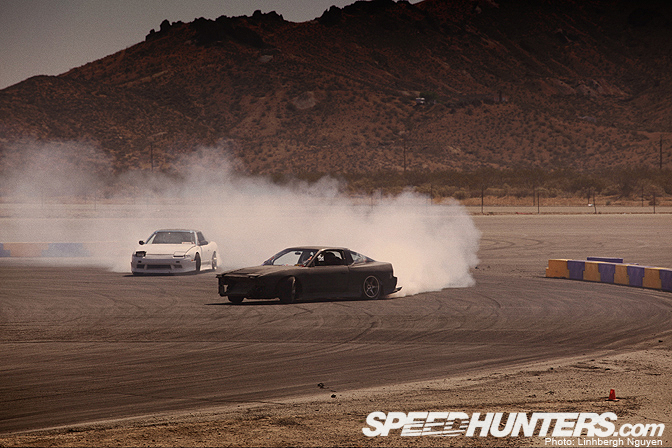 During the later part of the hot afternoon, drivers rounded up each other and started lit up both tracks.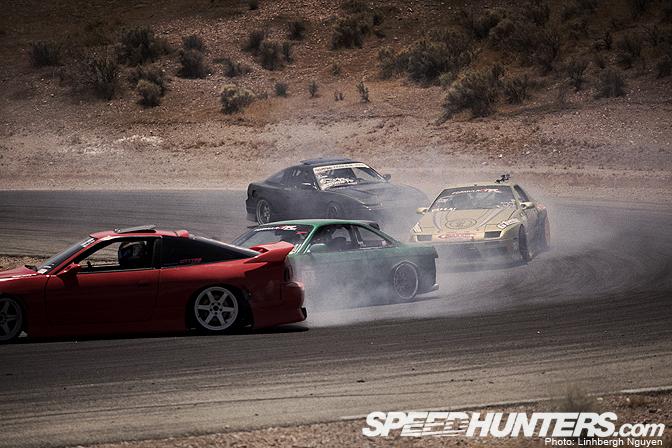 The party at Horse Thief Mile was definitely the party to be at. It was fast, frantic, and at times, it had traffic even the freeways of Southern California would be jealous of.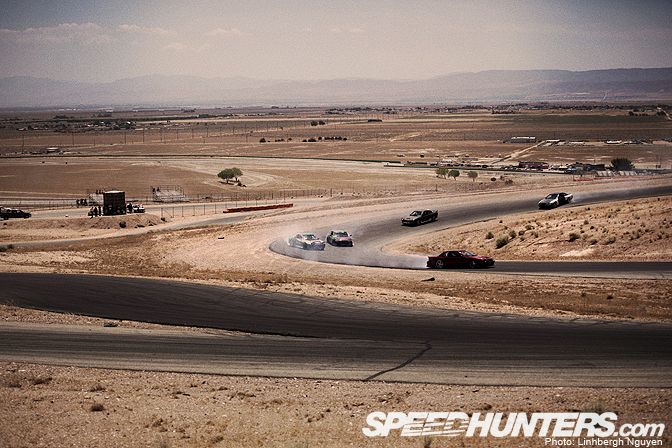 An example of said traffic on Horse Thief Mile.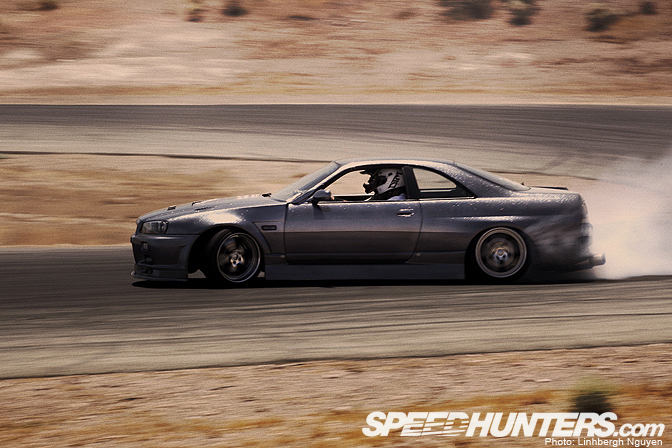 This is a sweet Nissan Skyline R33 with an R34 front with glittery paint and lambo doors. This is an amazing piece of rice!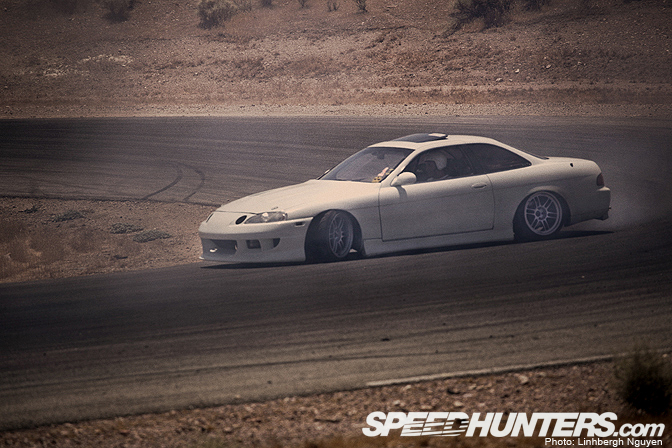 Slammed Lexus SC400 with Enkei RPF-1s and sideways, creating tire smoke on HTM? All kinds of awesome.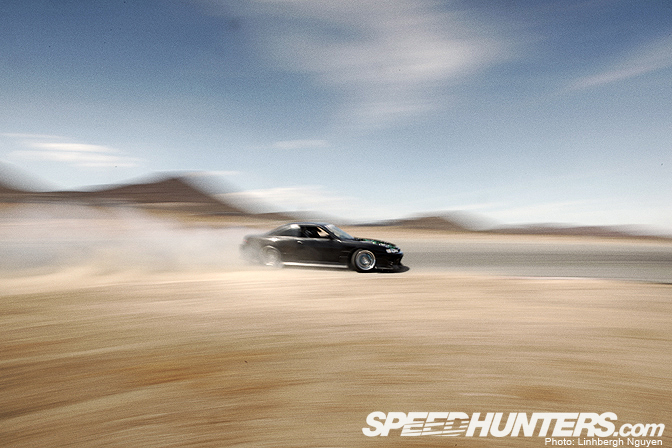 After the action from HTM died down a bit, the place to be was on the Streets of Willow. Here's Forrest Wang tearing up the track!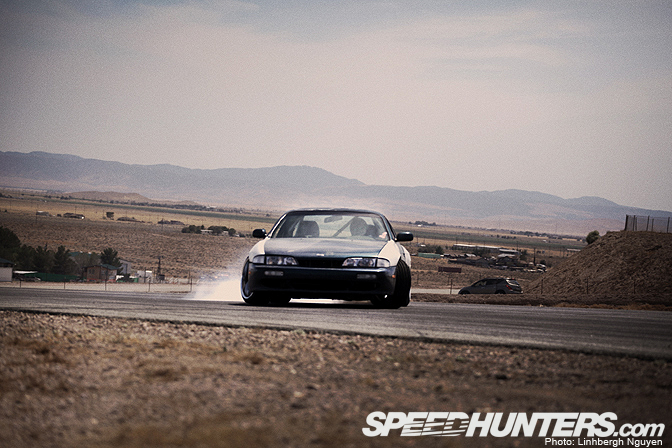 Mattley Cru's very own Nate Deck living it up pretty hard. But sadly, since the event, Nate sold his car…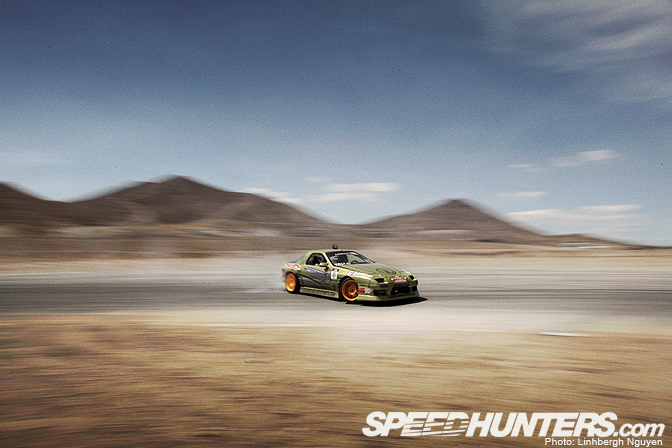 Mike Essa rockin' out pretty hard at turn one of Streets of Willow.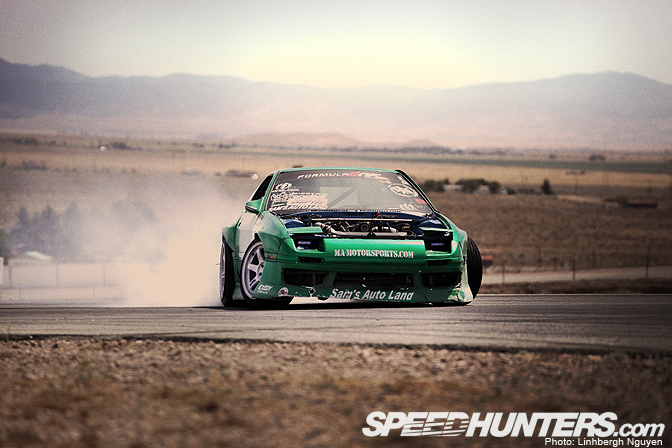 Formula D driver, Justin Pawlak, tried his best to stay in the cool shade, but was lured out by the sights and sounds of drifting. Once the drifting virus is in your blood, life isn't the same. The only cure is to get out on track and slam that car sideways!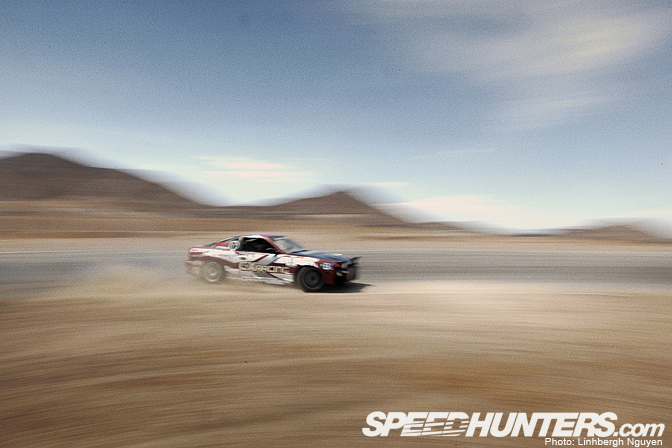 It's great seeing all Formula D drivers like Pawlak, Essa, Powers and Jeff Jones out at these events. They sure know how to keep it real!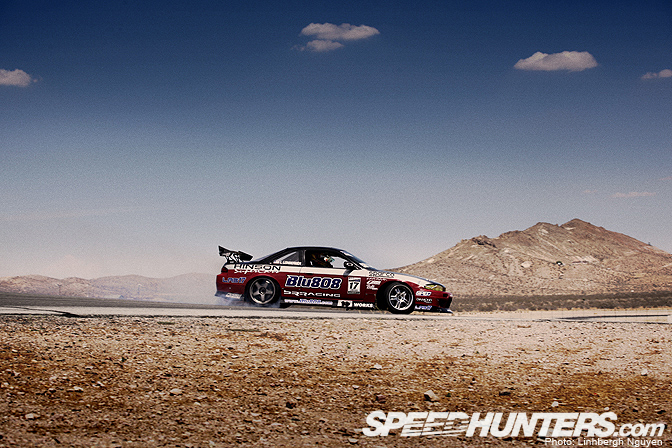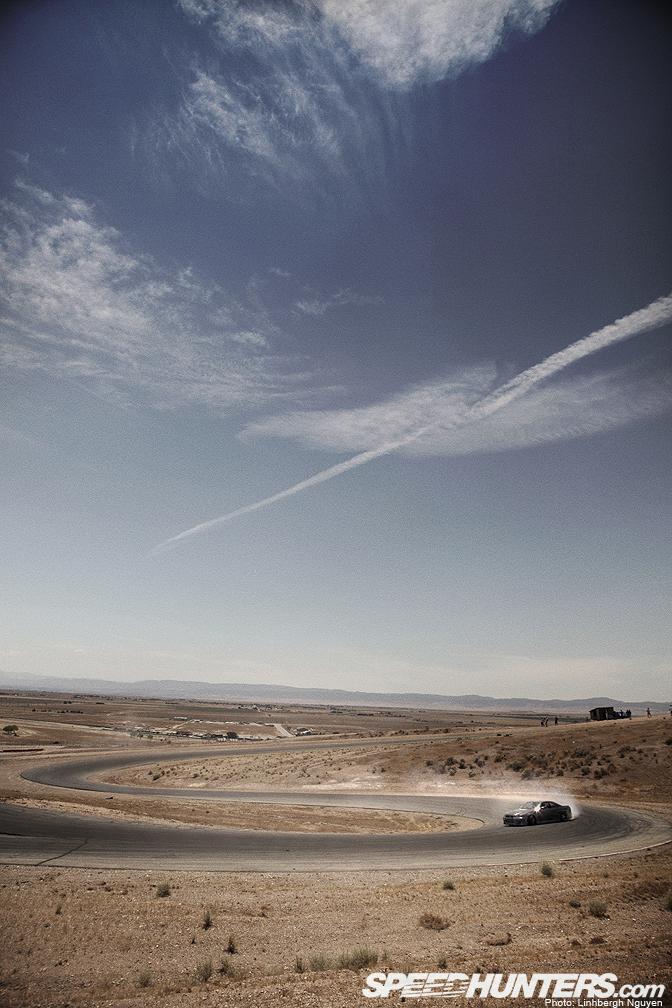 I'll leave you guys with this last landscape shot. As we all start preparing for the start of a new school year or plowing through piles of work from the office, let's be reminded that summer '09 was a fantastic summer filled with all things rice related. Tire smoke, fast cars, excessive heat, and best of all, chillin' and hanging out with your best buds on the track.
Let's hope that All Star Bash '10 will be just as epic.
-Linhbergh Nguyen