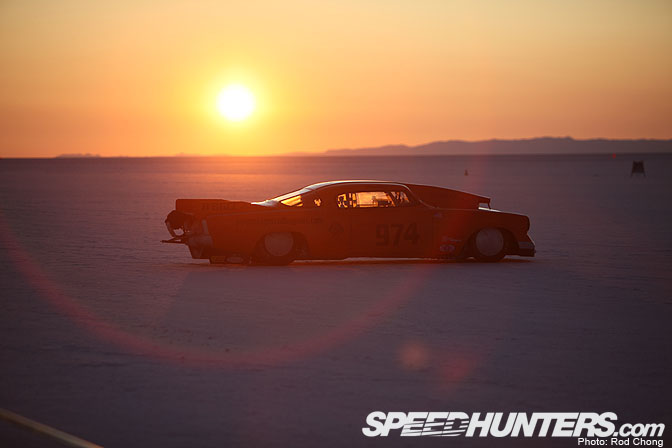 Most people in the drift world would cite Ebisu Circuit as a bit of a hallowed ground. It's a place where most drifters from around the planet dream of taking their cars for a bit of sideways action. Similarly in Time Attack, most car builders would love the opportunity to take their cars for a run about Tsukuba Circuit to see how their builds stack up against the top Japanese machines. However, I'm not sure if anyone in the wider automotive community would know these two names. They don't quite have any cache compared to legendary locales like the Nurburgring, Le Mans, Indianapolis, Monaco, Spa Francorchamp, Bathurst or even Daytona.
However, if you mention the name Bonneville to any serious petrolhead, most of them will have heard of this temple purely dedicated to the pursuit of maximum velocity. It's an event that attracts people from across the planet, to try their hand at getting their name in the top speed record books.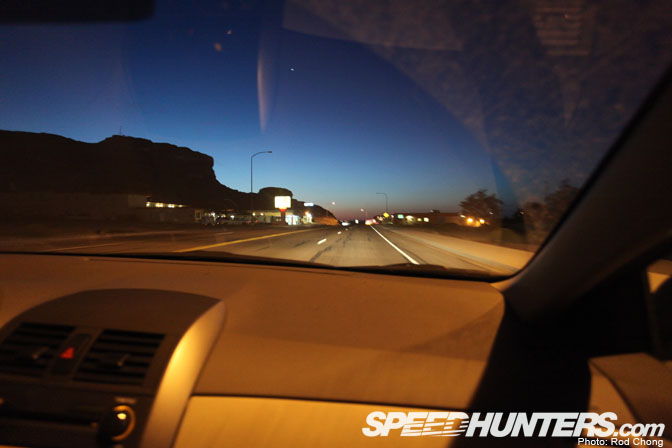 And it's to Bonneville that we set off at exactly 05:40 this morning from a small town in Utah called Wendover.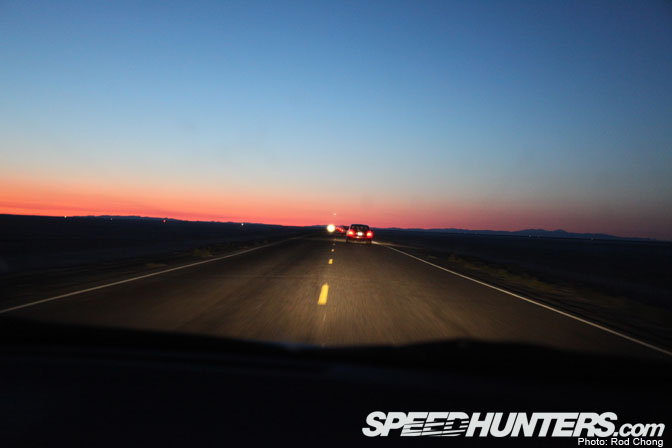 We decided to get up before dawn in order to be in position to shoot the Royal Purple streamliner as it was prepped for its first run of 2009. The closer we got to the Salt Flats, the more cars appeared on the road… all speed junkies heading on a pilgrimage of Speed.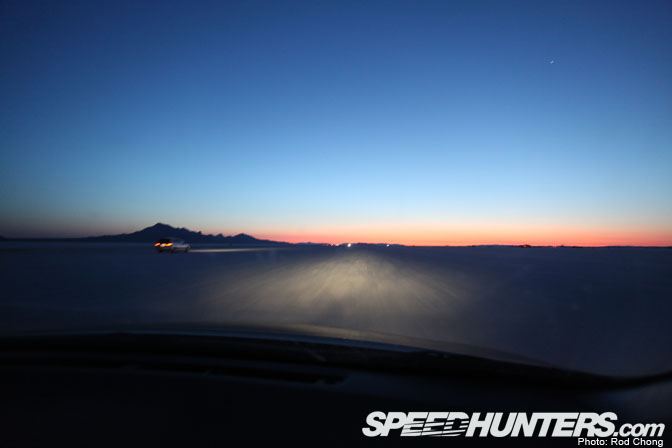 Suddenly the road disappears and you are on the plain… it stretches out to the horizon in all directions. Perfectly flat, and perfectly smooth.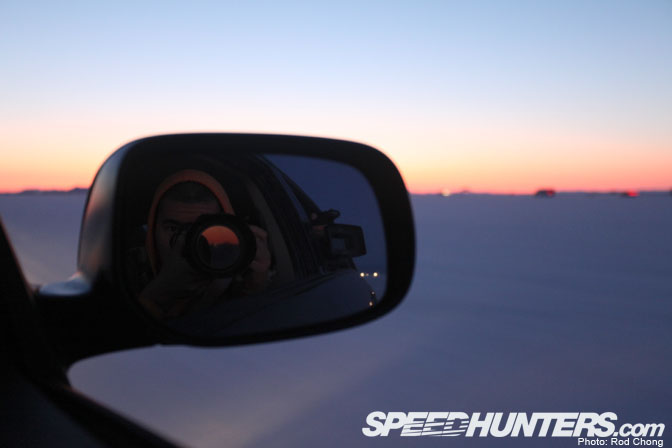 That's me in the front seat with my hoodie up to combat the chilly morning air… Will Roegge has his video camera hanging out the back window.
Already a lot of the teams have arrived and are getting ready for the day ahead.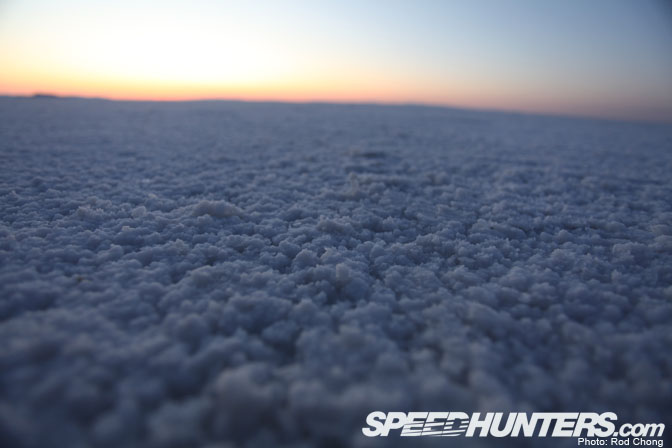 This is the racing surface… pure white salt. Visually, I was thinking I was in a snow field as this is the only reference I have to such a pristine, white surface… It's a little disorientating at times to a Pacific Northwest city boy like me.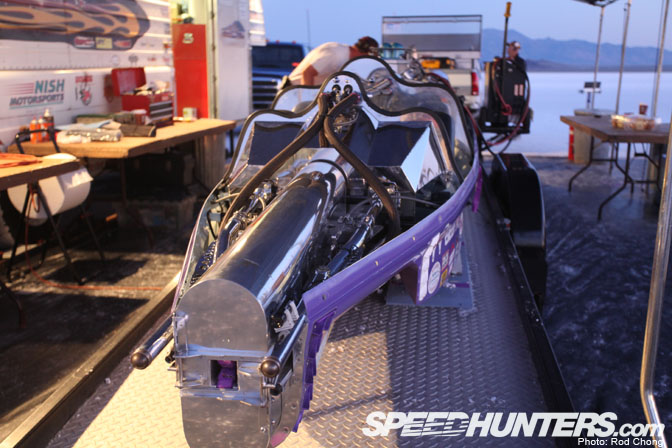 We strolled over to the see the Royal Purple Streamliner and meet the Nish Motorsports crew. John Brooks will bring us a full feature on this car (if you want to call it that!) in the coming weeks or so.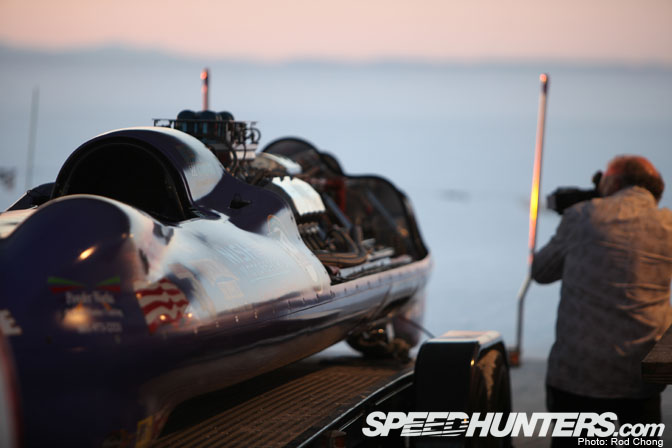 Here's the man himself at work.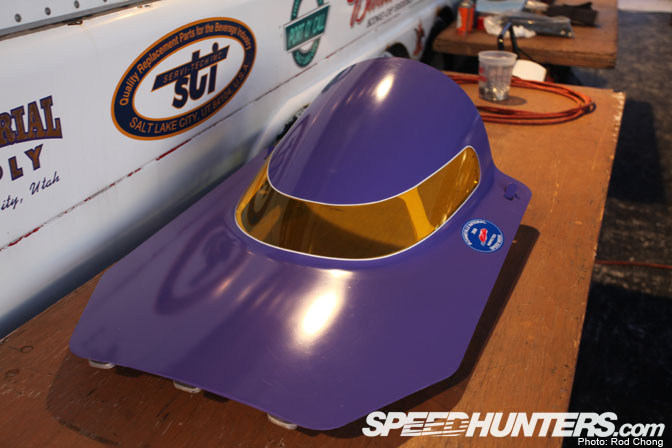 While John snapped his photos I couldn't help but look at the main cockpit cover… It's scarcely larger than the driver's — Mike Nish's — helmet!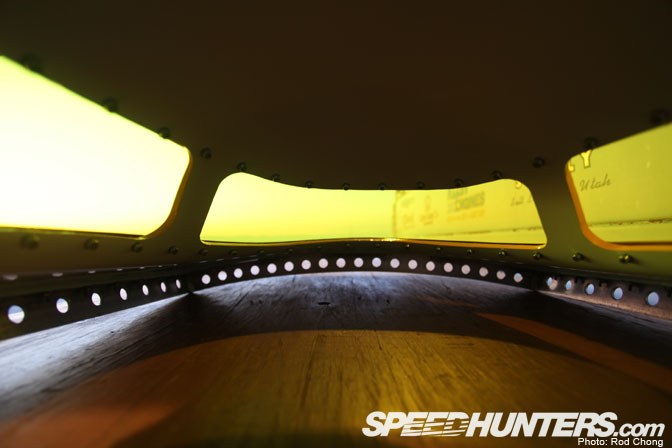 This is what his view looks like as he attempts to break 400 mph… I can't imagine what it would feel like to pilot this car!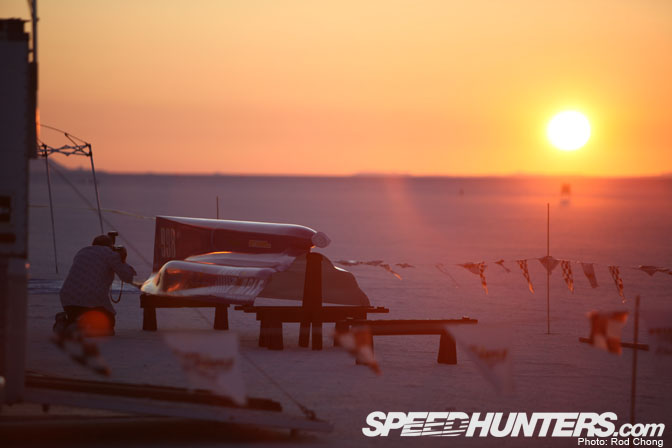 As the sun popped up over the horizon John shot the tail section of the car… look at his story here to see what the photo looks like.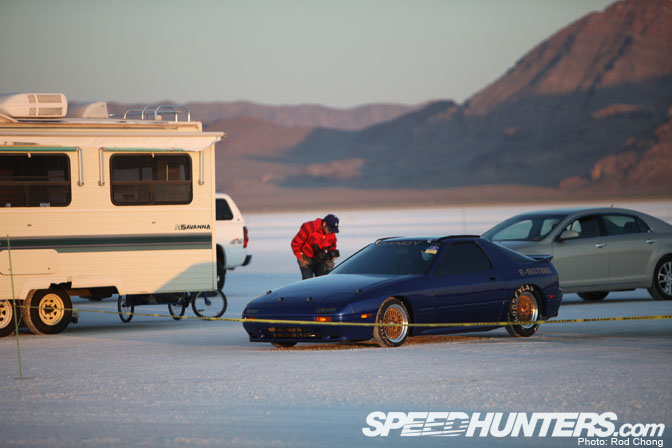 Will and I then strolled down the pit area a little bit and happened across this Mazda FC RX7.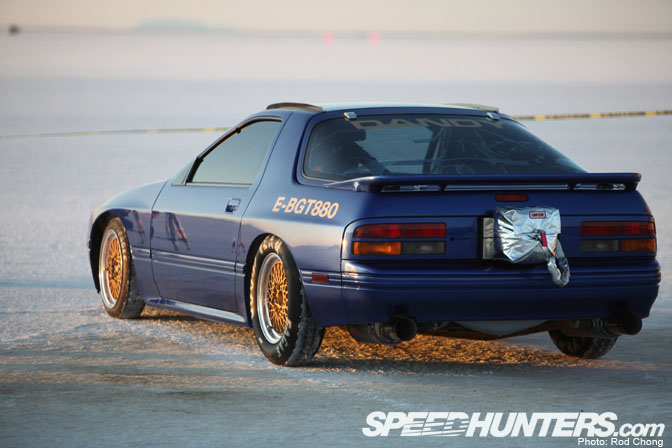 It looks pretty amazingly clean… It turns out the team running the car is from Japan… I didn't get to talk to them very much, but will check in with them soon to get more details about their Bonneville campaign.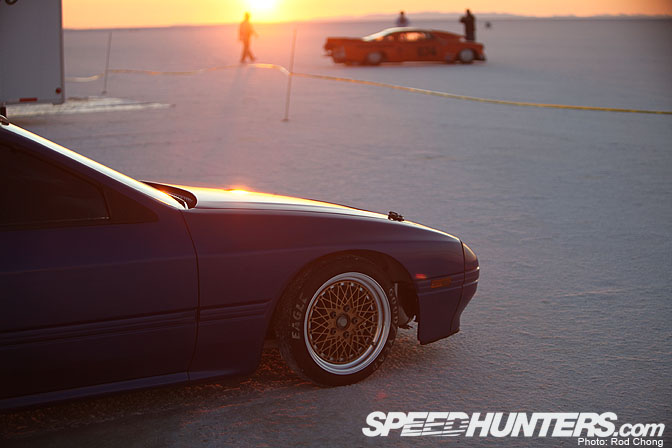 In the background another team had pushed its car out of the pit area for some photos…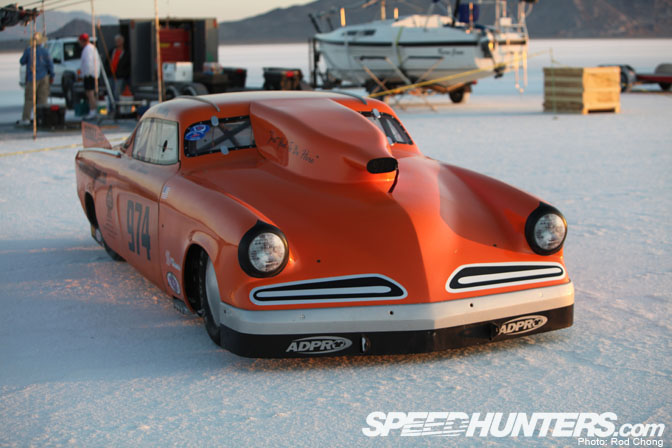 So we walked over to take a closer look. This is one of many Studebakers running at Bonneville. Not much visibility, is there?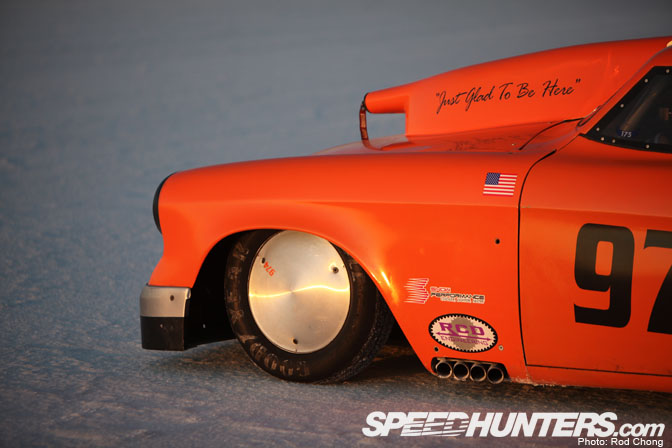 You like the exhaust?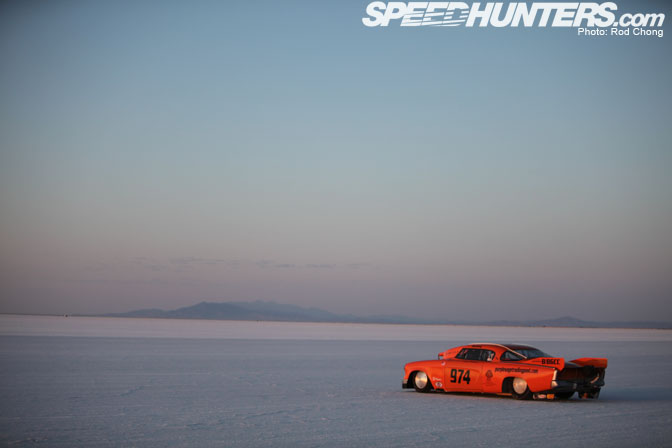 Breathtaking is the word I'd use to describe Bonneville.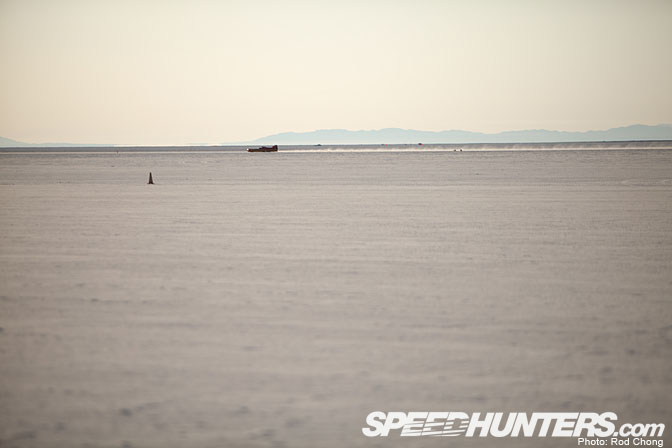 From a spectator viewpoint this is more or less what you see… every few minutes or so a car will flash past in the distance. You can almost see the whole run with some some binoculars, and the visual impression of speed is quite something to behold.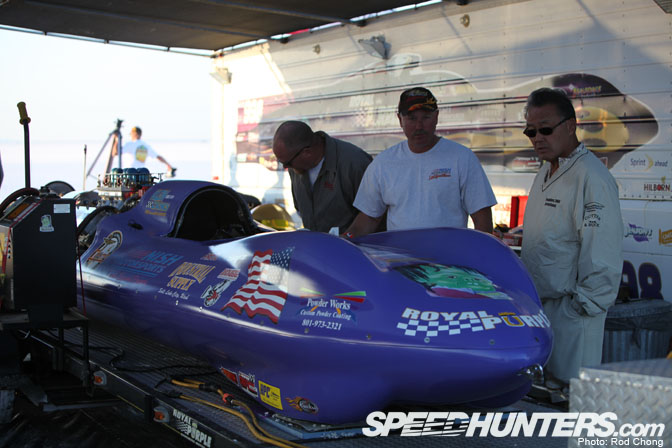 John Brooks already gave a rundown of Nish Motorsports' preparation of the Royal Purple Streamliner. but I just want to add that I was taken aback by just how small the car is in real life. I was expecting something much larger in person.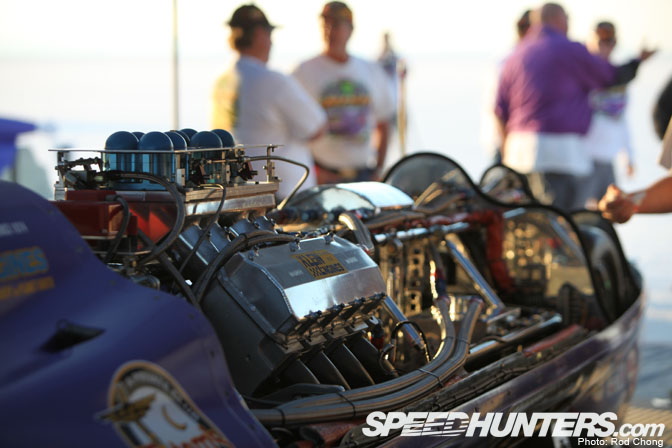 However, small is one thing the engine is not… this streamliner is powered by a whopping 11 liter Chevy V8…. try and wrap your mind around that kiddies!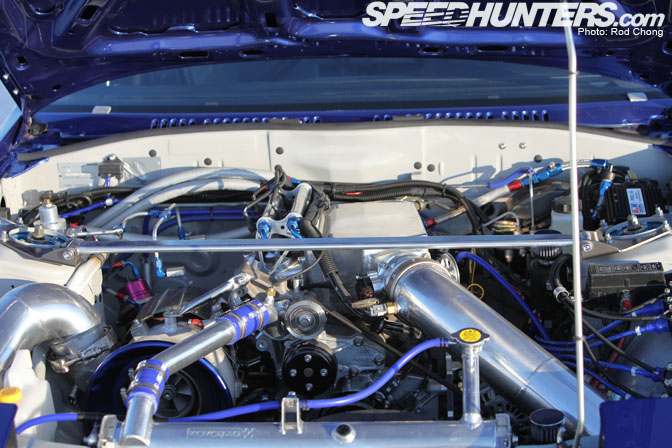 Speaking of engines… we went back to look at the Japanese FC and got a look inside the engine bay… looks pretty tidy to me… Will find out more specs but we did learn it's pushing out over 600 hp.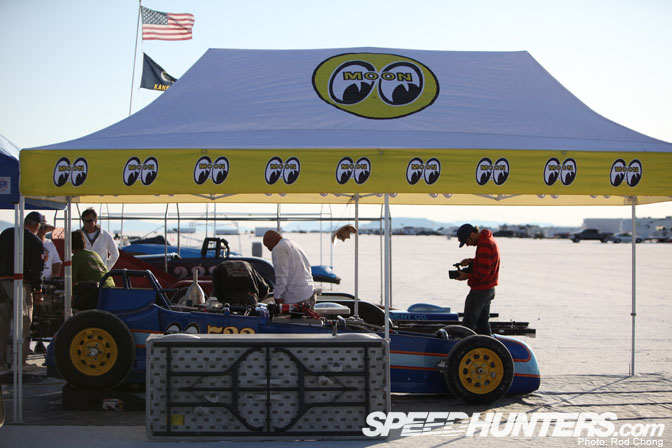 Also in the Japanese camp we saw that the Mooneyes crew was out in force at Bonneville.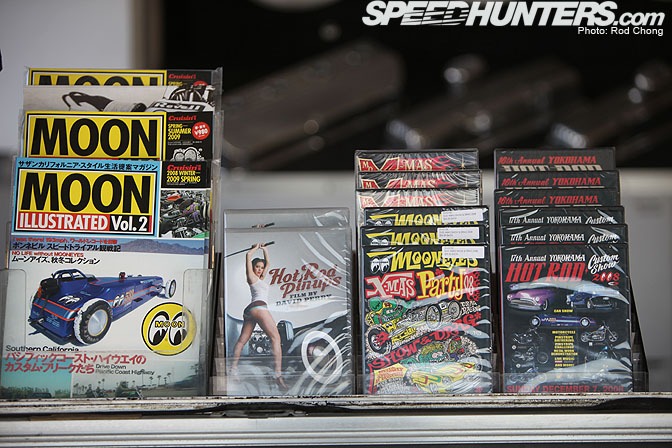 Check out this delicious collection of Hot Rod goodies. I think I'm going to need to pick all of this swag up tomorrow.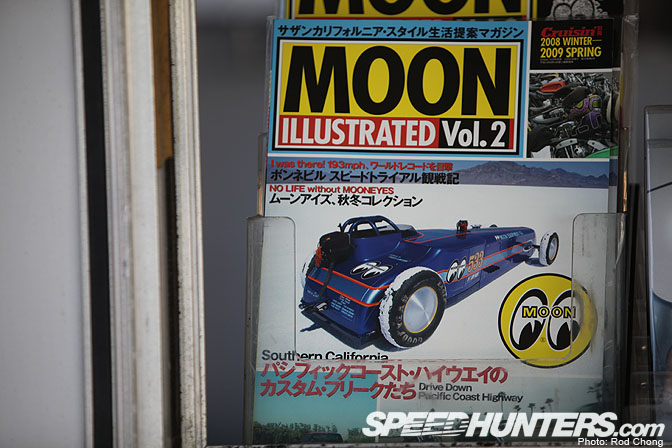 This Japanese edition magazine is of special interest.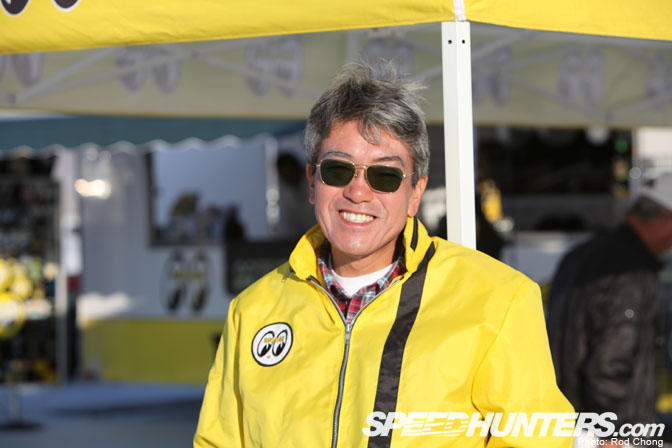 We were also able to meet and chat with Mr Suganuma-san of Mooneyes. He seemed impressed that we covered both the Mooneyes Yokohama and Irwindale shows last year. I mentioned to him that we should perhaps send Dino over to visit their facility in Japan too… you up for that Dino?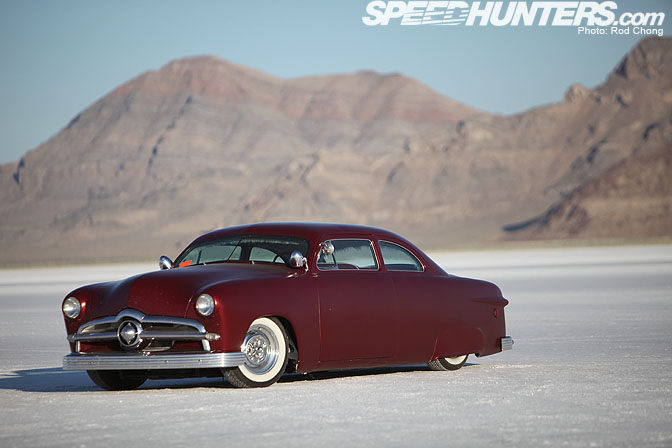 Wherever you look at Bonneville, you see cool traditional/rat/cartoon rods and customs. Most of them just seem to be hanging about rather than partaking in the actual speed trials. This is fine by me though! I'll need to spend some time collecting more imagery of these amazing machines. I just love this 49 Ford!.. this is as good as it gets for a traditional style custom.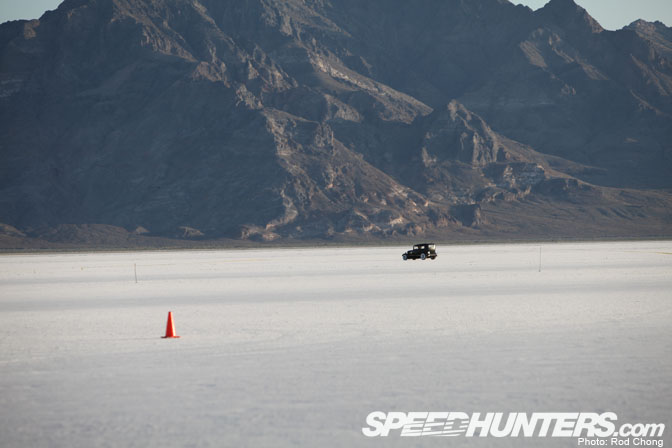 The vastness really confounds the mind. This is the ultimate experience of space… I almost get sideways vertigo just thinking about it.
In the distance you can see a rod going about its business on the flats behind the pit area.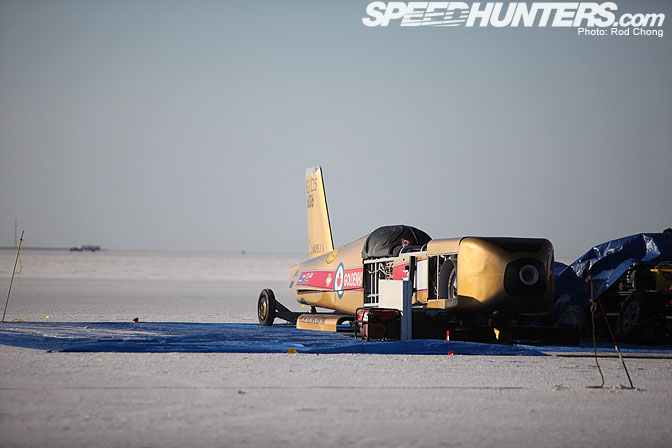 It looks like this streamliner is from Canada…. looks pretty cool and I'll go have a look in the coming day or two.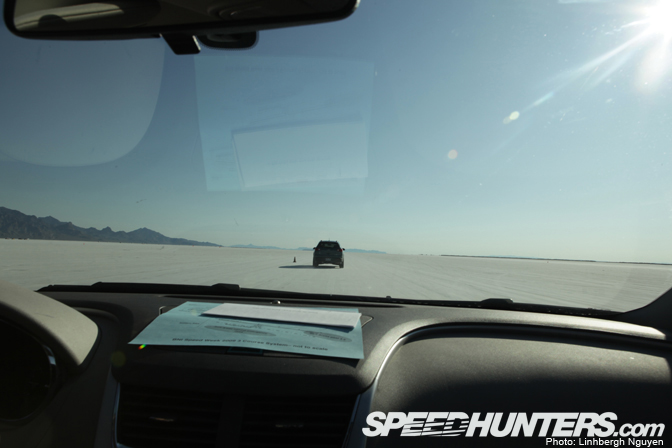 We needed to be in position for the one run that the Nish team was going to take and managed to arrange for the SCTA organizers to escort us into the restricted area between two of the strips. As we followed the officials in we had the Bonneville machines blasting past us …around a 1/4 of a mile away on either side.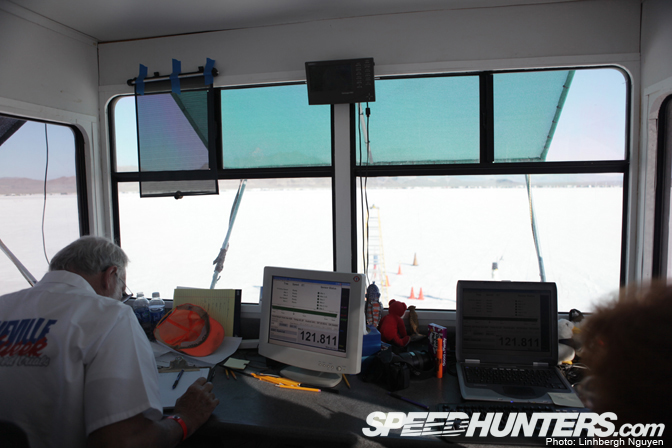 We were dropped off at the timing trailer and were also taken for a tour of the little 2 story construction.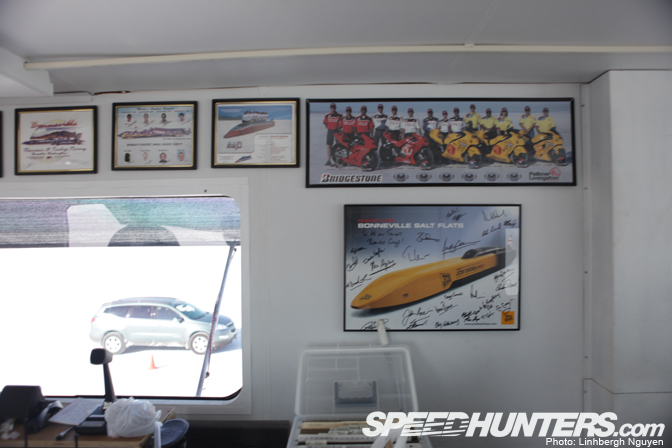 Check out the memorabilia on the walls. It gives a sense of how the whole scene at Bonneville is one big family. I've never felt so welcome to a new event before.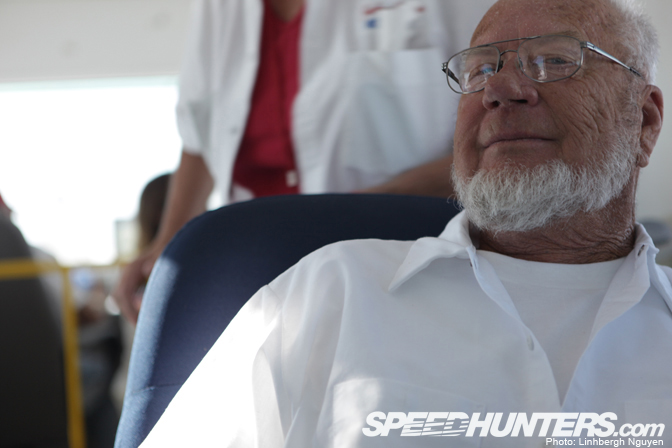 Even the main timing steward took time to tell us stories from the 50 odd years he's been coming to the Salt. For these people it's a complete way of life.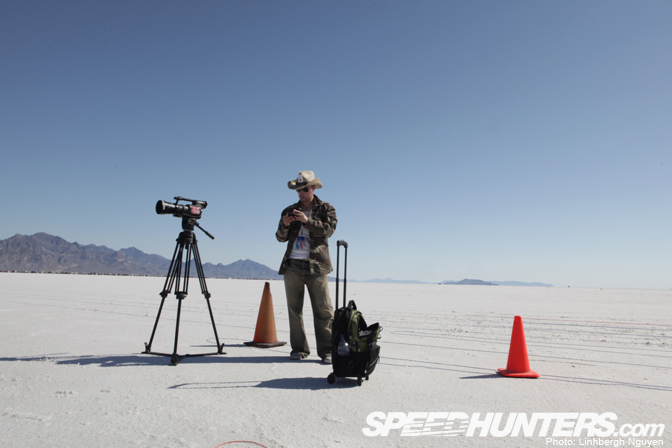 Finally it was time to get set up just in front of the timing tower. You need to stay covered up at Bonneville in order to avoid getting fried by the sun and the reflecting rays off the ground.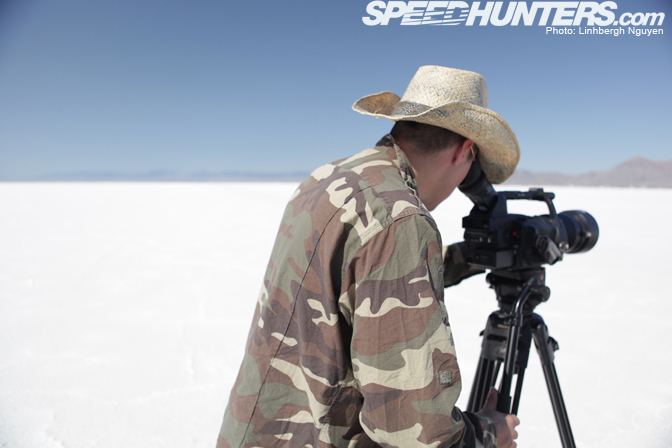 Like the hat? I took the opportunity to try out shooting the cars… it's pretty tough to keep them in frame at 200-300 mph!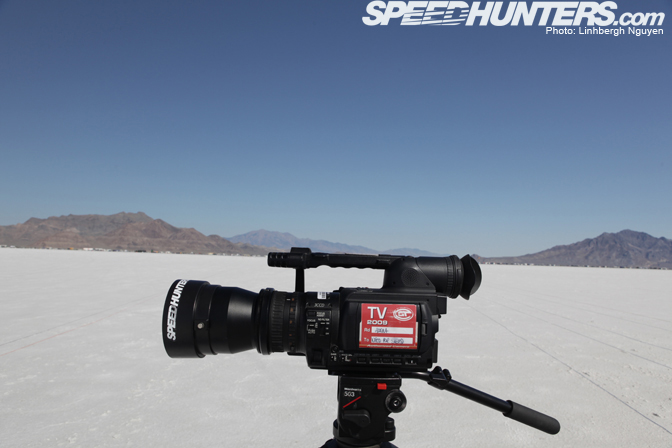 The Speedhunters video camera certainly has been treated to some amazing automotive locations over the past year. You can see the sticker from the FIA GT Adria race still on it.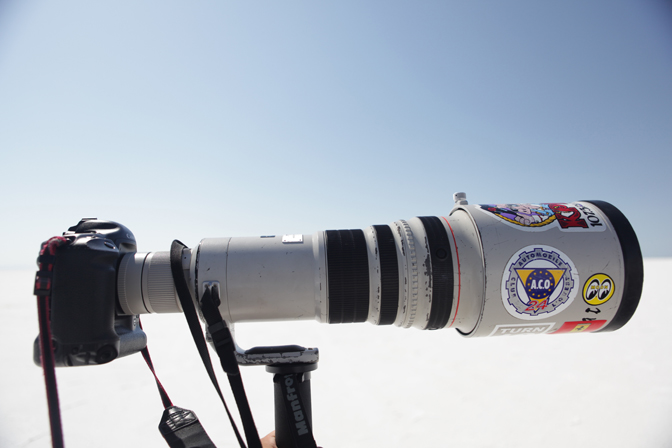 Mind you this camera has likely seen 100 times more crazy racing… It's John Brooks' setup which he loaned to Linhbergh for the morning.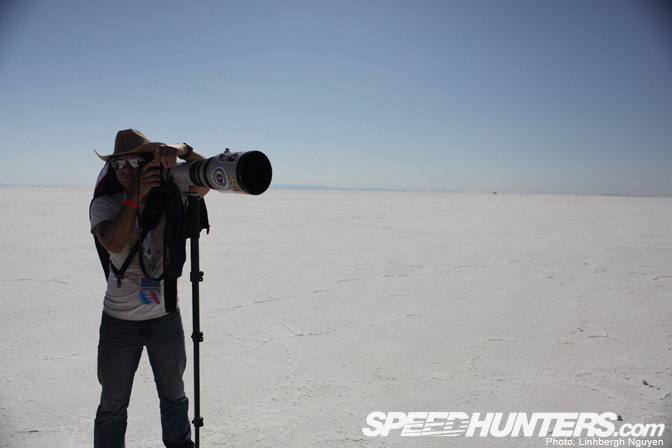 I'm sure Linhbergh was wishing this was his own gear!
This is some baller equipment… but it's totally necessary for shooting a car that is 1/4 mile away from you.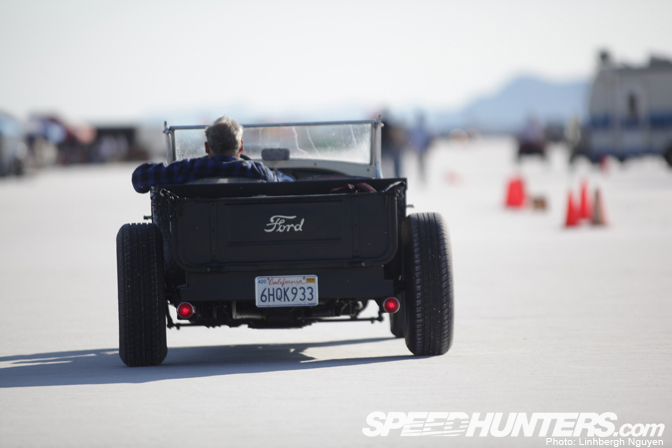 And another cool traditional Rod…. they are everywhere at Bonneville.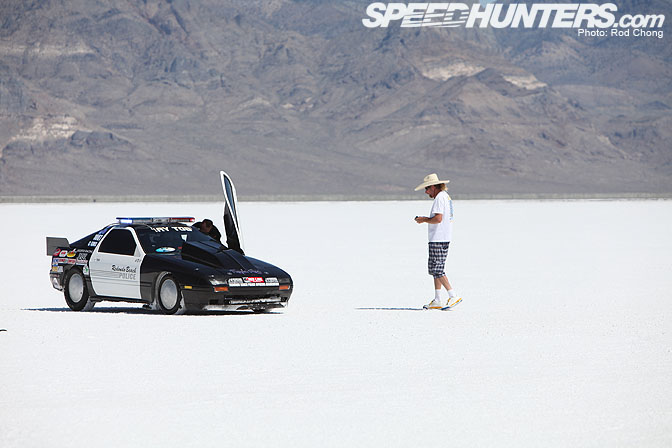 Linhbergh and I also spotted the police car RX7 which John has previously shown in an earlier Bonneville report. We'll do a spotlight on this car soon….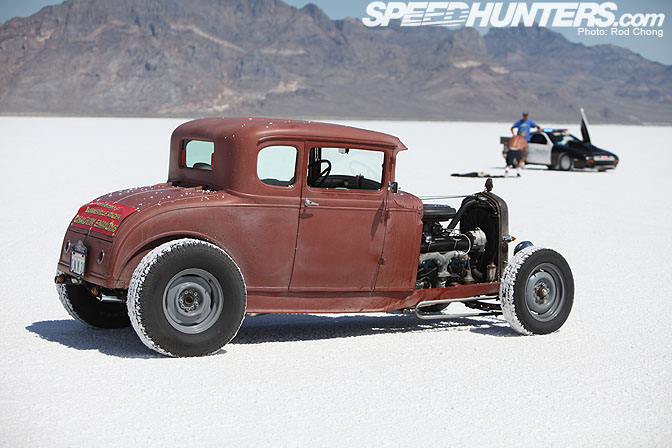 As we were looking at the RX7 some rodders in a '31 Ford just drove up to us and asked us to shoot their car.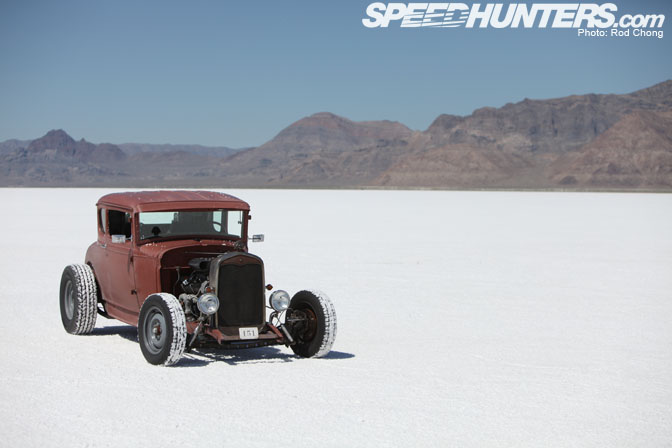 It was a perfect example of a Bonneville happening.. you can't help but meet some of the friendliest people at this event, even if you aren't trying to!
I am in awe… and I feel the Salt fever seeping in to my pores… It's no wonder people spend their lives coming back here year after year.
Like Ebisu in Japan with its Drift Festivals, this is a yearly happening and a pilgrimage for people who have dedicated their lives to automotive lifestyle…. a coming together for kindred spirits. I can't wait to get back there tomorrow!
More soon!
:Rod