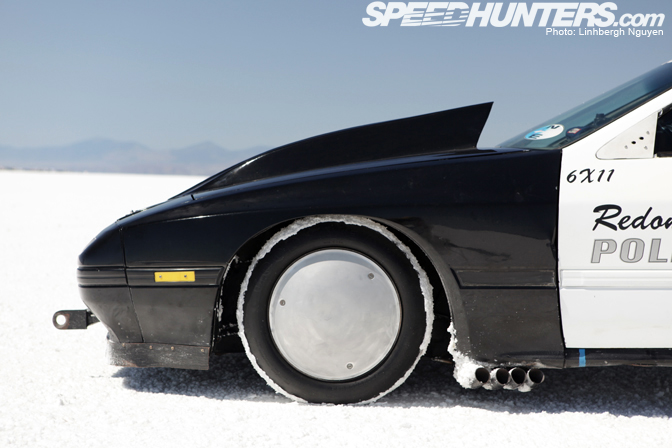 You know, I get the sense the Bonneville car builders are all closet inventors; each with their own home brewed speed secrets learned from many years or even decades of running on the salt.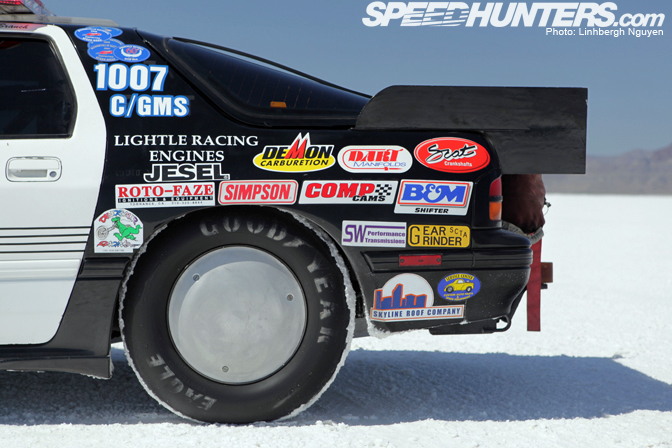 For these constructors there are no boundaries… the only limit to a build is their own imagination… At Bonneville it often seems like the crazier the design and the more outlandish a engine transplant, the better. So whenever I came across a rear wheel drive Japanese car at Bonneville, I was usually expecting it to have some kind of unexpected power plant choice.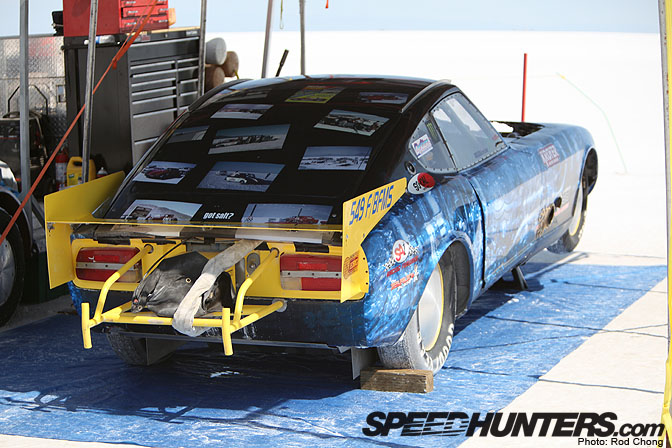 This spirit of invention is beautifully personified in this stretch nose 1972 240Z…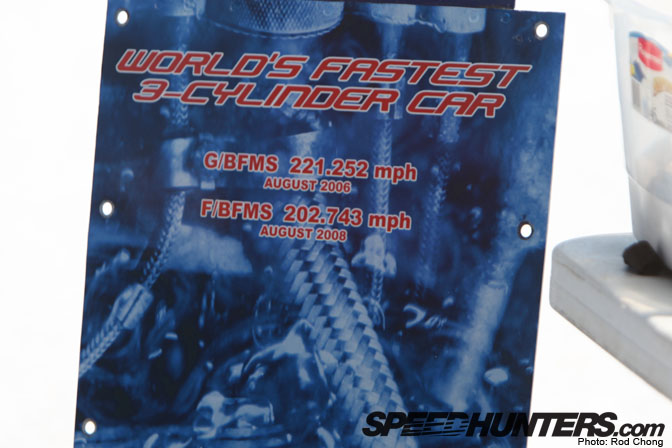 The Las Vegas based car lays claim as the fastest 3 cylinder car in the world…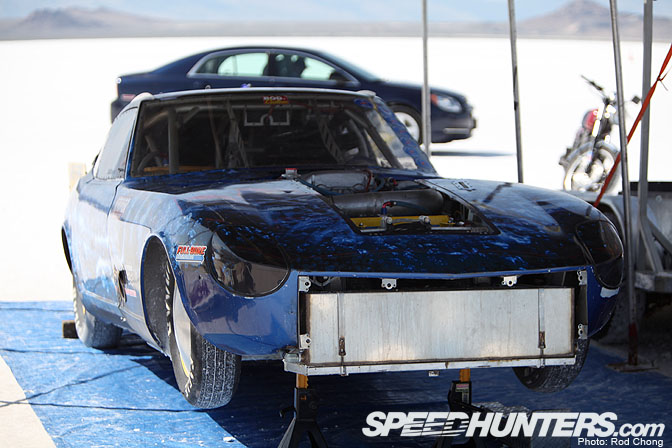 … but for 2009 it was running a 2.2 liter Ecotec 4 banger engine and trying to beat its own 2008 record of 202.743 in the F/Blown Fuel Modified Sports class.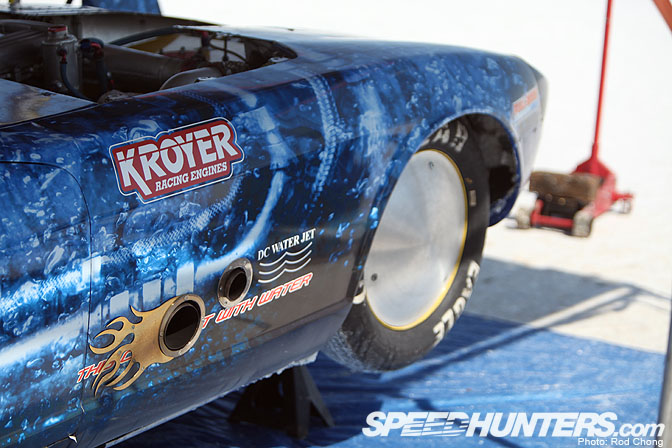 I like the flamed exhaust pipe!… Anyway… 2009 was good to the DC Water Jet – Kroyer Racing Engines team as they set a new record of 207.669 in F/BFMS… so for now this is one of the world's fastest Datsun 240z'… Well at least it was a Datsun 240Z many moons ago… I'm not sure how much Datsun there is left in this car…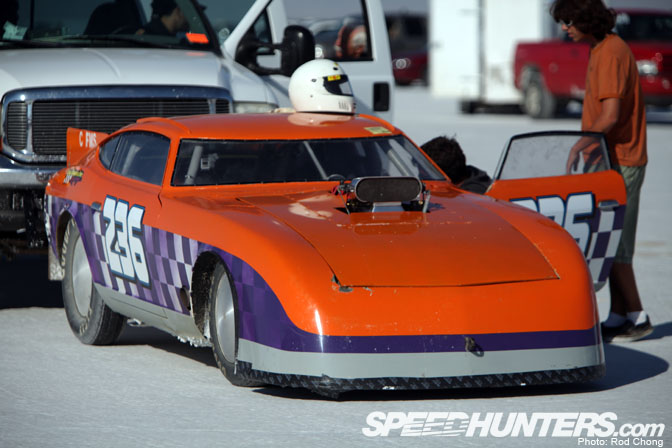 Same with this chopped up Z… This one, nicknamed "4 Janey 2" was packing a NA 355 cubic inch Chevy V8 engine and was going after a record of 252.623 mph….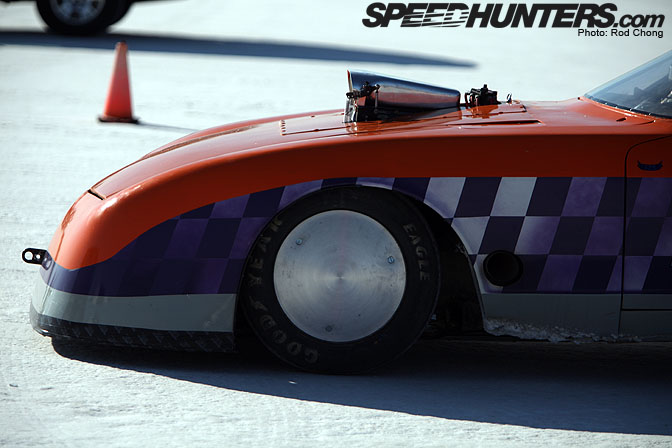 That's quite the pace, but the car sure seems to have a slippery silhouette.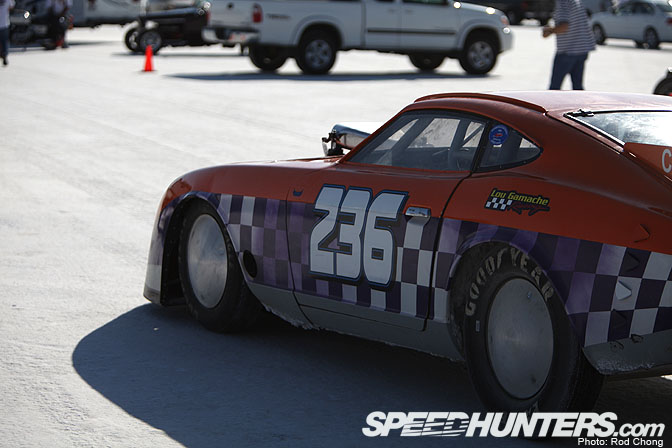 The driver, Jim Thomas managed to get the car up to 220 mph at one stage, but was unable to break the record… and so another year comes and goes.. I'm sure we'll see this chopped 1971 240Z in 2010…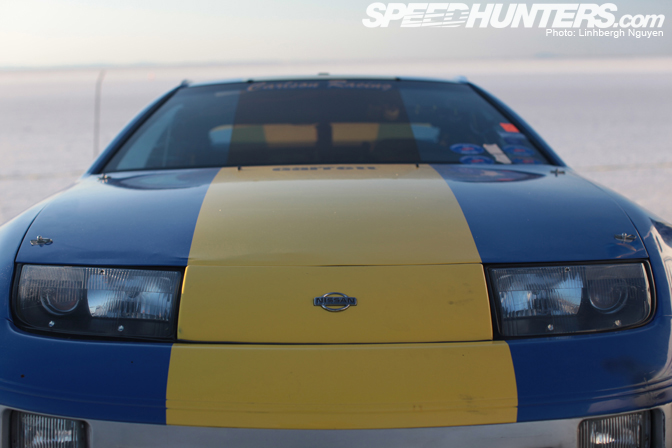 As Bonneville newbies, we spent a bit of time just learning the ropes of what goes on at the event and finding our way around… so I do need to apologize to those people who wanted to see more information about this Z32; we didn't get a chance to shoot many photos of the car. If you are interested I'll make sure to do a full feature on it next year.
What I can tell you is that the Carlson Racing, California based car came to Bonneville 2009 as the F/Blown Grand Touring Sports record holder with a record of 224.458…. and it doesn't have a crazy engine transplant -it's Nissan all the way through…. The team didn't seem to have a very good time at Bonneville though, and came away without a new record in place… however they were the only team running in F/BGT so are still the king of the hill in their class.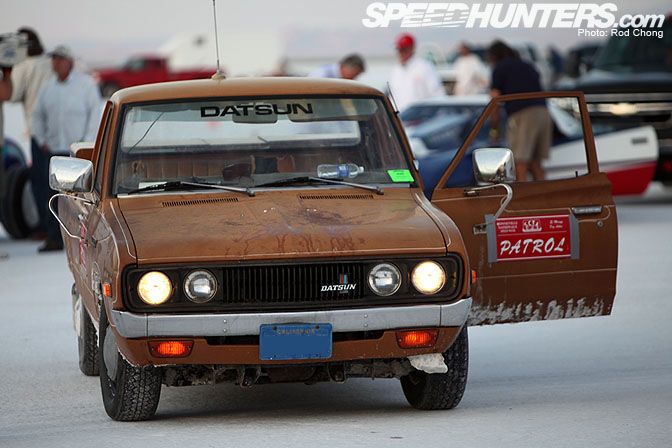 We saw this vintage Datsun pickup several times over the course of Speed Week and from what I can gather it was an official marshal car hahaha…. only at Bonneville would you see something like this!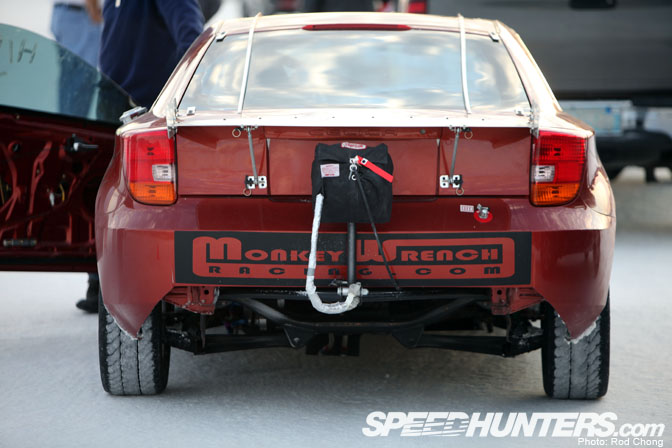 The MI based Monkey Wrench Racing team decided to bring their 10 second, turbo 2ZZ-GE powered, 666 bhp Celica drag car out to the salt in 2009 to see what kind of run was possible.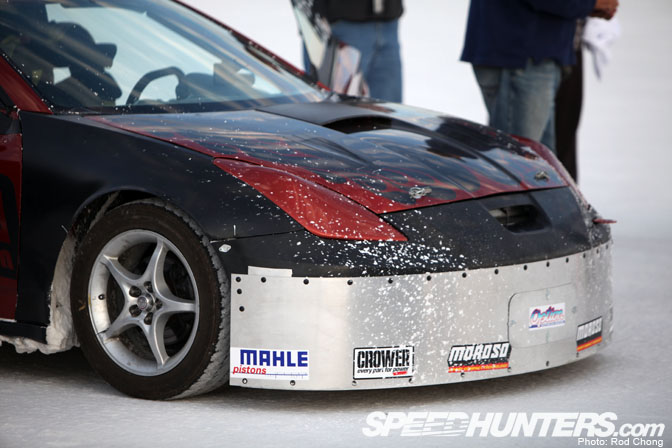 They came away from Bonneville without making much of a mark though… perhaps we'll see them next year.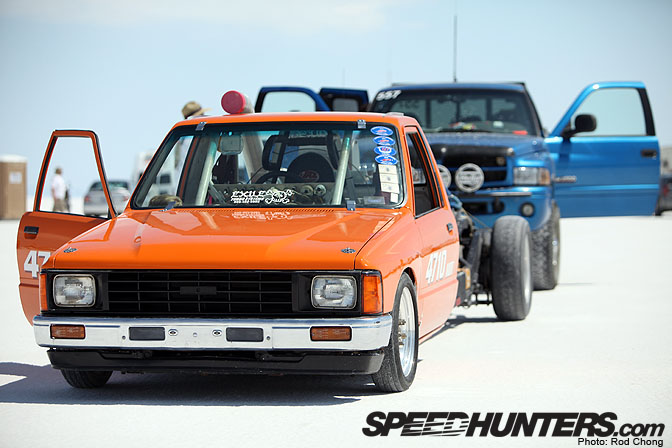 This 1986 Toyota Pickup is typical of the madness that you sometimes see on the salt. From this angle it looks fairly normal…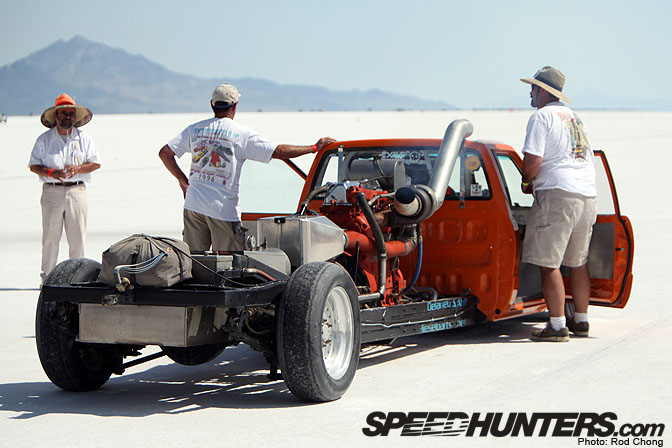 But from the back… well… it speaks for itself doesn't it? The mini-truck is called "Salt Toy"…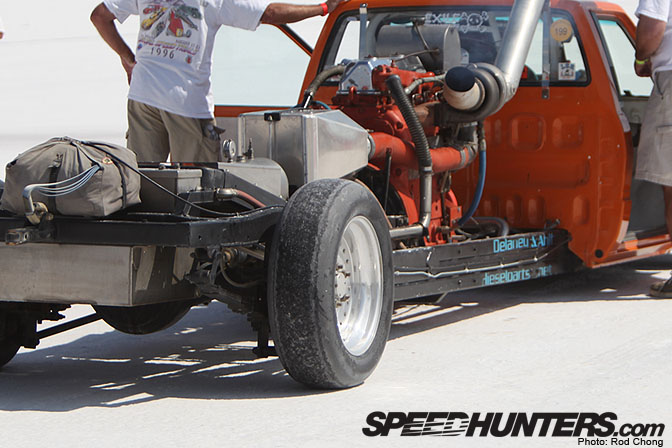 … and features a 284 cubic inch turbo-ed Detroit Diesel engine bolted to its extended chassis. The Thousand Oaks, California based truck fell well short of the 228.804 record it was trying to beat though… still, it wins bonus points for original thinking!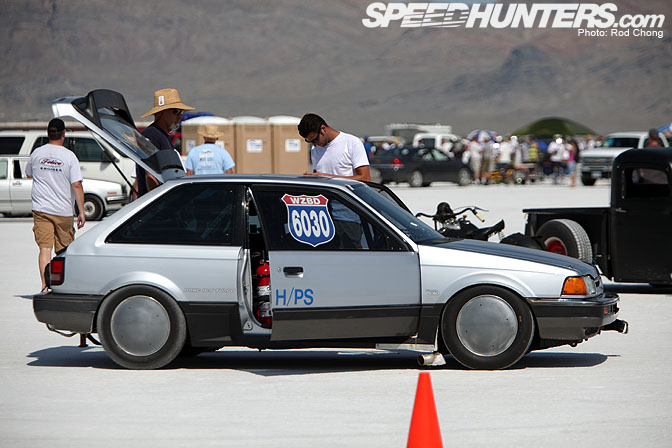 Hmmm…. is this car even worth featuring on Speedhunters?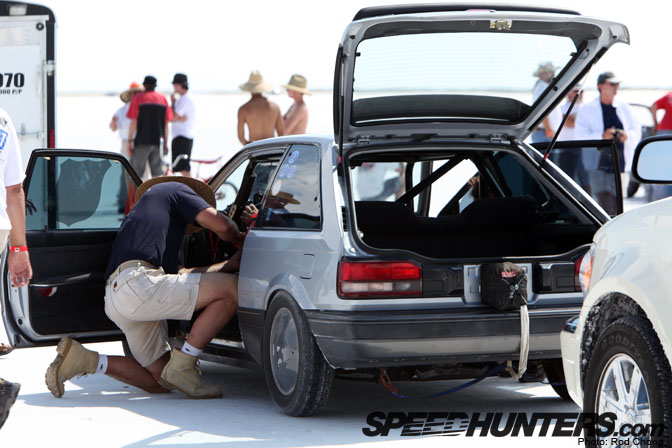 Well it does show allow you to get the idea of some of the unusual race cars running at the event. This 1988 323 was trying to beat a speed of 167.518 mph…. the team almost managed to hit 160 mph with this little car… not a bad effort… But let's move on.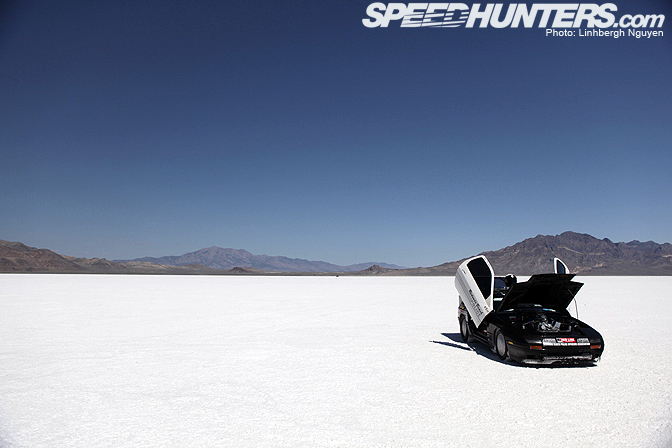 Here is the "other" FC RX7 from Bonneville 2009.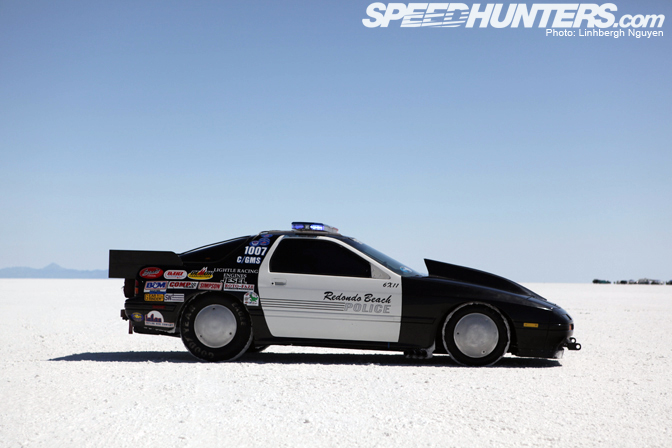 It's owned by Officer Royce Branch of the Redondo Beach Police Department. He's an interesting guy whose drag raced gassers in the '60s and all sorts of Rotary IMSA sports and GT cars in the 70s and 80s. He even owns a rotary powered 1932 Ford Victoria!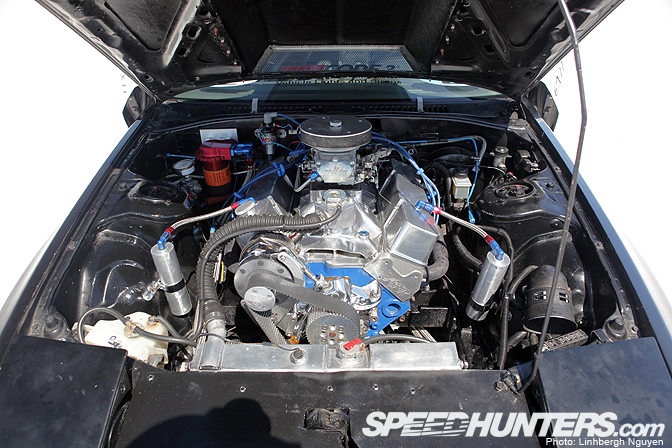 So I'm sure a few of you will be disappointed to see this 350 CU. IN. 700 hp Chevy in the car's engine bay. The FC has come to the salt previously with a Rotary engine in place, but Royce opted for this engine swap a few years ago.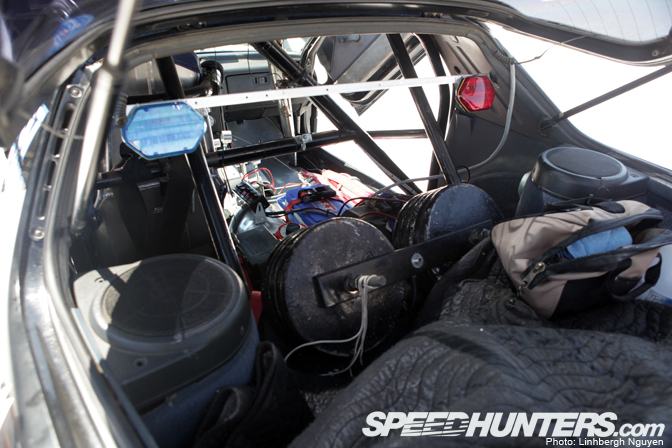 Check out the huge weights bolted to the chassis. This is necessary for chassis balance and traction at speed…. it's something that the Dandy team should have had ready to go in their FC too (more on this later).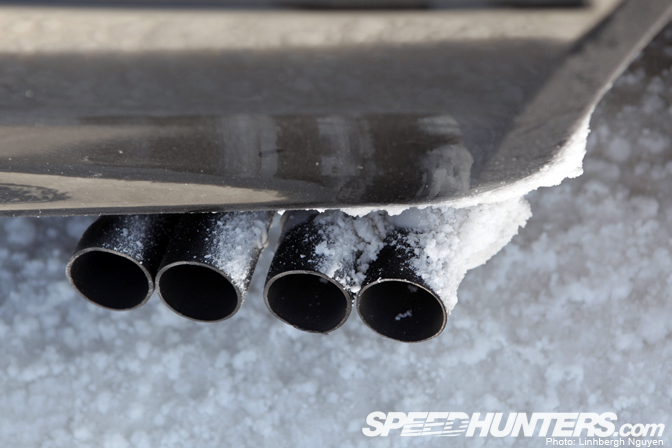 One normally finds zoomie exhausts like these on Pro Mod drag cars… not import machines!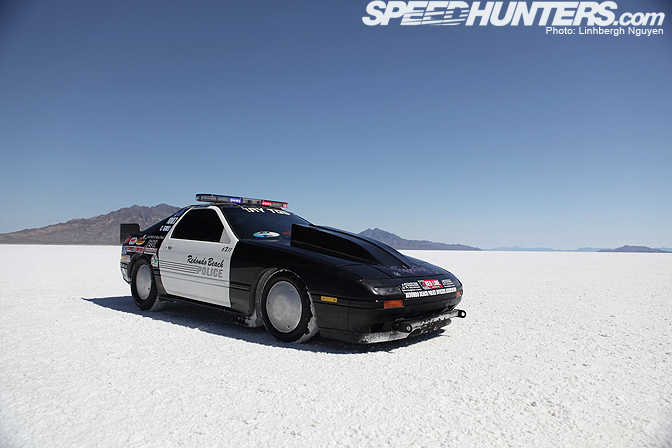 The RBPD In Pursuit RX7 was up against some stiff competition in its class including that stretch nose Cadillac XXXLR that Linhbergh showed last week… I don't think they seriously thought they'd break the 241.414 record for their Unblown Modified Sports class…. but they seemed to be having a lot of fun, which is the point for a lot of Bonneville competitors I'm sure.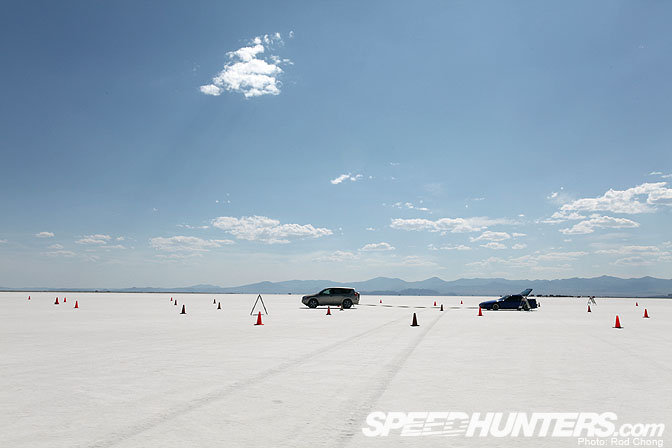 So that's it for Japanese cars at Bonneville 2009… well, except for the Dandy FC that is…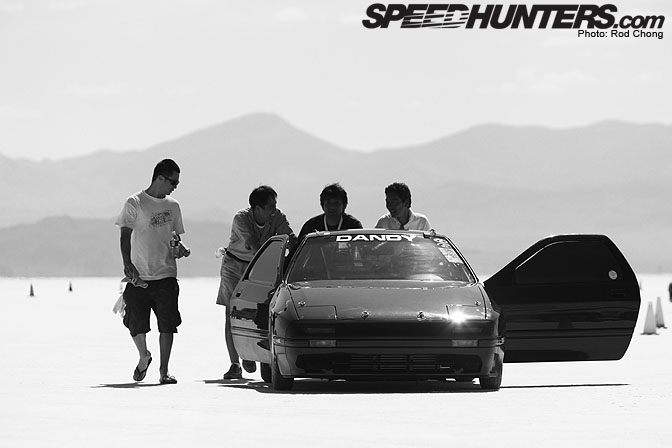 … But it's a car that we'll save for a full report. Linhbergh send me his photos of this fine machine last night and I also just got the final report in from the team, so I'm ready to start working on this story finally… be back with it soon!
:Rod