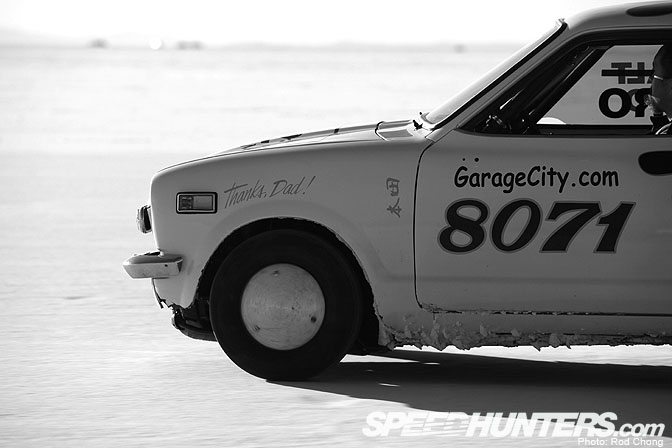 Amongst all the American Rods, Customs, Streamliners, Trucks, Lakesters and Muscle cars running down the salt at Bonneville, we actually managed to find a few Japanese cars here and there. Perhaps it's our own bias, or the fact that we know you guys tend to be more responsive to these machines, but we had our eyes peeled for cars of a Nipponese flavour during our visit to the salt last week.
This post is by no means an exhaustive catalogue of every single Japanese car that attended Speed Week… There was no way we could find all of them — the pit area was five miles long, after all! But this gallery is a listing of those we managed to shoot.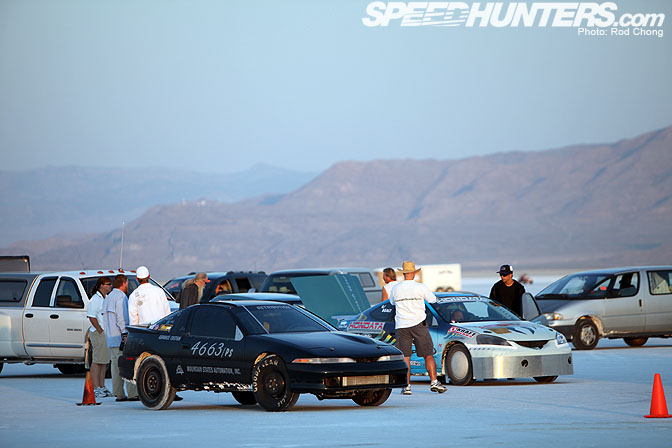 I shot these two cars on Thursday morning just a few minutes after sunrise. Let's look at the RSX first.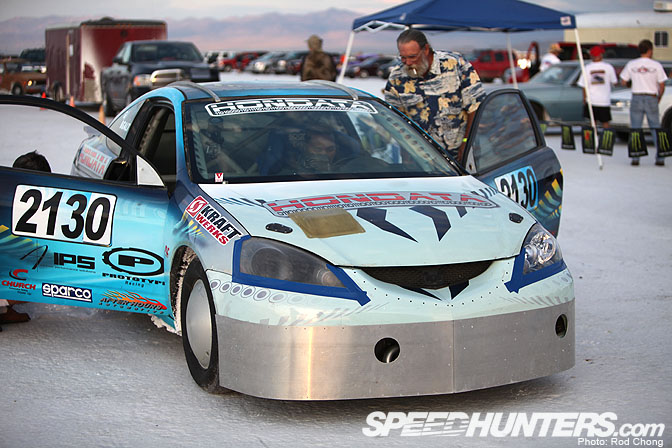 The Hondata RSX came into Speed Week 2009 as the existing record holder in the Blown Altered Gas Coupe in the "G" engine category. Run out of Torrance California, the RSX managed a record run of 208.646 in 2008… They also took the G/BGCC class with a 221.652 mph record.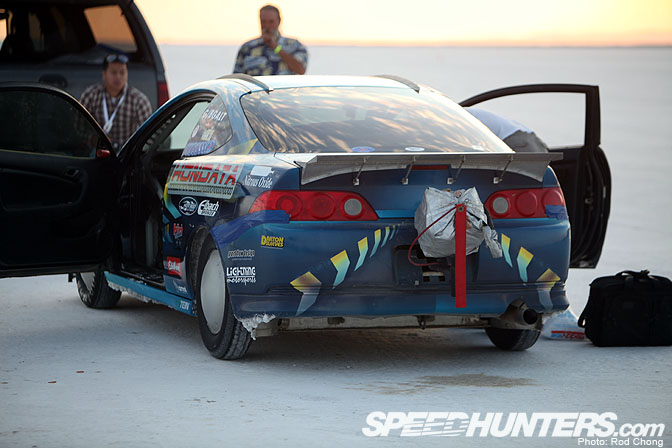 As of last year, they were running twin Rotrex Superchargers on the 2L K20A Acura RSX which was good for over 600 hp…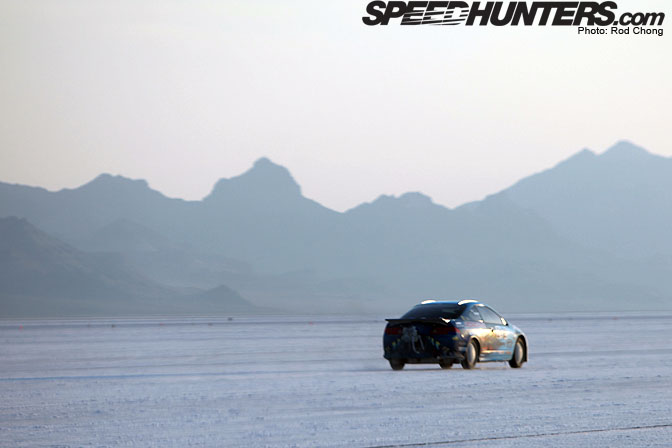 Here is the speed log from this particular run on Thursday morning: Quarter: 205.512  Mile1: 210.194 Mile2: 220.836 Mile3: 225.807  Exit: 226.874. That's seriously quick! The team says this is the world's fastest Acura and I have no doubt about this claim!
The next day, they went on to beat their own B/GALT record with a new mark of 219.049 at the hands of driver/owner Doug Macmillan. Congrats to the team!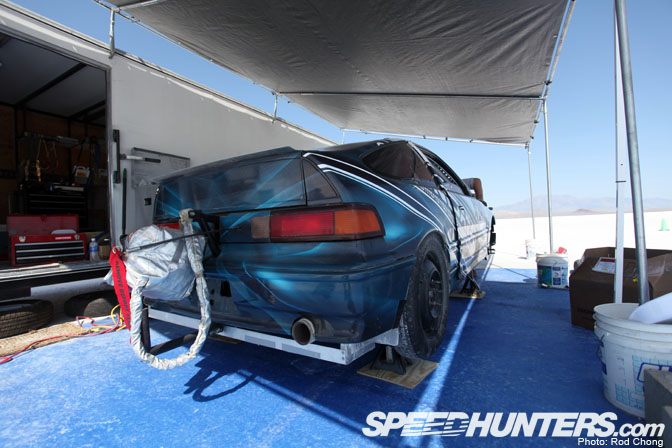 Hondata also had a CRX running at Bonneville. Last year it set a new record in the Unblown Gas Coupe "G" category with a speed of 187.077 at the hands of Miriam Macmilan.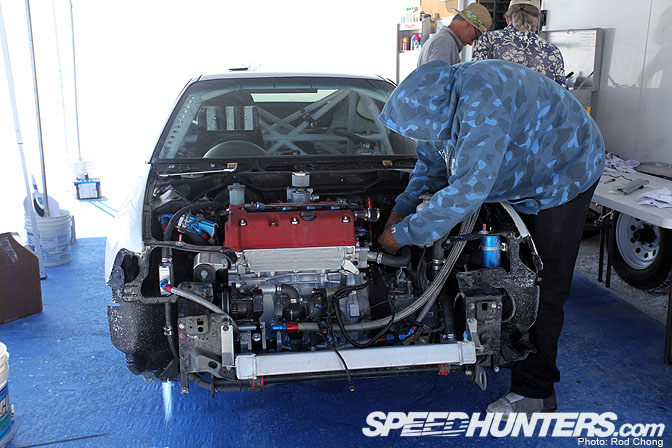 The Torrance, California based team didn't seem like they were having a very good time when I swung by their pits to look at the car though… so I moved on…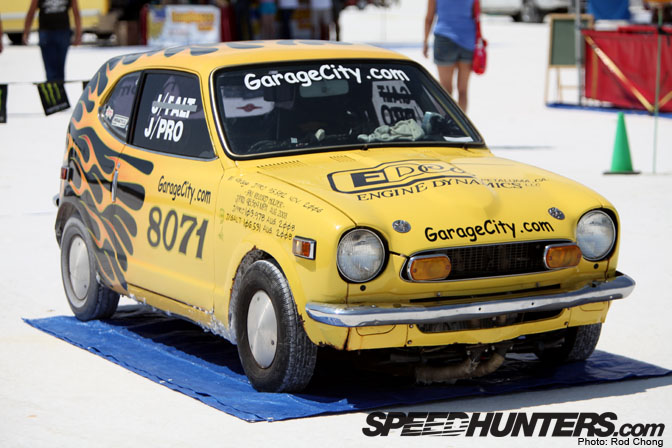 In keeping with the Honda theme… I had a small child when I saw this 1971 Honda Z600… wow!… a proper classic.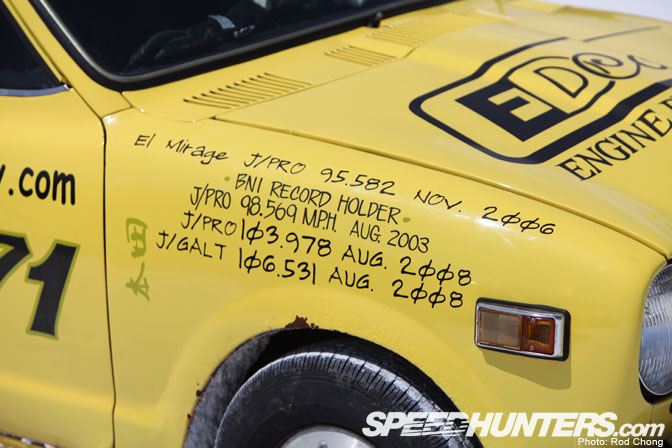 As you can see by the markings on the car… it's a record holder and came into Bonneville 2009 as the reigning J/PRO (production cars) and J/GALT (gas altered coupe) champion.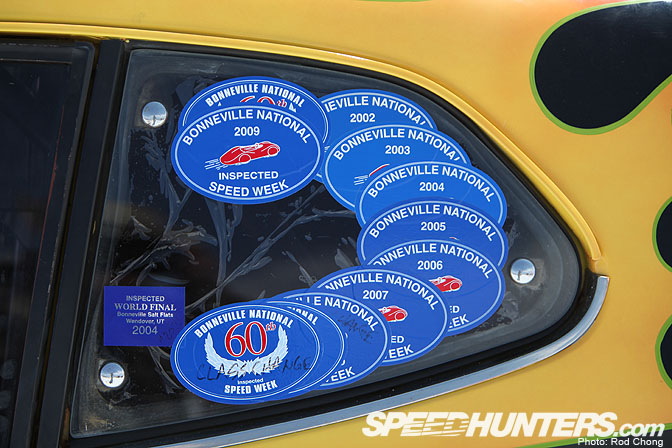 The inspection stickers show that the 700cc, Rohnert Park based Honda has been coming to Bonneville for a few years now.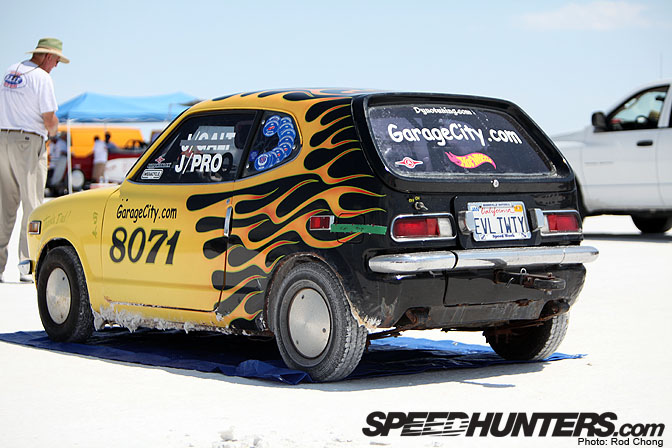 Also note that constant exposure to The Salt is getting under the surface of the car now… There was plenty of rust under the paint unfortunately.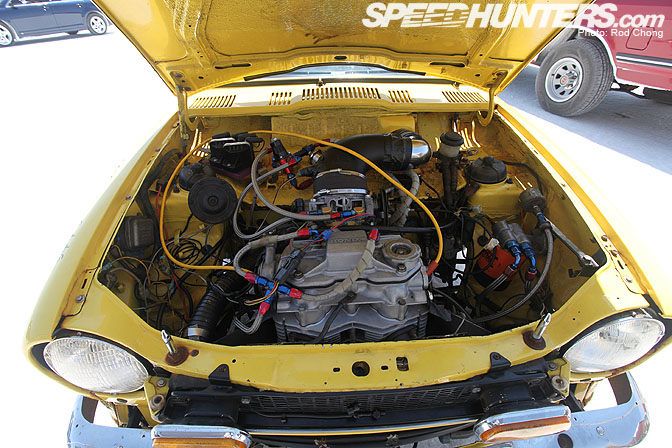 The diminuative engine is a proper race build, including a conversion to fuel injection from carberation.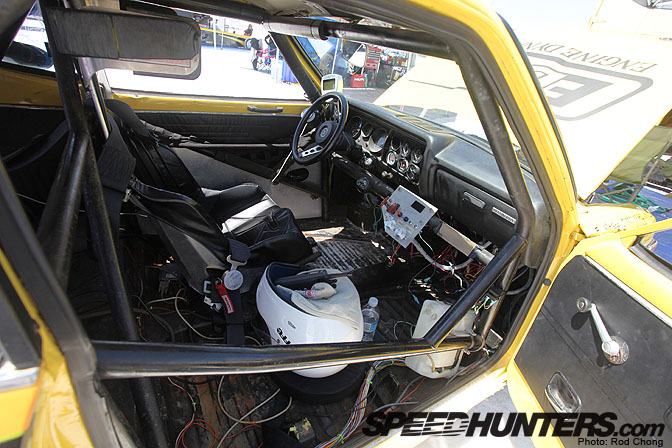 This little monster is definitely a hard working race car.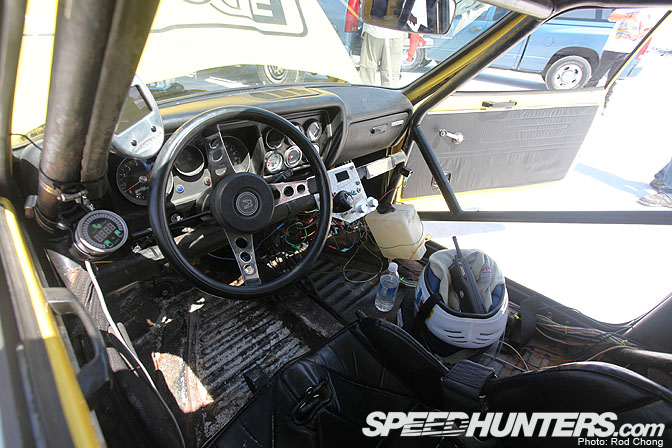 Unfortunately, the chassis is now at the end of its useful life as a race car due to rust… This may be the last year that Evil Tweety is run in anger on the salt flats.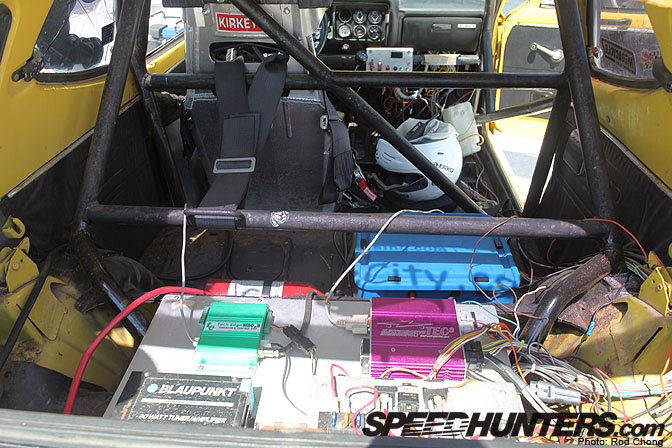 Yes that is a stereo system!…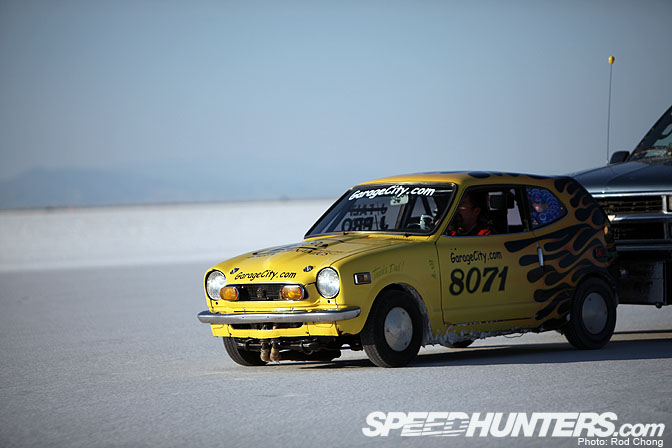 Rachel and I came across the little Honda a few times… here it's being pushed back to the pit area after completing a run on the short 3 mile course. Unfortunately for driver/owner Eric Burns, there were no new records forthcoming in 2009.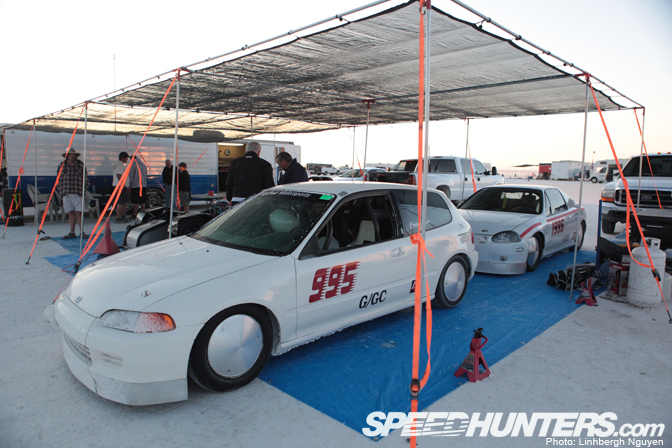 These two Hondas are run right out of Wendover, Nevada… just down the road from Bonneville. The Civic was trying to beat the "G" Unblown Gas Coupe record of 163.941 held by a 4-cylinder powered 1987 Pontiac Firebird while the Del Sol was going for the "G" Blown Gas Modified Sports record of 163.441.
As early as Sunday, the driver Tyler John Hanson managed to get an exit speed of 162.266 but the team came away from Speed Week empty handed. Nice looking cars though!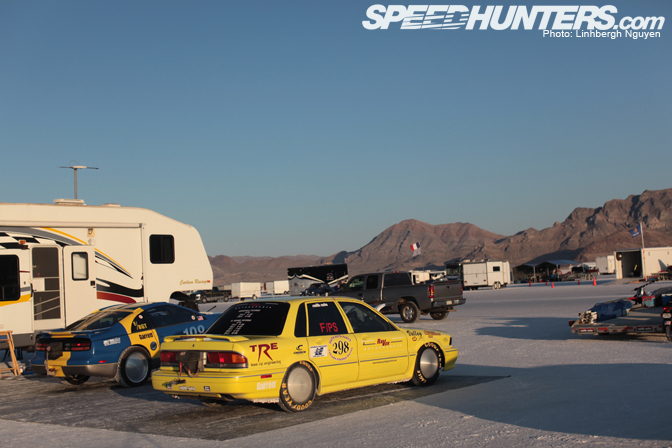 This 1992 Mitsubishi Galant was running in the F/Production Supercharged category against a record of 221.383 mph.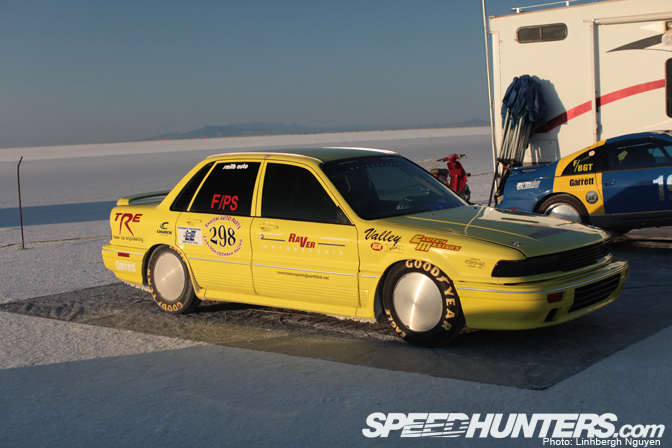 That's quite a challenge for what is essentially the aerodynamic equivalent of a brick! Unfortunately for Raver/Cochran Racing, they went home without a record in 2009.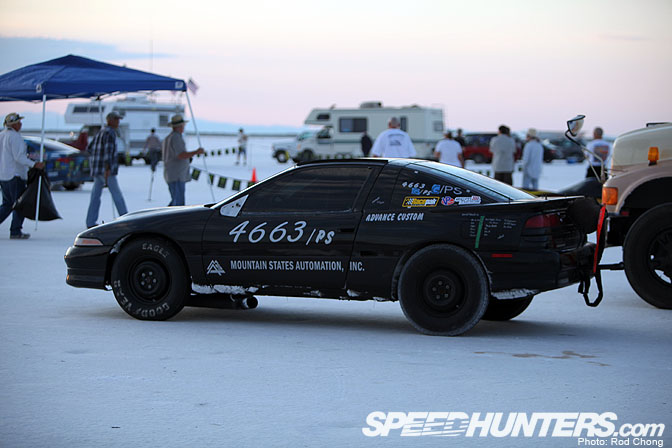 Will Roegge pointed out to me that he saw this Colorado based 1991 Eagle Talon at the Texas Mile event earlier in the year.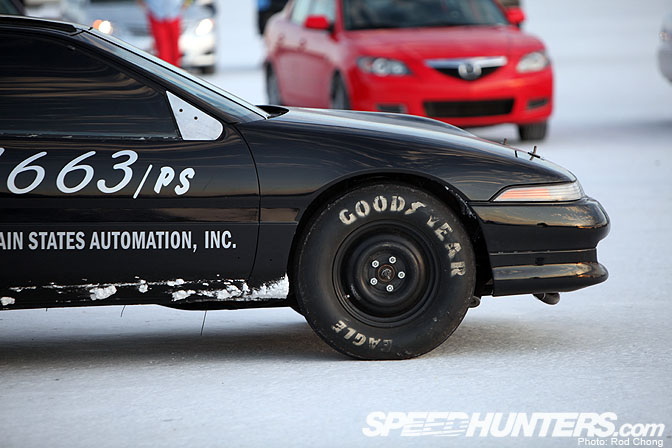 Christened "Retribution", the Talon was running in the Production Supercharge "F" category and attempting to break a record of 221.383 mph. Look at that ride height!…. I thought that it's advantagious to minimize the amount of air under a car, but this team seems to welcome it!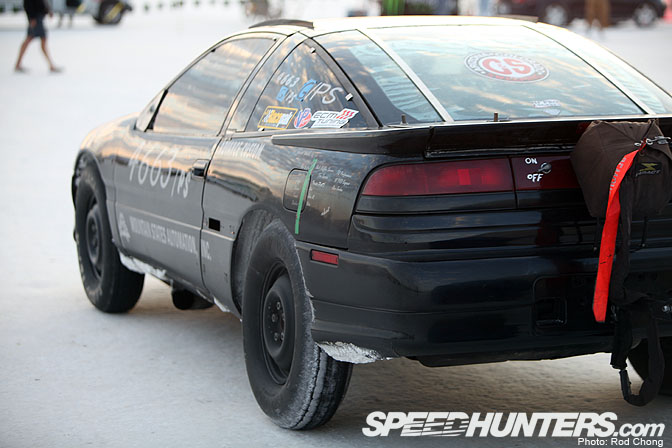 Man, I remember when these cars were truly desirable street machines… what happened?…
Anyway when I look down the log of Retribution's runs it seems like the team had a bit of a difficult time on the Salt in 2009 with a string of aborted and inconsistent runs. From what I can see, the best run happened on Tuesday and looked like this:
Quarter: 184.767  Mile1: 188.989 Mile 2: 198.258 Mile 3: 201.305 Exit: 201.735…. Ok, it was short of the record, but still… it's pretty good for an old Talon, isn't it?
OK that's it from me for now….
In my next post I'll look at the Nissans, Toyotas and Mazdas from Bonneville 2009.
:Rod