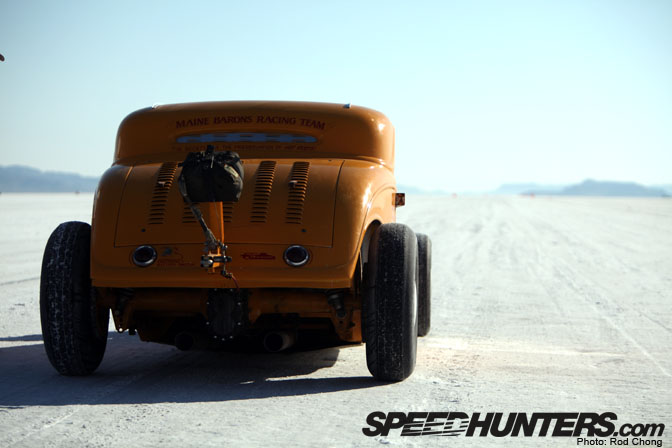 Speedhunters as a website has been designed for people like myself who have exceptionally short attention spans… I get bored very easily and constantly need to switch up what I'm focused on in order to feel excited and inspired… So I just can't look at Japanese cars and drift photos all the time. It just becomes too repetitive for my cross firing brain and I lose interest…. so for those of you who are with me on this, let's look in real detail at the main meat of the car culture to be found at Bonneville: Hot Rodding.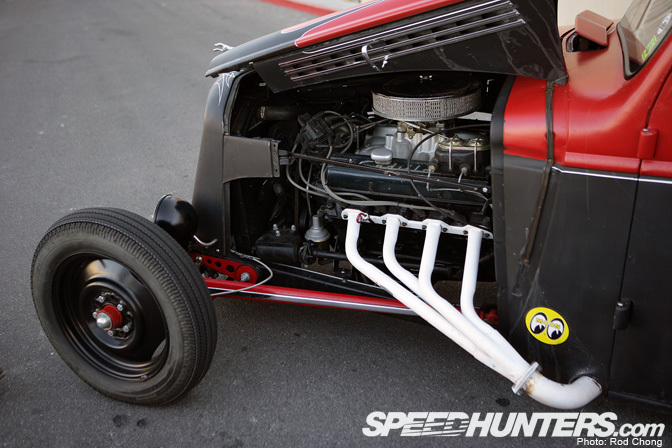 Now it's worth remembering that the plains of Bonneville and El Mirage are where Hot Rodding and the concept of building up your own modified speed machine first developed. In essence, this is ground zero for all modified car cultures around the world. And it's to this temple of speed that hot rodders seem to flock every year.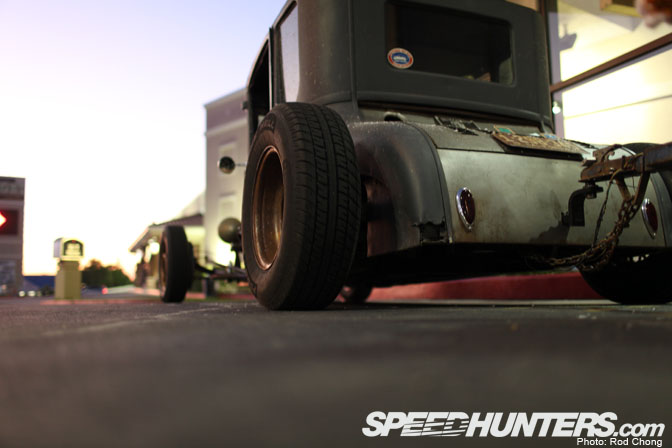 You won't really see any cheque-book Show Rods at Bonneville. Blinged out, billet-laden smoothster machines don't seem to fit into this environment.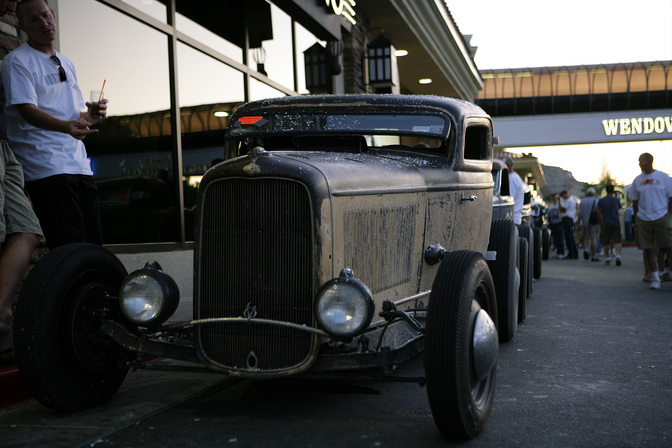 It's these gritty, textured traditional Rods and their bad boy brethren: the Suicide/Zombie/Toon/Rat Rods, which make up the numbers for the spectator machines which are flocking to the event in ever increasing numbers.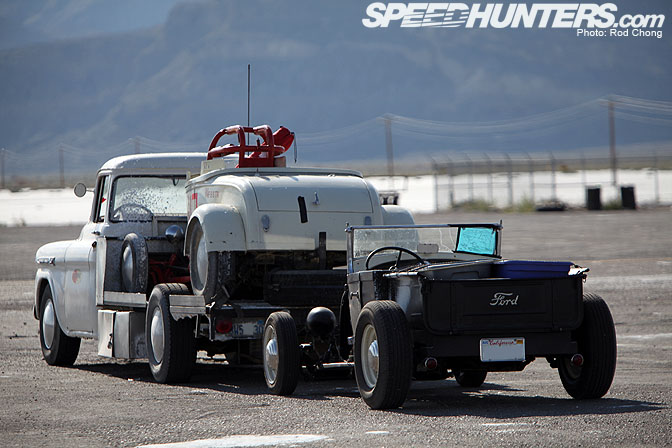 This team seems to be a great example of what some competitors are doing: you trailer in both a race car and a traditional rod… one you compete with, while the other serves as your cruise and pit vehicle… the truck in this shot is also styled to perfection.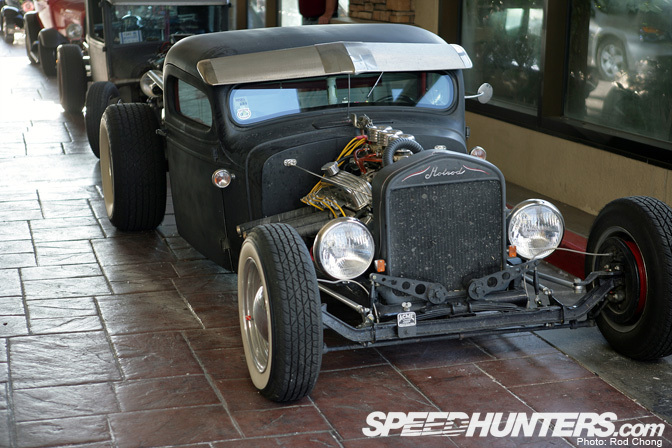 A lot of people drove their hardcore rods from across the nation to Bonneville. Linhbergh and I were drooling at the sight of this super slammed truck, at one of the nightly car shows at the Nugget Casino. Unfortunately we couldn't find the owner in order to shoot a feature… oh well.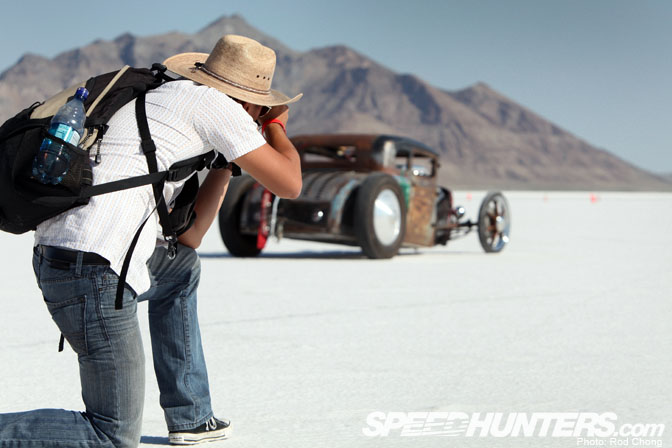 Never mind though… we found some awesome Rat machines to feature like this 1930 Ford Coupe.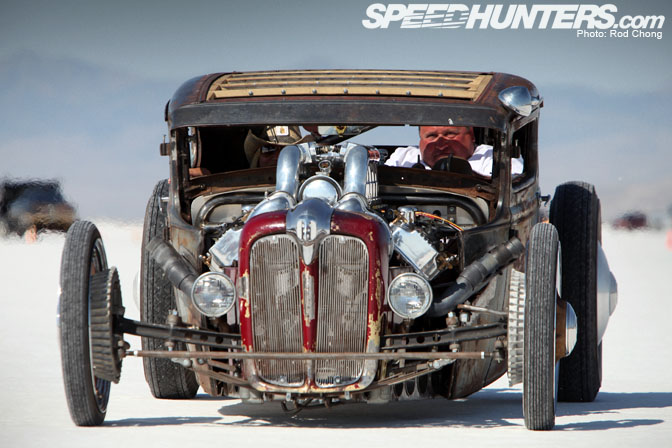 Called "Little Boy", this monster machine packs a 1000 bhp twin supercharged Hemi running on open headers… What a terrifying car!… Watch out for a full car feature from Linhbergh in the coming week or so.
BTW that's our Business Development Director, Rachel Kelly, in the passenger seat… lucky girl!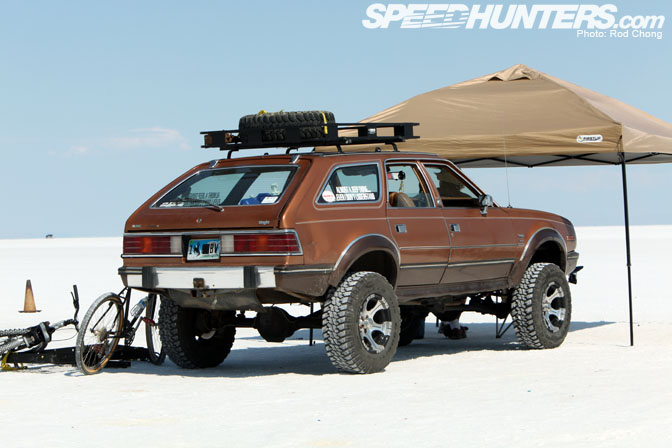 Often the team and spectator cars at Bonneville were wilder and more ridiculous than the competition cars… check this jacked up Eagle… It's so uncool that it's cool.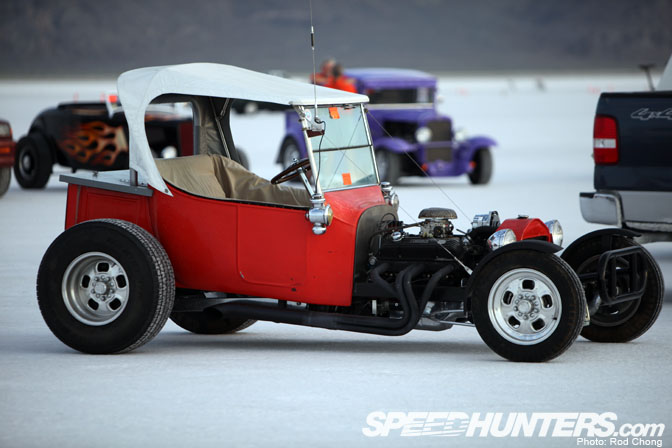 This "T" is rocking perfect, period specific late '60/early 70s style… I'm sensing a trend here…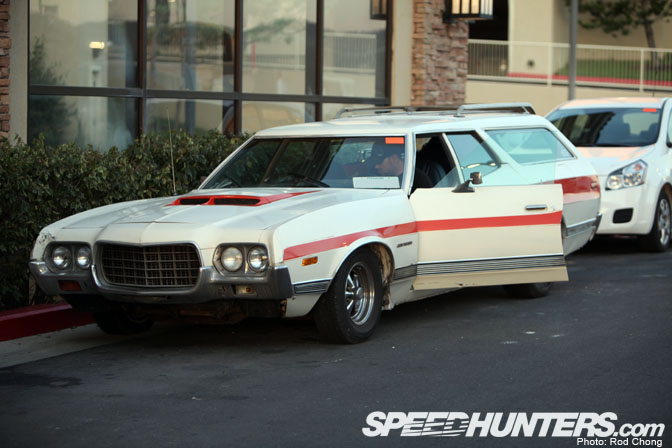 … made even stronger by this amazing disco wagon… wow just so hot…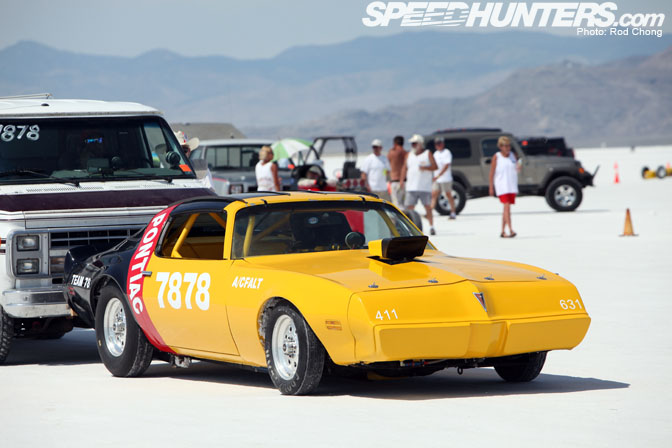 In fact I had my eye peeled for disco muscle cars all week.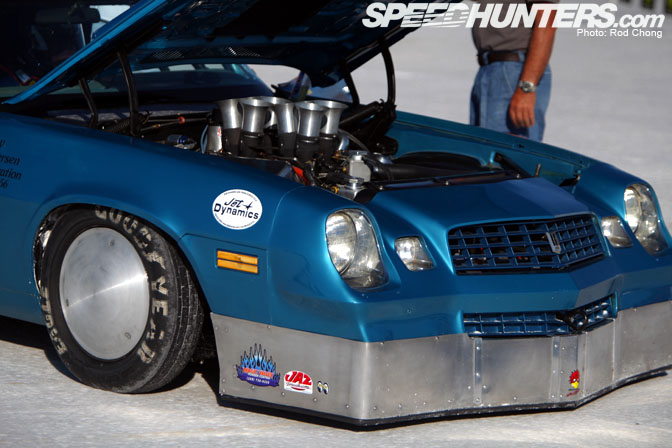 There seem to be a lot of them doing time on the salt.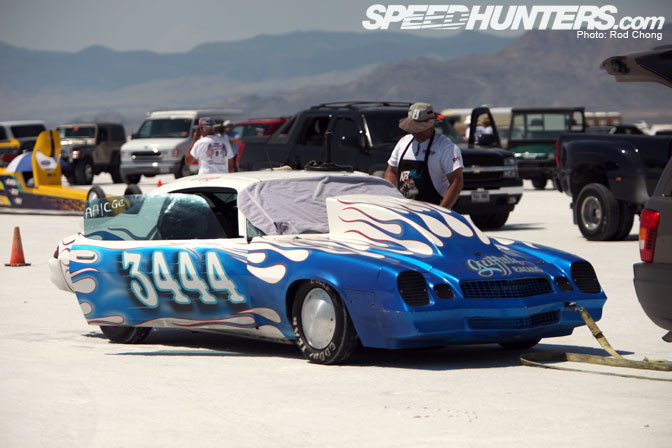 I do wish, in retrospect, that I had spoken to the owner of this car. It turns out that he is the owner of the Twins Turbo Viper we've been featuring from time to time on Speedhunters. The twins tell me this car develops over 700 hp and it's N/A!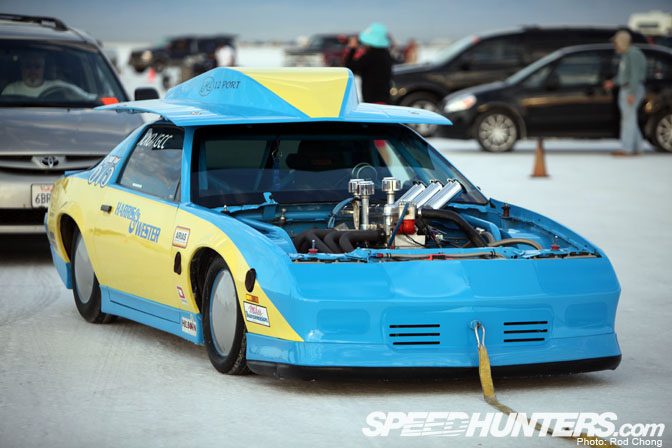 Here's another one of these XO class cars which sticks a classic in-line engine into a modern chassis.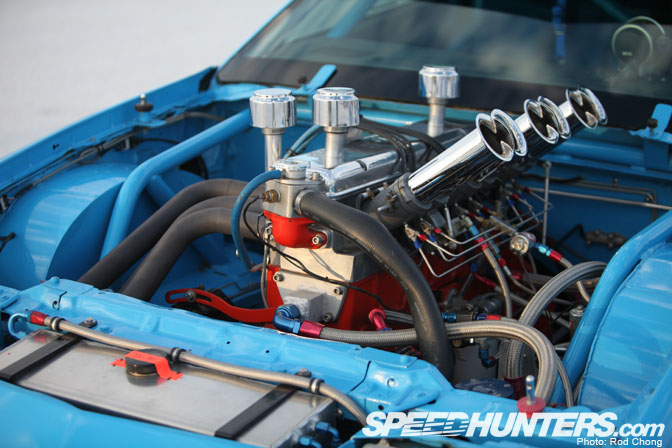 The 1988 Camaro is running a 1954 vintage 320 cubic inch GMC inline 6 engine… Click here to read an article about the car.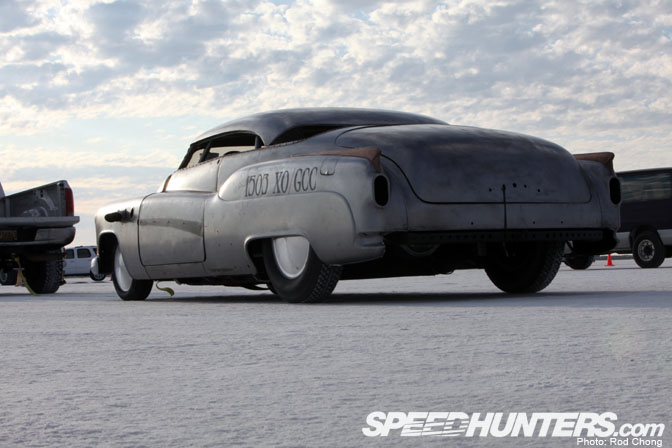 Now this is a seriously wicked machine… a car that mixes hardcore new school Kustom style with the functionality of a race car… This old Buick is just soooo cool that I'm going to do a separate spotlight…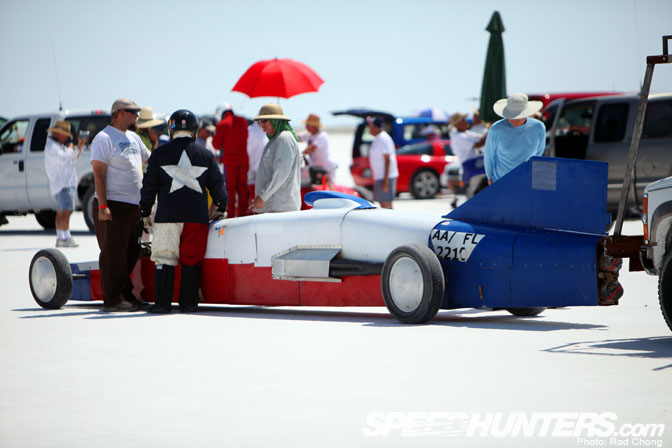 It's pretty obvious that many of the Speed Week machines are built in back yards and car ports around the country. They can be every bit as eccentric as the people who drive them. Check out the driver's suit…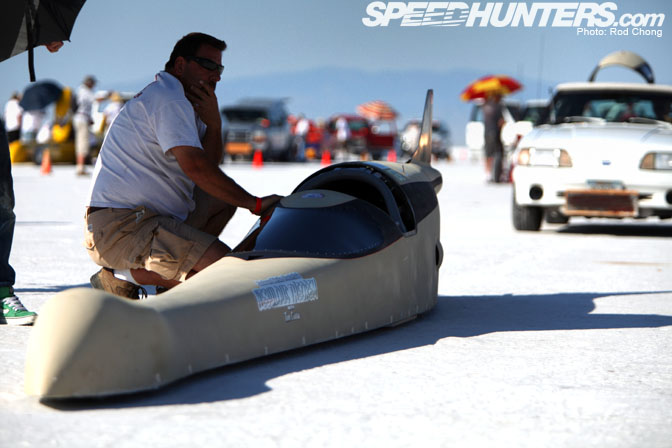 This mini-streamliner is not for the claustrophobic. The driver was laying down on his back in this little capsule with no room to maneuver what so ever… Madness…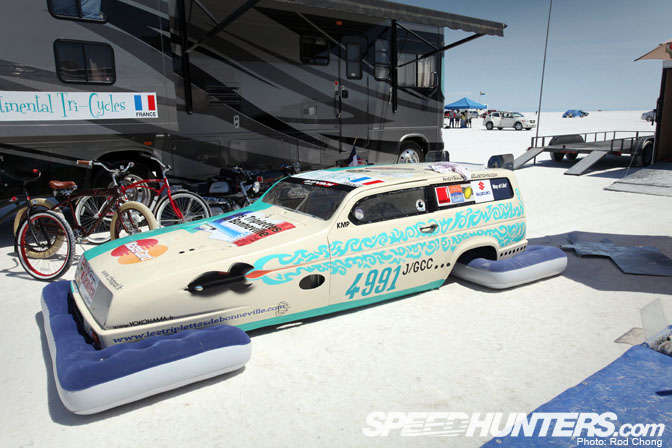 But this stretched three wheel Reliant was even crazier… Notice how the team is from France…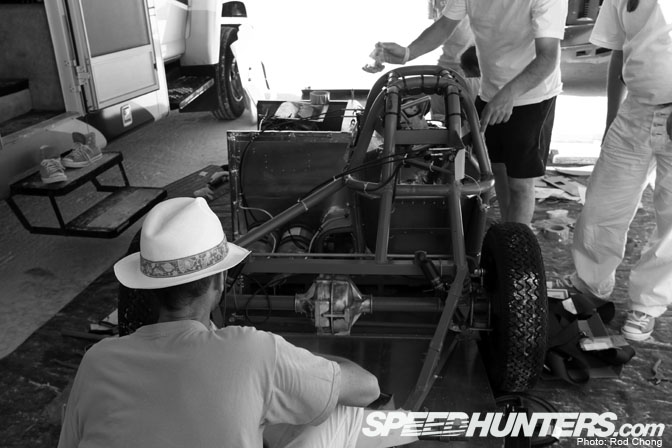 What a bunch of nutters!… the car seems to be a full tube chassis and is powered by a Suzuki bike engine. The team also gets my award for having the coolest outfits with their white fedora hats and matching pale blue Converse shoes.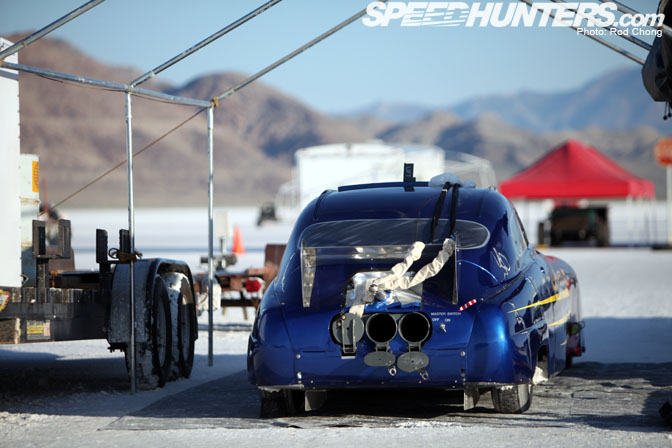 Yes this is a stretched 1964 Saab… I have no further comment on the matter…. :>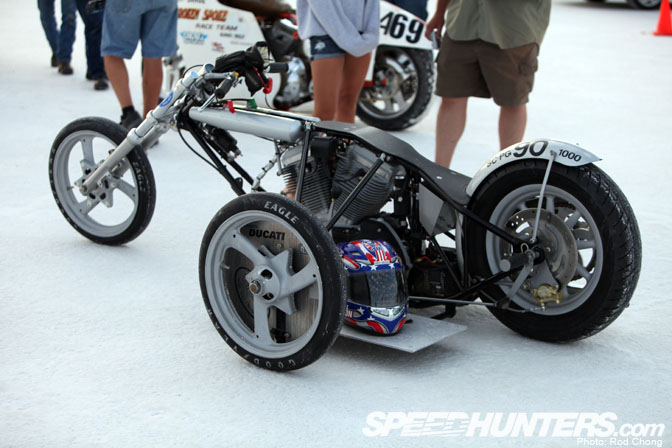 We don't normally feature bikes on Speedhunters but this Ducati was exuding so much so hardcoreness I just had to show it to you guys…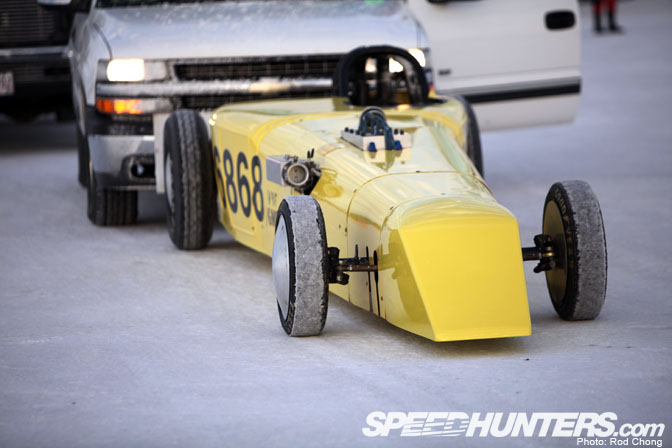 Some of the roadsters were reminding me of formula open wheel racers rather than hot rods. This particular car was powered by a 4 cylinder flathead engine but there were also a few roadsters running S2000 and Toyota engines too. We didn't have a moment to document them this year but will make sure to find them in 2010… it's an interesting juxtaposition… sort of the opposite of a V8 powered S13 or S14 if that makes sense.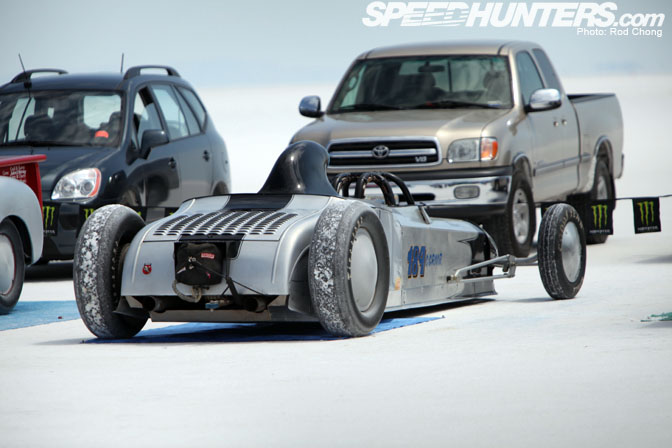 Yes a mid-engined Roadster…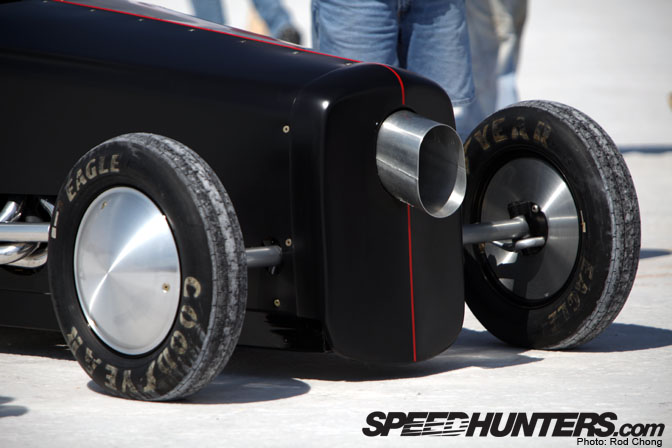 Force Fed…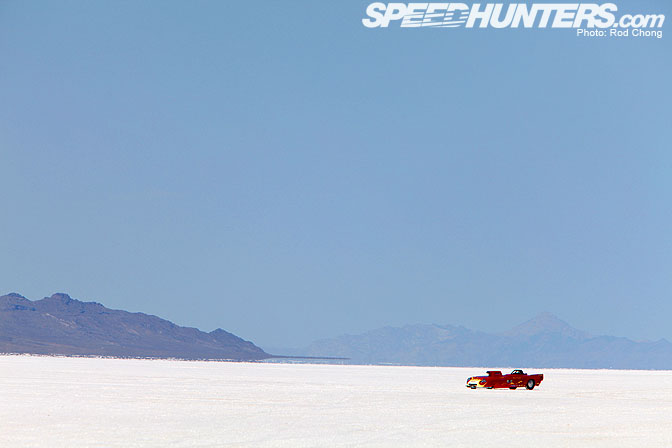 I know we keep going on about the vastness of Bonneville but it's left such an impression on me I feel the need to communicate this feeling to you yet again…
Interestingly, it seems like some teams would tow their cars out onto the salt and leave them there for us photographers to shoot.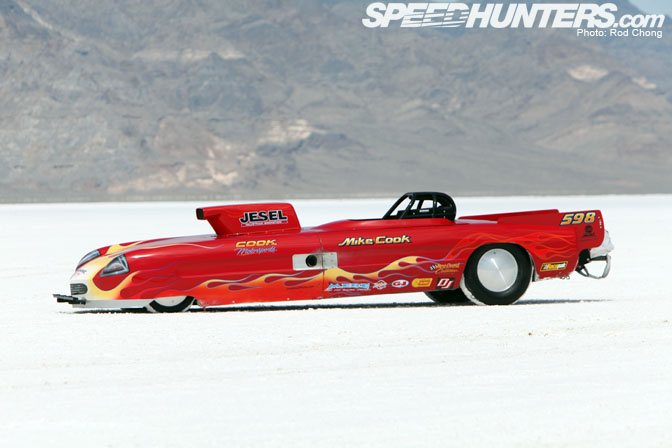 What is it?…  Any ideas?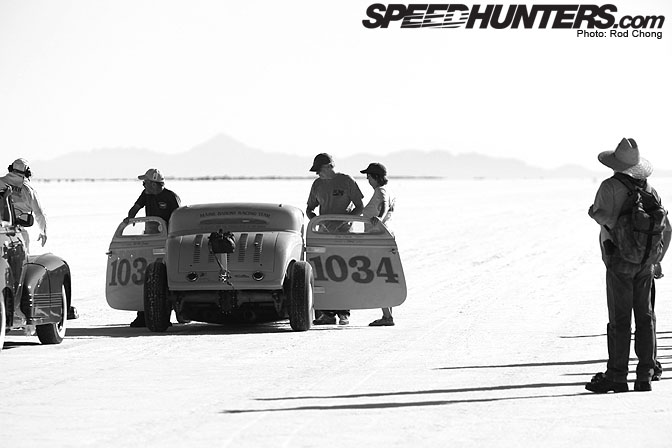 Another observation I feel the need to share with you is just how BRIGHT it is on the salt flats… this photo communicates a little bit of this feeling. If you took your sunglasses off this the whiteness would threaten to burn a hole in your retinas… I kid you not.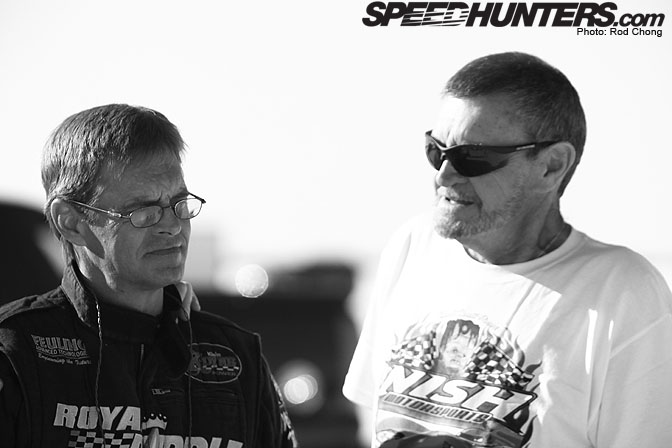 Lastly I want to talk about the Nish team… particularly these two guys: Mike and Terry. I really have a lot of respect as to how they have devoted their lives to the pursuit of speed.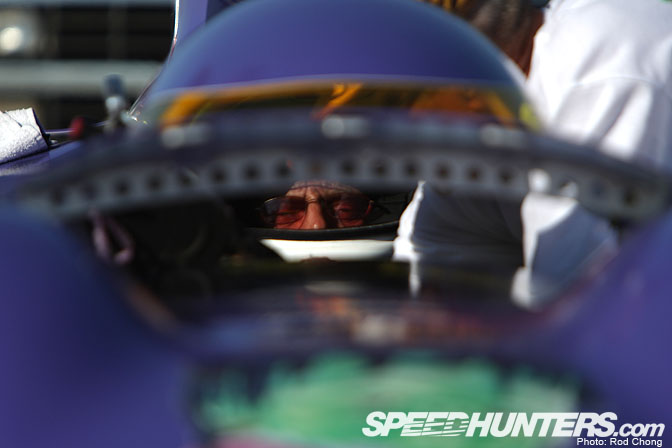 Can you imagine what it would be like to look through Mike Nish's eyes? He is about to hurtle down the salt flats at speeds close to 400 mph… This is seriously hard-to-the-core and only a special kind of person would partake in such speed centric activities. I feel lucky to have just been in the vicinity of these extraordinary people!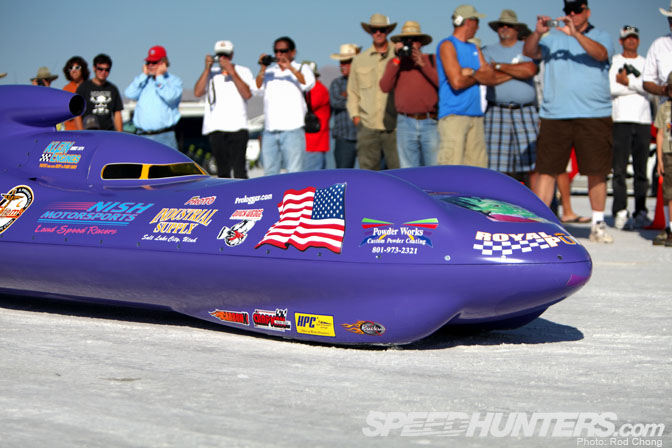 Is it a car or a spaceship?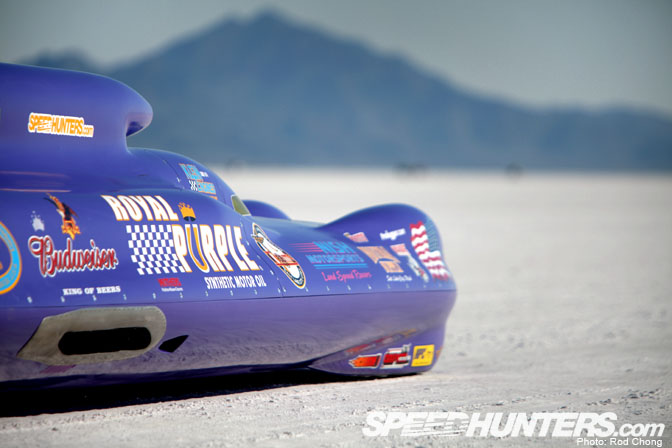 What this photograph doesn't communicate across the internet is the extreme toxicity of the nitro fumes, belching forth from the streamliner's exhaust pipes. It will make your throat burn and your eyes sting… it's all part of hot rodding though.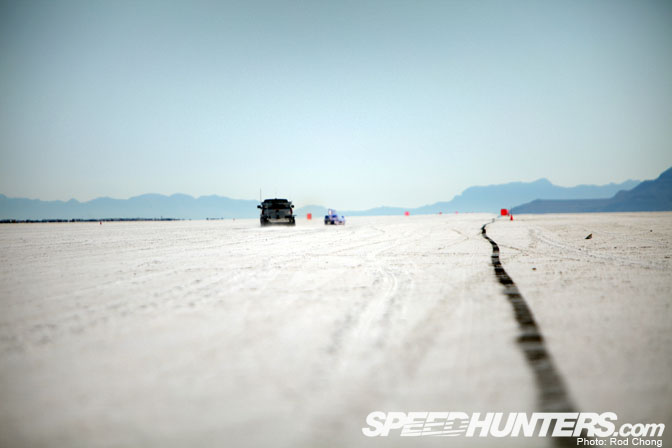 The gearing on the Royal Purple Streamliner was so tall that it was already practically a spec on the horizon by the time it separated from its push car… in an instant it would be out of sight.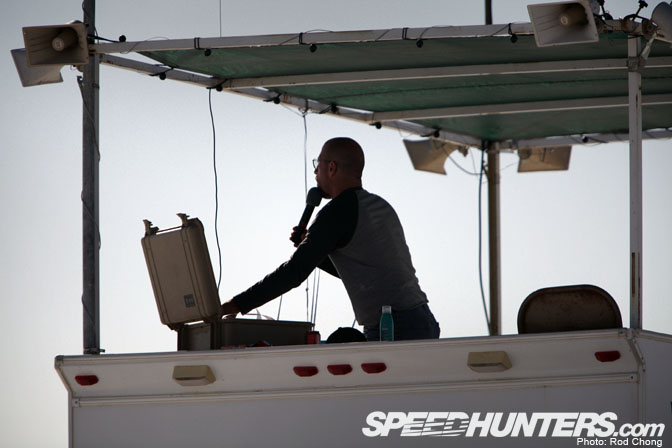 We'd just be left with the announcer's reports of the speeds as the streamliner past through the timing gates.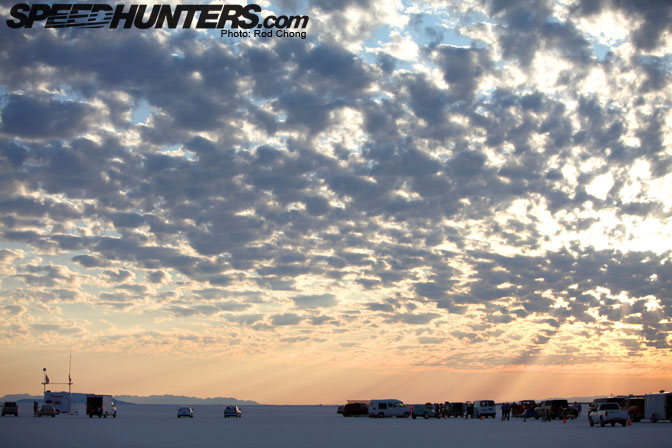 So this ends my own personal account of Bonnevile. We will have a Will Roegge film coming soon through as well as additional features from Linhbergh (he has two amazing Rat machines to feature) and John Brook's look at the guts of the Royal Purple streamliner…
I'm now off to a DMCC drift event where I've been asked to be a guest judge… should be cool! I'm looking forward to meeting some West Coast Canadian drifters this weekend….
:Rod