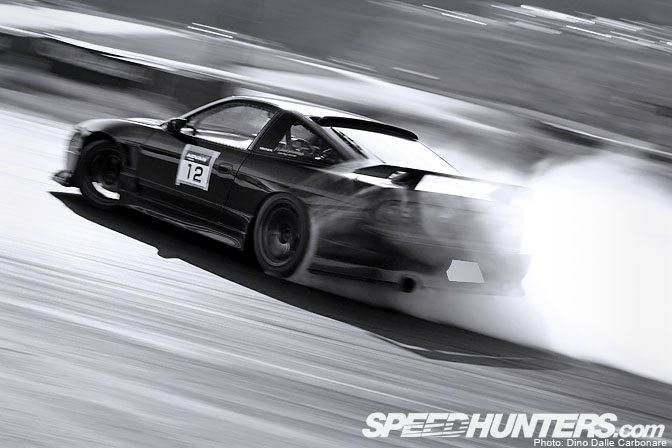 I'm glad the first part of the MSC Round 8 coverage went down well, so I've compiled another selection of crazy drift cars from Honjyo circuit. These grassroots events ooze the right kind of atmosphere, unlike more professional oriented series, which is precisely why I enjoy covering them so much.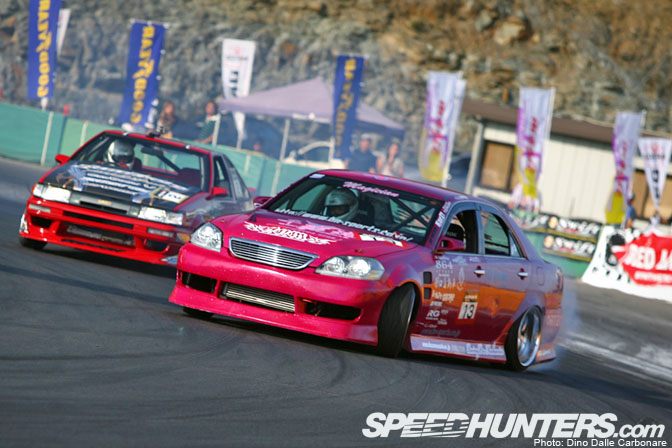 Here is the Team Magician JZX110 against the Run Free AE86, epic run!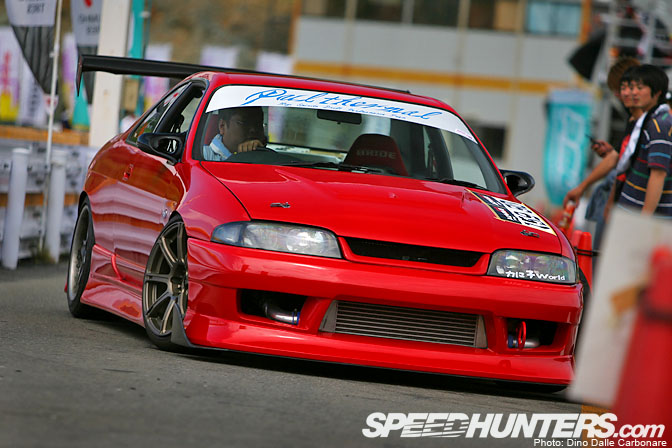 It seems, that like myself, a lot of you guys couldn't get enough of this sweet Skyline…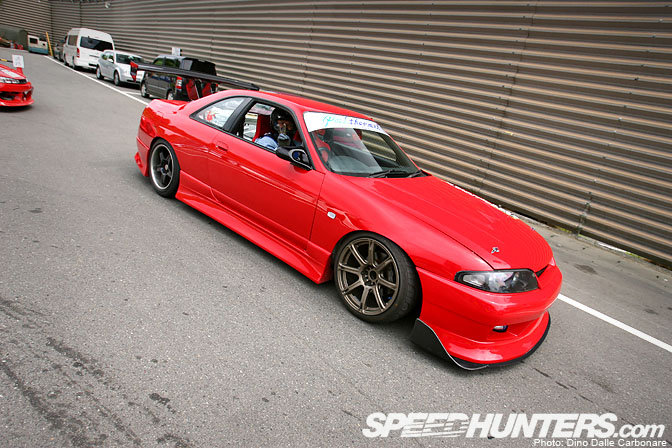 …every time I saw it I just had to grab a few shots!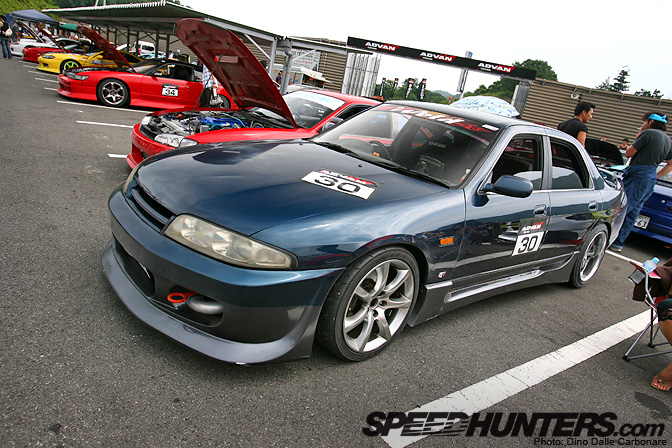 And while on the subject of Skylines here is that 4-door R33 again.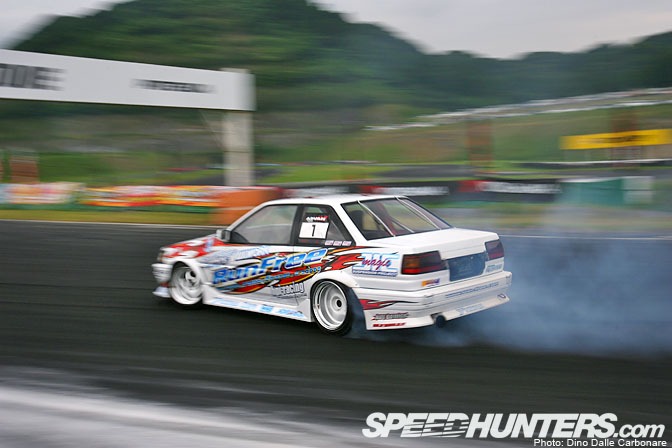 The second Run Free Levin in action, one of only a few AE86 that managed to stay sideways all the way through the judged corner.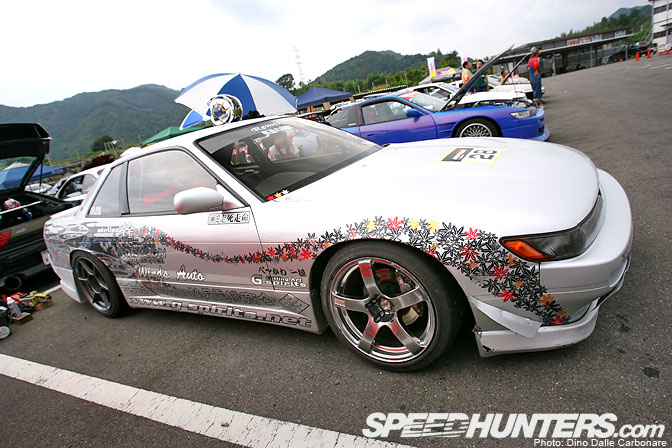 I though this livery was very original. And by the way those are maple leafs, not something else!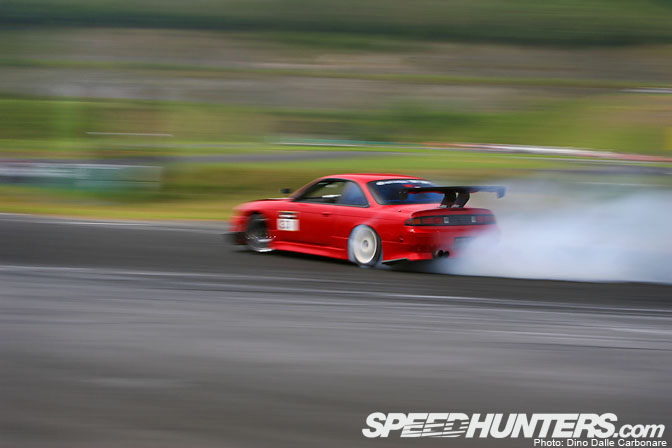 I don't know why, but I'm beginning to really like these massive center-mounted GT wings! A new style?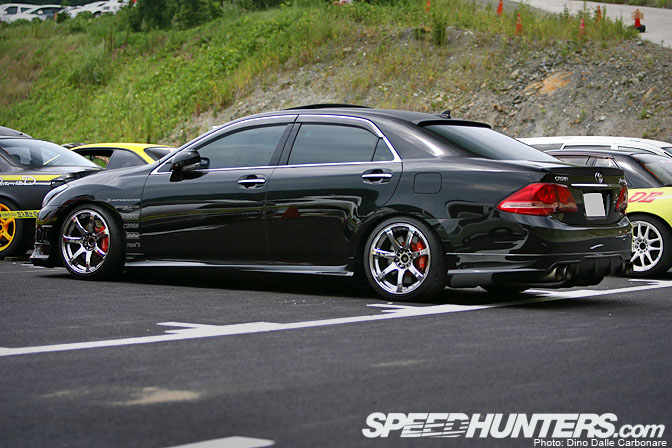 Spotted this new-gen Toyota Crown Athlete pulling into the car park and had to go and take a closer look.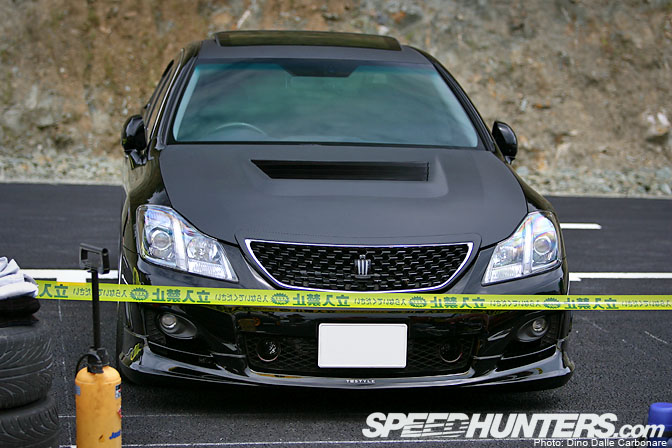 It was sporting a T-Style aero, chrome Work Emotion XT7's and massive Project µ brakes all round. The hood, front grille, roof and roof spoiler were wrapped in a dry-carbon looking vinyl. Can't wait for someone to drop a 2JZ under the hood of these new Crowns and take them drifting!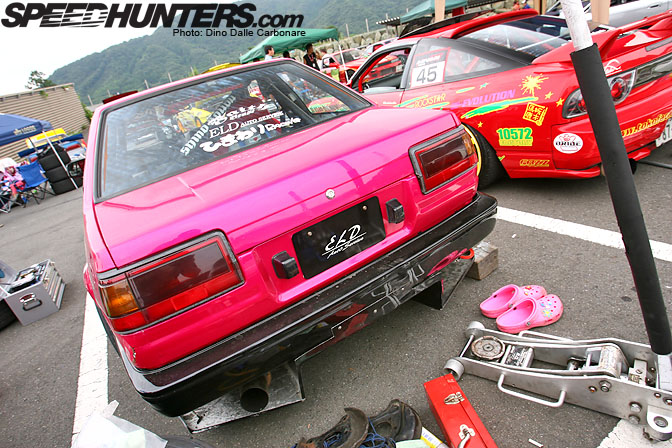 Check out the color-matched Crocs!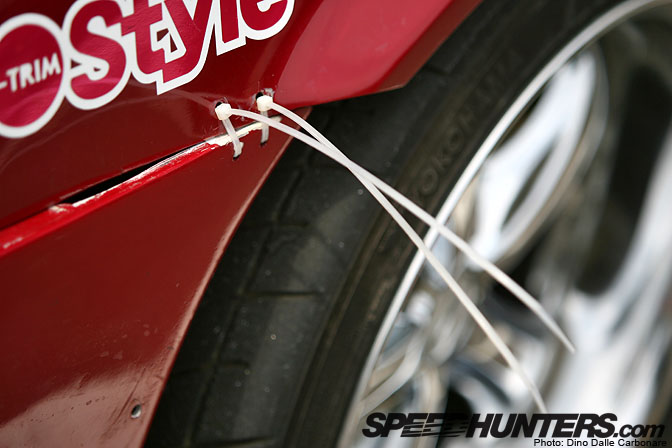 It's all about the zip-ties!
Sure is bright in there!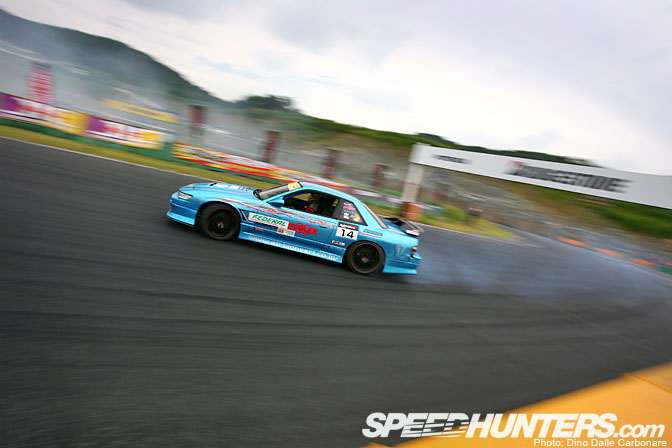 I've seen this S13 at a few D1 divisional rounds too, looking very aggressive with those black AVS's.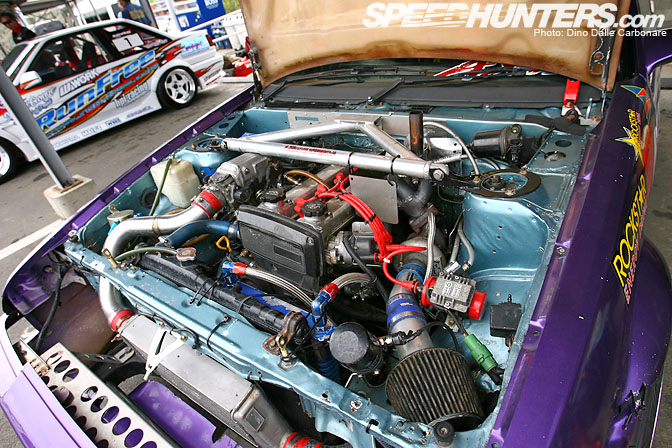 Remember I wanted to take a closer look at Tomo's AE86? I noticed he had a little pipe sticking out through the hood…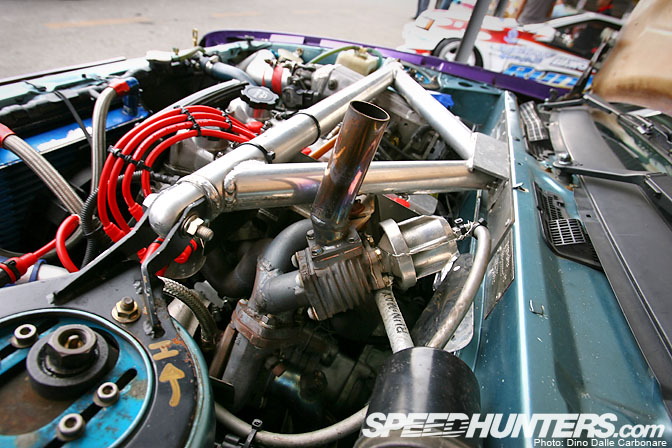 …which happened to be the screamer pipe from the tiny little external wastegate! I was keeping my eye on it when he was out on track, but I never saw any flames shoot out of it!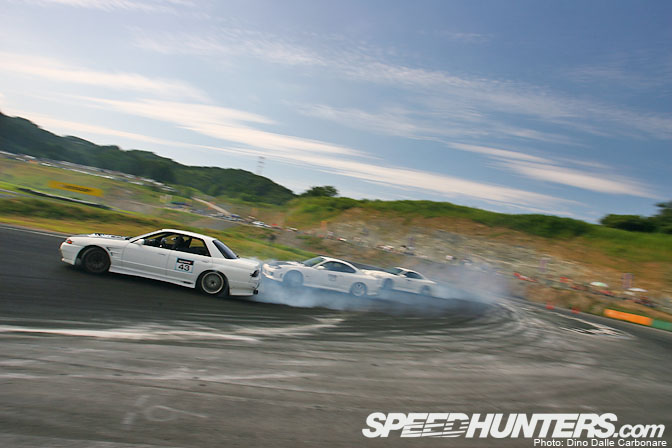 An all-white triple drift team!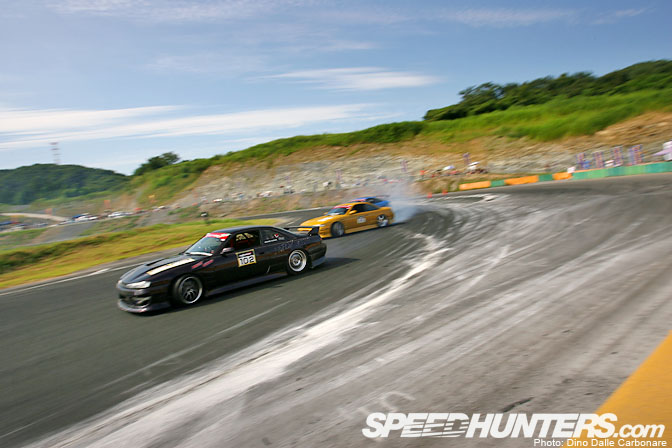 There were a few spins here and there but overall the guys participating in the triple-drift events were really killing it out there!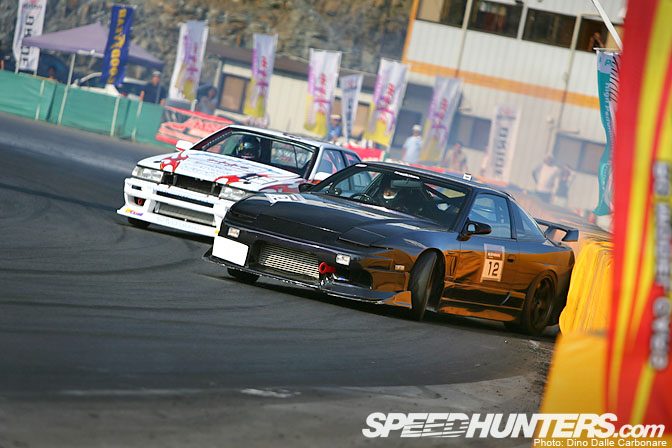 Now which is cooler, smashing a missile purposely against the wall at Ebisu, or gently caressing the soft barriers at Honjyo during a tsuiso battle?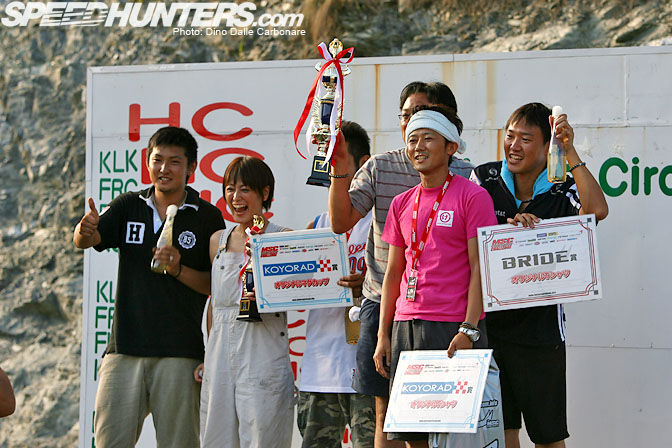 At the end of the day the top three drivers of each class were called out to get on the podium. These are the top finishers of the triple drift runs…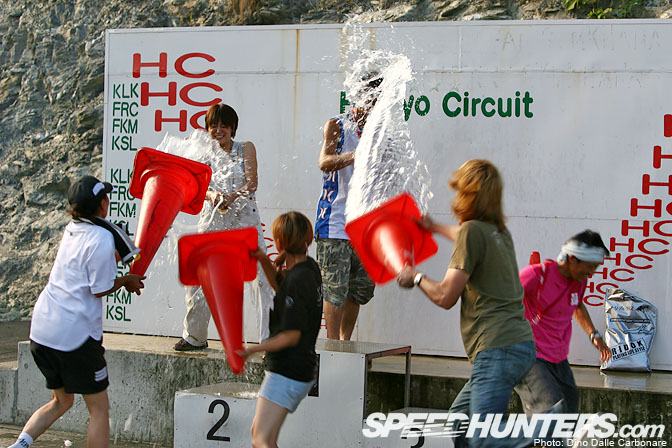 …who were also treated to a complimentary refreshing shower! That is all from Honjyo, there will be more drifting action coming up this weekend in Ebisu for the D1.
-Dino Dalle Carbonare