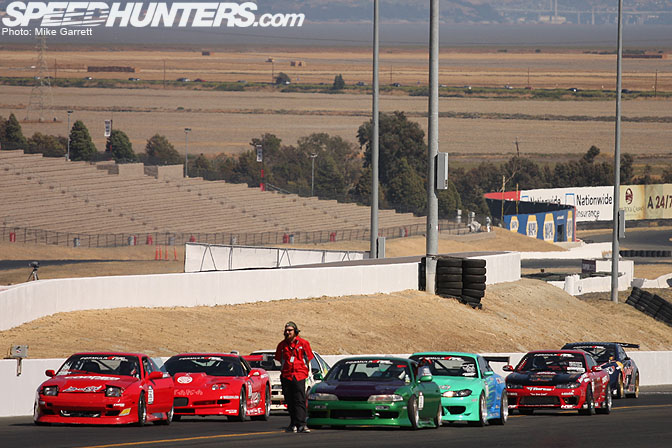 Well, here I am again in hotel room chuggin' away on the old lap top for what seems like the 20th time this month. Less than two weeks after Formula D Seattle, it's time for the second FD event of the month at Infineon Raceway in Sonoma. The event was originally scheduled for mid-September, but was moved up to the same weekend as the Indy Car race for a unique combo weekend.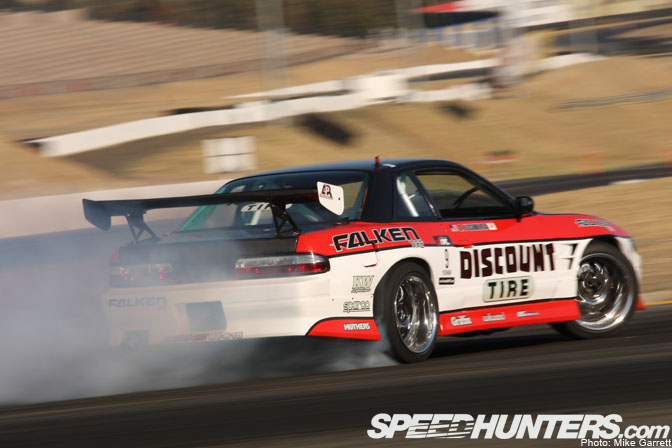 With the short time between the two events this month, there were a lot of sleepless nights among FD teams. As you'll remember from the Seattle report, Dai Yoshihara's Lexus was damaged beyond repair, and in short order Team Falken put together a new car for him. This S13 actually used to be driven by Ross Petty, but was given a rush rebuild and is now sporting Chevy V8 power. More on the new car later.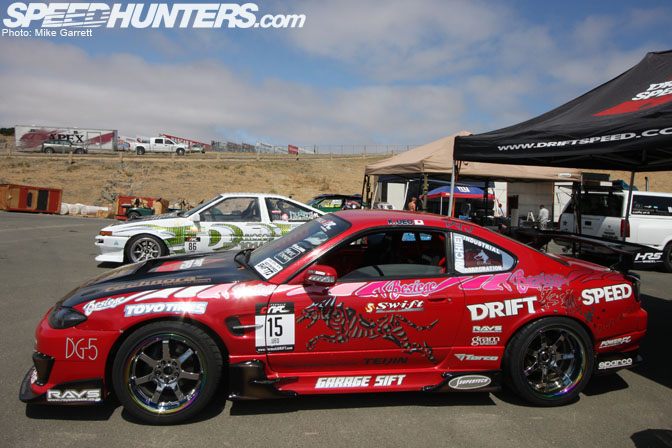 Because this event is relatively close to SoCal, we get to see some of the fan favorite drivers like Katsuhiro Ueo in the Drift Speed S15.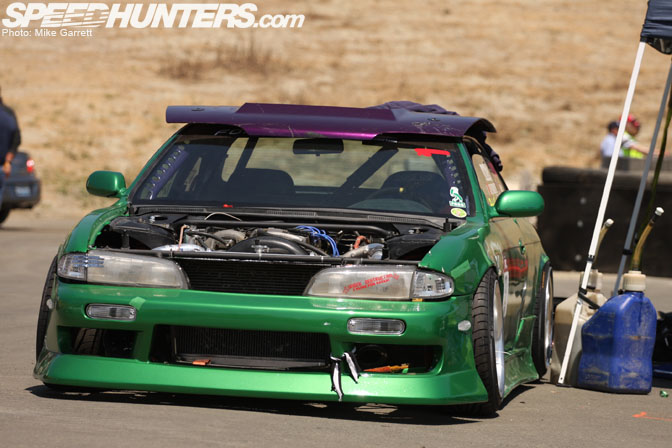 And the legendary Matt Powers. Matt left San Diego last night at 930 for a marathon all-night road trip up to Sonoma.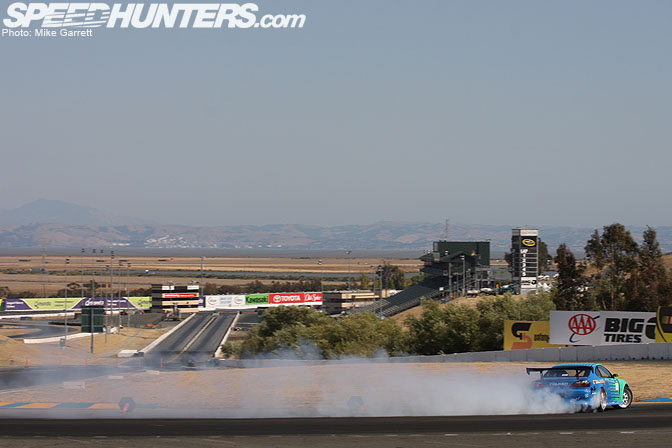 Speaking of NorCal, Bay Area local Calvin Wan will be looking for a good performance this weekend in front of the hometown crowd. This photo gives you an idea of the beautiful scenery up here.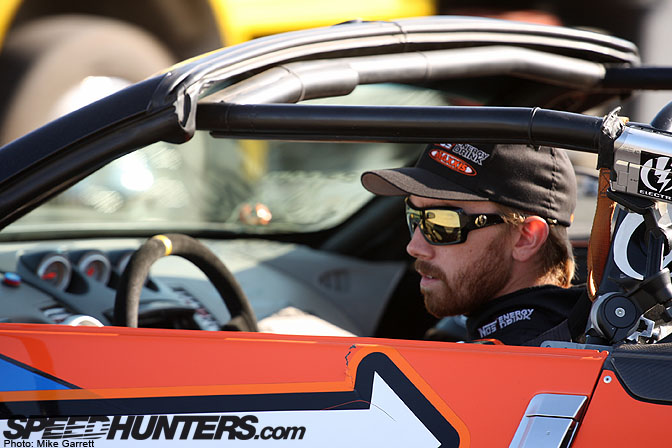 Meanwhile Chris Forsberg will be looking for his second straight FD victory, or at the very least some extra padding for his lead in the championship race.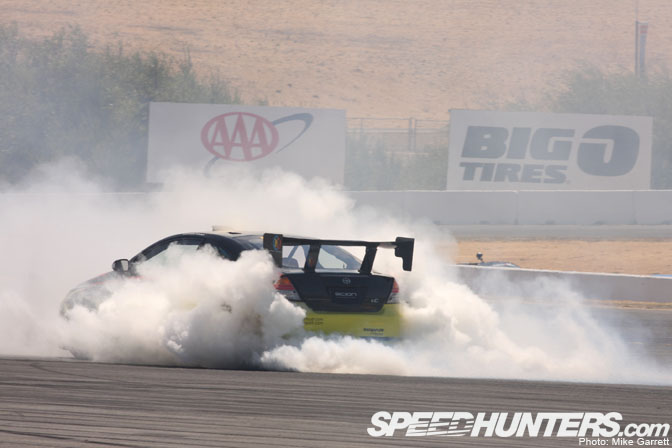 Tanner Foust was again the smoke king during this afternoon's practice session.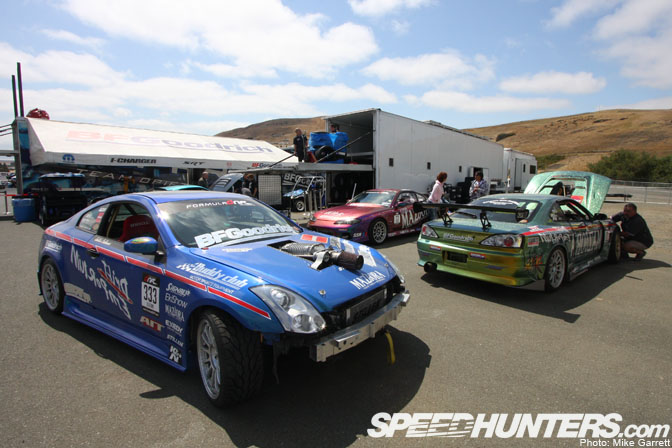 The Drift Emporium crew is ready to rock with their fleet of hot rodded Nissans. I've been meaning to take a closer look at these cars for a while.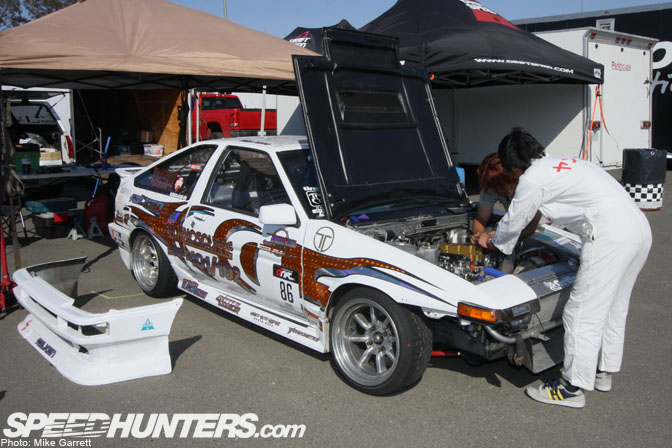 There's Taka Aono and Hiro Sumida doing some last minute work to Taka's AE86 before qualifying begins. Typically qualifying is on Friday with the tandem comp on Saturday, but with the Indy Car collabo the drifting has been spread over three days.
With that, there's a quick look at the day's top five qualifiers-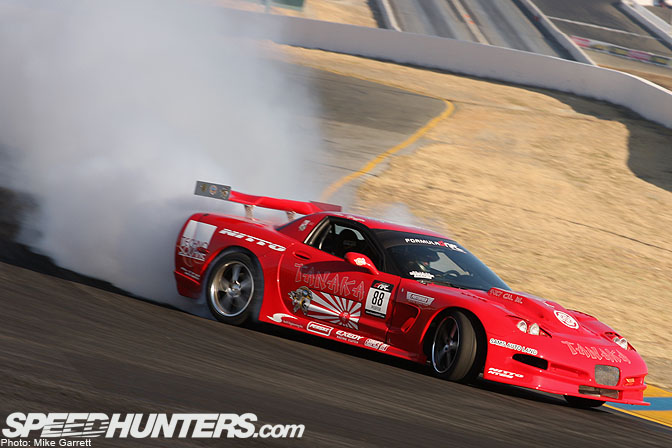 Coming in fifth was Alex Pfeiffer in the Tanaka Racing C5 'Vette with a 71.3 point run.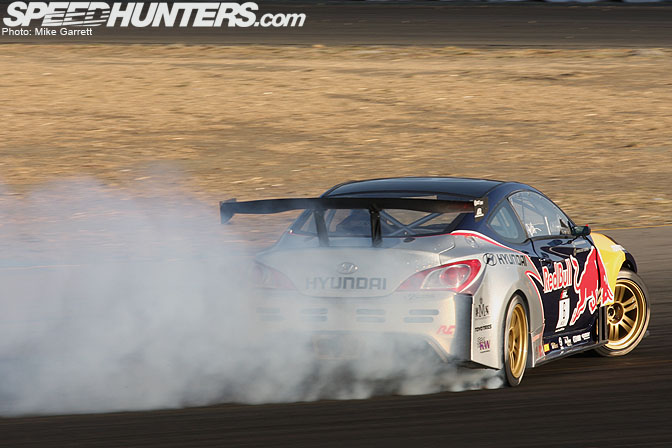 Fourth went to Rhys Millen, who's got to be satisfied with that spot considering his struggles this year. His score was 72.2.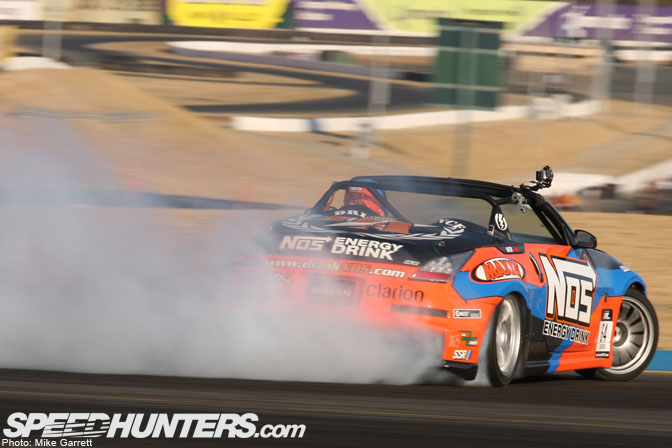 Mr. Forsberg took the third spot with a 73.7.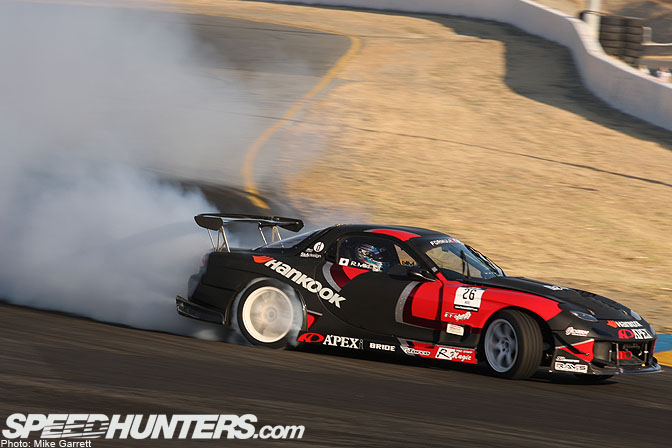 With a score of 77.3, second went to Ryuji Miki, who's FD was looking as good as new following some light body damage in Seattle.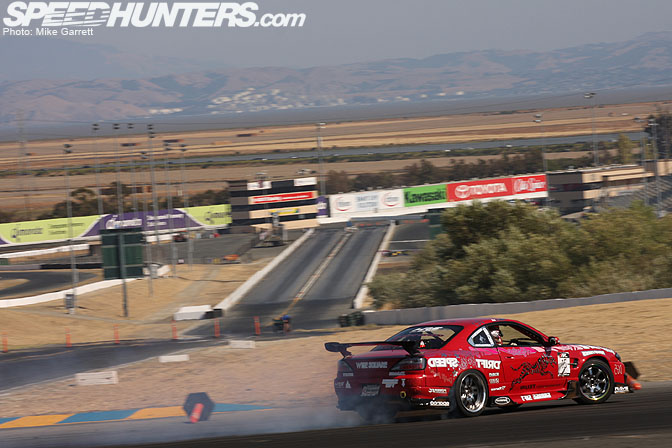 But in the end no one was able to match the driving of Katsuhiro Ueo, who's ass-first entries stunned everyone. He wasn't the fastest, but his dynamic style more than made up for it. His final score was an 80.8.
Here's the compete list of qualifying results courtesy of Formula Drift-
1 K. Ueo 15 80.8
2 R. Miki 36 77.3
3 C. Forsberg 64 73.7
4 R. Millen 6 72.2
5 A. Pfeiffer 88 71.3
6 V. Gittin 25 71.1
7 R. Tuerck 44 70.8
8 K. Gushi 5 69.9
9 D. Yoshihara 9 69.1
10 B. Sherman 22 68.2
11 J. Pawlak 13 66.9
12 M. Powers 11 65.7
13 T. McQuarrie 17 65.4
14 S. Verdier 12 64.1
15 T. Brakohiapa 18 63.7
16 P. Mordaunt 90 63.7
17 D. McNamara 8 62.8
18 K. Mohan 99 61.8
19 K. Hayashida 33 61.5
20 K. Yamanaka 7 60.6
21 T. Foust 1 59.5
22 M. Essa 101 58.7
23 Y. Kondo 52 55
24 E. O'Sullivan 35 54
25 R. Nishida 31 53
26 S. Hubinette 77 51.9
27 R. Petty 808 51.9
28 C. Parkhouse 562 51.9
29 R. Ewerth 27 48.4
30 C. Wan 3 42.4
31 T. Aono 86 42
32 J. Jones 29 40.9
Alright then, time for me to get some shut eye. It's back to the track tomorrow for the Top 32 tandem comp, followed by the Top 16 on Saturday.
Stay tuned for more FD action from the beautiful SF Bay Area.
-Mike Garrett