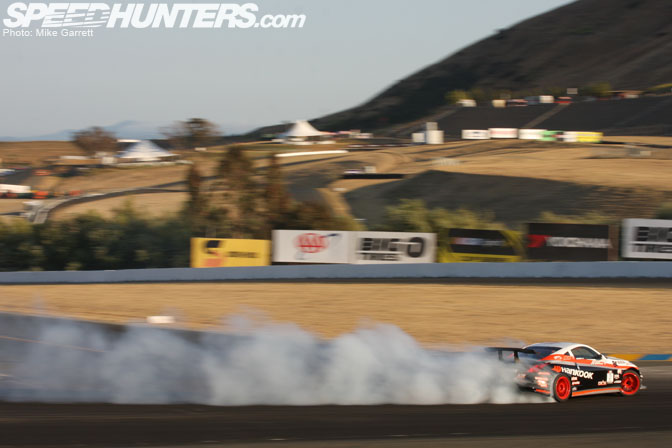 Although there's nothing funner than traveling around shooting pictures of cool cars, I have to admit I'm looking forward to the break I'll have this weekend after five consecutive weeks of events. Perhaps my Miata will get a much-needed wash?  Maybe a drive in the hills? Anyways, before the end of the week, I wanted to wrap up my Formula Drift Sonoma coverage with one more batch of random photos from the event.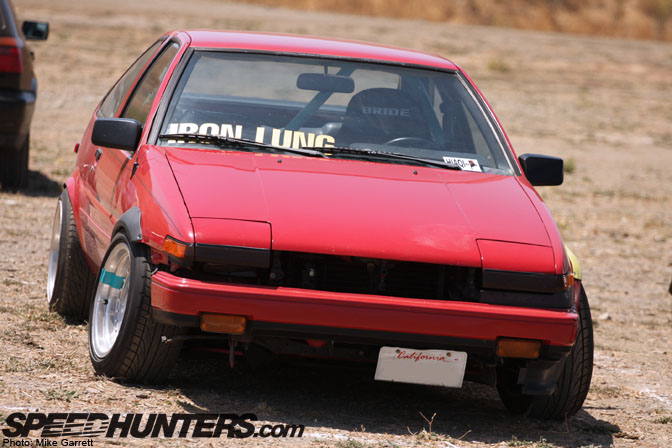 My car spotting photos from events seem to generate a lot of positive response, so I'll throw in some more in here. This AE86 was sitting alongside the white Miata I posted yesterday, crewmates?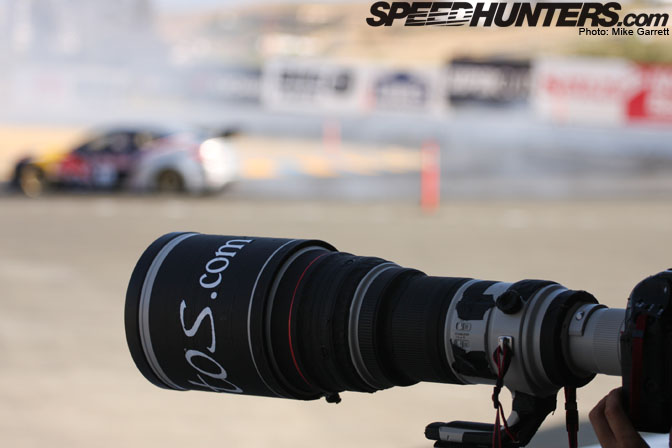 I think I've seen Larry Chen and his envy-inducing telephoto at every event I've been to this month. I'm not sure if he's trying to shoot Rhys Millen's Hyundai or observing some distant galaxies…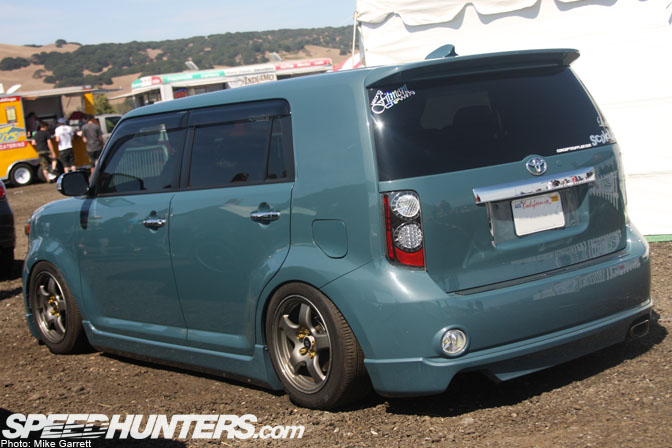 Because of size limitations there was no car show at this FD event. Nonetheless, there was a sizable gathering of Scion owners parked on the hill near the judging stand. Most of the cars were pretty typical, but this slammed second generation xB caught my eye. Can anyone recognize what wheels those are?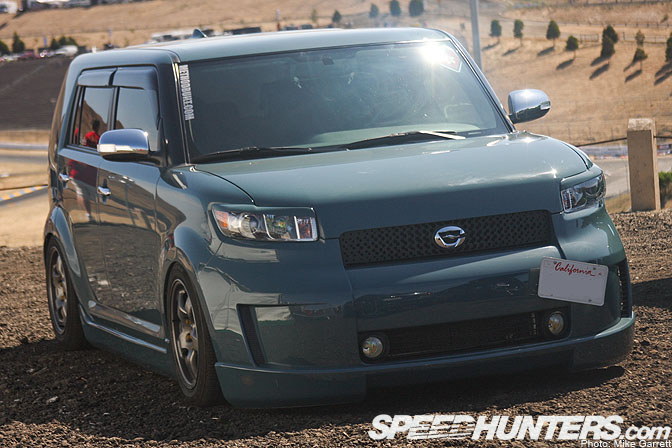 They are OEM R32 Skyline GT-R wheels (16×8 +30 all around to be exact). Wheels like these aren't too popular among the Scion crowd, but this looks awesome.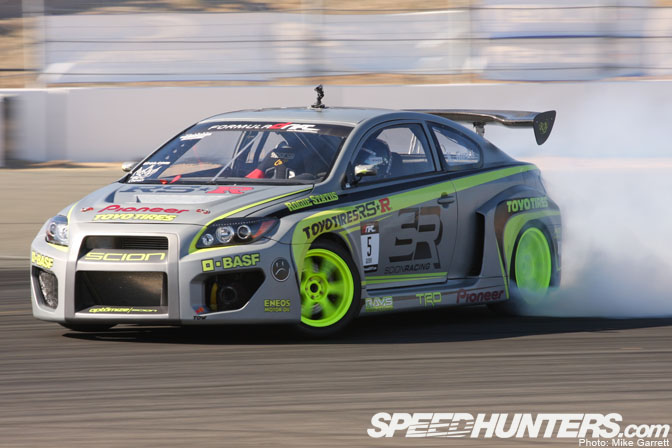 Another Scion of a slightly different variety. With all the focus on Stephan Verdier's win, a lot of people forget that Ken Gushi came damn close to getting his first Formula D win since 2005. Hopefully his crew will get the mechanical issues worked out soon.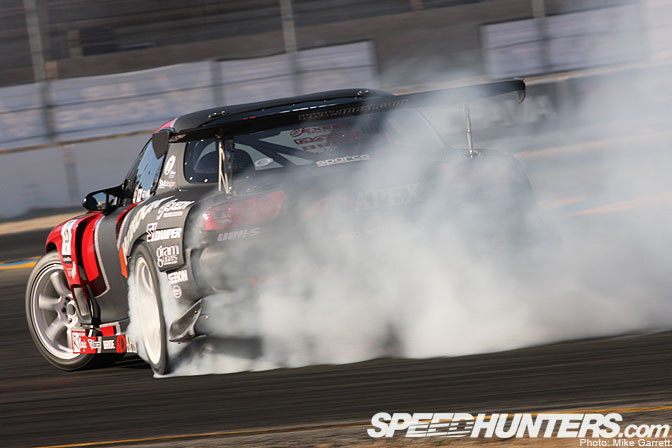 Ahem, who says Formula Drift doesn't have cool looking cars?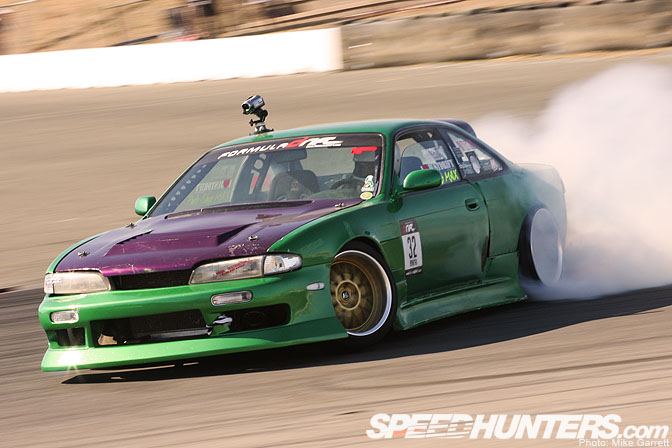 Sure not all the cars can have the nutty stance of Matt Powers, but there seems to be a big improvement this season from a drift fashionista perspective.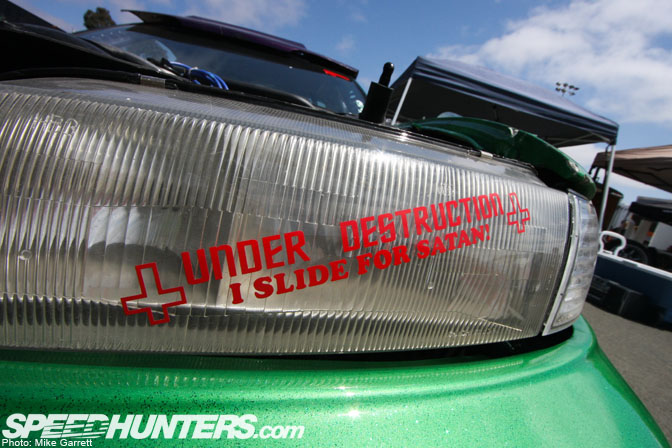 It was cool to see that Matt was sporting an "Under Destruction" Rich Bible memorial sticker on his headlight. Rich was a brother of the Drift Alliance crew who passed away earlier this year.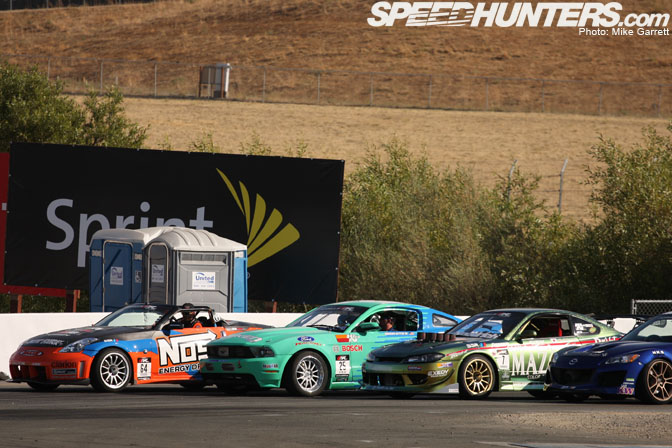 Speaking of Drift Alliance, here's four DA members rolling out in formation during the Top 16 driver introductions.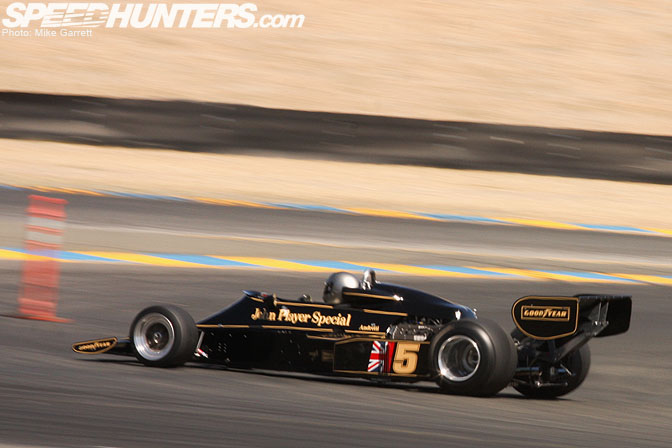 I hardly spent any time watching the Indy cars run, but did manage to fire off a couple shots during practice for the Historic Grand Prix. JPS livery never gets old!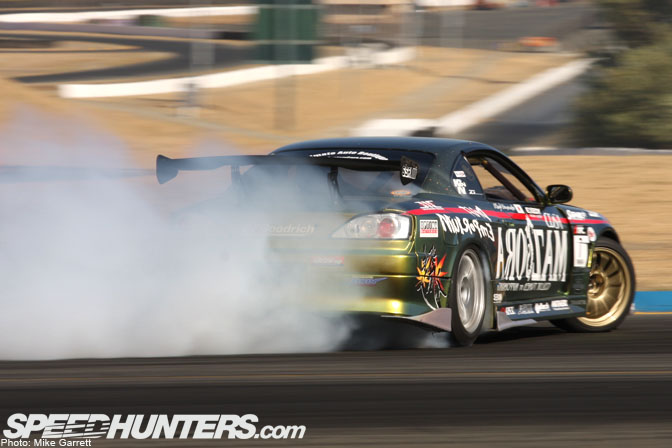 Kenji Yamanaka and his Titan-powered Silvia really deserve more attention than they get. If you look at Drift Tengoku magazine than you've probably scene Kenji's monthly column covering the American drifting scene. I enjoy reading (or trying to read) it every month.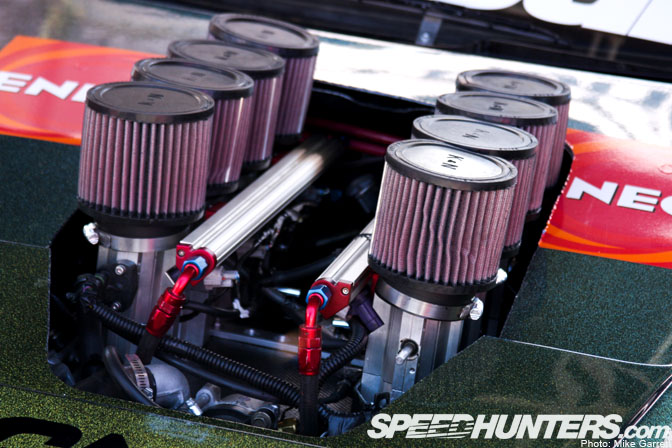 Some of the most unique cars in FD can be found parked at the Drift Emporium rig. Check the ITB's popping through the hood on Kenji's S15.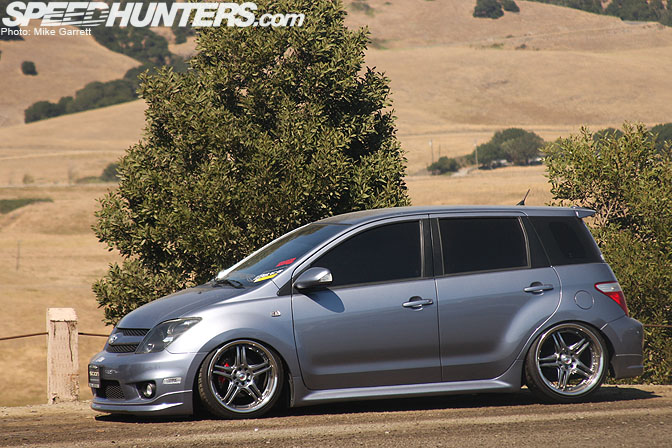 Another dumped Scion, this one a first-gen xA. I'm guessing this car is running air suspension because the roads leading up to the FD course looked like they would wreak havoc on slammed cars.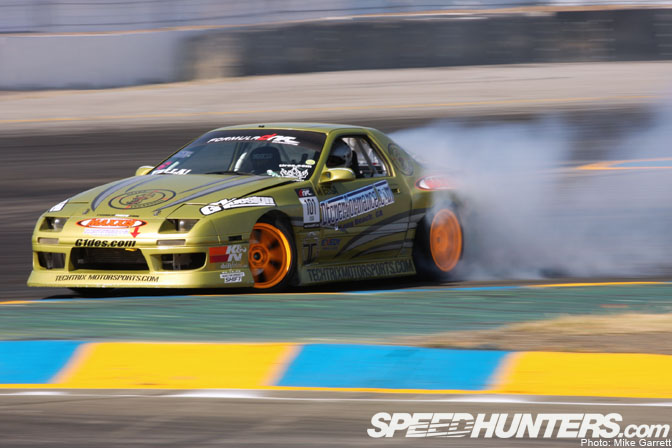 Mike Essa doing what he does best, shredding Maxxis tires with bowtie power.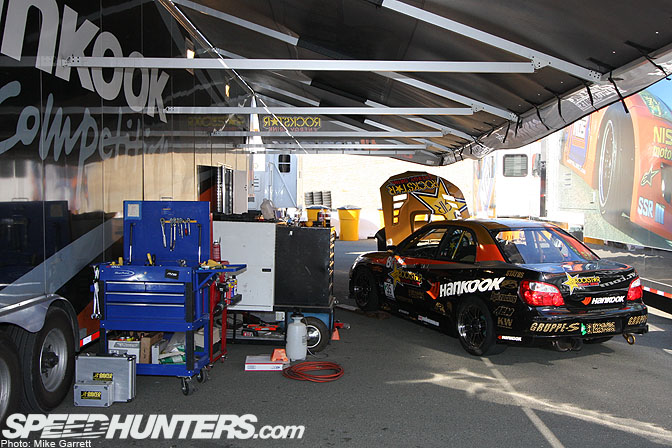 A quiet moment in Eric O'Sullivan's pit.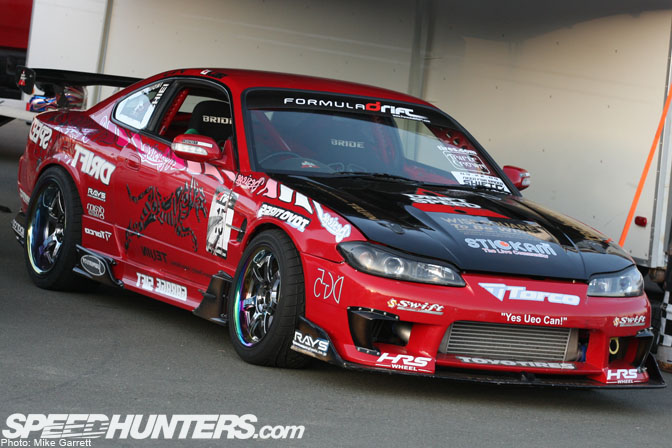 I wonder what the points standings would look like if Katsuhiro Ueo ran every event on the FD shedule instead of just the California area ones?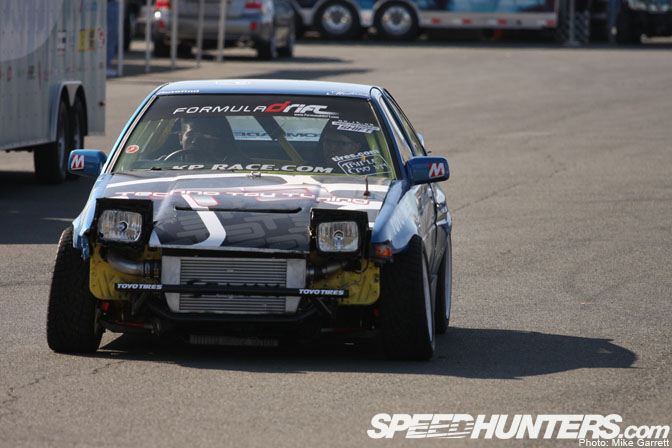 Tommy Suell was sporting some very aggressive negative camber on the front of his AE86.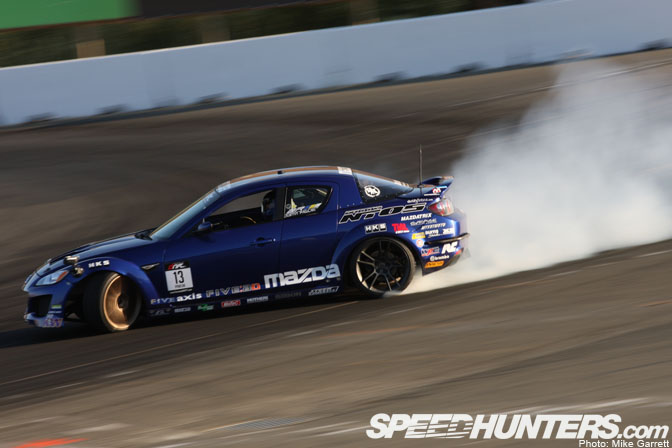 And finally, a shot of Justin Pawlak yanking on the E-brake as he initiates after shooting down the ramp. A lot of times JTP's entries looked just as aggressive as Ueo's, which is saying a lot.
OK, that's all for FD Sonoma. Just one event to go now, see you in Irwindale!
-Mike Garrett