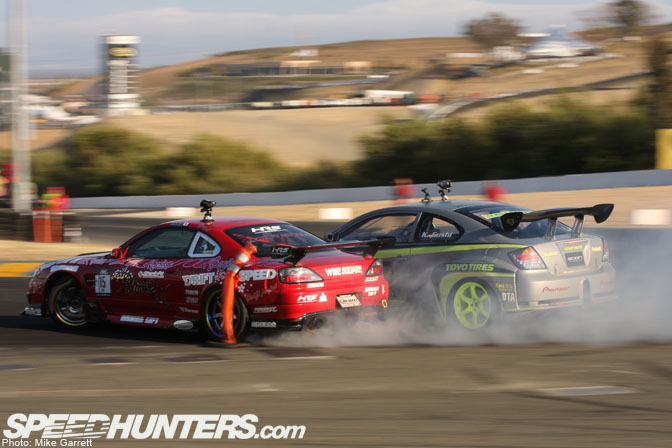 From a track perspective, the Sonoma course isn't particularly exciting compared to some of the others on the FD schedule, but that didn't mean this weekend's tandem competitions were boring. There may have been lots of spins and quick decisions during the Top 32, but the Top 16 proved to be a whole different story.
Here are some photographic highlights from Saturday's competition.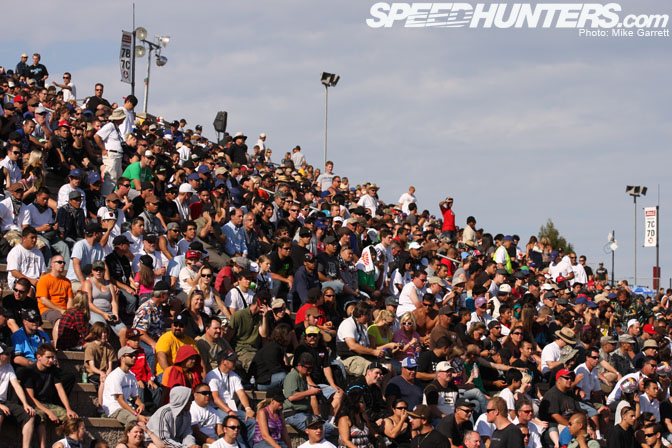 The stands were pretty empty on Friday, but I was amazed how many people came out on Saturday. I noticed a lot of fans wearing Indy Car gear in the stands, so I guess the decision to combine Formula Drift with IRL was a good one.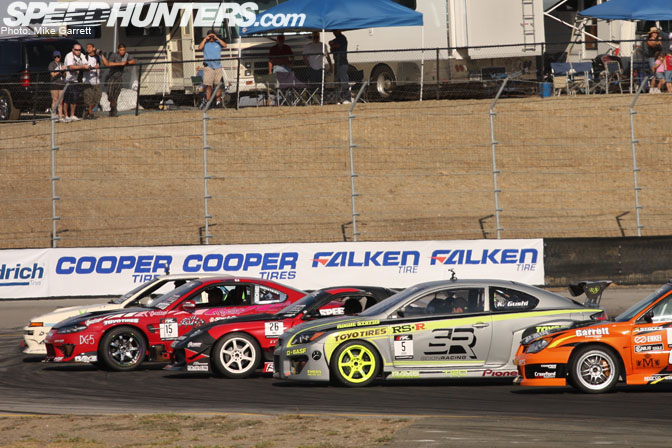 The Top 16 was filled with a mixture of Formula D veterans, drivers from Japan, and a few up and comers. It was shaping up to be a good show for the NorCal drift faithful as well as the visiting Indy fans.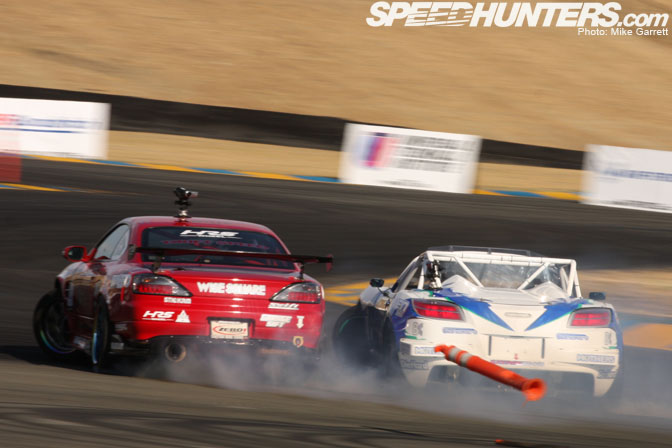 The first Top 16 match was between Darren McNamara and. Katsuhiro Ueo. DMac did an incredible job of sticking to Ueo's door during their first run (no easy feat considering Ueo's angle), but Ueo grabbed the advantage during their second run and the match was decided.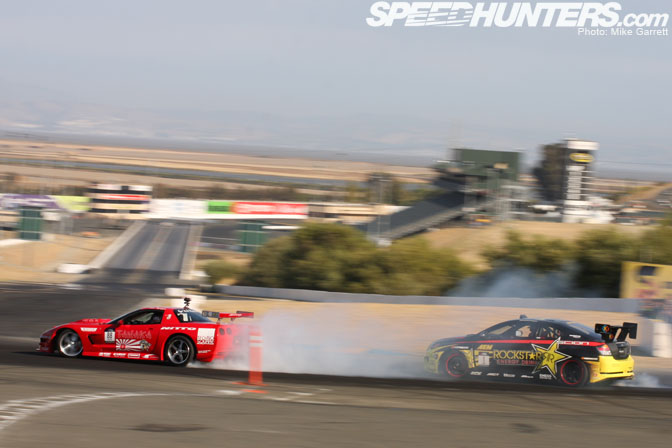 Alex Pfeiffer vs. Tanner Foust only took one match to settle, but Alex made Tanner work hard for it. A lot of us in the media pit thought this one at least deserved an OMT.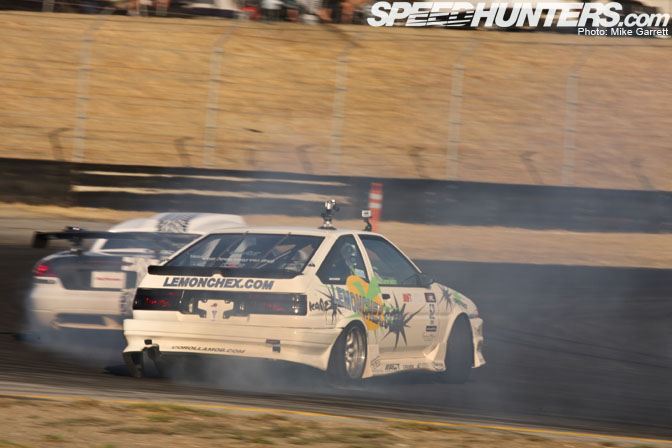 One of the best battles of the entire weekend was the David vs. Goliath match of Sam Hubinette and Yasu Kondo. Kondo was the clear underdog, but he put on his best performance of the year taking Sam to an OMT match before a victor was declared.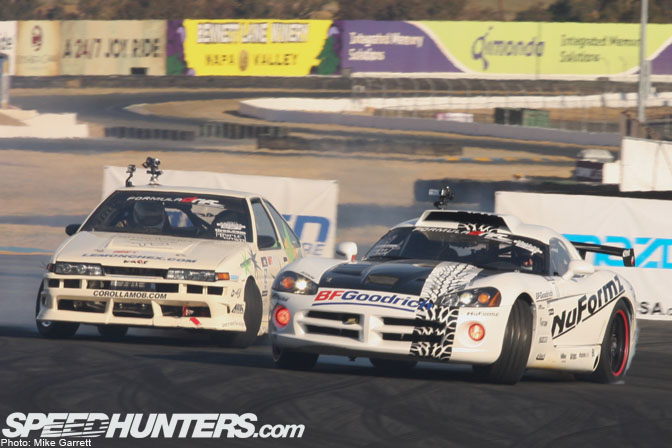 Sam eventually earned the judges favor, but BIG props go to Kondo for being able to stick right with a car that far outclassed his own.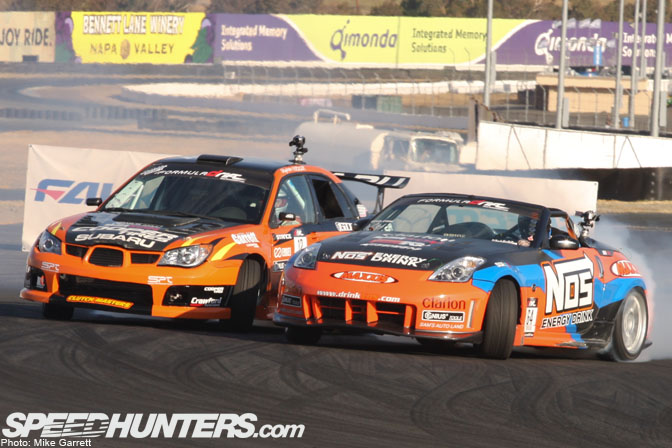 Stephan Verdier's run was no fluke. Check out how close he's following Chris Forsberg during their Top 16 match. It's not hard to see why the judges gave him the nod here.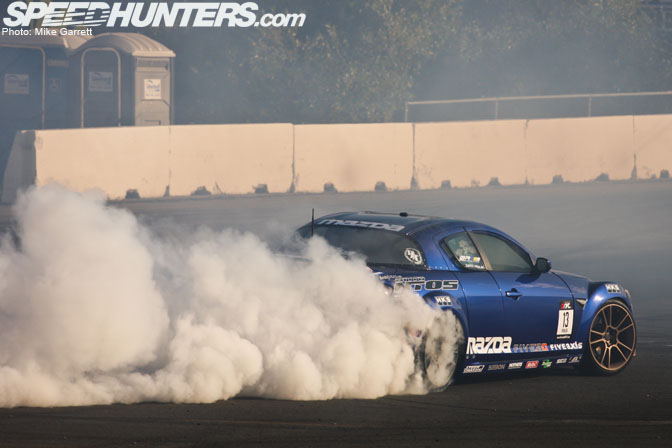 JTP exits the track in a very smokey manner following his spin while battling his DA brother Vaughn Gittin Jr.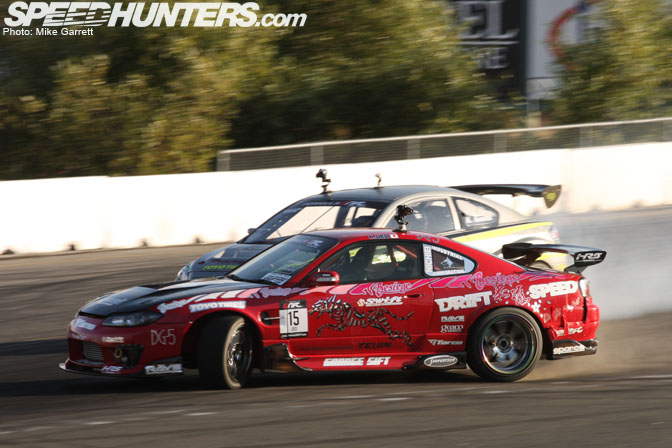 Ken Gushi was another driver who was on fire in Sonoma. He proved he was ready to take it all the way when he defeated the number one qualifier Ueo Great Eight. You can also see how close Gushi was following in the opening photo of this post.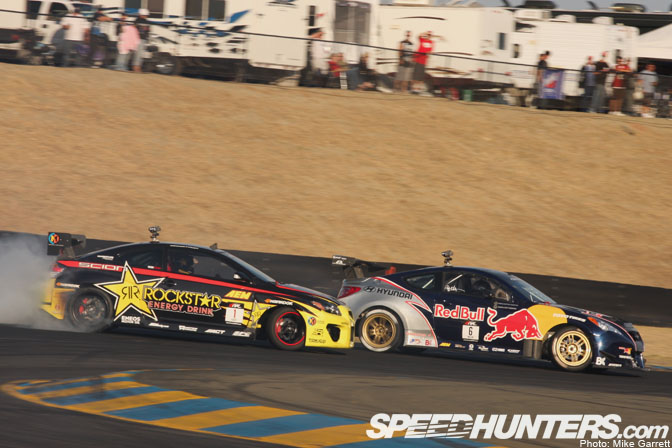 Sonoma was by far the best event of the year for Rhys Millen and the Hyundai Genesis. He made it all the way to the Great Eight before being retired by his good friend Tanner Foust.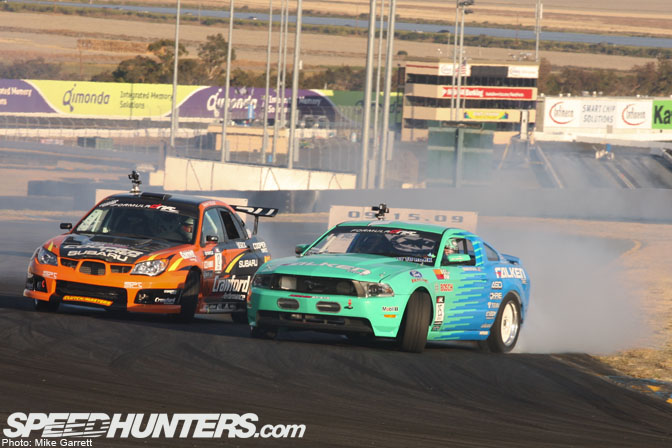 Stephan Verdier again showed that he was ready to win when he defeated Vaughn Gittin Jr. in the Great Eight. Once again, look at how close Verdier is following. Nuts.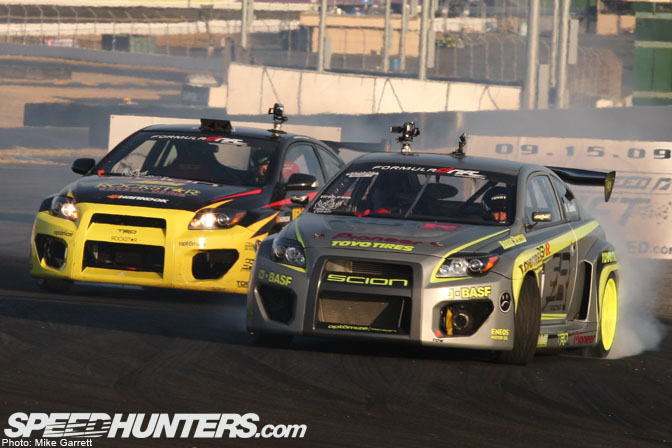 The two Scion tC's of Formula D met in the semi-finals. This time it was Ken Gushi and his 3SGTE that prevailed over Tanner Foust's NASCAR V8.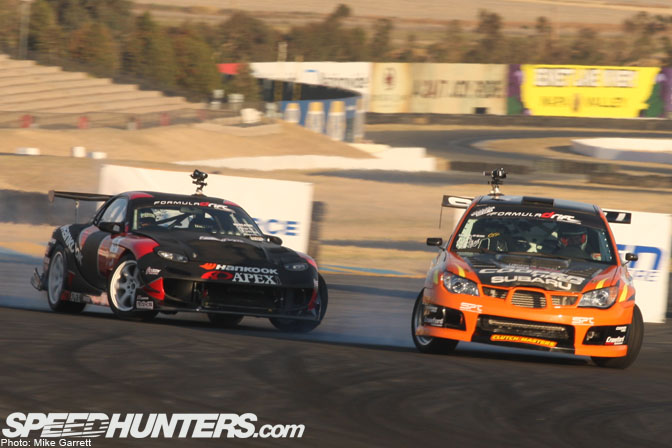 Verdier's dominance continued in the other semi-final match when he beat Ryuji Miki's FD. You can see Verdier's much more aggressive angle in the photo.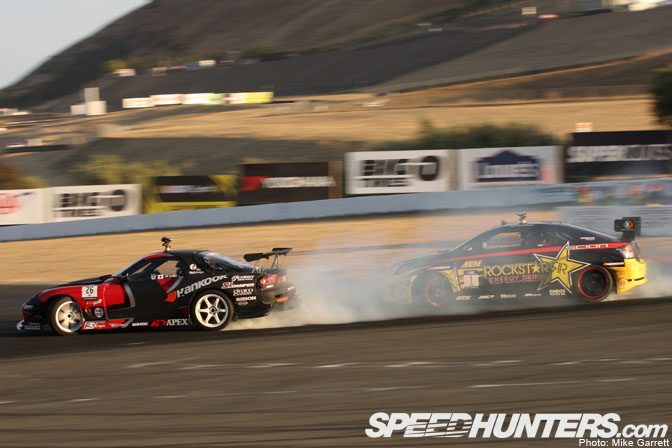 Before the final match, Miki and Foust would burn up their fare share of Hankook rubber during the fight for the third. This marathon battle required two OMT"s before Miki could grab the advantage and take the third podium spot.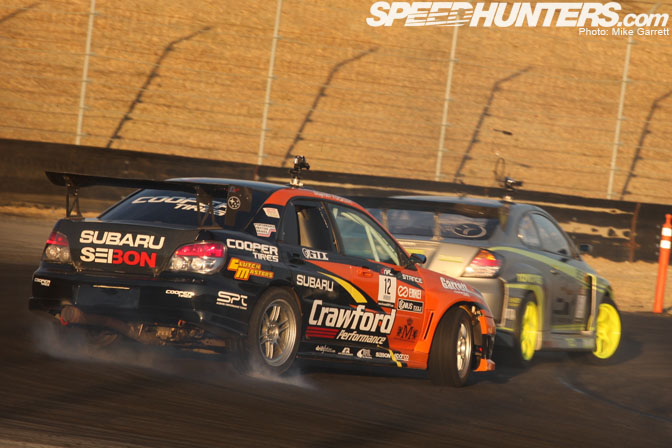 The final turned out to be rather anti-climatic as Ken Gushi's car broke down during his first run against Stephan Verdier. Sure It wasn't the most exciting way to end, but it was a very well-deserved win for Stephan Verdier.
I'll be back soon with one more wrap up post from Formula Drift Sonoma.
-Mike Garrett