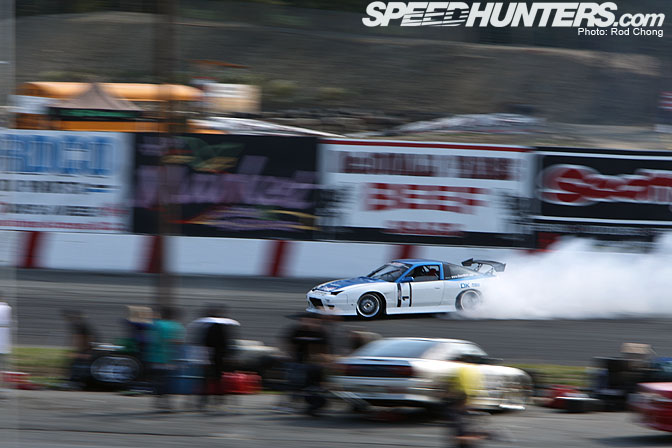 Ok, let's jump straight in to part two of my Drift Mania West judging adventure… As I had to attend to judging the drift runs from qualifying on, this blog post isn't going to read like a regular event report as I was unable to shoot the action during these sessions…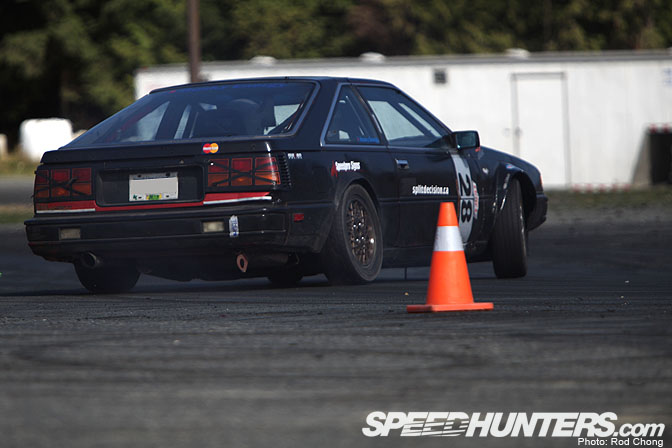 But I'll do my best to share with you my own observations from the event…. someone requested more shots of the S12, so here you go!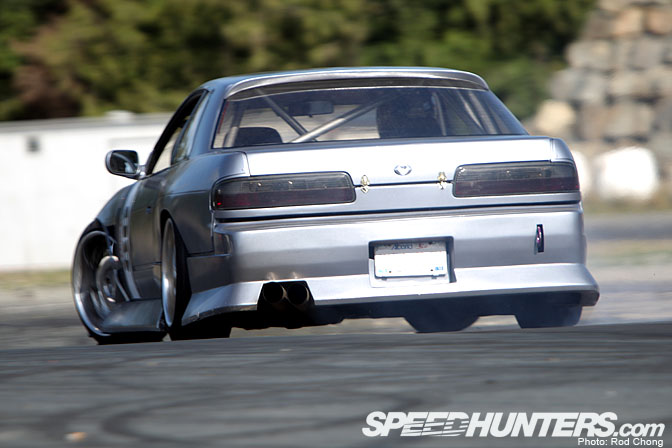 Now that I have the use of a proper camera to shoot events and features, I've been gaining more confidence in my own techniques… and am actually starting to manage to get the camera to do what I want it to do! In the case of this photo, I wanted to to get the rear of the car in focus with the front of the car out of focus… Narrow depth of field is king in my books!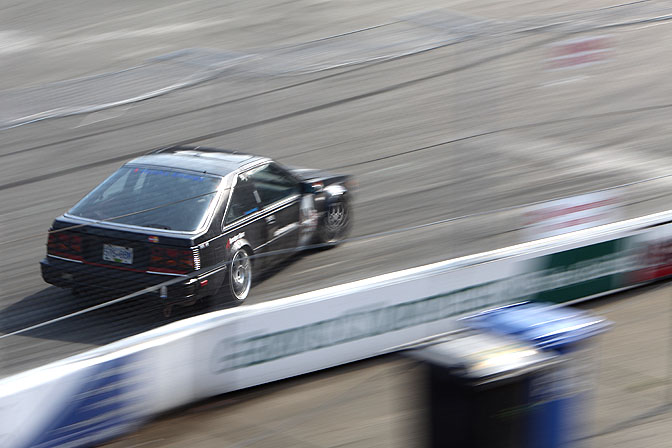 I decided to watch and shoot the final part of open practice from the judging stand… just to get used to following the car's lines. This was going to be my area of judging for qualification.
So this was my view on the track for the next set of photos… Western Speedway is a small 4/10 Mile paved oval, btw… You could say it's like a mini-Irwindale, which is ideal for viewing — both for spectators and judges alike…
Here, Angus "The Mad Scientist" Franks kicks his S12 into the first initiation.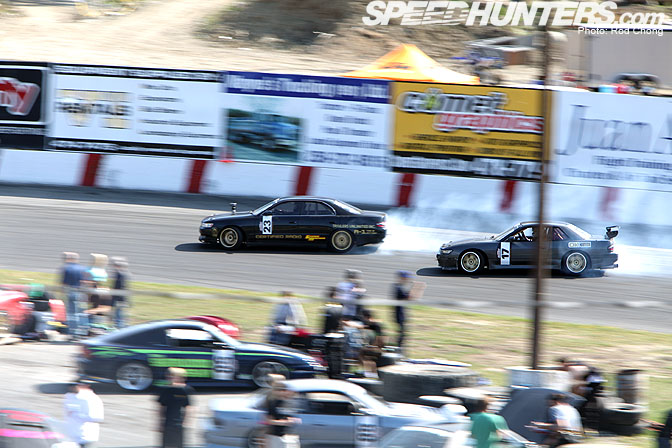 The first corner was a slightly banked wide oval turn.  You can just make out the cone on the wall next to the Chaser… this is a rear clipping zone and we were looking for the cars to slide up right next to the wall to receive maximum points.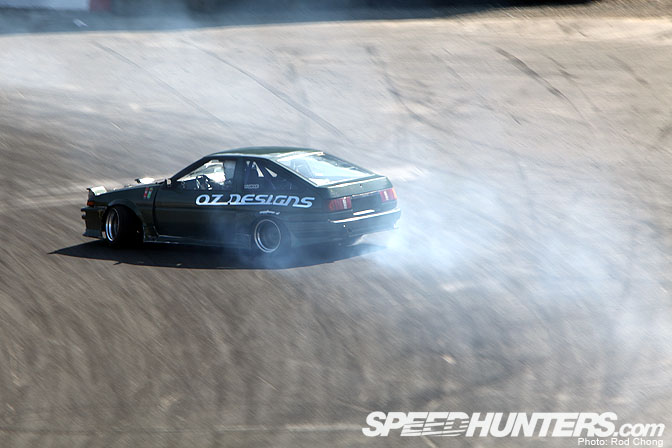 As the final minutes of practice started to count down, this wide-body AE86 suddenly arrived on track. The driver looked very comfortable with the track layout and seemed able to put his car into the clipping points and zones with ease.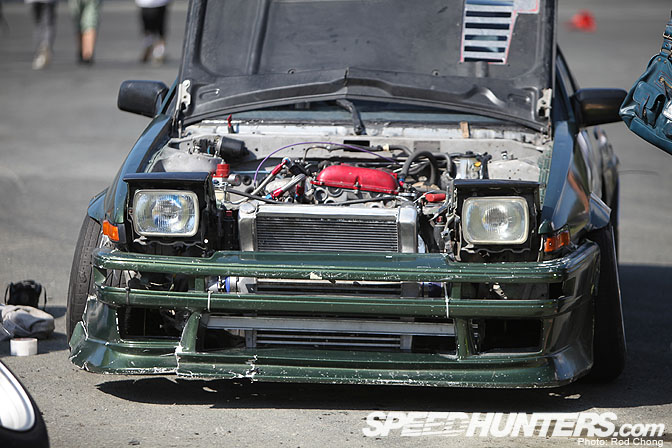 As soon as the session ended, I headed over to have a look at the Hachi… Aside from it's overall badassness (did I just say that?), deep offset wheels and gritty style, you'll immediatley notice that it's SR20 powered.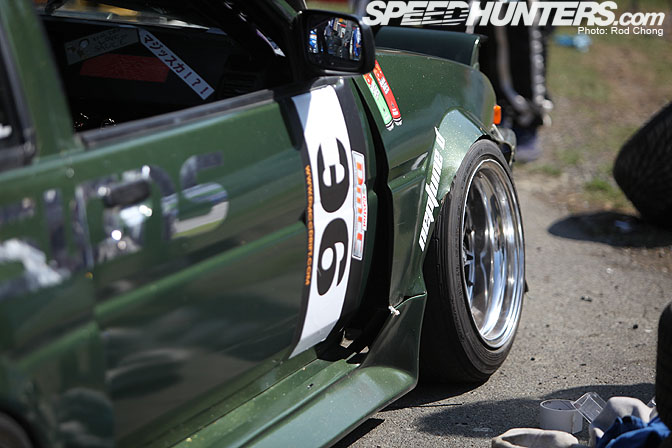 Ahh the dark side of the force… the purists will be saddened… I have to commend driver/owner Chris Scremin for his creation and will do a separate spotlight on the car in the coming days…. also note the Neptune D logo.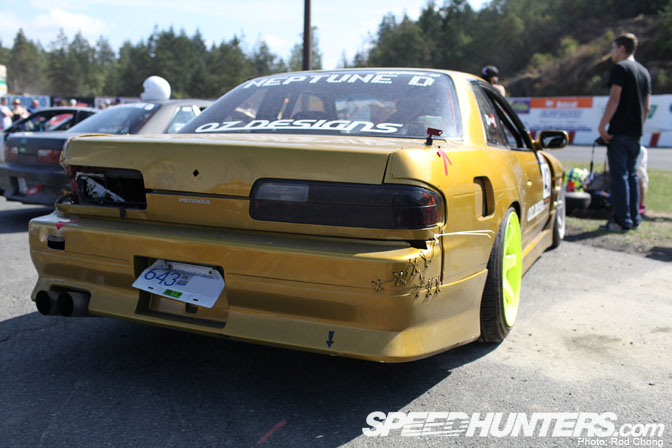 I'll have to look into this Neptune D business in more detail when I get a moment…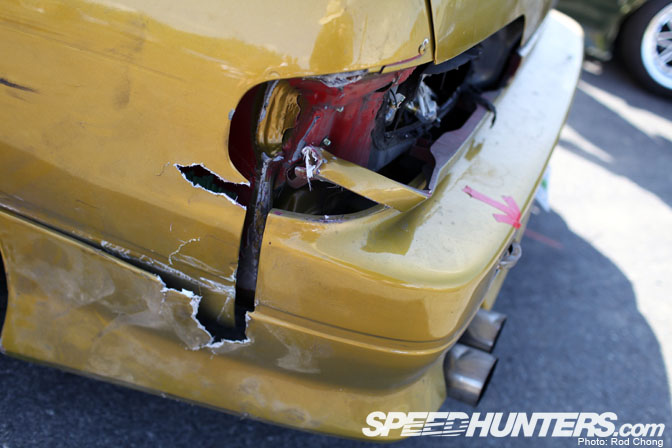 Kohei Nakamura was drawing some attention to himself by mashing up the left rear corner of his car against a tire barrier.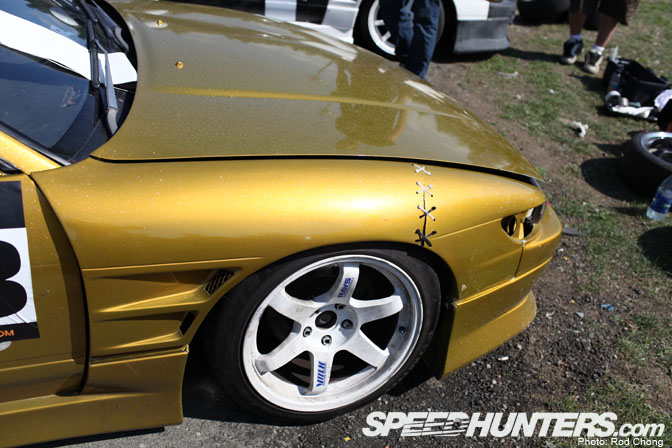 He had also swapped wheels by this stage too… perhaps looking for some additional "style" bonus points during qualification?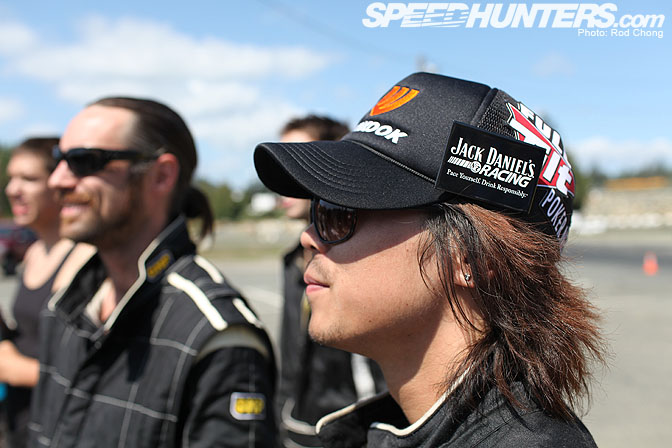 This is Kohei BTW… he has proper JDM-style hair too. All very proper to true drift style, yes? The hat is also at the correct angle. :>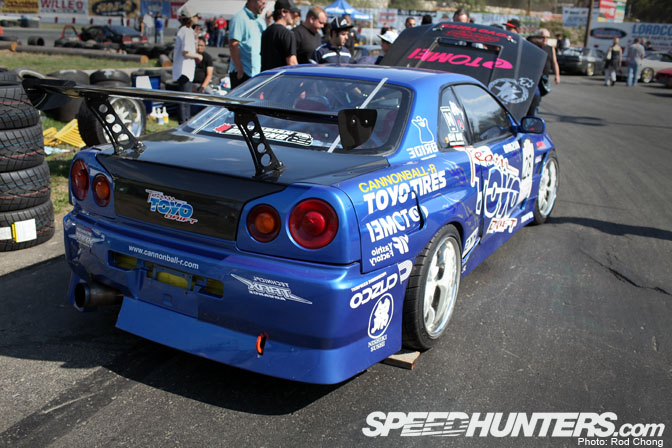 Hideki Nishimura wasn't going anywhere unfortunately. A problem with his oil system meant the Skyline would be stationary for the rest of the day. It's too bad as I've heard about Nishimura for a few years now and was interested to see what he could do on track.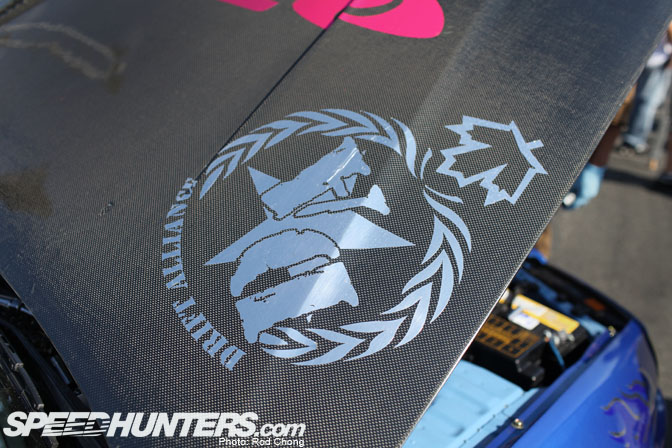 BTW I was unaware that Drift Alliance had a Canadian chapter!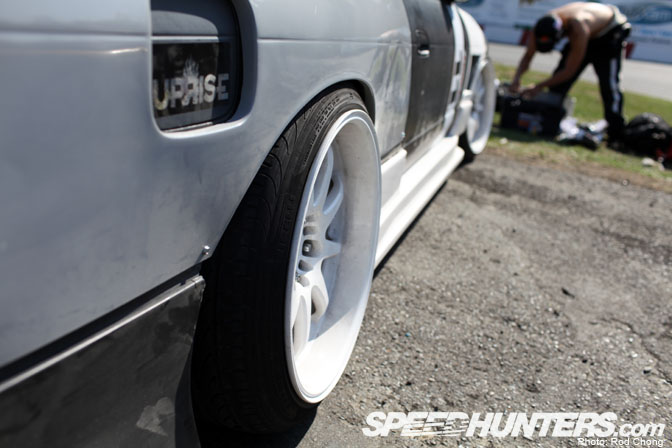 And another Neptune D member arrives… just in time for qualification… these guys take casual to a new level, don't they?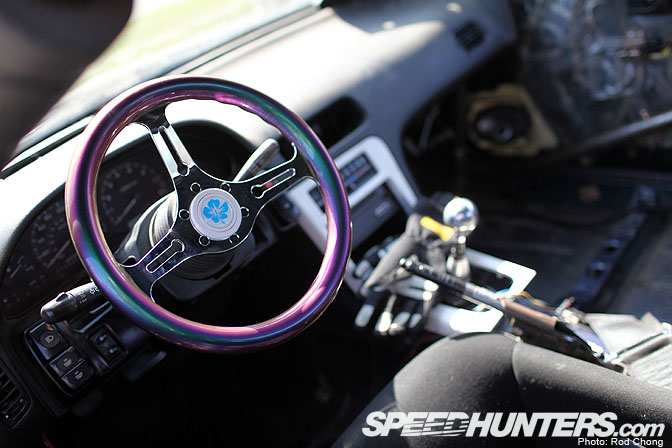 But still… I like their style.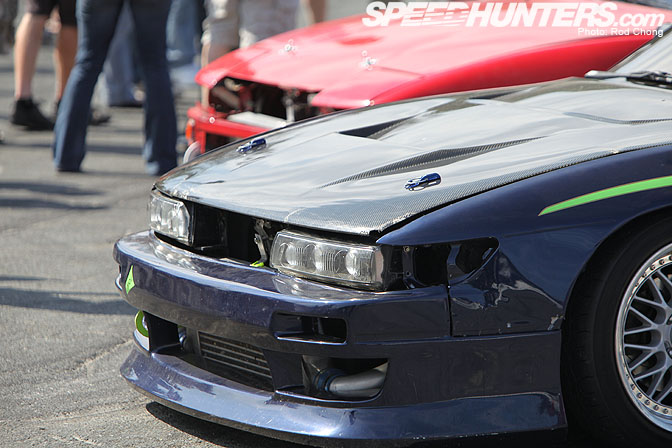 And yet another Silvia…. Interestingly, there wasn't a single S14 chassis at the event.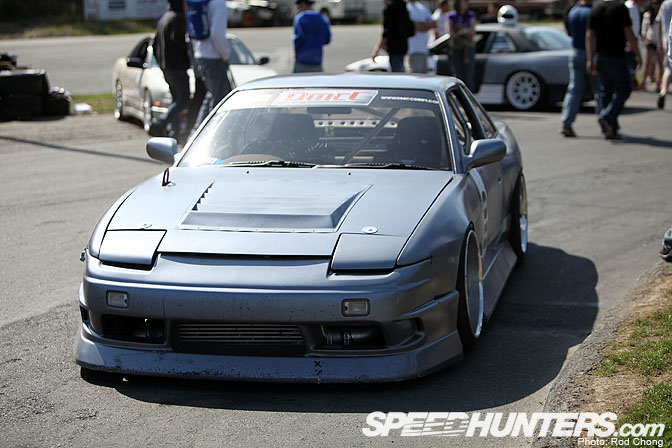 Mmmm…. Onevia… so good! The car is owned by Curtis Goar from Calgary Alberta, btw… I took so many pictures of it I'll need to present a separate Car Spotlight on this RHD machine.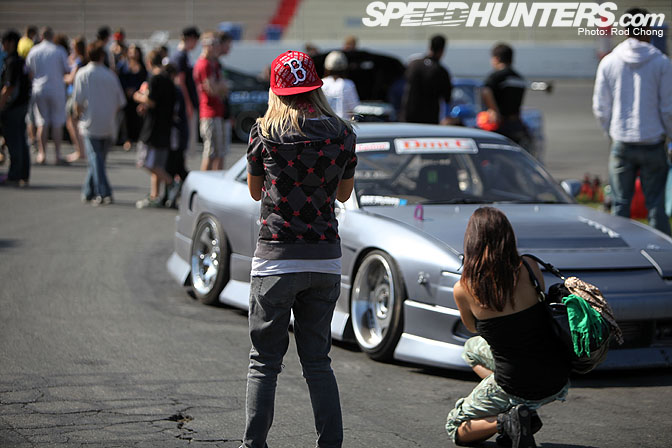 It had the attention of the ladies too… Here two of the spectators take snaps of the silver S13.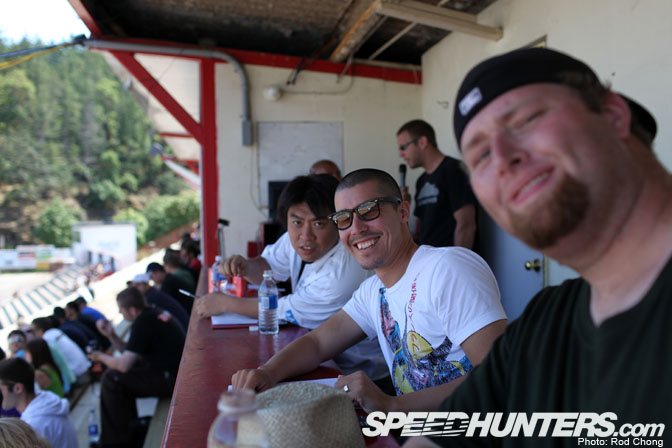 And then it was time to get ready for judging! All three of us were guests. To the right of me is Edmonton-based journalist and Canada.com driving columnist Matthew Haase and to the left is Hideki Nishimura…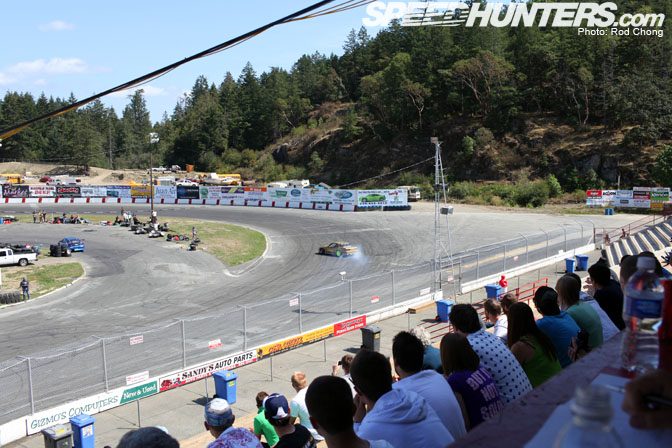 This is my view from the stands to the first corner…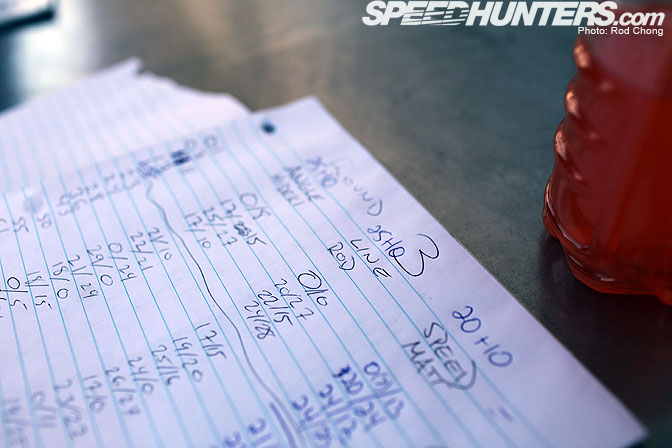 I quite enjoyed judging the event… You really have to concentrate in order to do this and mentally overlay any given qualifying run against all the other previous runs… sort of a way to establish relative scores against each other. I first had to establish what I considered to be an "average" run against the clipping points/zones and then add and subtract based against this.
A bit of a mental task, but I was able to get into a rhythm after a while.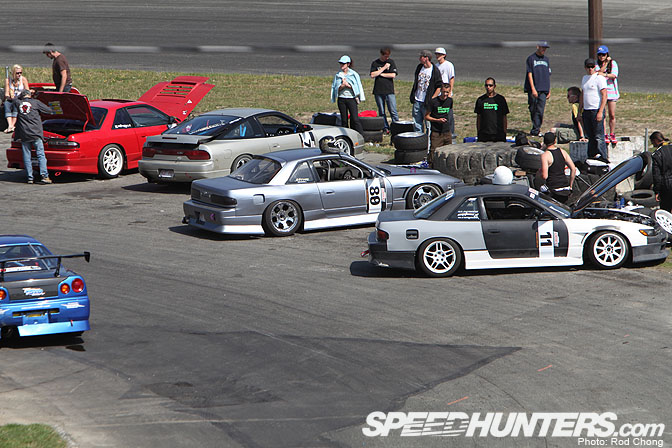 S13 heaven… or would that be hell?… the center of the oval was used for the pit area. So you could watch all the car repair action between runs from the vantage of the grandstands.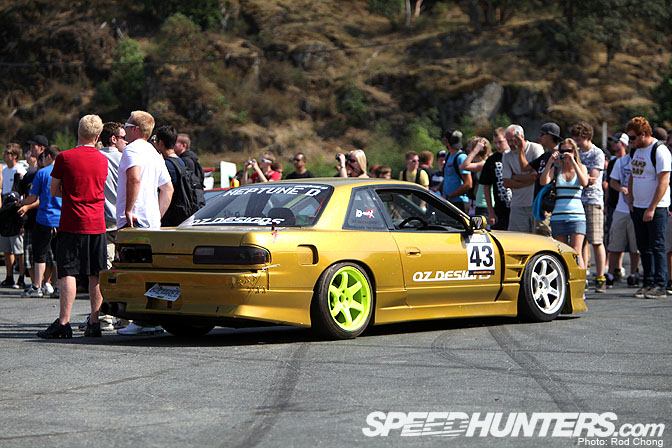 I have to fast forward now to the end of the event… It was won by Kohei Nakamura who was definitely one of the top drifters at the event.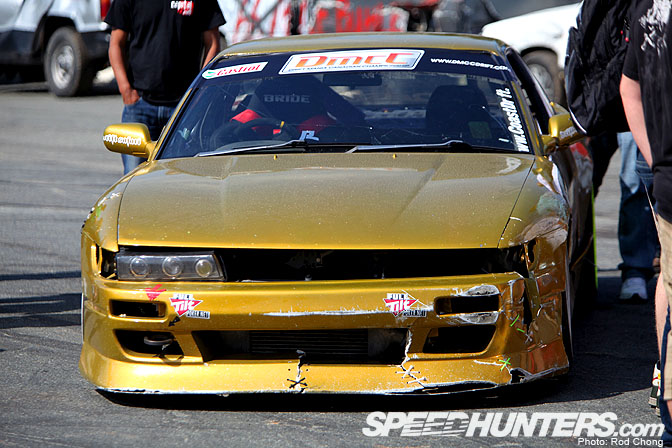 He had a style and finesse that stood out from the rest…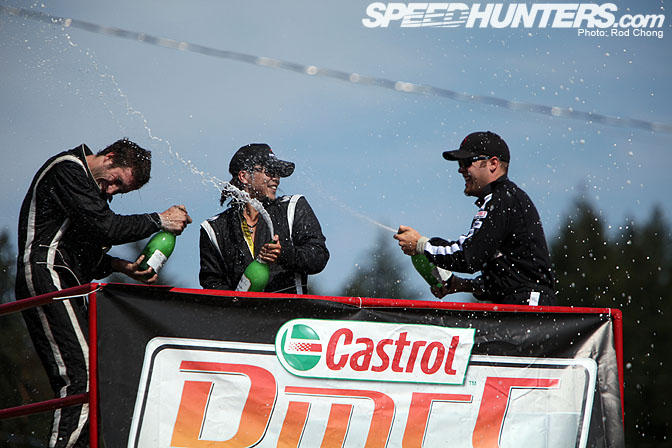 I also think the guy has a bit of star quality too… perhaps there is a future for him as a pro? Only time will tell.
On his left is Chris Scremin, the owner of the green SR86… one of the few to give Kohei a run for his money.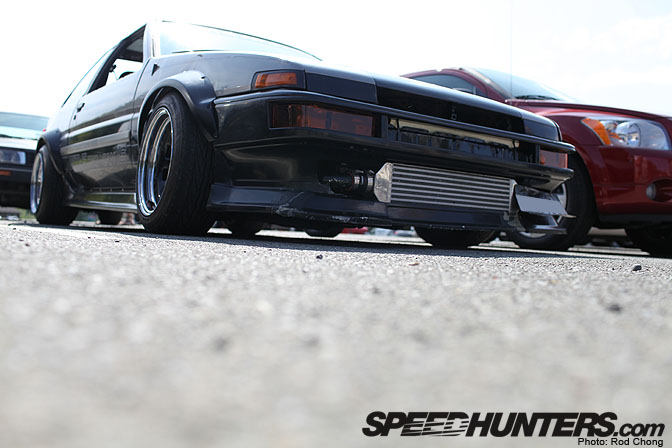 And it was then time to head back to Vancouver… but not before checking out a few Speedhunters readers' cars in the parking lot… this supercharged Hachi is owned by Matt Tregear from Victoria…
Well, I quite enjoyed collaborating with the Drift Mania crew. It was pretty interesting to see how they are working directly with Formula D rules and event protocols. It made the whole event feel quite familiar in many ways.
Let's hope that the Drift Mania group can continue to develop drift championship events in Canada. I'm quite curious now to check out one of the larger-scale Eastern events to get a sense of what's happening there.
Best,
:Rod