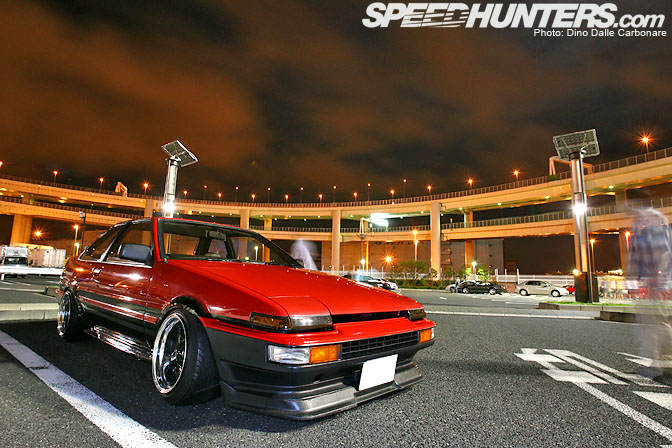 It's 3 am here in Tokyo and I just got back from the annual AE86 gathering at the Daikoku Parking Area. I couldn't possibly go to bed without posting up some pictures from tonight's little meet, one that turned out to be much better than some I have attended in previous years.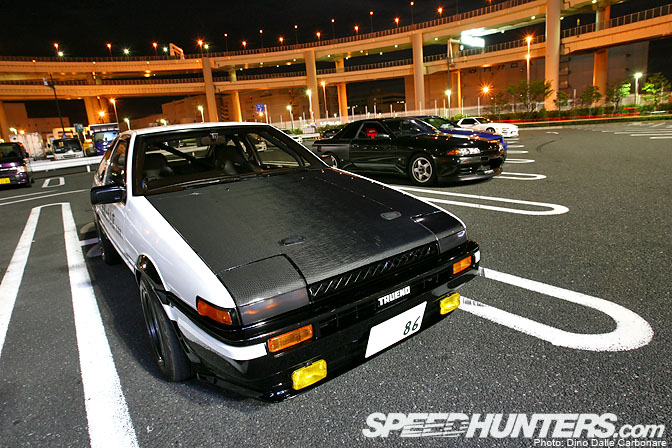 For some odd reason I decided to head out at 7 pm from my place, which meant a ridiculously early 7:30 pm arrival at Japan's most famous Parking Area.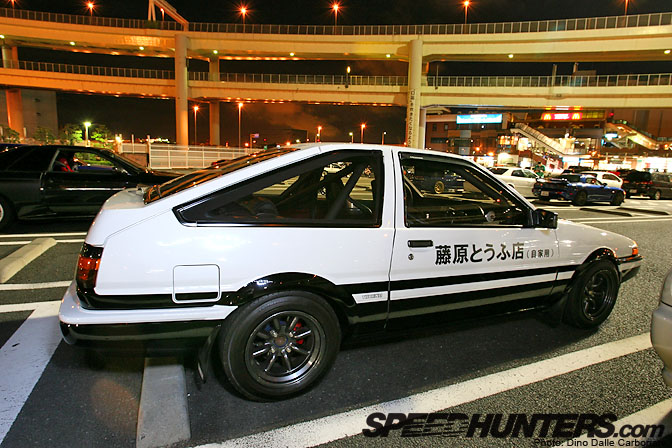 There were only 2 or 3 AE86 so I decided to go and grab some food while I waited for local owners to make the trek down to Daikoku.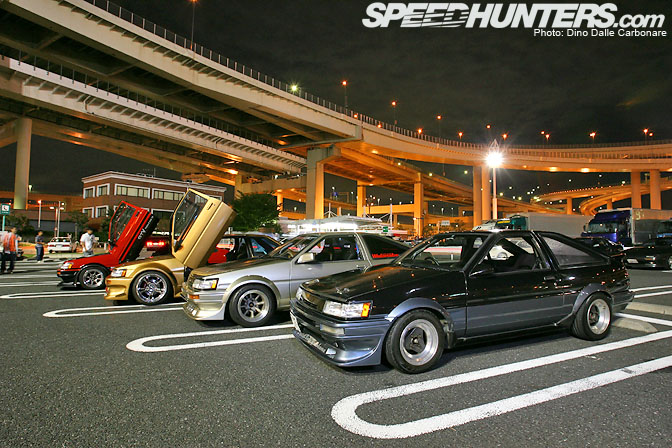 It wasn't until 9:30 pm that people started to roll in and after enjoying a savory JDM McDonald teriyaki burger it was time to get the camera gear out!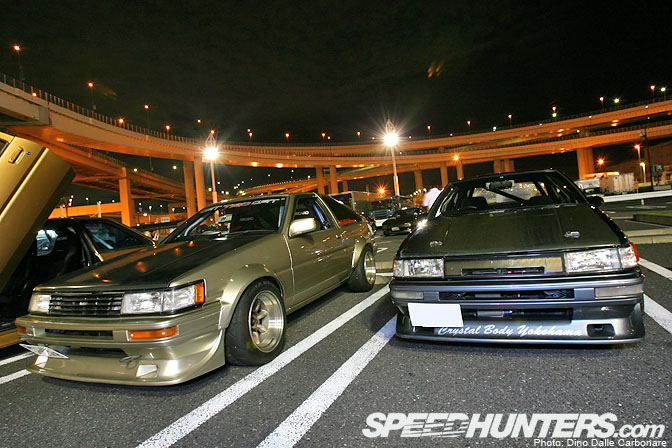 The selection of cars was as tantalizing as ever, and this gold/jade Watanabe-wearing Levin on the left grabbed my attention straight away.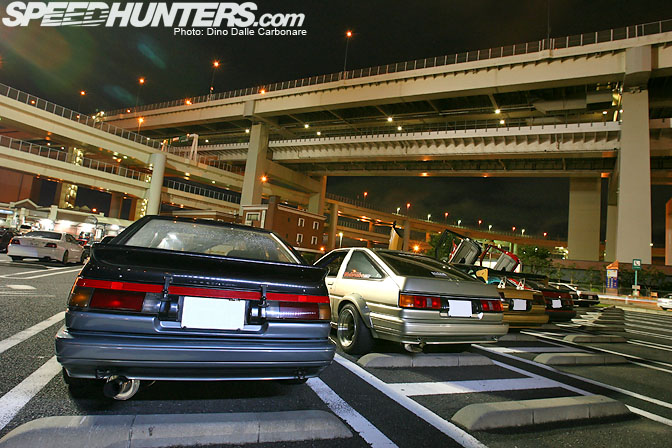 The line-up began to grow by the minute as more cars rolled down the off ramp onto the vast car park.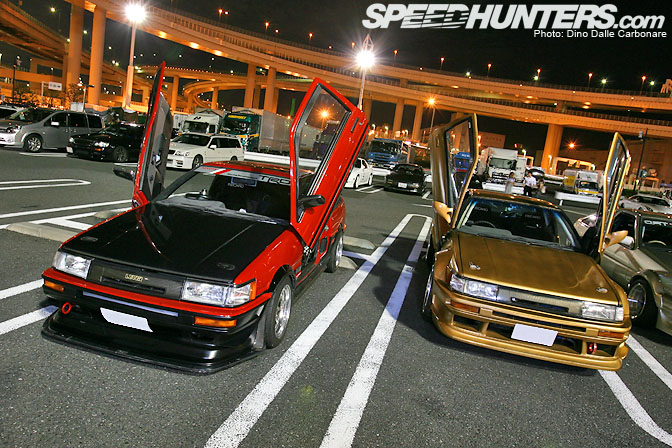 I remember seeing this pair of ruined, oh sorry, "different," 86's sporting vertical door conversions. Interesting.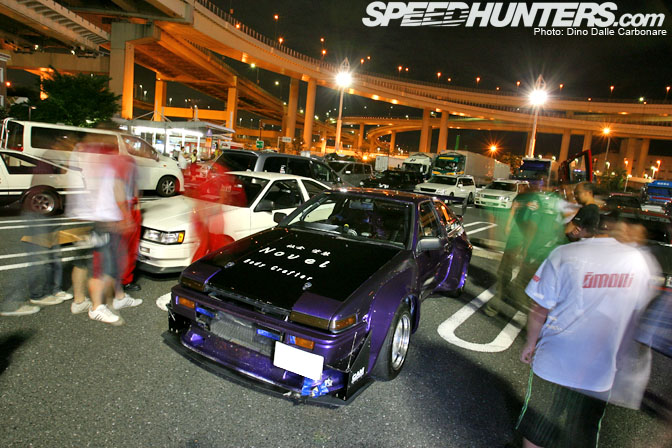 As I was shooting away I noticed this dark purple wide-body Trueno park up, fitted with some outrageously massive N2 over-fenders. People started to gather around instantly taking a look at the extreme body modifications.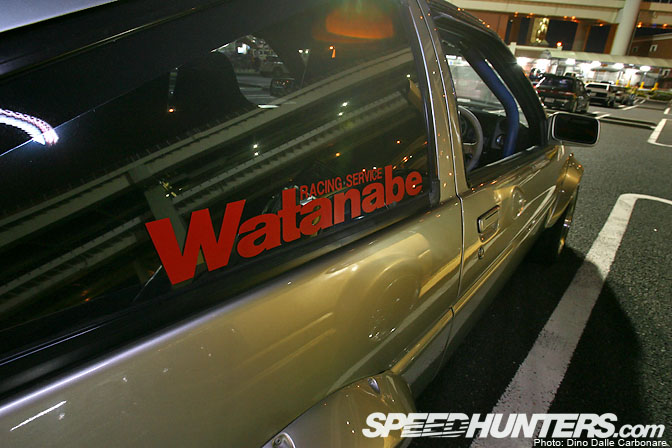 The sticker says it all!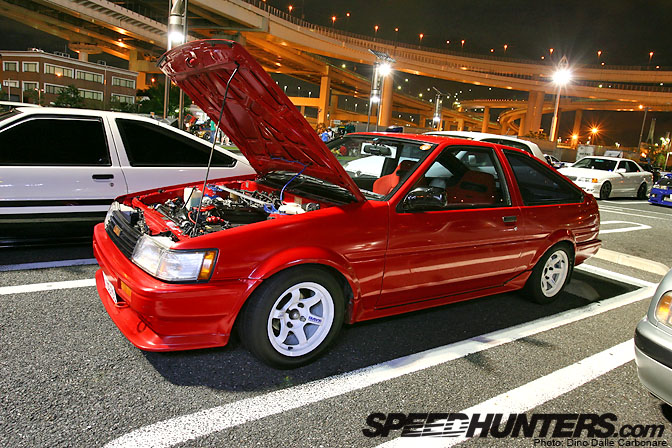 You can never go wrong with a set of TE37s, even if they are only 15-inches!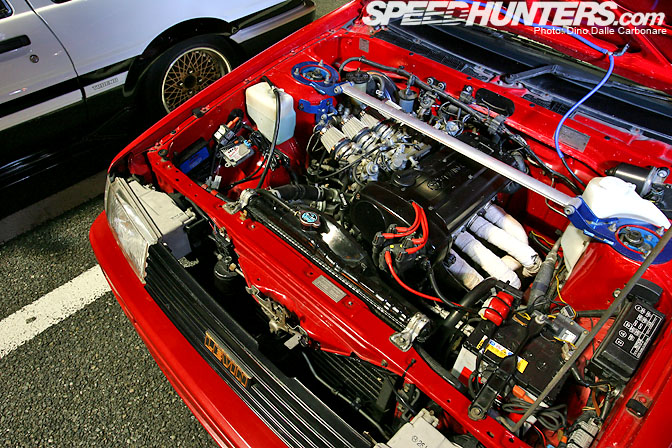 Under the hood this red hachiroku was fitted with a 20-valve motor, including individual throttles each with their own mesh filter.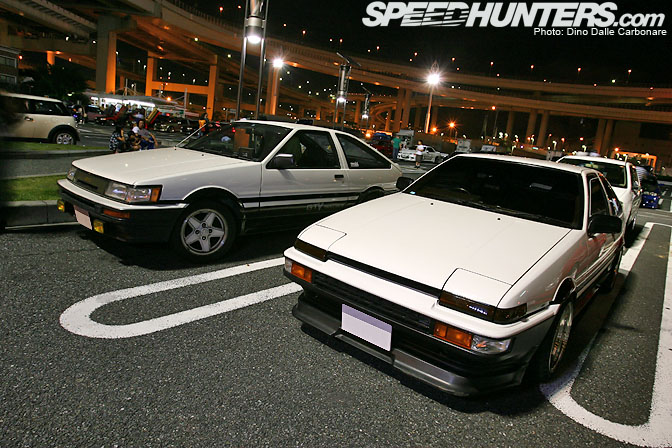 Which to go for? The slightly front heavy but far more aesthetically pleasing Trueno, or the simpler looking Levin? I'd have to take the Trueno myself!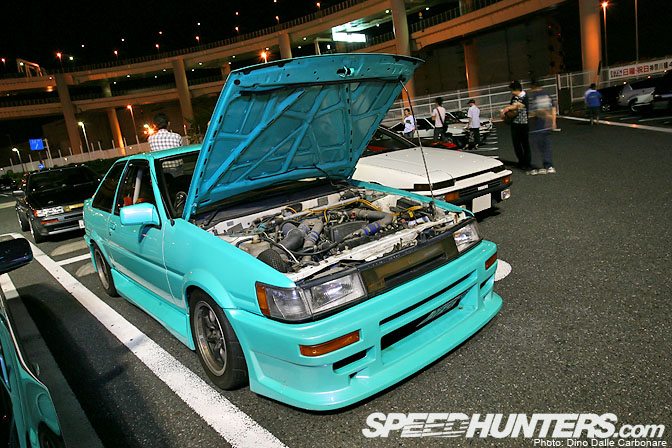 A curious color…it is actually pearl turquoise.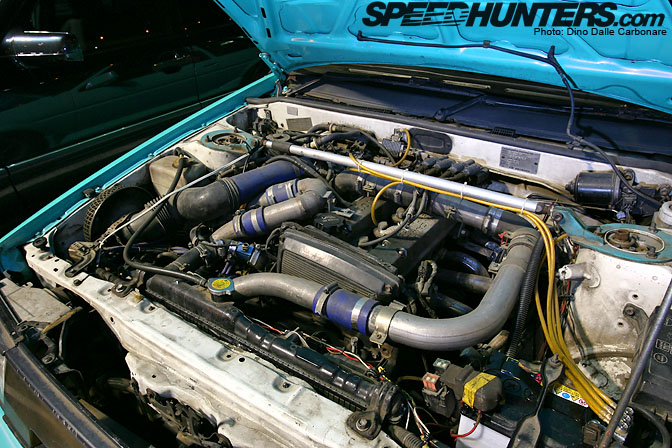 Forced induction, the easy way out for any AE86 owner. Right?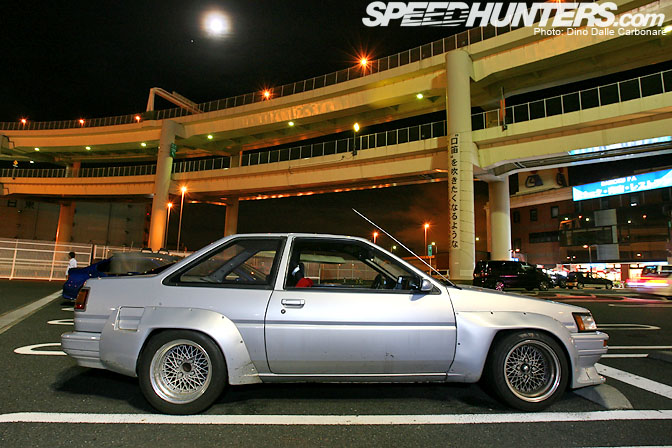 Some more N2 fenders…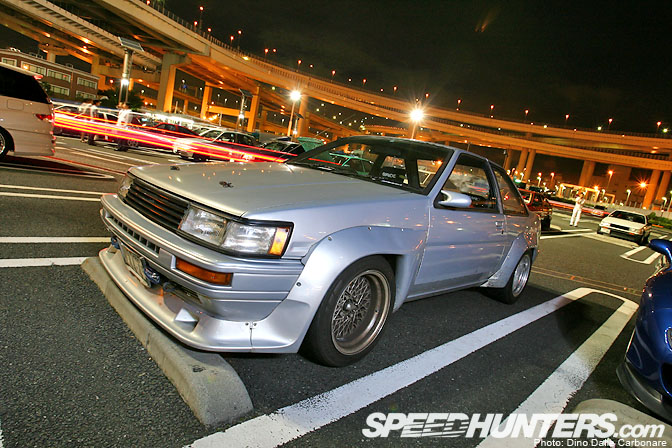 …on this simple Levin sedan. Check out the period correct wheels.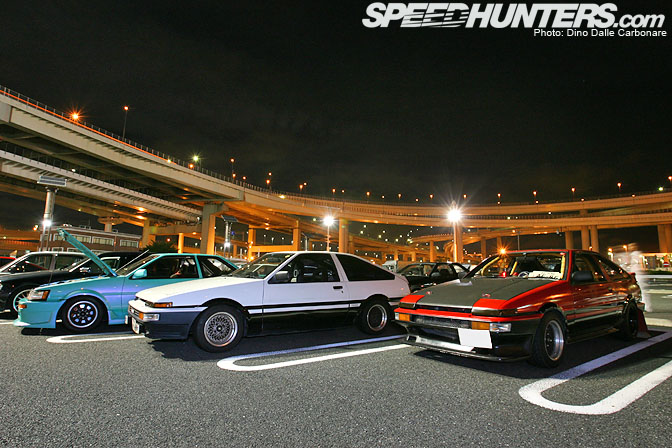 Nice line up, and from this angle you can see the pearl effect on the turquoise Levin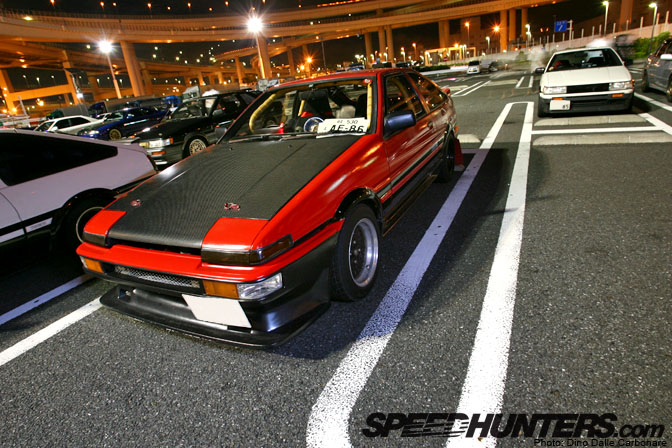 Red and black looks just as good as the "panda" combo everyone likes so much. Especially with a nice carbon hood!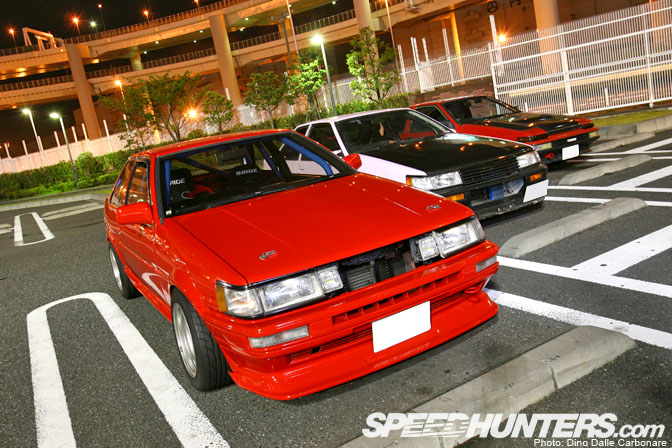 The level of tuning of your average AE86 in Japan is simply amazing. It's so hard to find stock parts on these cars.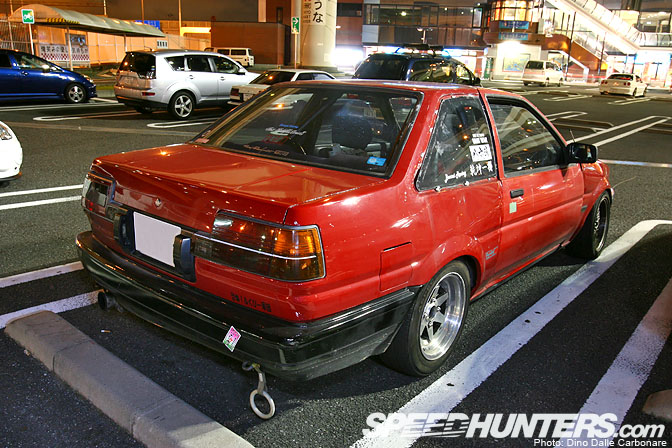 This is something you see a lot on drift cars in Japan, handles ripped off from trains and attached to the rear toe-hook! Wouldn't want to hold on to that!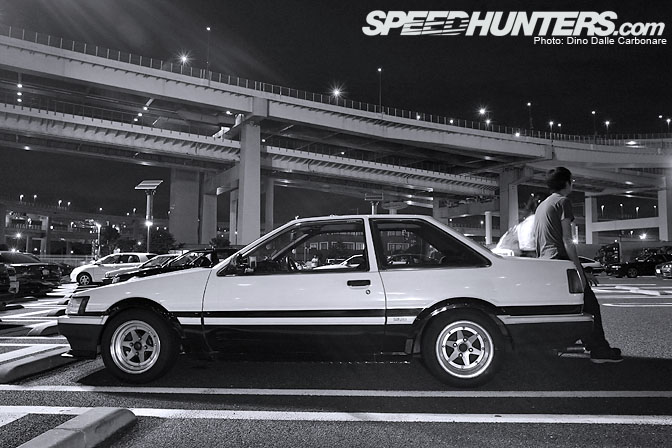 Car meet like it was 1986!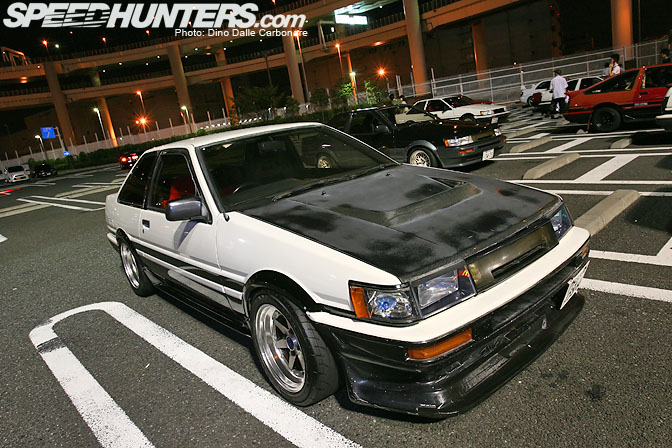 The used and beaten up look is just as cool as the super-clean show-car-thing a lot of owners go for.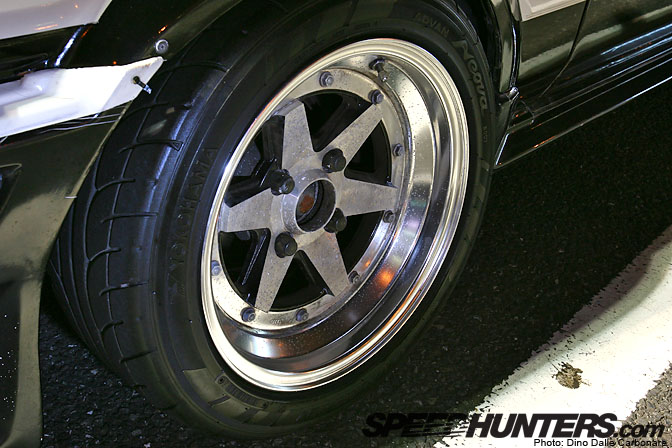 The sheer selection of period-correct wheels tonight was simply outstanding.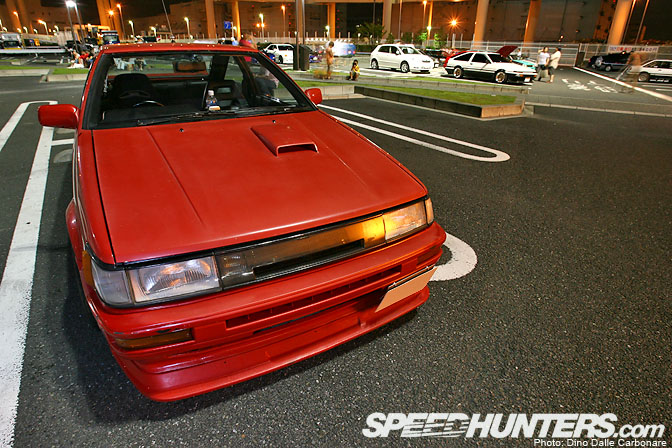 Interesting hood-scoop. Supercharged perhaps?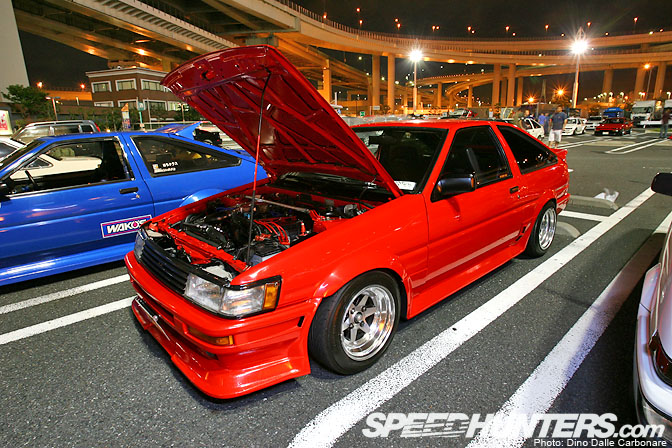 It looked like this particular example just came out of the paint shop…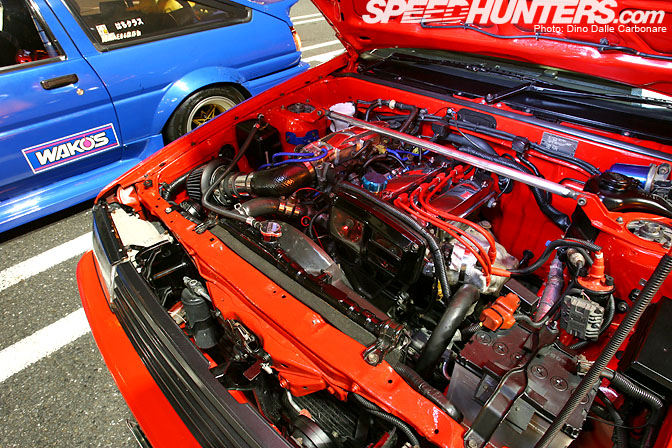 …as well as the tuning shop. Just look at how clean this engine bay is!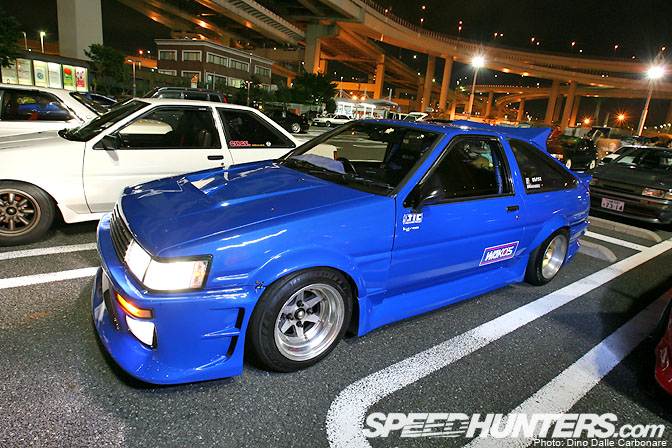 Nothing like a full aero-kit to spice up the look of your 86…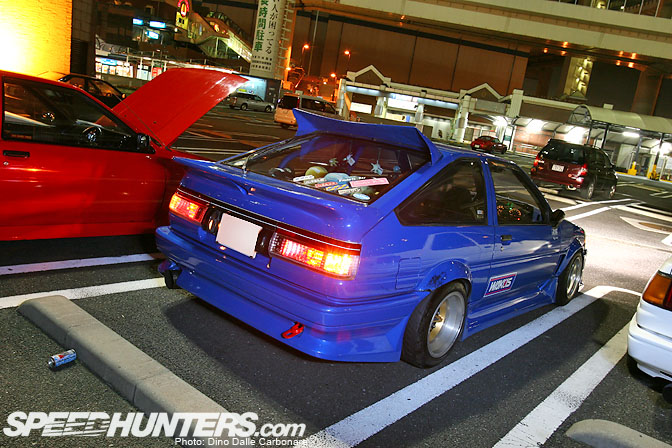 …especially with a pair of lips spoilers! That is all for now, but there is more footage from the AE86 meeting at Daikoku PA coming up very soon. Stay tuned for more!
-Dino Dalle Carbonare