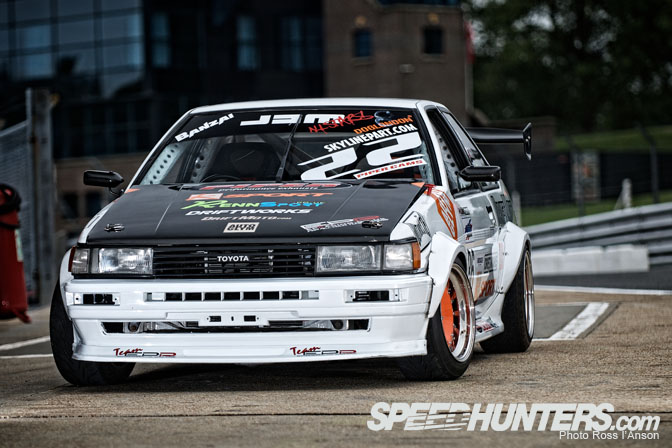 When Rod asked me to feature a UK car for AE86 day it left me thinking "whats a bit different and true UK inspired Toyota Corolla?"…It had to be Nev Paynes drift AE86. I shot this car a few years back for its original owner and back then it was very clean fresh out of the box AE86 , Nev has had the car a few years now and wow has it changed!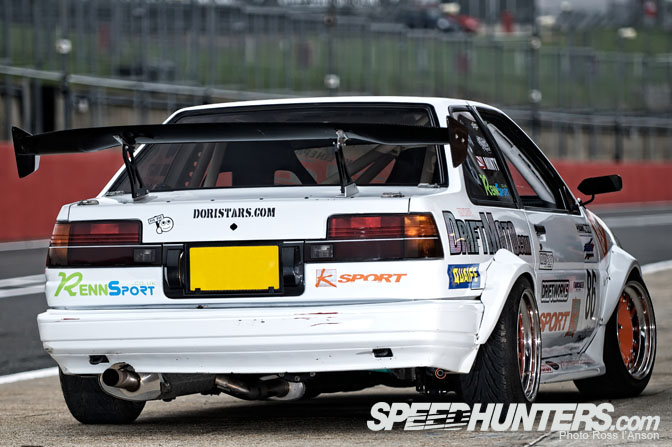 Still in brilliant white but now wearing CBY arches and skirts and sitting on Schmidt rims it looks like a totaly different car, the suspension is made up of modified K-Sport coil overs with K-Sport link bars while BTB handle the roll cage and exhaust and the car has now sprouted a huge carbon fibre wing and carbon fibre bonnet..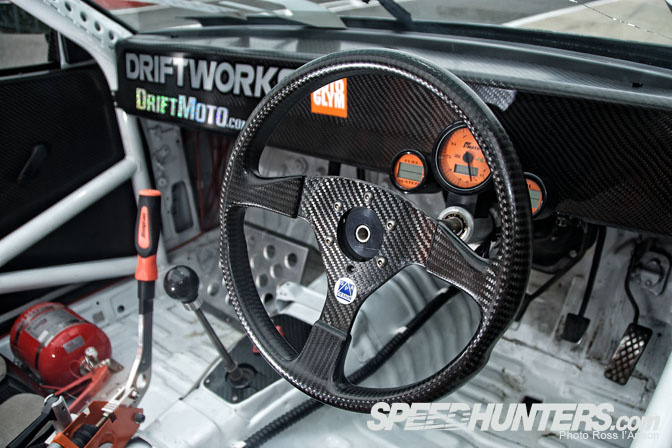 ..In fact the use of carbon fibre through out  the Corolla has been quite extensive, open the door and you will find a minimalist affair made up of custom carbon dash and steering wheel, carbon door cards rear bulk head and boot floor..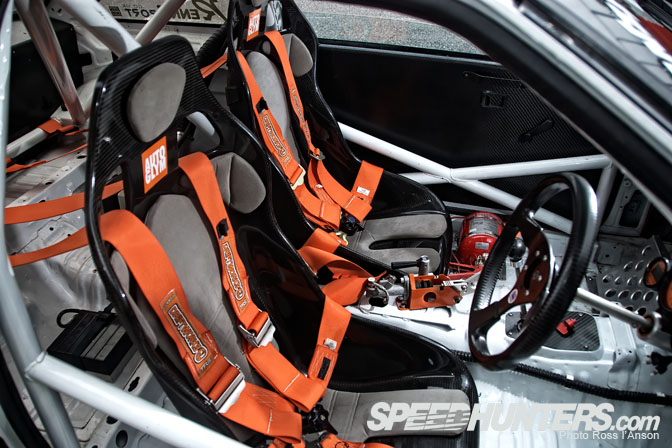 ..and even carbon fibre seats, its a testament to Nev and the Driftmoto crew that baring the seats and steering wheel all the carbon work was done in house and the finish is better than many off the shelf carbon components i have seen. and the result of all this carbon fibre…..860kg wet.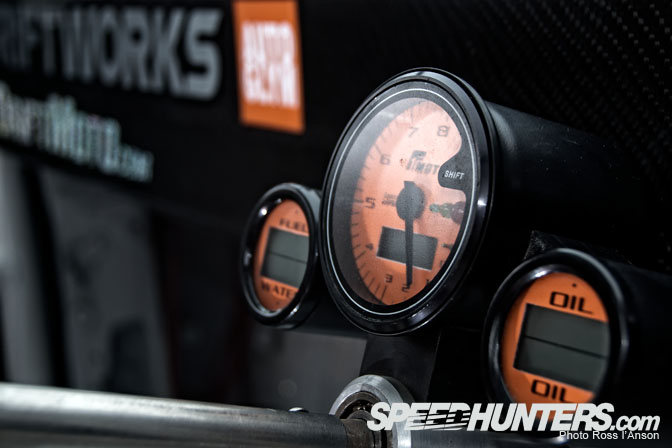 The Driftmoto AE86 is packed with nice little personal touches like the SPA gauges for instance, the look great perched at the end of the steering column finishing off the minimalist look nicely but standard gauges were not good enough so Nev made up some custom faces to finish them off.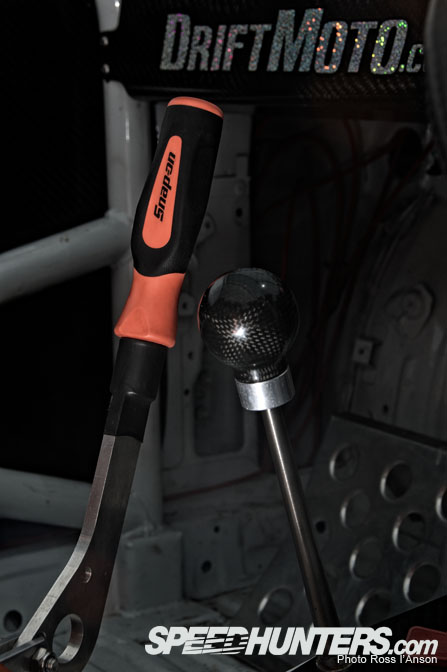 Tools of the trade the gear shift (carbon of course) and the E-brake lever, well a Snap-on screwdriver feels great in the hand so seems like a perfect solution for  E-brake grip.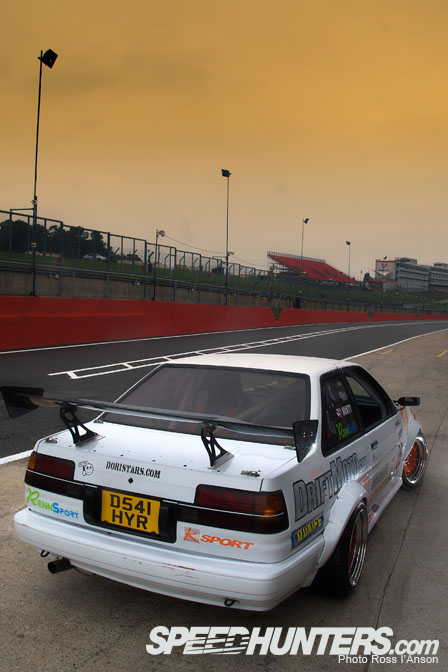 Braking is sorted out up front with a set of 4 pot Willwood calipers grabbing 280mm disks while the rears are one of the few things that remain stock Corolla.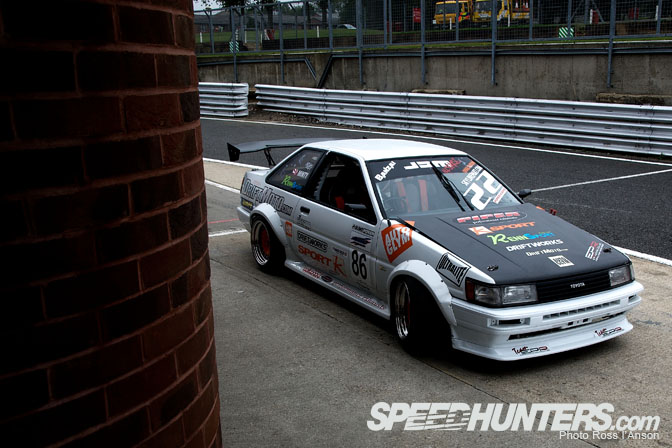 Now this is where the story ends for all you Corolla purists out there, please step away from the page there is nothing to see here………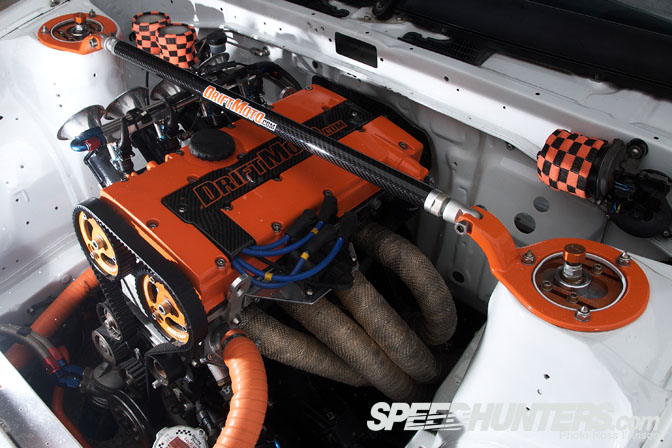 Gone is the 4AGE replaced with a Vauxhall 2.0 XE on throttle body's, the gear box is now a Ford type 9 joined to the welded diff by a custom prop shaft..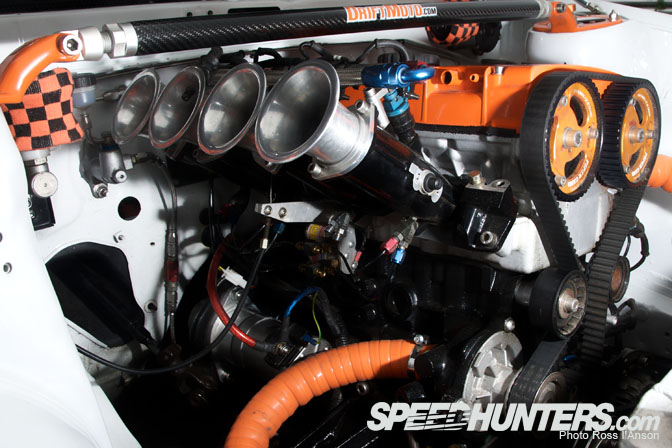 ..with set of mild Piper cams the XE is producing 194hp with 161 lb/ft of torque and just to make things interesting a cheeky 60 shot to nitros to finish things off. As i was opening the bonnet Nev was saying that he wasn't very happy with the finish under there and could i be sympathetic with the photos…..as you can see Nev is a bit of a perfectionist with serious carbon fibre fetish, i haven't been sympathetic  with the photos at all under the bonnet is one of the cleanest engine bays i have seen in quite some time.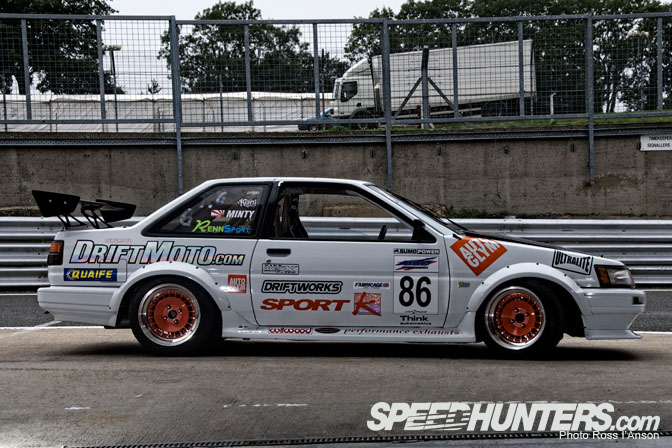 I was very lucky to get the Driftmoto AE86 for the shoot because as i type the car will be getting torn to bits for "phase 2" Nev has sworn me to secrecy on exactly what "phase 2" entails but i can say it involves this..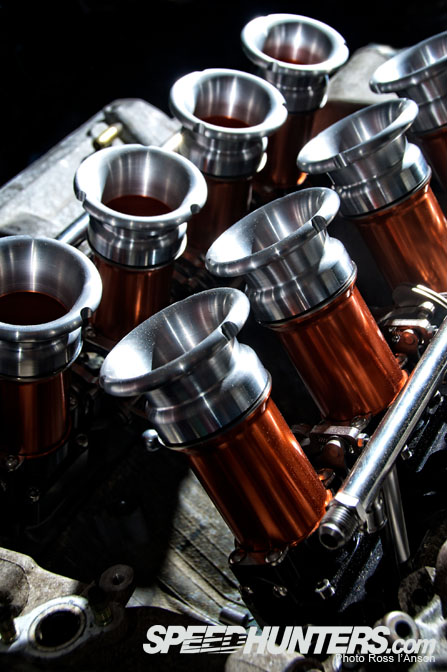 ..lurking at the back of the workshop the heart of "phase 2" if everything goes to plan all should be in place for the British open in a few months, watch this space.
Nev Payne would like to thank, Piper cams, Riart Graphics and  Rensport for making this car a reality as well as Mat and Dan for keeping it running.
-Ross I'Anson.