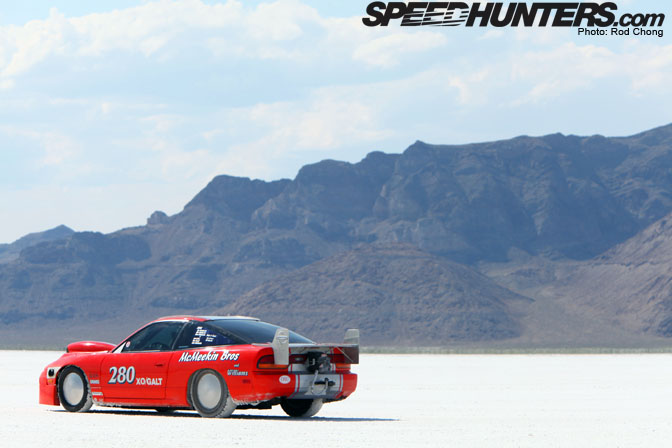 As a Bonneville newbie, one item that's become clear to me is that the chassis and engine selection for a land speed record car are two very separate and distinct choices for any car builder.  Most competitors combine the engine and the chassis in order to enter what appears to be hundreds of different classes. Often a builder will try and find an overlooked class, build a special car and go for the record. People may even show up at Bonneville with more than one engine in order to set multiple records with one chassis.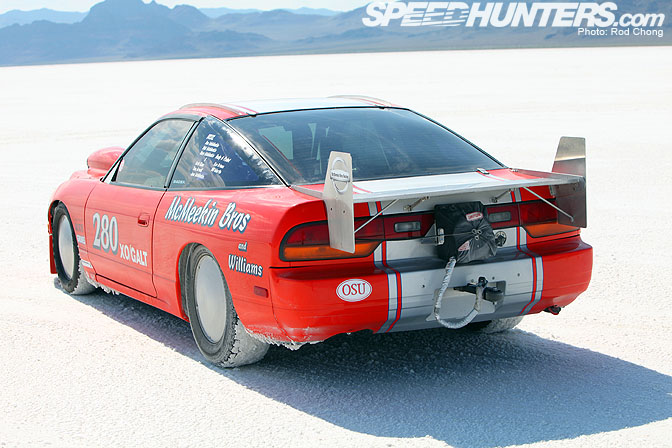 For the McMeekin Bros race team, the choice of a S13 chassis was entirely based on its good aero numbers. They were also looking for a car that could easily accept a wide variety of engines, depending on what class they were looking to run at Bonneville on any given year…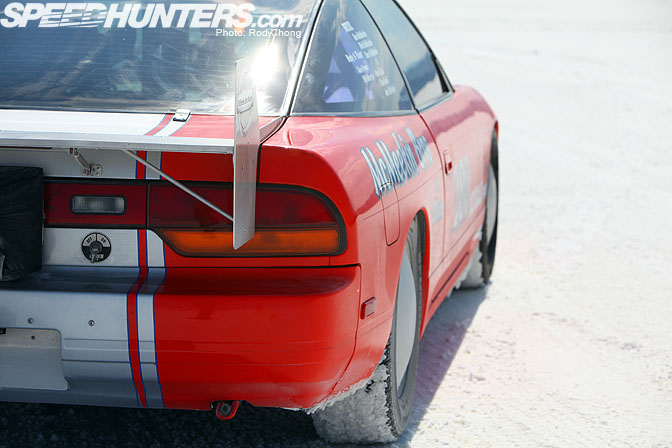 … So the choice of the 240SX chassis was a practical one based on the needs of their Bonneville plans… but unwittingly, the McMeekin team are now in possession of the fastest S13 on the planet. And as we know, this is a chassis type which has a huge following in drift car scenes around the world… but it's an unexpected gem to an example constructed to fly down the salt flats of Bonneville!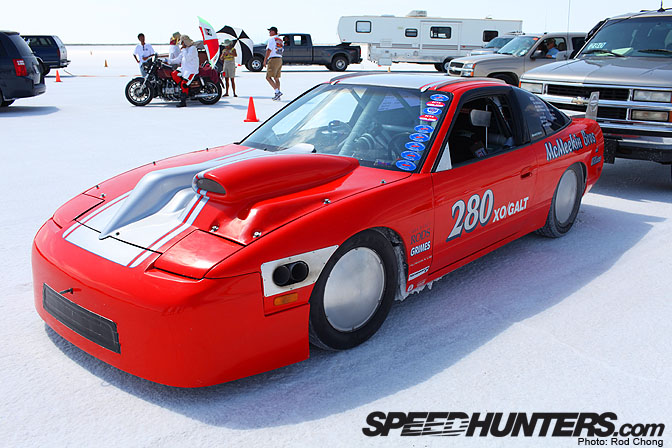 As a good portion of Speedhunters readers are partial to machines from the land of the rising sun, one of our goals at Speed Week was to collect images of all the Japanese cars at the event. Although Bonneville is very much the stronghold of American evolved rods, lakesters and muscle machines, Japanese cars do have a reasonable presence at the event.
So I knew I was on to a winner when I spotted this red S13 in the startline area of the Salt flats a few days ago.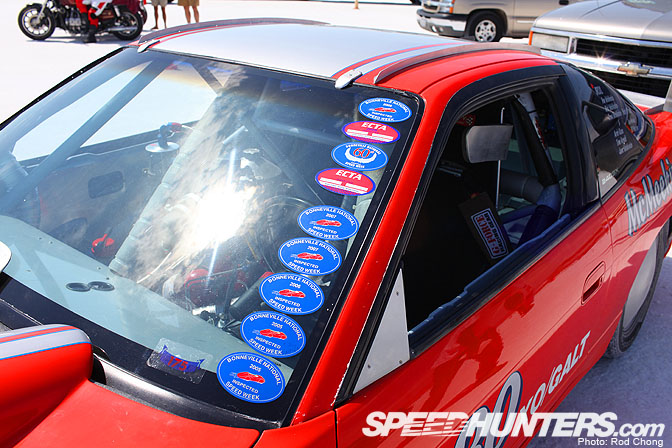 A glance at the inspection certification stickers showed the car has been coming to Bonneville for a few years now…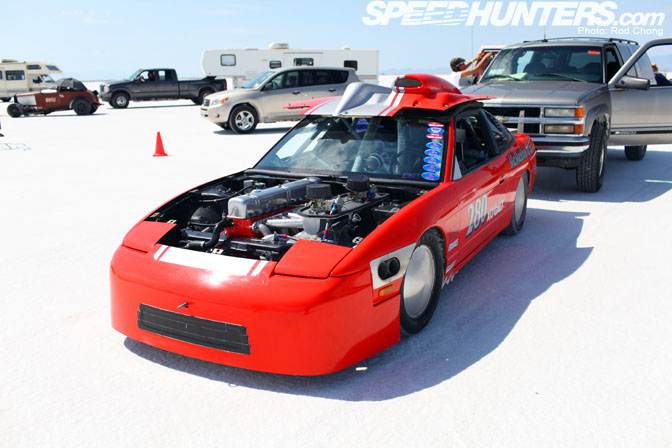 Look though at what's under the hood!…. What is it?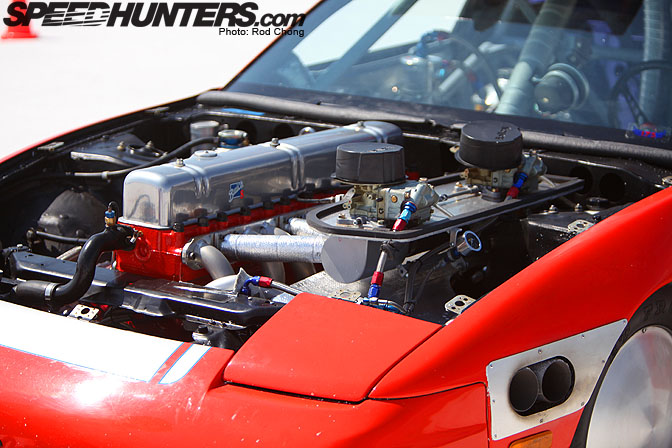 Check it out…. a vintage Buick straight 8 engine has been shoe horned into the engine "room".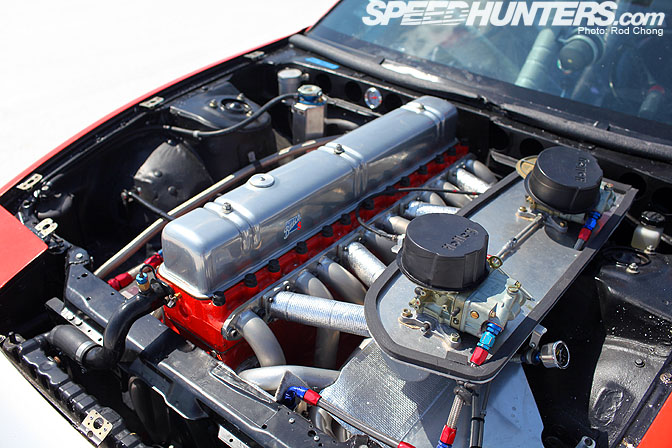 Why a such a crazy choice of power plant? Well the thought was to find an interesting class to enter the car into with the aim of setting a new record… in this case, the XO/GALT class. In basic terms, XO is a class for unblown, vintage inline engines and GALT designates Gas fueled (no nitro) and an ALTered coupe chassis. Something like that…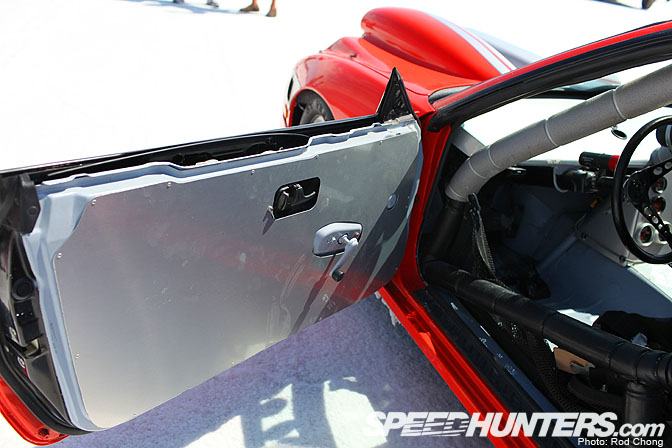 Let's look inside the car.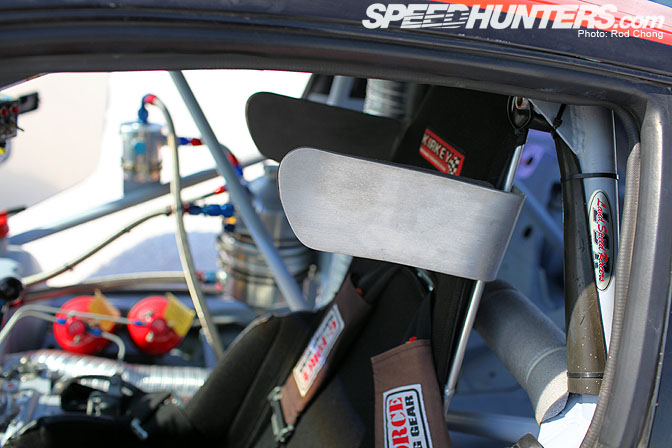 Accidents at Bonneville are not normally based on a car hitting another car or impacting a trackside object…. if you get in trouble above 200 mph, it usually means that the car is going to go into a series of rolls, or slide a long way on its roof…. so all safety measures take these elements into account.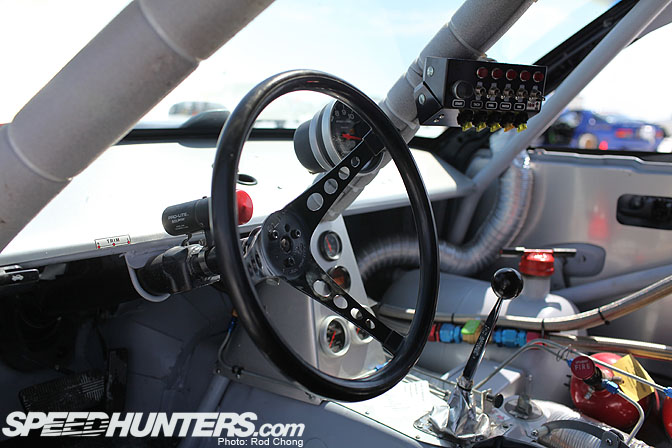 Don told me that they built the car to be "safe" even at speeds edging past 240 mph. This is rather evident when you inspect the roll cage area. It's properly beefy.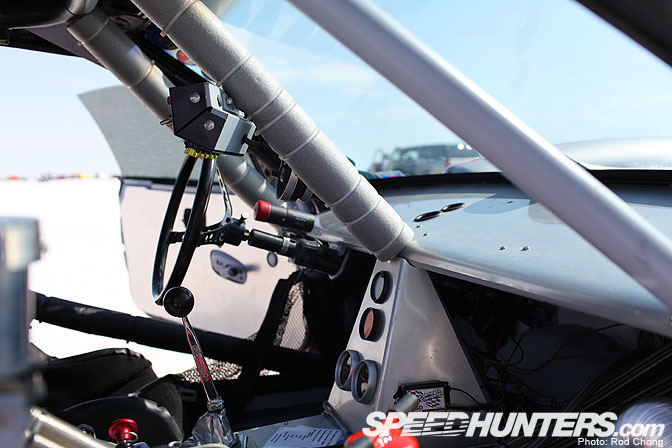 The center pillar in a roll cage is something I've never seen previously… but after seeing video footage of cars going airborne at Bonneville… I can understand why it's been built this way.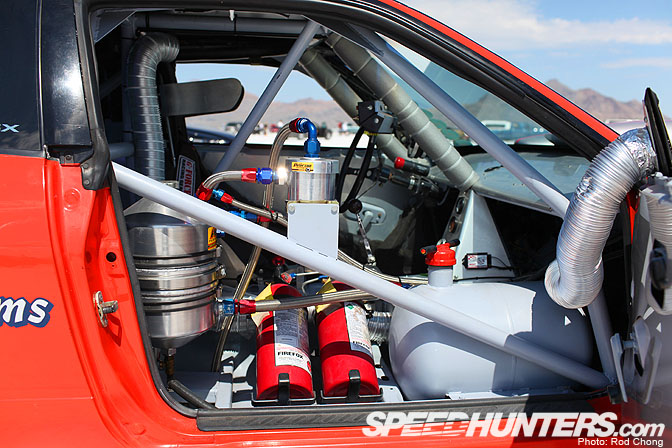 The McMeekin Brothers 240SX was built to house a wide variety of engine types. The Buick straight 8 is the third engine the car's housed… it's previously been home to a Flathead V8 and a Indy spec Aurora V8 both of powered the car to the XF/GC record of 156.778 in 2005 and the E/FALT record of 235.890 in 2006. This second record certainly makes this car the world's fastest S13 chassis!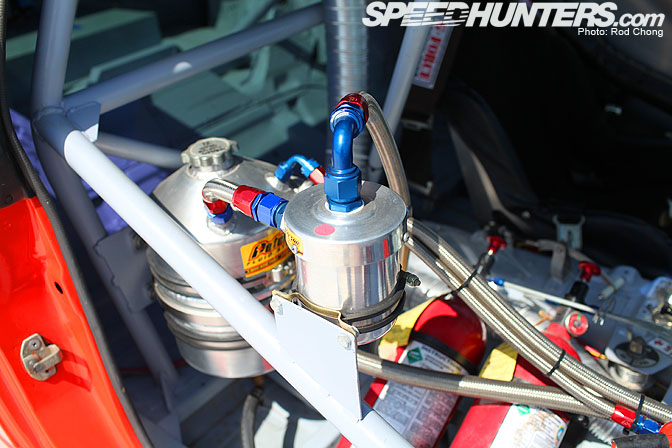 You'll notice that the dry sump system sits inside the cockpit area. I assume this is to allow for full flexibility with engine setups.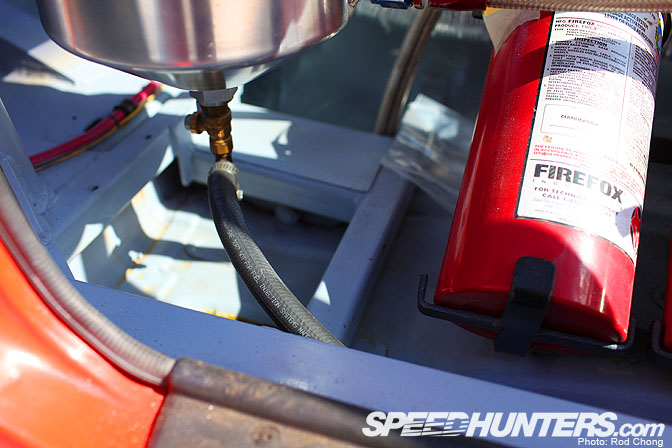 Also notice how a full tube chassis has been built into the floor of the car. Both subframes have also been tied together…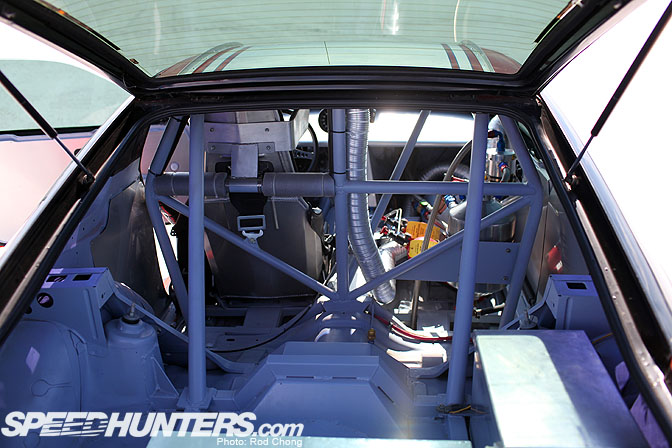 All of this has been done to make this chassis as strong as possible…. I noticed that some competitors often added weight to their car to gain traction and stability on the salt flats, so in this case, making the car heavier is likely to help its performance and stability at speed on the salt.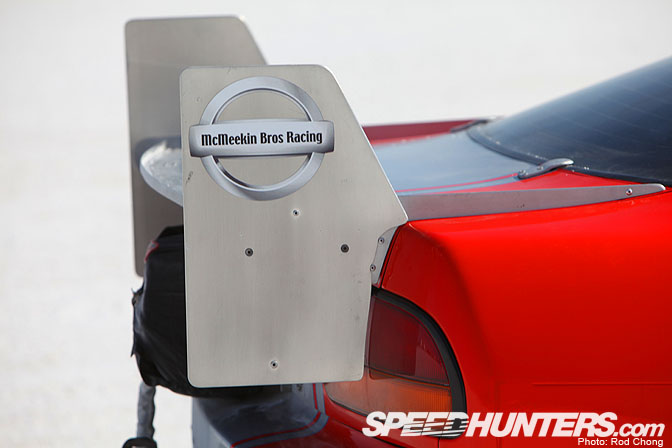 I like how the team has remixed the Nissan logo hahaha…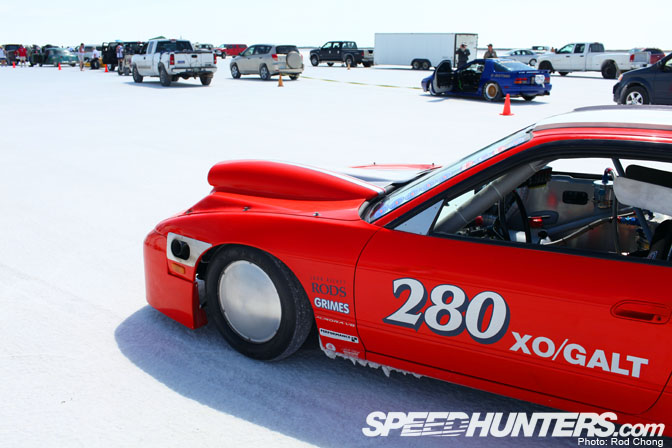 While I was shooting the S13, the Dandy Tanaka Mazda FC pulled up, ready for its next run….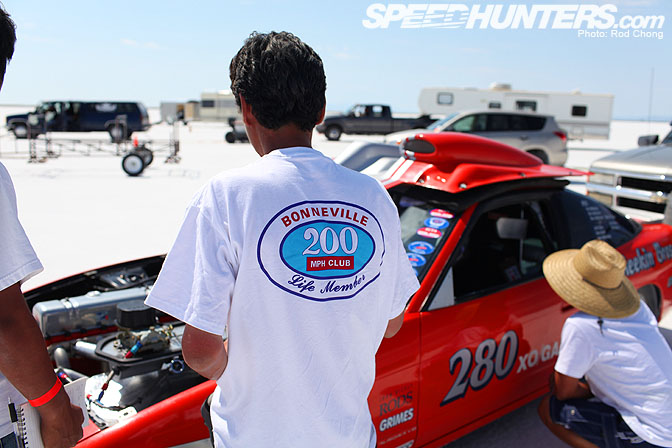 I called the team over to have a look at the car… Needless to say, they were quite intrigued with the straight eight engine setup!… They also seemed interested in the chassis substructures too… The Dandy team also had a photographer from Option travelling with them too, so you can expect to see shots of this S13 in the magazine in the coming months.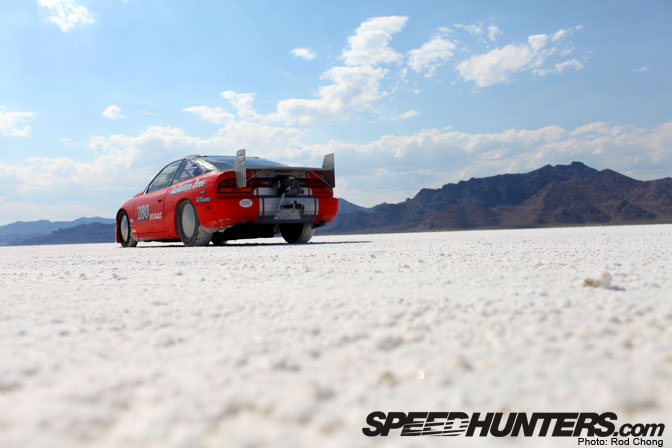 The McMeekin team is currently only partially aware of what a large following S13 chassis has inside drift cultures around the world, so they'll be looking closely at this story to see what kind of response it gets from you guys.
They were pretty unhappy with how the Straight 8 engine performed at Bonneville Speedweek…  For the first time ever, they came away from Bonneville with a S13/engine combination which did not set a new record. The best it did all week was 158 mph against a record of 166 mph…. they've decided enough is enough and will be dumping this engine setup in favour of a new one.
Any thoughts on what engine setup you think they should run next time around?
:Rod Chong
Mckeelin Brothers Land Speed Racing Blog
Bonneville 2009 Stories on Speedhunters