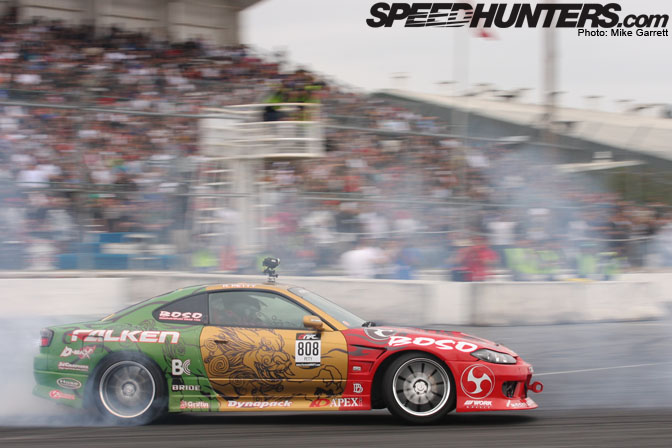 The long weekend in Seattle for Formula Drift Rd. 5 turned out to be a mixed bag for the Falken drift team. Over the course of the two days, the team experienced everything from blown engines and destroyed drift cars to a podium finish. Such ups and downs are what make auto racing exciting, and it was quite an experience observing the team over the course of the drama-filled weekend.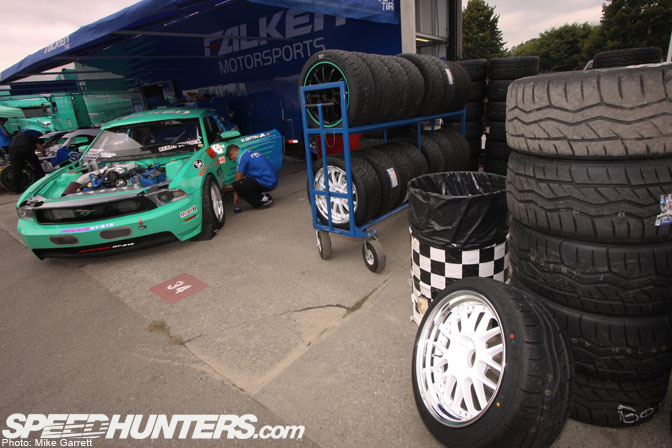 Instead of focusing on all of the Falken drivers in this report, we thought we'd change things up a bit by looking at some of the Falken-sponsored that campaign their own cars.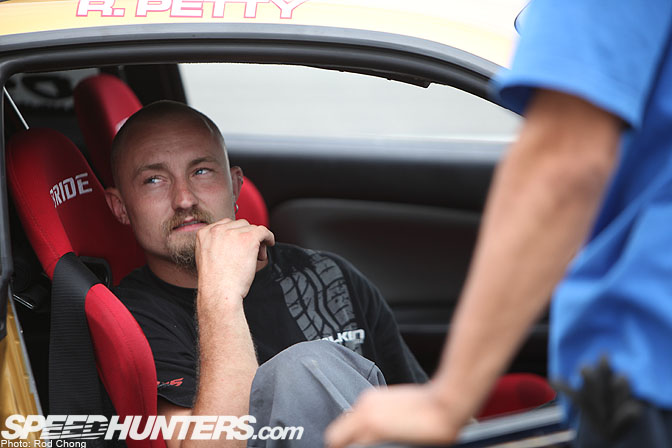 Ross Petty's S15 might not be sporting Falken livery, but he's been burning up Falken tires for a long time. We decided that we'd use our behind the scenes access with Falken to take a closer look at Ross and his adventures with the Garage Boso S15 over the weekend.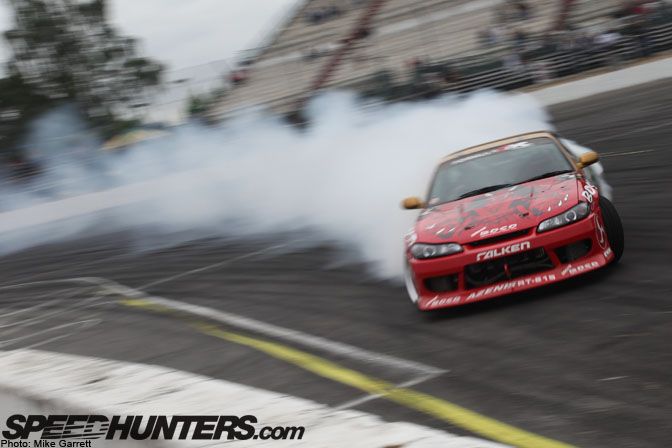 Starting on Friday, it was clear that the man was on a mission in Seattle. Of all the cars that were running, Ross displayed some of the most aggressive driving of anyone. He certainly was on track for his best performance since the debut og the new S15 in Long Beach. Ross' success continued when the judged qualifying runs began. He was able to secure the second qualifying spot and Because only 30 cars managed to qualify, was able to earn a bye through straight to the Top 16 on Saturday.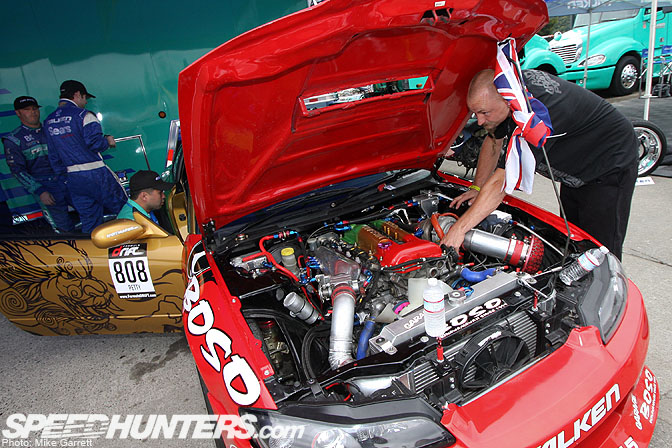 After smooth sailing in qualifying, things soon went sour for Ross and the Garage Boso crew. During Friday night's practice session, the car suffered an engine failure. After running so well on Friday, there was no way Ross and the team were going to give up here. After some quick thinking by the Garage Boso and Falken crews, a new SR20 engine was sourced from Intec Racing – a local shop in Seattle. Once the engine was found, the guys pulled an all-nighter to get the car running for Saturday's comp.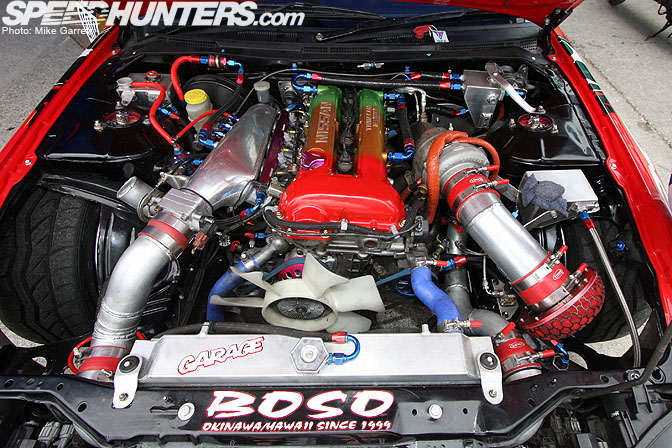 On Saturday morning, you couldn't even tell that the car had undergone and engine transplant the night before.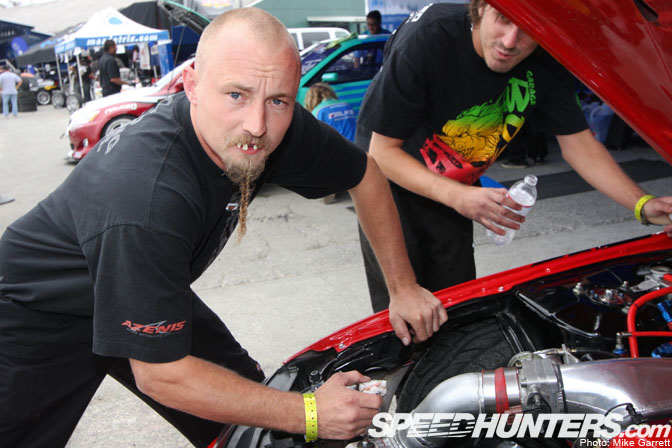 Despite going on just 50 minutes of sleep, Ross was in good spirits as the guys put the finishing touches on their engine change. I even spotted him busting some wheelies on his scooter behind the Falken rig!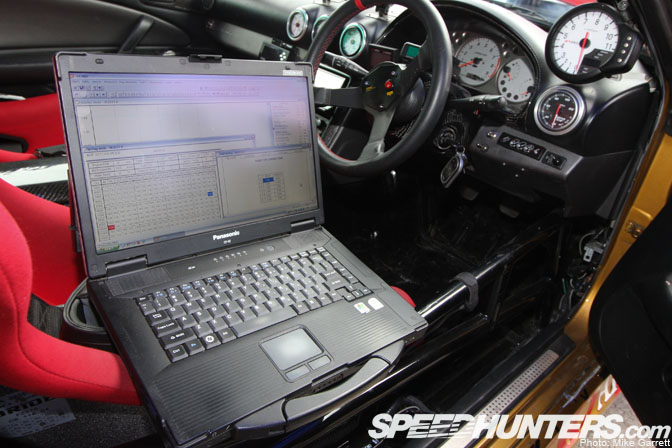 After a quick tune, the car was ready to roll. Fortunately the Top 32 bye allowed the guys some more time to get engine dialed in.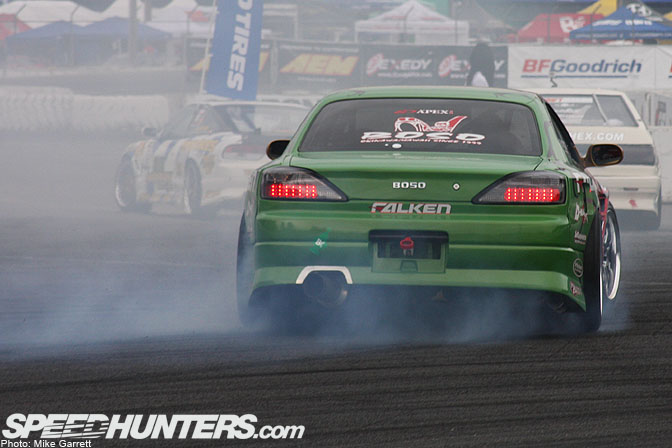 As the Top 16 driver intros got under way the Garage Boso S15 was running as good as ever – an amazing feat for a car that had a fatal engine blow the night before.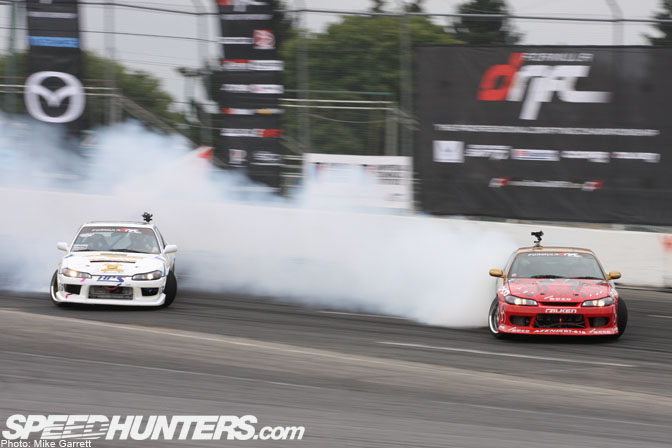 The new mill was put to the test in Ross Petty's first tandem match of the day against Michiro Takatori. After a marathon battle that required two OMT runs, Ross finally advanced from this all-S-chassis match. So far so good, on to the Top 8.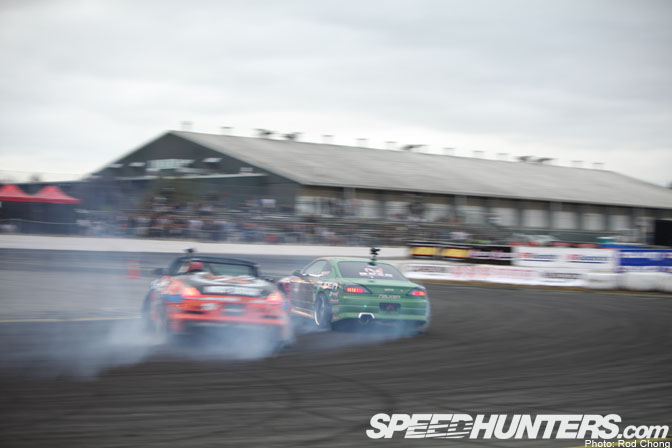 Petty's Top 8 opponent turned out to be the eventual event winner Chris Forsberg. After a fantastic lead run, on run two Ross came out of the banking too aggressive and was unable to continue his drift. The Garage Boso S15's run would end here.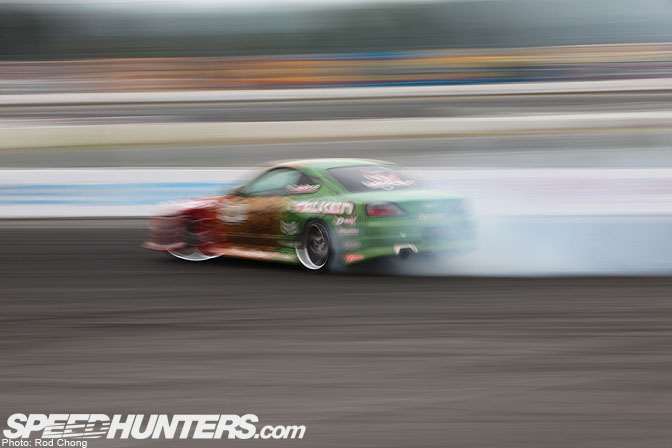 All in all, it was a great showing for Ross and all of the Garage Boso crew. It was by far the team's best performance of the season, and that's not even counting the miraculous all-night engine swap. With this momentum I can't wait to see how Ross does in Sonoma!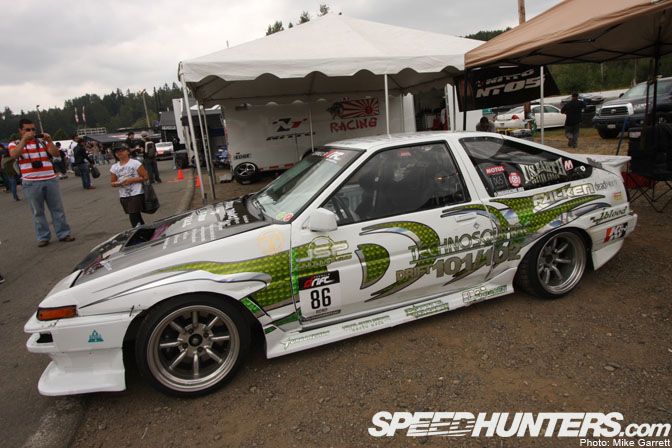 Also not to be forgotten is veteran driver Taka Aono and his AE86.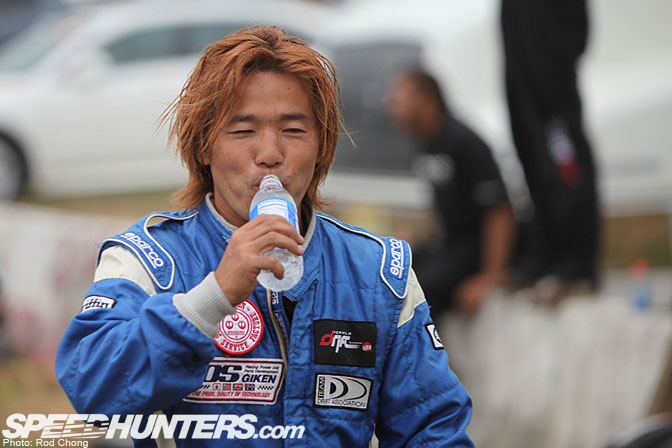 Taka has been drifting on Falken rubber since the earliest day's of the American drift scene and continues to keep the grassroots spirit alive in Formula D.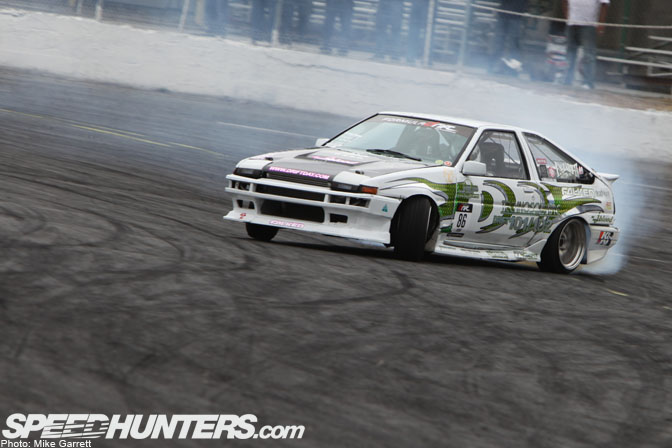 This year he's been having a great season, thanks to support from the drifting community to get out to some of the more distant FD events. Here we see him during his qualifying run on Friday.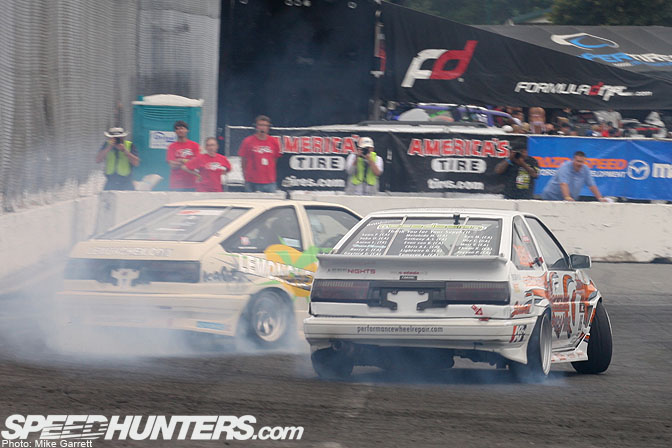 Taka wasn't able to make it past the Top 32 in Seattle, but he couldn't have been too disappointed as he was beaten by fellow AE86 driver Yasu Kondo.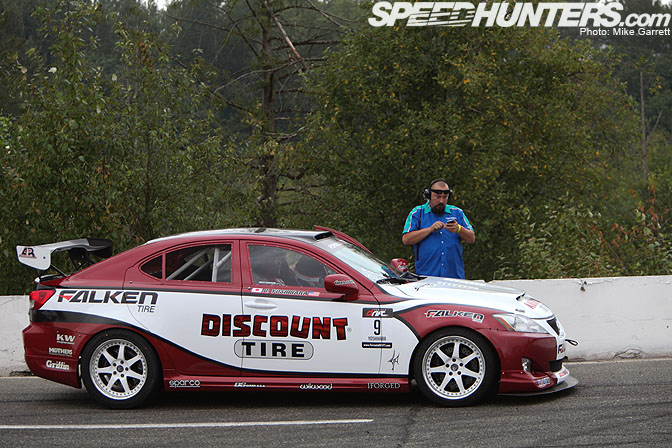 In other Team Falken news, there was Dai Yoshihara's big crash during practice on Saturday. Luckily Dai was not seriously hurt, but from most accounts the damage on the Discount Tire Lexus is beyond repairable. Fortunately there are a few backup cars Dai should be able to drive at Sonoma.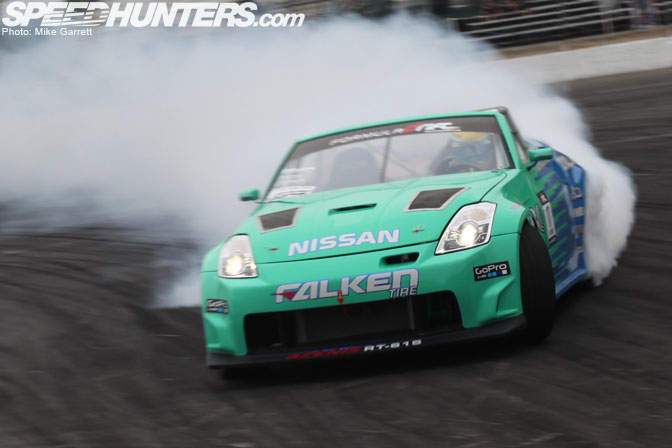 Tyler McQuarrie continues to shine this season in his 350Z roadster. Tyler was consistently laying down awesome runs at Evergreen Speedway.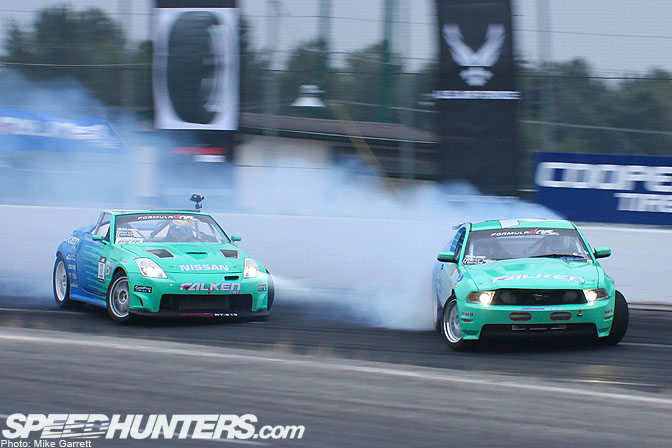 The battle for third place came down to a pair of ASD-built Falken machines when Tyler McQuarrie faced Vaughn Gittin Jr. It was a fantastic match of two talented drivers unleashing two roaring V8's.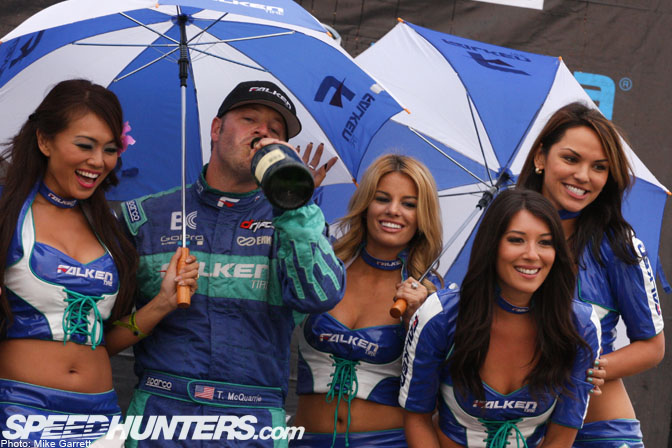 While Tyler celebrated his podium finish with the Falken umbrella girls, the rest of the team was already hard at work gearing up for the next round of competition in Sonoma.
Whether their budgets are big or small, all of the teams in Formula D will be working like crazy over the next week getting their cars ready for Sonoma and the home stretch of the '09 season.
-Mike Garrett