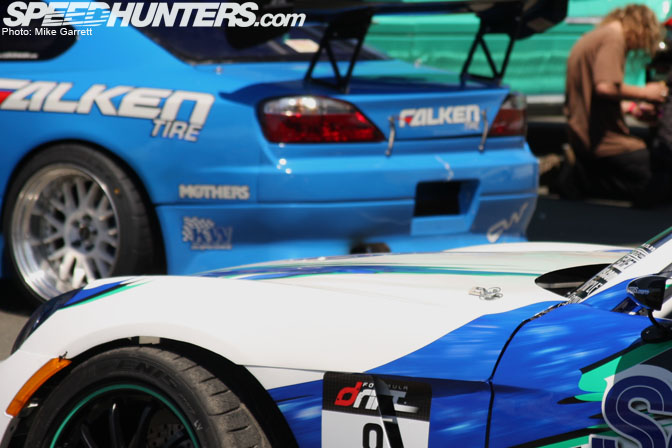 Before the two Falken rigs could even cool off from their Seattle trip, they were reloaded and sent back up the road to Infineon Raceway for the second FD event in as many weeks. With a new car debut and drivers in the hunt for the championship, Sonoma would be an important event for Team Falken.
As usual, we used our media partnership with the team to take a behind the scenes look over the weekend.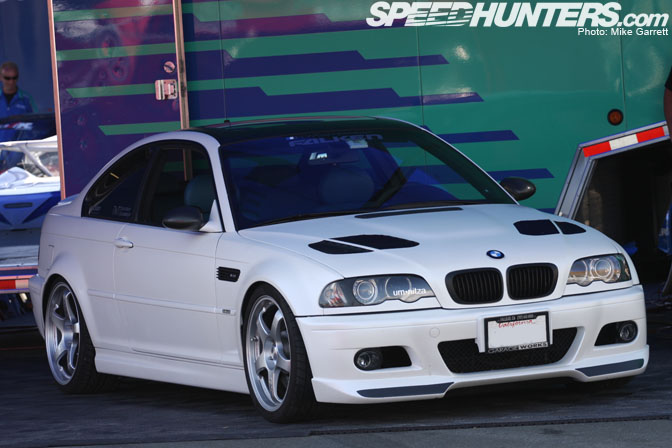 Before we get into the drifting itself, I wanted to talk a bit about the cars that were on display underneath the Falken rig. At every event high quality local cars are selected for this duty, and the Sonoma offerings were particularly impressive. One of them was this matte white E46 M3 on SSR's…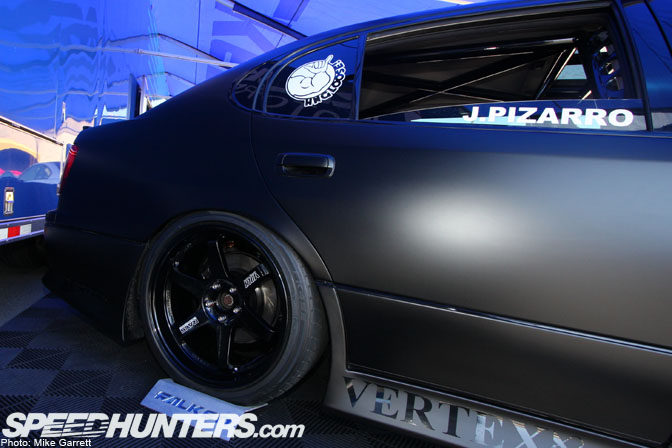 …while the other was Jay Pizzaro's freshly completed Lexus GS drift car – something that I was pumped to check out in person. I'm sure you remember it from the short video clip we posted recently. The car looks incredible with its flat black paint, full Vertex aero and 19" TE37's (wrapped in Falken rubber of course).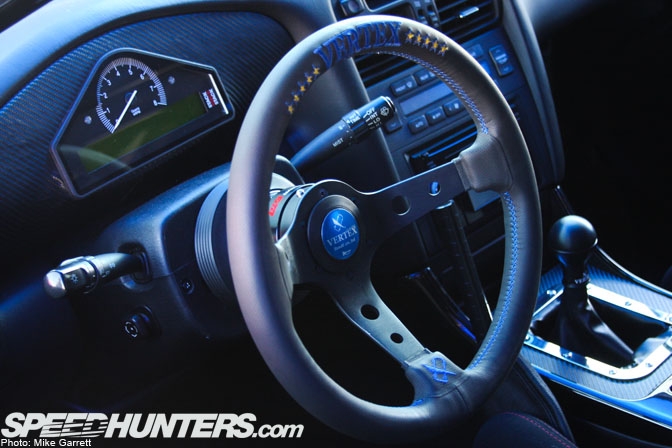 The interior is just as drool-worthy. There's a full cage, a Vertex steering wheel,  a stack cluster, and even a navigation system. Ballin'.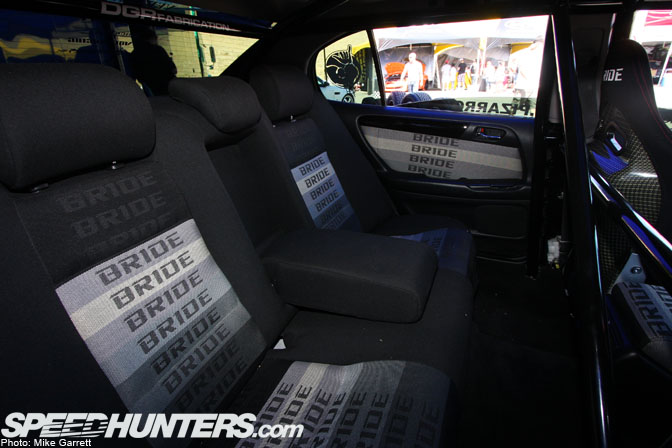 And full Bride gradient upholstery all around. THIS is four-foor drift car style.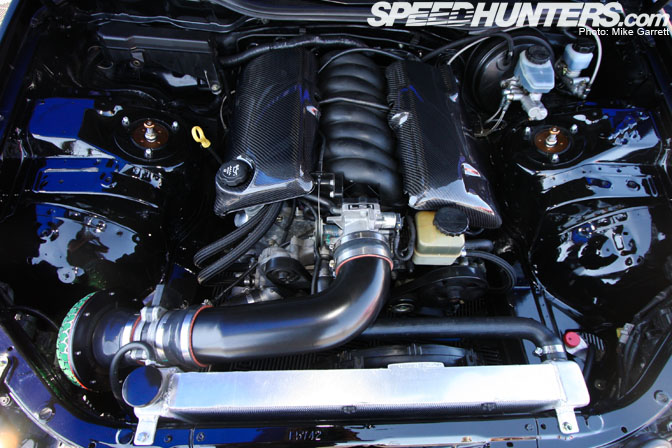 While the Chevy LS1 under the hood of the Lexus might make the JDM purists run, who can argue with effortless HP and torque, reliability, affordability, and that V8 sound? Jay has done an incredible job with this car, and I can't wait to see him throwning it around on the track.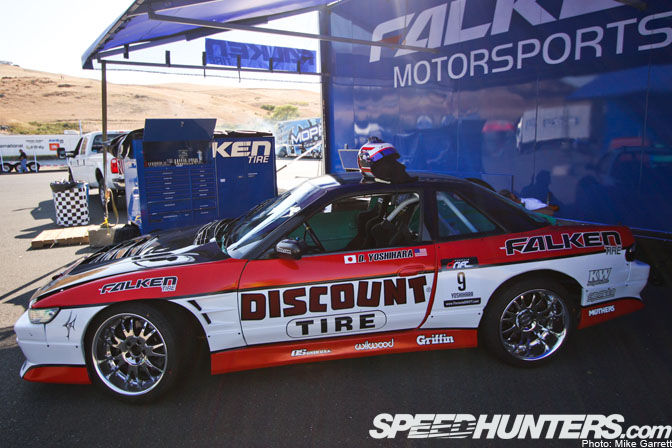 OK, back to Team Falken drift cars. There's Daijiro Yoshihara's new S13. After the Lexus IS was totalled in Seattle, this machine was constructed in just eight days using Ross Petty's old S13 as the base.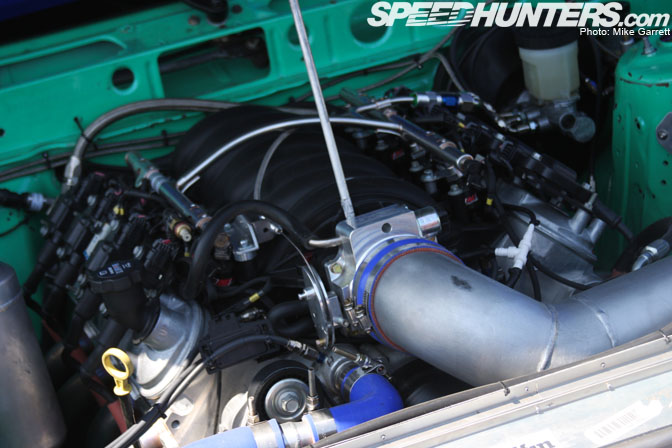 The biggest change on the car is the motor, which is now a Chevy LS2. As soon as I heard them fire up the car on Thursday morning, I knew there was no SR under the hood of this S13.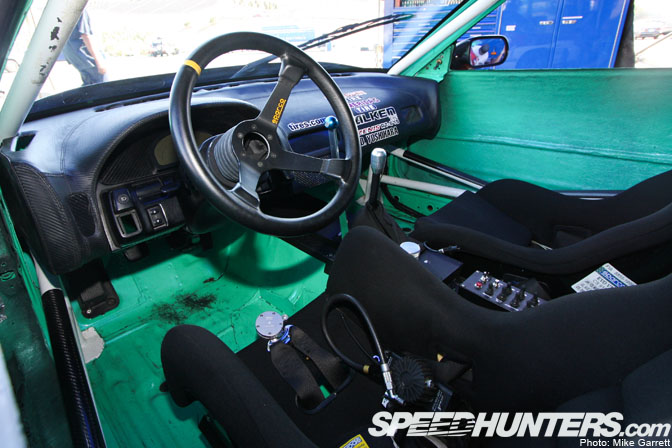 The interior is very straightforward, and should be a familiar place to Dai. This guy has no shortage of experience drifting S13's.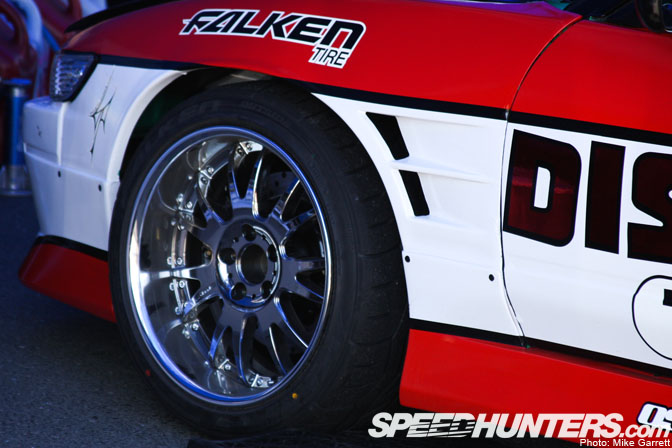 The exterior of the car looks good, though it could it stand to be dropped a couple inches. What do you say guys?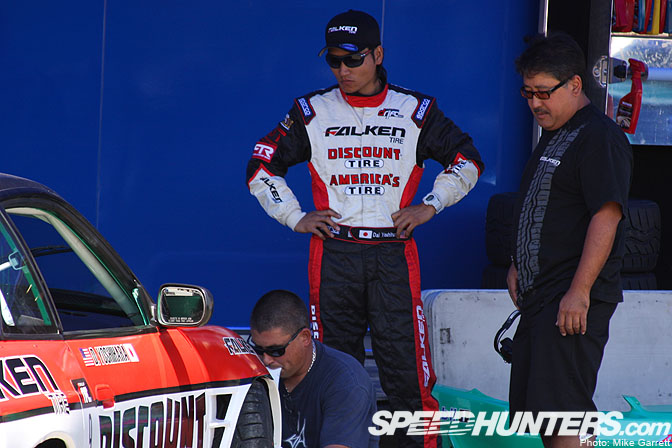 There's Dai talking about the new ride with tech wizard Mike Kojima before heading out to qualify.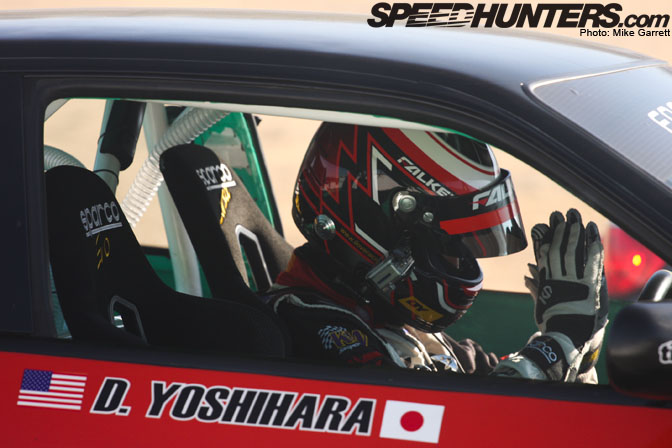 On a course where many drivers were struggling, Dai did surprisingly well in the new car. Here he is after getting word of his victory in Friday's Top 32 competition.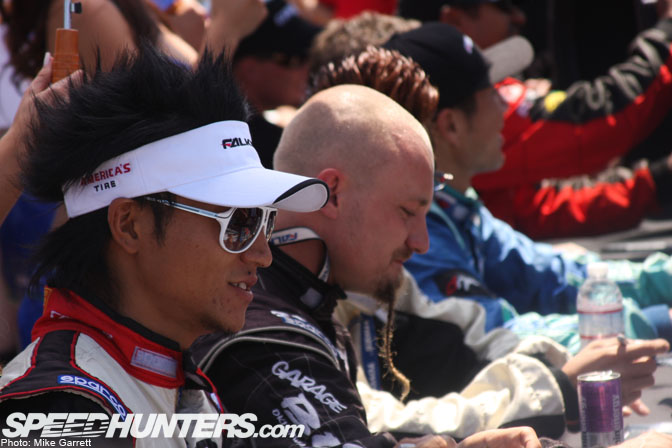 It's been an eventful couple of weeks for Mr. Yoshihara, but things seem to be looking up for him. No matter what happens, Dai always seems to have a positive attitude and that's great to see while hanging around the Team Falken paddock.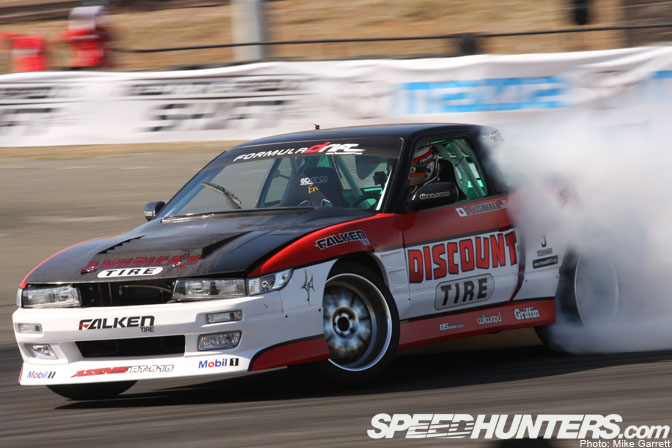 Dai was eventually eliminated by Ken Gushi in the Top 16, but it was a solid debut performance for the car. Will this be the machine that he eventually drives to his first FD championship?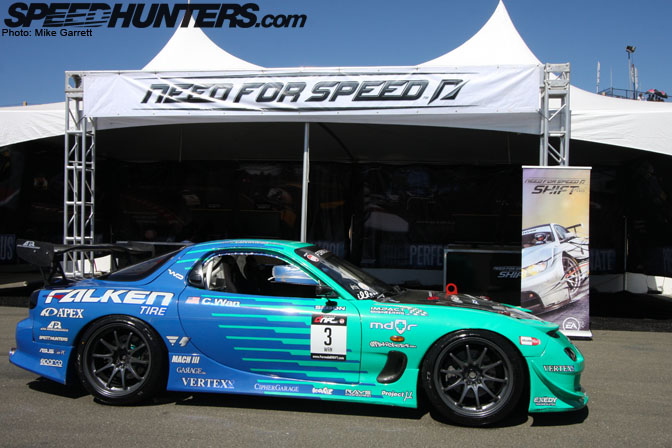 It was also nice to see Calvin Wan's old FD on display near the NFS booth looking better than ever.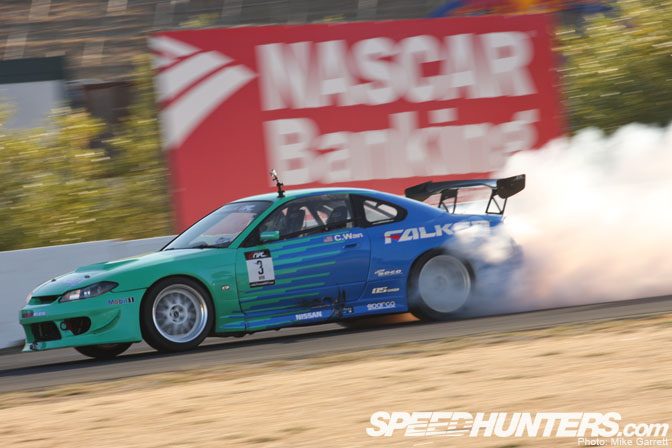 On the competition side Calvin ended up facing Chris Forsberg in a Top 32 rematch on Saturday. After a marathon battle that stretched over two days, Calvin was eventually defeated.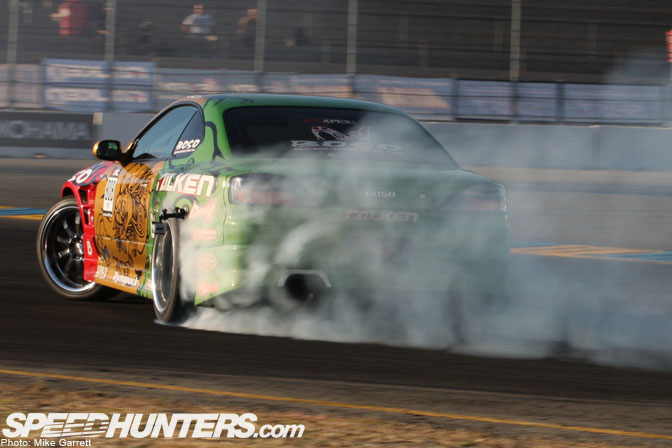 Ross Petty and the Boso S15 would be retired at the hands of teammate Vaughn Gittin Jr. during the Top 32.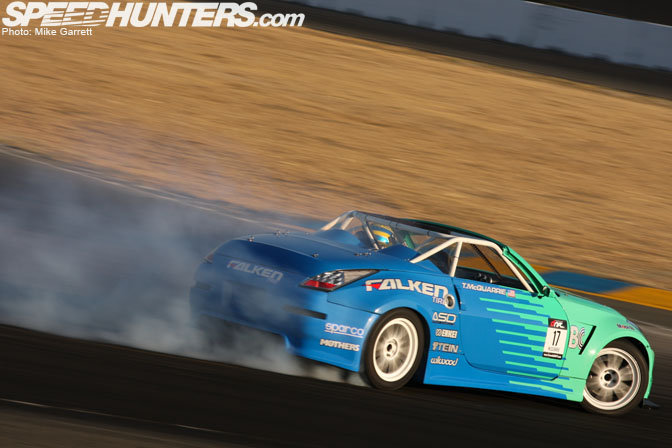 Tyler McQuarrie was looking to boost his championship standings in Sonoma, but a bad cam sensor kept him from running in the Top 32. To quote Tyler, "I hate this track!".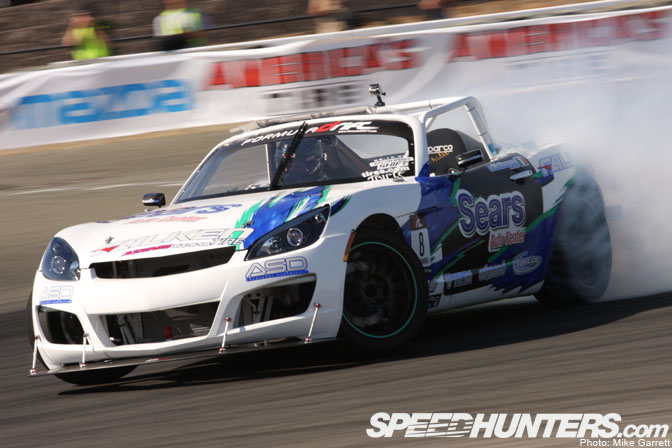 Darren McNamara made it to the Top 16 before being eliminated by Katsuhiro Ueo.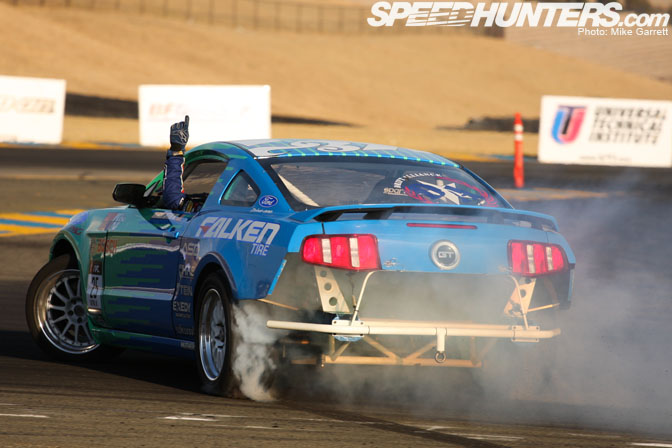 Vaughn Gittin Jr. defeated Ross Petty and Justin Pawlak on his way to the Great Eight, but eventually was retired after a close match with event winner Stephan Verdier. JR is now third place in the season standings with one event left to go. That's a large to gap to make up in just one event, but we all know how much this guy likes Irwindale.
For now the Team Falken drivers and crew will enjoy a much-needed break for heading to the Irwindale finale in October.
-Mike Garrett