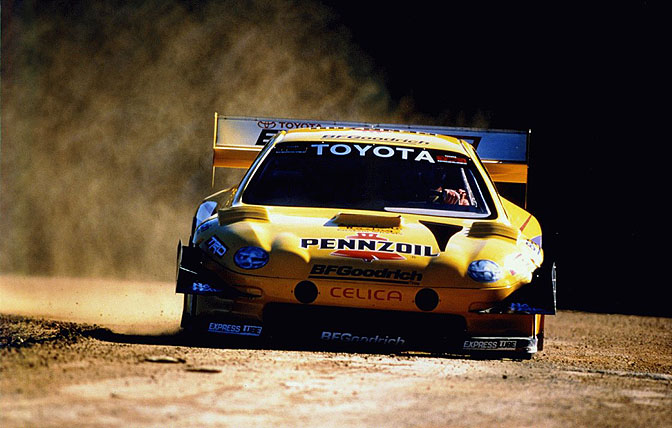 So another year comes and goes and still the magic 10 minute barrier at Pikes Peak remains. Nobuhiro Tajima in his 884 bhp, 2.7-litre turbo V6 powered Suzuki SX4 set a time of 10 min 15 seconds to take overall victory this past weekend, but fell short of his 2007 record time of 10:01.408. Although you need perfect weather conditions to break records at Pikes Peak, Tajima now seems to be his own best competition, and hasn't been able to replicate his previous year's performances. Although it took him many years of trying to take the overall Pikes Peak record,  he now faces a his biggest challenge yet: beating his own record.
This was a challenge that saw off the previous King of the Mountain, Rod Millen and his high tech Toyota hill climb specials.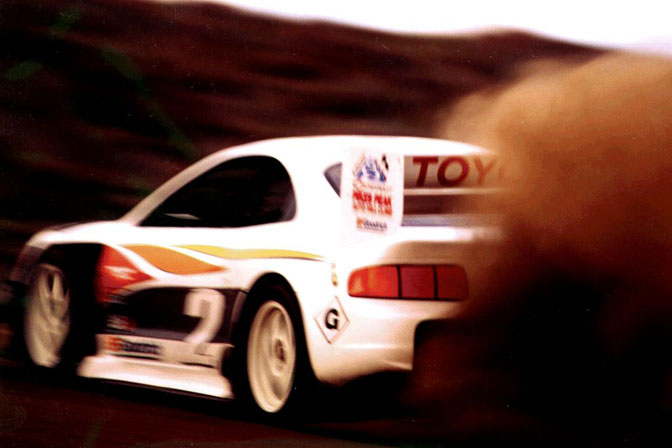 In 1994 Rod showed up at Pikes Peak with a tube chassis, carbon bodied Celica silhouette. The event had previously been dominated by hotted up Group B rally cars, but nothing like this Toyota had ever been seen previously on the mountain. Developing a heady 850 bhp, the AWD ground effects car thundered up the all dirt 12.42 mile, 156-turn road and obliterated the overall record with a time of 10:04.06. It was an astonishing 40 seconds faster than the previous record.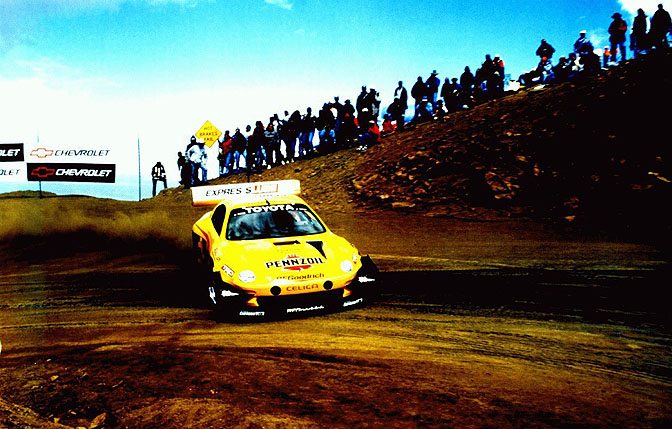 And that was that… this time stood as the overall record for an incredible 13 years.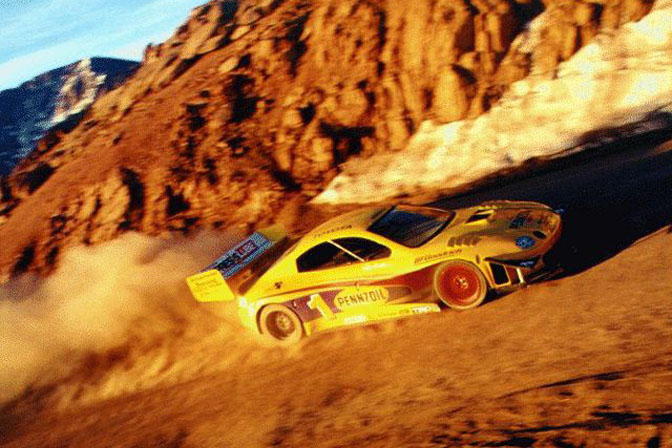 What is even more amazing is that this run was set on an all dirt road. There were no paved sections back then as there are today.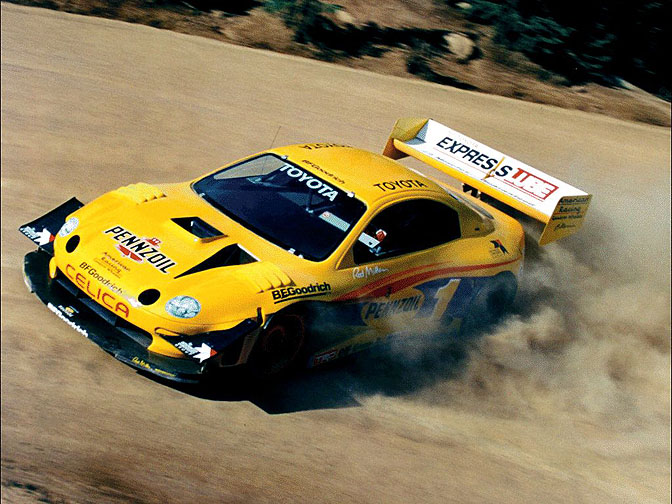 This fact makes Millen's 1994 record seem all the more spectacular. Perhaps he just needs to brush the dust off the Celica and bring it out to take on Tajima's Suzuki.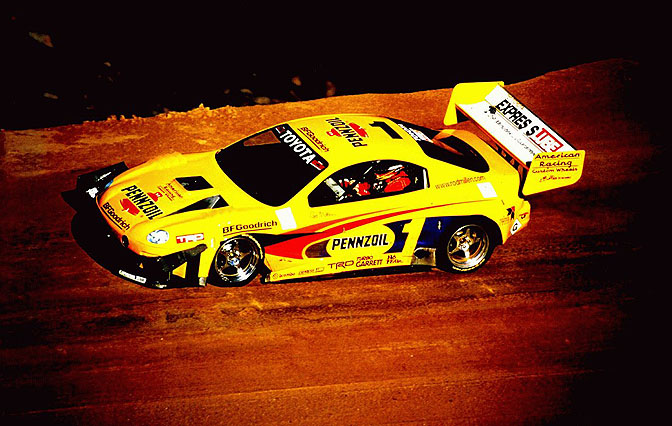 Have a look at where Rod Millen is sitting… he's at the back of the car like a drag racing funny car. So this gives us an indicaton where the engine is placed – inside the cockpit area! Also notice that the body is a single piece of carbon fiber… again similar to a funny car.
Power comes from a TRD 2.1 L, 4-cyl, turbo developing 850 HP with 1,100
lb-ft of torque sourced from the
AAR IMSA GTP Eagles.This is the same engine which was used in the JGTC Supras at the time too.
AAR Toyota Eagles GTPs were one of the first race cars to perfect the use of the front underfloor diffuser. This technology was also utilized on the Celica with both front and rear underfloor venturi tunnels suctioning the car down onto the dirt surface. This caused huge dust rooster-tails to be kicked up behind the Toyota… a similar effect to a F1 can running in the wet.
Weight came in at 1,950 lbs or 885 kgs.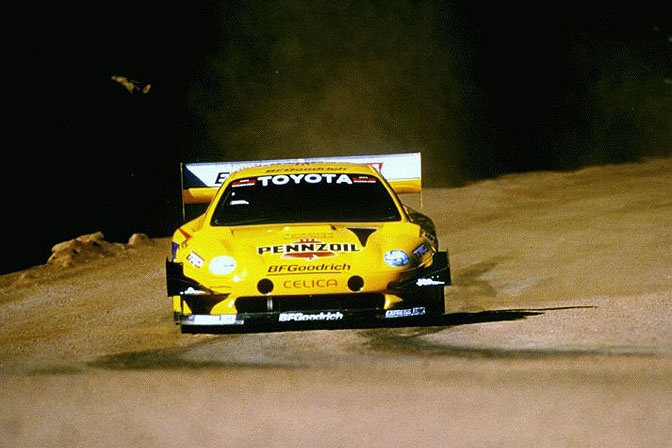 Millen won Pikes Peak again with the car in 1996 and 1997, but was unable to better his 1994 time with the car.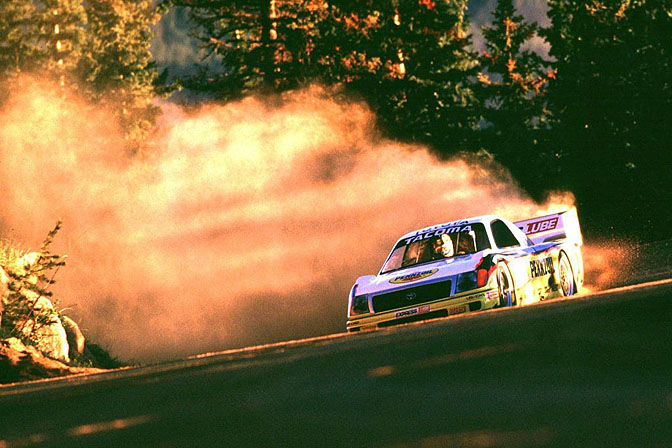 For 1998 he debuted a new machine: this mid engined Toyota Tacoma.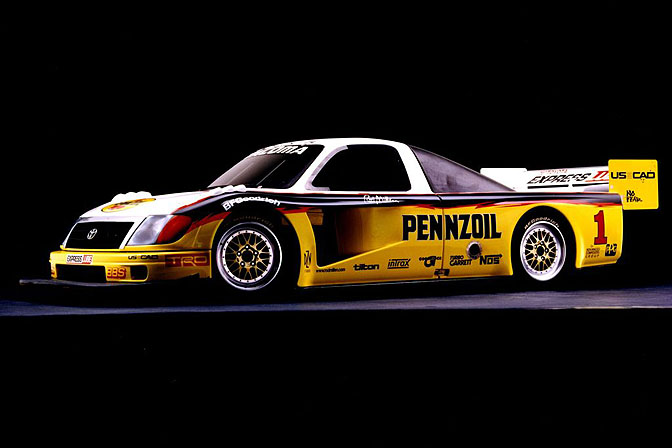 It was designed as an evolution from the Celica with evolved suspension geometry, engine tuning, drivetrain, structural stiffness/weight, and aerodynamics. Looking at this photo, it looks like a truck themed Group C car more than anything else.
Power and weight were identical to the Celica.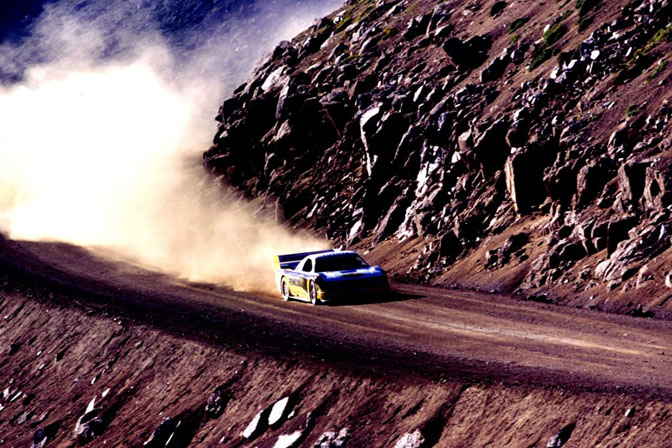 The goal with the Tacoma project was to break the 10 minute barrier.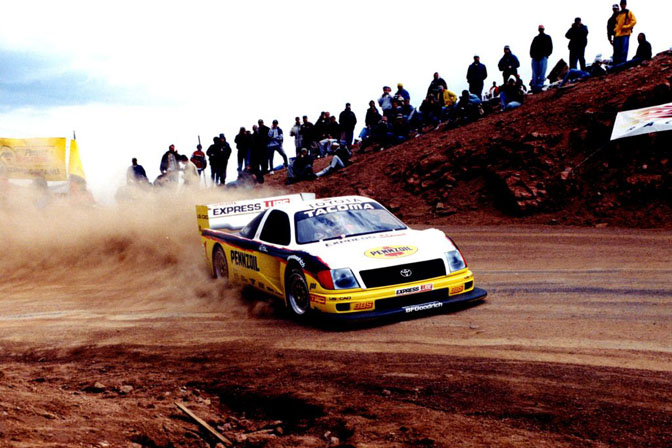 But the car never managed to better Millen's 1994 record in both 1998 and 1999 in spite of winning the event both years.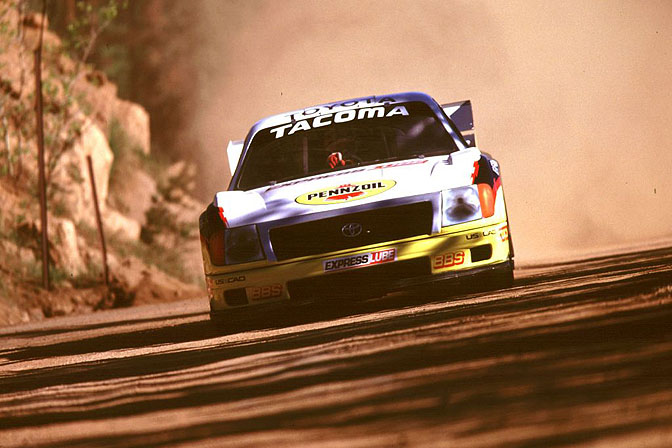 It's interesting to see that Millen's 1999 winning time was 10:11.15 where as second place was a 10:37.15 time set by Nobuhiro Tajima, in an earlier version of his Pikes Peak Suzuki.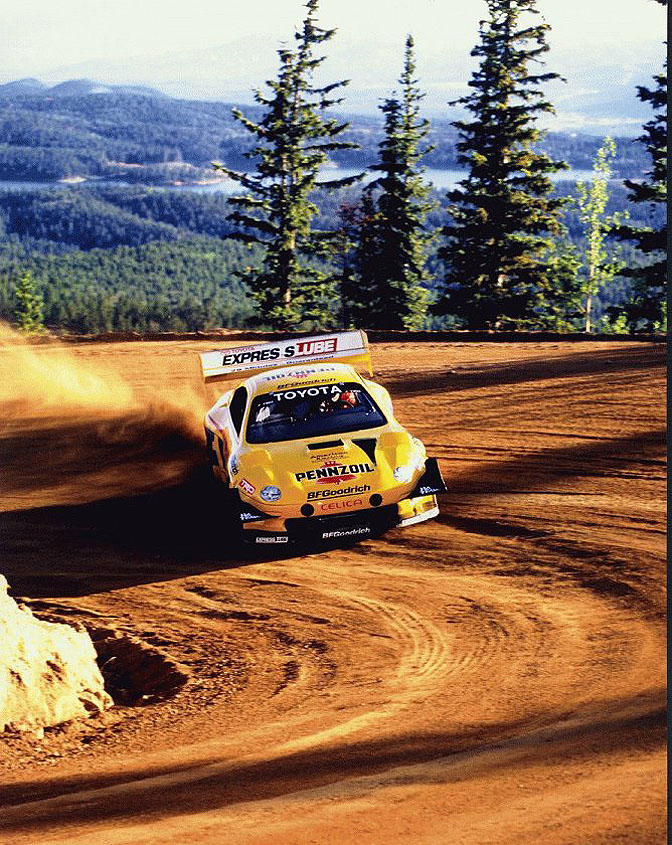 So what now for the 10 minute barrier? It seems like a bit of an impenetratable wall for the moment, but I'm sure someone will build a car that will decimate this long standing record. For now all we can do is cast a happy eye on these photos and appreciate this last bastion of unlimited class racing.
:R
Photos from Rodmillen.com