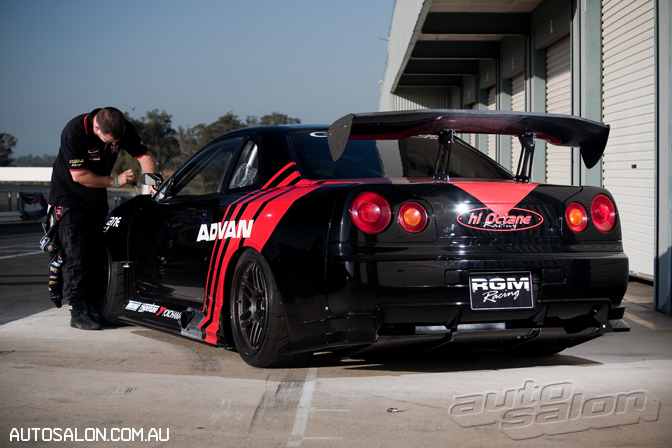 Mark Berry and Russell Newman are the two-man team that has dominated Australia's time attack scene. You've already seen glimpses of their insane Hi-Octane Racing R34 GT-R weapon in previous posts, and courtesy of Auto Salon Magazine here is a closer look at what it's packing.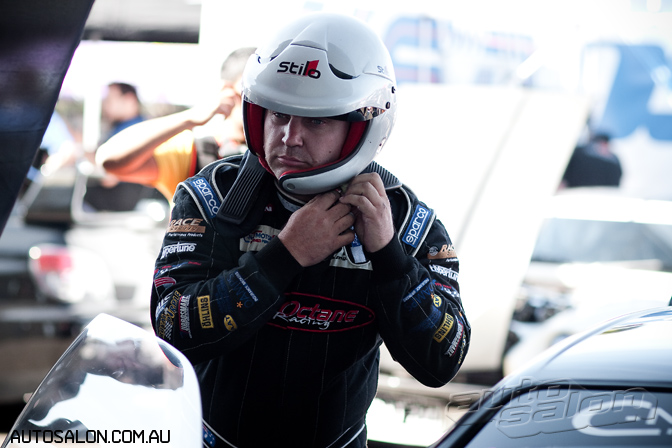 Previously campaigning an R32 GT-R, Mark Berry and Russell Newman have conquered numerous racing events all over Australia.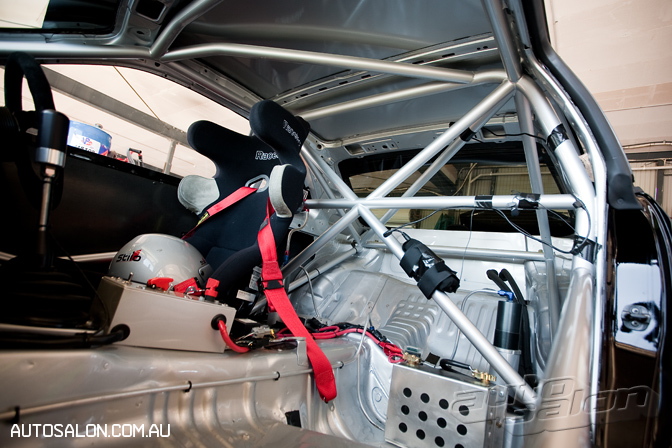 The R34 GT-R started off as a standard road going version which Mark Berry purchased during a trip to Japan. Once in Australia, it was stripped to a bare shell for some drastic modifications. The entire chassis has been seam-welded and a multi-point chromoly roll-cage fitted.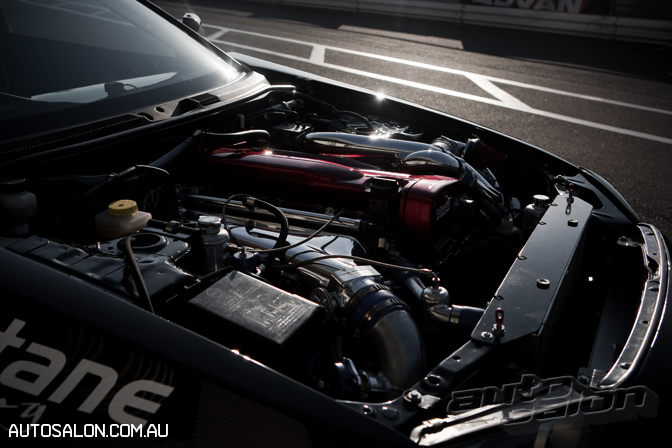 With the prerogative on having an engine that would provide near-instantaneous response, Mark elected for two low-mount customized Garrett 2860-5 turbochargers. Technically this R34's engine isn't an RB26DETT, as they've mated an RB30 block to an RB26 head. Internally it features Pauter conrods, CP pistons, a one-off girdle, Tomei valvetrain and an impressive Hi-Octane Racing four-stage dry sump system.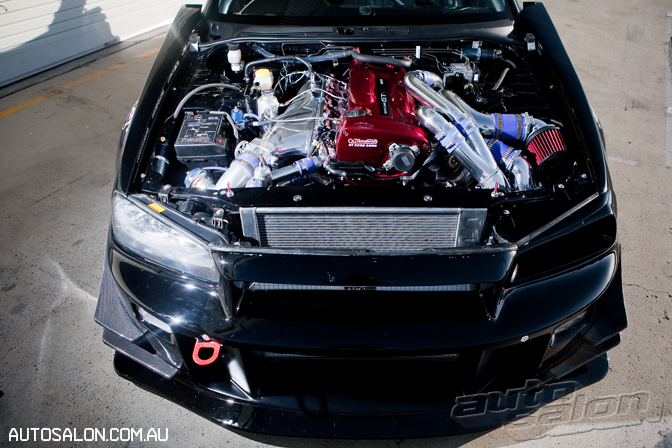 Being an Australian car, the GT-R features its fair share of Aussie-built components such as the Turbosmart FPR and wastegate, ACL bearings, Autronic ECU, PWR radiator and Hypertune's acclaimed intake manifold and single throttle body. The transmission is also an Australian made Holinger six-speed sequential.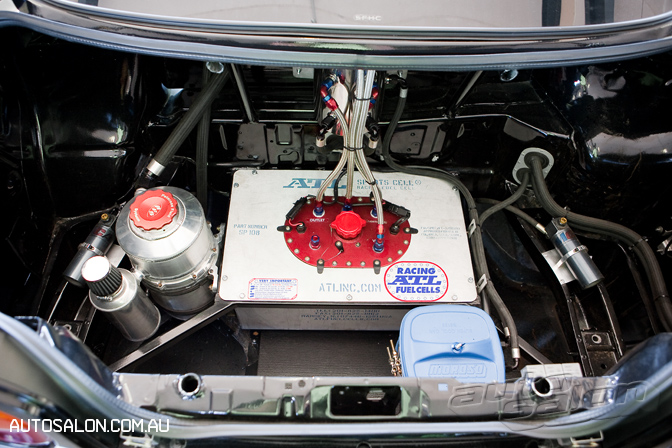 As you'd expect, the fuel system is certainly hardcore. The factory tank has been deleted; replaced with an ATL cell mounted in the boot.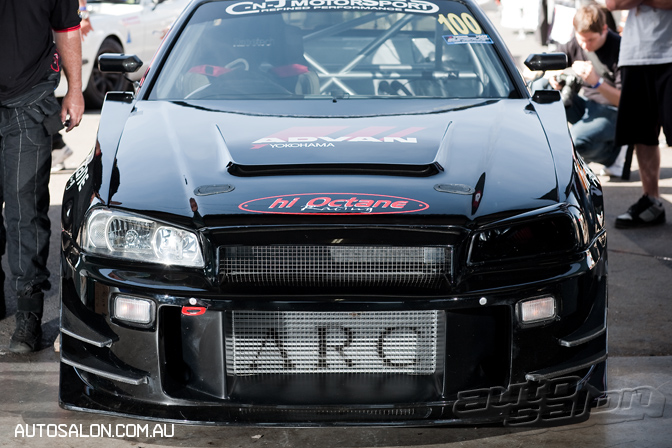 In terms of the exterior, the only thing left standard is the roof. All of the panels have been replaced with dry carbon pieces from Kagotani and Sunline Auto. The side and rear windows are lightweight Lexan, while the hood and boot hinges have been deleted to save every ounce.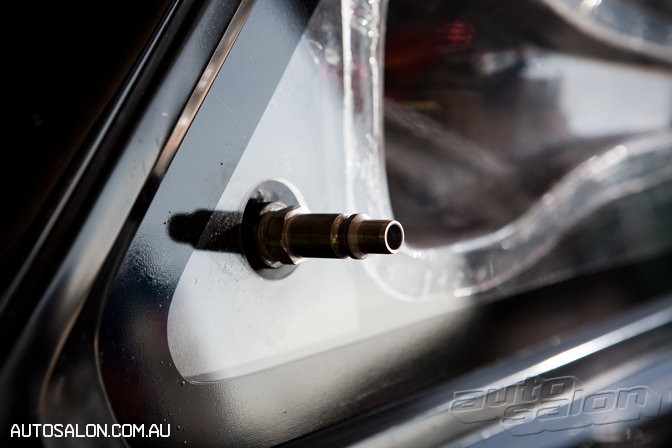 Air-jacks are fitted to each corner of the chassis to reduce pit stop times. The coupling is externally mounted on the Lexan rear quarter window, right behind the NACA duct.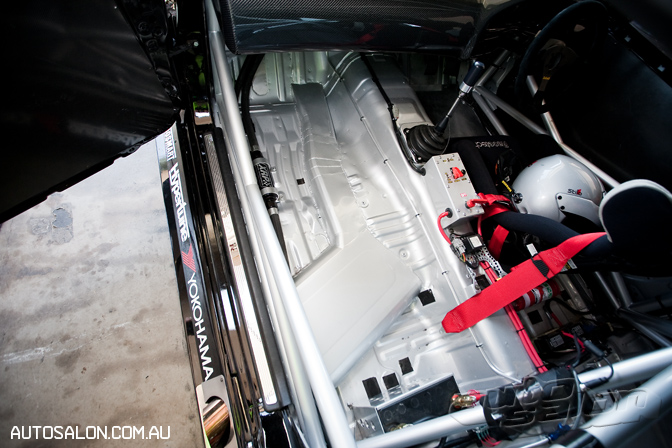 A tunnel has been fabricated into the floor to accommodate the side-exit exhaust. Their R32 predecessor didn't have a channel sculpted where the side-exit exhaust is, meaning there were ground clearance issues when riding over ripple strips.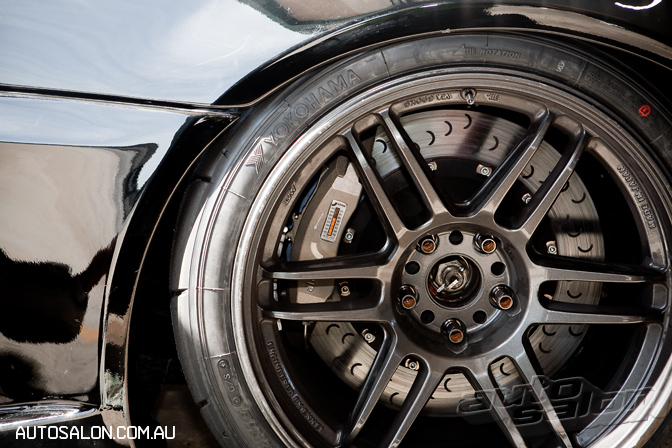 A serious amount of coin has been spent beneath the R34. Mark Berry's quite guarded when you ask him about its suspension setup, but we've noted that it's fitted with custom Proflex shocks, custom swaybars, the full Ikeya Formula catalogue (which have been further customized) and the stub axles have also been modified. The Alcon brakes are 6-piston monoblock calipers and 378mm two-piece rotors at the front, and 4-piston calipers and 365mm rotors at the rear. Even the tailshaft is made from carbon fiber. Something of interest is that the AME Tracer TM02 wheels were actually custom built for this specific car. AME usually only have widths up to 10-inches, however Mark Berry demanded the Enkei factory to make a wider set especially for him!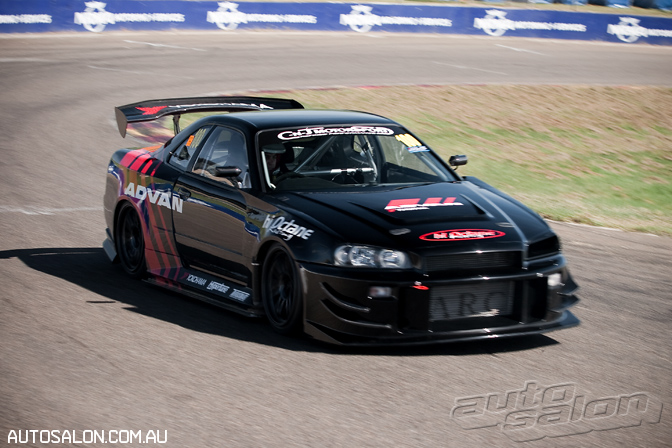 Although still in its developmental stage, the R34 GT-R is already showing hints of its potency. At its debut at the Superlap event it suffered from electronic teething problems, with 90% of the power directed to the rear wheels. Although Berry's laps were more akin to a drift demonstration than a grip run, it was still fast enough to claim second place overall. Making its performance all the more impressive was the fact that it actually didn't have any swaybars fitted during the race (which weren't completed in time for the event).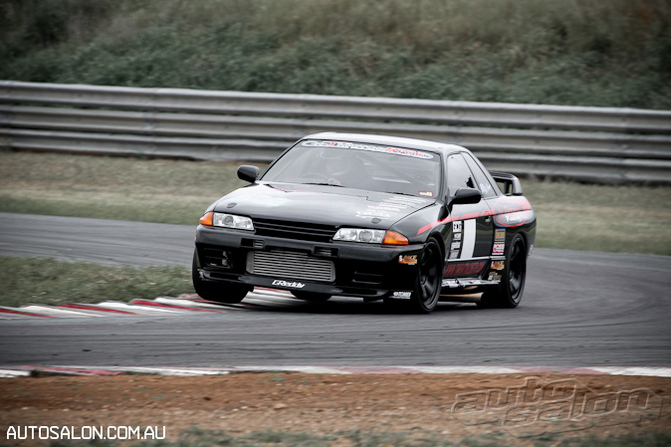 Here is its predecessor: their all-singing, all-dancing R32 GT-R. At Auto Salon Magazine's Circuit Battle event, it was a staggering three seconds faster than its nearest competitor.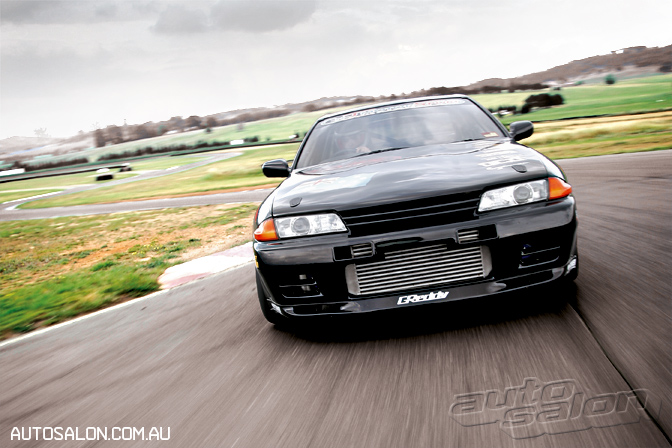 Although 'retired', it's still considered the benchmark for Australian time attack racers. Even today few have managed to match the pace it set two years ago.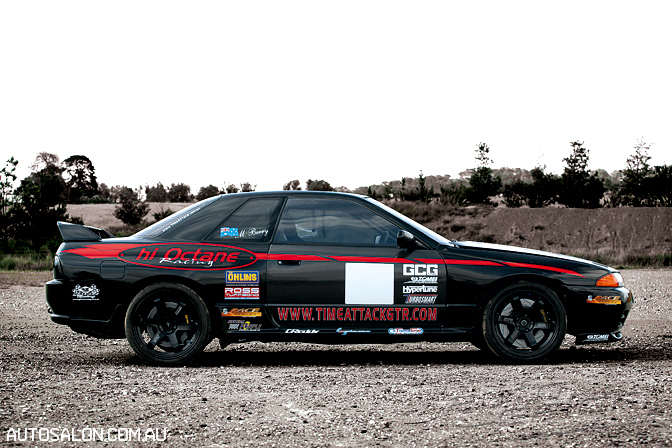 Truth be told, when I first laid eyes on their R32 I didn't know what all the fuss was about. It retained the factory aesthetics, there was nothing 'wow' about its engine bay's appearance, and even the standard steering wheel and ignition barrel were intact.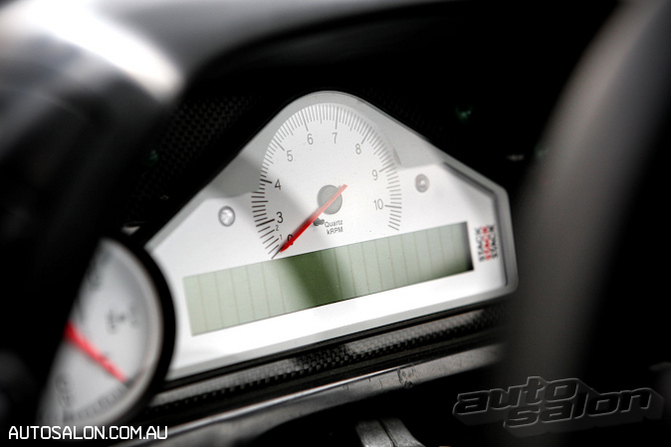 Look closer though and there were plenty of telltale signs, such as the STACK cluster…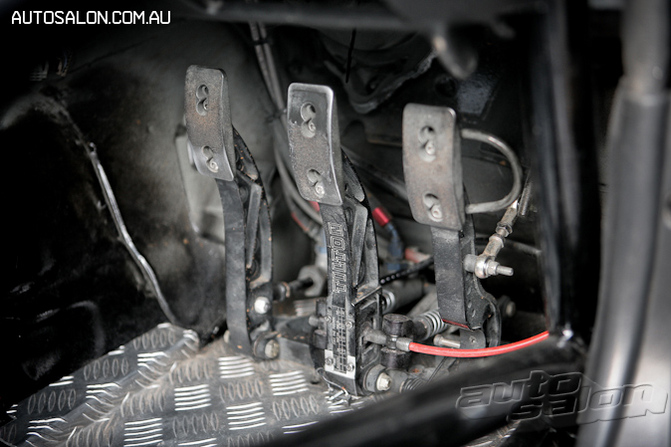 …and Tilton pedal box.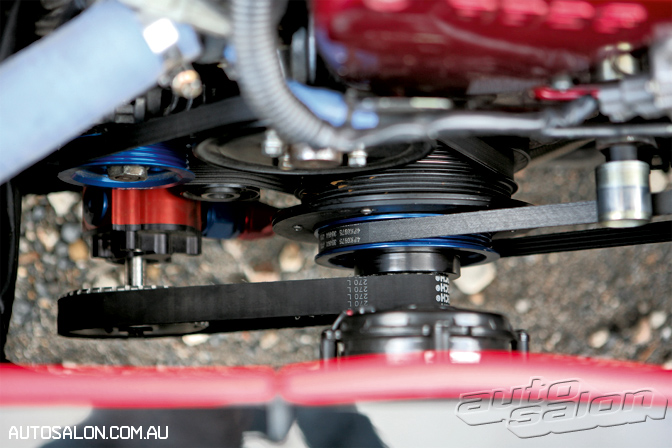 Like its R34 replacement, the R32 GT-R was also fitted with a dry-sump setup.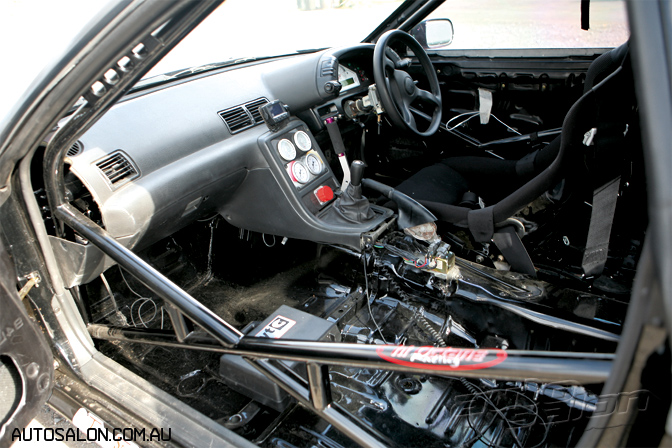 Certainly not as refined, but effective and functional nonetheless.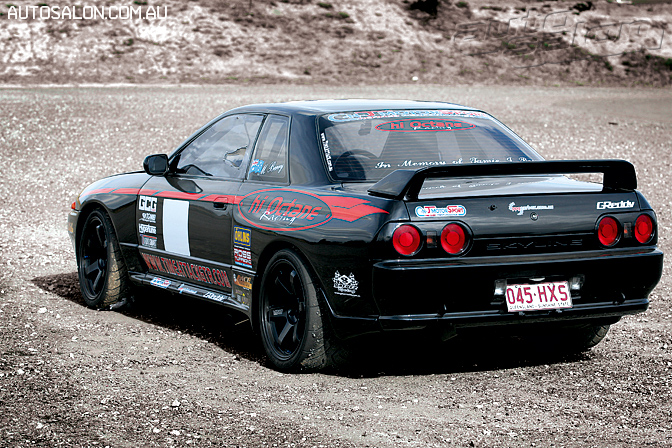 The R32 GT-R tipped the scales at 1300kg, a 180kg saving over the standard road vehicle. Not a bad figure considering the weight of its roll-cage. At the end of last year Berry ran the R32 down the quarter mile, clocking 9.7 seconds @ 143mph. This caused quite a stir, as many believed it had broken the world record for a low-mount turbo GT-R. It was still in time-attack trim too, with circuit alignment and semi-slick tires. After the run, Australia's drag racing governing body ANDRA banned it from racing until a parachute was fitted.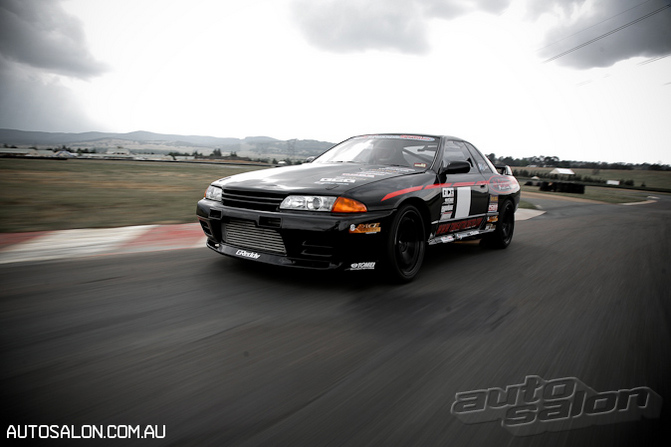 In December 2007, Mark Berry and Russell Newman traveled to Japan with their R32 to go head to head with Japan's best at the Tsukuba circuit. Although it clocked a sub-60 second laptime and finished in the Top 20, they were both disappointed. Not only were they suffering from a boost problem, but they also didn't have the suitable tire compounds to suit the winter conditions. Currently the plan is to ship the Hi-Octane Racing R34 to Japan at the end of this year for another crack at Tsukuba!
-Words by Charles Kha, Auto Salon Magazine
-Photos by Mark Pakula, Auto Salon Magazine