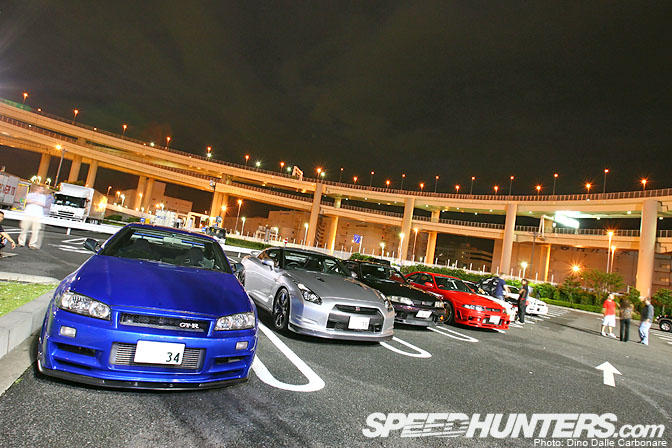 The night after the RX-7 annual meeting last week I found myself returning to Daikoku PA for yet another gathering. This time it was something closer to heart as I met up with a few friends of mine, most of them GT-R owners, as well as others with cool and interesting cars. For years now a bunch of us "foreigners" have been religiously meeting up on the second Wednesday of every month, setting up our meetings via the UK GT-R Register forum at GTR.co.uk.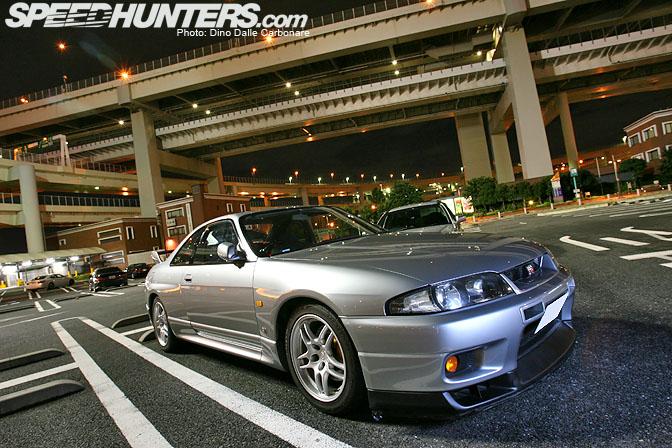 Unfortunately being the summer holidays for most meant that only a few of us were able to show up, but we still managed a pretty good turn-out nonetheless.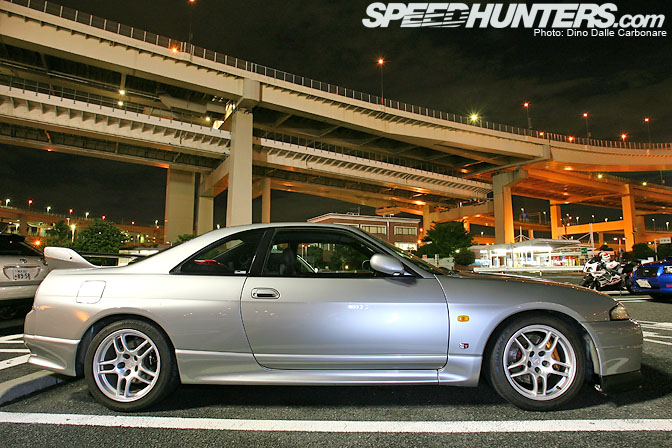 This deceptively stock looking BCNR33 is a bit of a monster packing a fully rebuilt engine as well as Nismo circuit suspension links.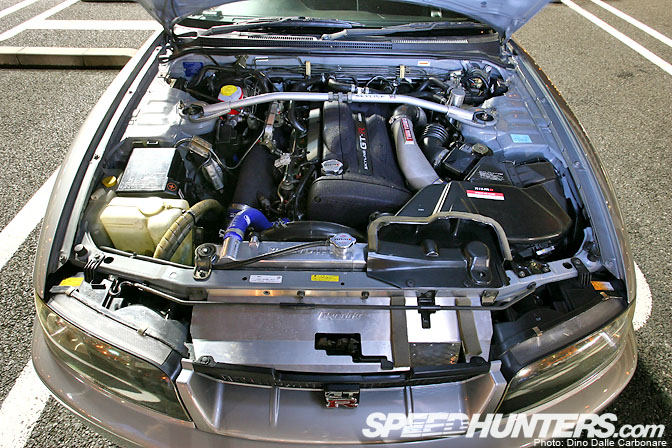 For anyone with a remote interest in GT-Rs, those blue powder coated engine covers should tell you all you need to know. That is of course the sign of a complete Mine's engine, this one fitted with a pair of HKS GT-SS turbines for optimal response. With over 500 PS on tap this is one mean machine and the owner has his fun with it on a regular basis at Fuji Speedway, as well as other circuits.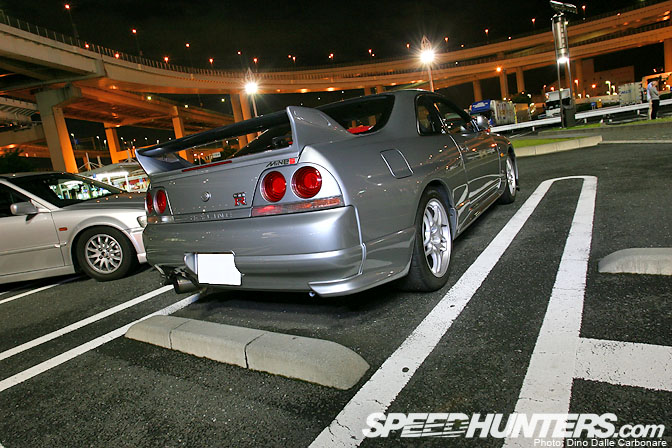 Here is a view from the rear, the Mine's sticker says it all!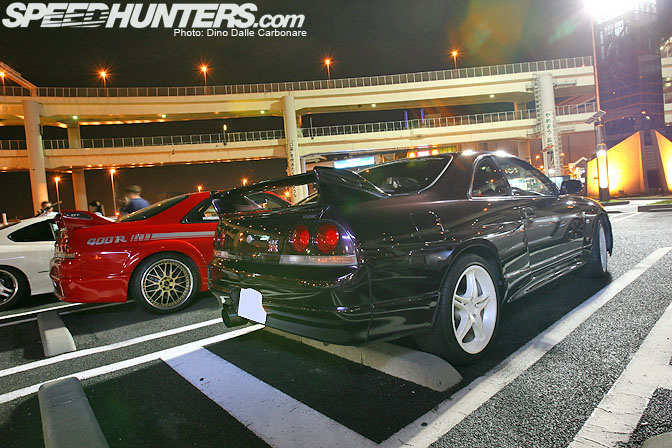 Another pair of R33's…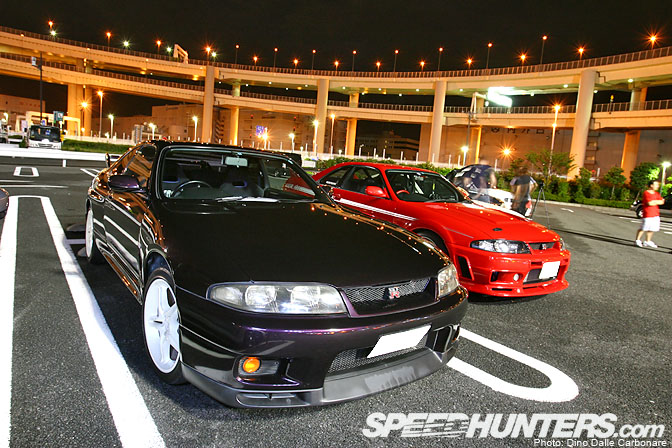 …this one finished off in one of the better known shades, Mindnight Purple.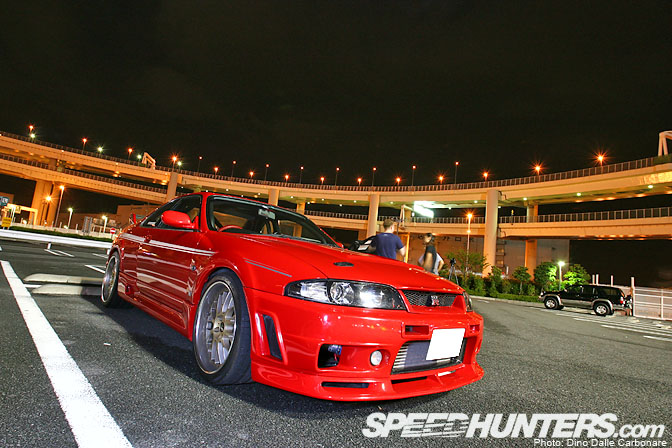 Take a look at this thing! The most unique Nismo 400R out there.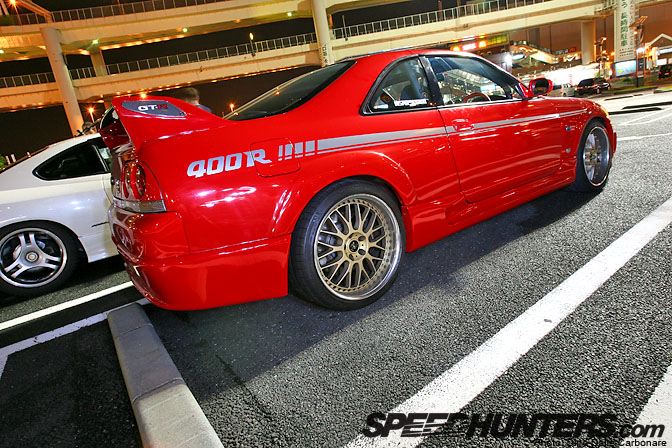 Ever since buying this car two years ago the owner has been using his mechanical skills to improve it…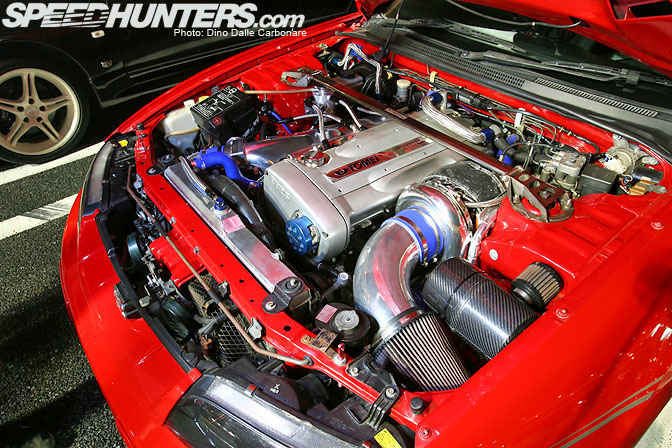 …starting with the engine. After a slight failure with a head component he decided to fix a few things, like redoing the whole fuel system, engine management and replacing the Trust T88 turbine with something a "little" bigger. I have been told it is not ready for a shoot yet, so will have to be a little more patient still.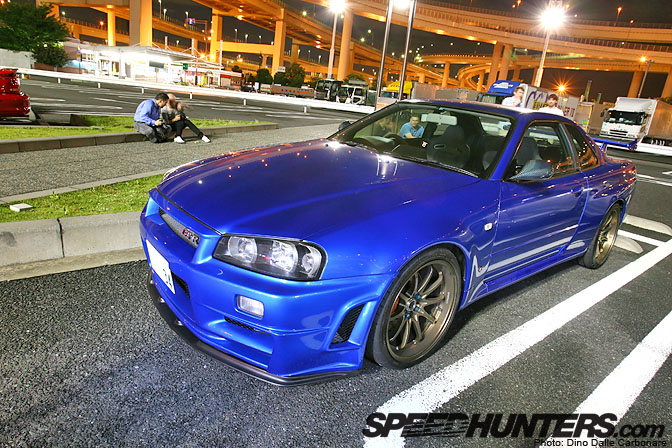 Moving on to the BNR34s, this is my ride. I will get into more detail on a full feature later on this month so make sure you don't miss it. I'm trying to use this potentially cool location to do a shoot at, so hopefully I can get some nice pix.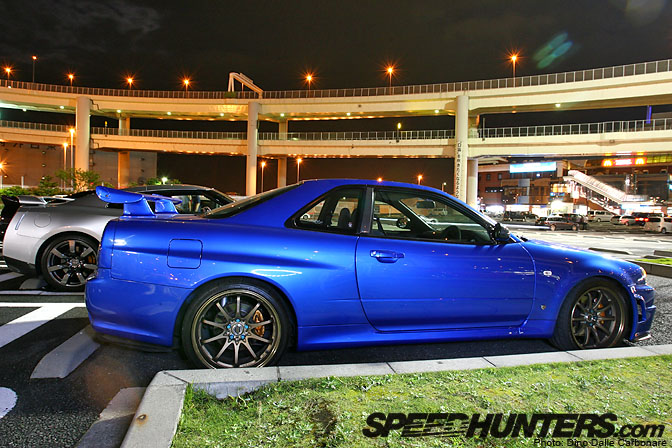 It's funny, I've had it for so long but never had the chance to go full out and take some nice pictures of it!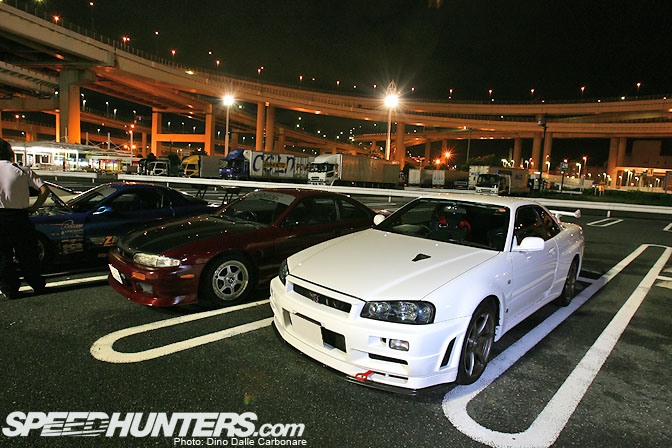 There was only one other R34 on the night, owned by a new guy I didn't have the chance to meet as I was too busy taking long exposure shots of each car. People must have thought I was being antisocial!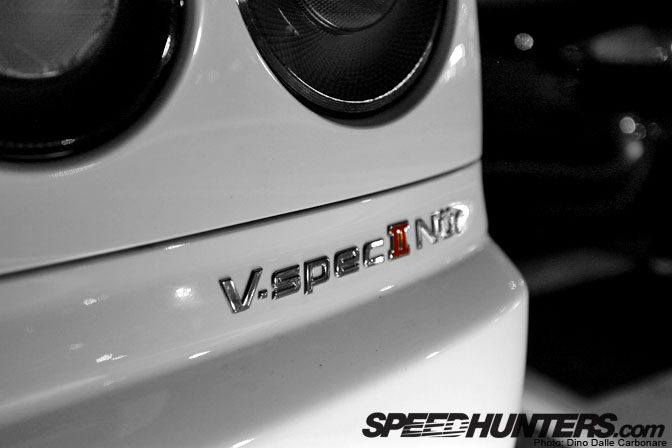 The best of the last real GT-Rs, the V-spec II Nur. Up front is a fully balanced N1 engine and N1 turbines capable of taking 600 HP with simple additions and tuning.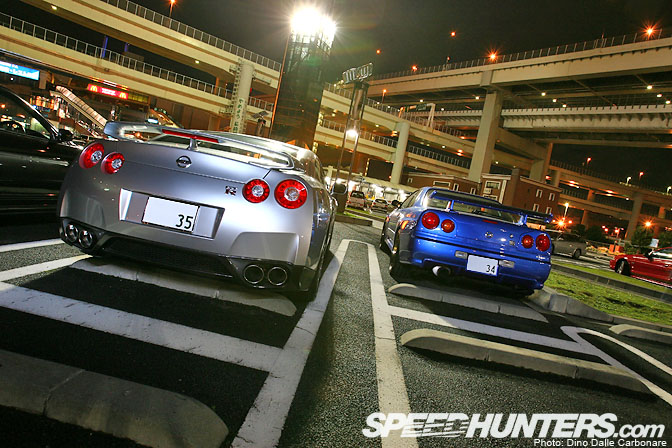 One lucky member of our "crew," I'm told this is the lingo I should use, owns this 2008 R35.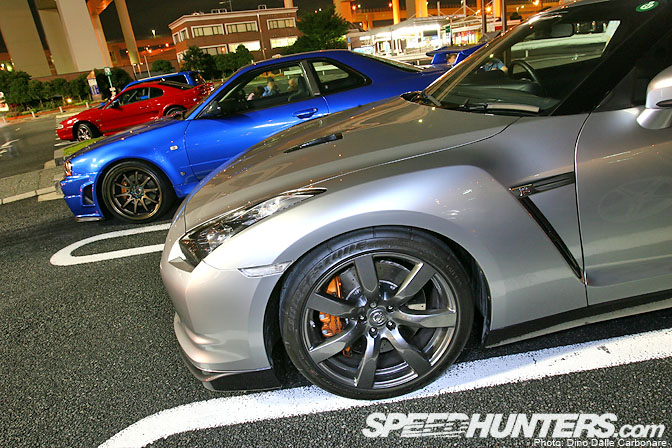 He was one of the first people to get his hands on the new GT-R and is impressed by the car's capabilities. He still owns a Top Secret tuned R34, which has been sent back to the UK. In fact it is such a special car I'm thinking of posting up a feature of it this month!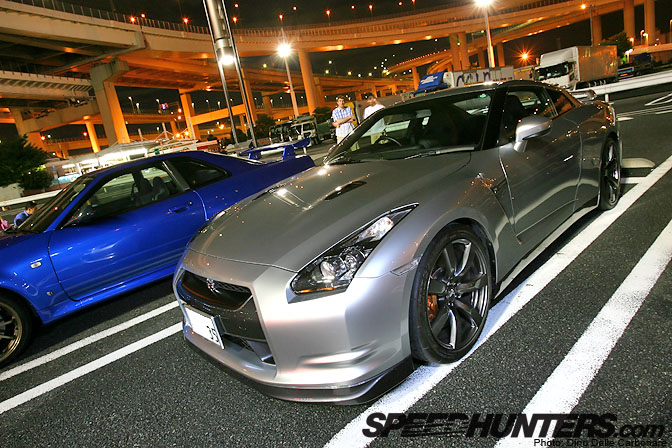 What do you think? Is it a worthy successor to the R34 looks wise?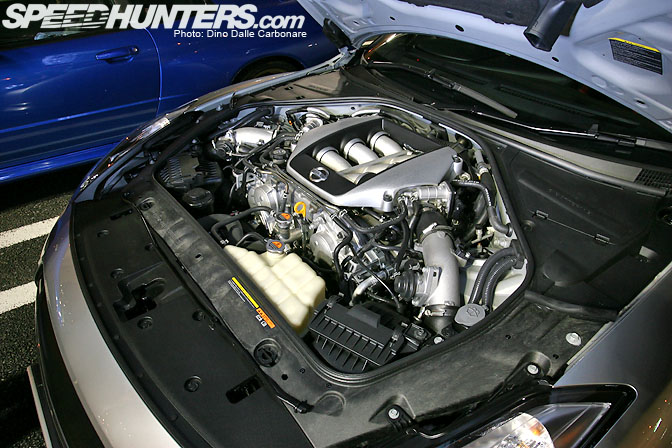 The VR38DETT. I'm sorry if I offend anyone, but compared to an RB26 it looks like a washing machine with a cheap plastic cover on it. I wish Nissan could have made more of an effort in making the engine bay look a little more special. Luckily the aftermarket is addressing this!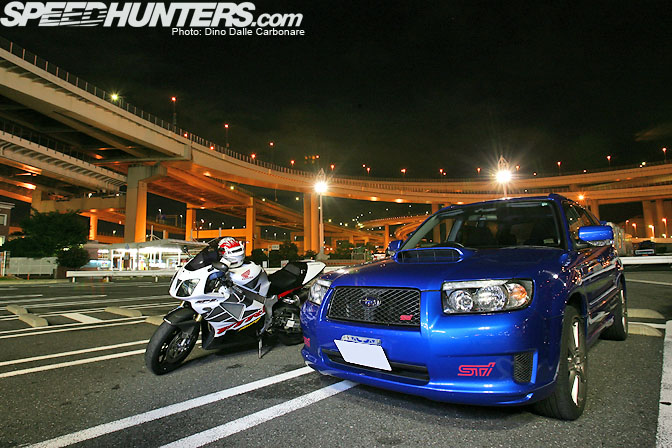 Not every foreigner that joins our meeting drives a GT-R, so there is always a good selection of other cars to check out too.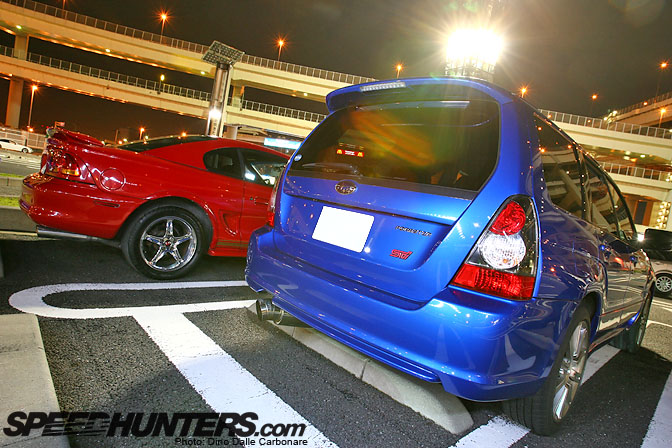 This Forester STi is quite the beast packing Impreza WRX STi running gear under its SUV-ish looking exterior. A recent addition to emphasize that boxer offset burble is the Gram Lights Dragon 57 titanium exhaust system from Rays Engineering. Yes that is a Mustang next to the Scooby, apologies to the owner if I forgot to take a shot.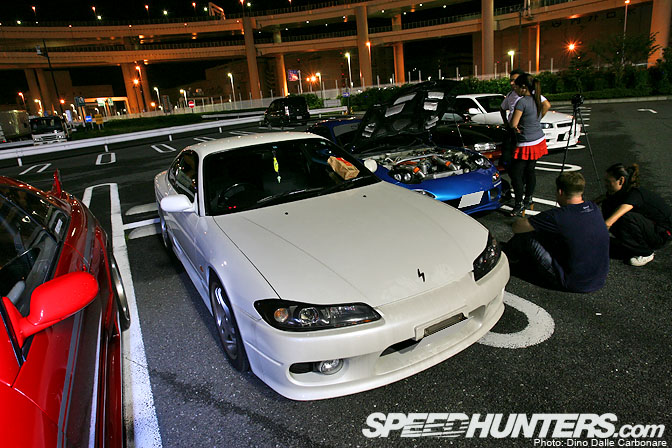 Stock S15 spec-S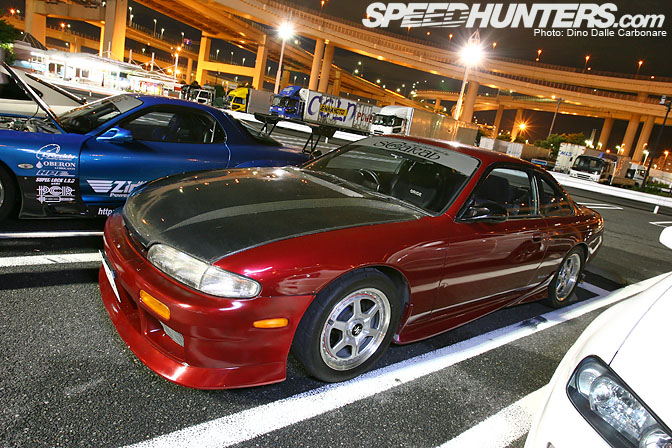 A period-correct first-series S14 Silvia, actually I'm not sure if they used to make carbon hoods back then?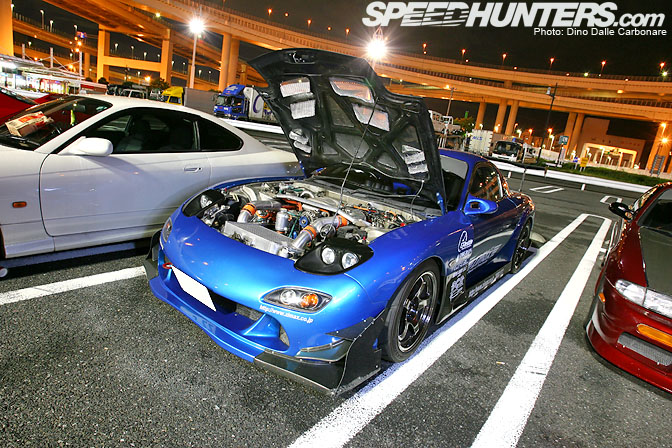 This RX-7 sported a complete Zimax engine and exterior, and I'm pretty sure I saw it the night before at the 7-7 event! Anyway I hope you enjoyed looking at our little meet, a gathering I will try to shoot more often, especially when the turnout is a little more substantial. Believe me there are a few cars that will blow your minds!
- Dino Dalle Carbonare