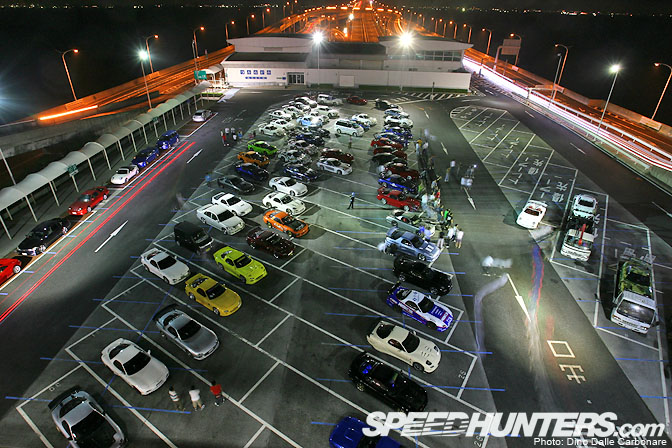 Following the Police's interruption at Daikoku a few of the cars from the "7-7″ annual meeting decided to go and meet up somewhere else. The destination was to be Umihotaru Parking Area, a man made island in the middle of the Tokyo Bay. This is where the Aqua Line tunnel pops up from and continues on, in the form of a 4.4 km bridge towards Kisarazu, in Chiba. Despite the $32 toll charge Umihotaru was a great place to head to as it meant that people could enjoy the drive through the tunnel, all 9.5 km of it. With no speed cameras and virtually no traffic at that time you can imagine the average speeds most cars were traveling at. Of course, I stuck to the 80 km/h limit.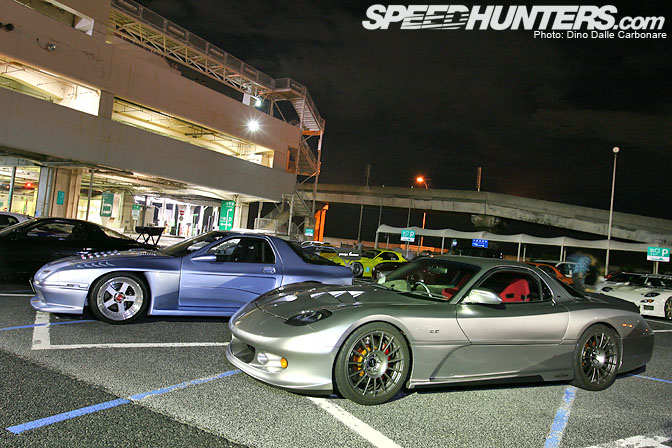 I was surprised that Koseki-san from Scoot hadn't showed up at Daikoku, but it turns out he was waiting for everyone at Umihotaru, knowing the Police would spoil things early in the night. His 4-rotor FD was looking as stunning as ever and was parked up next to another special car…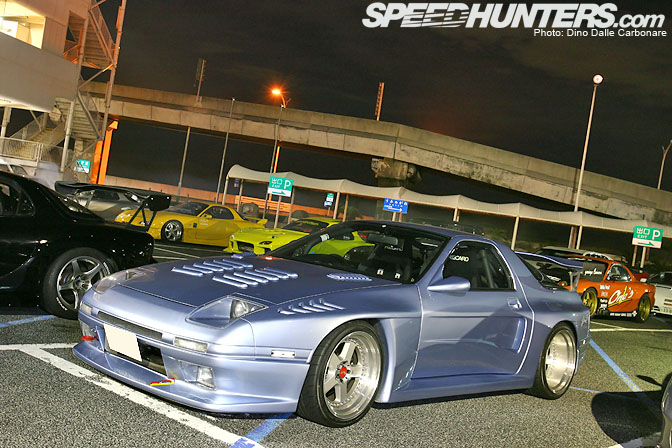 …this wide-body FC. The owner, Obata-san, is responsible for most of the exterior, having creating the countless bespoke parts needed to put together such a unique looking car. Under the hood is a Scoot built T88-boosted 13B out of an FD, developing 550 PS! For me the coolest thing on this car are the old-school Panasport wheels, just look at the dish on the 11-inch wide rears!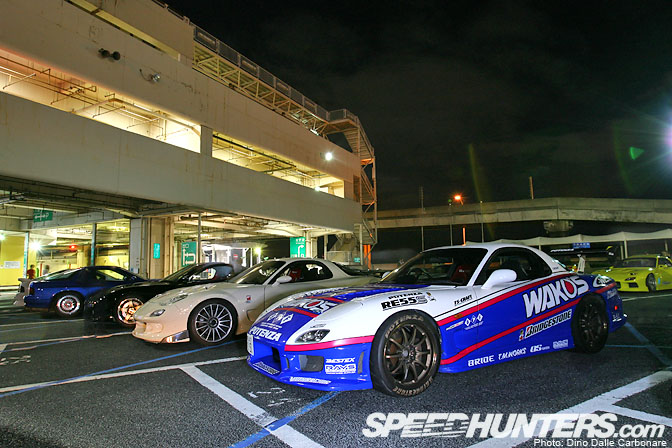 I was expecting to see the same cars from Daikoku, but was pleasantly surprised with yet another varied selection of customized rotaries!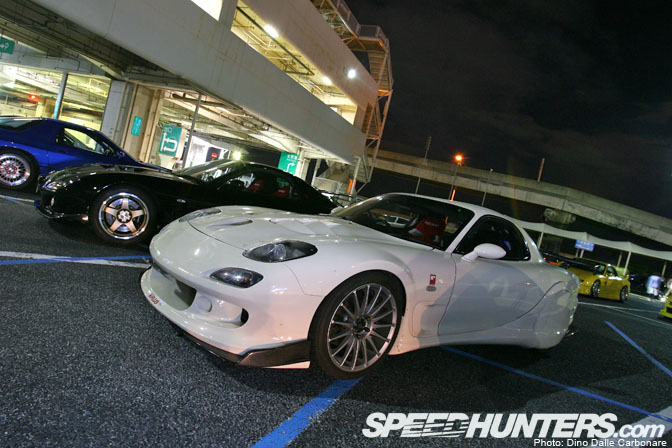 That rear wheel-arch cover is just what you need when doing top speed runs on the Aqua Line!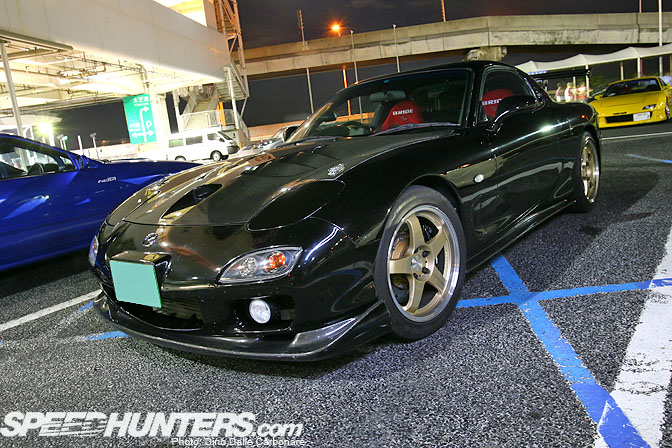 This Knight Sports tuned 450PS FD is owned by a friend of mine who was beginning to think about changing his 5-spoke MazdaSpeed wheels for something else, after seeing all the cars at Daikoku and Umihotaru.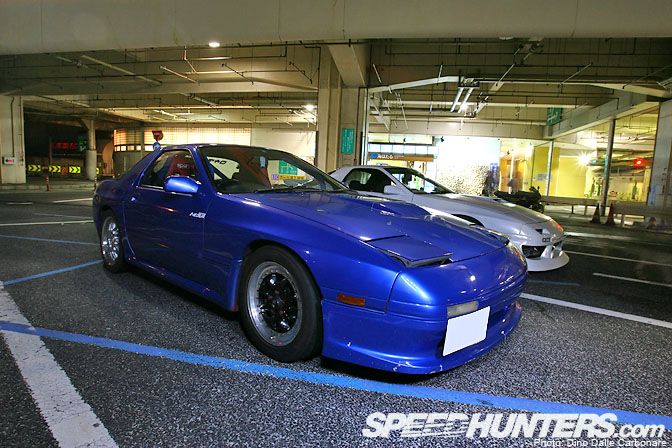 I don't know what it is but when I see a nice and simple FC like this I go weak at the knees. It just has so much character, and character goes a long way!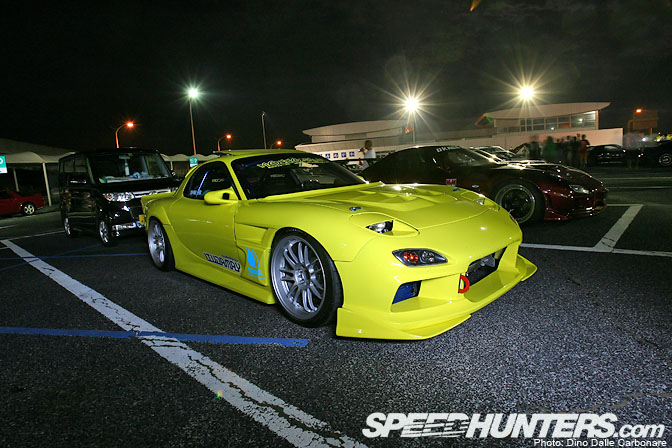 I thought these Volk RE30s looked especially good on this yellow FD. It was sitting pretty darn well on them.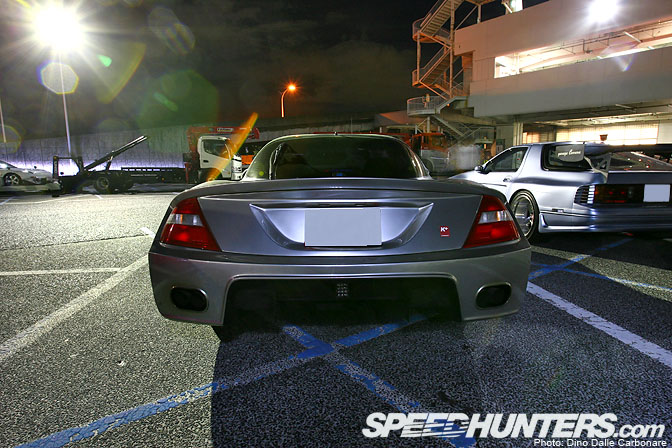 Rear view of the Scoot FD, the Y34 tail-lights are the same as on the red Tamon Design RX-7 but the areas around the exhaust outlets are different.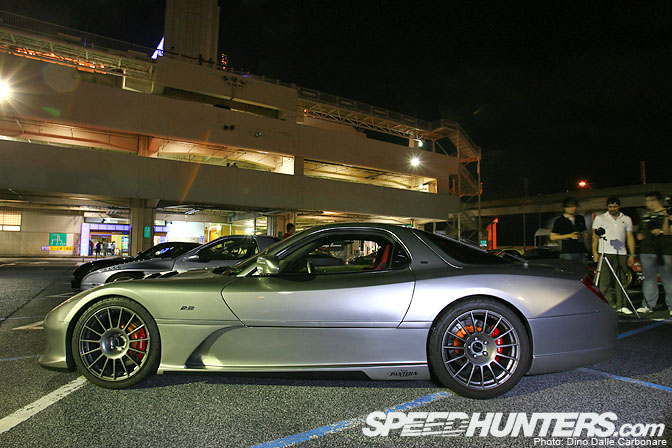 Just look at that profile, if it wasn't for the roof-line it would be very hard to figure out what car it was based on.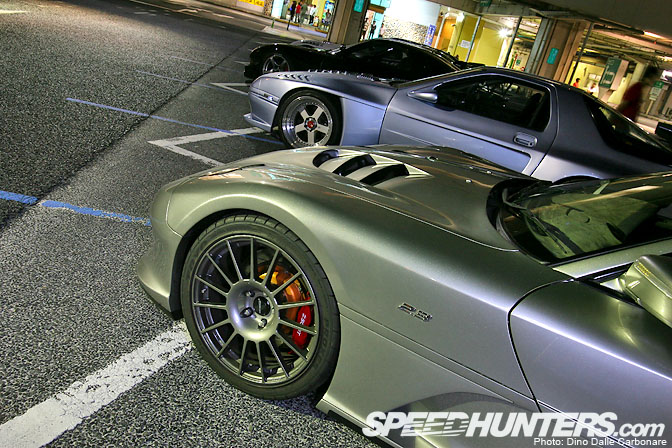 I have always liked the subtle 2.3 badge on the fenders, it hints that this is not a regular FD, far from it in fact. Koseki-san built the 4-rotor engine himself creating the custom eccentric shaft and joining the two 12A engines together. It cranks out 400 PS at 8,000 rpm, but during initial tests Koseki-san saw a lot more power when letting the motor rev to 10,000 rpm! Engine management is taken care by two Apexi Power FC ECUs. The sound that this 4-rotor develops is simply incredible. The low pitched grumbling idle gives way to an F1-like instantaneous bark of revs, it has to be heard to be believed…more on this soon.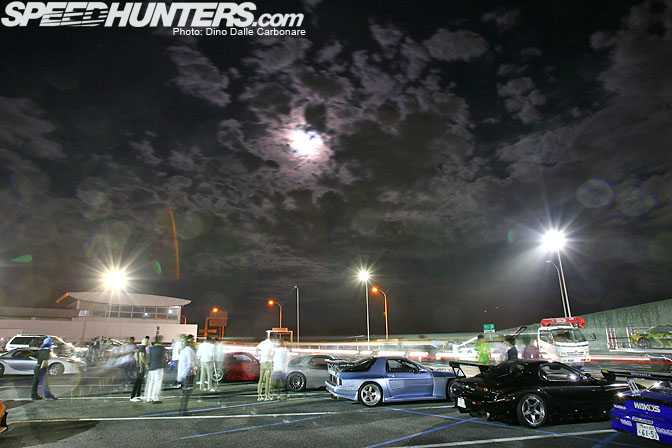 The atmosphere was even more relaxed than at Daikoku, with owners chatting to each other about their cars.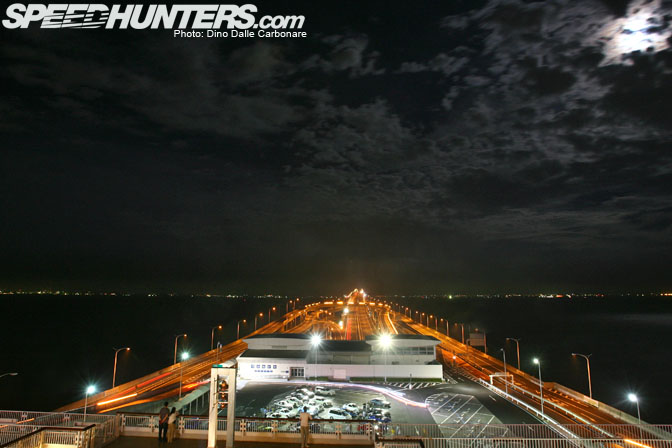 This is the view from the top of Umihotaru, looking at the Chiba side where the long bridge stretches into the opposite side of the bay. The Aqua Line has never really attracted that great deal of traffic, its prohibitive tolls putting most people off. It was opened back in 1997, and took 31 years to complete at a massive cost of US$11.2 billion!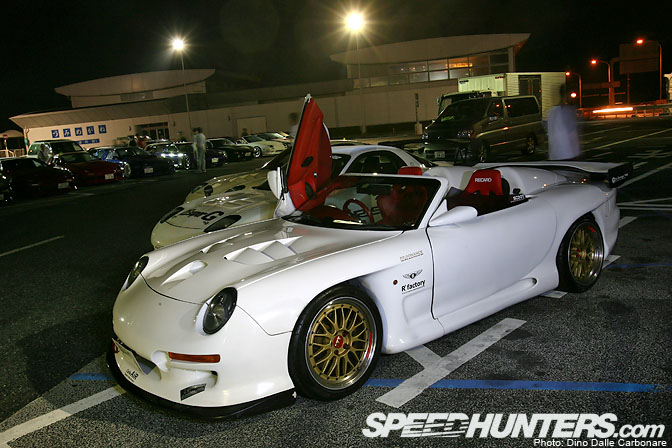 As I was up in the roof taking the previous picture I saw this convertible FD arrive in the parking area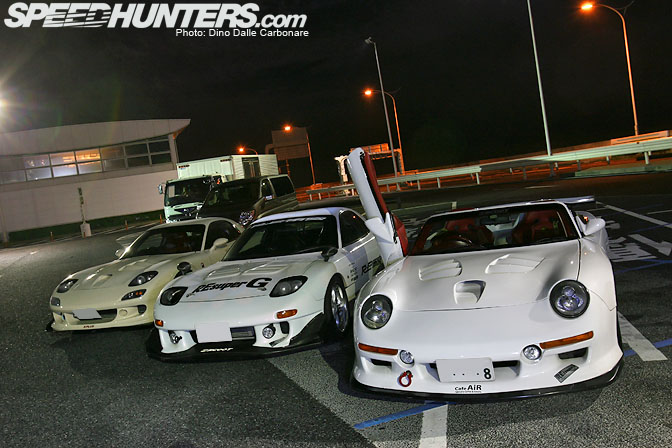 It quickly lined up with a few other cars ready for the owners to start taking pictures.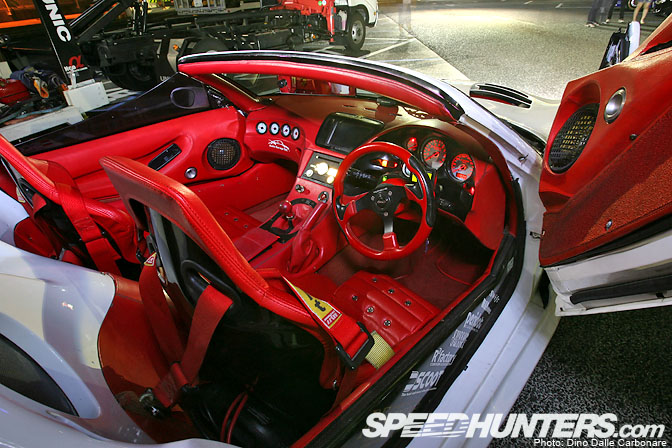 I'm not too sure about the history of this car but it is probably one of the most extreme conversions I have seen done to an FD. Just look at that interior with custom center console.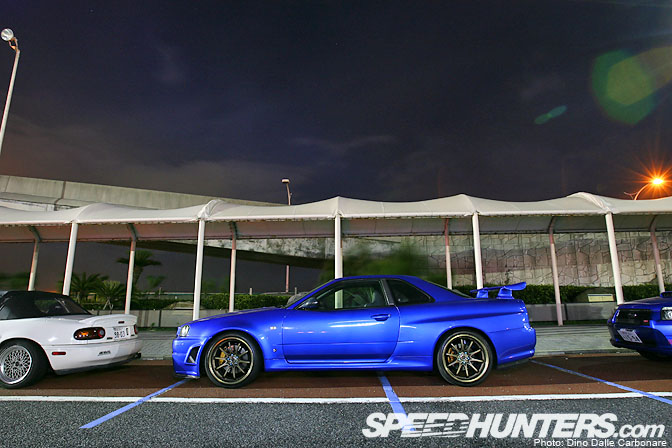 As cars began to slowly leave I called it a night and grabbed the R34 to head back home. I had to take a final picture, being in the middle of the Tokyo Bay it would have been a pity not to do justice to the Bayside Blue color. As Tamura-san of Nissan once told me, this hue was actually mixed up to look especially good under flood lights of parking areas. That, is certainly does! That's it for RX-7s, but next up is yet more more night time car meet coverage, this time back at Daikoku for a small get together with a few friends.
– Dino Dalle Carbonare