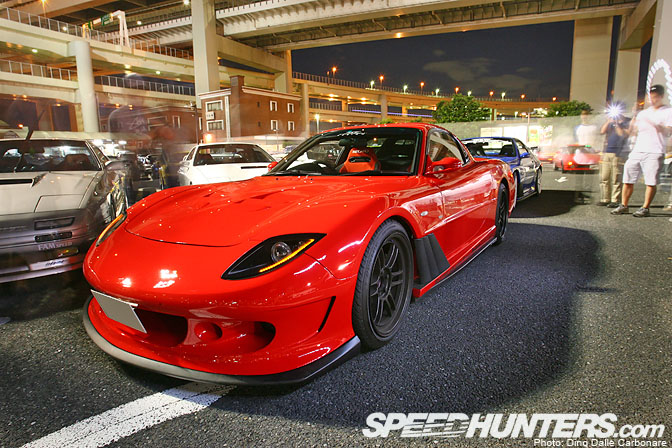 Time now to head back to Daikoku to take a look at yet more rotary maddness from the "7-7" annual meeting. As night-time well and truly set in even more 7s began to arrive as people managed to jump in their cars after work and make the drive over to Japan's most famous parking area. For me the "best of meeting" award definitely has to go to the red Tamon Design FD in the opening picture. This is a kit that has been around for a while but in this latest version is sporting a new headlight design which looks sensational.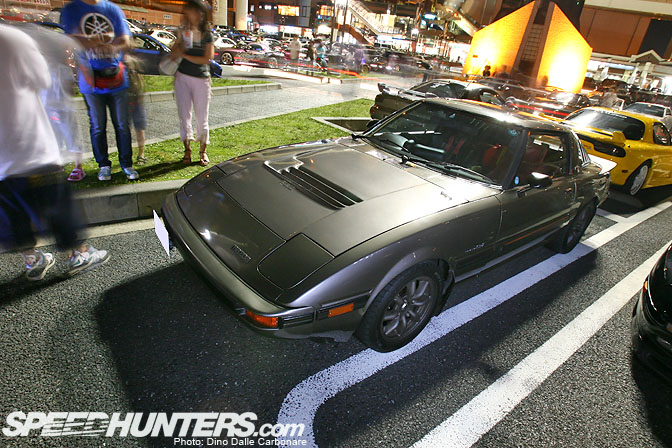 I appreciated the clean look of this SA, for me any car running Watanabes gets the thumbs up!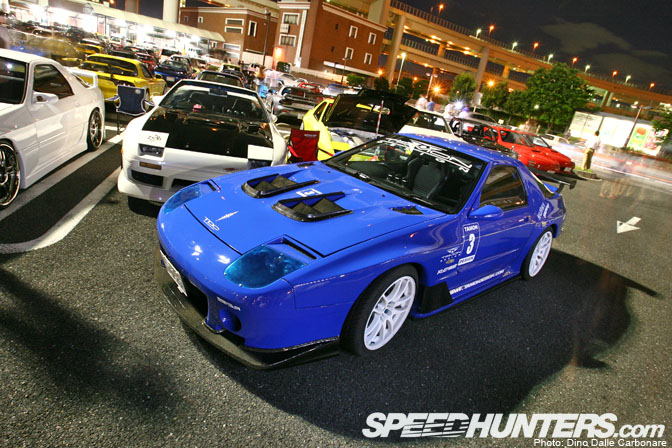 Here is another Tamon Design car, this time an FC sporting a very aggressive full body conversion. There is a lot of carbon detailing on the front bumper and hood, not forgetting those GT-like side vents after the front fenders.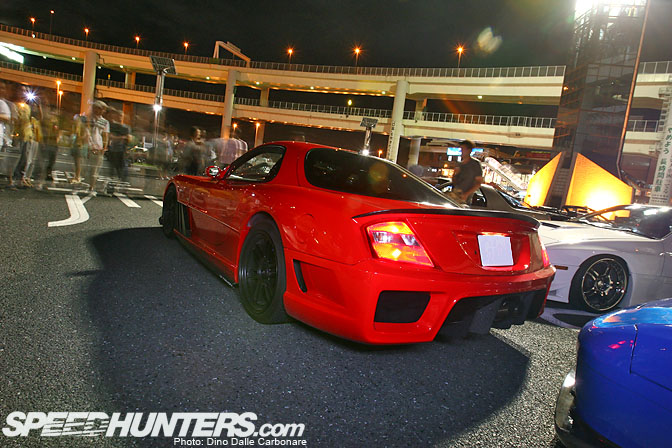 Take a look at the rear end of the Tamon FD. The Y34 Cedric/Gloria tail lights give a totally new look to the RX-7s rear, and how about that center exit exhaust that pops out from the carbon diffuser! We will be seeing another car sporting an almost identical rear end in the final part of the "7-7" coverage, so don't miss that.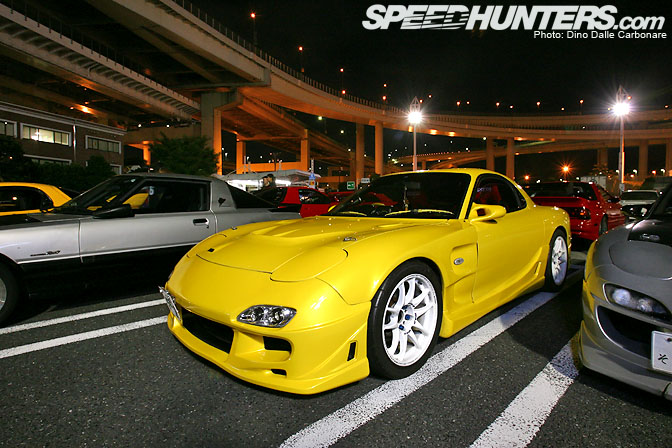 The variety of body kits available for the FD is simply mind-blowing!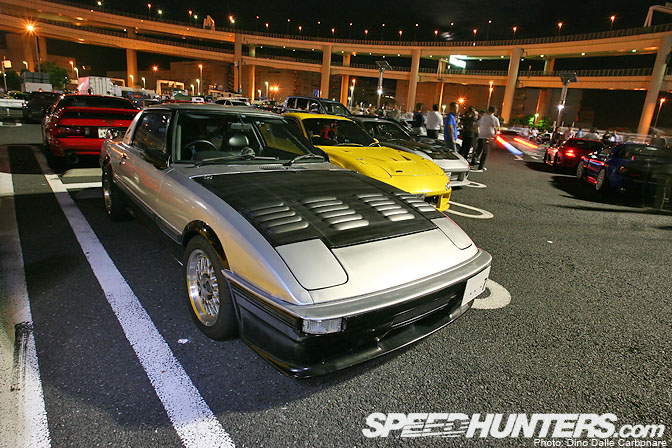 As I was checking this SA out a young kid asked me if I wanted to take a look at his "original" RX-7 which was parked on the other side of the car park…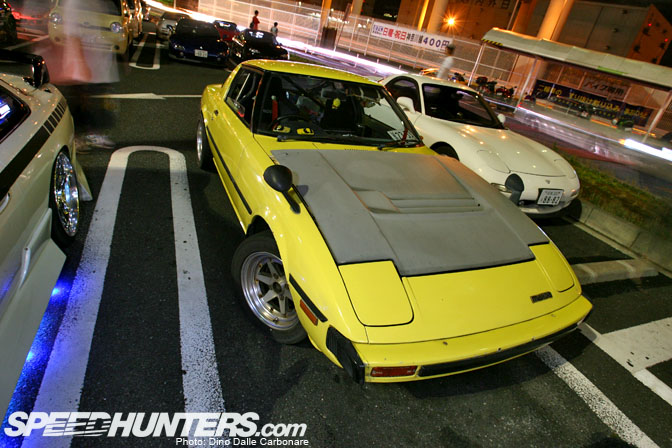 …I certainly didn't refuse and followed him back to his ride which turned out to be quite the looker. This 1978 model has been kept very simple inside and out…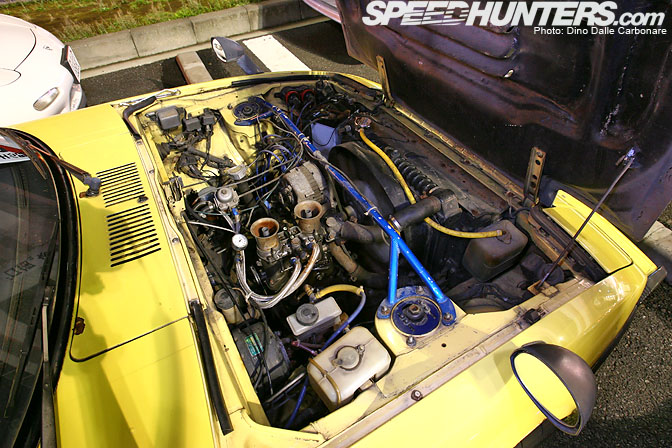 …while it's NA 12A twin-rotor sounded great through the custom exhaust…if a little smelly!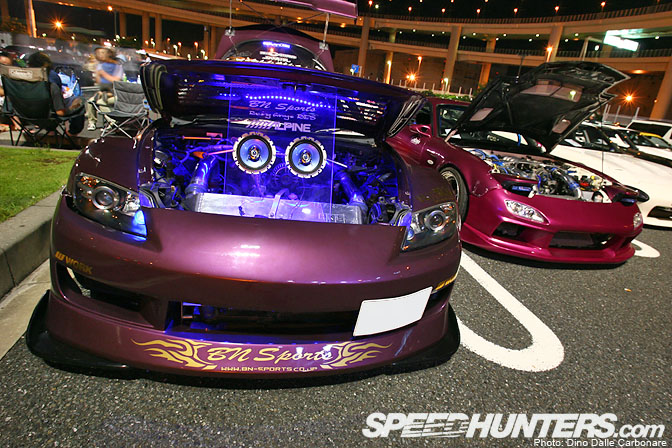 There were a few RX-8s at Daikoku too, this particular BN Sports sponsored one was sporting a 13B swap. There was a serious amount of Alpine audio equipment fitted in the interior, as well as those curiously positioned speakers up front in the engine bay!?!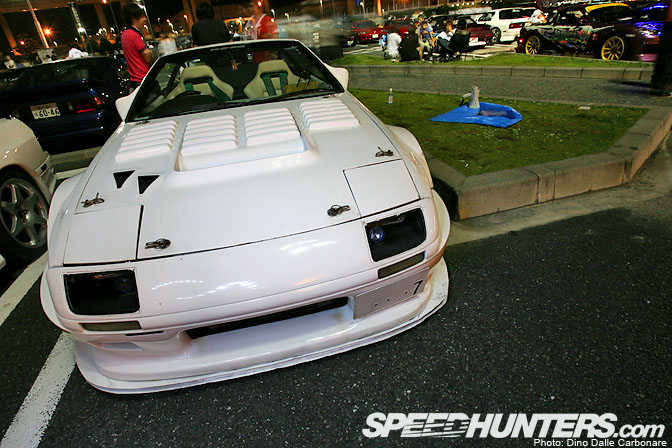 The owner of this convertible FC went FRP crazy, a very rare car to see even in Japan. I'm liking the 80's hood venting!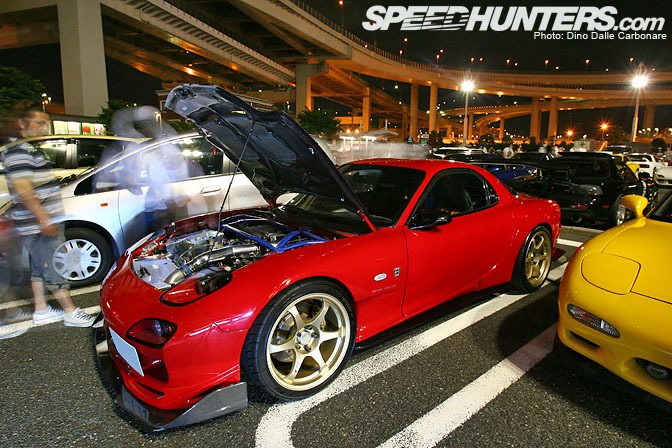 This Garage Kagotani tuned FD sat very well on its SSR wheels and the engine bay looked just as sorted, with a single turbo conversion and a V-mounted intercooler and radiator set-up.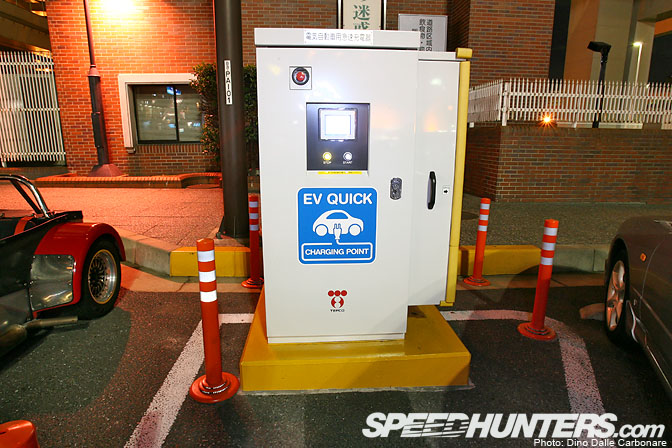 I spotted this Electric Vehicle charging point in a far corner of Daikoku, something I have never before seen even in central Tokyo. I started to fiddle around to see how much it would cost to charge up a battery, but couldn't figure it out. In fact I'm pretty sure it's free! In a few decades we will all be looking for these little boxes, how depressing!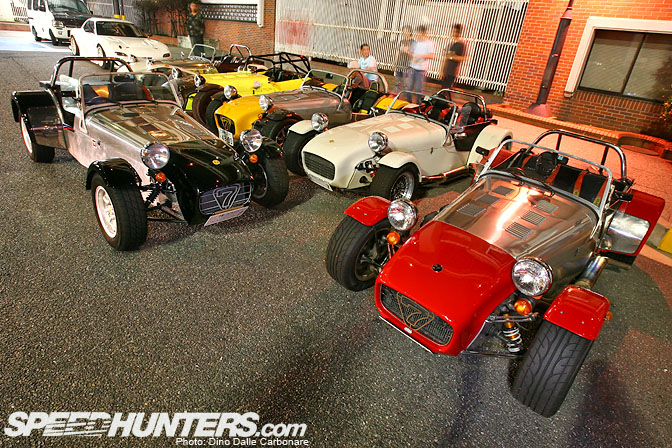 Right next to the EV charging point was a tiny Lotus 7 meeting, poor guys were forced to find a quiet corner away from the hustle and bustle of the rotor heads! I felt sorry for them, it was "7-7" for them too!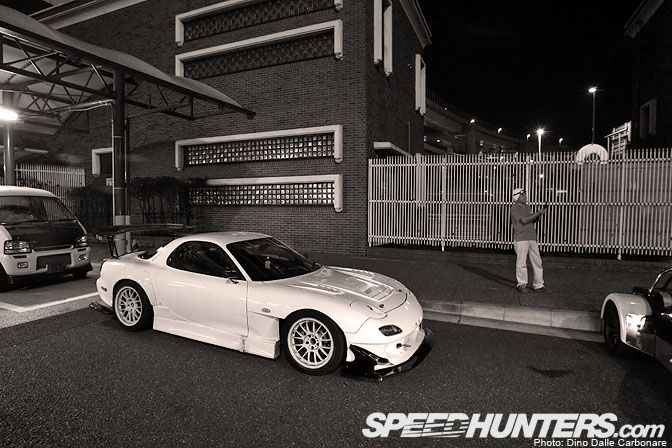 I think white is one of the best colors for the FD, and loved how this car sat against the brick wall behind it.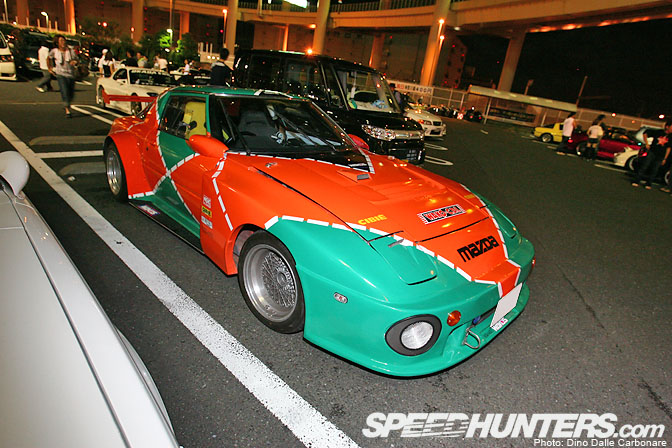 You want extreme? Check out this widebody SA race car replica…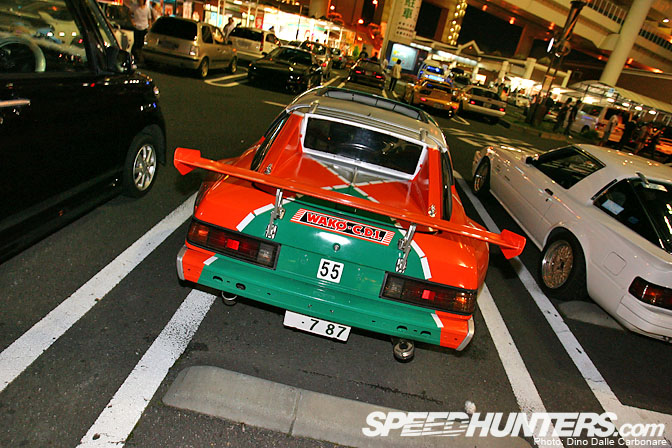 …painted in the same livery as the legendary 4-rotor Group C 787B! Check out the number plate.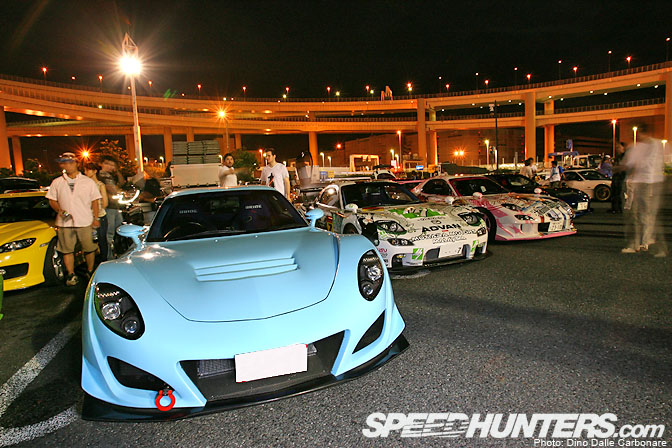 Around 10pm I noticed that some more cars had arrived back at the top of the parking area where I had left my car. It was the RE Amemiya crew that had showed up with a pretty impressive number of demo cars including the Genki 7 above.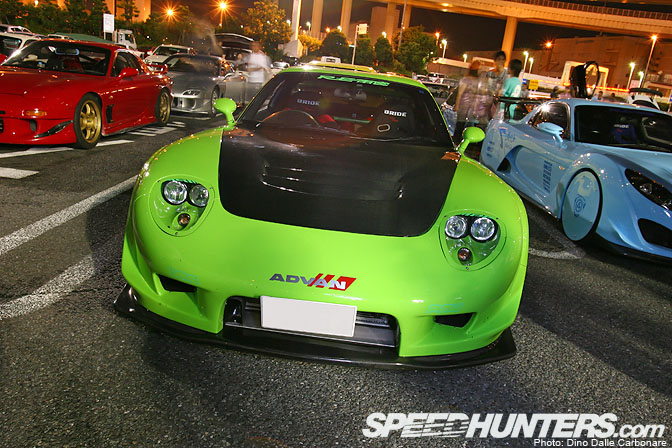 This is the car Amemiya-san rolled in with, the company's latest demo car sporting the full Super GReddy 3 conversion. The engine is side ported and developing over 400 PS. You can see the wheel covers fitted to the blue Genki 7 too, I still can't believe they drilled the Enkei's out to fit them! Sacrilege!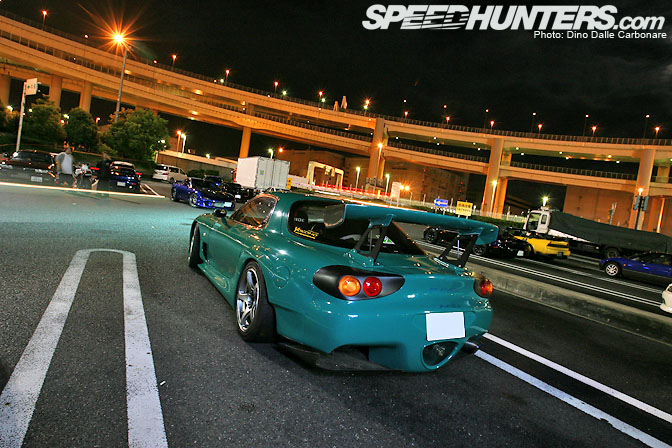 Though this was a very curious color selection to go for…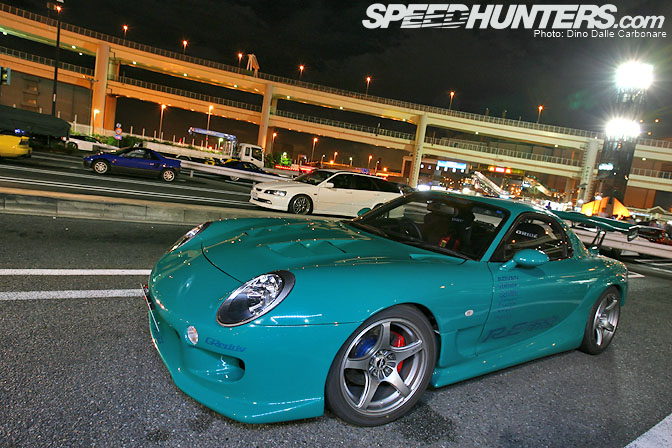 …but it certainly looked the part on this fully "Amemiyaed" (new word for the day!) FD. From this angle and on this specific car the 997 headlights didn't look so bad!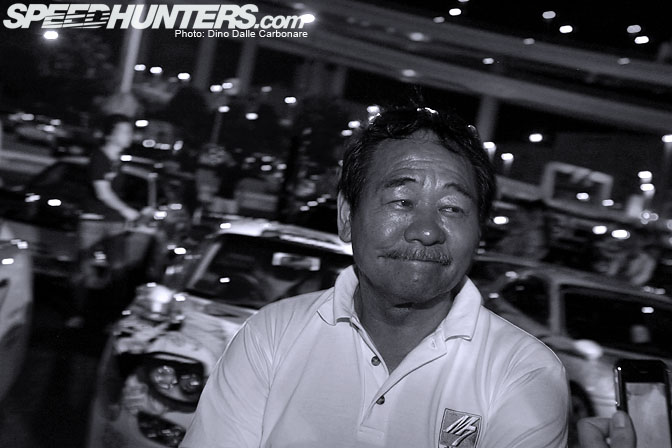 The man himself, Mr. Amemiya. As always he comes over personally for these meetings and this time was being followed around by the Option Video cameras and a very small monkey-looking guy…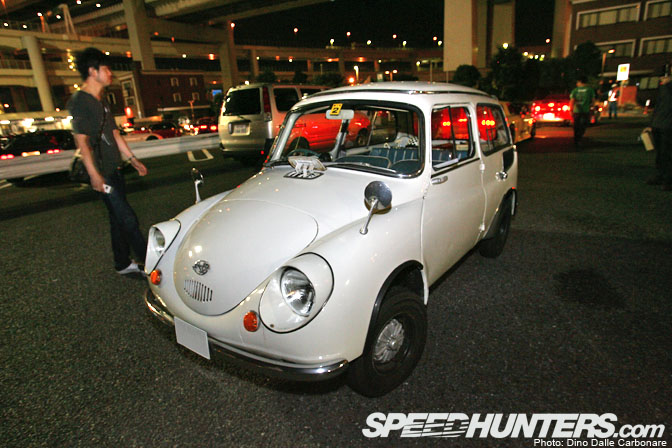 …who had dropped by Daikoku in this Subaru 360 station wagon known as the "Custom." I am of course talking about Nomuken, who was in presenter-mode for the night.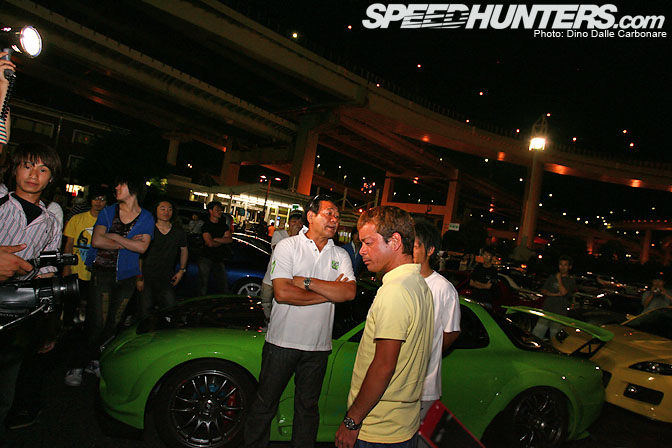 Here he is looking very pensive. The guy next to him is fellow D1 driver, Suenaga-san.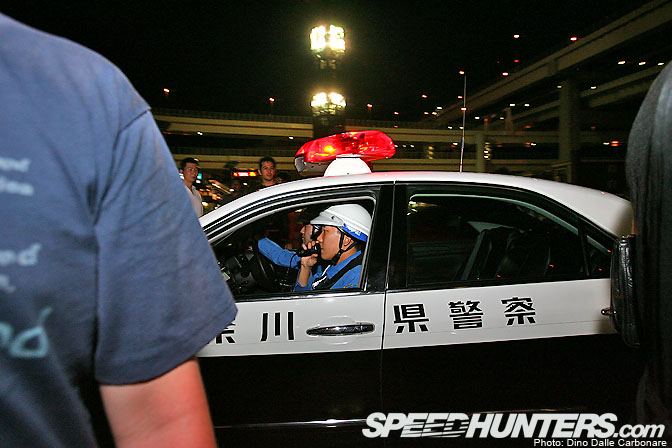 As ever the Police, who strangely enough have their HQ right in Daikoku PA (!?), cut the meeting short. They began driving around with their patrol cars blaring out via the PA system that everyone should leave. 20 minutes later most people had taken off, but as I was about to leave Ken Amemiya stopped by my car and told me that everyone was heading to Umihotaru PA, the massive parking area half way across the famous Aqua Line tunnel, bang in the middle of the Tokyo bay. Not having had enough of buzzing rotaries I decided to head over and see what was going on…
Stay tuned for more from the relocated "7-7" meet!
- Dino Dalle Carbonare