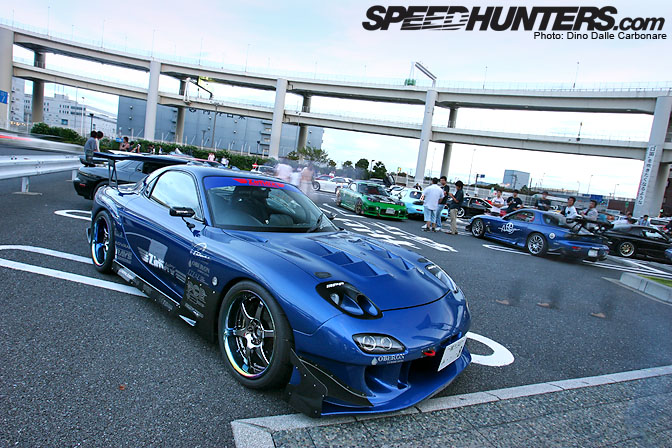 July 7th is a rather special day in Japan, if you are into rotaries that is. Every year on this day RX-7 owners flock to the Daikoku Parking Area under the Yokohama Bay Bridge for what has to be one of the biggest car gatherings of the year. Like most meetings of this nature it is all organized and coordinated online via various local clubs scattered around the country.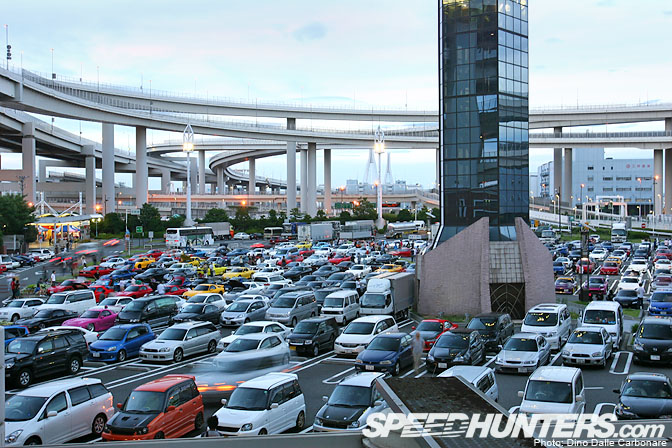 As I arrived just after 6 pm there was already a pretty good number of cars slowly taking over the top part of the massive car park. You can see the wild colors of the tuned machinery in the background!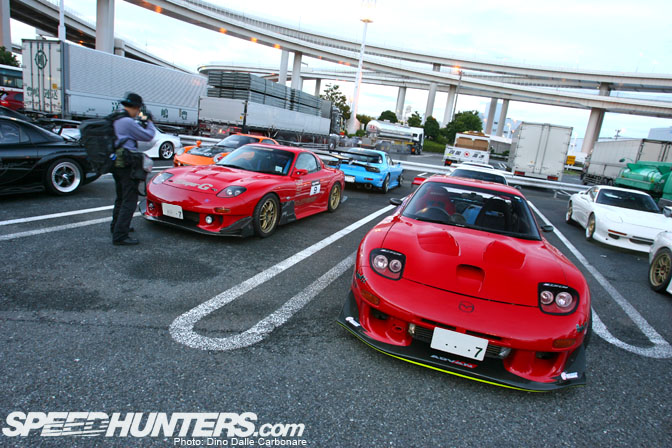 The RX-7 has to be one of the prettiest sports car to come out of Japan. The things that can be done to them on an aesthetic level is simply amazing, from your fixed headlight conversion as seen on these examples…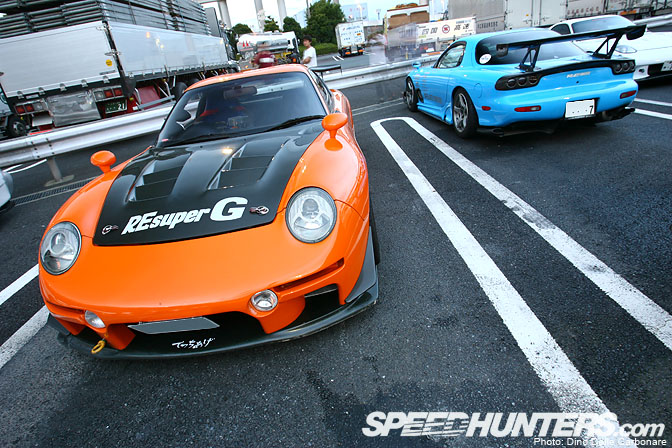 …to slightly more extreme face changes like this RE Amemiya Super GReddy sporting Porsche 997 projectors.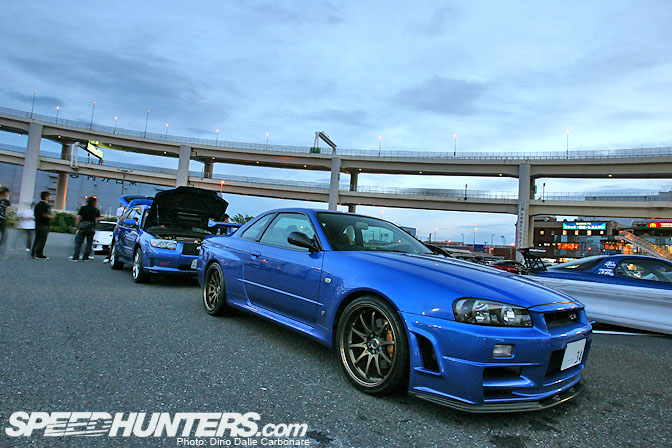 No this is not a mistake, it is AWD month after all! I took the R34 out for some fun yesterday, after it was stuck in the garage for 3 months with a dead battery. The new Optima battery has got so much juice it is impressive just how effortlessly the engine sparks into life compared to before. I saw a couple of other GT-R owners that had come to check out all those little buzzing rotaries.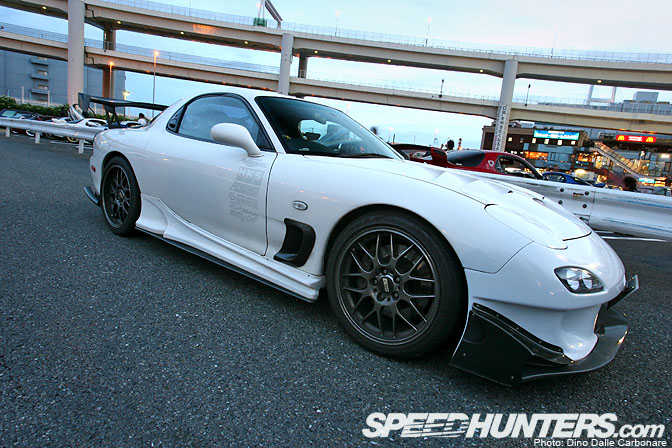 I loved the clean look of this FD with the aggressive RE Amemiya front bumper and nice carbon detailing. The BBS wheels finished the car off rather well.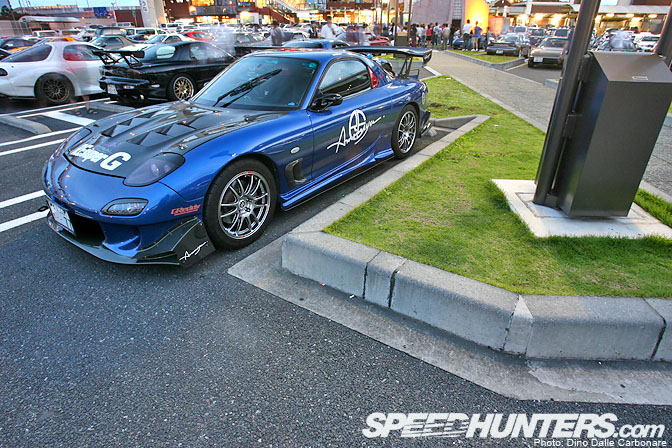 Here is the same bumper fitted to this blue FD, along with tons of other parts from the rotary tuner's catalogue.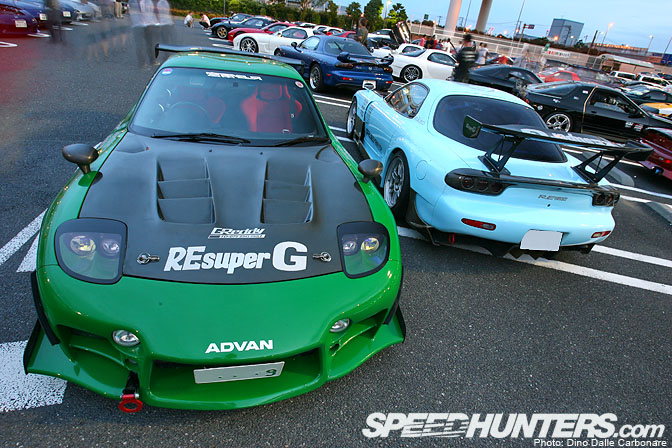 The owner of this Super GReddy FD made the long drive up from Osaka to attend the meeting, parking the car across a couple of spots to keep a few spaces for his friends.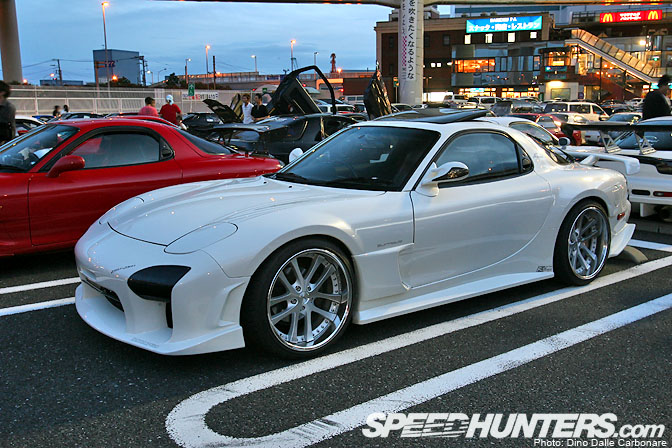 This pearl white A-spec grabbed my attention as it sported a different look to all the RE Amemiya kitted cars at the meet. The front Burnout GT fenders add a nice angular profile to the wheel arches, and it looks like the rear over fenders, from the same company, have been blended into the bodywork.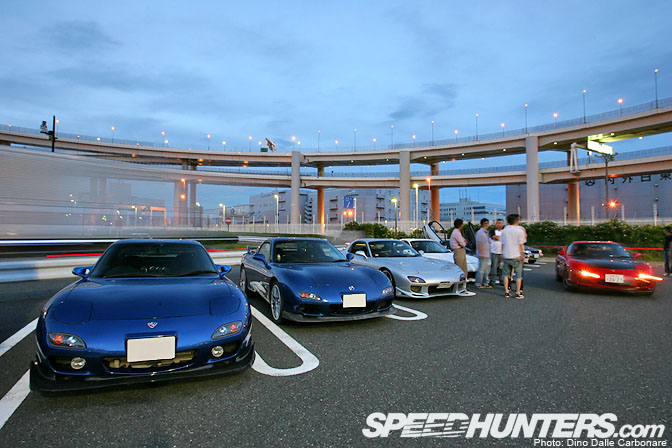 As the evening got on cars kept arriving and taking up the empty spaces.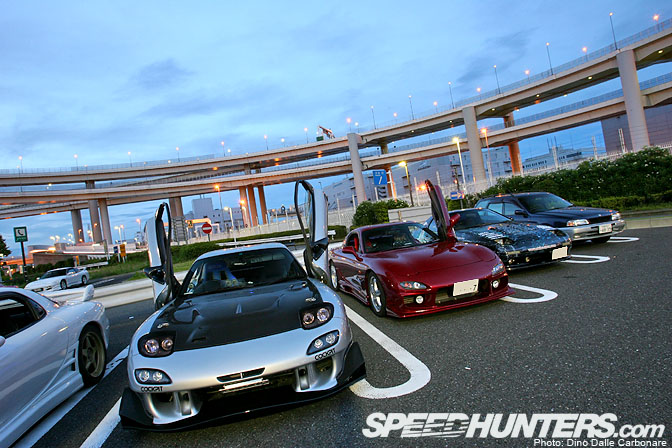 Vertical doors actually look pretty good on FD's, but I still don't quite get why people bother as it looks pretty hard to get in and out, plus I dread to think how much weight you would need to add to get all the hinges and struts in there!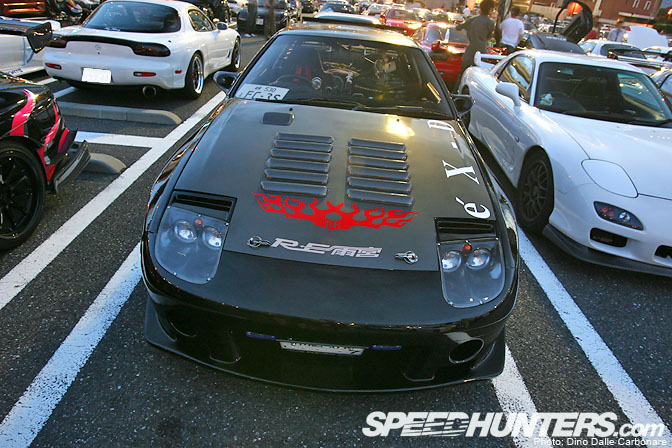 Don't worry I didn't forget the good old FC, probably still my favorite generation of RX-7.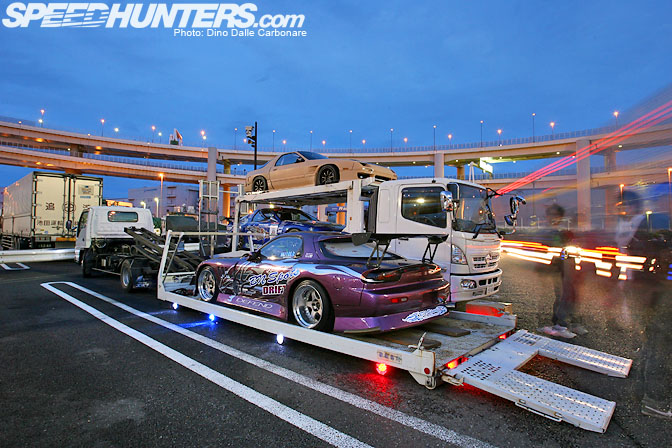 At one point I noticed these two transporters parking in the far back, so made my way over to check out what was going on. BN Sports had dropped by with one of their drift cars and began to unload it…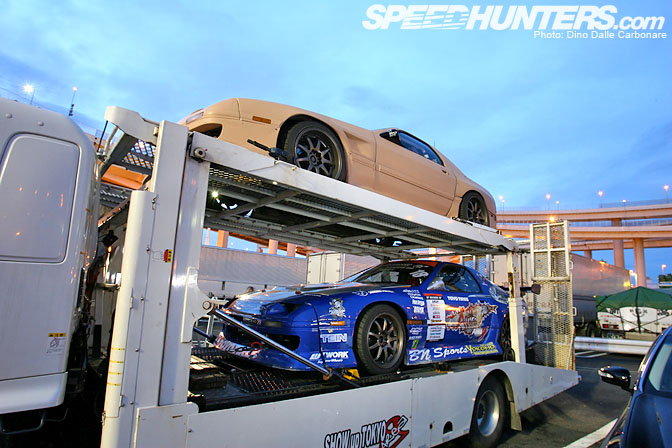 …while driving the other truck was Drift Samurai who brought his D1 FC3S for people to take a look at. These two cars were never unloaded so I couldn't get any more pictures of the matte brown FC on top!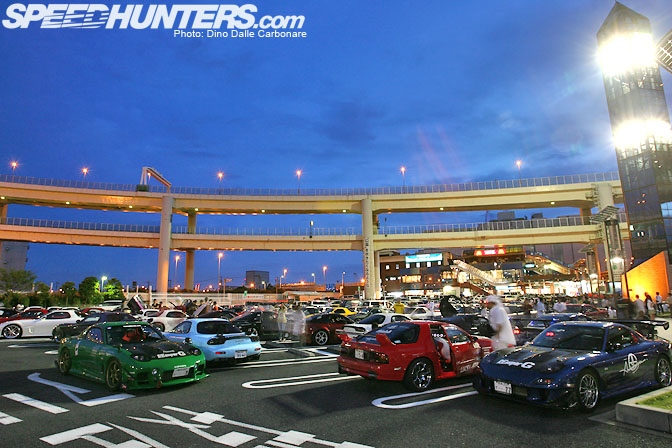 Daikoku PA is very well illuminated, as you can see from that massive center tower, making it the perfect place to hold such gatherings.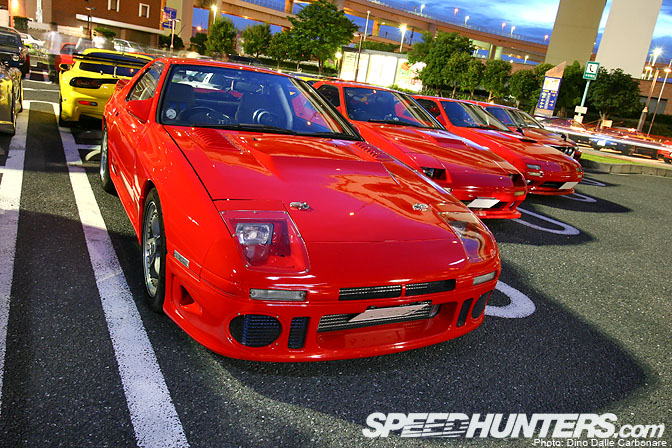 The FC club took over one strip of parking spaces creating this very nice lineup!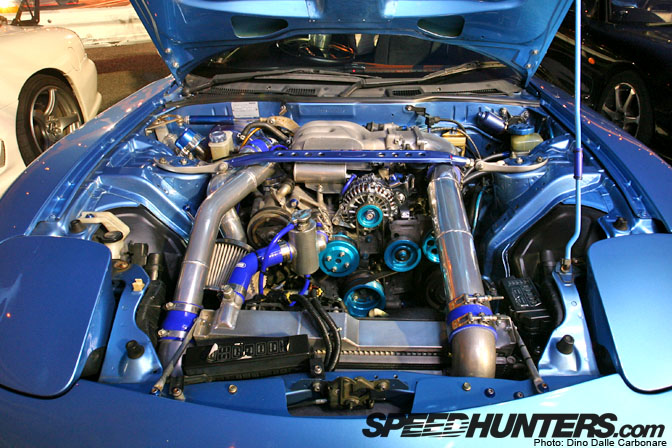 This FD3S was running around 400 PS, and sounded pretty mean when it arrived at the parking area.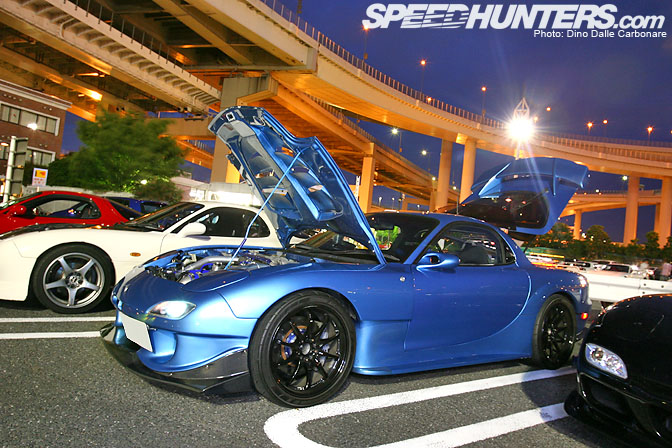 It's good to know the wild looks are backed up by an equally wild engine, and to top it off this FD was fitted with an HKS dog-box! The black CE28N's were the coolest wheels I saw last night, but then again I'm biased, so don't take my word for it.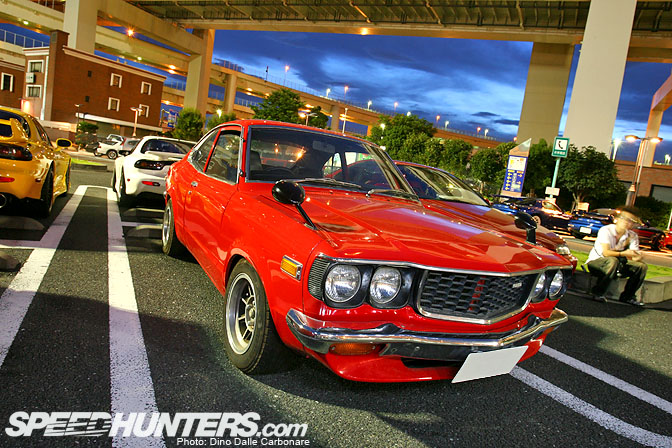 I spotted this very clean RX-3 among the more modern rotary powered machinery, but it wasn't alone…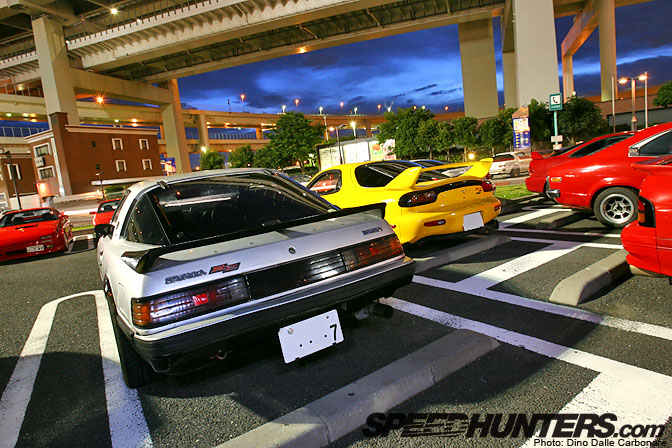 …as there were also quite a few SA22As, the original RX-7!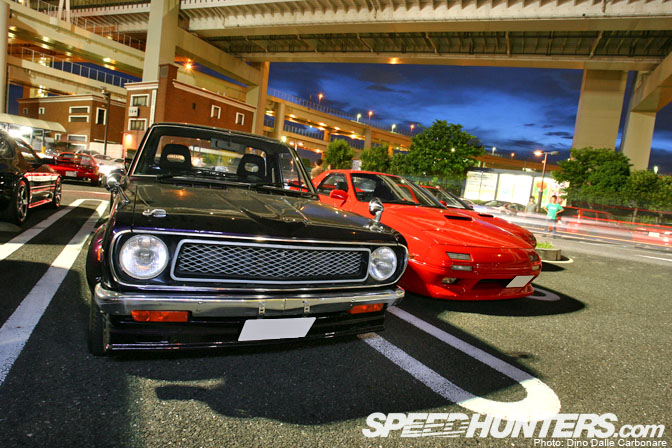 Not sure what this Datsun Sunny pick up was doing among the RX-7s. I asked the owner if it was maybe powered by a rotary, but it wasn't…you never know here in Japan!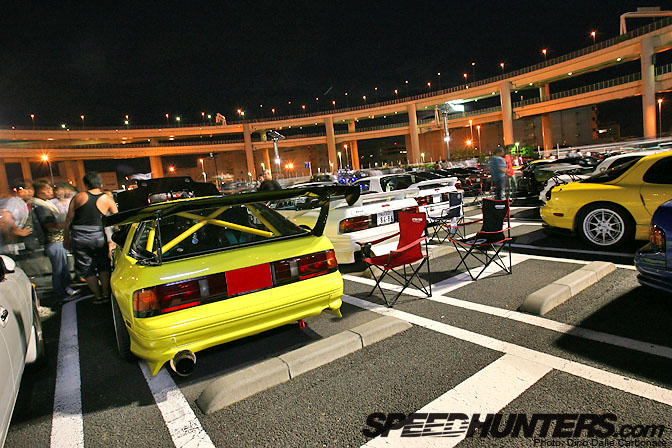 By about 9 pm Daikoku was literally packed. A queue formed at both the entrance and exit as more people rolled in.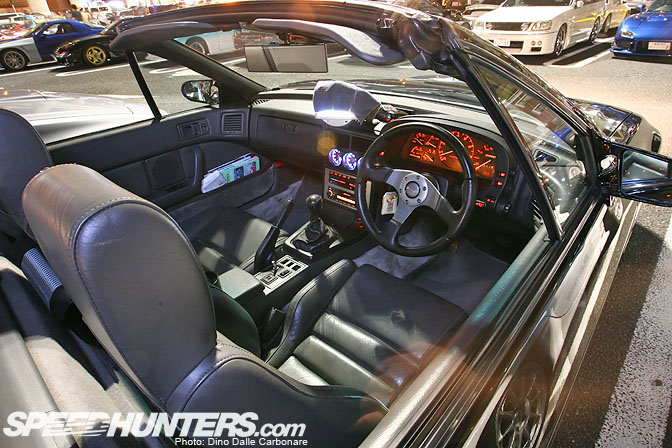 I had to grab a picture of the interior of this immaculate convertible FC.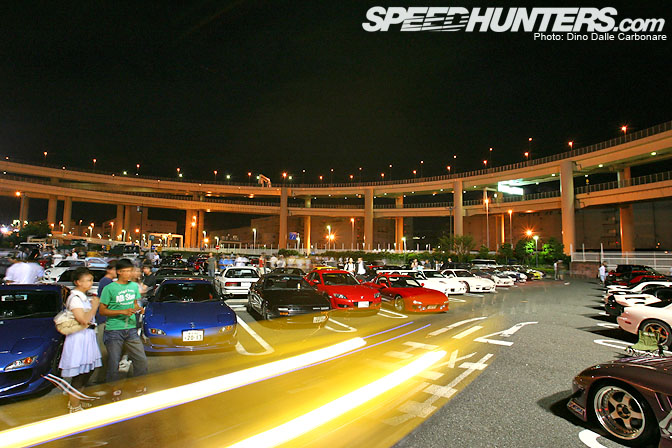 Nothing ever comes close to matching the size of the "7-7" meeting. If I had to make a wild guess I would say there must have been around 200 cars, if not more!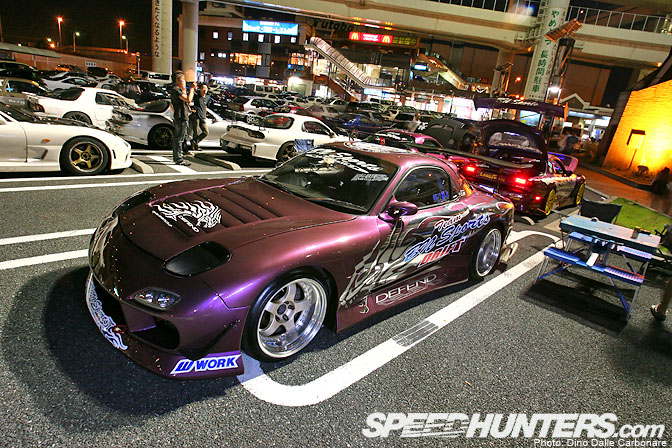 I think BN Sports did a great job with this drift oriented wide body kit for the FD. I was hoping some of the drift crew would take a few cars over on Daikoku Futo, behind the PA, to slide around a little bit. But unfortunately that didn't happen. I will have to wait until this Sunday's D1 Street Legal event in Nikko for that!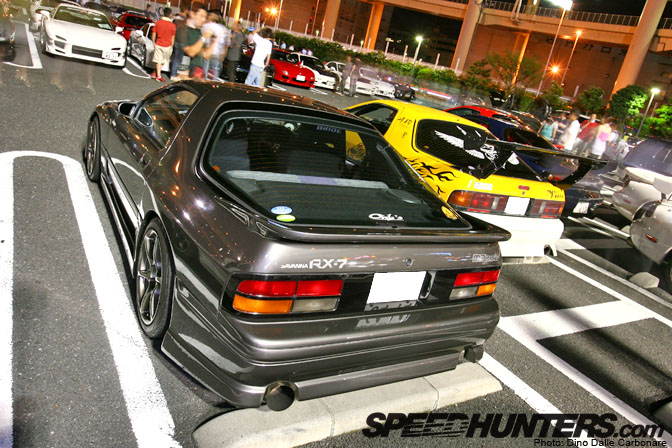 I appreciate simple things done with taste, and this Savanna was, for me, one of the nicest and cleanest looking RX-7s at Daikoku.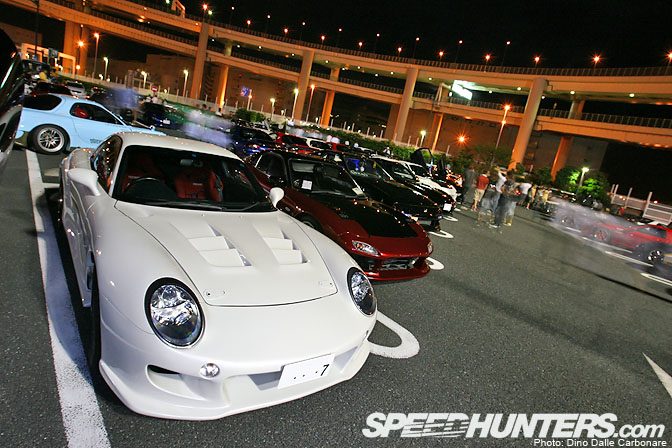 I'm still not decided on this Porsche headlight thing RE Amemiya offers. Sometimes it looks very nice, sometimes it seems totally wrong. What do you guys think?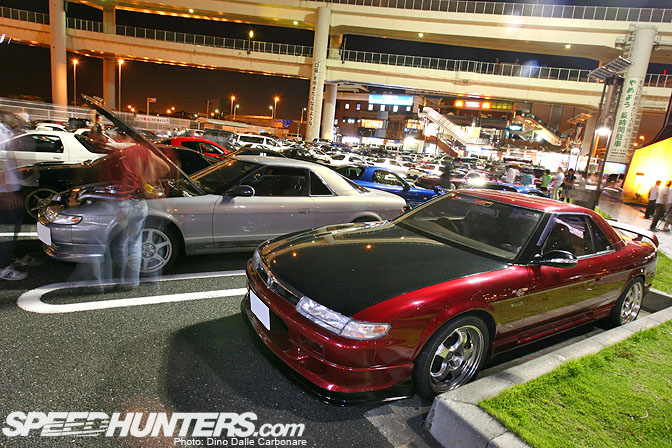 What would a rotary meet be without some Cosmos! I'm a great fan of these cars, by far the most unique and understated sports car to come out of Japan. There is much more to come from the RX-7 meeting, including appearances from some familiar faces. Don't miss Part 2!
Dino Dalle Carbonare