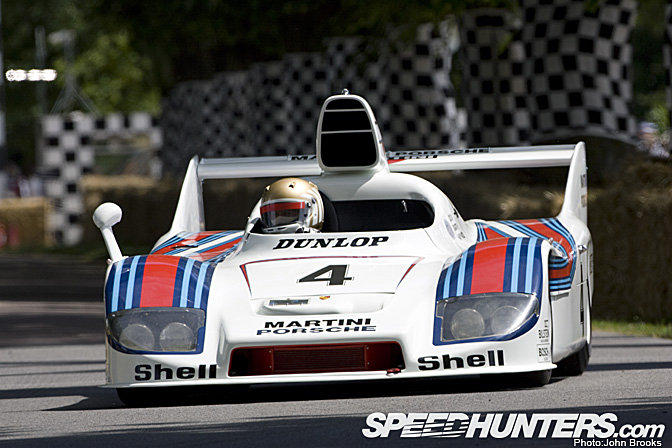 The Goodwood Festival of Speed provokes a strange reaction in men like myself, of shall we say, a certain age. It is like finding an old photo album with images of life back in an earlier time, when there were possibilities, opportunities; the dice of life had yet to be rolled. You see those you have lost touch with, friends, enemies, lovers, all now just memories from the past. What ever happened to them? What ever happened to me? So with the cars too, some of them seemed so important at the time and yet like the people in the photos they become consigned to history. Yet unlike the characters in life they are preserved by the wealthy owners like a piece of automotive art, age shall not weary them nor the years condemn them……………
The exercise in nostalgia is perhaps one of the most potent ingredients of the Festival, I mean who would not like to be 20 or 30 years younger, seeing these cars for the first time, ah well, dreams without frontiers…………so first up on this random trip down my personal Memory Lane is this fabulous Porsche 936/77, resplendent in classic Martini colours. This car won at Le Mans in 1977 in one of the greatest comebacks in the history of the race. Porsche had the strongest possible opposition in the form of four Alpine Renaults and to compound this burden the lead 936/77 of Henri Pescarolo and Jacky Ickx retired early on with conrod failure. Ickx was moved across to the sister car of Jurgen Barth and Hurley Haywood, that had been delayed with electrical problems and was mired down in 42nd place. A legend was about to be written……..as Norbert Singer put it:
"Ickx amazed us all. He was in the car for more than seven and half-hours during the night and he broke the lap record time after time in the dark………..Later he told us that it was the hardest race of his life."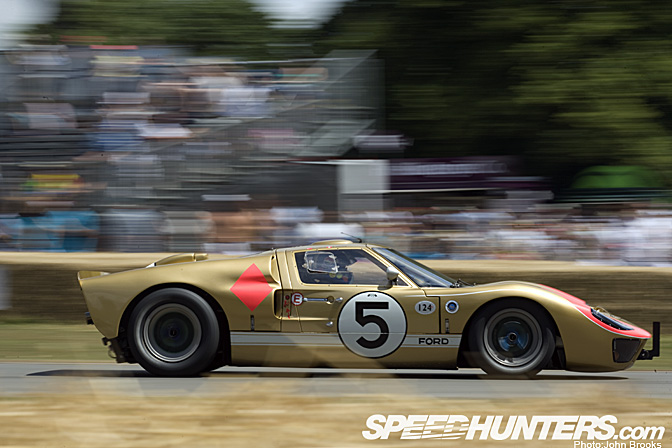 Another classic profile with this 1966 Holman & Moody Ford GT Mark ll, driven to third place overall at that year's Le Mans by Ronnie Bucknum and Hutcherson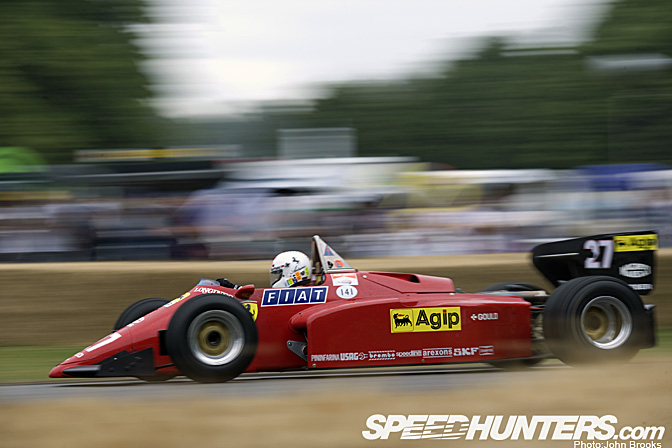 1984 and Formula One, a time of insane power outputs and extreme danger to the drivers. Some cars had 1500bhp in qualifying trim from their 1.5 litre engines and look at how far forward the driver and in particular his feet and legs are, no crash boxes either. Going trackside during the chase for the grid was breathtaking, the power was physically moving and gave a real edge to trying to capture the action. This Ferrari 126C4 finished second to the new TAG McLaren MP4/2s in that year's Championship.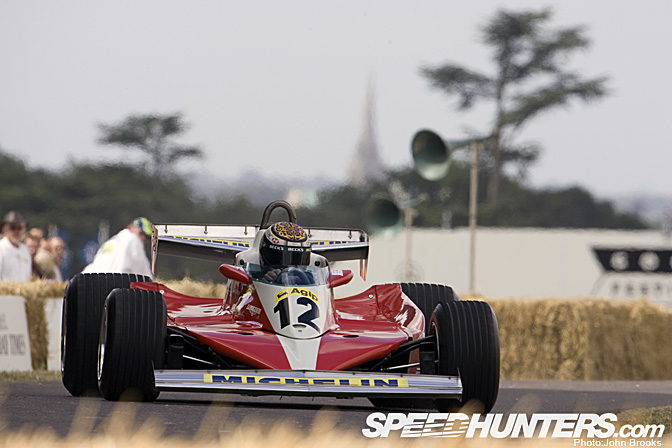 Another Ferrari, this time a 1978 312 T3. The was the car that Gilles Villeneuve cut his teeth on in Grand Prix racing, winning his first race in Canada that year. The 3 litre flat-12 engine sounded great, paricularly in the tight confines of Monaco, to me that was my favourite time in Formula One.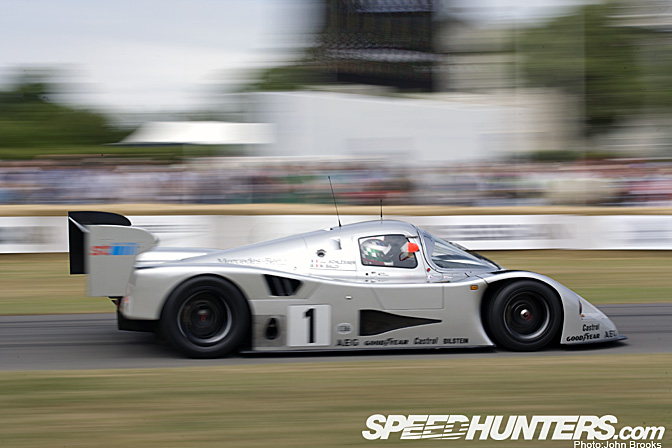 Often overlooked when great sportscars are discussed, the Sauber-Mercedes C11 stands comparison with any car from any era. The Swiss-German team crushed Jaguar, Toyota and Nissan during the 1990 World Sports-Prototype Championship. About the only thing they did not win was Le Mans which they did not enter…….some political wranglings lost in the mist of time I seem to recall………..a lost opportunity as they surely would have had the measure of Jaguar et al.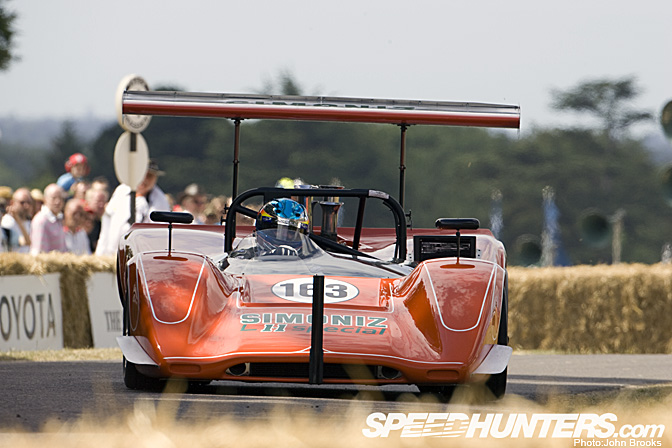 Go back 20 years from the Sauber and cross the Atlantic and you find the Lola Chevrolet T163. 8.3 litre V8 producing 800bhp made the cars of this era possibly the wildest ever raced.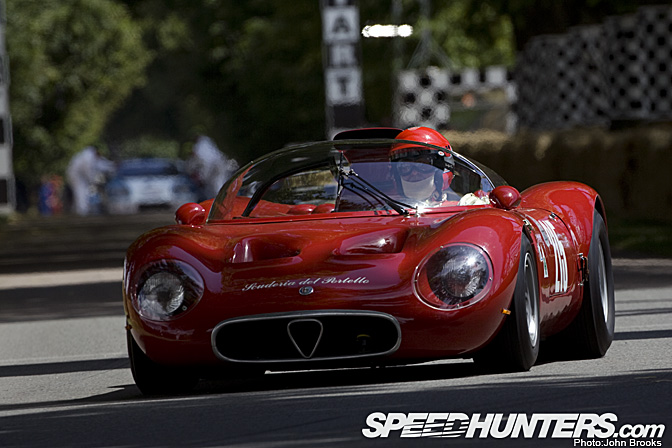 Much more refined and cultured, an Italian beauty of the 1966 vintage, the Alfa Romeo Tipo 33/2. A real work of art descended from Michelangelo.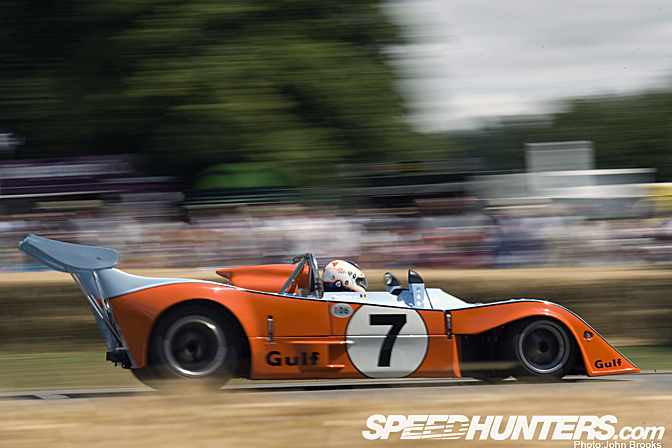 More 70's sports prototypes A Mirage Cosworth GR7 raced by Derek Bell amongst others in the classic Gulf Oil livery.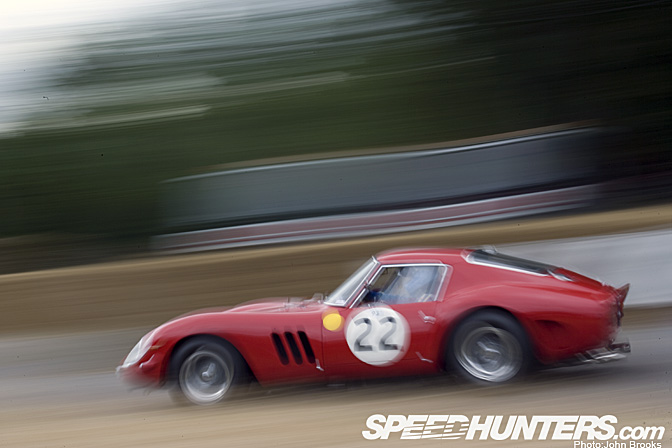 What exhibition of classic sportscars would be complete without a Ferrari 250 GTO?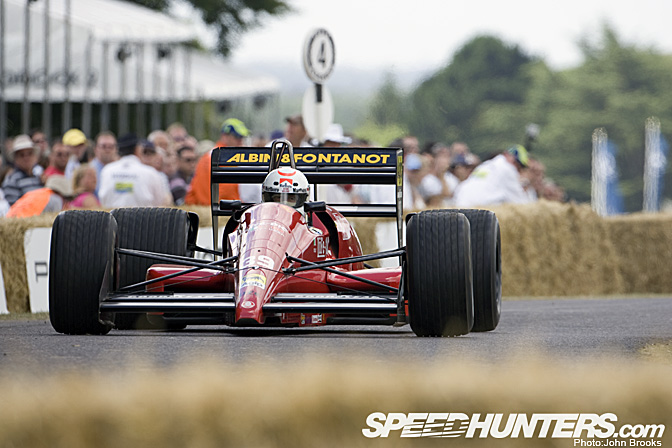 Where there is Life there is hope? Or mad as a box of frogs? You decide.
The Life 190 is a strong contender for the dubious honour of "Worst Grand Prix Car Ever".
A 3.5 litre engine in a strange W12 configuration, giving out around 450bhp, some 200bhp less than their rivals. An old chassis that was also overweight. Gary Brabham and Bruno Giacomelli were the two unfortunates persuaded to try and prequalify the contraption. Giacomelli declared that he was scared that he would be hit from behind, so slow was the Italian machine. Oh and there was only one engine and one chassis…………utter lunacy.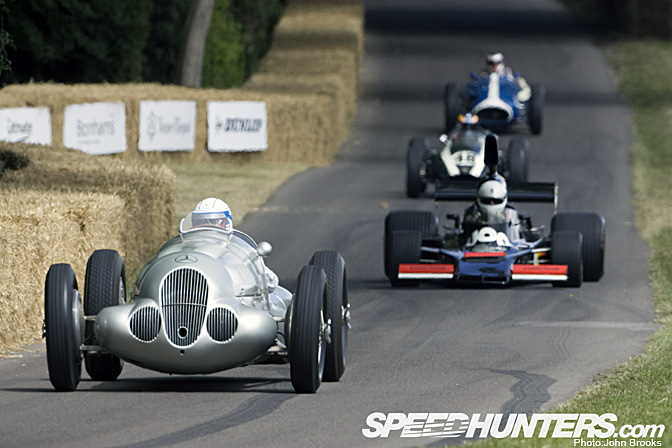 Four generations of Grand Prix cars……………….
From 1937 the lead car is Jochen Mass in the Mercedes-Benz W125. Powered by a straight 8, supercharged, 5.6 litre engine, it was the most powerful Grand Prix car of its time (over 600bhp) and it was not till the 80's that F1 reached those heights again. It was also carried Rudi Caracciola to the drivers' title.
Behind it is the Shadow Cosworth DN5 that Tom Pryce raced so well in 1975. This is followed by the Cooper Climax T51 that took Sir Jack Brabham to the World Championship in 1959. Here his son, David, winner of this year's Le Mans 24 Hours, runs it down the hill.
Finally what collection of Grand Prix cars would be complete without a Maserati 250F?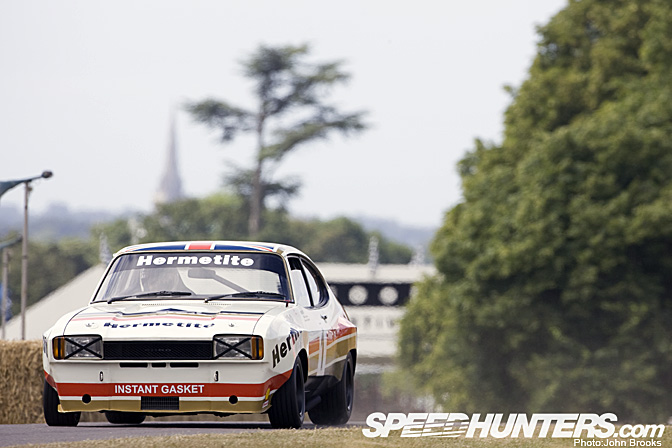 A complete contrast is Holman Blackburn in the 1974 Ford Capri MKll 3000GT. He finished third in this car at the 1975 Spa 24 Hours.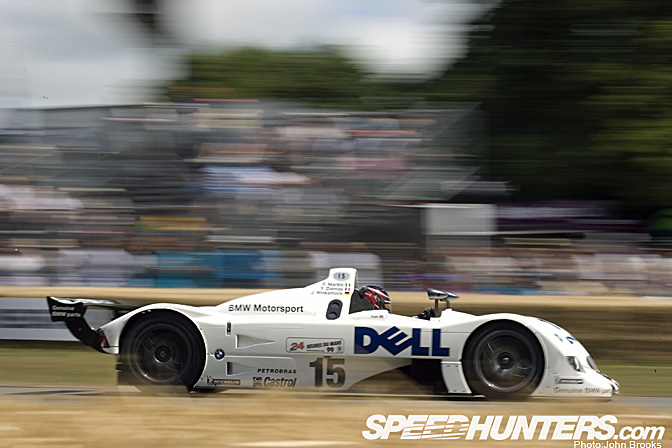 Just ten years ago this BMW V12 LMR won at Le Mans. Steve Soper who is driving it here on the Hill, then went on to score several victories in the inaugural American Le Mans Series that year. He certainly kept us amused both on and off the track and is still a great bloke.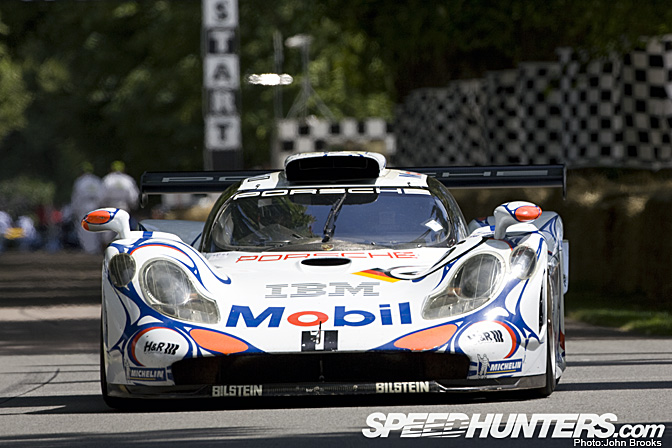 Another Le Mans winner, a year earlier and another favourite of mine, the Porsche 911 GT1/98. Allan McNish, Laurent Aiello and Stephane Ortelli scored Porsche's only victory in a season dominated by AMG-Mercedes, but who remembers anything but La Sarthe from that year now?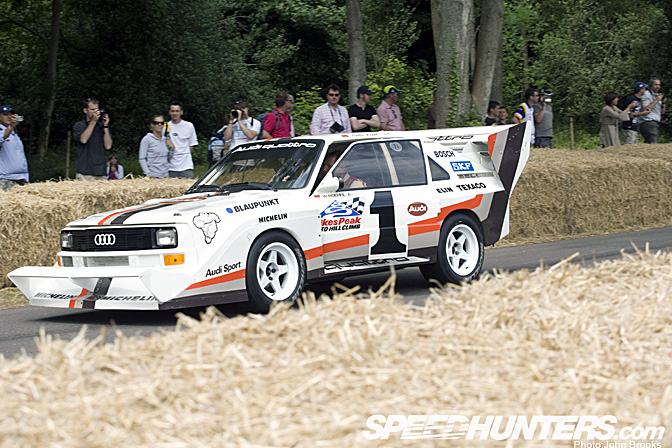 Some car and track combinations become part of the very fabric of motorsport. One such is Pikes Peak and the Audi Sport Quattro S1. In 1985 Michele Mouton took victory in one on the annual "Race to the Clouds" held in Colorado. Two years later Walter Rohrl repeated the feat being the first to break the 11 minute barrier. 25 years on the Quattro still has the power to shock……………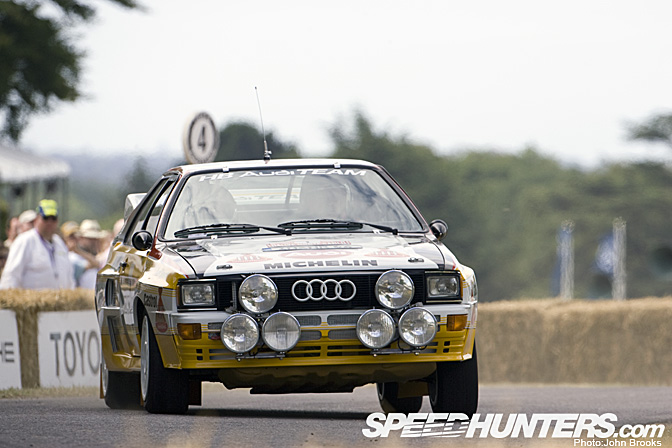 It is hard to see how that S1 "Pikes Peak" developed from this Quattro A2 but it did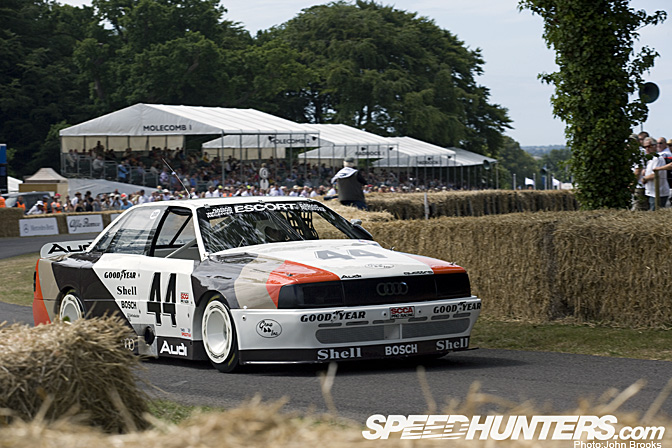 Yet more Quattro trickery, the 200 Trans-Am car that Hurley Heywood took to the title in 1988.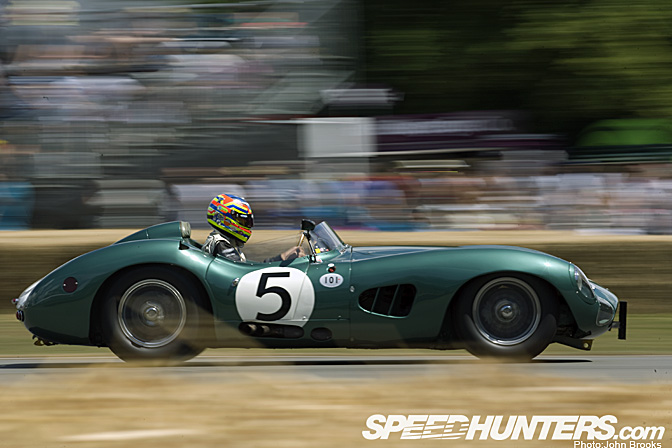 Some cars are beyond price, this Aston Martin DBR1 is surely in that category. It won the 1959 Le Mans 24 Hours with Carroll Shelby and Roy Salvadori aboard. It also won major races at Spa, Nurburgring and Goodwood. Clean lines and elegance add to the value, pure motoring heaven.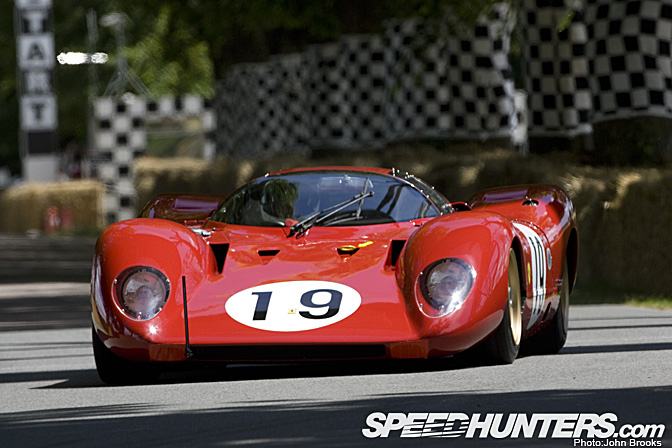 Much less successful but just as beautiful the 1969 Ferrari 312P.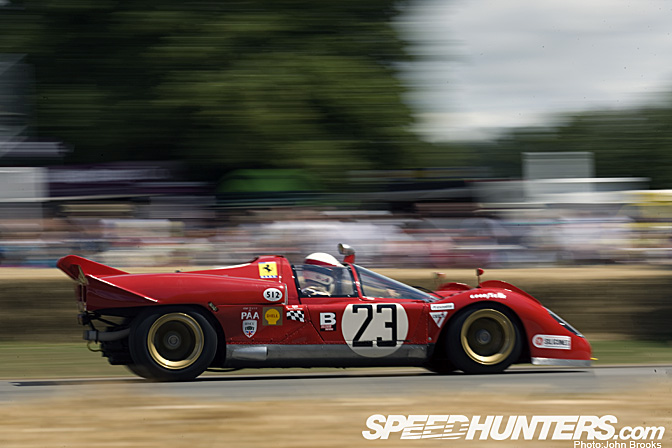 Perhaps one of my favourite Ferraris of any era, the 512S. The 512 is doomed for all time to play second fiddle to the 917, even on the big screen. The V12 engine sound, the gold wheels, the shape make it irresistable. To my mind it has equal billing in the "Le Mans" film.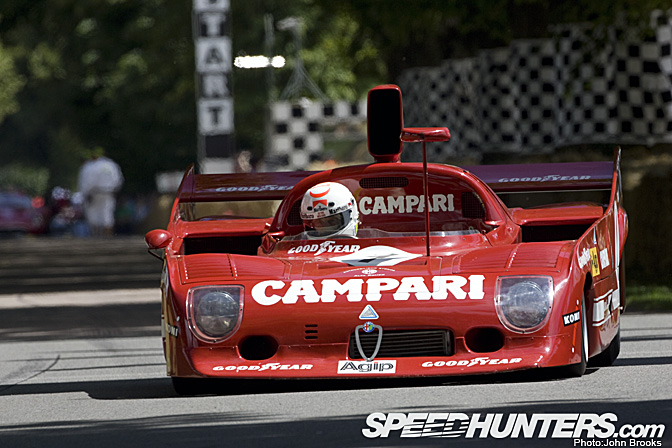 As "Azzuoro" as Ferrari is another T33 this time the TT12 version from 1975. To give it absolute authenticity the Alfa Romeo is driven by Arturo Merzario who took four wins back that in that season for the team.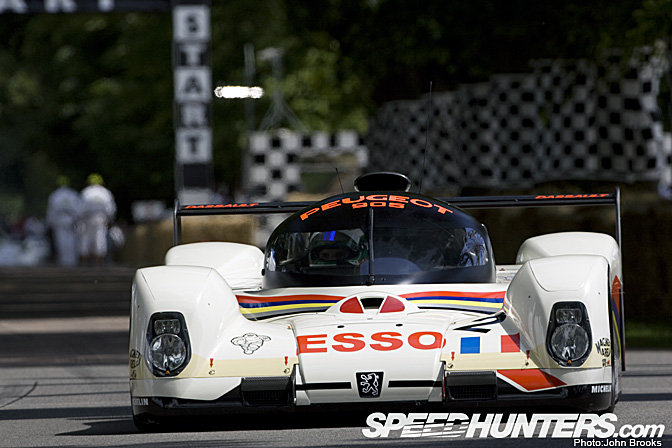 Another Le Mans Champion is the Peugeot 903 EVO 1B from 1992. These final Group C were some of the greatest sportscars ever to race at Le Mans, as fast as contemporary Formula One cars and able to keep up that pace for 24 hours………….madness.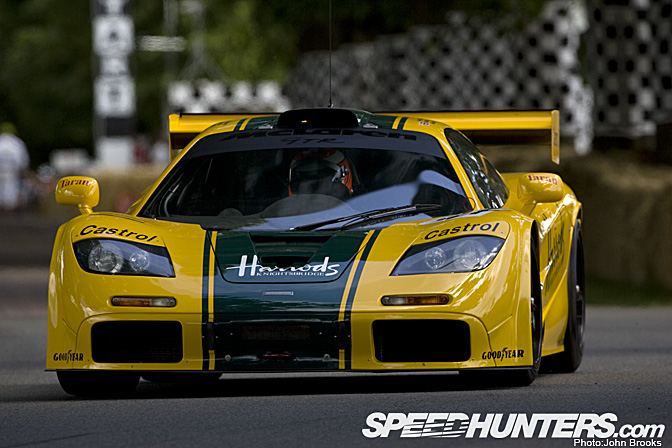 Finally I sign off with an old flame, the Harrods McLaren F1 GTR. I shot for the team through 95 & 96, I have to say that the BPR Championship was about the most enjoyable series I have ever worked in and that the short-tailed McLarens were the tops, fantastic cars and fantastic memories. Thanks Goodwood and thanks the Festival of Speed.
John Brooks