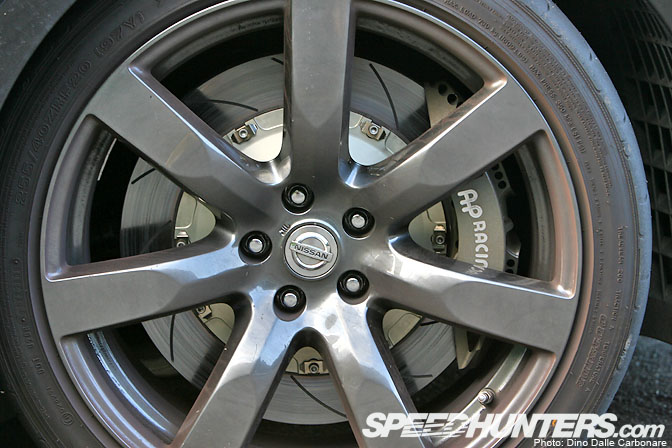 Ok you will have to bear with me here as I'm going to get a bit technical. In the above picture is probably the best brake set-up I have ever had the pleasure of experiencing, and it all happened by pure chance. The other day my friend Adam and I were down at the Hakone Turnpike, probably the most famous stretch of driving road in Japan, having a bit of a play in a car that you will be seeing very soon here on Speedhunters.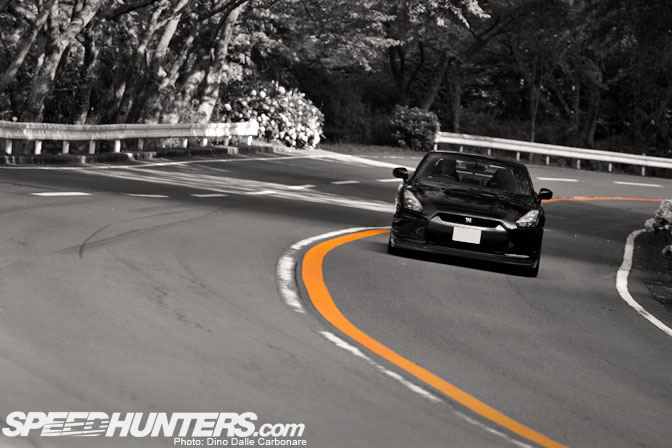 On one of our many outings on the fast and challenging touge, we spotted this mean looking black R35 GT-R. It wasn't long before it was glued to our rear bumper edging us on to drive a little bit faster. With 580 PS at our disposal we managed to pull away ever so slightly under acceleration, but around corners and under braking the "R" was unbeatable.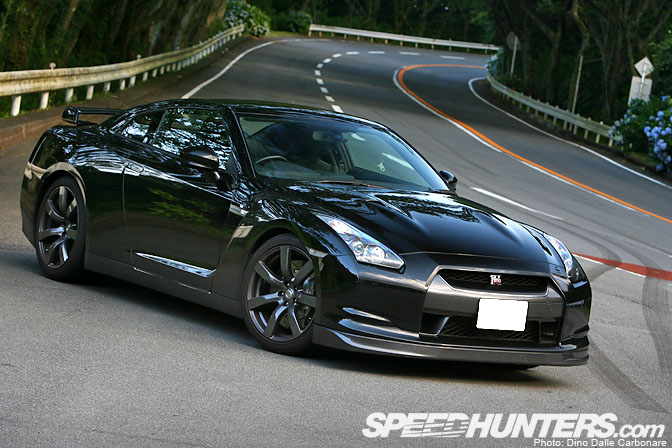 After our little drive we pulled into the parking area and had a chat to the owner.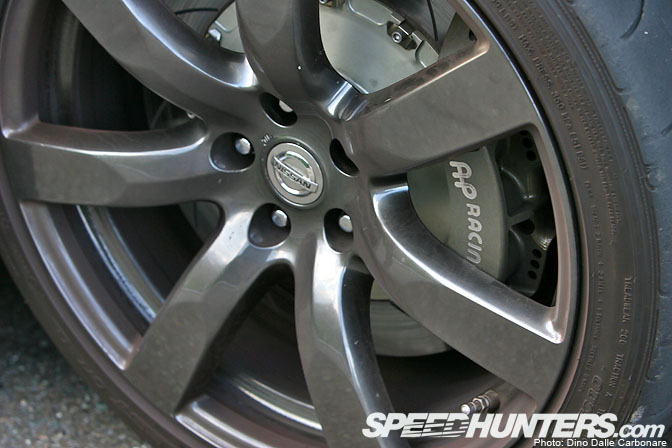 It turns out his car has recently been fitted with a brake upgrade, as he didn't really like the feel of the stock Brembo set-up. Up front AP Racing 6-pot monobloc calipers join ø 400 mm 2-piece floating rotors and high-friction Ferodo pads. The 1-piece forged monobloc design is straight out of a race car and guarantees optimal stiffness and lighter weight compared to more widespread 2-piece calipers. The disc itself is slightly bigger in diameter, meaning the actual work the caliper does is increased, resulting in more braking force. The floating two piece design makes sure the whole set-up remains unfazed by high operating temperatures, protecting the disc from warping. AP Racing also offers "Strap Drive" floating discs, a newer floating system they developed, but I'm not sure if this is offered for this monobloc kit. So what does this all mean out in the real world?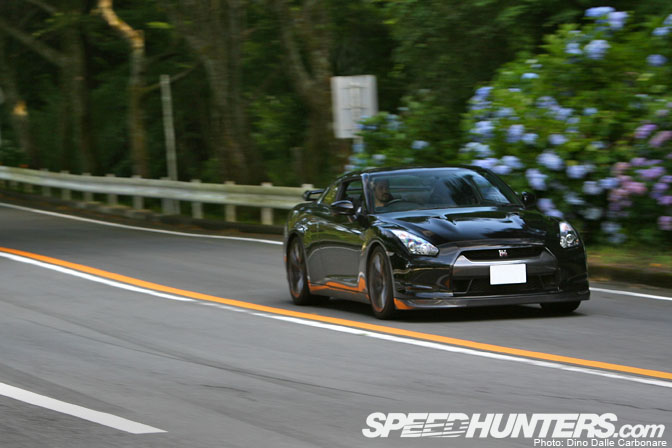 There was no point trying to explain things, so the owner threw me the keys and told me to have a feel for myself. After having experienced the Spec-V out on track at its PR launch up in Sendai Hi-land (more on this very soon!), I though I had found the best brake-set up out there. But I was wrong. AP Racing brings racing technology straight to the road with this 6-pot upgrade, and my word does it make a difference!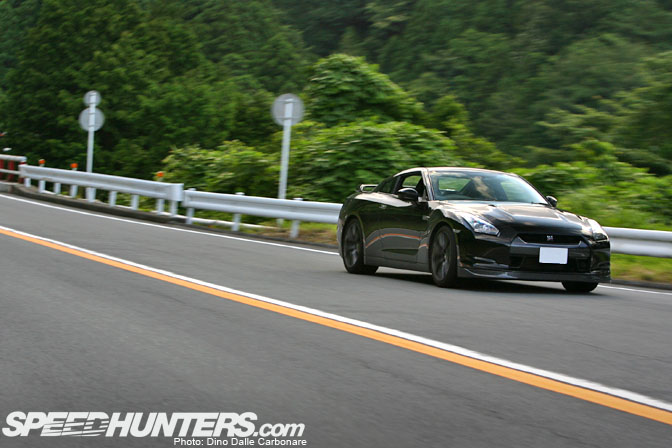 First thing I noticed was the beyond-meaty brake pedal, instantly hard to the touch but still having that all-important progression and feel to it as you dig deeper into the capabilities of the set-up. Once warmed up, the Ferodo pads gave instant bite, squealing under pressure but rewarding the faintest of adjustment with an equivalent variation of braking force. On fast roads like the Hakone Turnpike this translates to braking accuracy I have never felt before allowing me to enter corners far quicker, shave off speed faster and keep the car more balanced when coming off the brakes. I always say smoothness is the key to driving a car well, and this AP Racing kit helps you to do just that. However braking performance like this comes with small tradeoffs, brake pad squeal is present at all times, and there are a lot clicking noises from the floating set up when using the car hard. But seriously, who cares?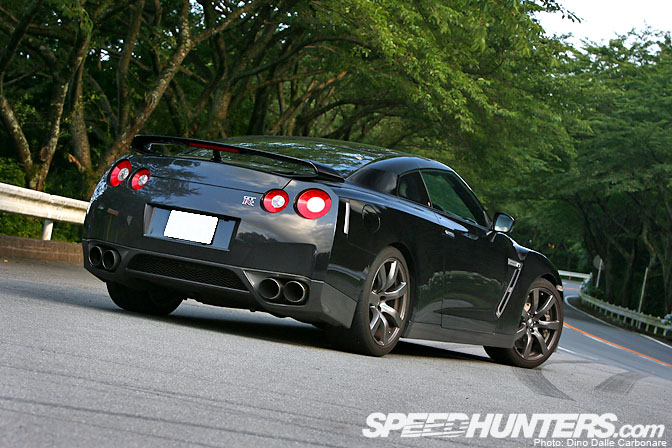 After taking a ride I grabbed a few shots of the R35, a car that on top of the AP kit is fitted with an Access Port, allowing the owner to fiddle with the ECU settings.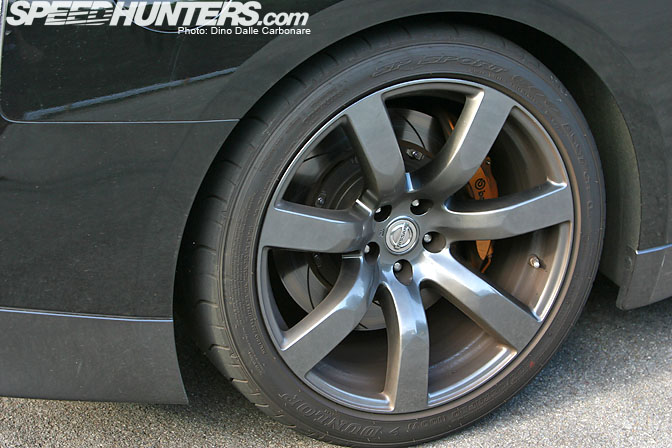 To stabilize the increased braking performance up front the stock rear discs have been replaced with larger diameter slotted AP Racing items, again using a floating design. AP Racing will soon be launching a carbon disc upgrade for the GT-R, so the advances in braking performance are not over yet.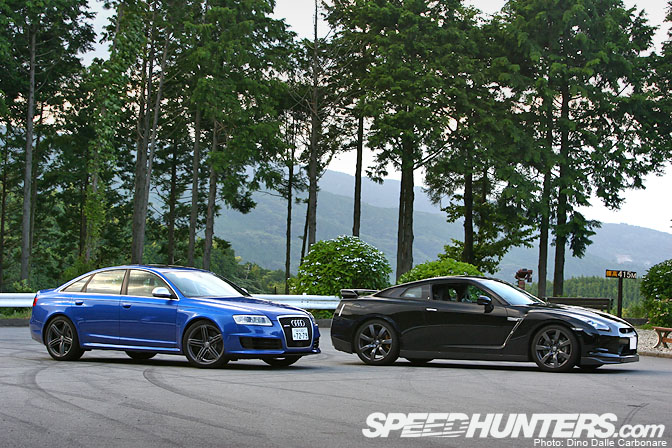 I leave you with one last picture that hints at an upcoming car feature for this "AWD-special" we are having this month. Back soon with more on the blue car…
-Dino Dalle Carbonare