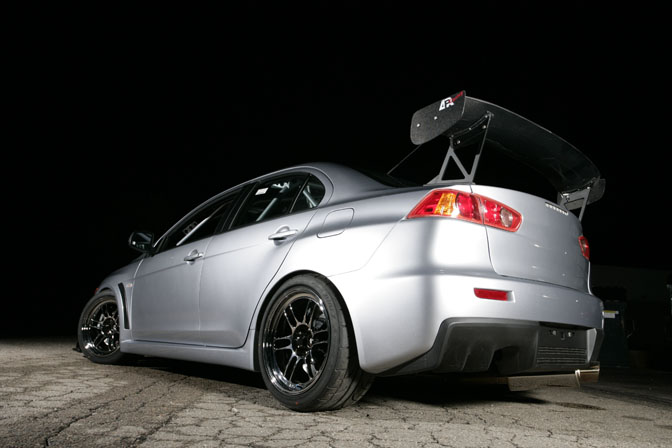 I have yet to see a EVO X on the road in Europe – I have seen one in real life, but only at a dealer… but the EVO X seems to be a bit hit in America and is quickly becoming a popular tuning platform. The Chicago-based AMS shop is one of the leading proponents of US Evo tuning and they built up this 'silver bullet' street/Time Attack machine. They got the car fresh from the dealer with only a few miles on the odometer and started to tear it apart. The guys at AMS started the build with one thing in mind, and that was to create a street drivable, time attack machine. So it needed to be lightweight and it had to pack a serious punch.
Let's start at the rear… the rear spoiler has been made by APR for that Time Attack look and, of course, downforce. The trunk has been replaced with one that has been made from carbon and has been supplied by Seibon (let's start the flame war!)….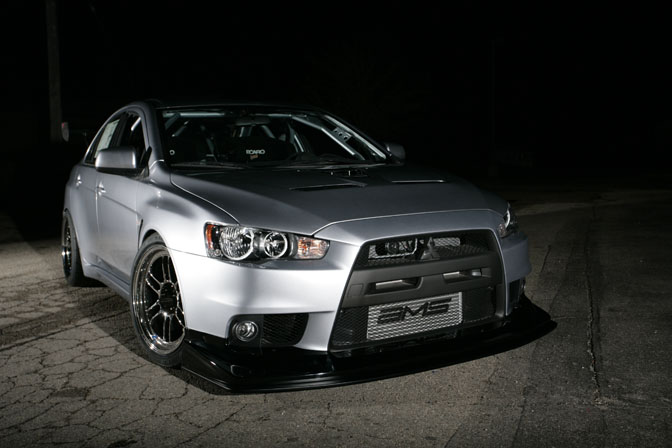 A favorite part amongst EVO X add-ons is this Voltex front splitter. For more weight savings, Seibon also provided the carbon hood. The AMS intercooler already hints at what the engine is capable of.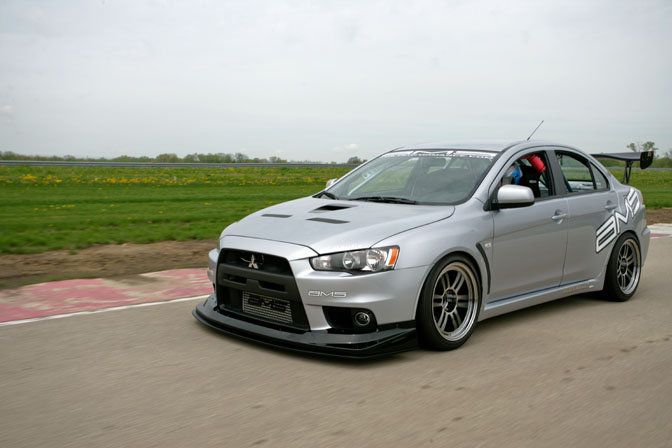 This is where the EVO comes to life: the circuit. The fenders have been rolled to minimize rubbing. Enkei came through with their circuit spec RPF-01 wheels shod with Dunlop Direzza rubber. The wheels come in size 18″x10.5 and the tires are 275/35/18s all round. For better braking properties AMS opted for Stoptech six-piston calipers in the front and 4-piston calipers in the rear.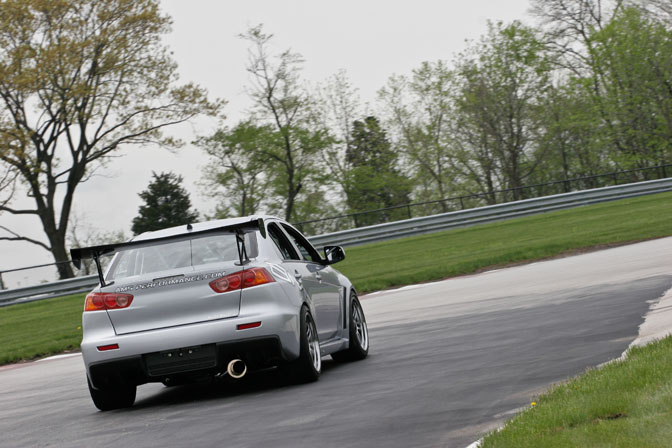 The exhaust is made by AMS themselves as are a lot of other parts in the engine and drivetrain.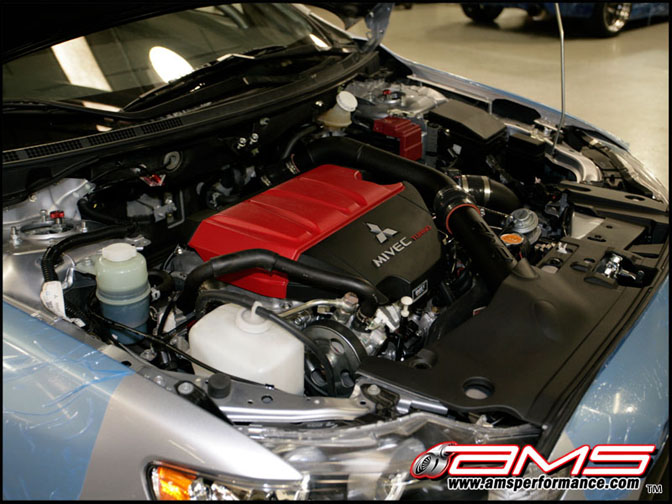 The engine that looks a bit standard for the untrained eye. The block is the 'standard'  4B11 that has been treated with a stage 1 upgrade by AMS. It includes new valve springs, ARP head studs, FP Red turbo by Forced Performance, 800cc injectors, cnc fuel rail kit, front mount intercooler with black piping and a cold air intake. There is also a surge tank in place and, thanks to the ECUtek ECU, it delivers 385 whp.
I really like the stealthy look of the engine bay without all the polished piping.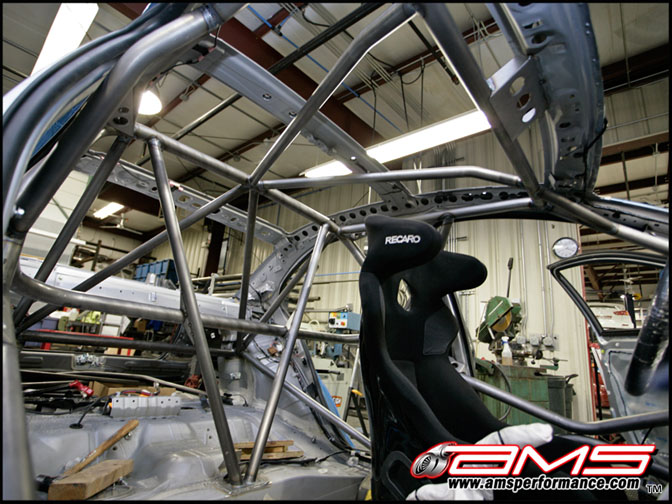 The seats are made by Recaro and feature the HANS system. The driver is also strapped in thanks to Schroth 6 point harnesses.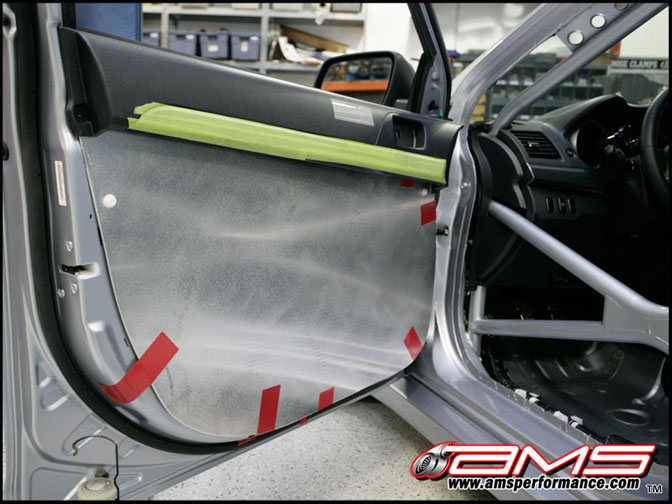 A popular mod to decrease the weight is to remove inner door panels. AMS have done this in such a way so you can still open the door using the standard handle.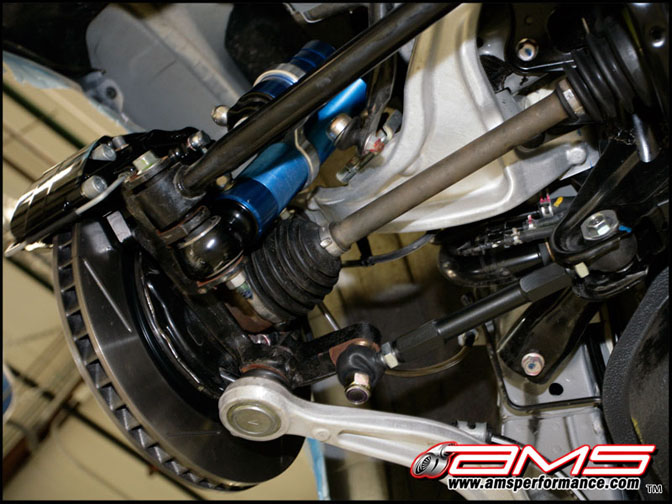 A look inside the wheel well reveals the AMS Toe link kit and JRZ Pro Coilovers system.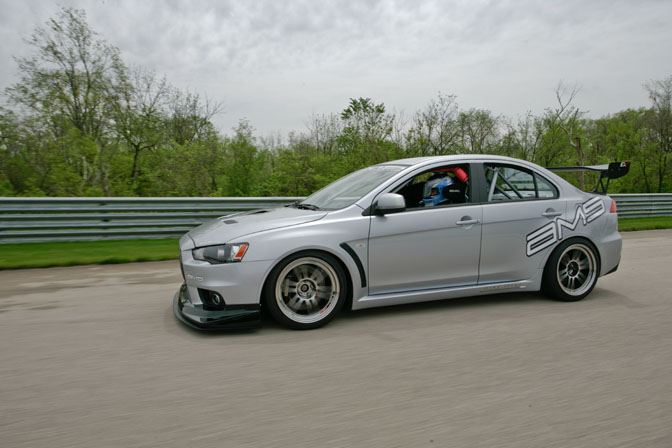 One last look at this beautiful machine. It really is the perfect example of a street drivable Time Attack machine
Thanks to AMS Performance for the photos.
-Jeroen Willemsen