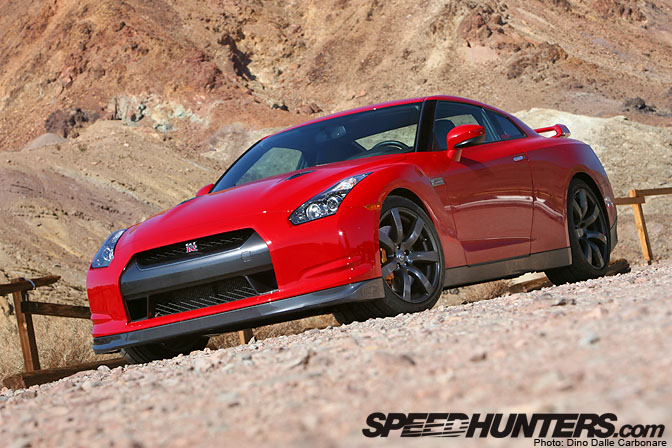 Back last fall I headed to the US for a couple of weeks to cover the SEMA show. It's a trip I have done a few times in the past and one that I always enjoy as there is something pretty special about the US and its car scene. These trips are also a great opportunity to sample some interesting cars, and this time I knew precisely what I wanted to drive. Having been behind the wheel of close to 20 or so R35s here in Japan you might wonder why on earth I decided to drive around in one of these new Nissan GT-Rs over on the other side of the world.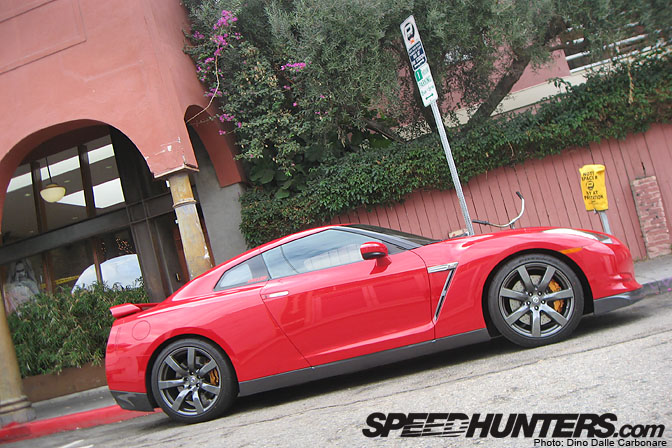 The answer is simple, with the GT-R at the time still being a pretty rare sight in the US I wanted to sample the car from an owner's point of view, using a Japanese supercar on a daily basis in the country of V8s! With the R35 being the first ever left-hand drive GT-R, as well as the first to be sold world-wide you can understand why it was the perfect choice, after all I am a GT-R owner myself so any excuse to drive an "R" around is a good one!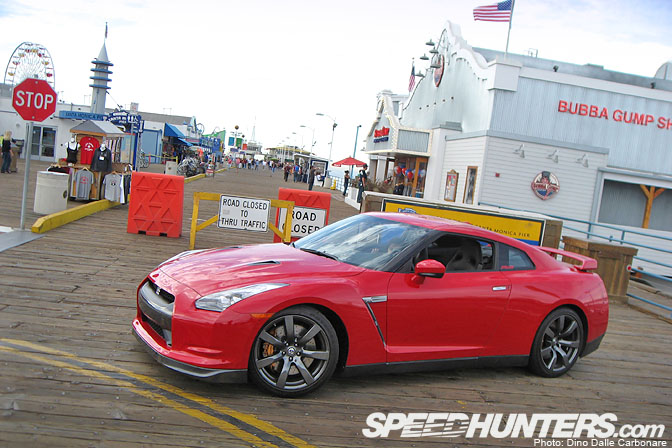 I spent the first few days in LA, where I did the usual touristy stuff and was simply impressed at the amount of attention the car was getting. Every time I parked somewhere I would get people of all ages come up to me and ask info about it, from those that knew exactly what it was to those thinking it was the new Z! Here is a quick shot taken with my girlfriend's point and shoot camera on Santa Monica pier, after we rode around with a couple of Segways for an hour!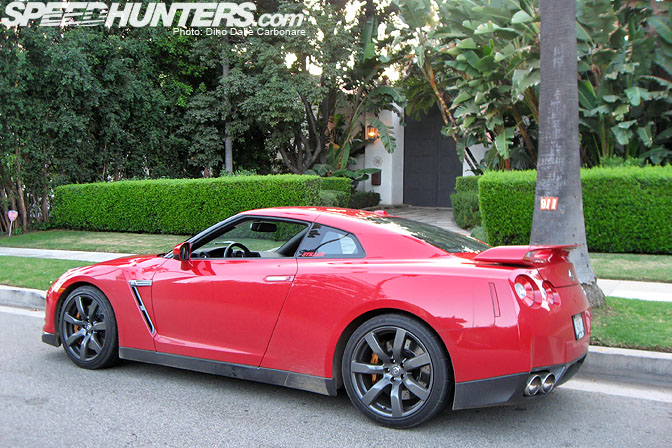 Staying in Beverly Hills I got the chance to see some jaw-dropping exotica, but somehow the GT-R didn't even register on most owner's radar, except one night on Melrose where a Ferrari 430 cabrio wanted a little play. The GT-R was no match for the Ferrari, leaving the other driver soundly beaten, earning me a thumbs up. Both my girlfriend and I were surprised at how friendly and responsive people are in the US when you drive a car like this. We even had a guy on the freeway ride up next to us in his orange Infiniti FX45, lower his window, and let us know we had a "dope ride." This was at about 80 mph!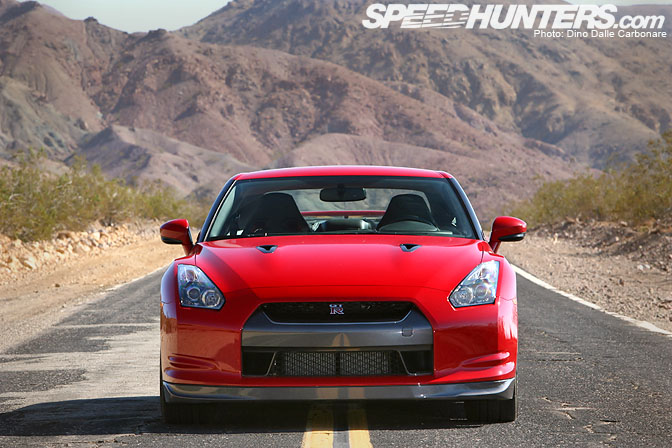 The fun in LA was soon over and a couple of days before SEMA was about to start we got up early, filled up the GT-R, set the navigation for Las Vegas and hit the road. Even if I could have made the drive in a very short time, we decided to take things slow and stop whenever we saw a nice place to grab some pictures. As you can see above, once you head out into the Mojave desert things get rather quiet and the scenery is simply breathtaking.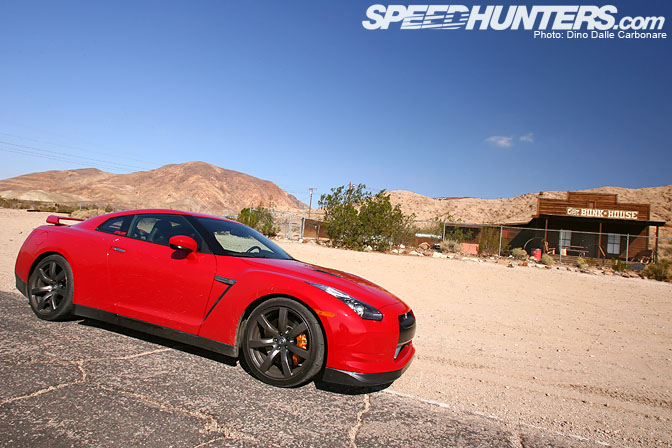 I drove past a few times in the past, but I thought this was the perfect opportunity to stop by and check out Calico ghost town, a must for any would be tourist! We found some interesting backdrops to remind us that we were in the middle of the wild wild west!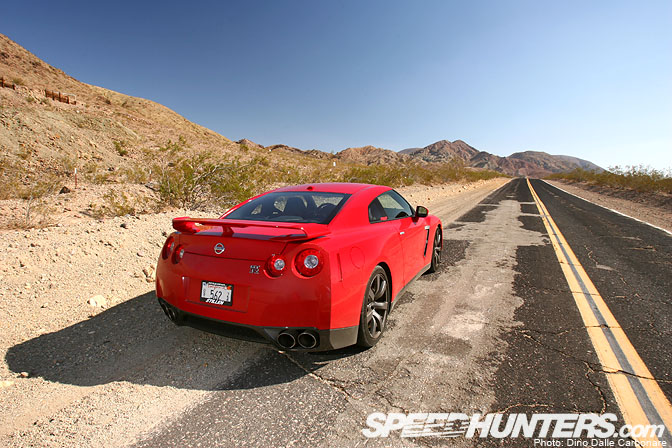 Yes, I did a few launches. I mean come on, who wouldn't?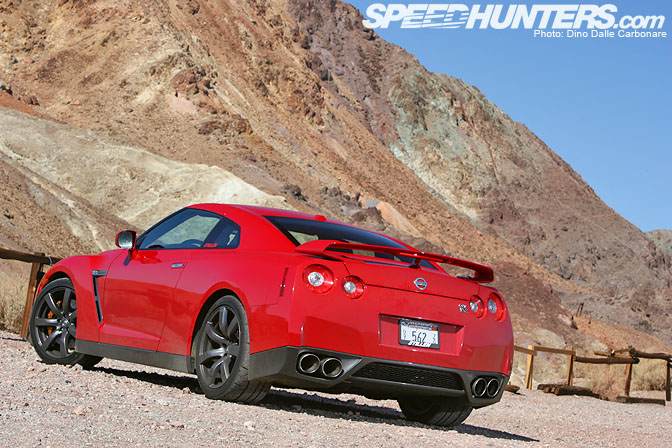 I was getting strange looks from the hoards of Korean tourists as I took these shots in the parking space at Calico.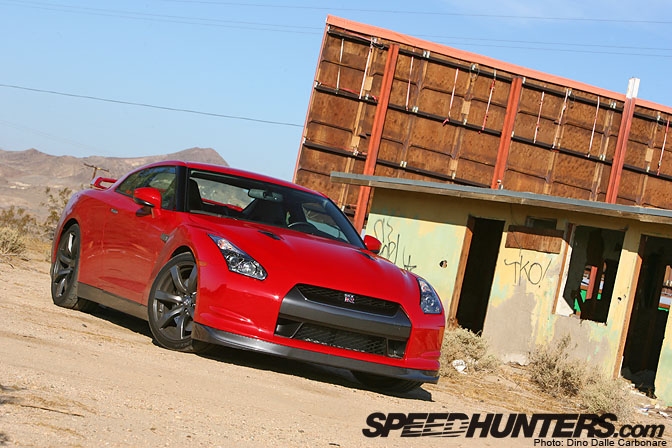 US market cars look so much better without the ugly number plate mount in the middle of the bumper. Cleans up the front very well and makes you appreciate the design more. I'm sure it improves aerodynamics and cooling too!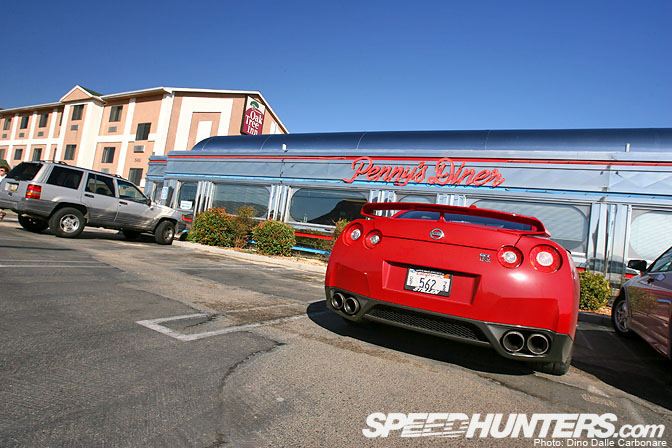 There were lots of signs for Penny's 50's Diner on the freeway and with our stomachs rumbling after having eaten nothing since our very early departure, we decided to stop over and grab some food. I ate the heaviest and most filling breakfast I ever had! A rather different experience compared to miso-soup and smoked salmon we get over here in Japan!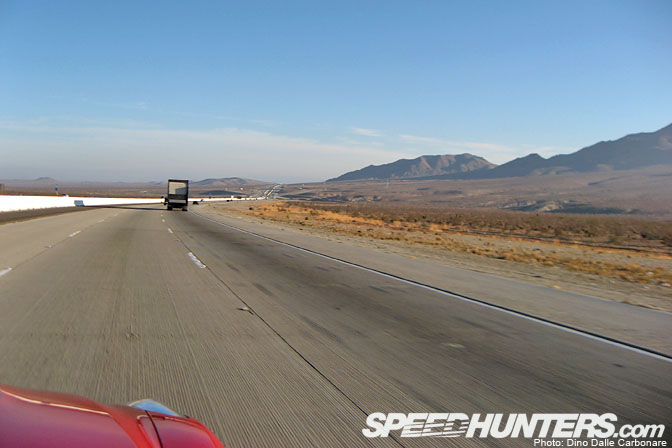 We hit the road again and marveled at the open spaces.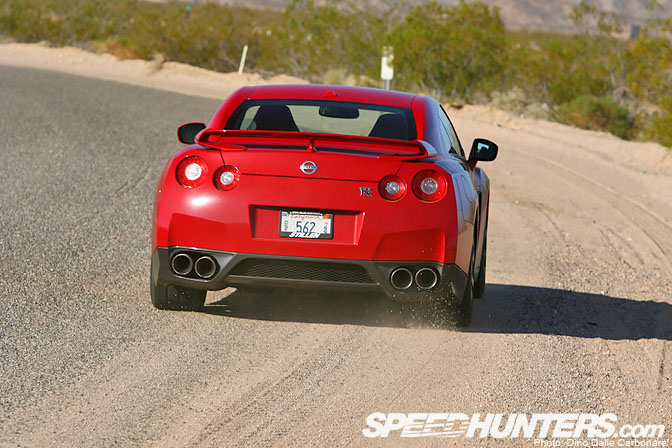 I decided to stop again soon after, as I was falling asleep at the wheel after the 5000 calorie breakfast! Perfect opportunity to get some driving shots and to play around with the R35.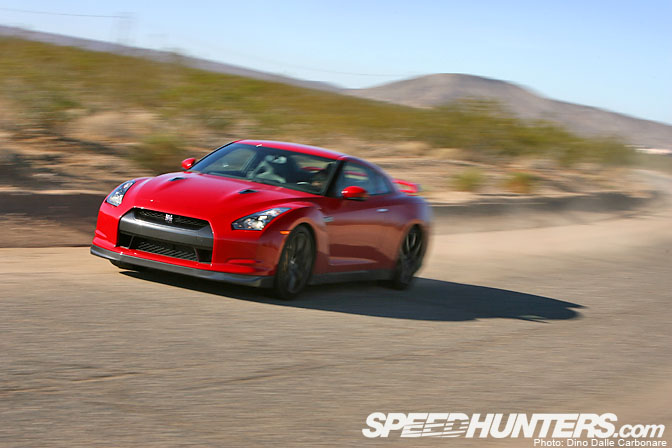 Here is my girlfriend putting the GT-R through its paces. She is no newby to cars of this caliber and had already driven an R35 in Japan, in fact we cruised together to a photoshoot one time, me in my R34 her in a PR san-go!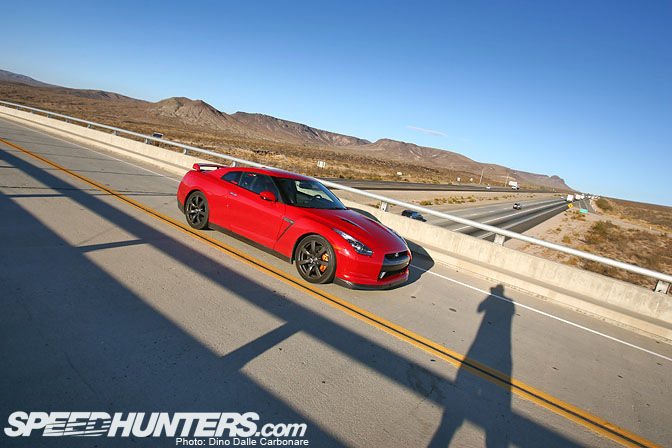 As the afternoon sun began to create some interesting shooting conditions I stopped for yet more pictures.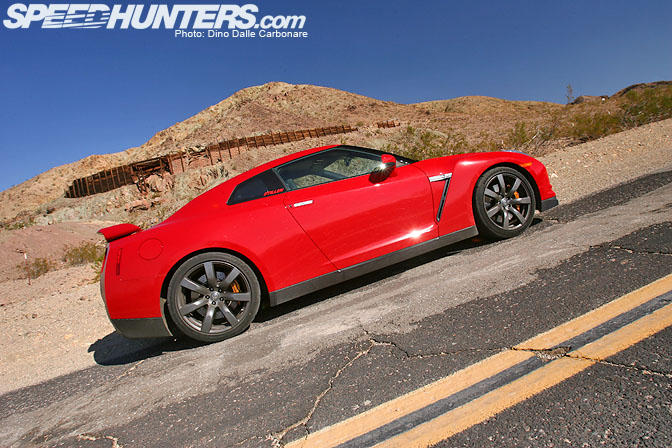 Here is another shot back around Calico.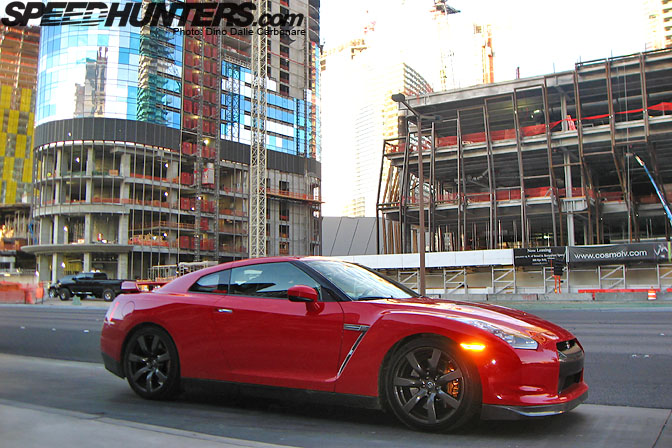 After a good night sleep upon our arrival in Vegas, it was yet another early rise the next day to meet up with my friend Andy from Powervehicles.com and his girlfriend, who had both flown in the day before for the show. Here is a quick shot outside Planet Hollywood where we waited for them to arrive. Excuse the crappy background but they were building a massive new hotel & casino on the opposite side.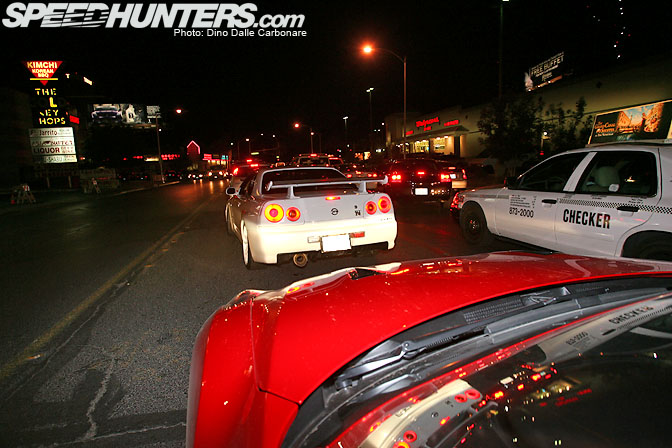 I swear you couldn't make this up. An R34 owner driving an R35 in the US finds a guy that has driven across the country in his white R34 to attend SEMA. These two GT-Rs were attracting more attention than the white Lamborghini Gallardo behind us as we exited and queued up in traffic from the Convention Center car park.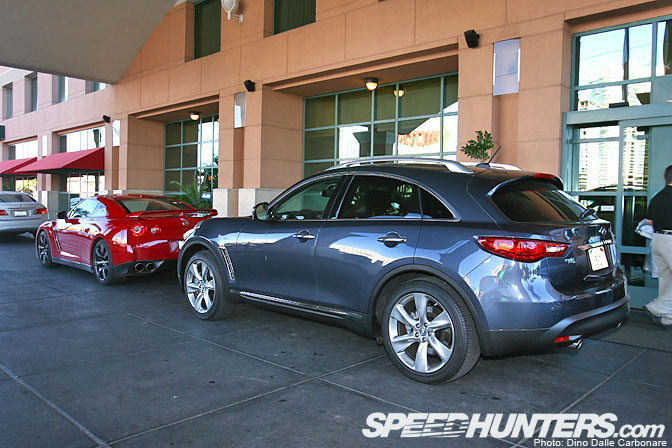 My experience with the US-spec GT-R ended the following day as I swapped cars with Shin from Zele International, who was driving an Infiniti FX50S he had borrowed from Nissan, the car I would drive back to LA a few days later. Needless to say my time with the R35 was one of the most memorable road trips I have ever had, and only proved once again what a marvelous feat of engineering this car truly is.
- Dino Dalle Carbonare