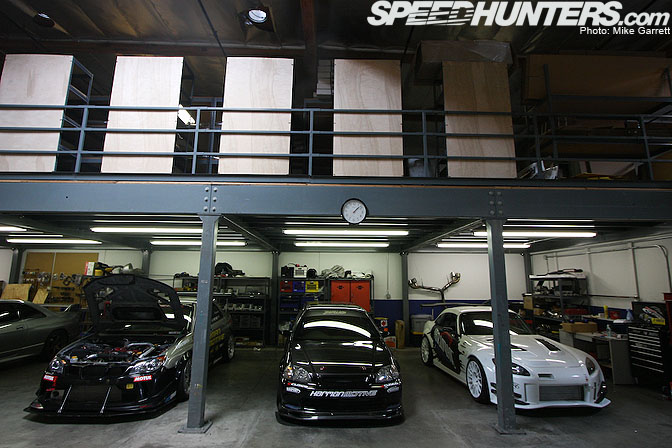 Last week when I was in Torrance at Harman Motive checking out JC Meynet's Impreza time attack car, I also spent a little time looking around the shop. There's just something about the natural environment of a garage that makes these shop tours so fun to do. Besides, JC's race car there were a few other notable cars spread around the shop during my visit.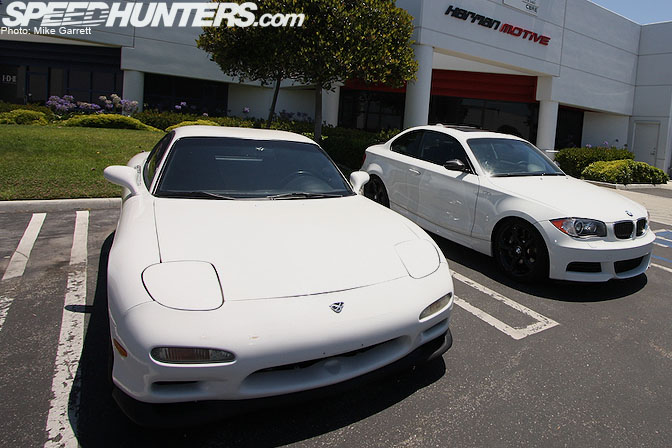 When visiting any shop or garage, the first thing you notice are the cars parked outside. In this case I was greeted by an FD RX7 parked alongside a BMW 135i.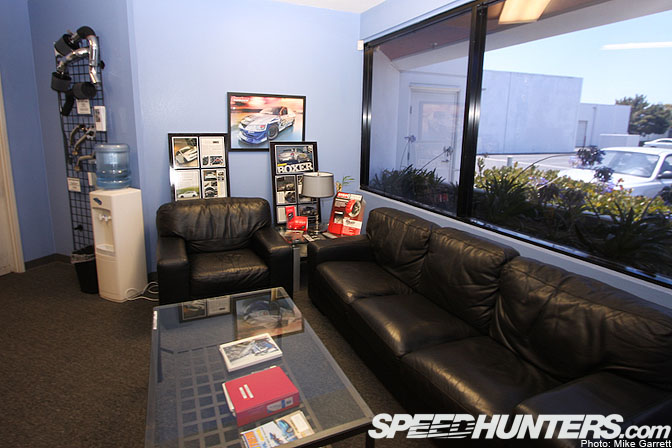 The retail area of the shop is pretty straightforward. There are a few parts on display, as well as framed magazine articles featuring the shop's projects.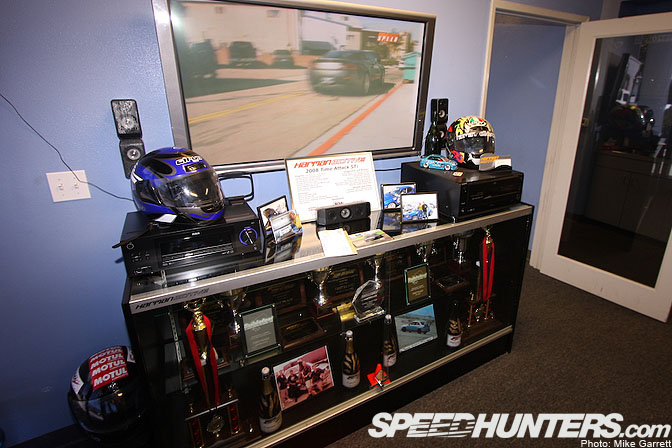 There's also a display case full of trophies and other racing artifacts while a big screen TV plays episodes of Speed TV's Super Cars Exposed, including the episode that features JC and his car at Willow Springs.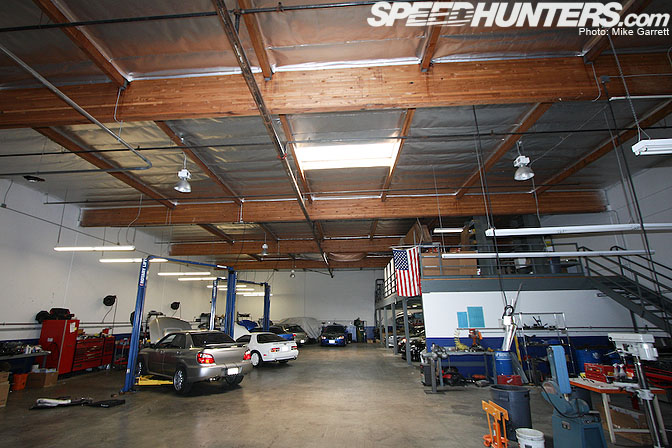 Harman Motive has been around for about five years now, and there specialty is turbocharged late model cars like the WRX, Evo, the GT-R, and even the twin turbo inline six found in the BMW 135 and 335. Earlier this year, ownership of the company was taken over by an outfit called AQ Motorsports, but development of parts under the Harman Motive name will continue. In fact, one of the shop's most recent projects is 2.0 turbo Hyundai Genesis Coupe that will be used as a development car and will likely see some action at time attack events with JC behind the wheel.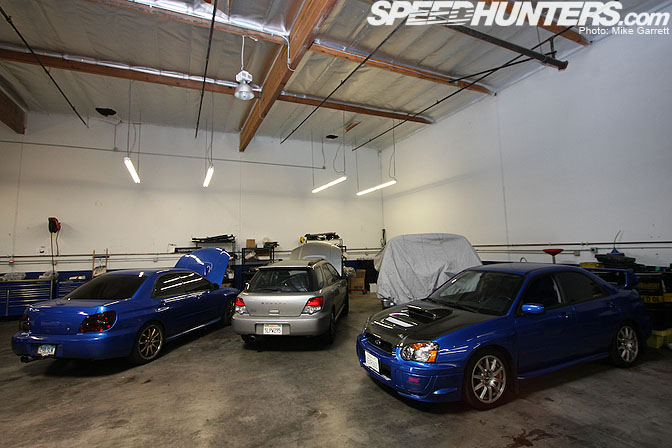 When I was there the shop was packed full of customer-owned cars – almost all of them were WRX's of various types.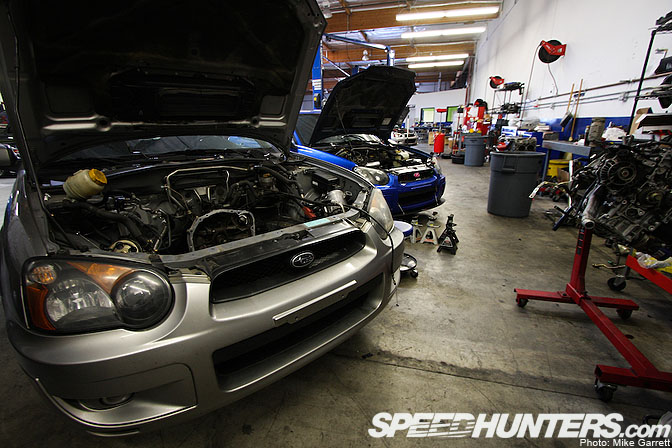 A couple of them had their engines removed for work.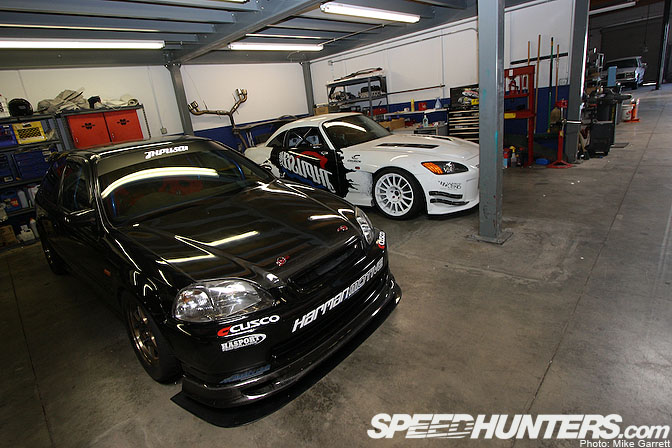 I was also surprised to fine a couple Hondas from JHP USA in the shop, including this K20-swapped EK9 Civic Type R track car. This car is in on my hit list for Honda month later on…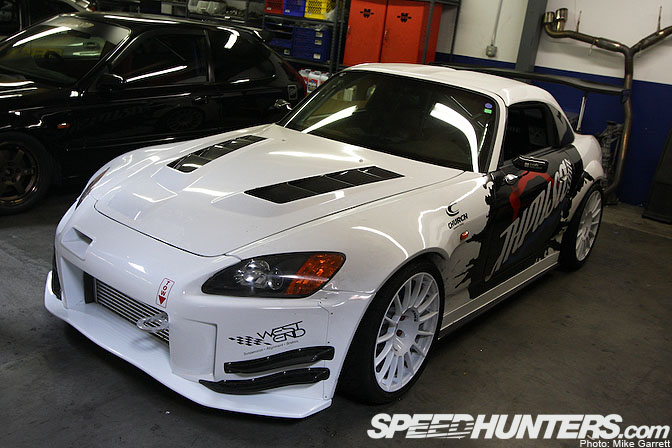 And this S2000 time attack car. I'd seen this car in photos before, but this was my first time seeing it in person. JC told me that when it's dialed in it could have the potential to shake things up in the unlimited time attack class…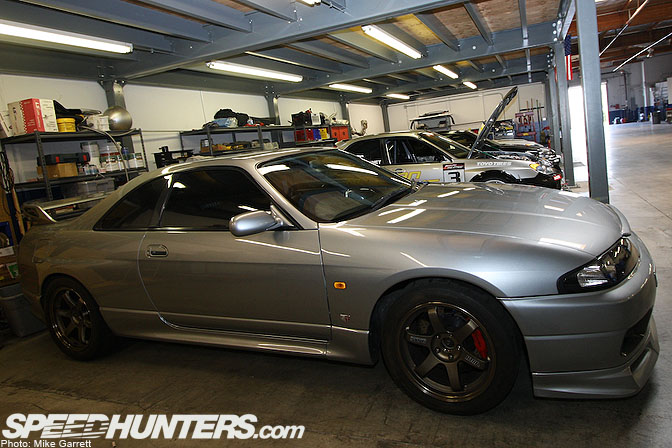 If that wasn't enough, there was also an R33 Skyline GT-R in the house. With the GT-R, the time attack STI, and the two Hondas, it was a striking lineup.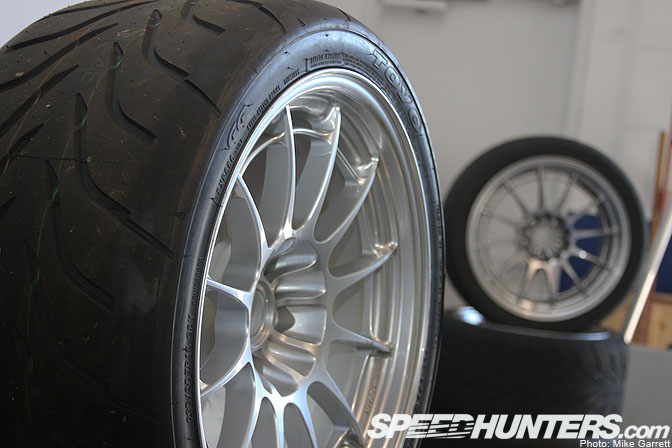 Finally, a view of some the spare wheels and tires for the time attack car that were stacked in a corner of the garage.
Check out the Harman Motive/AQ Motorsports website for more info on their products and what they do.
-Mike Garrett