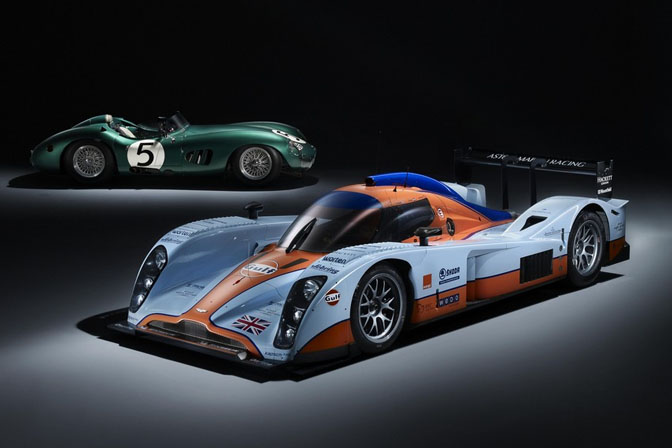 This cool shot comes from Aston Martin Racing, who are celebrating the 50th Anniversary of its first win at Le Mans, back in 1959.
Just as 2009, Aston Martin Racing entered three cars in the race for Stirling Moss/Jack Fairman, Roy Salvadori/Carroll Shelby and Paul Frere/Marucie Trintignant. – Some VERY legendary drivers in that list!
Although Ferrari had dominated in this period, Aston won the event after the Moss/Fairman car acted as a 'hare' and raced hard early on. This forced Ferrari's into a quicker pace. A tactic that is used frequently at Le Mans.
The remaining Aston Martin DBR1 carried on at a more respectable pace and Roy Salvadori and Carroll Shelby won Le Mans, ahead of the Frere/Trintignant car.
Back to today and Aston Martin Racing return to Le Mans with three entries, using a Lola chassis with AMR/Prodrive modifications including bodywork. Power is from V12 Aston Martin unit.
Realistically, a win is unlikely due to extra performance of the Diesel Peugeot's and Audi's but one of the three Aston's could be the first petrol car home.
-Andy Blackmore